Axios AM
August 05, 2020
Good Wednesday morning. Today's Smart Brevity™ count: 1,158 words ... 4½ minutes.
1 big thing: Biden confidants see final 2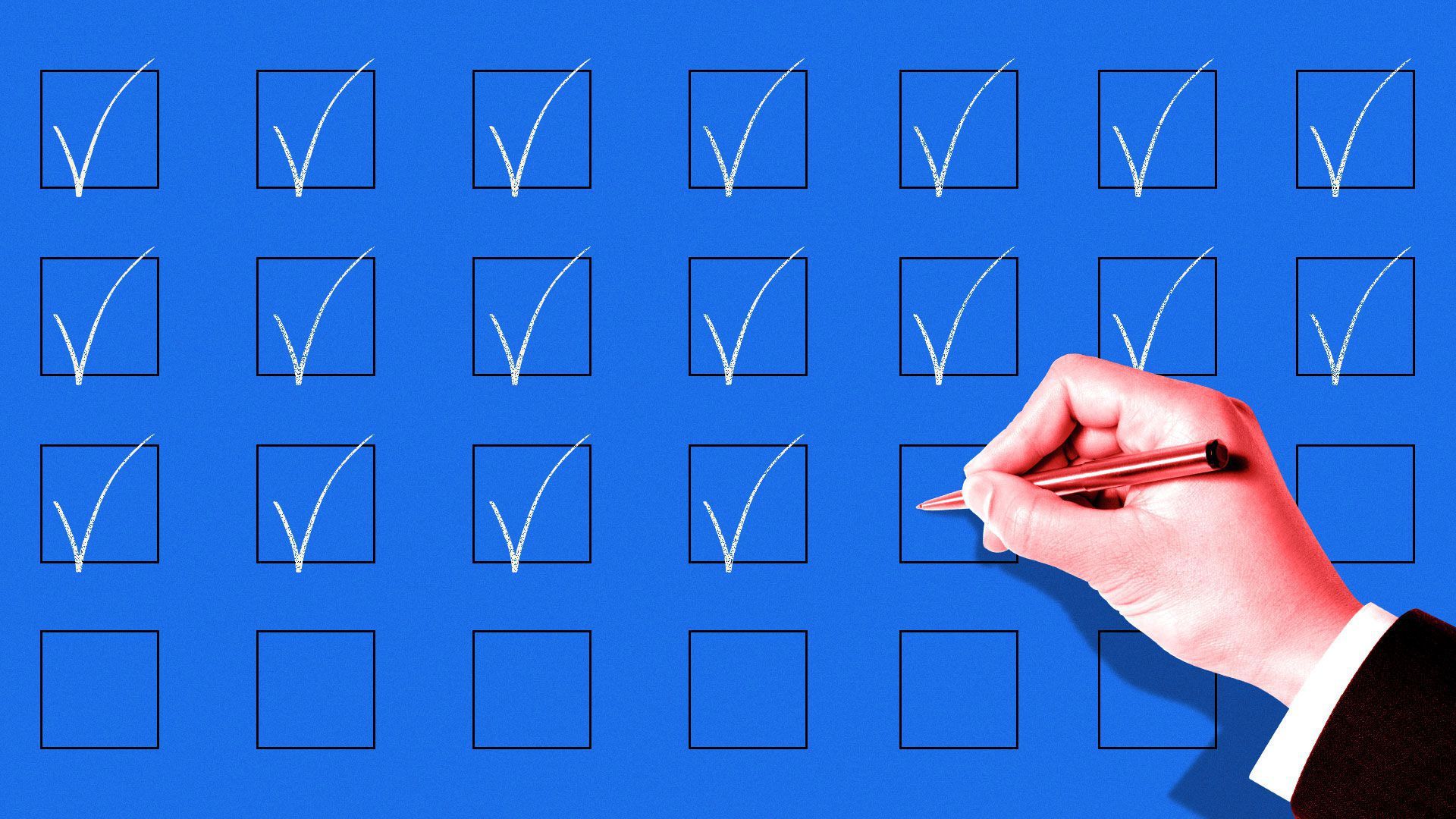 Confidants of Joe Biden believe his choices for vice president have narrowed to Sen. Kamala Harris and Susan Rice — and would be surprised if he picks anyone else, Axios' Hans Nichols and Alexi McCammond report.
The state of play: This is a snapshot of the nearly unanimous read that we get from more than a dozen people close to him.
Of course, it comes with a giant asterisk: Only Biden knows for sure, and the more insiders know, the less they say to reporters.
He's not expected to announce his choice for another week or so — the Democratic convention begins Aug. 17 — so that reality could certainly change.
What's happening: The campaign is now in methodical mode as it finalizes vetting, looks at internal polling results on potential picks and talks to finalists one-on-one.
In third place is Rep. Karen Bass (D-Calif.), who had a faltering performing on the Sunday shows after revelations about her past views on Cuba and Scientology.
The case for Harris: Biden's brain trust — Steve Ricchetti, Mike Donilon and Ted Kaufman — skew older and have deep and trusting relationships with many of the Obama and Clinton veterans who are advocating for Harris.
It rests in part on her prosecutorial skills, which could help her attack the Trump administration with discipline.
The case for Rice: Rice is getting a big bounce from Obama people who claim her presence on the ticket would guarantee the enthusiastic presence of both Barack and Michelle Obama on the campaign trail.
2. Early voting could double this year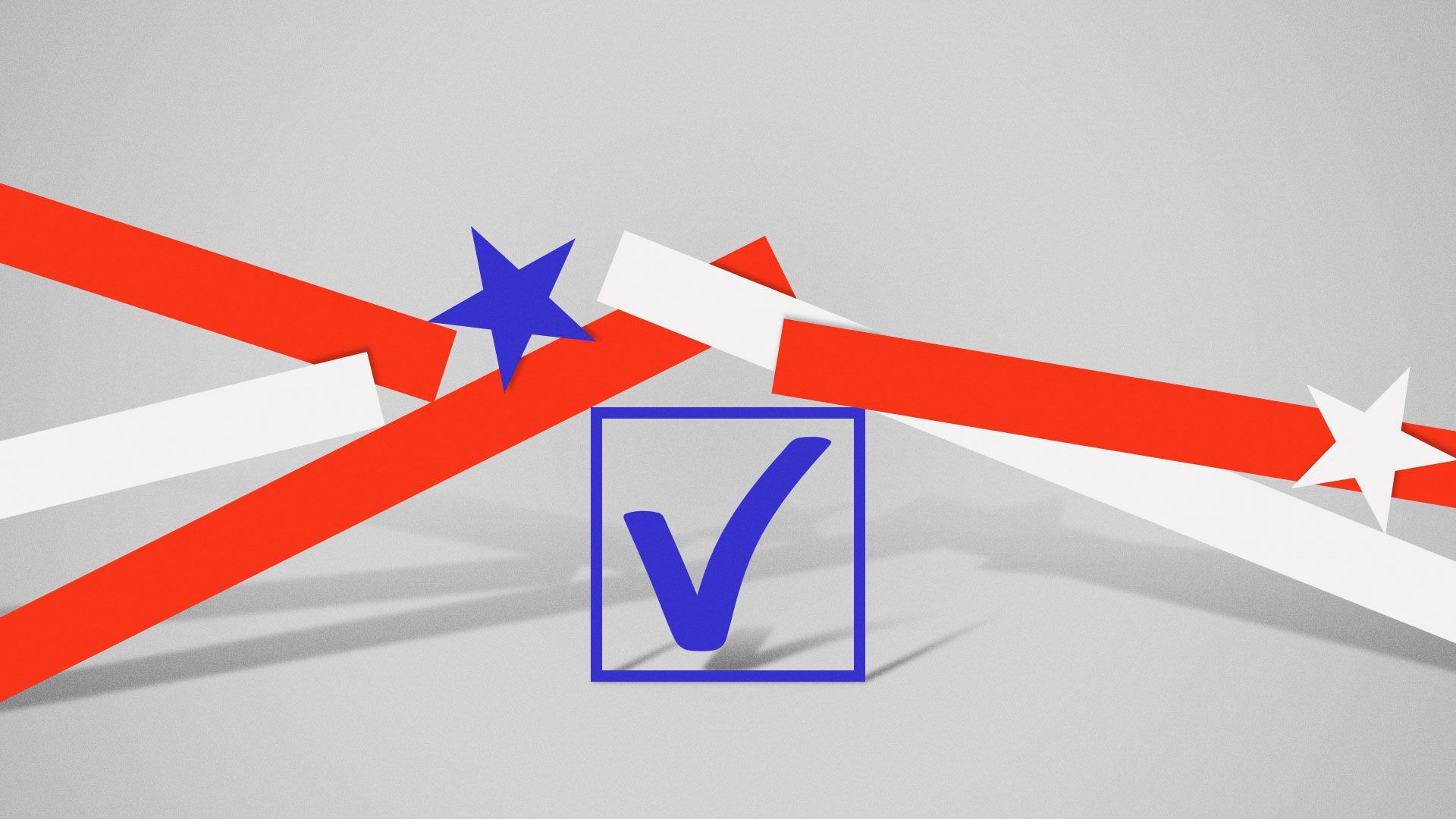 The coronavirus will make this presidential election unlike any other — voting that begins earlier, results that take longer, mail carriers as virtual poll workers and October surprises that pop in September.
Perhaps 80 million Americans will vote early, by mail or in person — twice as many as in 2016, Tom Bonier, CEO of TargetSmart, a Democratic political data firm, tells Axios.
24 states and D.C. saw half or more ballots cast absentee in elections during the pandemic.
Why it matters: That's going to set up more of an Election Season than an Election Day — and increase the odds of national turmoil over the vote count, Axios' Stef Kight, Alexi McCammond and David Nather report.
The election begins in just six weeks, with early voting in Virginia, Minnesota and South Dakota, according to RepresentUs and Vote.org.
What we're watching:
The old-school notion of an "October surprise" will morph or see its power diminish.
Worry about mail ballots: The WashPost reports on today's front page that voters in primaries in five states yesterday "voiced concerns about the delivery and security of mail ballots."
Longer lines will result from consolidation of polling places and shortages of poll workers, who tend to be elderly and therefore at risk of the coronavirus.
3. In Kansas, big win for establishment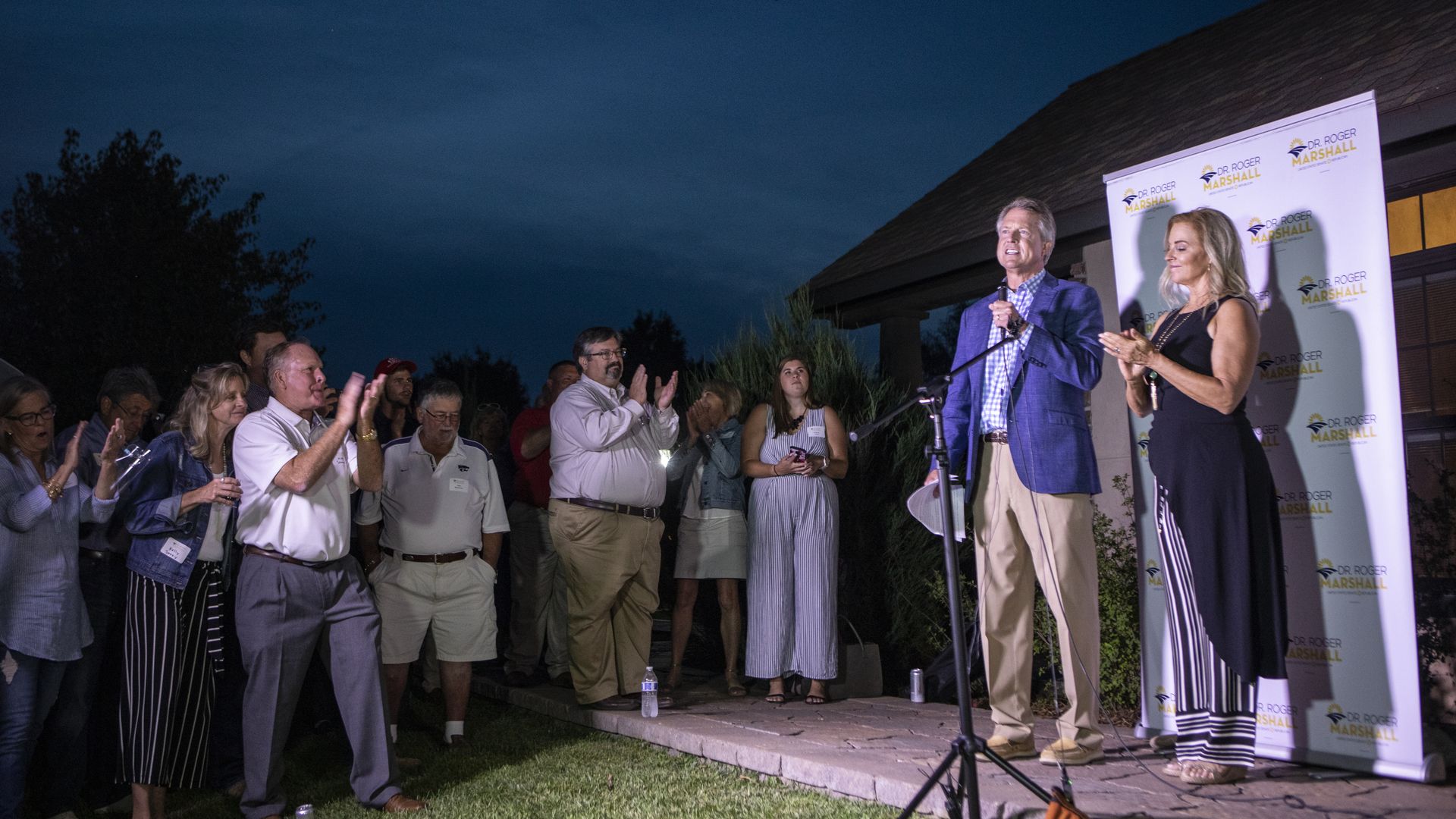 Kansas Republicans nominated Rep. Roger Marshall for the Senate over polarizing conservative Kris Kobach, heeding the party establishment's advice as it tries to keep a normally safe seat out of play, AP reports.
Why it matters: This is another win by Senate Majority Leader Mitch McConnell and the establishment over the party's fringe.
In Missouri, Black Lives Matter activist Cori Bush shocked longtime Rep. Lacy Clay, "ending his 20-year hold on Missouri's 1st congressional district and putting her on a path to become the first Black woman to represent Missouri in the nation's capital," per the St. Louis Post-Dispatch.
🗽 After six weeks, winners in two N.Y. congressional primaries ... Rep. Carolyn Maloney, 74, narrowly beat a challenge from Suraj Patel, 36. In the South Bronx, Ritchie Torres, 32, won a 12-way primary for an open seat, per the N.Y. Times.
President Trump said in the briefing room: "When you look at the Carolyn Maloney election, ... I think they have to do that election over. Nobody can know what the election result is."
4. Beirut blast could be felt 150 miles away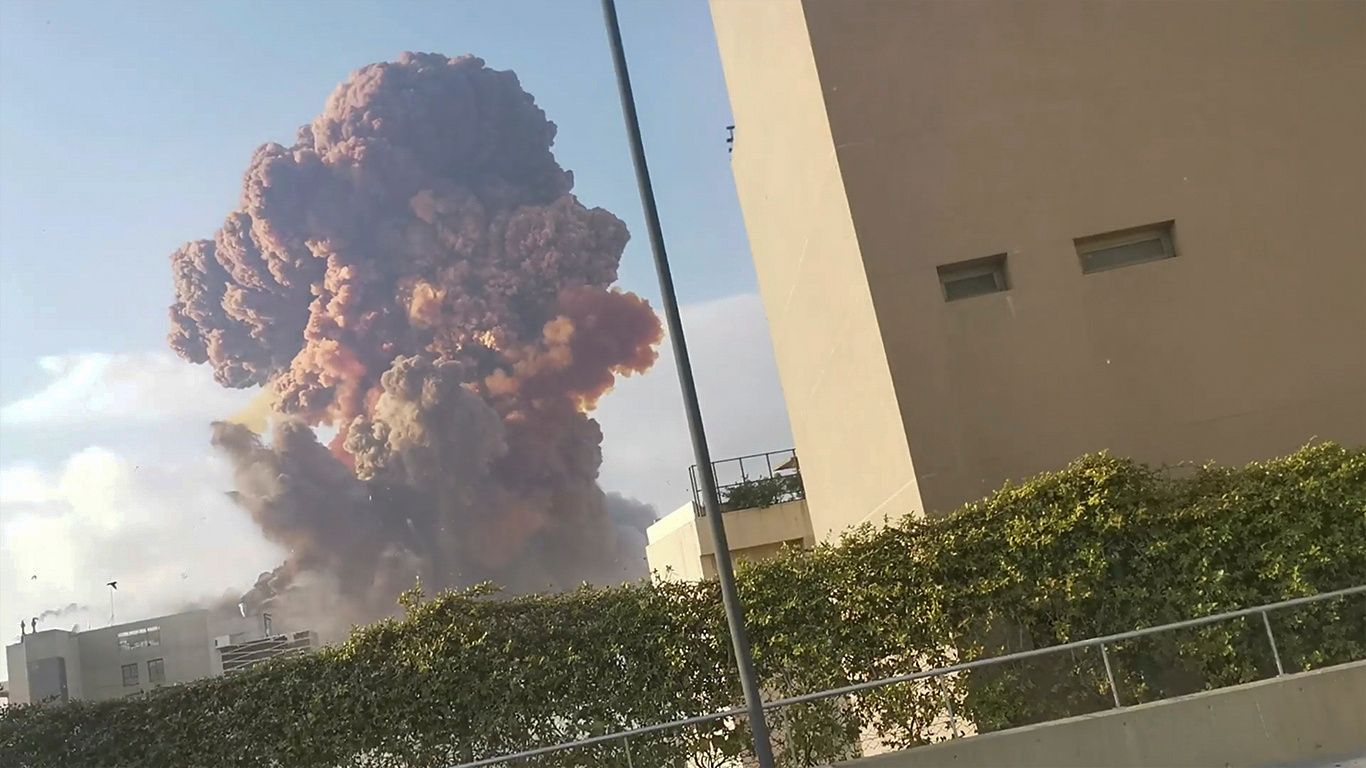 Residents of Beirut woke to a scene of utter devastation, after a massive explosion at its port sent shock waves across the Lebanese capital, killing at least 100 people and wounding more than 4,000, AP reports.
Smoke is still rising. Downtown streets are littered with debris.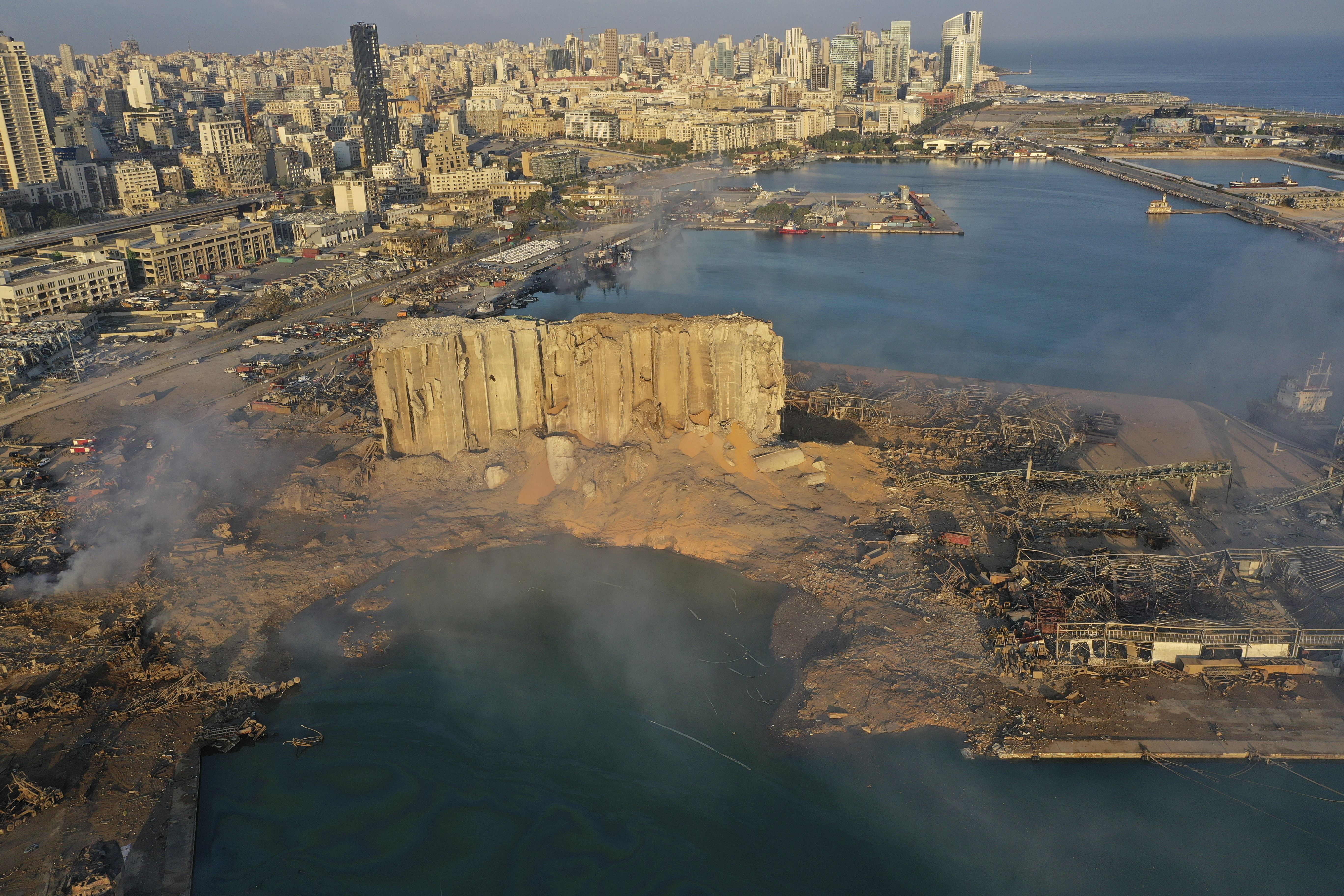 President Michel Aoun said 2,750 tons of ammonium nitrate, used in fertilizers and bombs, had been stored for six years at the port without safety measures, per Reuters.
An official source blamed the incident on negligence.
At the White House, President Trump called it an attack: "I've met with some of our great generals ... [T]hey seem to think it was ... a bomb of some kind."
But AP reported from the scene that there's no evidence it was an attack.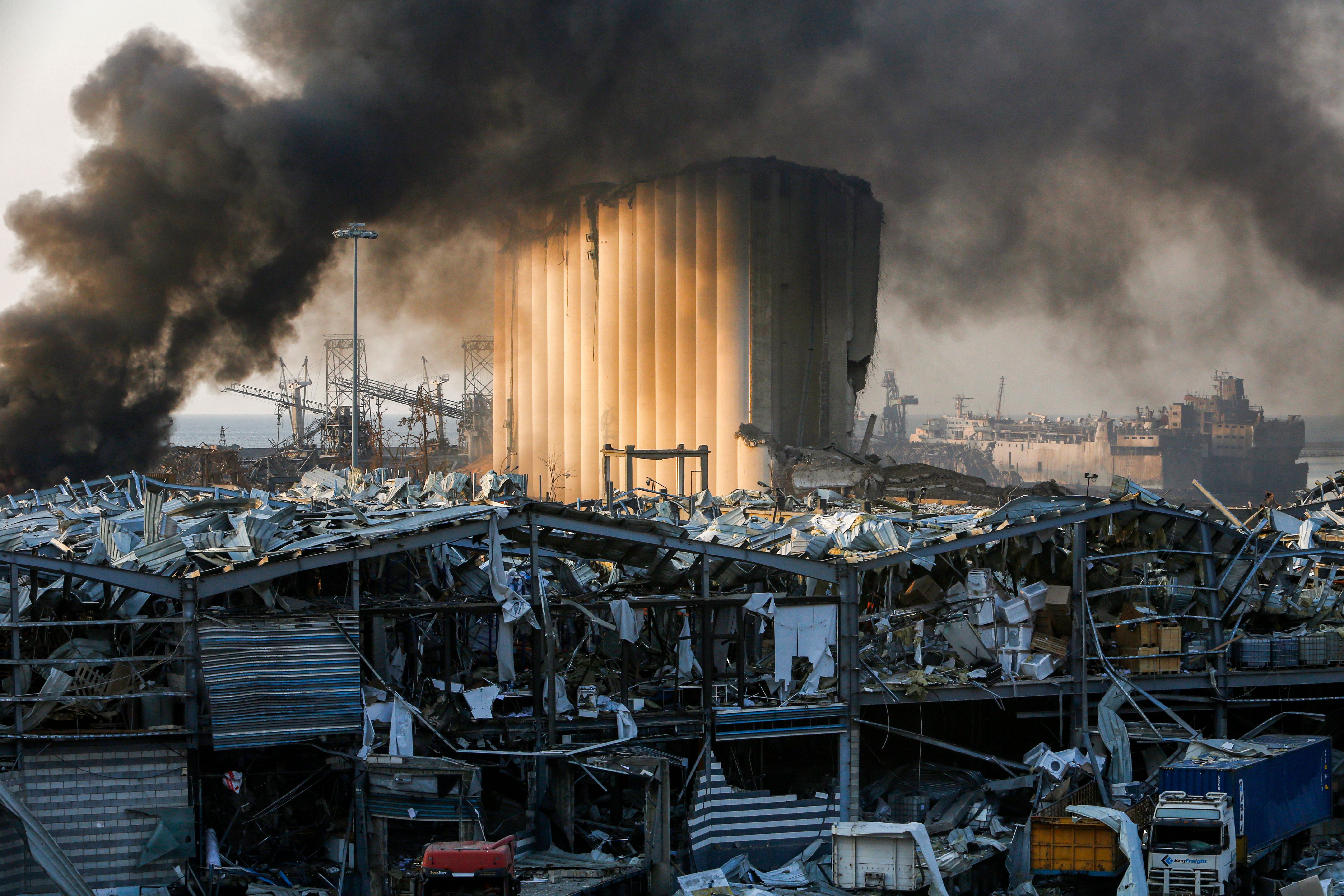 What's next ... The Times of London's Richard Spencer reported in a first-person account from Beirut (subscription):
[A] city that earlier this year ran out of money now has to somehow rebuild itself.
5. Grocery prices rise at fastest pace in decades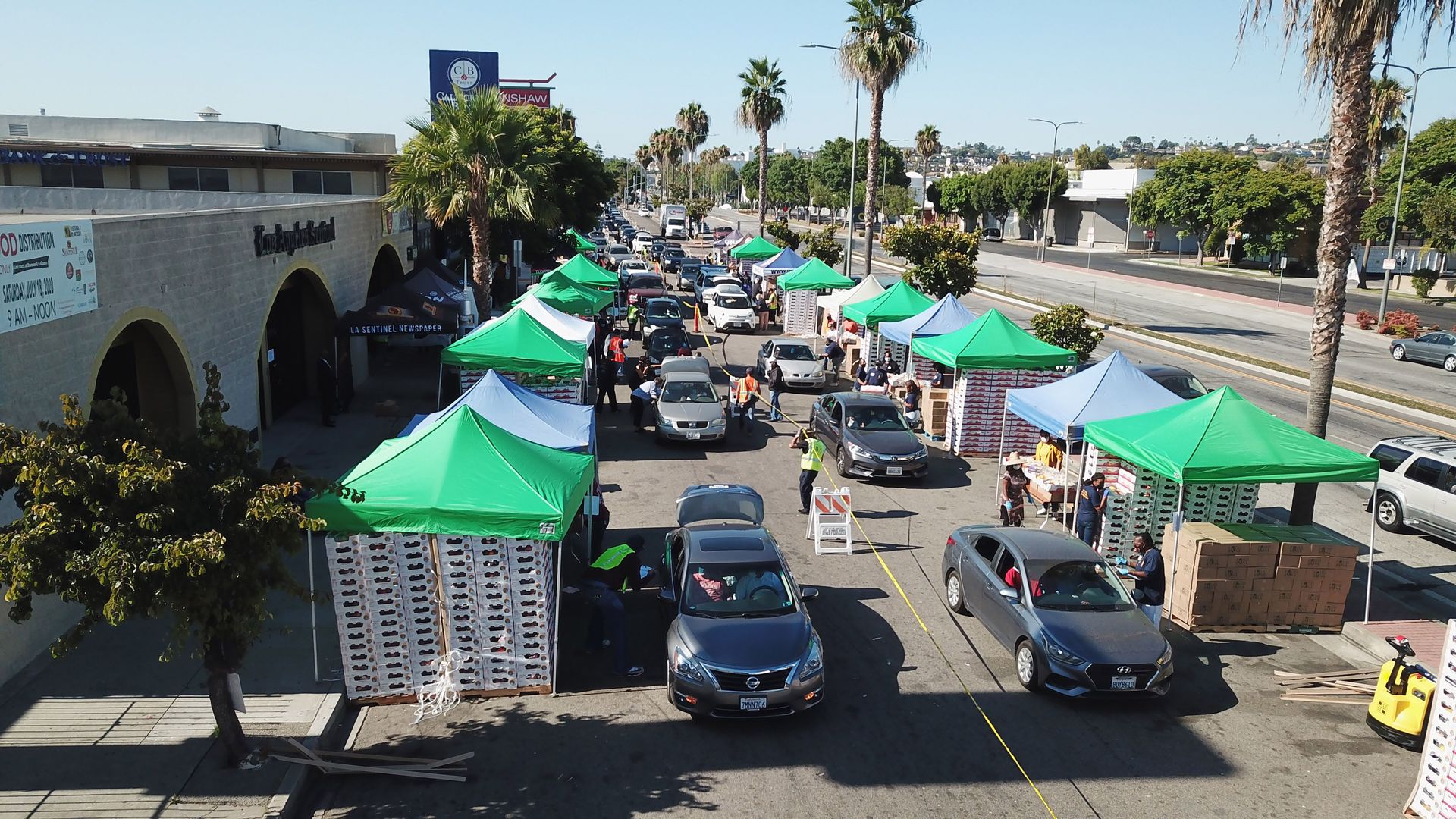 Grocery costs are rising at the highest rate in decades as the pandemic continues to upend food supply chains, writes the WashPost's Rachel Siegel.
"Compared with this time last year, prices for beef and veal are up 25.1 percent. Eggs are up 12.1 percent, and pork is up 11.8 percent."
Why it matters: "[T]he overall effects are being felt most acutely by the nearly 30 million Americans who saw their $600 enhanced unemployment benefit expire last Friday — exacerbating concerns that the recession's long tail could worsen food insecurity for years to come."
6. Biden launches $280 million ad blitz

Joe Biden's campaign is launching a $280 million TV and digital ad campaign targeting 15 states with a message — directly from Biden — about the pandemic and the economy, Axios' Alexi McCammond and Hans Nichols report.
Why it matters: The size of the buy ($220 million TV, $60 million digital) signals the campaign isn't worried about burning through cash.
🥊 Trump returned to the airwaves Monday in four battleground states: North Carolina, Georgia, Florida and Arizona, the N.Y. Times Nick Corasaniti reports.
"Why those four? Early voting."
7. Exclusive: House GOP's fall message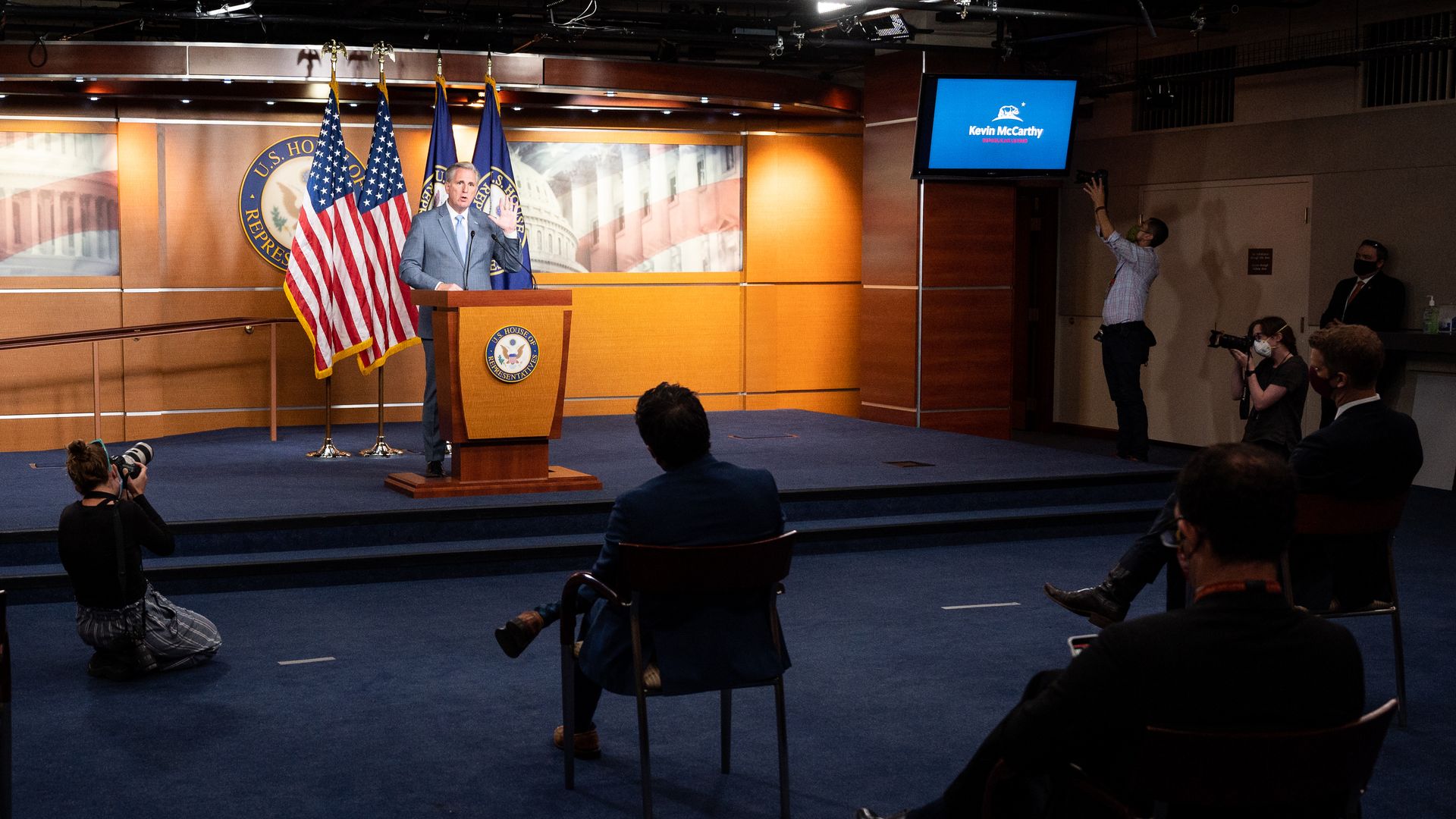 House Republican Leader Kevin McCarthy has given GOP colleagues, worried about troubles at the top of the ticket, an optimistic new frame for fall stump speeches: "If we win the majority, this is what we'd pass."
Axios' Alayna Treene reports that McCarthy delivered a PowerPoint presentation about the message to the GOP conference last Thursday at the Capitol Visitor Center.
The plan's three Rs:
"Renew the American Dream" (individuals): School choice, workforce training, 5G, expanding broadband in rural communities.
"Restore Our Way of Life" (communities): Defeating the virus, reopening safely and responsibly.
"Rebuild the Greatest Economy Ever" (nationwide): Deregulation, fixing roads and bridges, China-critical messaging.
A twist: Several GOP lawmakers told Axios that they hope the Trump campaign will also embrace this messaging.
8. Ford picks "car guy"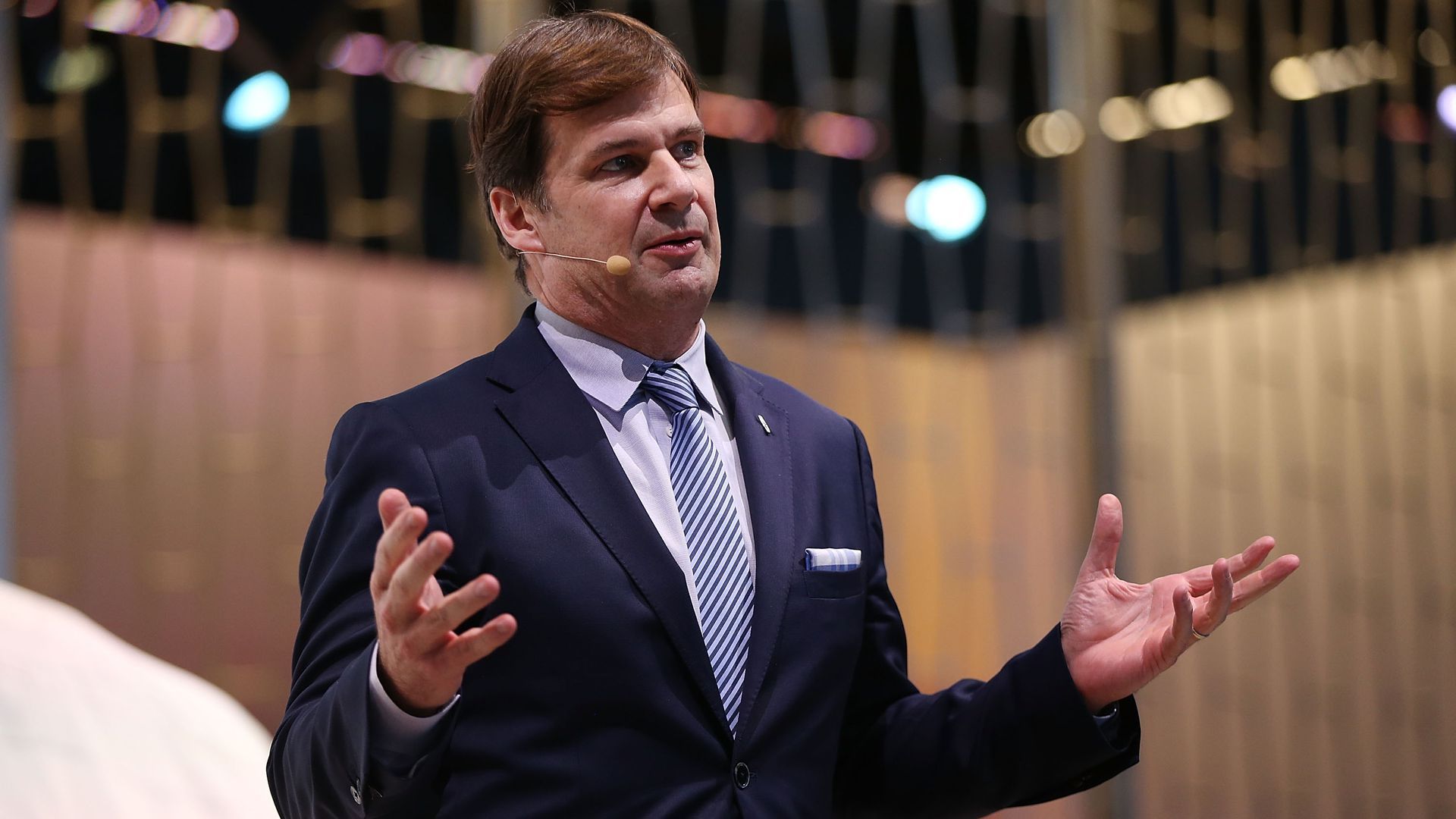 Ford's new CEO, Jim Farley, takes the reins from James Hackett at a critical time, Axios' Joann Muller reports from Detroit.
Why it matters: The global auto industry is shifting quickly toward electrification, automation and transportation services, but Ford has been unable to keep pace.
Hackett's $11 billion global transformation, launched in 2017, frustrated investors as Ford's stock dropped almost 40% during his tenure.
9. Another pandemic pivot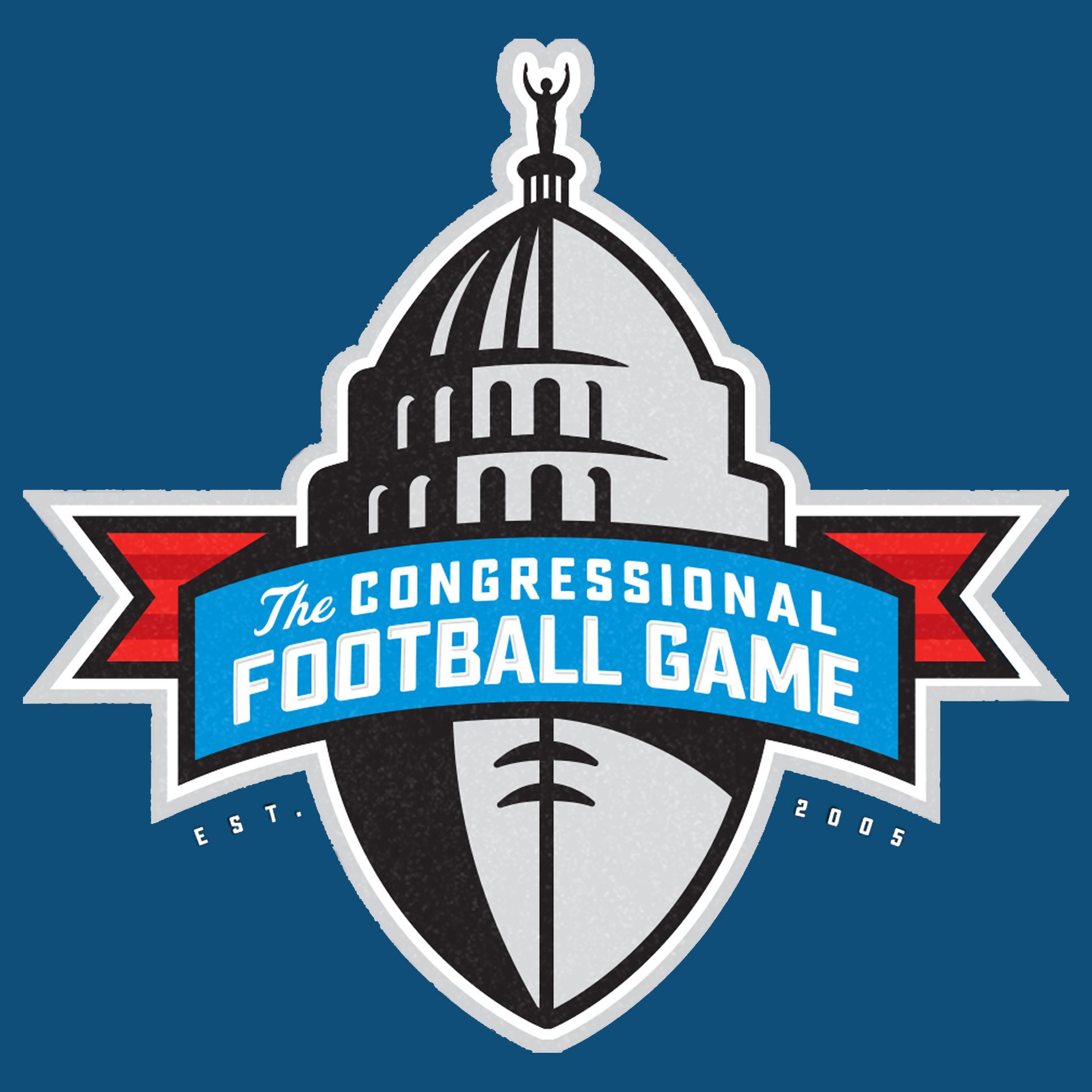 The 11th annual Congressional Football Game — a charity game that brings together members of Congress, former NFL players and Capitol Police — was scheduled for Sept. 23, but now will be a fantasy game. Details.
10. 🎥 Disney to stream blockbuster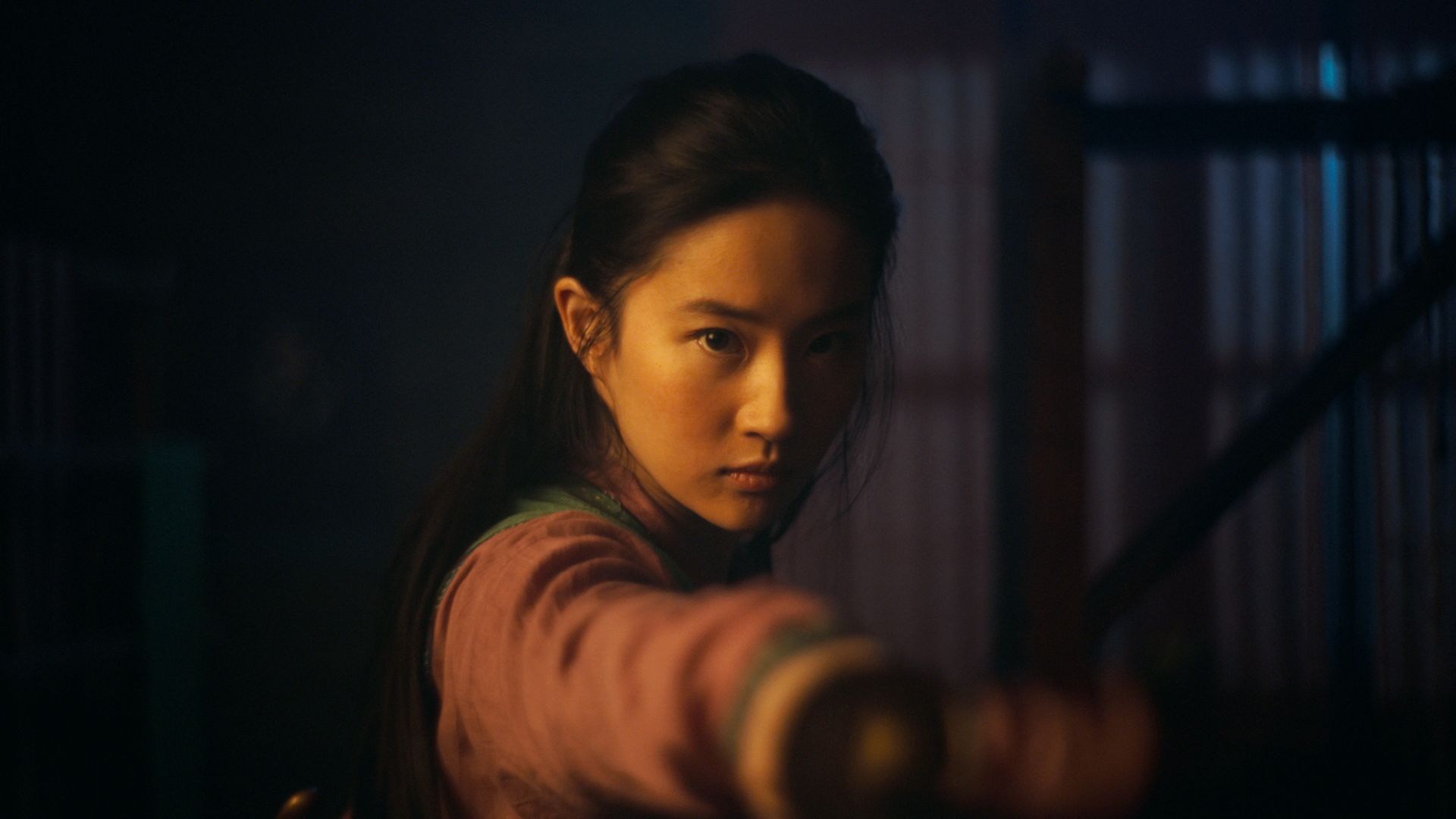 Disney announced yesterday that it will premiere its blockbuster live-action remake of "Mulan" next month on Disney+, skipping a U.S. theatrical release entirely, Variety reports.
Why it matters: It's bad news for the struggling movie theater industry — and highlights Disney's reliance on its streaming service to drive revenue at a time when other sectors of its business have been hit hard by the pandemic.
📱 Thanks for reading Axios AM. Please invite your friends to sign up here.