Good Wednesday morning, and happy Valentine's Day. Call or write someone who helped raise you and say: "Thank you for being my first Valentine."
Jon Meacham — who has a book coming Oct. 30, "The Soul of America: The Battle for Our Better Angels," about other tumultuous periods in American history when presidents and ordinary citizens came together to overcome forces of fear and hate — wants me to remind you that it's Ash Wednesday.
https://www.axios.com/newsletters/axios-am-3ac0af15-0f5e-4ac4-805c-fc1b64cf447d.html?chunk=0#story0
1 big thing ... Trump creep: Bad habits spread fast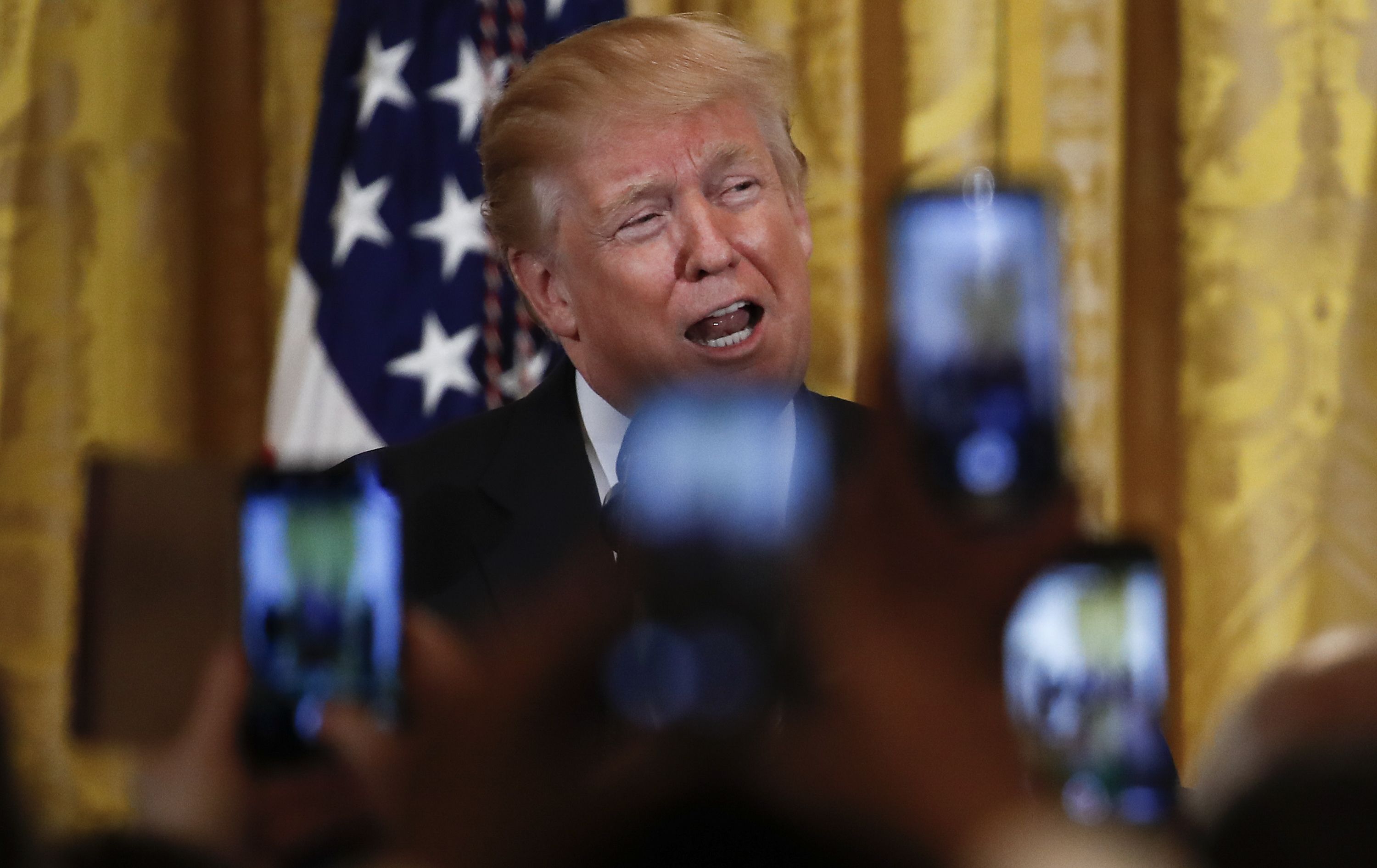 Guests hold up smartphones as President Trump speaks during the National African American History Month reception in the East Room yesterday. (AP's Carolyn Kaster)
All habits, good and bad — in all organizations, big and small — flow down fast from the top.
Axios CEO Jim VandeHei points out that this dynamic is particularly true in the White House, and unmistakably true in this Trump White House. 
Trump's lifelong habits — to improvise, to attack, the deny the undeniable, to leak — spread fast through the White House, metastasized in the agencies, and infected Republicans in Congress.  They are Republican habits now:
Look at Chief of Staff John Kelly, whose hold on his job looked more precarious after yesterday's devastating testimony from FBI Director Christopher Wray. He made it almost impossible to believe the West Wing's assertion that no top officials knew the full extent of the Rob Porter allegations until the Daily Mail story broke.
You see Kelly reflecting Trump with harsh instincts and words on immigration — and with the chief's willingness to double down and say the Porter fiasco was handled fine, defying the reality apparent to his colleagues.
Look at the leaks pouring out of the White House — including the president himself musing to outsiders about possible replacements for Kelly.
Axios' Jonathan Swan says the current level of leaking — much of it against Kelly — is almost as bad as it was when a good proportion of the White House staff was trying to kill Reince Priebus.
Look at the White House silence in situations that under previous presidents would have elicited shame or condemnation. And look how almost every elected Republican now sits with similar silence. 
Look at the messy, understaffed agencies and disregard for traditional rules of the road.
Look at the staff-on-staff infighting, as Trump's style breeds internal factions.
And it spreads to the GOP ... Trump trashed the FBI, so aides freely trashed the FBI, so congressional Republicans gladly piled on. And now just 38% of the party views the agency favorably, according to our Axios/SurveyMonkey poll.
A senior administration official told me: "It's the Donald Trump culture. It's every man for himself — do what's best for me, not for the organization."
"Trump's habits have infected Kelly," the official said. "Trump never backs off, and Kelly continues to insist that he's right."
Why it matters: Trump has spent his life creating his own reality inside his head. Spend enough time working with him, and it becomes hard to resist seeing the world his way. Those who refuse to do so wind up lashing and leaking.
The malignant atmosphere was captured by the N.Y. Times' Peter Baker: "Trump is presiding over a staff in turmoil, one with a 34 percent turnover rate, higher than any White House in decades."
"He has struggled to fill openings, unwilling to hire Republicans he considers disloyal and unable to entice Republicans who consider him unstable."
"Those who do come to work for him often do not last long, burning out from a volatile, sometimes cutthroat environment exacerbated by tweets and subpoenas."
Be smart: Staffers tell me they go through a cycle of being enamored of Trump's larger-than life persona, but then become frustrated by the environment he creates and allows, followed by anger at his self-destructive tendencies.
Kicker ... Former UCLA basketball coach John Wooden, the "Wizard of Westwood," who won 10 national championships in 12 years: "The most powerful leadership tool you have is your own personal example."
https://www.axios.com/newsletters/axios-am-3ac0af15-0f5e-4ac4-805c-fc1b64cf447d.html?chunk=1#story1
2. What it's like in the West Wing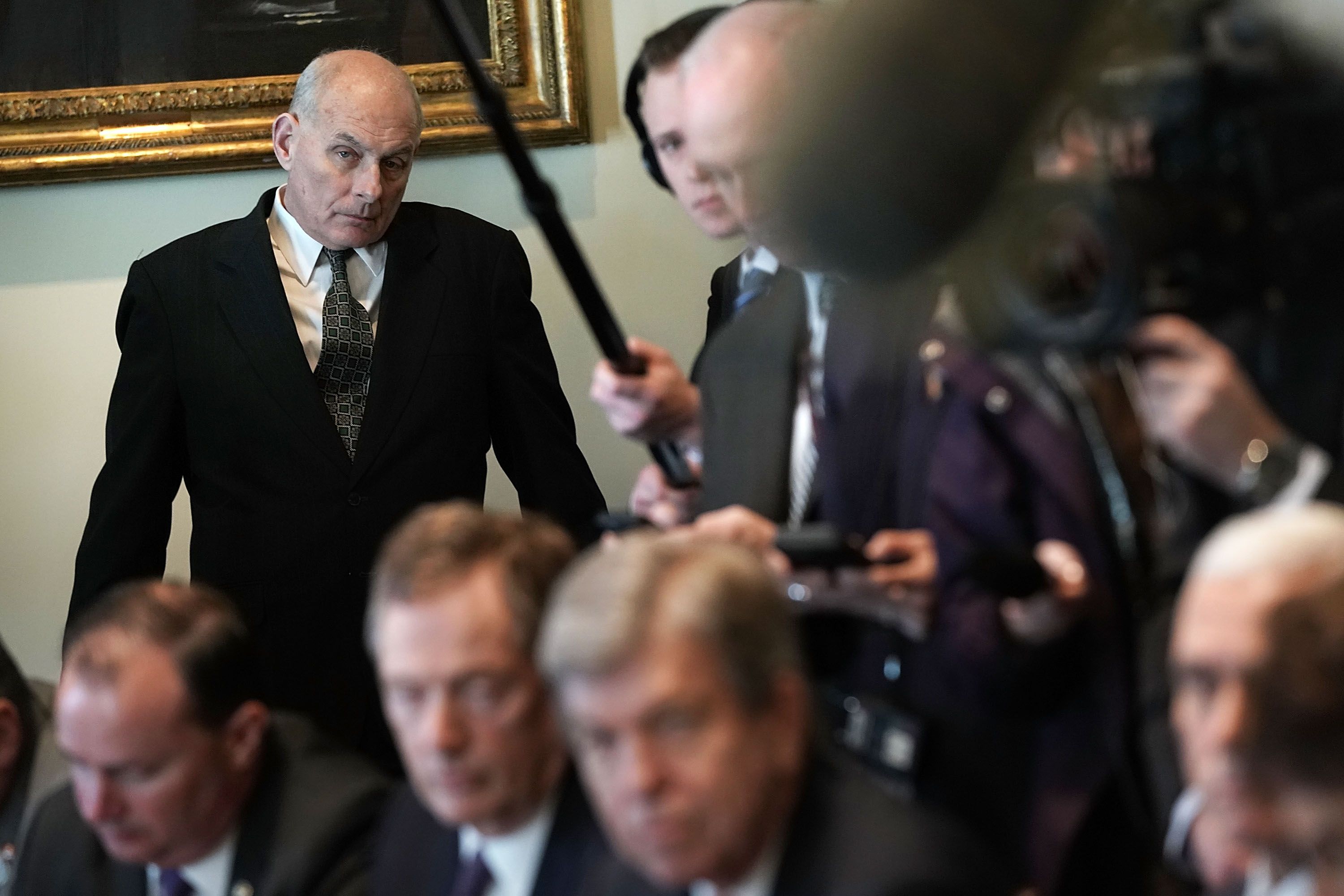 Chief of Staff John Kelly listens yesterday while President Trump and congressional members talk trade in the Cabinet Room. (Alex Wong / Getty Images)
N.Y. Times' Maggie Haberman tweets: "Several White House officials are now prefacing or concluding their sentences in convos w reporters by making clear they can't swear by the information they've just given."
WashPost lead story, "FBI chief rebuts Porter timeline": "The Porter drama has become all-consuming, creating an atmosphere of chaos and infighting reminiscent of the 'Game of Thrones' stage early in Trump's presidency — and distracting from the administration's budget and infrastructure agenda."
White House chief of staff John Kelly "a big fat liar," one White House official told The Post: "To put it in terms the general would understand, his handling of the Porter scandal amounts to dereliction of duty."
Chaser ... Kelly, to The Wall Street Journal, when asked if the White House should have handled Rob Porter's situation any differently: "No. ... It was all done right."
https://www.axios.com/newsletters/axios-am-3ac0af15-0f5e-4ac4-805c-fc1b64cf447d.html?chunk=2#story2
3. "The United States is under attack"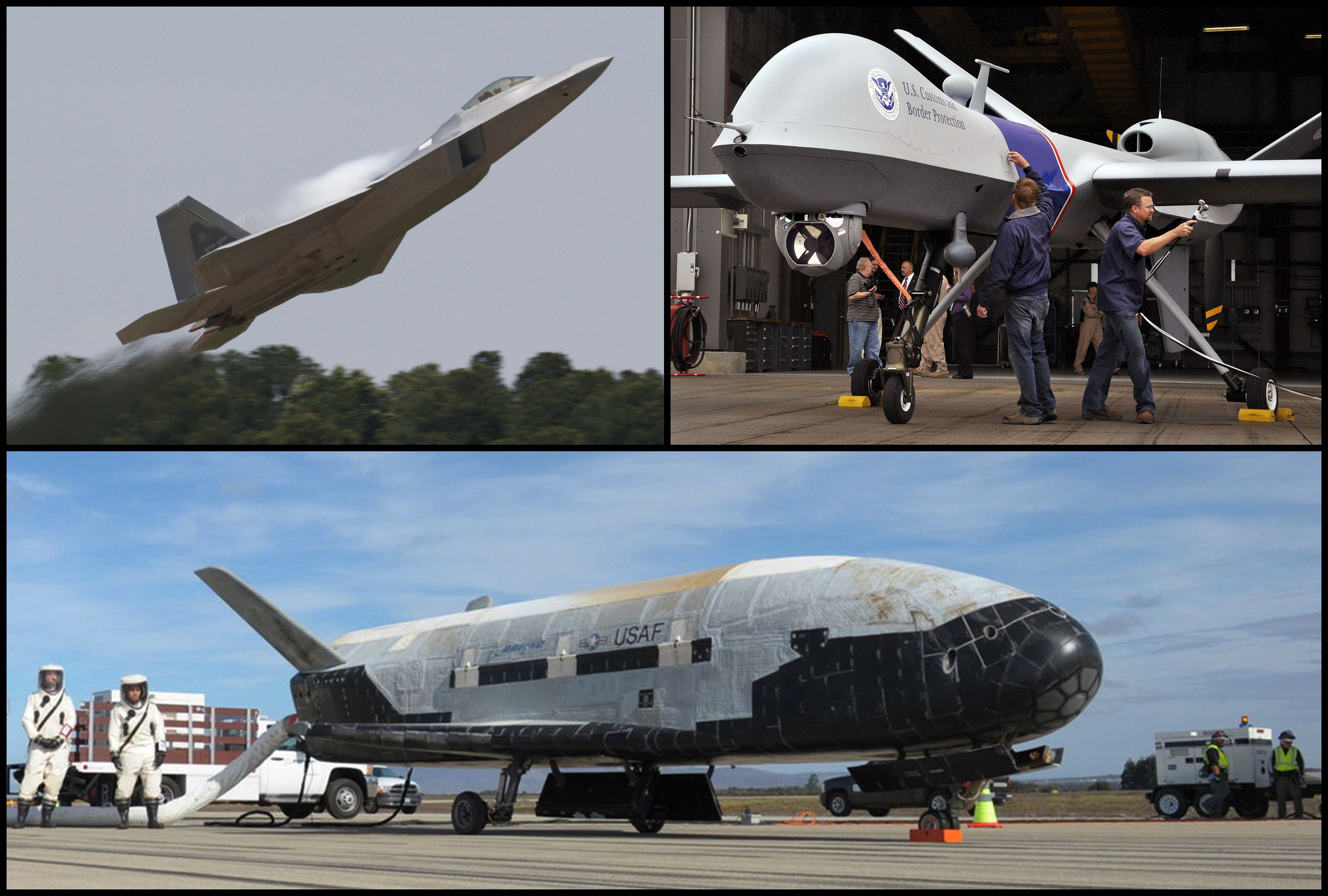 The cybersecurity firm Secureworks says hacking targets by Fancy Bear, a group with links to Russian intelligence, included defense contractors who make: the Air Force F-22 Raptor stealth fighter jet (left), the MQ-9 Reaper/"Predator B" drone (right), and the X-37B unmanned spacecraft (bottom).
"Leaders of U.S. intelligence agencies warned ... that Russia will try to interfere in the 2018 U.S. midterm elections by using social media to spread propaganda and misleading reports," per Reuters:
"Director of National Intelligence Dan Coats told a congressional committee that Russia and other foreign entities were likely to attack U.S. and European elections this year and beyond, adding that Moscow believes similar efforts successfully undermined U.S. democracy two years ago.
Why it matters: "Coats, a former senator appointed by President Donald Trump as Washington's top intelligence official, said he had already seen evidence Russia was targeting U.S. elections in November."
Key quote ... Coats, at the Senate Intelligence Committee's annual hearing on worldwide threats: "Frankly, the United States is under attack."
The backdrop: "Coats' assessment runs counter to statements from Trump, who has cast doubt on the notion of Russian meddling."
P.S. "Aging polling stations and outdated software are prime targets
for a foreign attack, security experts warn," per the L.A. Times lead story:
"As hackers abroad plot increasingly brazen and sophisticated assaults, the United States' creaky polling stations and outdated voter registration technology are not up to the task of fighting them off."
"Senior national security officials have repeatedly said that the United States should prepare for more foreign efforts to interfere with elections."
https://www.axios.com/newsletters/axios-am-3ac0af15-0f5e-4ac4-805c-fc1b64cf447d.html?chunk=3#story3
Bonus: Pics du jour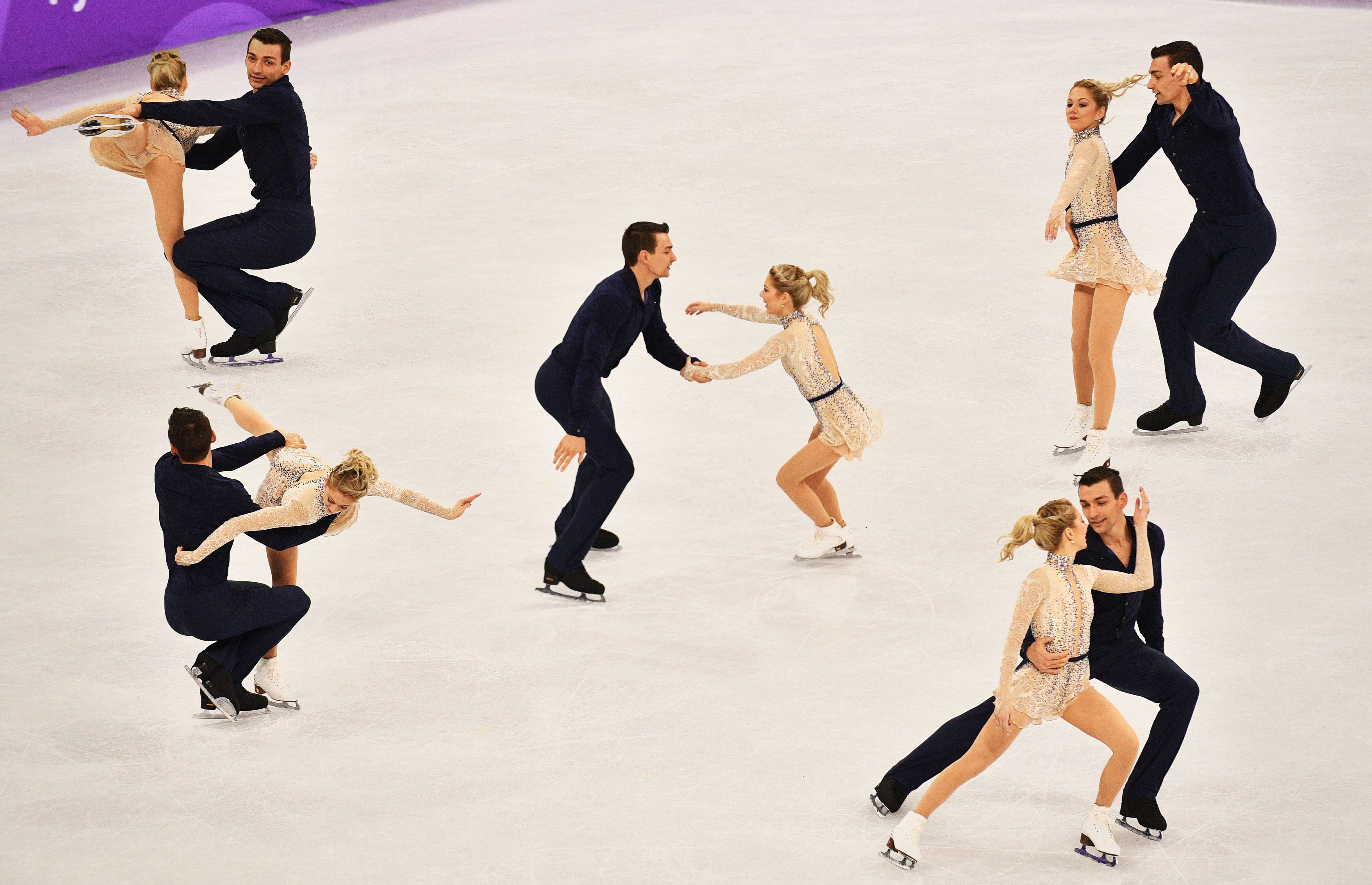 A multiple exposure shows USA figure skaters Alexa Scimeca Knierim and Chris Knierim competing in today's pairs short program. (Mladen Antonov / AFP / Getty Images)
N.Y. Times Quote of the Day, from "Men's Skating Has an Open Secret: Starvation" ... Adam Rippon, a figure skater on the U.S. Olympic team, on pressures he faced related to body image and eating:
"I looked around and saw my competitors, they're all doing these quads, and at the same time they're a head shorter than me, they're 10 years younger than me and they're the size of one of my legs."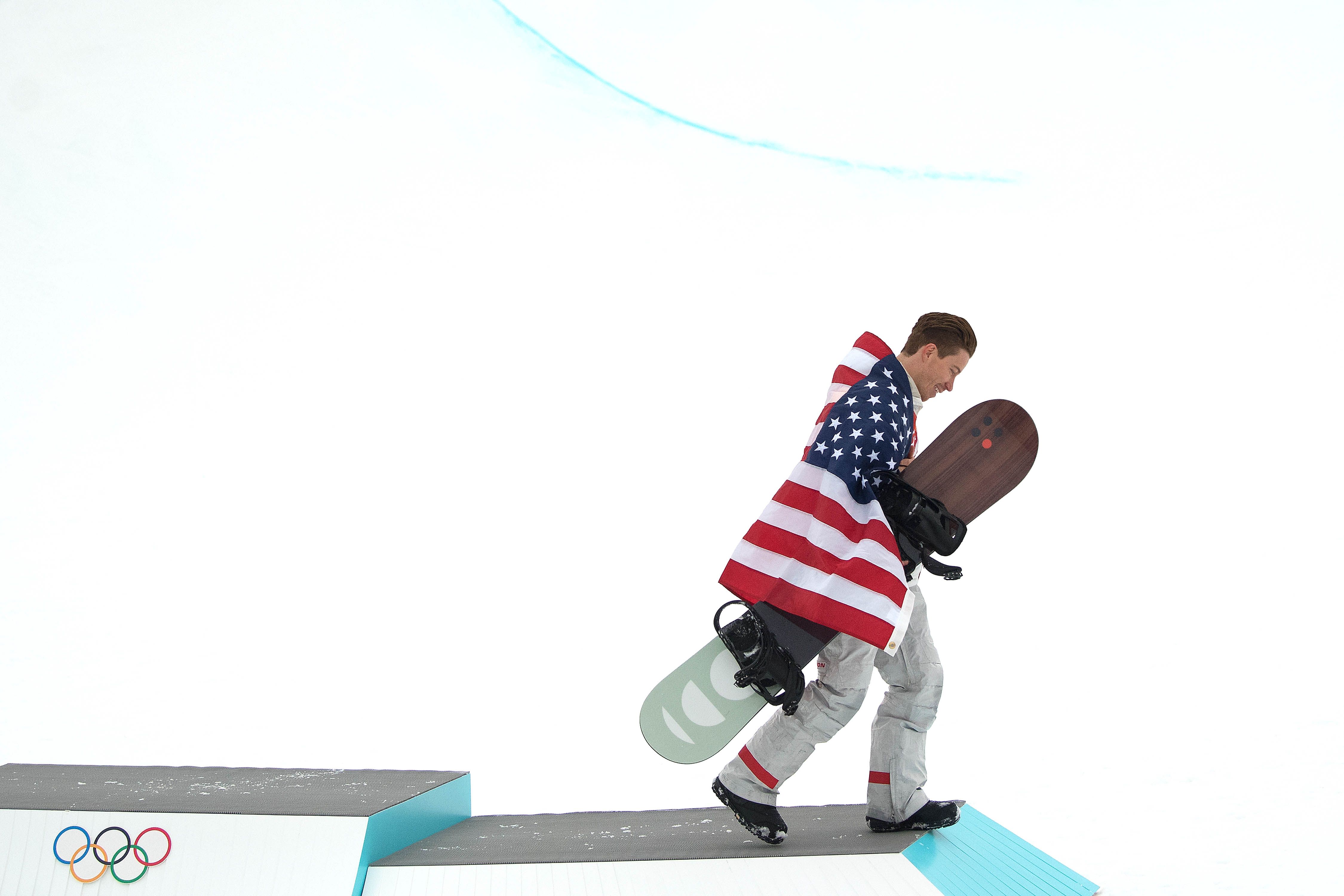 USA gold medalist Shaun White leaves the podium after the victory ceremony for today's snowboard men's halfpipe final. (David Ramos / Getty Images)
If you click only one thing ... 6 finalists for World Press Photo of the Year, via N.Y. Times.
https://www.axios.com/newsletters/axios-am-3ac0af15-0f5e-4ac4-805c-fc1b64cf447d.html?chunk=4#story4
4. Tech industry aims to reassure Congress on AI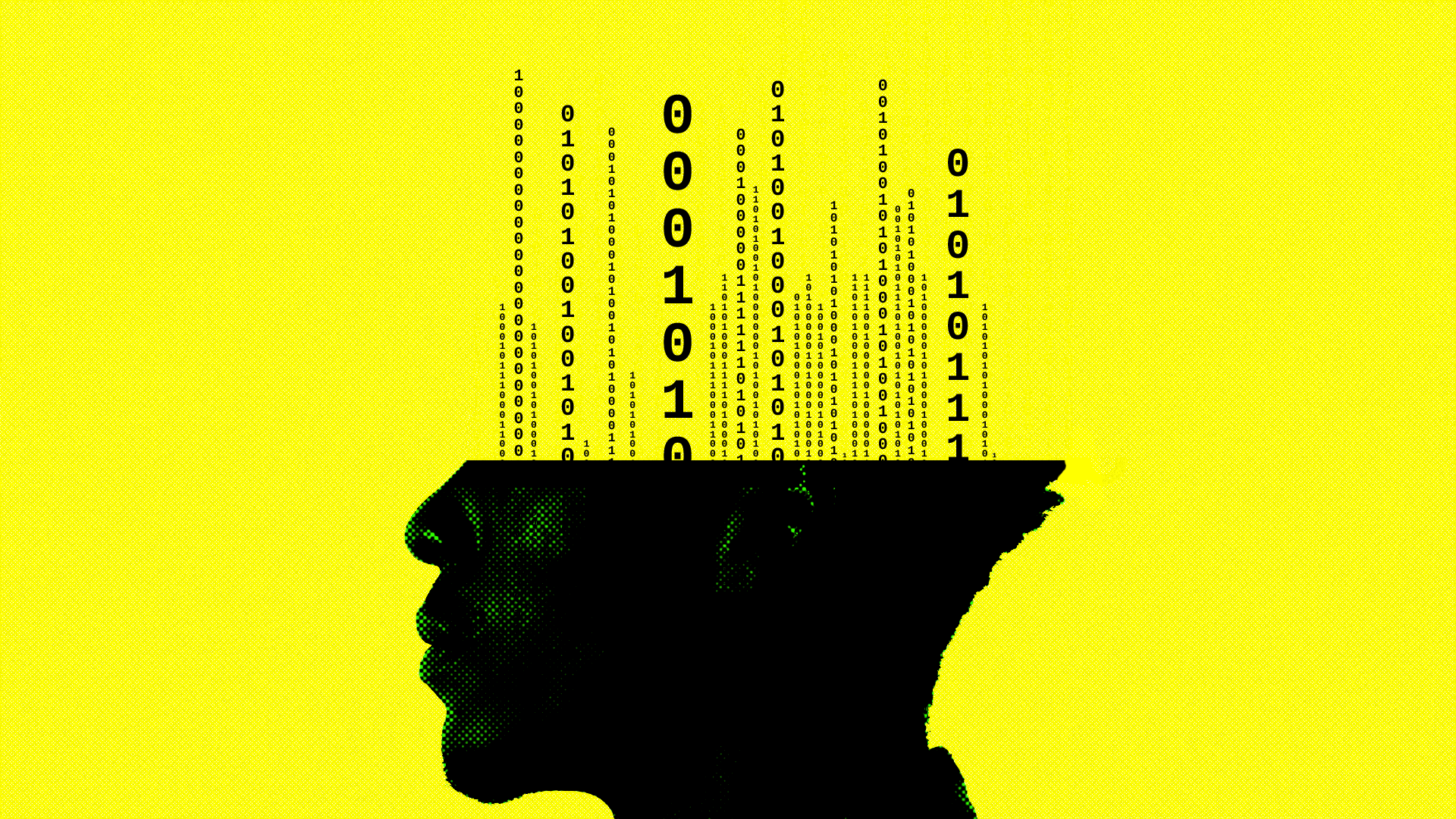 Happening today ... The tech industry hopes to use a House hearing to educate Congress on the benefits of artificial intelligence, while downplaying many concerns as science fiction, Axios chief tech correspondent Ina Fried writes:
Why it matters: AI is one of the biggest opportunities in technology, and business in general. But the degree to which regulators embrace or oppose it could dictate the pace of innovation.
The message: AI is nothing to be scared of. Ian Buck, who runs Nvidia's data center business, plans to describe the technology as little more than the latest evolution of modern statistics. Today's AI is OK for pattern recognition, but human-like intelligence is decades away.
Sign up free for Ina Fried's morning newsletter, Login, written from San Francisco.
https://www.axios.com/newsletters/axios-am-3ac0af15-0f5e-4ac4-805c-fc1b64cf447d.html?chunk=5#story5
5. What Amazon shipping means for FedEx and UPS
Axios Expert Voices ... Tige Savage, managing partner at Revolution Ventures:
Why it matters: Amazon has a history of disrupting incumbents' billion-dollar categories (think: Amazon Web Services). Expect Delivery-as-a-Service (DAAS) to enter the e-commerce lexicon.
"Amazon provides a master class on building a virtuous cycle, continuing to lower its costs as more third parties ship with Amazon. Those savings could then be reinvested into lower prices for Amazon's consumers, ultimately extending its reach over the competitors who use its DAAS service."
https://www.axios.com/newsletters/axios-am-3ac0af15-0f5e-4ac4-805c-fc1b64cf447d.html?chunk=6#story6
6. Scoop: Trump veto threat on immigration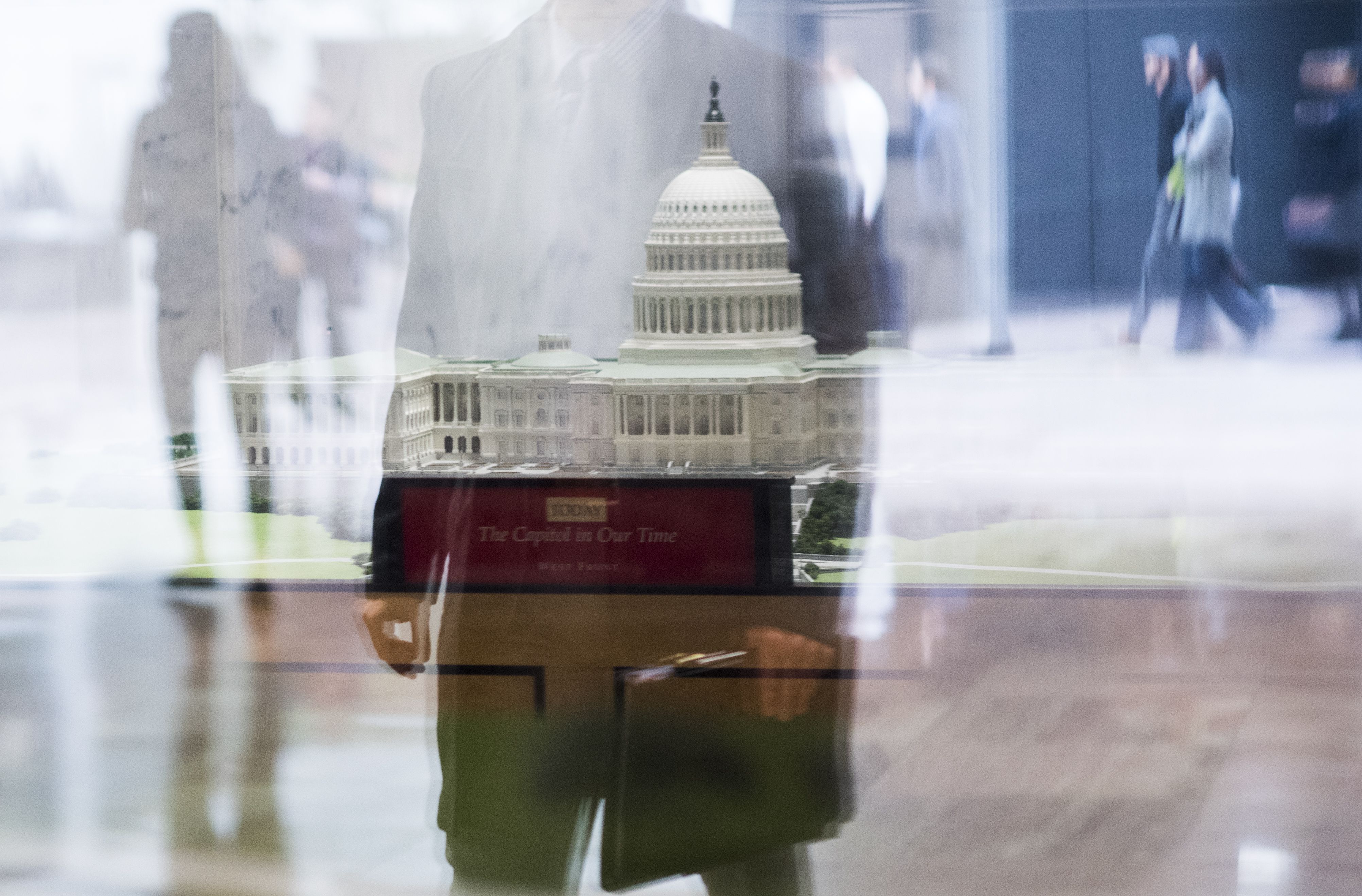 Senate staffers and visitors pass by plexiglass-enclosed displays of U.S. Capitol building design models in the Hart Senate Office Building yesterday. (Bill Clark / CQ Roll Call)
As part of Trump's continuing message on border security, in coming weeks, look for him to visit the border-wall prototypes that contractors have built in San Diego.
Trump's plan to visit in January was scratched when he decided to attend the college football championship.
Axios broke this news last night ... A senior administration official said President Trump "will veto any bill that doesn't advance his common-sense immigration reforms" — a hardening of the White House bargaining position as the Senate begins an epic debate.
Why it matters: With moderate, bipartisan senators looking to restore protections for "Dreamers," who came to the U.S. as children, Trump is laying down a marker: He won't approve the squishy bill that will most likely come out of the Senate.
Reality check: There's almost zero chance the Senate approves a bill Trump will like.
Trump wants long-term cuts to legal immigration.
The other side ... A Senate Democratic official tells us: "Their spin is laughably bad. He ended the [DACA] program. He would be deporting them. Who in their right mind would blame Democrats?"
Read more of the White House's strategic thinking, and the Senate Dem retort.
https://www.axios.com/newsletters/axios-am-3ac0af15-0f5e-4ac4-805c-fc1b64cf447d.html?chunk=7#story7
7. Netanyahu threatened with corruption charges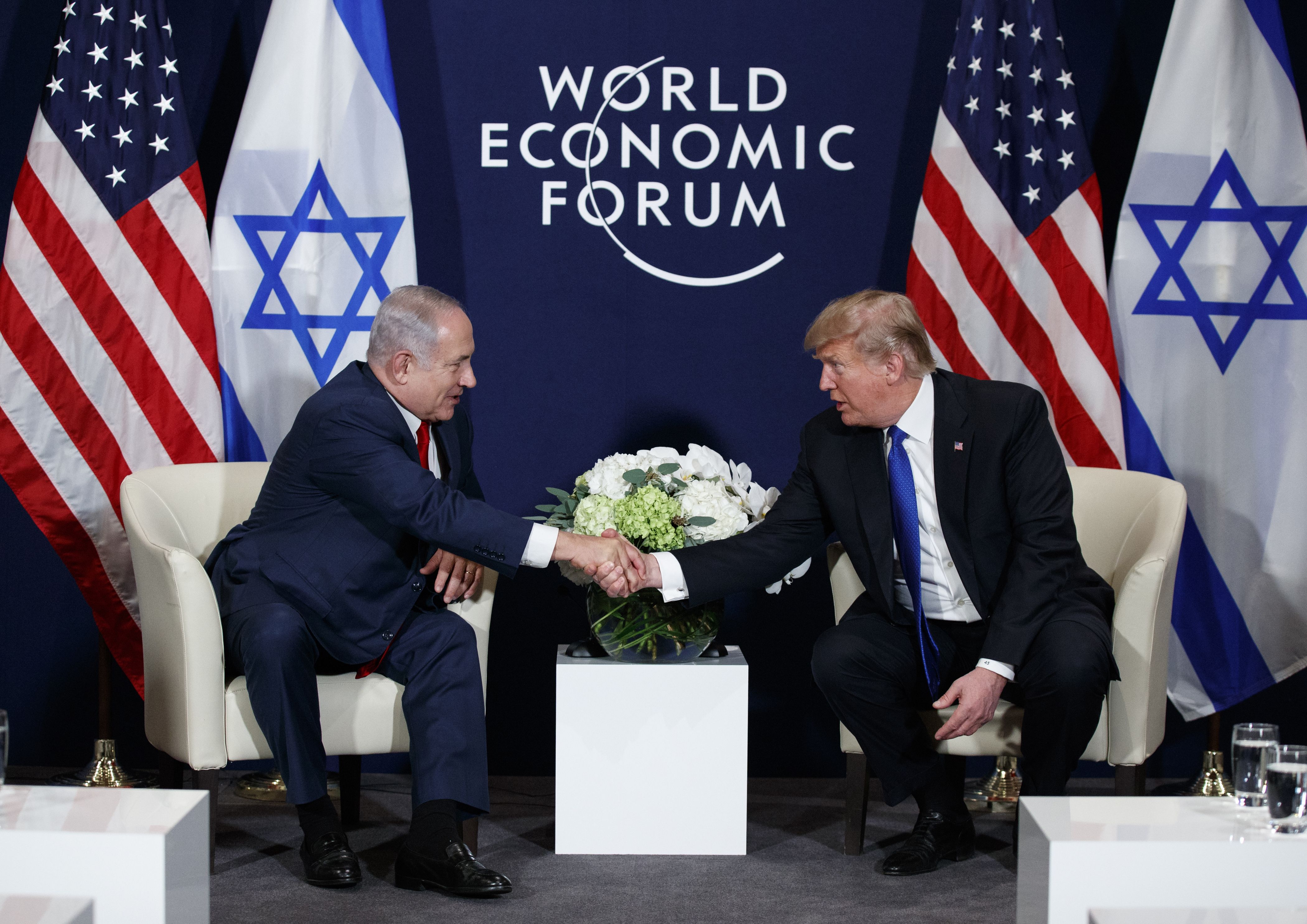 Israeli Prime Minister Benjamin Netanyahu shakes hands with President Trump in Davos on Jan. 25. (AP's Evan Vucci)
"Over the course of many months, Israeli prosecutors investigating alleged corruption worked their way into the inner sanctum of Prime Minister Benjamin Netanyahu," Bloomberg reports:
What's new: "Israeli police recommended charging him with bribery, fraud and breach of trust for allegedly trading his influence for favors in two separate cases. That recommendation goes to Attorney General Avihai Mandelblit, who will decide whether to file charges against a sitting Israeli prime minister for the first time. Netanyahu has denied wrongdoing."
Why it matters: "Netanyahu's discomfort has become real legal peril. His tenure as prime minister, the second longest in Israel's history, could be threatened, and the country could see its second consecutive leader indicted for alleged wrongdoing."
https://www.axios.com/newsletters/axios-am-3ac0af15-0f5e-4ac4-805c-fc1b64cf447d.html?chunk=8#story8
8. "The most dangerous corner in the world"
"[H]aving ... watched Israel shoot down an Iranian drone from Syria, bomb an Iranian base in Syria and lose one of its own F-16s to a Syrian missile; and after U.S. jets killed a bunch of Russian 'contractors' who got too close to our forces in Syria, I now think the Syria-Israel-Lebanon front is the most dangerous corner in the world."
https://www.axios.com/newsletters/axios-am-3ac0af15-0f5e-4ac4-805c-fc1b64cf447d.html?chunk=9#story9
9. Recorked
"Senator Bob Corker of Tennessee has been reconsidering his decision to retire this year, but Mr. Corker's hopes for retaining his seat are running into a potentially insurmountable object: President Trump," per the N.Y. Times' Jonathan Martin:
"Just over four months after Mr. Corker, upon

declaring he would retire

, unleashed a biting series of attacks on Mr. Trump, the president is refusing to bless

his friend-turned-foe's effort

to re-enter the Republican primary race."
"Instead, in a telephone conversation last week, Mr. Trump offered encouragement to Representative Marsha Blackburn, a conservative lawmaker and White House ally who has emerged as the favorite to win the Republican nomination for Mr. Corker's seat."
https://www.axios.com/newsletters/axios-am-3ac0af15-0f5e-4ac4-805c-fc1b64cf447d.html?chunk=10#story10
10. 1 book thing
Doris Kearns Goodwin has a book, "Leadership," coming in September (Simon & Schuster) that will focus on four presidents she has written about before: Lincoln, Teddy Roosevelt, LBJ and FDR, according to AP's Hillel Italie:
Goodwin: "Abraham Lincoln and Teddy Roosevelt had been in politics a long time ... Donald Trump's election was unprecedented because of his lack of experience. And it reflected the mood of the country because people were frustrated by the broken political system. But I wanted to write about a time when experience in politics was valued."
Goodwin didn't just read political books for "Leadership," but such popular business authors as Jim Collins and Stephen Covey.
Smart brevity: She also promises to make "Leadership" relatively short, under 400 pages: "A woman wrote to me about 'The Bully Pulpit,'" Goodwin said, referring to her 900-page book about politics in the early 20th century. "She told me that she was reading the book in bed and that she fell asleep and the book broke her nose! This won't happen with the new one."