Axios AM
April 02, 2019
⚕If you'll be in D.C. tomorrow ... Join me at 8 a.m. for an Axios News Shapers breakfast on health care, with Sen. Chris Murphy, Rep. Mark Meadows and Axios' Caitlin Owens.
1 big thing ... Scoop: Mike Bloomberg might still run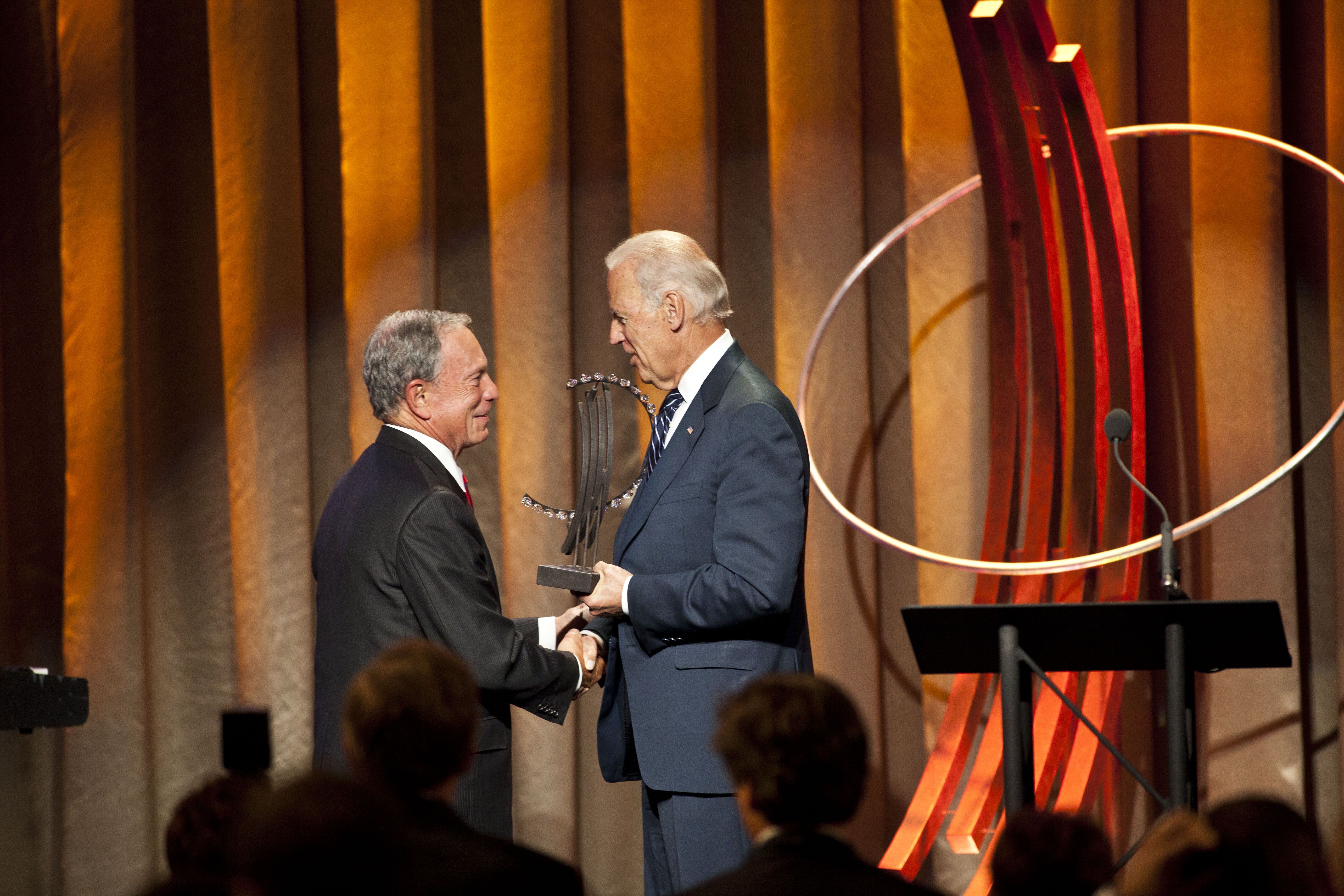 Michael Bloomberg might still run for president in 2020, especially if former Vice President Joe Biden winds up not getting in, according to people who have discussed the matter with the former New York mayor.
These people tell me that Bloomberg, 77, who announced March 5 that he wouldn't run, might reconsider if a centrist lane were to open up.
The most likely scenario for that would be if Biden, 76, whose displays of public affection have burst into a major issue, were to stay out or fade fast.
Why it matters: Bloomberg would be a voice of more moderate practicality in a field where the early campaigning has been dominated by leftish idealism.
Bloomberg, estimated by Forbes to be worth $58 billion, could spend unlimited amounts to argue that no one in the race had done more to promote action on climate and guns.
So Bloomberg, at least at first, could command a hearing and impose a footprint in a way that few candidates can.
The people who have talked to Bloomberg caution that if he were to revisit the decision, he might well wind up in the same place.
But we're told Biden's presumed candidacy was a fairly significant factor in Bloomberg's decision, after massive spending on data and polling.
The race looked like "a bloody fight for the same slice of voters," a source said.
But Bloomberg really wanted to go, according to numerous friends.
"He's a data guy," one of them said. "He couldn't get the math to work."
Be smart: Bloomberg's second thoughts speak volumes about how Democrats view the allegations' damage to Biden, who has spent days dealing with wall-to-wall coverage of whether his touchy-feely, gregarious style is fine or a bit creepy. 
It's unlikely to stop Biden from running, but certainly makes him look more vulnerable than a week ago.
2. Biden advisers smell a conspiracy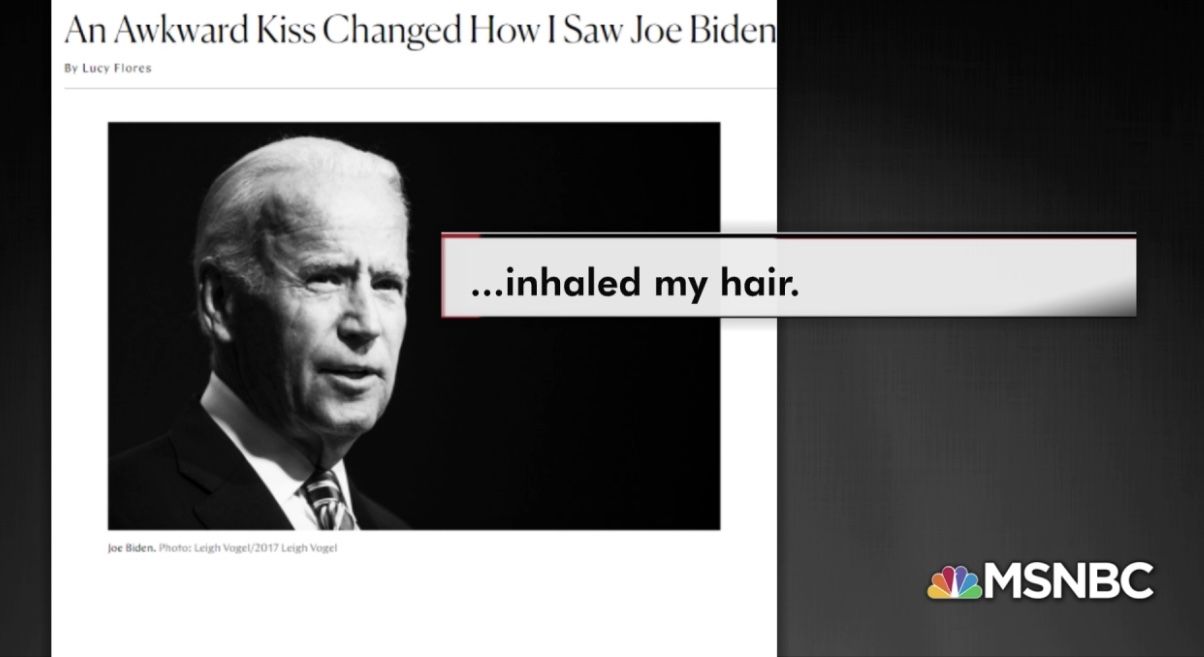 Joe Biden advisers believe coverage of allegations of inappropriate behavior is being stoked by rival Democrats — a dynamic that could actually fire up the vice president at a time when others see success as increasingly improbable.
Several around Biden think advisers to Bernie Sanders are at least partly behind the anti-Biden campaign. 
One prominent backer thinks Biden will run, and "is ready to kill Bernie."
I got this text last night from a source close to Biden:
"VP directed staff this evening to reach out to supporters and donors with a simple message — full steam ahead."
A second woman went on the record yesterday to say that a past display of affection by Biden had made her feel uncomfortable.
Amy Lappos of Connecticut told the Hartford Courant that Biden rubbed noses during a 2009 political fundraiser in Greenwich when he was vice president: "It wasn't sexual, but he did grab me by the head."
Biden spokesman Bill Russo blasted "right wing trolls" from "the dark recesses of the internet" for circulating misleading photos of Biden embraces.
3. Interest in "Mayor Pete" is exploding
Pete Buttigieg is generating more social-media interest per article than any of his 2020 rivals, according to data from analytics company NewsWhip.
Google search interest in Buttigieg has taken off. CNN's Harry Enten points out that has "correlated with jumps in the polls this primary season."
Buttigieg — the 37-year-old mayor of South Bend, Ind. — announced yesterday that he has raised $7 million since launching in January.
The N.Y. Times say that likely will put him in the front half of the pack.
An array of social metrics show escalating interest in "Mayor Pete," Axios' Neal Rothschild and Sara Fischer report:
Since his breakout performance at a CNN town hall on March 10, he has added 447,000 followers on Twitter.
His next closest 2020 competitor, Beto O'Rourke, picked up 137,000 in that period, per CrowdTangle.
Buttigieg generated more engagement with his tweets (2.1 million likes, retweets, comments) in that span than any other candidate's main account except O'Rourke (2.17 million) — and Mayor Peter has half as many followers (600,000 vs. 1.4 million).
Buttigieg added more followers on Instagram (90,000) and Facebook (75,000) during the period than any Democratic candidate except O'Rourke (92,000/82,000), per CrowdTangle.
Buttigieg broke through with his intriguing background — a gay, Episcopalian, Navy veteran, Rhodes scholar millennial who speaks eight languages.
Coverage of him that has generated the most online interest includes:
Linguistic ability: Buttigieg answered a reporter's question in Norwegian. He taught himself the language to keep up with an author he liked.
Religion: "We have this totally warped idea of what Christianity should be like when it comes into the public sphere, and it's mostly about exclusion."
MAGA: He said the notion of making America great again is "not honest" because it doesn't address the way automation is transforming the economy.
Go deeper: Everything you need to know about Pete Buttigieg.
4. Today is Equal Pay Day
Equal Pay Day symbolizes how far into the year women must work to earn what men earned in the previous year, per the National Committee on Pay Equity.
5. Saudis pay off Khashoggi kids
"The children of slain Saudi journalist Jamal Khashoggi have received million-dollar houses in the kingdom and monthly five-figure payments as compensation for the killing" six months ago today, the WashPost's Greg Miller scoops.
"Khashoggi's two sons and two daughters may also receive much larger payouts — possibly tens of millions of dollars apiece — as part of 'blood money' negotiations."
Why it matters: The payments are part of an effort by Saudi Arabia to ensure that Khashoggi family members "continue to show restraint in their public statements about the killing of their father by Saudi operatives."
Post publisher Fred Ryan writes in a rare op-ed, "Six months later, Trump still has not acted on Khashoggi's murder":
Congress must continue to do everything in its power to hold Khashoggi's killers responsible. Administration officials should look at shocking evidence that reinforces the conclusions of our intelligence agencies. ... Another six months cannot pass without accountability for this abhorrent crime.
6. Factories pick up, calming investors
Manufacturing activity in the U.S. and China, the world's two largest economies, "perked up in March, an antidote to financial-market fears of a coming global recession," The Wall Street Journal reports in its lead story (subscription).
"[P]ockets of weakness remain and the outlook is uncertain."
Why it matters: The improving factory-sector gauges "reversed a so-called inverted yield curve that had developed in late March in which short-term rates are higher than long rates, a precursor to economic downturns in the past."
7. Valerie Jarrett tells of confronting Obama about macho atmosphere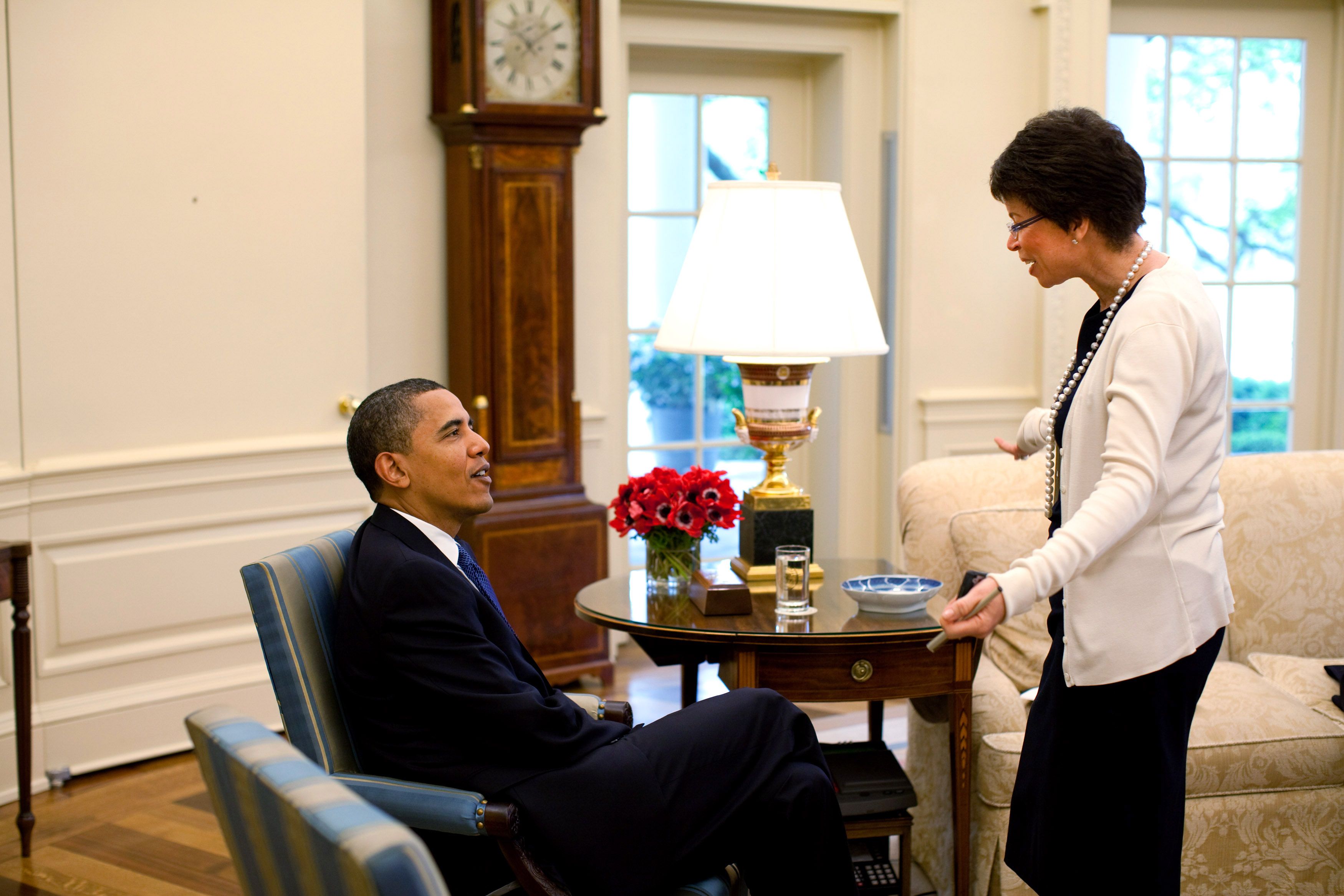 Valerie Jarrett, senior adviser to President Obama, writes in "Finding My Voice: My Journey to the West Wing and the Path Forward" (out today from Viking) that she confronted him about a "general macho atmosphere" in his West Wing that "was causing women to feel uncomfortable":
"If you notice," she told him, "in meetings the women rarely talk. And when you aren't there to ask their opinion, they are becoming increasingly mute."
"He invited over a dozen of the senior women for dinner at the White House to discuss what was going on."
"[H]e gave us his undivided attention for two and a half hours."
"[H]aving the president himself assure [the women] of their value ... gave us the courage and confidence we needed to make our voices heard."
"Since the night Donald Trump became president," Jarrett writes, "I've been going through the five stages of grief, sometimes all five in the same day."
"In the beginning, denial and anger were high on the list; I still haven't embraced acceptance."
"To me, the thousands of what-ifs of that election all come down to one fact: nearly 43 percent of eligible voters did not vote."
8. Possible Trump job opening
President Trump is considering a "border czar" or "immigration czar" to coordinate immigration policy across various federal agencies, AP reports.
Two potential candidates: former Kansas Secretary of State Kris Kobach and former Virginia Attorney General Ken Cuccinelli.
9. Coming attractions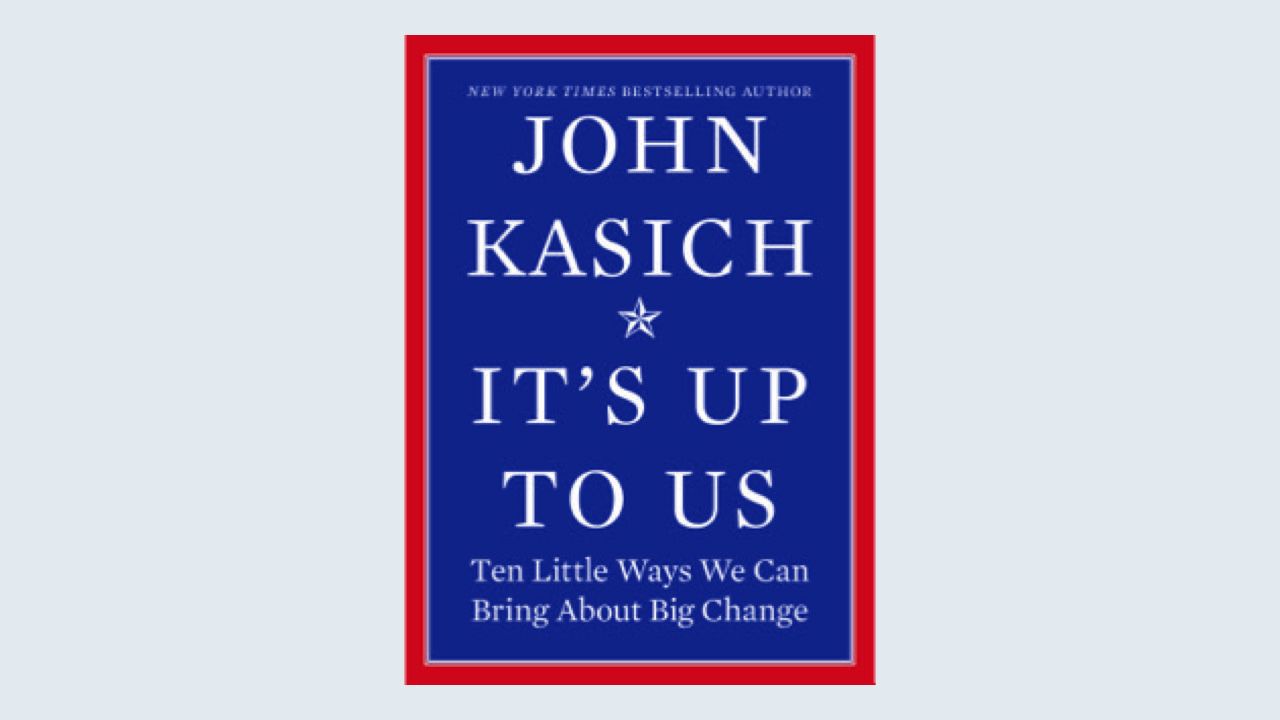 John Kasich — CNN commentator, possible Trump challenger, and former Ohio governor — has a book coming in October from Hanover Square Press, "It's Up to Us: Ten Little Ways We Can Bring About Big Change."
"Fix things where you live," Kasich writes, "connect with other people, live a life bigger than yourself, and tell politicians what you expect out of them."
10. 1 film thing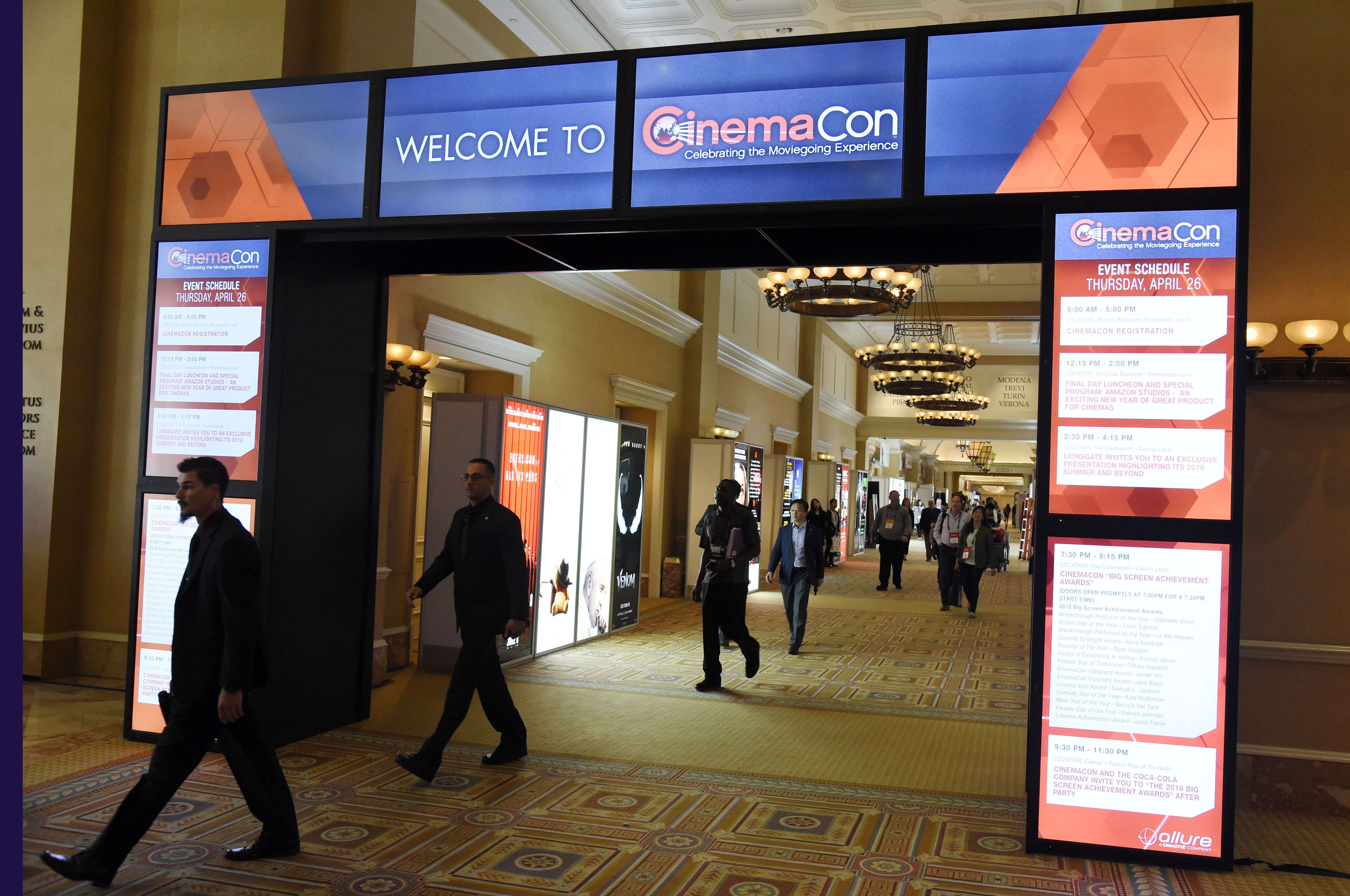 Movie theater owners, studios and stars are gathering at Caesar's Palace in Vegas for the trade show CinemaCon, AP's Lindsey Bahr writes:
Julien Marcel, CEO of Webedia Movies Pro, a data company for the theatrical industry, said the buzz is about the "second digital revolution" in moviegoing.
"All movie experiences start online and the key challenge for exhibitors is how to adapt with this second digital revolution," Marcel said.
"The first digital revolution was when projection moved from analog to digital. Now we're at the heart of the second digital revolution where the marketing goes all digital and the ticket sales go all digital."
Marcel also expects there to be a lot of focus on the "subscription economy."
MoviePass might be struggling, but AMC and Cinemark have found successes with their own models and more companies are gearing up to do the same.