May 10, 2018
Good Thursday morning. 💐Heads up: Sunday is Mother's Day.
Situational awareness: "Hawaii's Kilauea volcano could soon send boulders and ash shooting out of its summit crater in the kind of ... eruption last displayed nearly a century ago. ... [A 1924] explosion ... sent rocks, ash and dust into the air for 17 days." (AP)
🏀 NBA final four: Houston Rockets, Golden State Warriors vs. Cleveland Cavs, Boston Celtics.
🇰🇵 1 big thing: Trump's plan to out-"crazy" Kim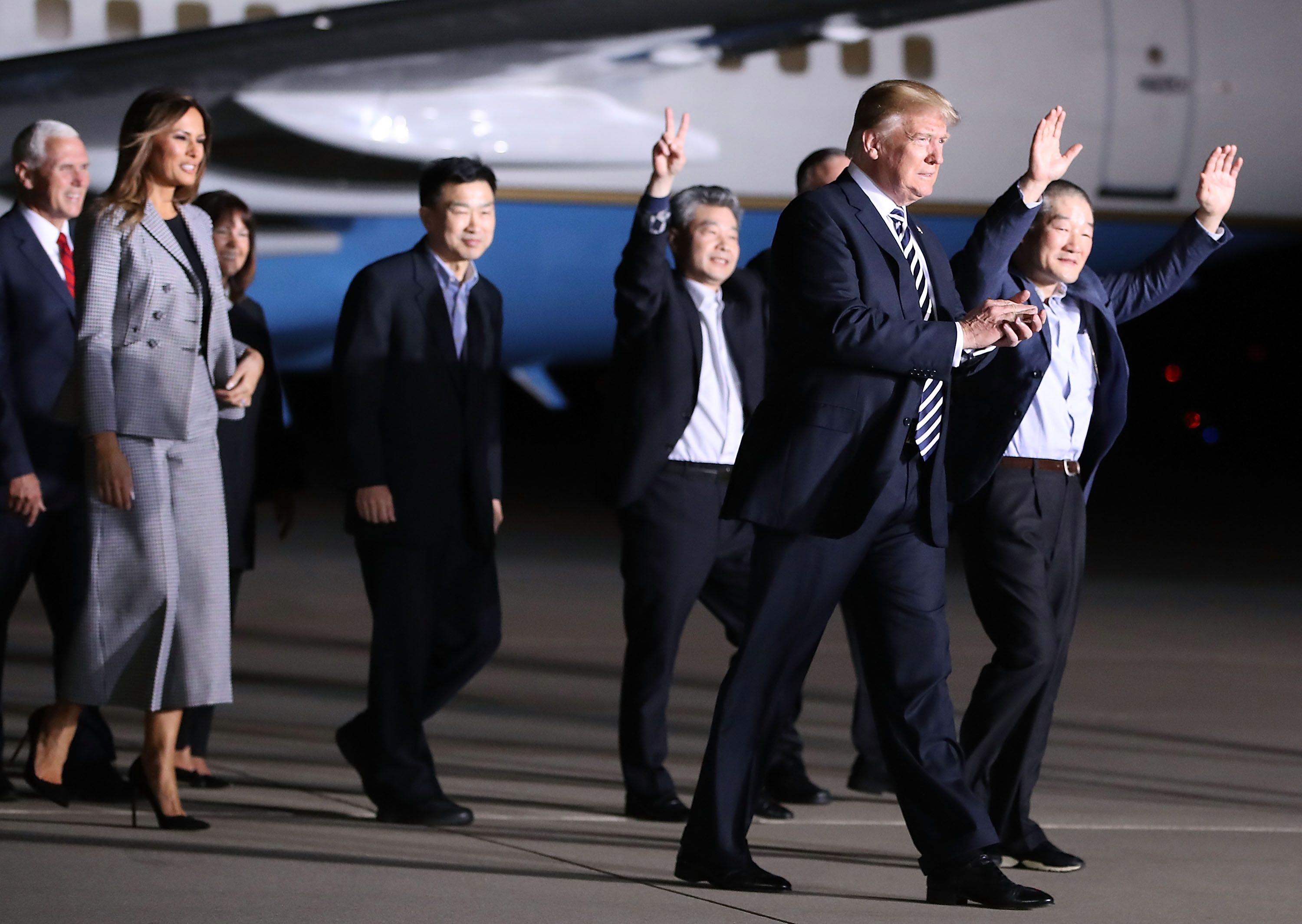 "Unpredictability" is the key to understanding President Trump's negotiating plan as he heads into his roll-the-dice summit with North Korea's Kim Jong-un, Jonathan Swan reports:
Trump loves to say that every other U.S. president was predictable.
He believes foreign affairs has always been overly scripted and his predecessors were "totally predictable," which let their adversaries run rings around them.
A source who recently spoke to Trump about his upcoming meeting with Kim Jong-un paraphrased the president's private monologue:
"No one knows what I'm going to do. They are over there trying right now to analyze every statement I'm putting out to get a sense of what's going to happen when I walk into the room. But the fact of the matter is nobody knows." 
Trump loves to watch the media try to predict what he's going to do and say about any number of things, including North Korea, and he gleefully tells aides: "They have no idea."
"Kim Jong-un's entire lineage is having people think he might be crazy. Trump's like: 'You're crazy? How about this?'" a source said a while back, during the phase of Trump calling Kim "Little Rocket Man" and taunting him by saying he has a bigger nuclear button.
One of the biggest challenges: How will Trump ever know he's struck a good deal after the photo op and North Korea's initially dramatic destruction of some of its nuclear facilities?
Verification is the whole ballgame. To believe in a deal we'd have to believe that Kim Jong-un has decided to fundamentally change his country and to do something his family has never done before: giving international inspectors 100 percent visibility into the hermit kingdom. The NYT's David Sanger has a good piece on that problem here.
And here's a fascinating piece by Swan about the view from South Korea: President Moon Jae-in saw last summer that the White House and Pentagon were working on military options in the event Kim threatened the U.S. So Moon went into diplomatic overdrive, using the military crisis to present Kim with economic development plans he'd long wanted to deliver.
2. Trump's 3 a.m. triumph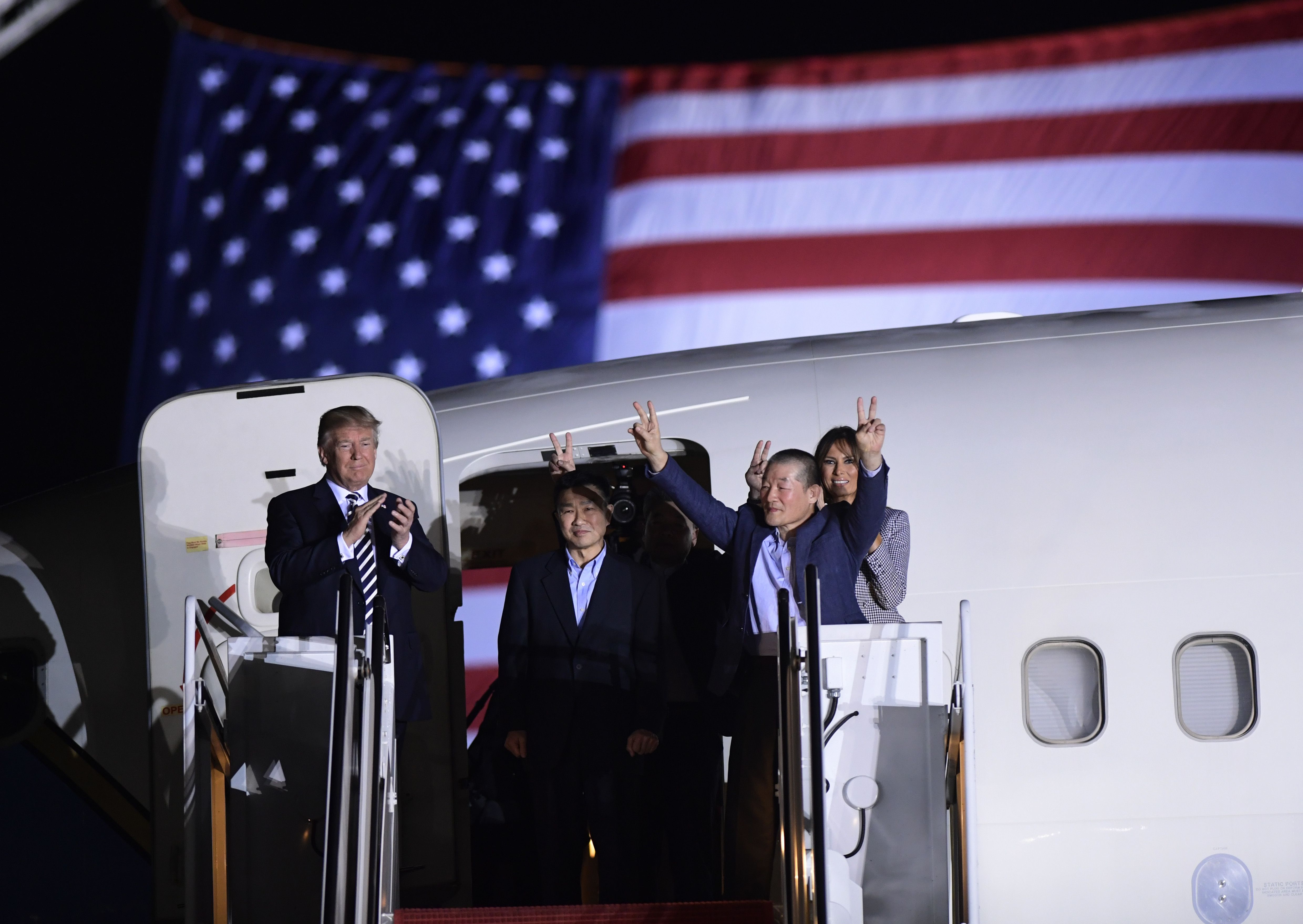 In the wee hours on live global television, President Trump greeted three American prisoners freed from North Korea as they landed at Andrews Air Force Base, Md., and engaged a returnee and his translator in brief banter.
AP: "The White House pulled out all the stops for the event, hoisting a giant American flag between two fire trucks on the tarmac."
Trump, who loves to think of his presidency as episodes in a reality show, reveled in the diplomatic achievement as he left the tarmac: "I think you probably broke the all-time in history television rating for 3 o'clock in the morning."
"My proudest achievement will be — this is a part of it — but it will be when we denuclearize that entire peninsula."
"This is what people have been waiting for for a long time. Nobody thought we could be on this track in terms of the speed. So, I'm very honored to have helped the three folks."
The scene: CNN's Jeff Zeleny, reporting live from Andrews said there were 200 to 250 reporters and photographers, and surprisingly little sound: No music, and no family members or friends immediately greeted the returnees.
From a pool report by Yahoo News' Hunter Walker:
"President Trump walked onto the steps outside the plane at 3:00 am accompanied by his wife and the three returnees. They shook hands. One of the men pumped his hands in the air as Trump clapped."
"About two minutes later, Trump brought the men up to the assembled reporters and they all spoke to the press for over seven minutes."
"Trump repeatedly expressed optimism for talks with North Korea and said, 'We'll see what happens. ... We want to thank Kim Jong-un.'"
When asked if he might one day visit North Korea, Trump said, "It could happen." 
"Through a translator, one of the returnees spoke about his treatment in North Korea. He said he was treated in different ways including sometimes doing forced labor but also receiving medical treatment."
"Trump walked the men back to the bus at about 3:10 am and it departed soon after. Marine One took off at about 3:17 am."
P.S. N.Y. Times Quote of the Day ... Evans J.R. Revere, a former State Department diplomat who specializes in East Asia, on the prisoners' release:
"I would not give Pyongyang too much credit for undoing something it shouldn't have been doing in the first place."
3. The Michael Cohen avalanche
Michael Cohen is potentially more perilous to President Trump than anybody else.
Why he matters, per Jonathan Swan ... The saga has it all: a history of shadowy business deals, ties to organized crime figures connected to Russian mafia, hush money payments to an untold number of women, payments from a U.S. company linked to a Russian oligarch — and, now, Mueller's team is investigating how Cohen monetized his access to Trump.
Key point: Bob Mueller has known about the payments to Cohen for months.
AT&T statement: "When we were contacted by the Special Counsel's office regarding Michael Cohen, we cooperated fully, providing all information requested in November and December of 2017."
What's new:
"As Trump's Gatekeeper, Fixer Made Millions," per N.Y. Times: "Most of the arrangements remained a secret until Tuesday. ... Novartis, the Swiss drug maker, said it had paid Mr. Cohen $1.2 million after he approached the company early last year promising insights into Mr. Trump's views on health care. AT&T ... said it had paid him $600,000 for advice on regulatory matters."
WashPost: "He showed photos of himself with Trump and mentioned how frequently they spoke, even asking people to share news articles describing him as the president's 'fixer.' 'I'm crushing it,' he said, according to an associate who spoke to him in the summer of 2017."
P.S. "The Treasury Department has opened an investigation into whether bank records belonging to President Trump's private lawyer were illegally leaked to a lawyer for porn actress Stormy Daniels." (USA Today)
4. Tough punch from McCain scrambles CIA calculus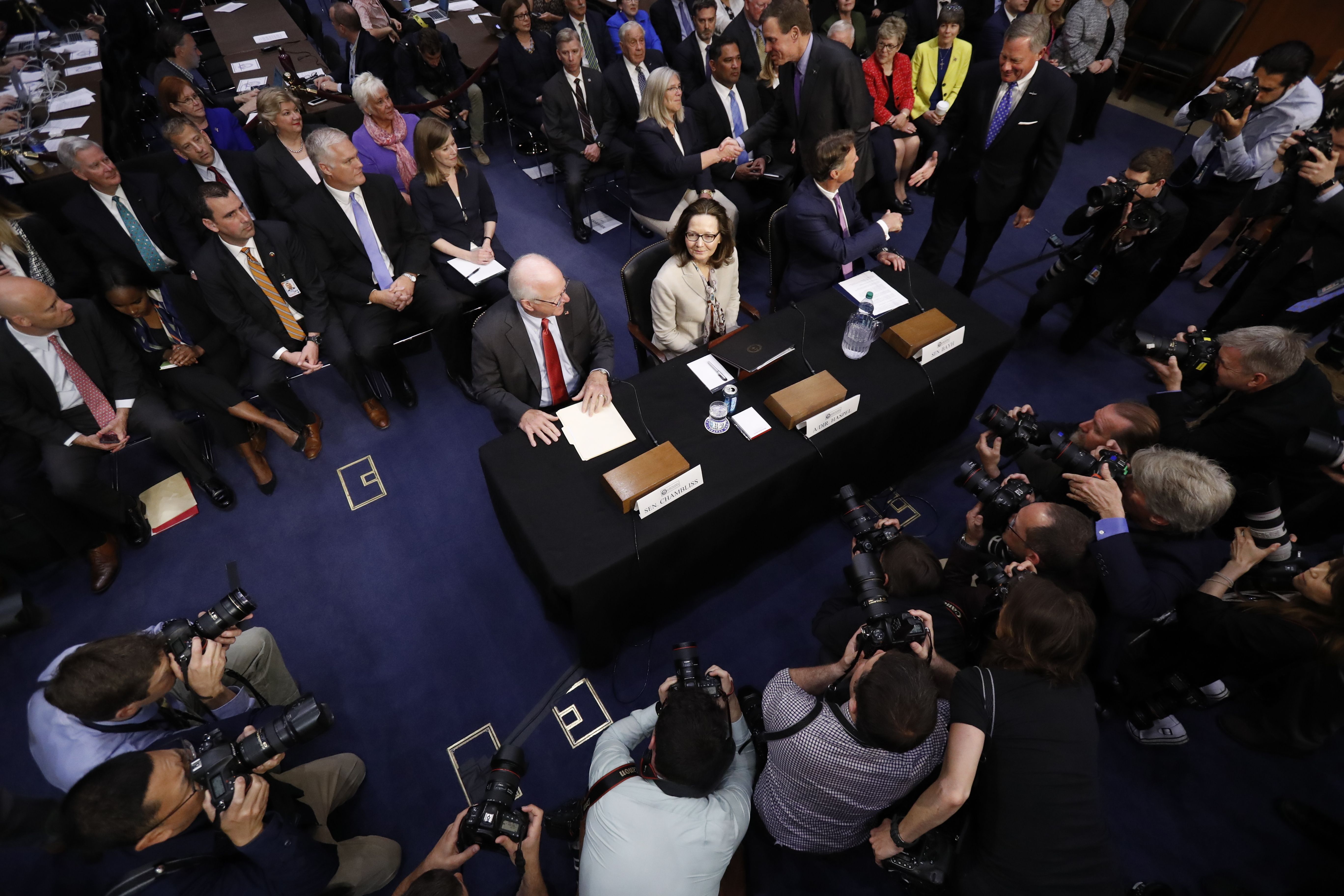 An adviser tells me the White House still expects the Senate to confirm Gina Haspel as CIA director, despite the head-turning opposition that Sen. John McCain (R-Ariz.) announced on Twitter last night.
As longtime friends receive calls saying this is the time to go pay last respects to McCain, he tweeted: "I believe Gina Haspel is a patriot who loves our country & has devoted her professional life to its service & defense. However, her role in overseeing the use of torture is disturbing & her refusal to acknowledge torture's immorality is disqualifying."
Why it matters: McCain, with the unique high ground he commands on the issue, could cost the acting CIA director votes for the top job.
But the adviser said the White House still believes Haspel will become the first woman DCIA for a very clinical reason: Enough Democratic senators in red states will calculate that they should stick with her for their own politics.
5. How Trump is reshaping the courts
President Trump has already appointed a record-breaking number of federal judges, but his judicial legacy is even bigger than that: More than half of those judges replaced Democratic appointees, Axios' Sam Baker, Stef Kight and Andrew Witherspoon report:
The Senate has confirmed 17 Trump nominees for federal district courts, most of whom replaced Democratic appointees.
Trump has also filled 16 vacancies on federal appeals courts (the last stop before the Supreme Court). Six of those appointees replaced judges who were nominated by Democratic presidents.
There are still 140 more vacancies in the federal district and appellate courts, and Trump has put forward nominees for about half of them.
There could soon be 100 judicial nominees pending in the Senate, according to the Federalist Society's Leonard Leo.
The bottom line: Trump and Senate Majority Leader Mitch McConnell have already set a breakneck pace for judicial confirmations. If Republicans still control the Senate after this year's midterms, no matter what else happens, that pace will continue — and the impact will be felt long after Trump's presidency.
6. Scoop: Donald Trump Jr. plans big midterm role
Donald Trump Jr. is preparing to dive into the 2018 midterm elections, Jonathan Swan reports:
He wants to use his influence within the Republican base to "expand our majority in the Senate and protect our majority in the House," said a source close to the president's son.
Expect Don Jr. to be raising money for Republican candidates and staging rallies.
Behind the scenes: Immediately after the race was called in the West Virginia Senate primary on Tuesday, Don Jr. spoke to Patrick Morrisey to congratulate him on his victory.
People briefed on the call said Don Jr. offered to come down and campaign with Morrisey to defeat Democratic Sen. Joe Manchin.
Don Jr.'s first trip to West Virginia is expected to be scheduled fairly soon.
Don Jr.'s priority states for midterm Senate races: West Virginia, Missouri, Montana and Indiana.
Between the lines: Those are all states where President Trump has solid approval ratings. A source close to Don Jr. said he believes his brand of "MAGA conservatism" — pro-gun, anti-media, anti-establishment — could make a difference in turning out the base in these states. 
Staffing up: Don Jr. has recently brought on Andy Surabian to provide communications and political advice and support. Surabian ran the war room on the Trump campaign, and worked in the White House for Steve Bannon. Surabian parted ways with Bannon in January following the release of Michael Wolff's "Fire and Fury," which included passages that attacked Don Jr. 

7. Highest paid CEOs
Wall Street Journal analysis: "Median pay reached $12.1 million for CEOs of the biggest U.S. companies in 2017, a new post-recession high, as profits and stock prices soared."
"Most S&P 500 CEOs received raises of 9.7% or better last year."
"CEOs at pharmaceutical, media, technology and financial firms dominated the WSJ's pay ranking, taking 16 of the 25 top spots.
"Here are the highest-paid CEOs of 2017, excluding those who came or went during the year":
Hock Tan, Broadcom, $103.2 million
Les Moonves, CBS, $69.3 million
W. Nicholas Howley, Transdigm, $61 million
Jeff Bewkes, Time Warner, $49 million
Stephen Kaufer, TripAdvisor, $47.9 million
"Lowest paid ... There were 26 CEOs in the S&P 500 making $5 million or less last year. Three of the lowest paid, Larry Page, Warren Buffett and Jeff Bezos, are billionaire founders":
Larry Page, Alphabet, $1
Warren Buffett, Berkshire Hathaway, $100,000
Steven Kean, Kinder Morgan, $382,000
John Roberts, J.B. Hunt, $859,000
Jeff Bezos, Amazon, $1.7 million
"Women ran 25 of the S&P 500 companies at some point during 2017, down from 26 the prior year. Those on the job at least a year tended to make more than men, with half earning at least $14 million":
Indra Nooyi, PepsiCo, $31.1 million
Debra Cafaro, Ventas, $25.3 million
Marillyn Hewson, Lockheed Martin, $22.9 million
Mary Barra, GM, $22 million
Phebe Novakovic, General Dynamics, $21.5 million
8. Women smash records as donors, candidates
"The number of women donating to political campaigns is climbing to new heights ahead of this year's midterm elections as women swarm to politics and run in record numbers for Congress and other elected posts around the country," USA Today's Fredreka Schouten reports:
"Women account for 31% of the money going to House candidates, their highest share of the donor pool in any election cycle, according to ... the non-partisan Center for Responsive Politics."
In 2014, "women gave 27% of the money that went to House contenders."
9. Lingo: "Thirdhand smoke"
"First came doctors' warnings about cigarettes. Then came discoveries about the danger of secondhand smoke. Now, a growing number of scientists are raising the alarm about thirdhand smoke — residual chemicals left on indoor surfaces by tobacco smoke," the WashPost's William Wan reports:
What it is: "[C]hemicals from tobacco smoke often linger on clothes, surfaces and even skin. ... Mounting research has shown such potentially hazardous residue can be absorbed through the skin, ingested and inhaled months and even years after the smoke has dissipated."
Why it matters: "Public health advocates worry that those most vulnerable to the harmful effects of thirdhand smoke are also those who most likely to come into contact with it":
"A baby crawling on the ground ... has much more contact with carpets where cigarette residue often resides."
"And because of increasing socioeconomic disparities in smoking, low-income families are more likely to live in homes and neighborhoods where decades of smoking have led to thirdhand smoke accumulation."
10. 1 creepy thing
"Forget the Hackers, Watch Out for the Phone Snoopers," The Wall Street Journal's Sue Shellenbarger writes in an A-hed (subscription):
"Some of the rudest privacy violations don't occur online. On buses and trains and in cafes and lecture halls, peeking at what others are doing on their mobile devices is a temptation few can resist."
"Snooping punctures the invisible personal bubble that seems to surround smartphone and laptop users in crowded spaces."
Ever wanted to do this? "Sarah Johnson was riding the New York subway home from work recently when she noticed a woman peering over her shoulder, reading the email she was writing on her phone. 'Should I move the screen closer so you can have a better look?' Ms. Johnson asked."