June 10, 2021
Happy Thursday! Smart Brevity™ count: 1,453 words ... 5½ minutes. Edited by Zachary Basu.
💻 Please join Axios' Ashley Gold today at 12:30 p.m. ET for a virtual event on cybersecurity. Guests include Sen. Mark Warner (D-Va.) and Thistle Technologies founder and CEO Window Snyder. Sign up here.
1 big thing: Criminals stole up to half of U.S. unemployment funds
Criminals stole as much as half of the unemployment benefits the U.S. pumped out over the past year, Axios' Felix Salmon reports.
Why it matters: Unemployment fraud during the pandemic could easily reach $400 billion, according to some estimates. The bulk of the money likely ended in the hands of foreign crime syndicates — making this not just theft, but a matter of national security.
What's happening: When the pandemic hit, states weren't prepared for the unprecedented wave of unemployment claims.
They all knew fraud was inevitable, but decided getting the money out to people who desperately needed it was more important than laboriously making sure all of them were genuine.
Blake Hall, CEO of ID.me, which tries to prevent this kind of fraud, tells Axios that America has lost more than $400 billion to fraudulent claims. As much as 50% of all unemployment money is suspected stolen, he says.
Haywood Talcove, CEO of LexisNexis Risk Solutions, estimates that at least 70% of the money stolen by impostors ultimately left the country, much of it ending up in the hands of criminal syndicates in China, Nigeria, Russia and elsewhere.
"These groups are definitely backed by the state," Talcove tells Axios.
Much of the rest of the money was stolen by street gangs domestically, who have made up a greater share of the fraudsters in recent months.
The Treasury Department declined to comment on these estimates.
How it works: Scammers often steal personal information and use it to impersonate claimants. Other groups trick individuals into voluntarily handing over their personal information.
"Mules" — low-level criminals — are given debit cards and asked to withdraw money from ATMs. That money then gets transferred abroad, often via bitcoin.
The backstory: Before the pandemic, unemployment claims were relatively rare, and generally lasted for such short amounts of time that international criminal syndicates didn't view them as a lucrative target.
But that changed after unemployment insurance became the primary vehicle for the U.S. government to keep the economy afloat.
Unemployment became where the big money was — and the system was being run by bureaucrats who weren't as quick to crack down on criminals as private companies normally are.
Unemployment fraud is now offered on the dark web on a software-as-a-service basis, much like ransomware.
2. The war for attention
Never have humans talked, tweeted or texted more words — and found it more difficult to be heard.
Why it matters: In this era of nonstop noise, every person must be a skillful communicator. Yet most struggle at it, Axios CEO Jim VandeHei writes:
Customers and employees are demanding to know what companies stand for. Most executives have been lousy at answering.
Here are a few tips we have learned running a media company that you can use to bust through the noise:
Write like you speak. Jargon, throat-clearing and well-known background weigh your message down. Conversational language is captivating.
Ruthlessly prioritize. Attention spans are short and shrinking. Accept it. Get to the point quickly so readers can move on. 
Repetition matters. If you want someone to remember something, communicate crisply — and repeatedly. By the time you have annoyed yourself, others are probably starting to hear you.
Diversify. Fast. Every person needs to be able to speak authoritatively — or listen authentically — about diversity, equity and inclusion. If you rolled your eyes at this one, get help, quick.
The big picture: The communications crisis isn't confined to business or top leaders. The more noise and distraction, the more precision and efficiency matter in being heard — and remembered.
Just look at politics: Power no longer flows from position, seniority or money. It flows to those who master — or game — modern, short-burst communications on cable or Twitter.
Teachers, preachers, small-group leaders — everyone who communicates one-to-many — face similar challenges in penetrating brains rewired by quick-twitch technology.
📱 You're invited: Join Jim VandeHei and other Axios colleagues tomorrow at 12:30 p.m. ET for a half-hour virtual event, "The War for Attention: Communication Rules for a Hybrid Workforce." Sign up here.
3. Something to agree on: Both parties toughen China stance
Besting China's tech industry is one of the few goals that Democrats and Republicans in Washington can agree on, Axios' Ina Fried and Ashley Gold write.
The Biden administration yesterday rescinded executive orders by President Trump that threatened the ability of Chinese-owned TikTok and WeChat to operate in the U.S. in their present form. He replaced those orders with a new one ordering a wider review of foreign-owned apps.
The Senate on Tuesday passed the U.S. Innovation and Competition Act, which authorizes $200 billion to strengthen the chip industry, supercharge advanced technologies, expand the National Science Foundation and more.
Between the lines: The Senate spending bill shows areas where the two parties agree on how to counter China's tech success. Reaction to the White House's executive order shows where they differ.
Sen. Marco Rubio (R-Fla.) criticized the new executive order for potentially letting WeChat and TikTok off the hook.
4. Pic du jour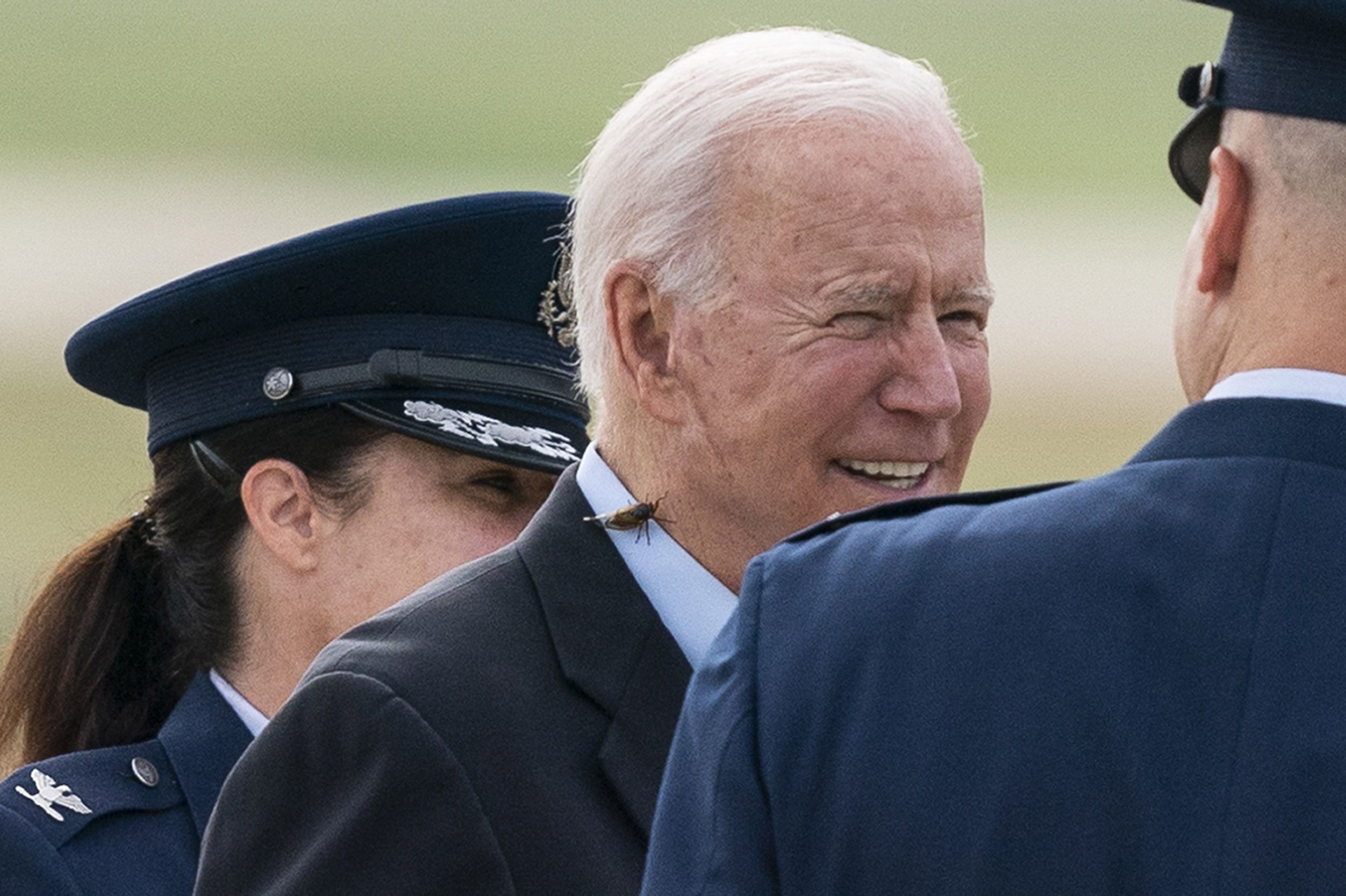 A cicada lands on President Biden as he departs Andrews Air Force Base yesterday.
5. Biden abroad: "Age of democracy" endures
President Biden, arriving in England on the first of eight days in the U.K. and Europe, speaking to U.S. Air Force personnel and families, stationed at Royal Air Force Mildenhall:
I believe we're at an inflection point in world history — the moment where it falls to us to prove that democracies will not just endure, but they will excel as we rise to seize the enormous opportunities of a new age.
We have to discredit those who believe that the age of democracy is over, as some of our fellow nations believe. We have to expose as false the narrative that decrees of dictators can match the speed and scale of the 21st [century] challenges.
6. In one month, two companies pay $15 million in cyber-ransom
JBS USA, part of the world's largest meat-processing company, announced it paid hackers "the equivalent of $11 million in ransom" to resolve a cyberattack that forced it to shut down.
Last month, Colonial Pipeline paid hackers $4.4 million in ransom.
JBS said the decision was made in consultation with internal IT professionals and outside cybersecurity experts, in order to "mitigate any unforeseen issues related to the attack and ensure no data was exfiltrated."
Both JBS and Colonial made the payments in bitcoin, The Wall Street Journal reports (subscription).
The FBI says the Russia-linked REvil ransomware group was behind the JBS attack.
7. Climate groups get antsy with Biden
Infrastructure talks between the White House and Congress have entered a phase that's making climate advocates extremely nervous, Axios' Andrew Freedman reports.
Why it matters: Environmental groups — and even some Democratic lawmakers — are getting vocal about fears that the White House will bargain away central components of President Biden's climate plan.
Sen. Sheldon Whitehouse (D-R.I.) tweeted yesterday:

🛢️ P.S. Keystone killed: "The firm behind the Keystone XL pipeline officially scrapped the project, ... months after President Biden revoked a cross-border permit for the controversial pipeline and more than a decade after political wrangling over its fate began." —WashPost
8. Watchdog: Police didn't clear Lafayette Park for Trump photo-op
U.S. Park Police didn't clear racial-injustice protesters from outside the White House so then-President Trump could pose in front of St. John's Church, Axios' Shawna Chen writes from an inspector general's report.
The move was planned several hours before Park Police knew of Trump's visit. But widespread failure to coordinate across seven law enforcement agencies contributed to "confusion" and the unauthorized use of chemical irritants on Black Lives Matter protesters, the Interior Department's Office of Inspector General found.
The report found that Park Police moved to clear the park last summer to allow a contractor to safely install anti-scale fencing.
Lawmakers had accused police of clearing the crowd to enable Trump's photo-op.
9. Training surgeons with virtual reality
Immertec, based in Tampa, is developing virtual operating rooms for surgical training, Selene San Felice reports in Axios Tampa Bay.
Why it matters: The U.S. faces a massive shortage of surgeons in the next decade, the Association of American Medical Colleges warns. And the pandemic made in-person training even harder.
Immertec's first product, Medoptic, lets physicians broadcast procedures live via 3D teleconferencing. Observers feel like they're actually in the room, so they can ask questions and see how surgeons solve problems.
Selene's thought bubble: I put on the headset for a demo and holy cow — I was in the OR. I got an extreme closeup of robotic surgery inside a prostate — a place I certainly never thought I'd go.
10. ⚾️ Normalcy returns to America's pastime
22 of 30 MLB stadiums will increase to 100% capacity by the end of the month, and all but five stadiums will fill up by the end of July 4 weekend, Jeff Tracy writes in Axios Sports.
On Opening Day (April 1), only the Astros (50%) and Rangers (100%) filled their stadiums at least halfway.
Two months later, 11 teams are at full capacity, 10 more allow at least 50% and just one is still below 20% — and the Mariners are set to increase that next week.
The state of play: All but six teams have played at least 60 games so far, which last year would have meant the end of the ultra-condensed — and fan-less — regular season.
This year, clubs have a full slate of 162 games.
📬 Thanks for reading! Please invite your friends, family, colleagues to sign up here for Axios AM and Axios PM.