Axios AM
June 19, 2018
Good Tuesday morning from Cannes.
Situational awareness: The school board in Richmond, Va. (former Confederate capital) voted 6-1 yesterday to rename J.E.B. Stuart Elementary School, named for a Southern general enshrined on the city's Monument Avenue, to Barack Obama Elementary School. (Richmond Times-Dispatch)
1 big thing ... Trump's new season: Owning Trumpism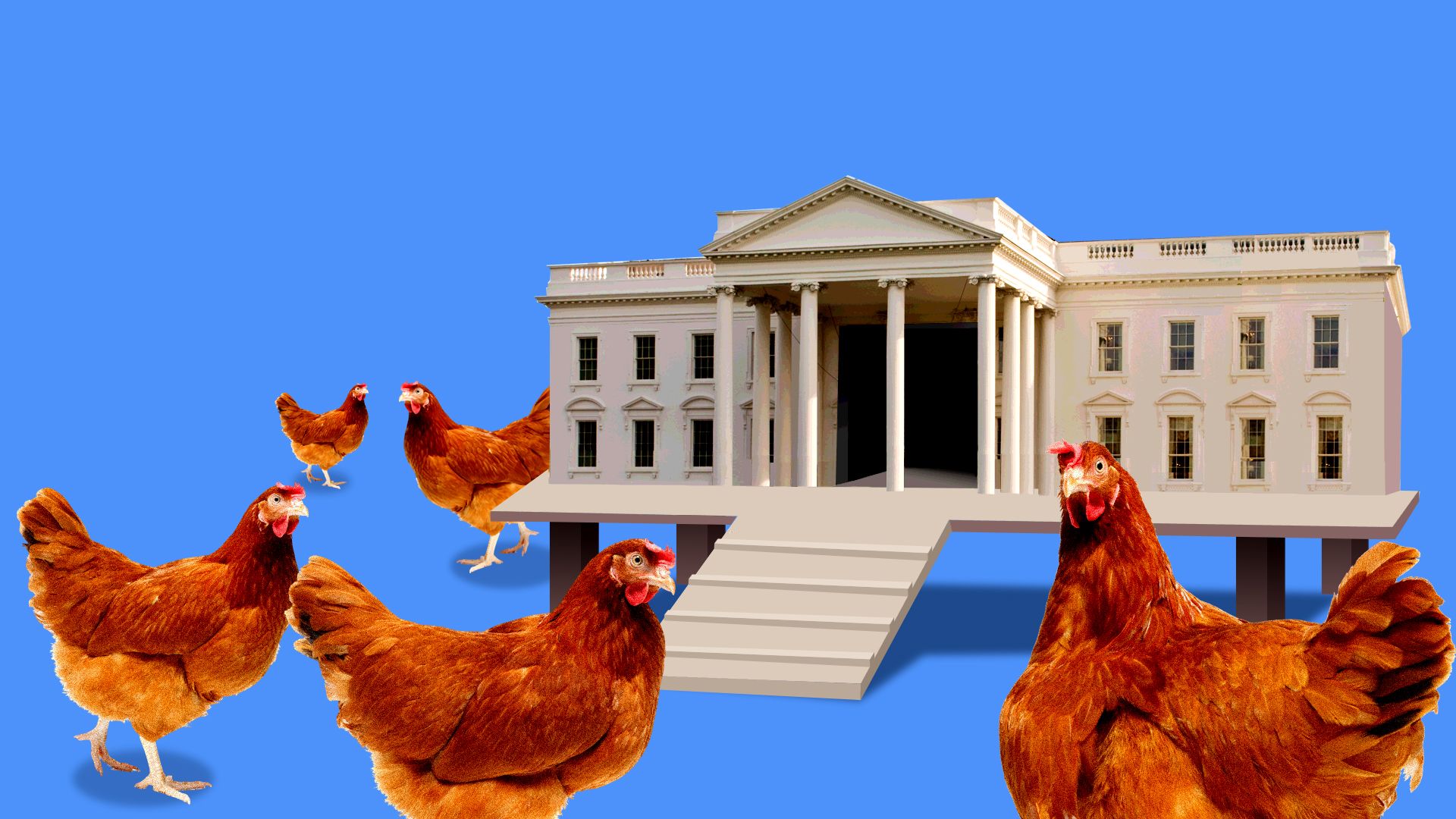 President Trump is entering a new phase of his presidency: He's now dealing in real-time with the consequences of his policy decisions, Jonathan Swan points out:
For 30 years, Trump told America what it'd be like if he were in charge. Better deals, richer, safer, smarter. All rhetorical and theoretical. He could make all sorts of hyperbolic promises with no fear of being disproven. He could eliminate the national debt by eliminating a few agencies and cracking down on "waste, fraud and abuse." He could prevent terrorism by banning all Muslims from entering the country. He could build a big, beautiful wall and get Mexico to pay for it. He could deliver the best health care system anyone had ever dreamed of. 
For the first 12 months of his presidency, Trump made announcements, signed executive orders and some legislation too.
Now, Trump is living through the effects — and images — of his decisions. A booming economy at full employment. (Trump's tax cuts poured rocket fuel over what was already a hot economy.) Fractured alliances with Europe and Canada. Heartbreaking images and stories of parents separated from their children at the border. Ever higher health care premiums. And, potentially the most economically important: a multi-front trade war that Trump seems committed to following through on.
Overlaying all of this are three trends:
Trump is trusting his instincts more every day. He feels emboldened, like he's finally in the swing of the job. I wonder whether he would make the same decision to stay in Afghanistan if he were making it today. Would he go against his instincts again and listen to his generals? (Compare that to the breezy, improvised way he's handled North Korea announcements: deciding in the room with the South Koreans that he'll take Kim Jong-un up on his offer to meet. And announcing, to the shock of much of official Washington, that he'd be ending joint U.S.-South Korean "war games" on the Korean Peninsula.)
Fewer strictures: The brief interlude of Chief of Staff John Kelly whipping the West Wing into military discipline is over. Trump doesn't think he needs a chief, and is navigating Kelly's dayside guardrails in a way that has left POTUS largely uninhibited.
An agenda that is — largely due to Congress' dysfunction and Trump's inability to tame it — moving from domestic to international. And the agenda faces growing groups of critics — abroad, in the media and at home.
Be smart, from a well-wired Republican: "Trump's biggest crisis will come if the trade wars cause a slowdown in the economy. The boom is giving him a cushion against the impact of his policies, personal behavior and impetuous decision making. No boom, no cushion. Political collapse."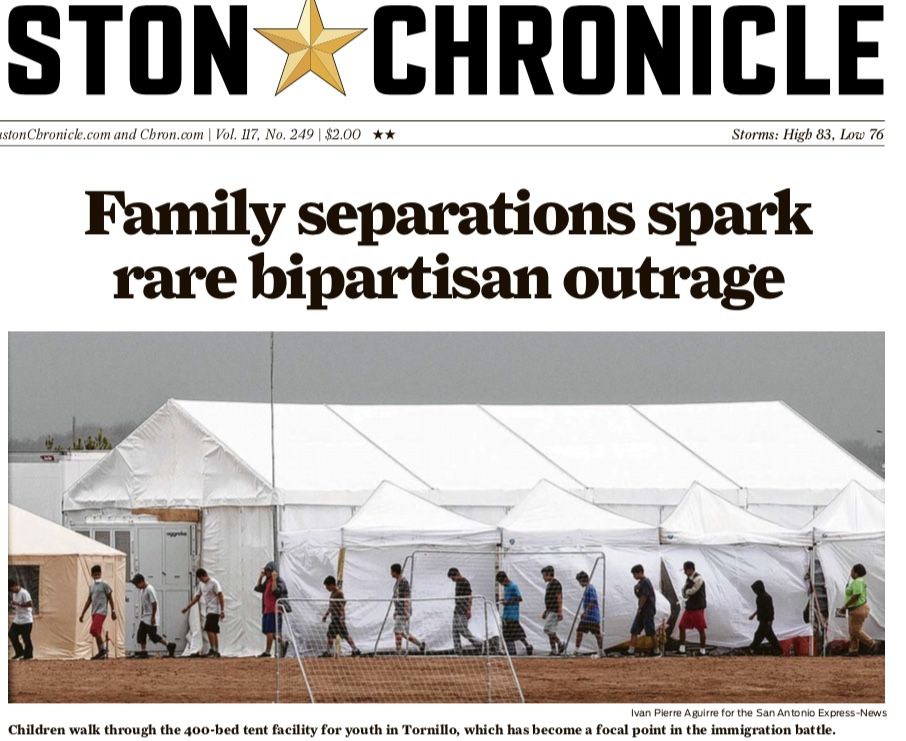 2. Picturing a crisis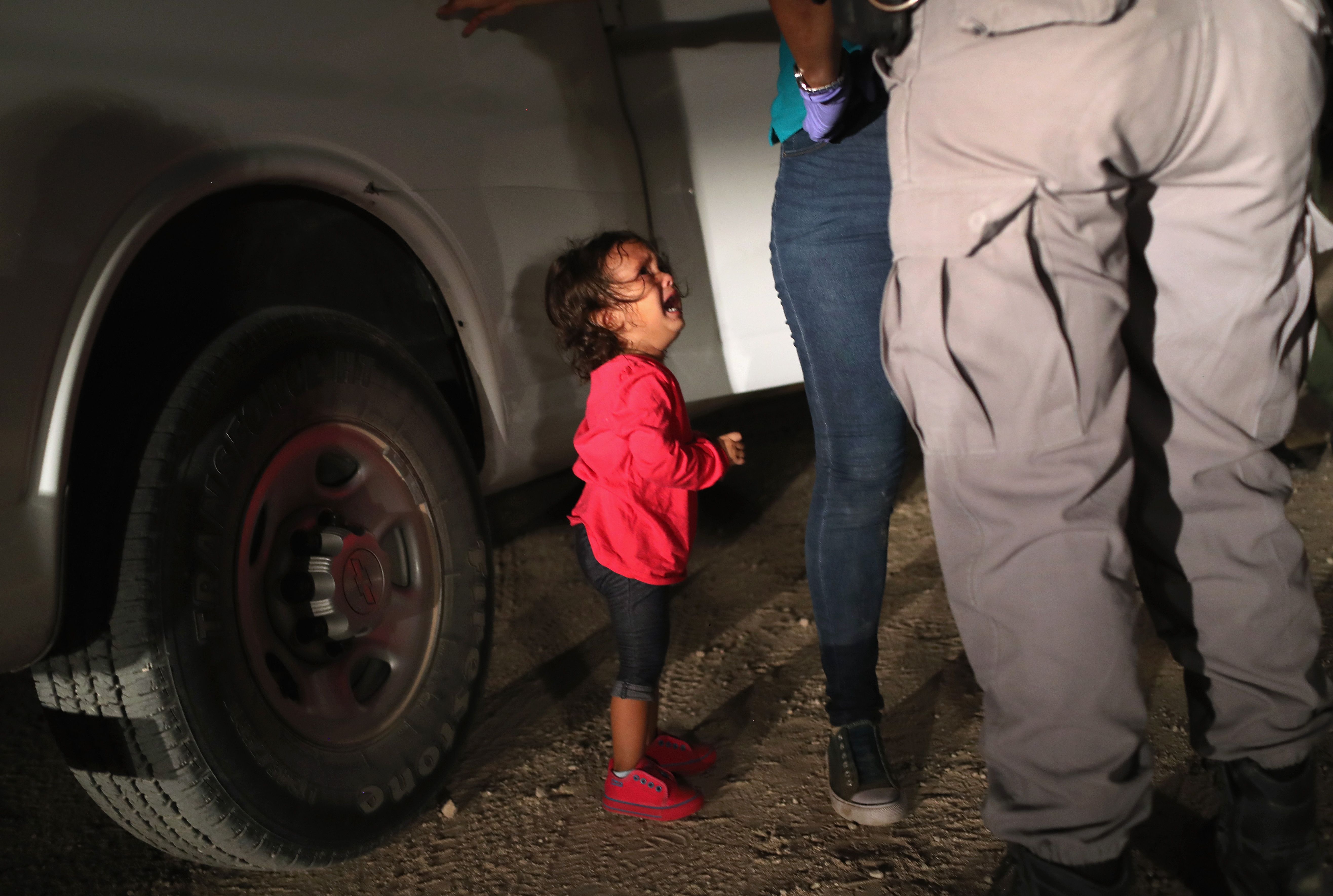 A 2-year-old Honduran girl cries as her mother is searched and detained near the U.S.-Mexico border on June 12 in McAllen, Texas.
The asylum seekers had rafted across the Rio Grande from Mexico and were detained by U.S. Border Patrol agents before being sent to a processing center for possible separation, Getty Images reports.
"Papa! Papa!" Listen to the audio and see the quotes: A secret audio recording, obtained by ProPublica, captures the desperate screams from several Central American migrant children who were separated from their parents last week, while a border patrol agent jokes that their cries sound like an "orchestra."
3. Trump resists a rising tide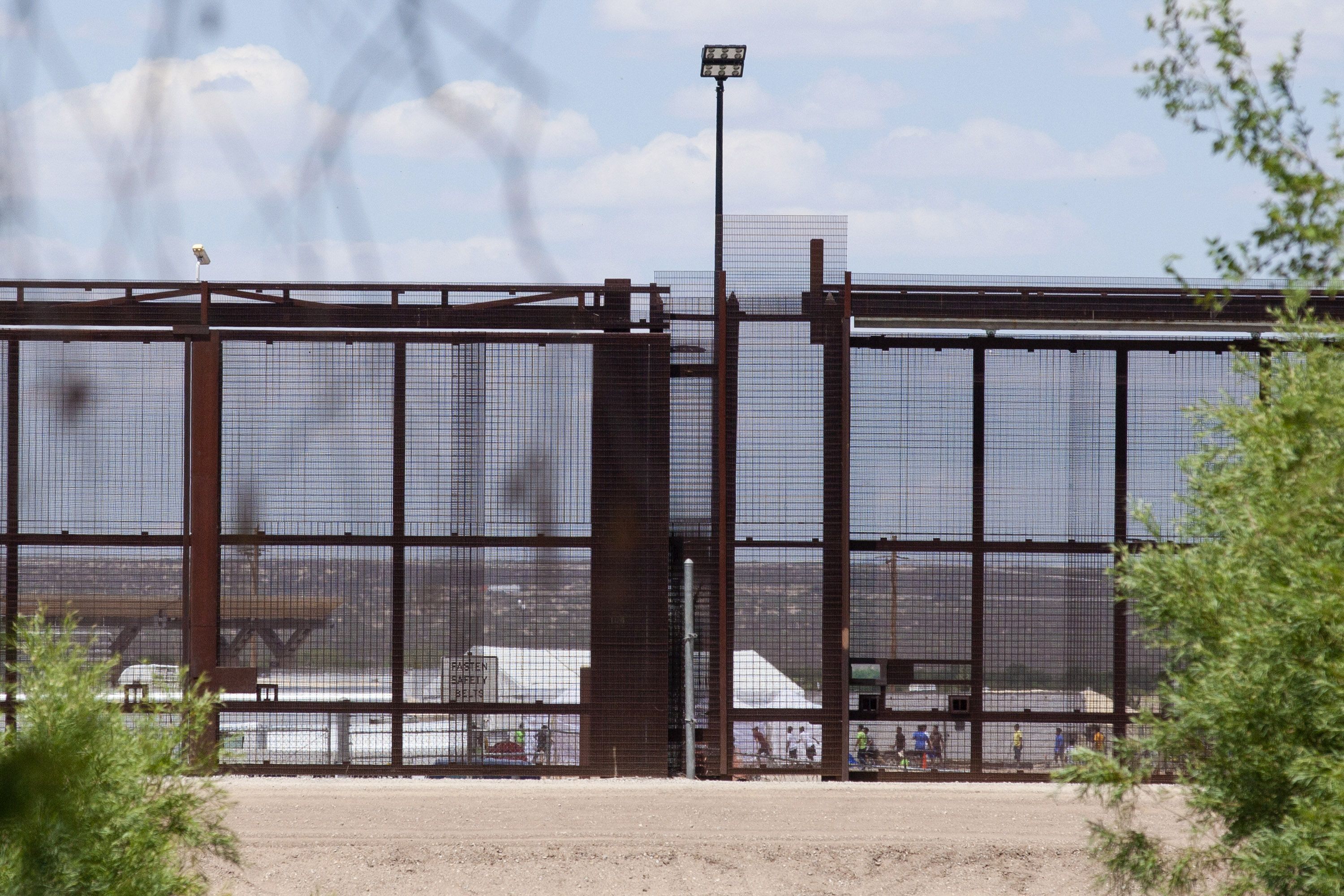 The Wall Street Journal's lead editorial warns today: "The GOP's Immigration Meltdown ... Restrictionists may cost Republicans their majorities in Congress."
Nevertheless, West Wing sources tell Jonathan Swan and me that President Trump has shown little indication that he'll climb down from the zero-tolerance border policy that's separating thousands of children from their parents.
Trump meets with House Republicans this evening, and could be greeted with a standing ovation. (Remember, there are more conservatives than moderates.)
A Republican source close to leadership tells Swan: "Conservatives will pump Trump up. He'll feed on that/play to them."
Trump can be expected to talk about family separation, and tell GOP lawmakers that they need to change the law to fix the problem. 
But Republican worries about the fallout are rising:
Conservative radio host Hugh Hewitt, who usually backs The White House, said this could be "Trump's Katrina."
Sen. Ted Cruz of Texas, facing a tougher than expected reelection race, yesterday introduced "Emergency Legislation to Keep Illegal Immigrant Families Together":
"All Americans are rightly horrified by the images we are seeing on the news, children in tears pulled away from their mothers and fathers," Cruz said. "This must stop. Now."
Cruz's plan would create new temporary shelters to keep families intact, fund new immigration judges, guarantee a review by an immigration judge within 72 hours, and return those denied asylum to their home countries within 14 days.
Breaking ... A letter to be released this morning by a bipartisan group of 72 former U.S. attorneys (starting with New York's Preet Bharara) calls on Attorney General Jeff Sessions "to announce that this policy was ill-conceived and that its consequences and cost are too drastic":
"[Y]our Zero Tolerance policy has produced a tragic and unsustainable result, without taking into account each family's specific circumstances."
"The law does not require the systematic separation of families under these circumstances. Collectively, as former United States Attorneys, we have prosecuted tens of thousands of cases involving far more serious crimes than misdemeanor illegal entry offenses."
"And even in those far more serious cases, decisions involving the separation of children from their parents were made with extraordinary caution, and only after an evaluation of the specific circumstances of a particular case."
4. Trump's "fear-oriented approach" for campaign season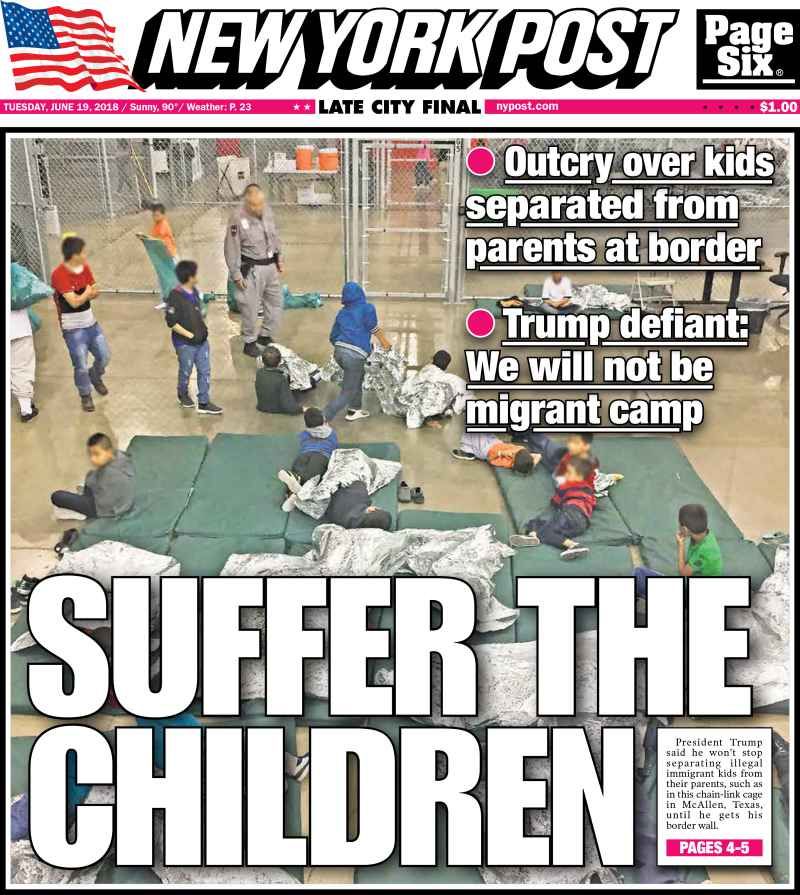 President Trump's comments defending his zero-tolerance border policy "sent his clearest signal yet ... that he intends to make divisive, racially charged issues like immigration central going into the campaign season," the N.Y. Times' Jonathan Martin and Maggie Haberman report:
"Trump renewed the sort of bald and demagogic attacks on undocumented immigrants that worked well for him politically in his 2016 presidential campaign."
Corey Lewandowski, "one of the president's top political advisers": "People don't turn out to say thank you ... If you want to get people motivated, you've got to give them a reason to vote. Saying 'build the wall and stop illegals from coming in and killing American citizens' gives them an important issue."
Why it matters: "This fear-oriented approach reflects the degree that Mr. Trump has put his anti-immigration imprint on the Republican Party."
N.Y. Times Quote of the Day ... Republican pollster Whit Ayres: "Somehow I don't think that putting kids in cages is likely to go over very well with suburban moms."
5. All 5 first ladies speak out on border kids

"All four former first ladies have joined the current one, Melania Trump, in an unusual united political front expressing horror at children separated from their parents at the U.S.-Mexico border," AP's Leanne Italie reports:
"Michelle Obama took to Twitter, in support of Laura Bush, to say, 'Sometimes truth transcends party.'"
"Hillary Clinton, speaking at a women's event in New York, said the Trump administration's 'zero tolerance' policy that has separated children and parents at the southern border was a 'moral and humanitarian crisis.'"
"Anita McBride, executive-in-residence at the Center for Congressional and Presidential Studies at American University ... and a former chief of staff for Mrs. Bush, said ... these first ladies are well-known for standing up for women's issues."
6. China slams U.S. "blackmailing" as Trump makes new threat
"President Trump threatened to impose a 10 percent tariff on $200 billion of Chinese goods and Beijing warned it would retaliate, in a rapid escalation of the trade conflict between the world's two biggest economies," per Reuters.
Markets reacted badly, per Bloomberg: "Tough trade talk is nothing new for investors in 2018, but a sense that stress is ratcheting up between the U.S. and China is taking hold of markets."
Bottom line, from Swan: It's another Trump threat. Worth paying attention to. But trade lawyers won't flip out about it until they see an actual tariffs list. 
7. Stat du jour
Smoking in the U.S. has hit another all-time low: 14% of U.S adults (about 30 million people) were smokers last year, down from 16% the year before, and 42% in the 1960s, per government figures out today. (AP)
8. Article of the day
The New Yorker's Adam Entous ... "How Trump and Three Other U.S. Presidents Protected Israel's Worst-Kept Secret: Its Nuclear Arsenal":
"Israel crossed the nuclear threshold on the eve of the Six Day War, in 1967. At that time, it had three nuclear devices."
"In 1969, President Richard Nixon and Israeli Prime Minister Golda Meir reached an understanding: the Israelis would not declare or test their nuclear weapons, and the Americans would not pressure them to sign a landmark nonproliferation treaty."
Presidents Clinton, Bush, Obama and Trump continued the policy by signing versions of a secret letter "concerning a subject the Israelis had promised the Americans never to discuss publicly — Israel's undeclared nuclear arsenal."
9. Talker: Well-known D.C. prep schools scrap Advanced Placement
"Seven prominent private schools in the D.C. area plan to eliminate Advanced Placement classes over the next four years," the WashPost's Nick Anderson reports:
The schools asserted in an unusual joint statement yesterday "that the program has 'diminished utility,' is not necessary for college-bound students and puts too much emphasis on speedy absorption of course material and memorization."
Why it matters: "The statement represented a notable rebuke of a program that in recent decades has revolutionized the curriculum of American high schools."
The schools are Holton-Arms School in Bethesda, Md.; Sidwell Friends, Georgetown Day, National Cathedral and St. Albans in D.C.; Landon in Bethesda; and Potomac in McLean, Va. Maret School in the District, which has never offered AP classes, joined in the anti-AP statement.
10. 1 game thing
For the first time, gaming addiction will be listed as a mental health condition ("gaming disorder") by the World Health Organization, per BBC:
"The draft document describes it as a pattern of persistent or recurrent gaming behavior so severe that it takes 'precedence over other life interests."
Symptoms include: impaired control over gaming (frequency, intensity, duration) ... increased priority given to gaming ... continuation or escalation of gaming despite negative consequences.
Thanks for starting your day with us. Updates all day on Axios.com.