August 05, 2022
Happy Friday. Smart Brevity™ count: 1,197 words ... 4½ mins. Edited by Noah Bressner.
🧀 Situational awareness: The Republican National Committee is expected to announce today that the party's '24 convention will be held in Milwaukee, Wis.
1 big thing: Dems dodge on Biden '24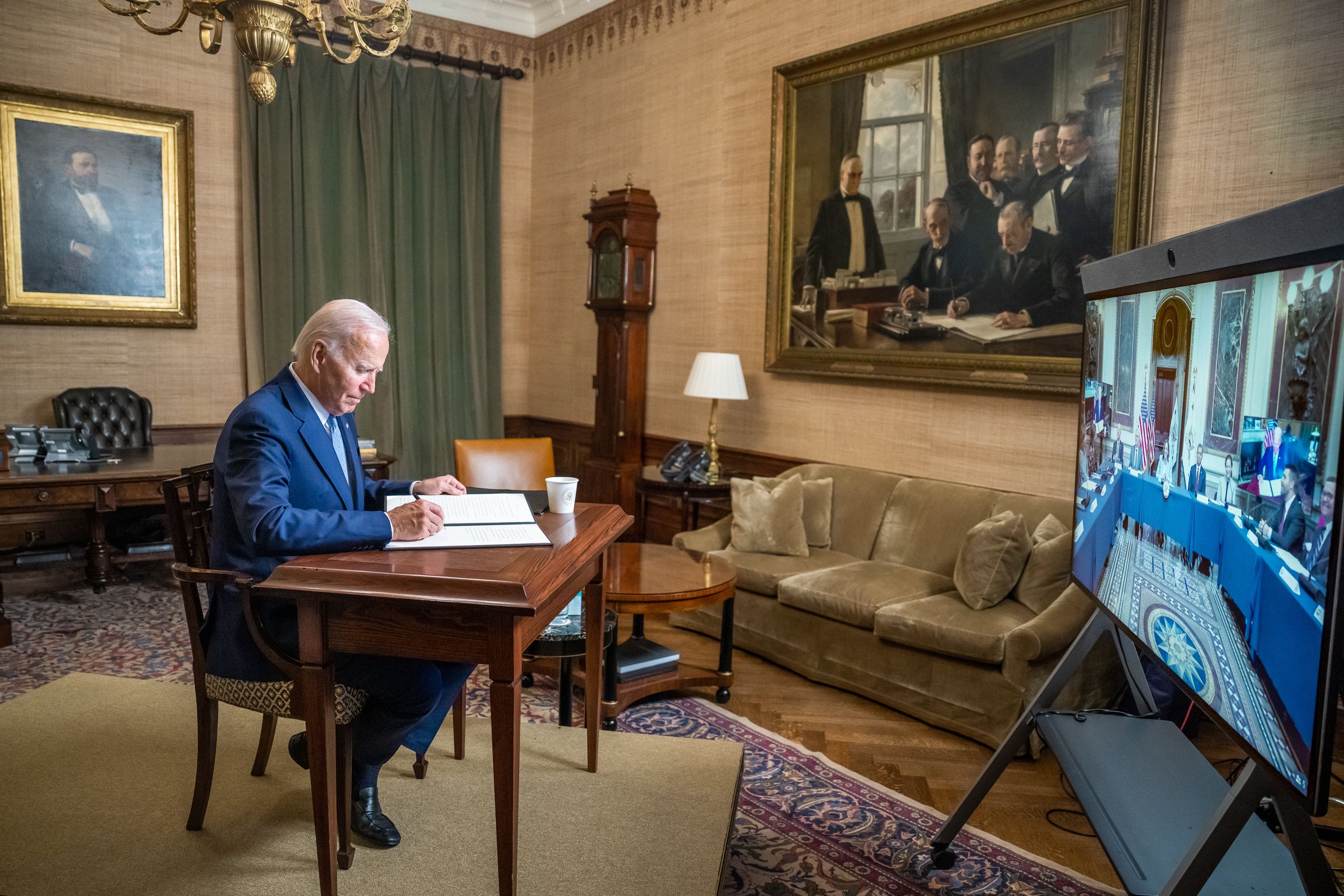 A startling number of lawmakers in President Biden's own party have been unwilling in recent days to say he should seek re-election in 2024, amid gnawing fears he'll be too old or unpopular to win.
Why it matters: Backing your own party's first-term president is usually so automatic, no one would bother to ask. But some Democrats fear that going all-in on Biden, 79, would be a mistake, Axios' Alexi McCammond, Alayna Treene and Andrew Solender report.
Trepidation about Biden falls into three buckets:
He's unpopular. Many Americans associate him with inflation, high gas prices, entrenched COVID and the chaotic withdrawal from Afghanistan.
Progressives want to move away from centrism and conventional politics.
Many Democratic voters want generational change. Biden was older when he took office than Ronald Reagan was when he left. If re-elected, Biden would be 86 at the end of his second term.
Just this week, two high-ranking House Democrats from New York showed rising reluctance.
Reps. Jerry Nadler and Carolyn Maloney were asked, during a Democratic primary debate for the 12th congressional district, whether Biden should run again in 2024. Neither said flatly "yes." (Maloney clarified on CNN yesterday that she wants him to run, but added: "I happen to think you [Biden] won't be running.")
That followed Sunday's refusal by Sen. Joe Manchin (D-W.Va.) to commit to Biden '24 — and a flat-out "no" to Biden '24 from two House Democrats in Minnesota during local interviews.
👟 Our new Biden '24 tracker, which we'll keep updating, debuts here:
Between the lines: There's no party consensus around how to have a what's-next conversation, or who could be the strongest alternative if Biden ultimately decided not to pursue a second term.
Vice President Harris has the standing as Biden's No. 2 — but faces doubts about her popularity within her own party, as well as her general-election prospects.
🥊 David Axelrod — director of the University of Chicago's Institute of Politics, and a former senior adviser to President Obama — told Axios: "This is a Washington parlor game."
"Now's not the time for the conversation. What voters say about an election two years and change away is about as meaningful as the Farmer's Almanac."
2. Sinema green-lights big package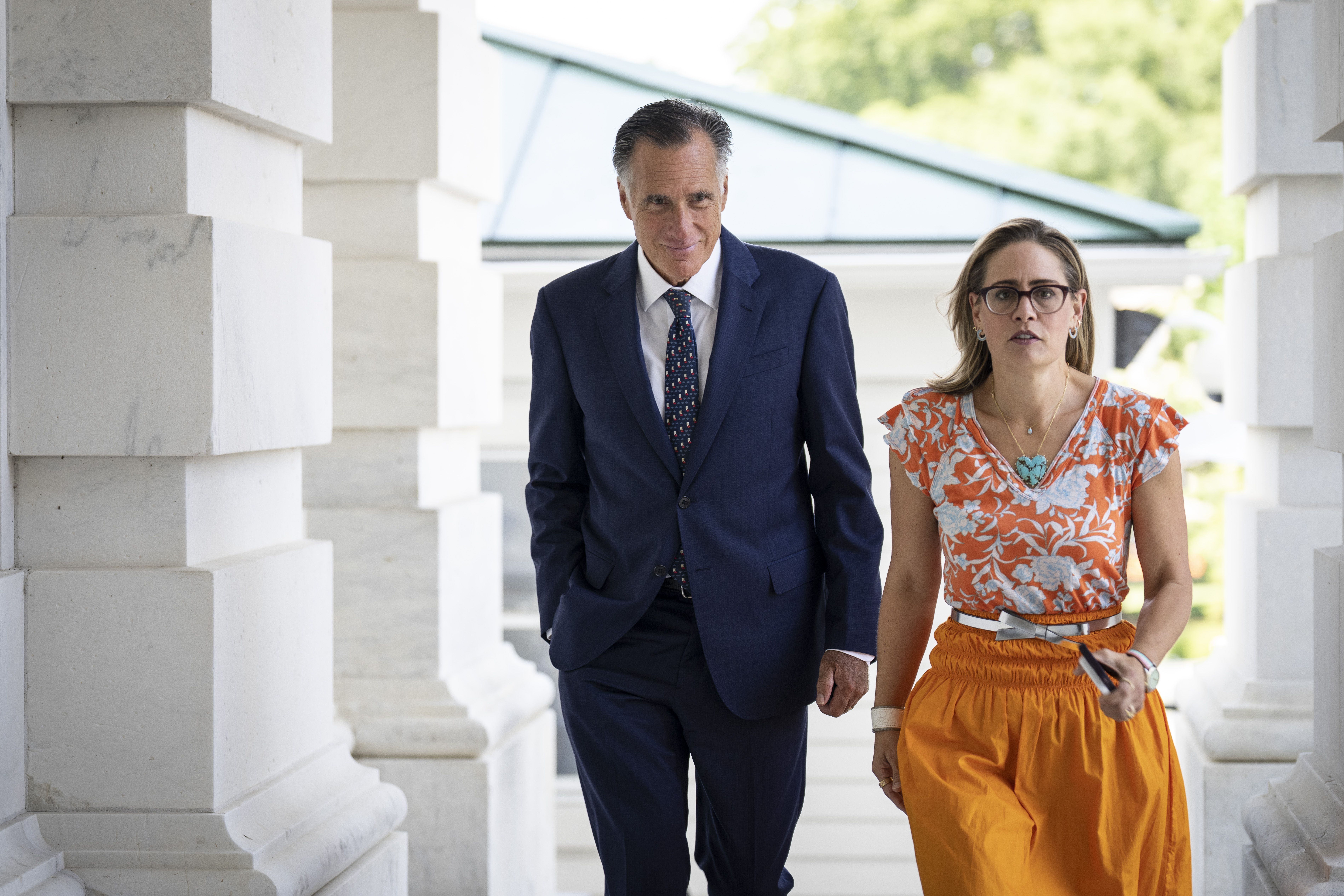 Sen. Kyrsten Sinema (D-Ariz.) reached a deal last night to "move forward" with a revised version of Democrats' reconciliation bill that would scale back some of the original tax provisions and beef up climate funding, Axios' Shawna Chen and Alayna Treene report.
Why it matters: Sinema was the biggest remaining hurdle to President Biden's longtime goal of passing an ambitious package tackling climate change, health care and taxes.
With Sinema on board, Democrats feel confident they can pass the "Inflation Reduction Act of 2022" in the 50-50 Senate.
What's next: Senate Majority Leader Chuck Schumer said he wants the chamber to vote on a measure to advance the reconciliation bill tomorrow, during a rare weekend session.
Democrats plan to pass the final version next week before leaving for August recess.
3. 🇨🇳 Breaking: China sanctions Pelosi
China today imposed sanctions on Speaker Pelosi and her immediate family after she infuriated Beijing with her trip to Taiwan.
The sanctions weren't specified. "[P]revious measures have restricted individuals from entering China, Hong Kong or Macau, or doing business there," Bloomberg reports. "Such curbs are likely to be largely symbolic for Pelosi."
China's Foreign Ministry announced the sanctions as Beijing held live-fire drills around Taiwan.
Secretary of State Tony Blinken said today that the exercises represent a "significant escalation."
4. 📺 Instant classic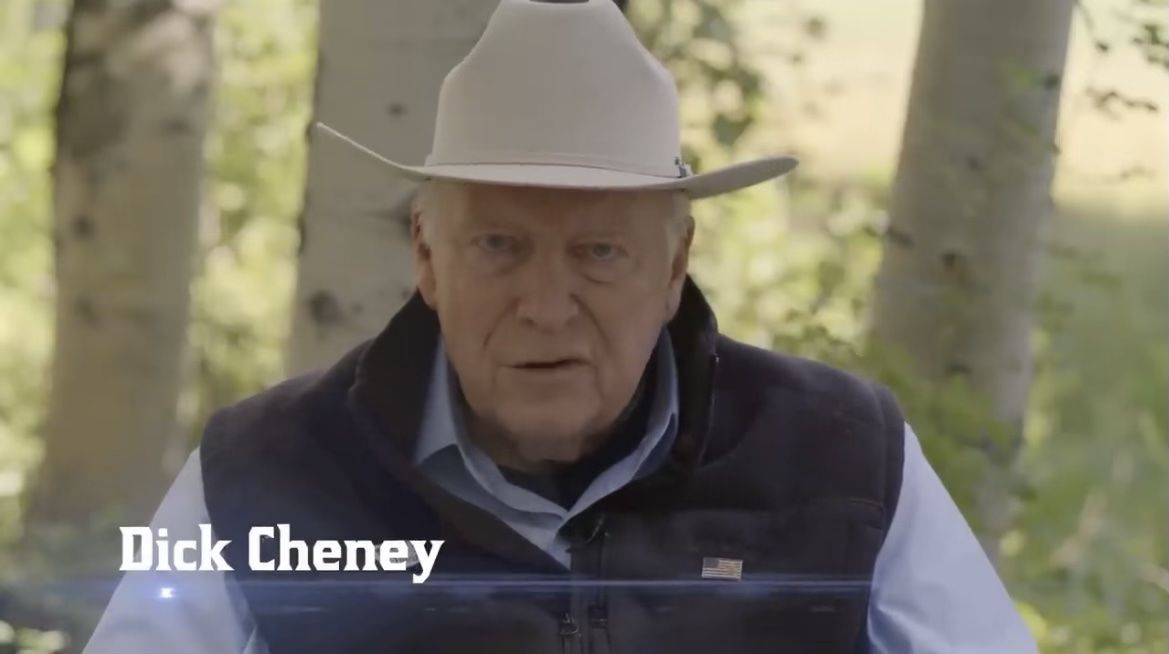 This ad launches on statewide TV in Wyoming today. Former Vice President Dick Cheney, 81, talks straight to the camera to urge voters to back his daughter, Rep. Liz Cheney (R-Wyo.), in her primary Tuesday.
Why it matters: Polls have shown Congresswoman Cheney losing next week. But the Cheneys play a long game. And the ad portrays her role as vice chair of the House Jan. 6 committee in a historic light.
I'm told the ad was filmed in Jackson, Wyo., by Karissa Akin, a Jackson-based director/producer. In the 60-second ad, "He Knows It," the former vice president — wearing an "I Voted" sticker — says:
In our nation's 246-year history, there has never been an individual who was a greater threat to our republic than Donald Trump. He tried to STEAL the last election, using lies and violence to keep himself in power after the voters had rejected him.
He is a coward. A real man wouldn't lie to his supporters. He lost his election and he lost big. I know it, he knows it — and deep down, I think most Republicans know it.
"Liz is fearless," Cheney concludes. "There is nothing more important she will ever do than lead the effort to make sure Donald Trump is never again near the Oval Office. And she will succeed."
5. Alex Jones loses Sandy Hook trial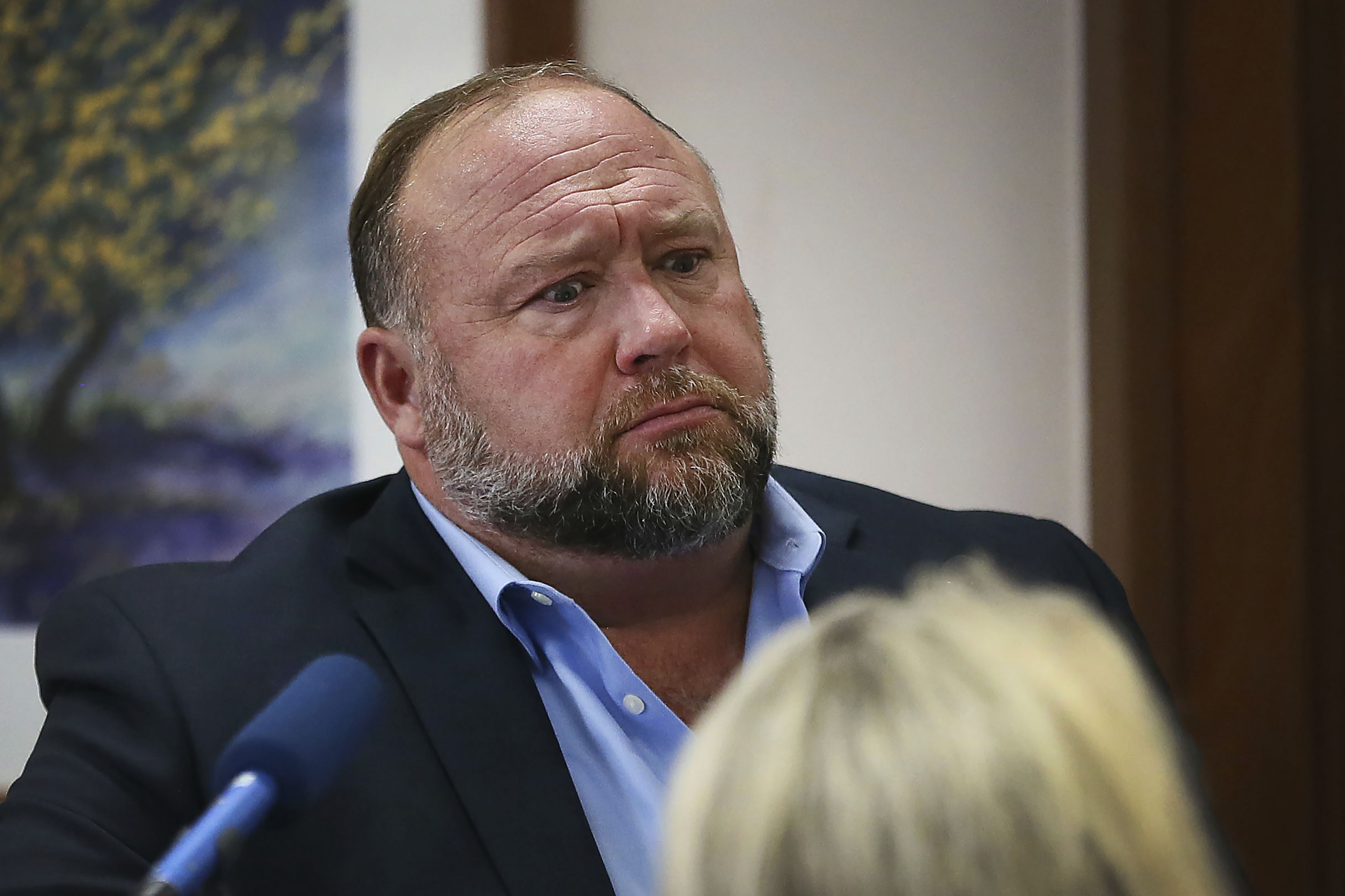 Conspiracy theorist Alex Jones was ordered by a jury in Austin yesterday to pay $4.1 million in compensatory damages to the parents of a 6-year-old boy killed in the 2012 Sandy Hook school shooting.
Why it matters: It's the first time Jones has been held financially liable for falsely calling the mass shooting a hoax. The jury still has to decide how much he will pay in punitive damages.
6. 🎥 New streamer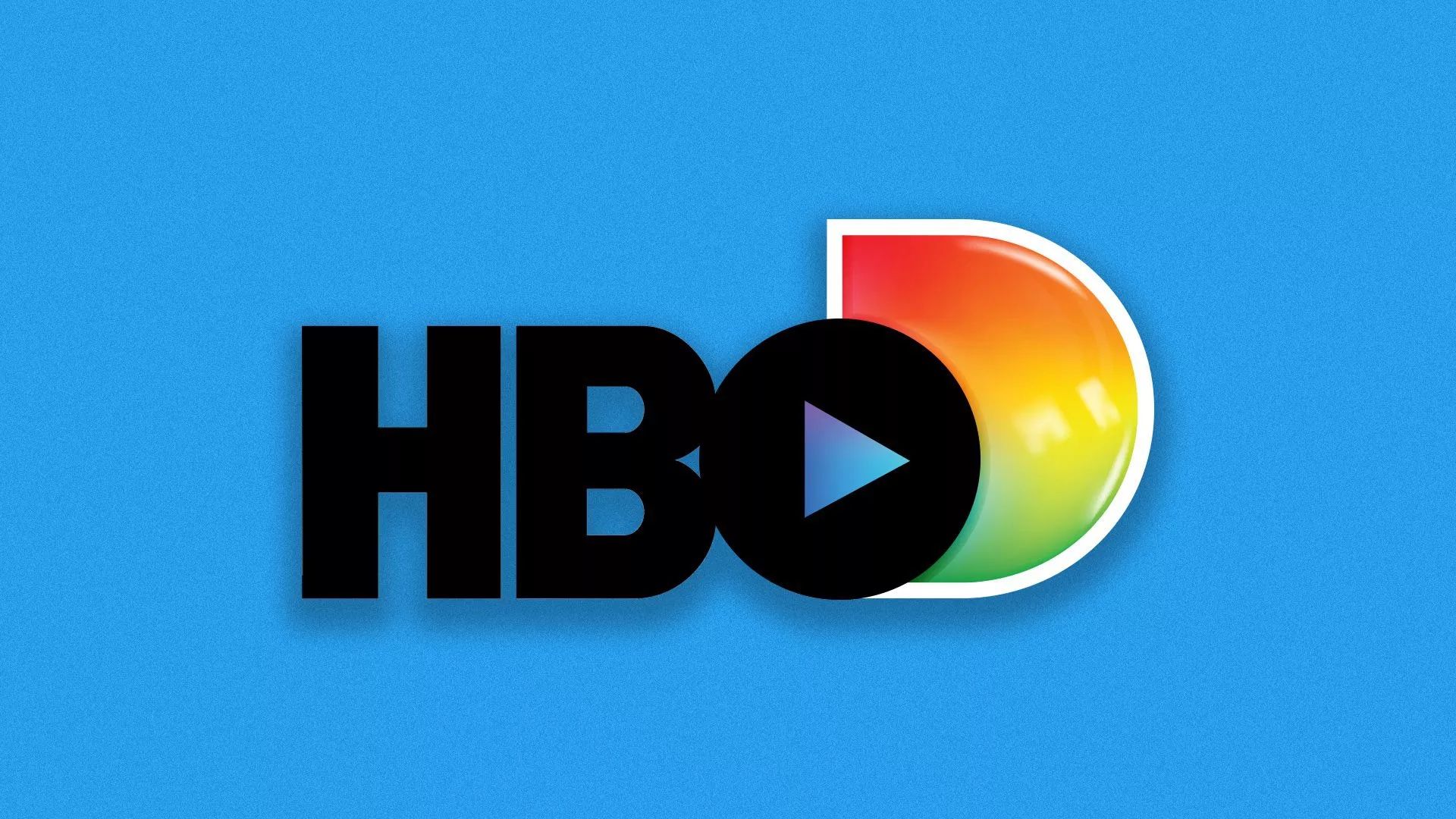 Warner Bros. Discovery will launch a streaming service next summer that combines HBO Max and Discovery+, Axios' Tim Baysinger and Sara Fischer report from the company's earnings call.
Why it matters: The rollup is part of a broader shift in how Warner Bros. Discovery views streaming under CEO David Zaslav. Executives believe streaming should complement other business lines — like theatrical movies and television — not replace them.
The new name isn't known.
7. ⚾ Rookie mogul
This is Meta CEO Mark Zuckerberg at age 8 or 9.
Zuckerberg, now 38, wrote on Instagram: "In honor of expanding digital collectible NFTs to 100 more countries on Instagram and launching new integrations with Coinbase and Dapper, I'm sharing my soon-to-be NFT old little league baseball card, which someone recently found and sent to me."
Go deeper: The NFT will be auctioned next month.
8. 📷 Parting shot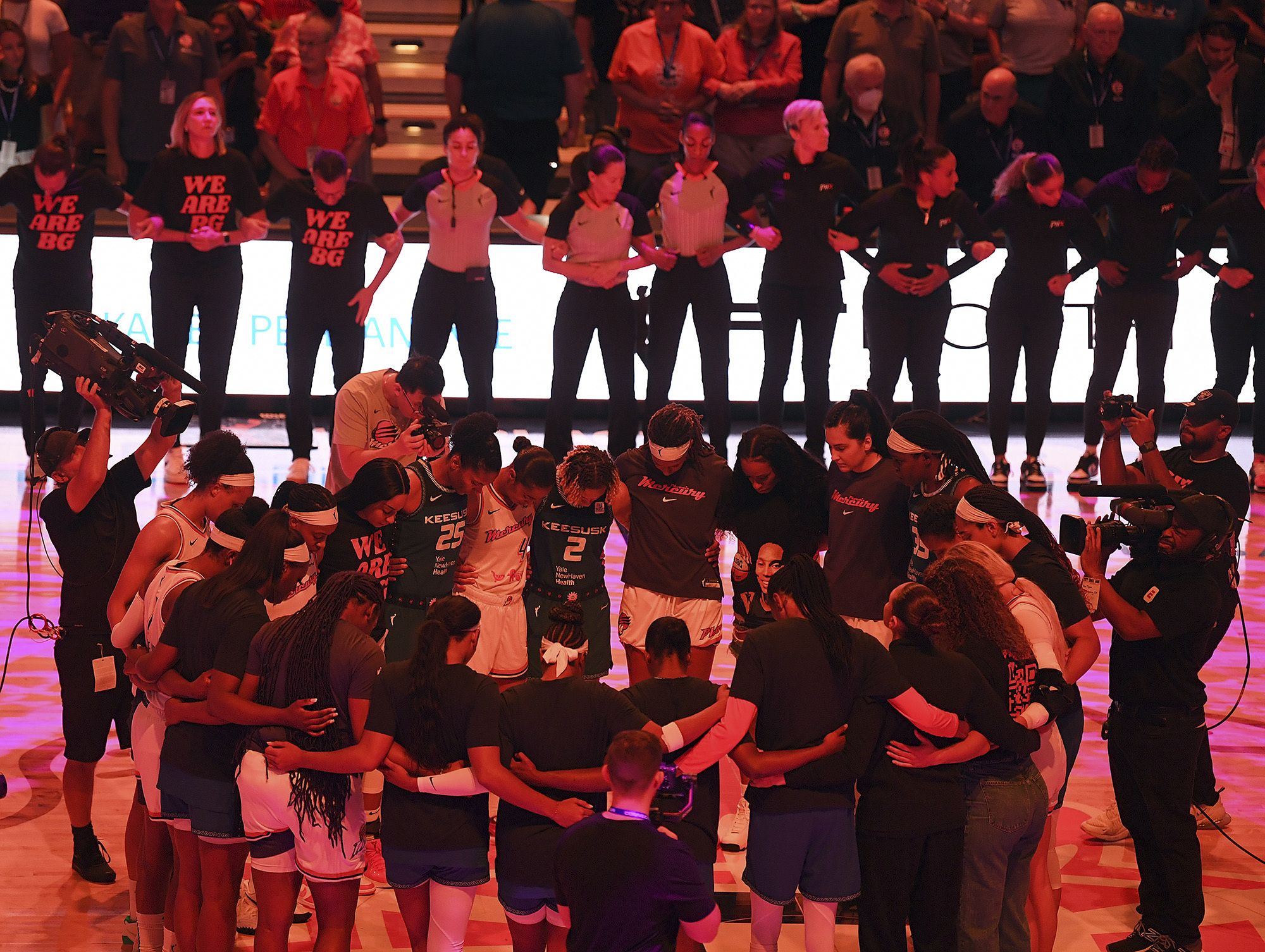 WNBA's Brittney Griner saluted with a moment of silence:
After Griner's sentencing in Russia to nine years in prison, WNBA players, coaches and fans locked arms (above) to send her strength.
Before the Connecticut Sun played Griner's Phoenix Mercury last night, players met at midcourt and silently bowed their heads for 42 seconds — a nod to Griner's jersey number. (AP)
🏀 What's next: The sentencing raises pressure on President Biden, the N.Y. Times reports (subscription):
"Biden faces a difficult choice between standing firm on his proposal to trade [a Russian prisoner] for Ms. Griner and another American, Paul N. Whelan, or sweetening the offer somehow, with either position liable to draw domestic criticism."
📬 Invite your friends to sign up here for their daily essentials — Axios AM, PM and Finish Line.