Axios AM
April 26, 2018
Good Thursday morning.
Situational awareness: "Michael Cohen, the longtime personal attorney for President Donald Trump, filed court papers ... indicating he would assert his Fifth Amendment rights against self-incrimination regarding his involvement in a hush money deal involving porn star Stormy Daniels and the President." (CNN)
1 big thing: Macron's blunt postgame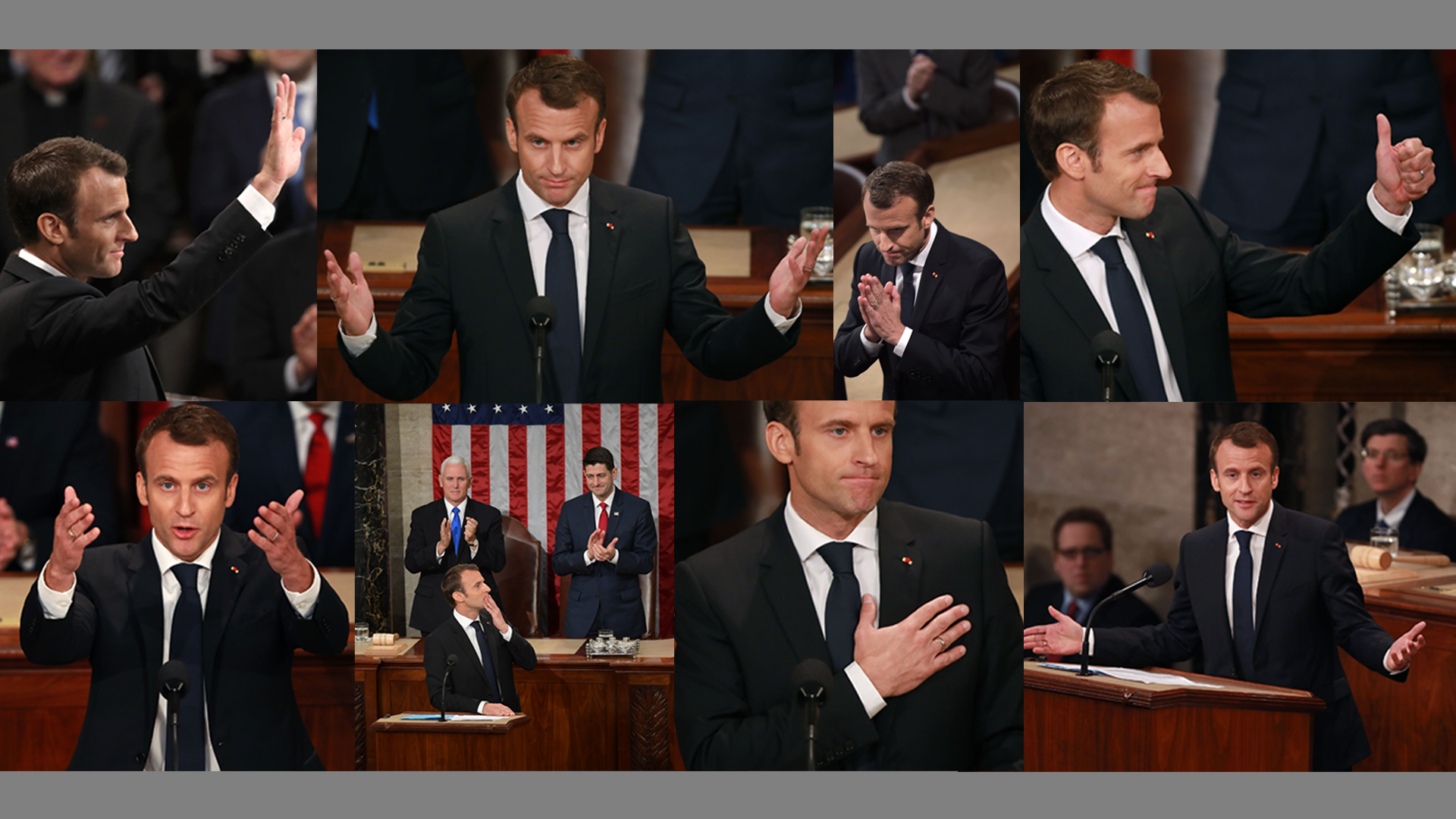 French President Emmanuel Macron said at a remarkably candid postgame for a small group of reporters last evening that his State Visit left him convinced President Trump will withdraw from the nuclear deal with Iran, and that the U.S. president wants to create "a series of new Trump's deals":
"[Y]our president is a dealmaker. You always have to understand the rationale of your counterpoint. He's a dealmaker. So he wants to find a deal and he wants to find a deal under his condition."
"I think his experience with North Korea is that when you are very tough, you make the other side [move] and you can try to go to a good deal or a better deal. ... [S]o that's a strategy of an increasing tension."
At their White House press conference on Wednesday, Macron said he wanted "to work on a new deal with Iran," and Trump signaled openness.
Macron: "Nobody is a magician and will fix the situation overnight."
Why it matters: The "Trump's deals" concept — perhaps eventually covering Iran, climate and North Korea — echoes the U.S. president's vow on trade, where he wants to renegotiate big agreements on "America First" terms.
Hours after addressing Congress — and after two dinners, a press conference and several meetings with Trump — Macron sat down with a dozen or so journalists on couches in the George Washington University student center.
The 40-year-old president shook hands with each of the columnists and reporters on the way in, as scores of students craned for a glimpse behind barriers outside.
Macron began the 45-minute session, all in English, with: "So, I'm yours!"
Macron and Trump had such playful, touchy-feely interactions for cameras that a New York Times headline called it "Le Bromance."
But with the reporters, Macron was mostly clinical, saying about the aftermath of a U.S. withdrawal from Iran deal: "I want to be the honest broker of the situation."
Macron spoke with a clarity that's rare for an on-the-record meeting with a world leader, where diplomatic fog is more the norm. In that way, Macron was Trump-like: He just said what he thought.
Macron thinks Trump will get out of the Obama-era deal with Iran by a May 12 deadline "for domestic reasons":
"That's my view. I don't have any specific information. I'm not an insider. But my view is that there is a big risk he will leave."
"I tried to follow which kind of rationality he can respect. ... Your president made very strong statements to say this is an awful agreement, and so on and so on. We pushed. I tried to convince. I did my best."
"[W]hen a lot of people say President Trump is not predictable, I think exactly the opposite. He's very predictable. Look at the campaign commitment."
"[H]e repeated in his office ... [that it's] the worst deal ever, it's a nightmare, it was a catastrophe and so on."
When a columnist asked if Trump will have a "much more difficult time persuading North Korea to accept a deal if he does not honor the Iran deal," Macron replied:
"I agree with that. I used the same argument."
Be smart ... Macron had this take on U.S. vacillation on international agreements, including the Iran deal and the Paris climate accord: "It can work [in] the short term, but it's very insane [in] the mid- to long-term."
How it's playing ... WashPost above-the-fold headline: "Macron charms Congress in speech" ... L.A. Times A1 tease: "Macron challenges Trumpism."
2. Trump nominee looks ready to withdraw
White House sources tell Axios' Jonathan Swan that they expect White House physician Ronny Jackson to withdraw as President Trump's nominee to run the Veterans Affairs Department, after Democrats on Capitol Hill circulated harsh new allegations.
A senior administration source: "There's no question about whether the White House will stand by him. There is a question about how much longer he wants to put himself through it."
Sen. Jon Tester of Montana, the top Democrat on the Veterans Affairs Committee, said Jackson was known as "the candy man" for dispensing drugs. Tester's staff circulated a "Summary of Allegations Against Admiral Jackson" that included "hostile work environment" and "drunkenness."
Marc Short, White House director of legislative affairs: "It is incredibly reckless for Senator Tester to besmirch the character of an admiral who has served our country in combat and provided medical care for three White Houses, Republican and Democrat, based upon unsubstantiated allegations."
Why the White House held on so long:
What if the goal is to get Democrats to pile on an admiral who passed background checks across Republican and Democratic administrations?
It's the view of some Republicans that going all-in could backfire on Democrats, especially if some of the allegations are disproven.
Be smart: A U.S. senator is giving credence to these allegations. Tester has a tough reelection race in a red state, and may have some incentive not to cause problems for the administration. So the fact that he's putting his reputation behind these claims is significant, though it certainly doesn't prove they're true.
3. Trump ❤️ Kanye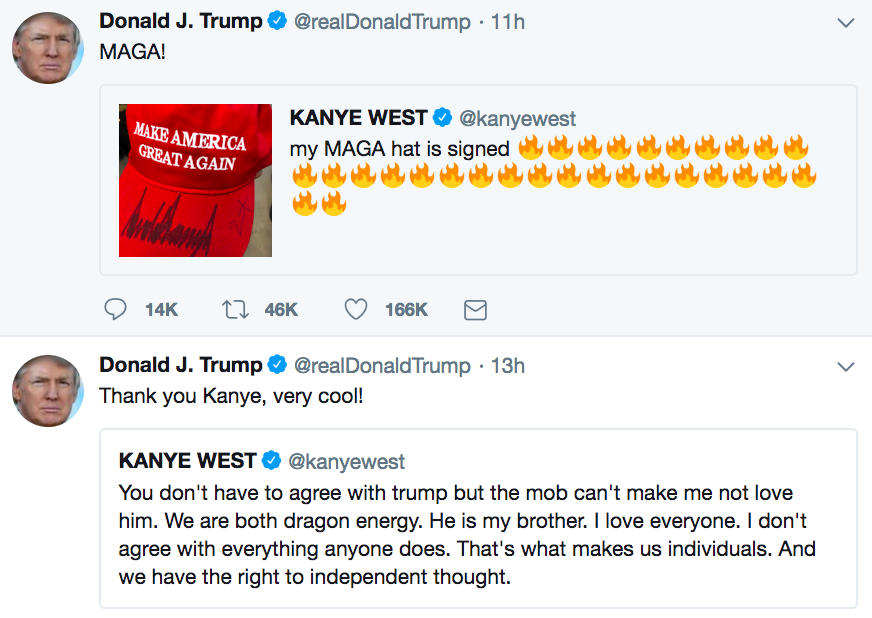 After rapper Kanye West tweeted support for President Trump and Trump tweeted back, an administration official told me:
"Kanye has unquestionable cred. This is the 'George Bush doesn't care about black people' guy [a Kanye comment after Katrina]. ... He genuinely moves the culture. And we all know DJT believes — correctly — that culture matters way more than politics."
"These are legit Republican President of the United States talking points being said by rappers! What a time to be alive."
A White House official added: "From Kanye's move, other boldness will flow."
4. Lynching memorial opens today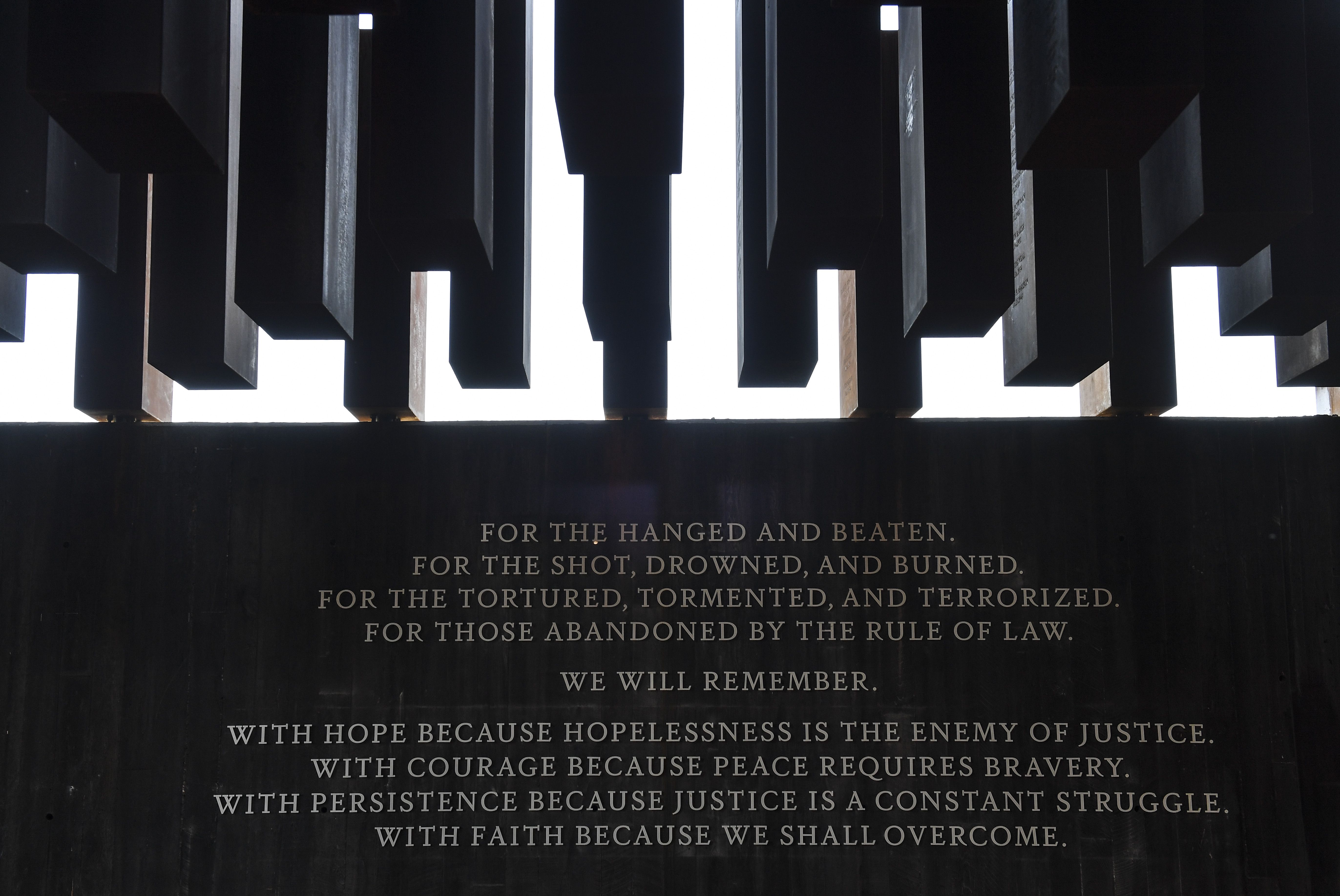 "Giving Voice To the Victims Of Racist Terror ... A Lynching Memorial Is Opening ... The National Memorial for Peace and Justice, opening [today] in Montgomery, Ala., is dedicated to victims of white supremacy" — N.Y. Times' Campbell Robertson:
"At the center is a grim cloister, a walkway with 800 weathered steel columns, all hanging from a roof. Etched on each column is the name of an American county and the people who were lynched there, most listed by name, many simply as 'unknown.'"
"[A]s you walk, the floor steadily descends; by the end, the columns are all dangling above, leaving you in the position of the callous spectators in old photographs of public lynchings."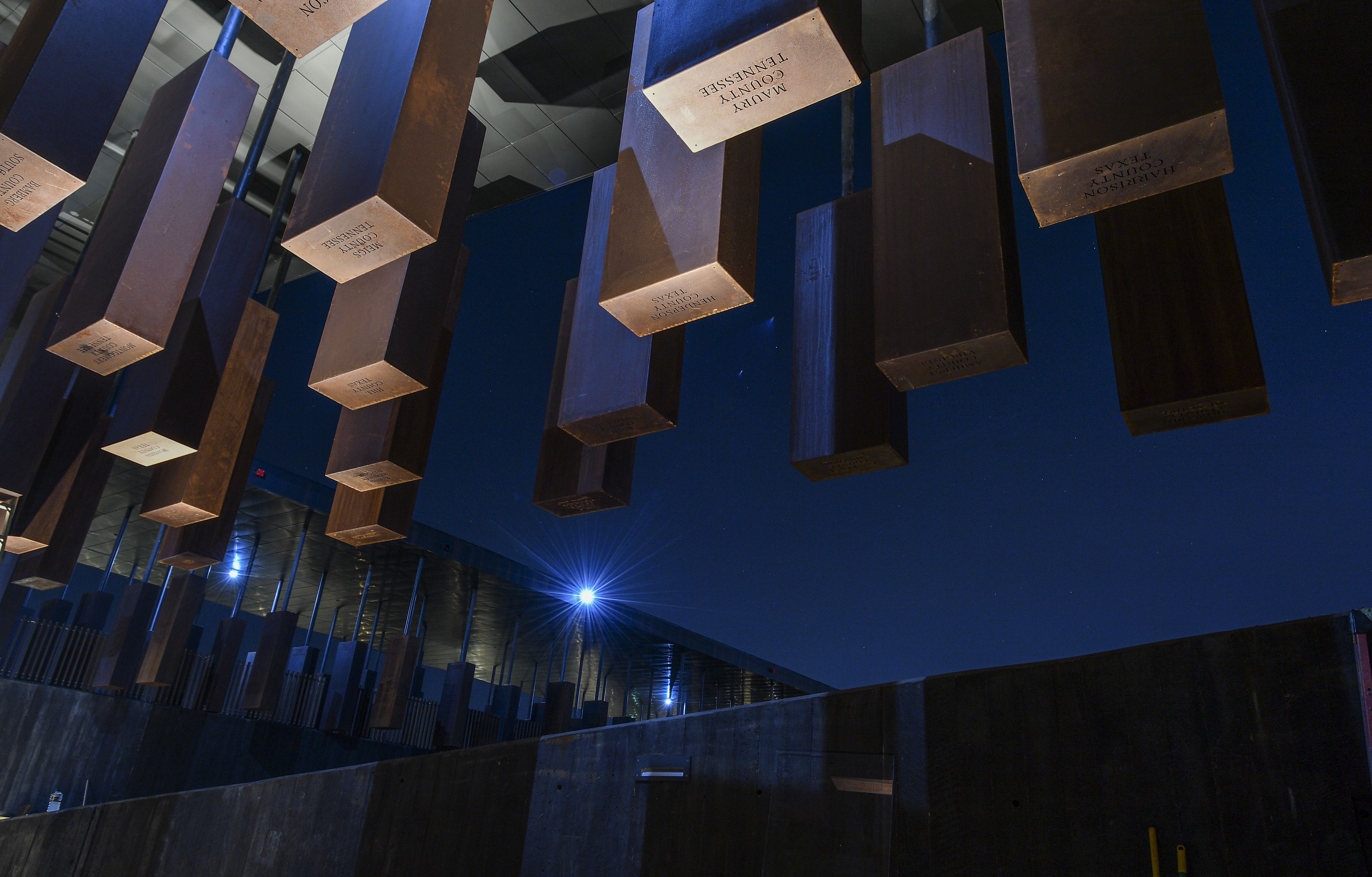 5. Exclusive poll: GOP Senate seats threatened in Arizona, Nevada
Democrats have a real shot at winning two of the three Senate seats where Republicans are most vulnerable in the midterm elections, according to a new Axios/SurveyMonkey poll.
The bottom line, from Axios' Alexi McCammond: The poll provides new evidence that Republicans' hold on the Senate may not be as solid as it once looked. Democrats could win the open Arizona seat and possibly defeat Republican incumbent Dean Heller in Nevada. The third race, in Tennessee, is a statistical tie.
Drill down, and you see other reasons for Rs to worry:
DACA is the biggest warning sign: 64% of voters across all three states support protections for immigrants brought illegally to the U.S. as children, and 71% support offering immigrants a chance to apply for citizenship rather than deporting them.
The GOP won't get traction on health care, either: Roughly half of voters in all three states want to fix the Affordable Care Act "so it works better." Only about three in 10 want to repeal it.
6. Facebook can't get break from D.C. right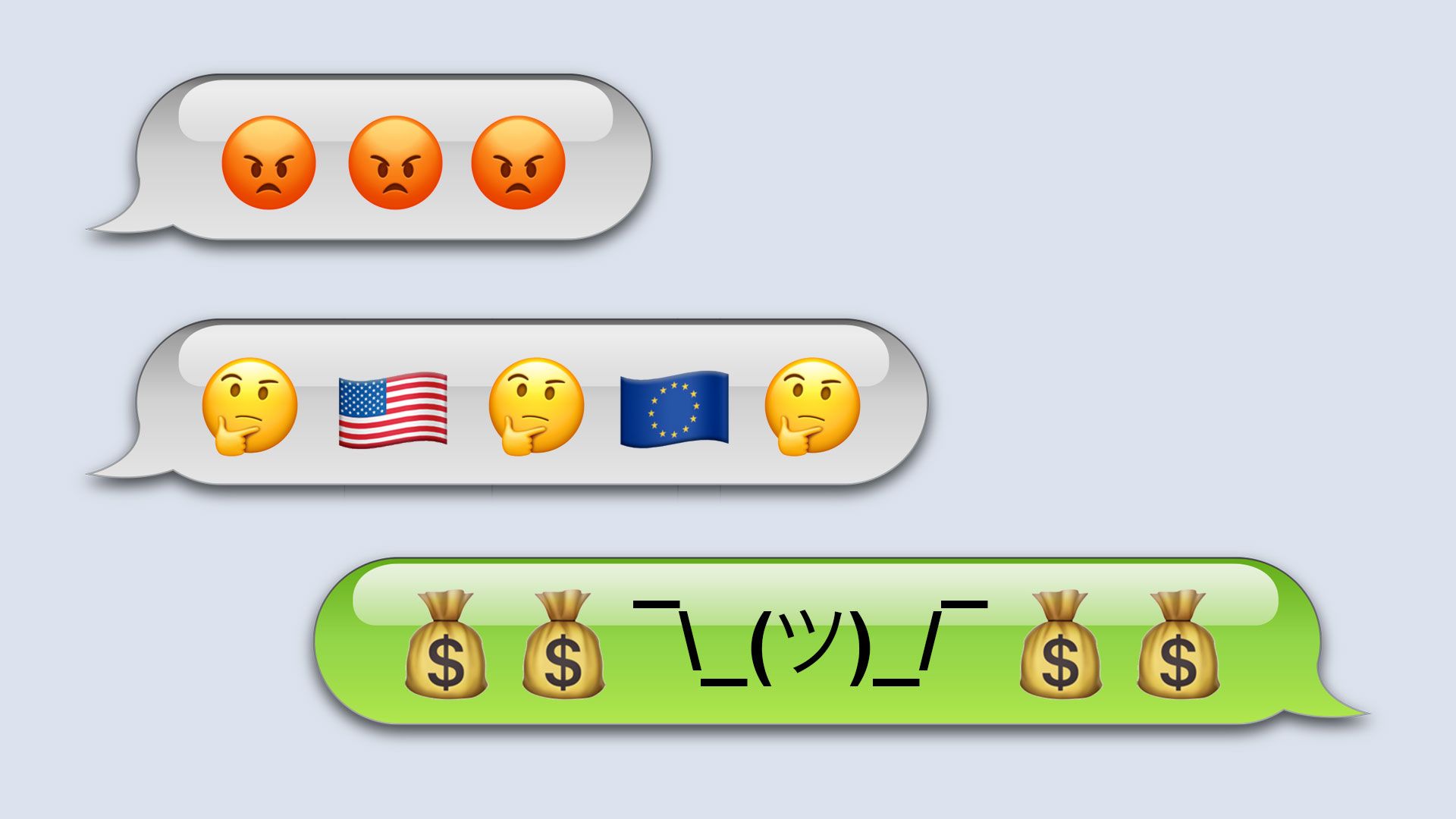 Facebook, despite years of outreach to conservatives, remains a punching bag for the right, Axios' David McCabe writes:
The big picture: Facebook's lukewarm relationship with the right has complicated its search for D.C. allies to help fend off new privacy regulations.
The social giant is bracing for another Capitol Hill beating this morning — this time, from some conservatives at a hearing featuring pro-Trump video stars Diamond and Silk.
Facebook announced Tuesday that Kevin Martin, former Republican FCC chairman, will be interim Vice President of U.S. Public Policy. Erin Egan will continue as Chief Privacy Officer, after serving in both roles for years.
P.S. from Axios' Sara Fischer ... Big Tech crushes earnings despite backlash.
7. YouTube hopes new tech can fix lapses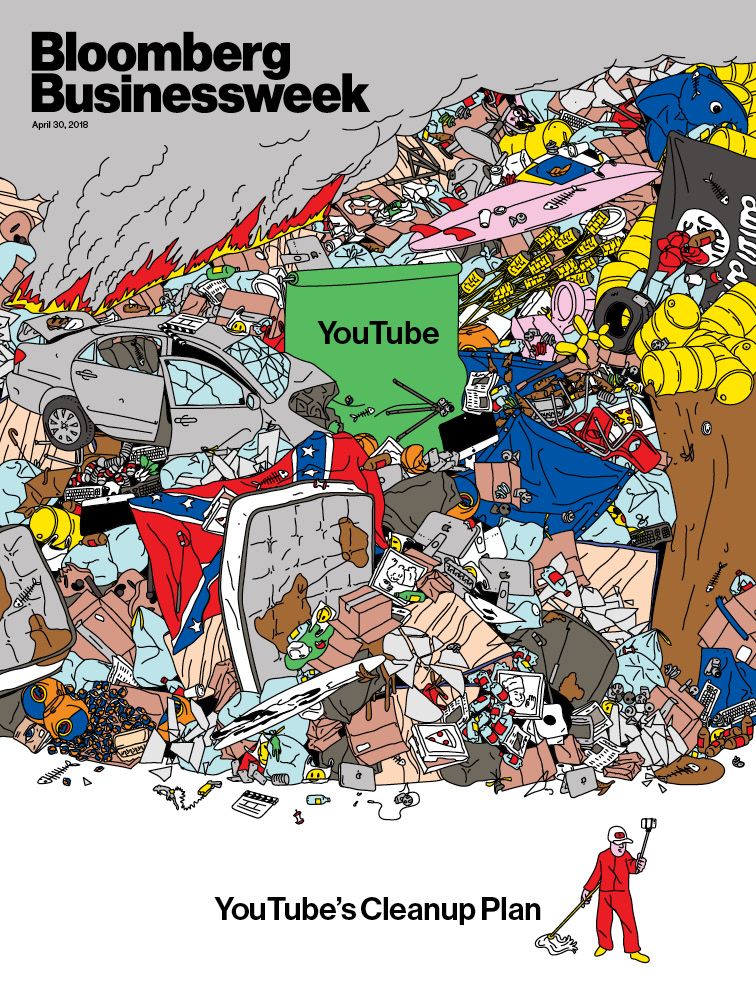 "Extremist propaganda, dangerous hoaxes — YouTube is having its worst year ever. Except financially," Bloomberg Businessweek's Lucas Shaw and Mark Bergen write:
"Conversations with more than a dozen people at YouTube ... reveal a company still grappling to reach a balance between contributors' freedom of expression and society's need to protect itself."
"YouTube executives often resorted to a civic metaphor: YouTube is like a small town that's grown so large, so fast, that its municipal systems — its zoning laws, courts, and sanitation crews, if you will — have failed to keep pace."
"YouTube executives remain convinced that the long-term solution [is] technology. During the service's early days, it was rife with pirated videos uploaded and shared without copyright owners' consent. Eventually, YouTube built an automated system to weed out copyright violations."
"The idea is that someday humans will be able to train the machines, in a similar manner, to sniff out misinformation, smut, and abuse."
8. First look: David Sanger's new cyberwar book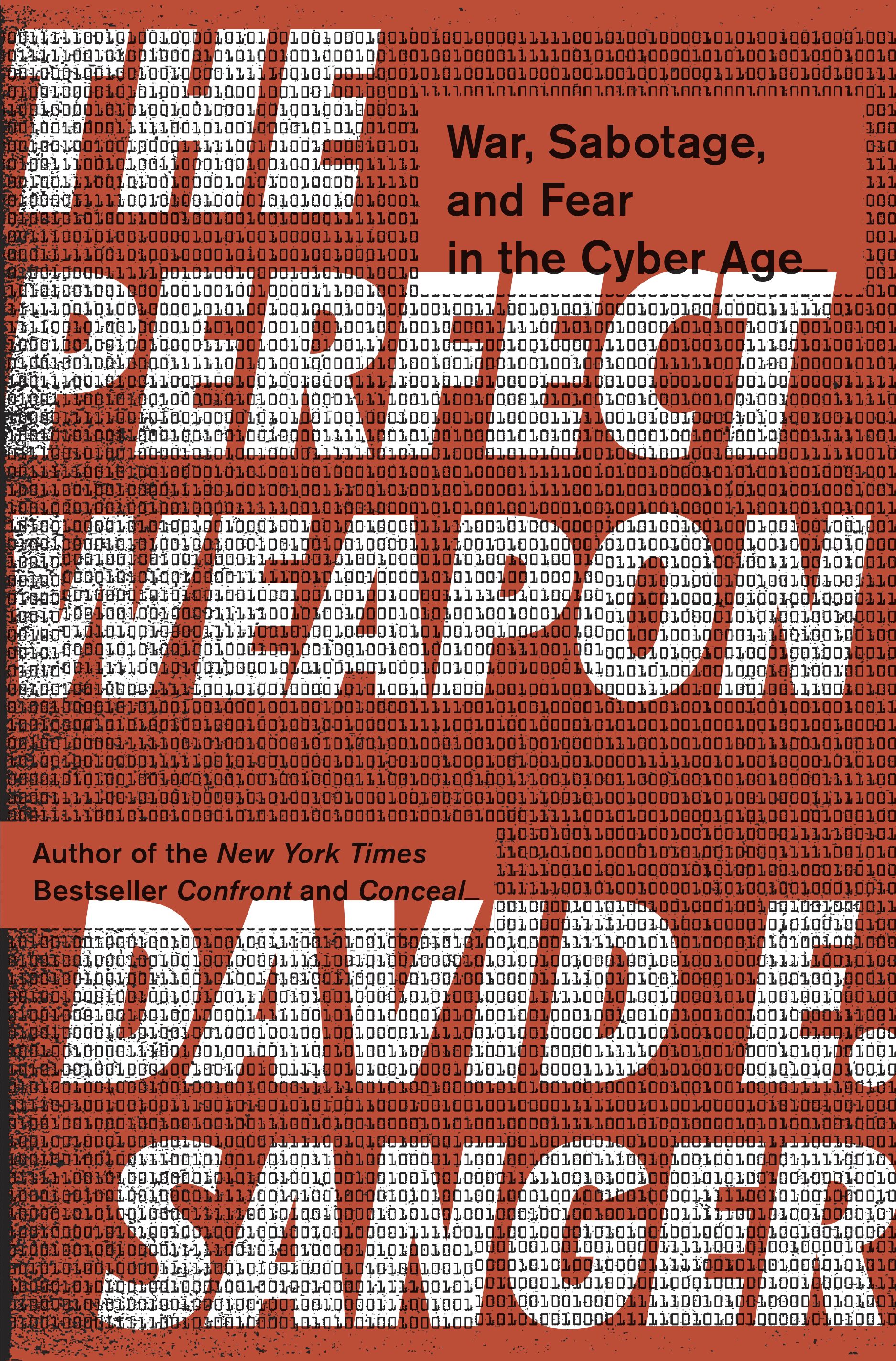 "The Perfect Weapon: War, Sabotage, and Fear in the Cyber Age," by David E. Sanger, national security correspondent for The New York Times, will be out June 19 from Crown:
"The Perfect Weapon is the startling inside story of how the rise of cyberweapons transformed geopolitics like nothing since the invention of the atomic bomb."
"The government [has been] often paralyzed, unable to threaten the use of cyberweapons because America was so vulnerable to crippling attacks on its own networks of banks, utilities, and government agencies."
"Sanger ... reveals a world coming face-to-face with the perils of technological revolution. The Perfect Weapon is the dramatic story of how great and small powers alike slipped into a new era of constant sabotage."
9. GOP baseball team returns to shooting scene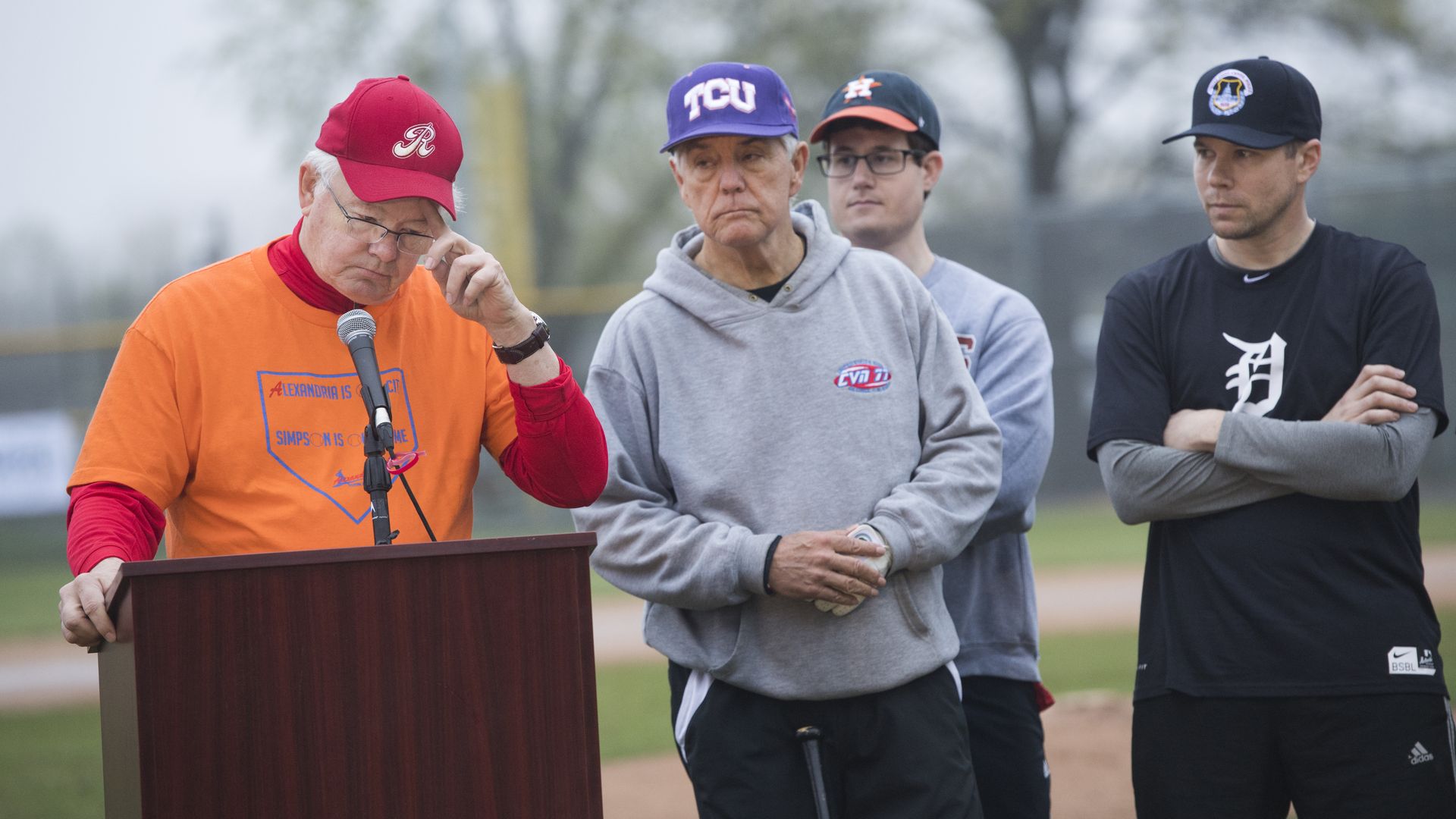 "As a light rain trickled down Wednesday, Republican members of Congress returned to a baseball field where a gunman critically wounded teammate Rep. Steve Scalise and shattered their sense of security nearly a year ago," USA Today's Deborah Barfield Barry reports:
"'Today is an emotional day,'' said Texas Rep. Joe Barton, manager of the Republican congressional baseball team. 'But it's also a rebirth, a renewal. I'm proud of the team.'"
"'It just reminded us how precious life is, how short life is. You're really not in control,' said [Texas Rep. Roger] Williams ... 'So I'm glad we're here. I'm glad we're starting again, but it's an event…  It will stay in my heart.''"
"Scalise ... underwent another procedure last week and could not attend the practice. ... [He] returned to work at the U.S. Capitol later Wednesday and praised his teammates for returning to practice."
10. 1 food thing: Waffle House in happier times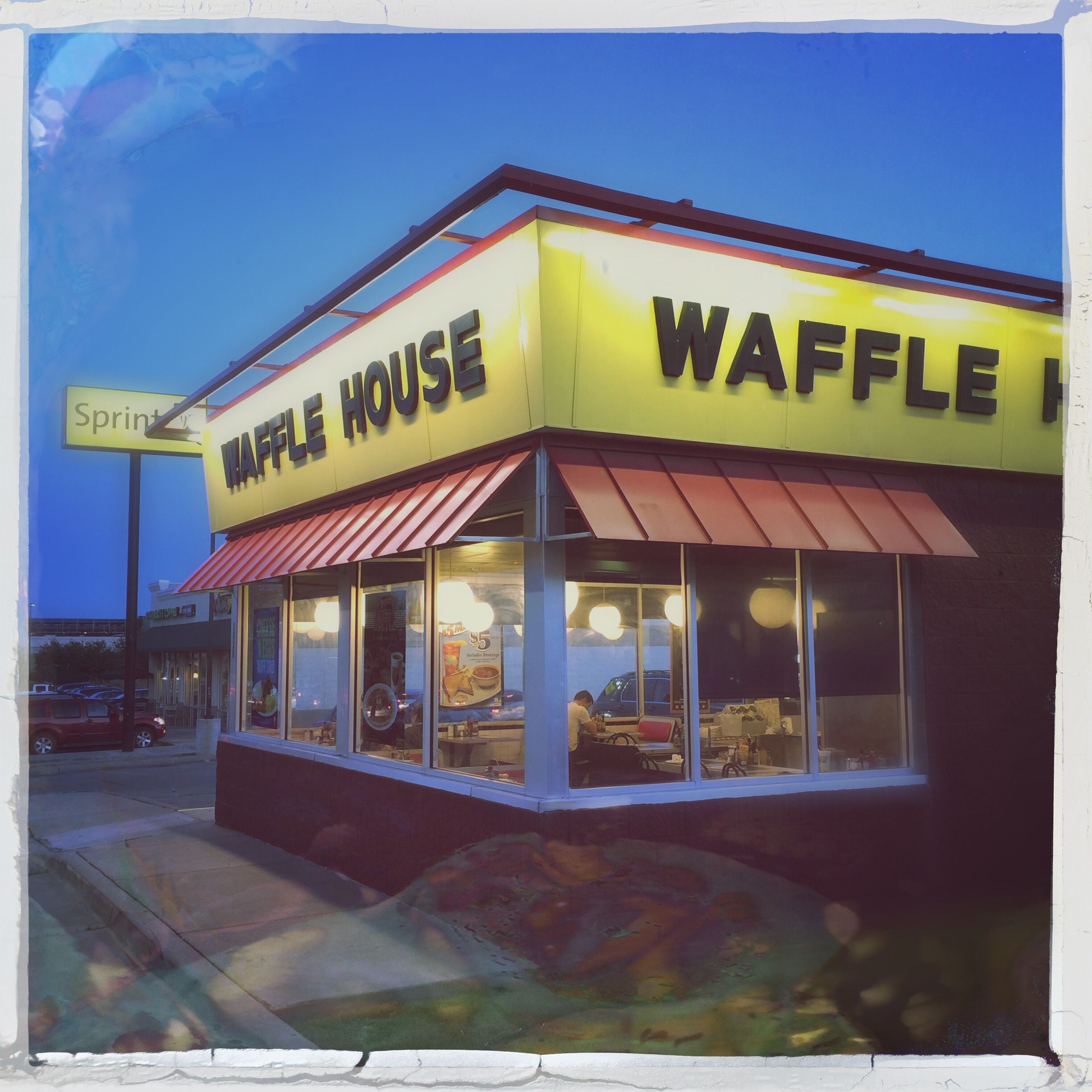 "Portrait of the South, Served Up One Waffle House Order at a Time" — N.Y. Times' Alan Blinder:
"The ubiquity, cultivated over decades of syrup-soaked waffles and strong coffee, makes the 24-hour chain's booths and barstools a round-the-clock reflection of the South and invites every kind of story, some chronicled on Instagram, others in mug shots."
John T. Edge, the University of Mississippi scholar of Southern cuisine and culture, who proudly rattled off how his regular order involves three eggs, scrambled with cheese, and grits: "There are the drunk Waffle Houses, the late-night Waffle Houses, Waffle House as a house of freaks, but there's also this kind of nurturing, idealistic vision of Waffle House."