September 22, 2020
🍂 Good Tuesday morning, and welcome to fall.
Take a second and pick one thing you want to accomplish in the next three months — that when I welcome you to winter on Dec. 21, you can say: I crushed that! Maybe add a habit, drop a habit, serve someone else, give yourself a chance at a longer life.
🗳️ It's National Voter Registration Day. See our 50-state voting map.
💻 Join Felix Salmon tomorrow at 12:30 p.m. ET for an Axios virtual event on the coronavirus' impact on economic and racial inequality in America. Register here.
1 big thing: The price of Washington's stimulus failure
America's elected representatives have failed the country.
Why it matters: The bipartisan inability to deliver economic stimulus could impede economic growth for months to come, Axios' Alayna Treene and Dan Primack write.
It will create widespread damage across America — from small businesses to large industries to schools and day cares — and leave many Americans without jobs or homes.
The state of play: The initial economic stimulus, called the CARES Act, was only designed to last through the summer. Since then, congressional leaders have become too entrenched in partisan positions to reach another deal.
Before Supreme Court Justice Ruth Bader Ginsburg's death Friday, most lawmakers and Hill staff believed there was little chance of passing a new stimulus package before the election.
Now, they privately admit there's virtually no shot.
We turned to Axios' subject matter experts to examine the damage created by Washington's inaction.
The unemployed: Under the CARES Act, unemployed Americans received an extra $600 per week in enhanced benefits. But those benefits expired at the end of July.
30 million Americans are still receiving unemployment benefits.
Small businesses: Both Democrats and Republicans agree there's urgent need for a second round of stimulus loans for small businesses, which employ nearly half of all Americans.
Yet there's no movement to reauthorize the Paycheck Protection Program, nor to pass a separate proposal aimed at restaurants and bars.
Elections: State election officials of both parties from across the country have begged Congress for stimulus funds to help ensure the November elections run efficiently and fairly, per Axios' Stef Kight.
In the face of Congress' failure, charities have stepped in to donate hundreds of millions of dollars to state and local election officials, AP reports.
Airlines: The clock is ticking for tens of thousands of anxious airline employees, who face mass layoffs when the government's current payroll support program expires on Sept. 30, per Axios' Joann Muller.
Schools: Schools and day cares are bleeding out without much-needed federal dollars.
A generation of kids could get left behind, particularly those in economically disadvantaged neighborhoods.
Health care: Many Americans are forgoing health care in favor of paying rent or grocery bills, per Axios' Caitlin Owens.
2. Axios-Ipsos poll: America turns against vaccine
This is stunning, and a huge problem: The share of Americans who say they'll try a first-generation coronavirus vaccine is plummeting, White House editor Margaret Talev writes from the new Axios-Ipsos Coronavirus Index.
The trend is true among both Democrats and Republicans.
Why it matters: As the U.S. nears the milestone of 200,000 deaths, this shows the risk of politicizing the virus and its treatments.
It's another warning of the difficulties health authorities will face in convincing enough Americans that a vaccine is safe and effective.
Many respondents in Week 25 of our national survey feel a vaccine will be risky. Only half are prepared to pay out of pocket for it.
Just 13% say they'd be willing to try it immediately.
Men remain more likely than women to take the first-generation vaccine.
Black Americans are about half as likely as Hispanics or whites to take it.
3. Worth 1,000 words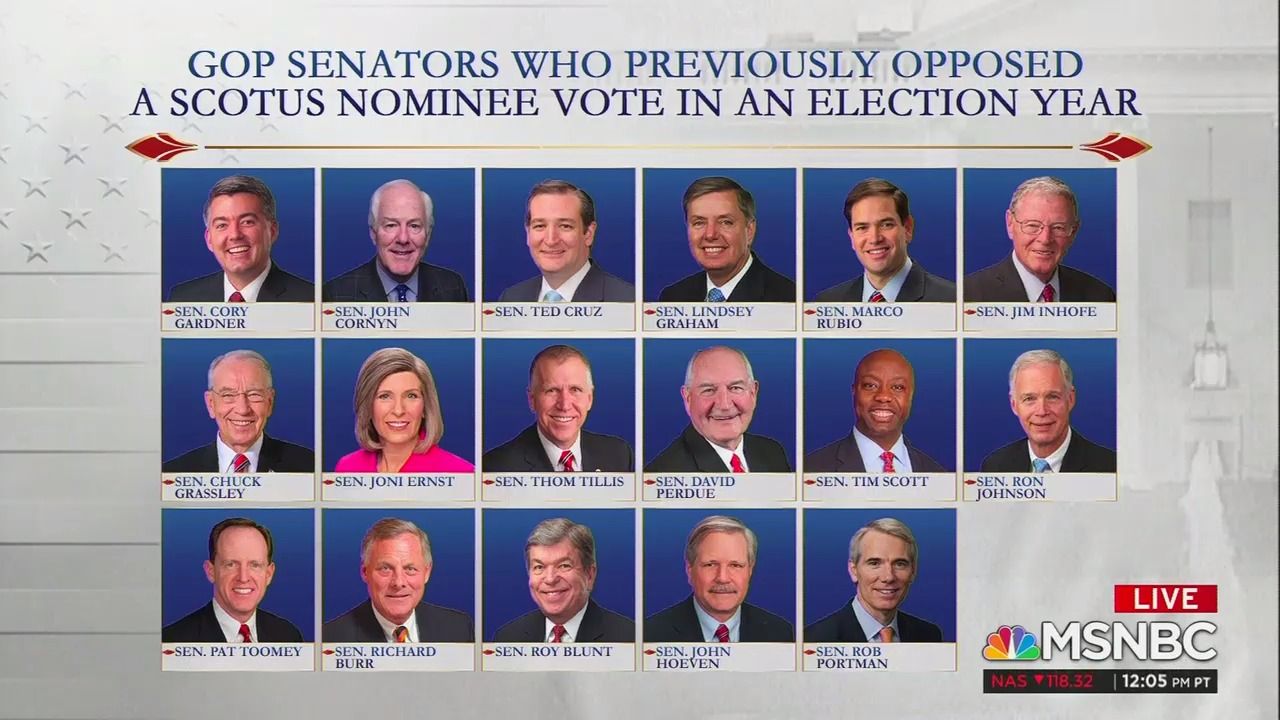 4. CDC's crumbling reputation
Flagrant politicization of the CDC is mounting, with new examples every day as the pandemic persists, Axios Vitals author Caitlin Owens writes.
The CDC is just one of many parts of government getting scathing criticism for its handling of the pandemic.
Why it matters: It's a jarring comedown for an agency once globally admired and generally considered immune from political interference.
Howard Koh, a top health official in the Obama administration, said: "The consistent inconsistency in this administration's guidance on COVID-19 has severely compromised the nation's trust in our public health agencies."
5. Business sees permanent pandemic mindset
Two-thirds of business leaders think the pandemic exposed vulnerabilities that will require permanent changes, according to research provided to Axios by Aon, the global professional services firm
Aon surveyed 800 executives in August (V.P. level and above, with 500 or more employees) — half in the U.S., and half in Europe and the U.K.
These two slides jumped out at me: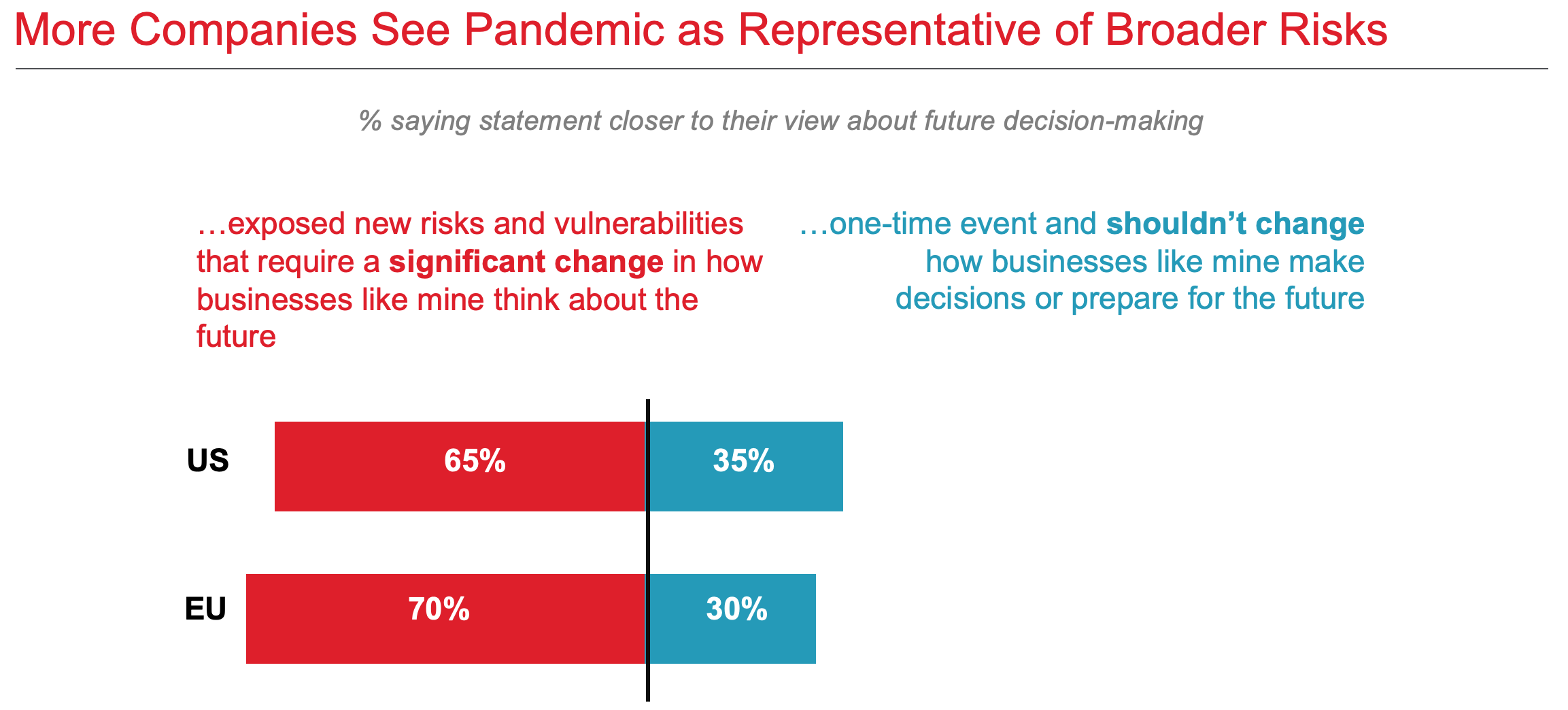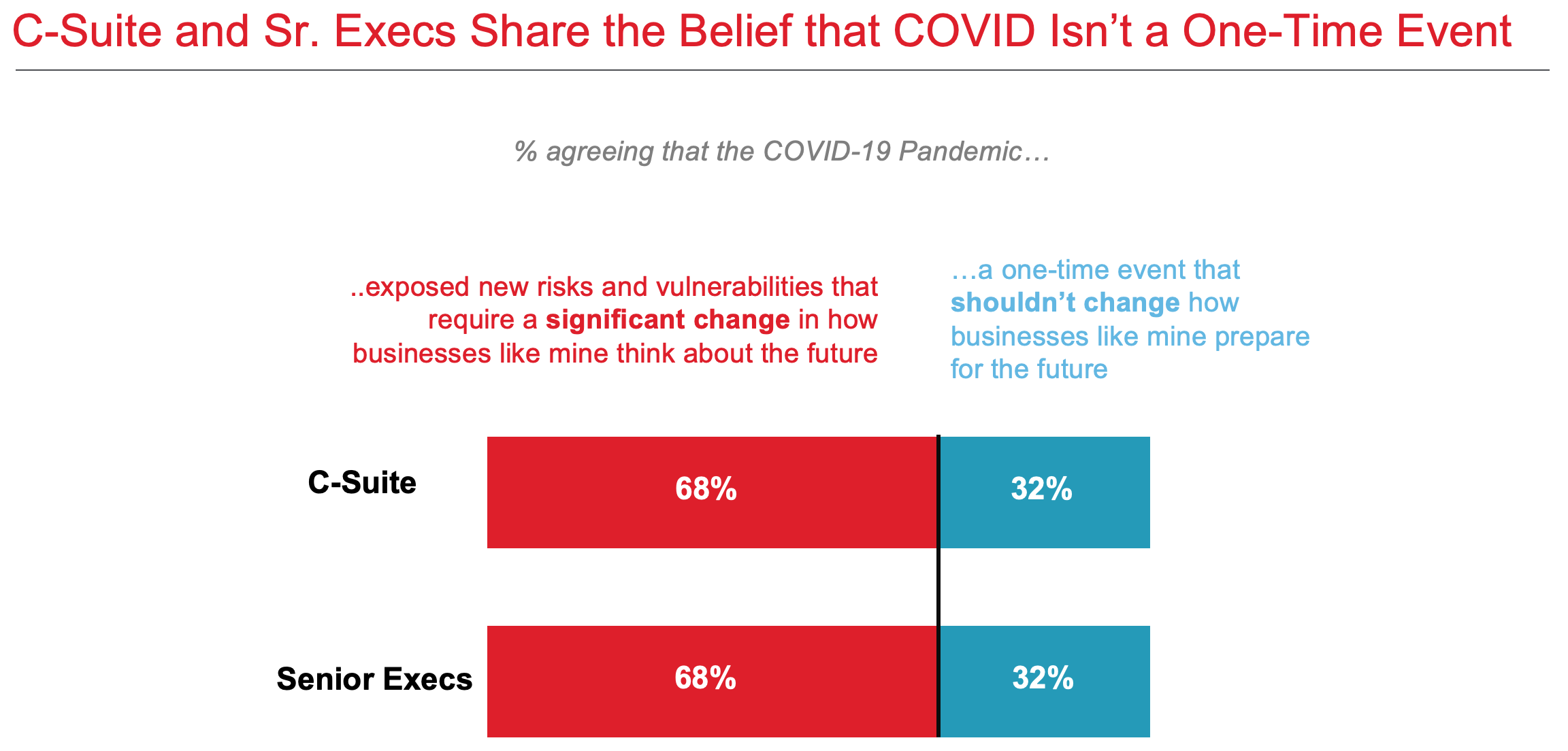 Go deeper: See the full deck, "Evaluating Post-Pandemic Risks."
6. Boris to order 10 p.m. pub closing time

British Prime Minister Boris Johnson is expected to announce later today that pubs and restaurants across England will have to close each night by 10 p.m. amid a coronavirus surge, per the BBC.
Cabinet Office Minister Michael Gove also said that people in England should work from home "if they can" — a change in government guidance.
"The new measures come after two days of debate among cabinet ministers and experts and are softer than those mooted in advice from government scientific advisers in recent weeks," reports The Guardian.
They "fall short of what some senior local leaders had been expecting, it is understood, and there are concerns that they will not change behavior significantly."
7. New: Stepien says Trump travel, grassroots worth $48 million a week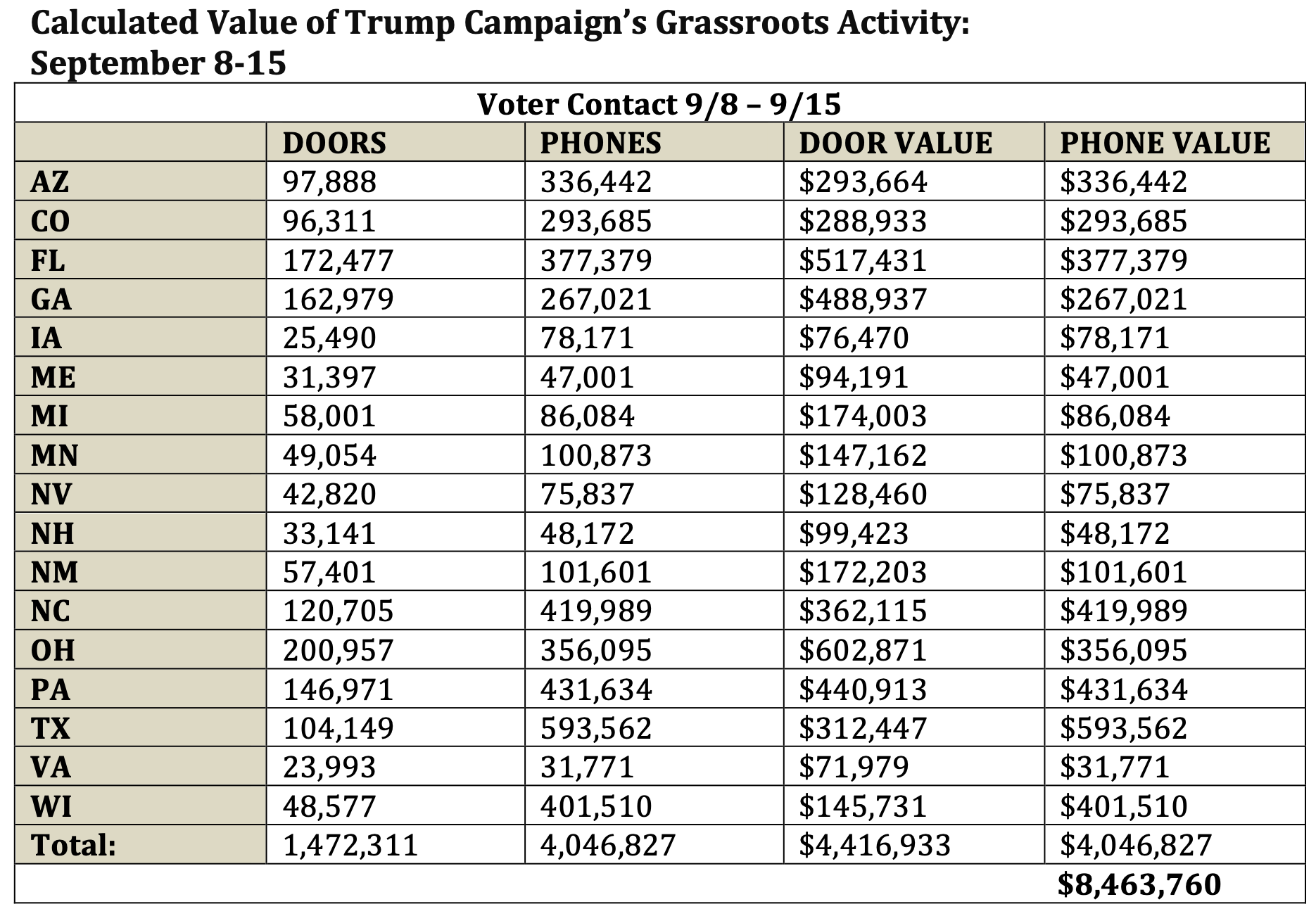 A stark difference between the Trump and Biden campaigns is Trump-Pence's aggressive continuation of traditional door-knocking amid the pandemic, while Joe Biden emphasizes virtual techniques. And President Trump travels more.
Why it matters: The approaches reflect the candidates' deliberate optical contrasts in their response to the virus. Trump holds packed rallies, while Biden sports a mask at events where taped circles separate attendees.
Trump campaign manager Bill Stepien is now quantifying the difference, arguing in a new memo that candidate travel and campaign ground game give the president an advantage at a time when the airwaves are saturated:
From September 8–15, President Trump, Vice President Pence and the First Family made 38 political trips to 13 states. ... Using data analysis and broadcast monitoring performed with Cision software, the value of President Trump's travel activity is quantifiable. ...
[T]he President's "Make American Great Again" events in Winston-Salem, North Carolina on September 8 and Freeland, Michigan on September 10 created calculated earned media values of $2.0 and $3.3 million (respectively), whereas September 13th's "Latinas for Trump" roundtable in Las Vegas earned a value of $5.1 million. ...
President Trump's travel earned $40.1 million in calculated broadcast value over the seven day period alone — a figure that does not include the travel of Vice President Pence or the First Family. ...
Over the same seven day period, the President's volunteer field team knocked on 1.47 million doors and made 4.04 million phone calls. ... [T]he monetary value of the Trump campaign's grassroots efforts was $8.4 million this week alone.
When I asked the Biden campaign about the difference in philosophies, national press secretary TJ Ducklo replied:
"[W]e are having thousands of meaningful conversations with voters in battleground states everyday while prioritizing public health and the safety of our supporters."
8. Out today: Matt Gaetz on post-Trump GOP
Rep. Matt Gaetz (R-Fla.), a rising conservative star, told me a fascinating story during a phone interview about his book, "Firebrand," out today:
Gaetz said that after he was elected to the House in 2016 from a district full of active-duty military, he asked how he could get on the Armed Services Committee. He was told to raise $75,000 for Republicans.
The congressman told me he wondered: "Is anyone here wearing a wire?"
Gaetz, playing to win, raised $150,000. He said he then was asked what additional committee he wanted. He chose Judiciary, where his profile soared during impeachment.
Gaetz, 38, is part of a new generation of Republicans who don't shun talk of climate change: "My mission is to unite Americans around this generational challenge." He advocates a pollution tax.
"To fully vindicate the Trump presidency," Gaetz added, "we need to embrace the energy of the populist elements of the Trump movement."
Gaetz writes about traveling with President Trump from New Hampshire to Dover Air Force Base for the return of the remains of two constituents killed in Afghanistan.
"He insisted we cut the politics short," Gaetz told me. "He said: 'Matt, we have to show the country the impact of these wars.'"
"President Trump understands that to move people, you have to create scenes and use images. It's not enough to talk."
9. What we're watching
ABC News tells me that for the first time in 24 years, "World News Tonight," anchored by David Muir, is the #1 newscast in total viewers, adults 25-54 and adults 18-49.
Why it matters: In a sign of our times, Muir's dinnertime newscast out- delivered primetime, daytime, morning, late-night and cable.
Muir, one of the few news anchors who went into the studio throughout the pandemic, interviewed President Trump, George Floyd's brother Terrence, and had the exclusive first interviews with Joe Biden and Kamala Harris.
For the week ending Sept. 13 (Nielsen releases last week's data today), Muir averaged 9 million viewers, NBC's "Nightly News with Lester Holt" had 7 million and the "CBS Evening News with Norah O'Donnell" had 5.1 million.
10. NFL fines maskless coaches
The NFL is imposing fines of $100,000 per coach and $250,000 per club for violations of the league's mask policy, AP reports.
The first three to get fined: Denver's Vic Fangio, San Francisco's Kyle Shanahan and Seattle's Pete Carroll.
Among other offenders: Patriots coach Bill Belichick and offensive coordinator Josh McDaniels, Chiefs defensive coordinator Steve Spagnuolo, Colts coach Frank Reich, and Rams coach Sean McVay.
Raiders coach Jon Gruden and Saints coach Sean Payton were shown on a split screen on "Monday Night Football," both breaking the rules.
Gruden wore his mask like a chin strap.
Payton sported his gaiter like a turtleneck.
Players — like coaches, subject to daily COVID-19 tests — are exempt from the face covering requirements.
📱 Thanks for joining the Axios AM breakfast table. Invite your friends to sign up here!