https://www.axios.com/newsletters/axios-am-33106bbd-7de6-4226-b32f-7567d28d83da.html?chunk=0#story0
1 big thing: Pence's limbo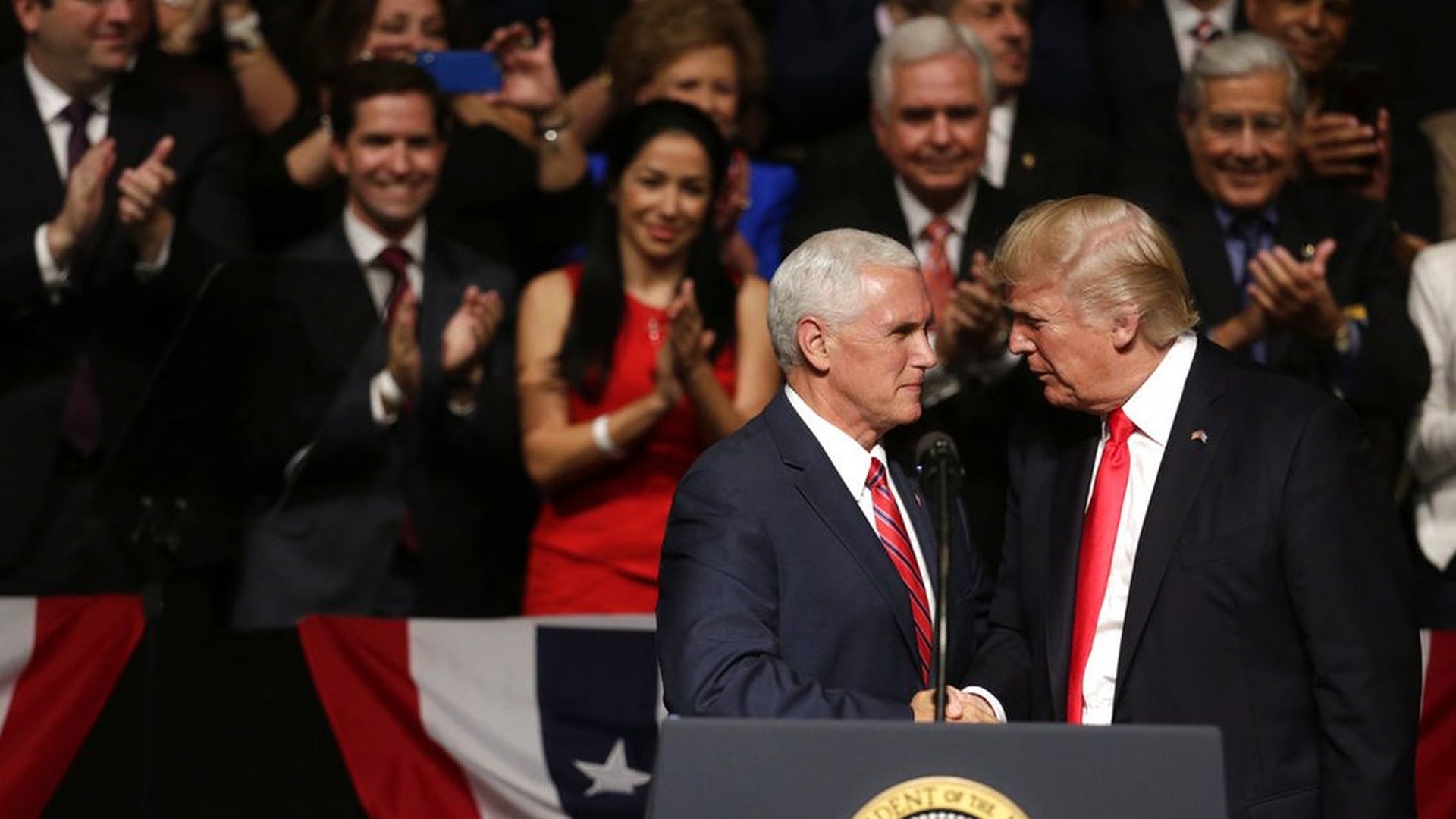 The most awkward waiting game in Washington is being endured by Vice President Mike Pence, who can't look like he's distancing himself from his boss, but has to protect his own viability amid the chaos at 1600.
As part of navigating this volatile White House, look for Pence to spend even more time outside Washington, including an upcoming foreign trip.
"Changes for him are ones that also apply broadly to the White House," an adviser said. "Both of them need to go out and sell more. ... When they don't, they respond all day to handful of journalists and politicians out to kill them."
Traveling gives the V.P. physical and psychological distance from a West Wing where presidential aides privately speculate about a President Pence. The dilemma is similar to that facing every White House #2 who wants a political future — but is more acute because of the swarm of investigations.
"He needs to chart an independent course, with more distance from Trump," says an ally of both leaders. "Not so much on issues — they're well aligned on issues. He needs distance from the behavior and personal foibles — polite distance."
The dynamics: Pence almost fears attention and credit. He sees his role as listener, mediator, executor — and has helped cement Trump's general adherence to conservative principles.
Sources who've known Pence a long time, and would expect candor from him, tell Axios' Jonathan Swan that they're struck by how effusively he praises and sells Trump, even privately. While other White House officials signal to Washington elites at parties that they "get the joke" about Trump, Pence never does.
The dynamic works for Trump. The President would never have tolerated a limelight-seeking V.P. A source who knows Trump well said: "He would've killed Newt by the end of the campaign" if he had made him VP.
Some top White House officials say Pence is conspicuously quiet in West Wing meetings.
Each week that the Senate is in session, Pence holds a dinner at his Naval Observatory residence with five to 14 senators (sometimes all Republicans, sometimes with a mix) to discuss a particular theme — Supreme Court, health care, tax reform, foreign policy.
What the Pence team tells itself: "Never cave on your principles, which he hasn't."
Aides to both Trump and Pence dismissed a McClatchy Washington Bureau story that briefly was Drudge's banner headline yesterday: "TRUMP, PENCE STAFFS FEUDING."
Pence will get an aggressive in-house advocate Aug. 1 with his new chief of staff, Nick Ayers, an elbows-out operative with a deep investment in protecting the Pence brand. Ayers will move up from Georgia to replace longtime Pence aide Josh Pitcock, who said he'll "transition to the private sector."
https://www.axios.com/newsletters/axios-am-33106bbd-7de6-4226-b32f-7567d28d83da.html?chunk=1#story1
Breaking: The President of the United States just tweeted this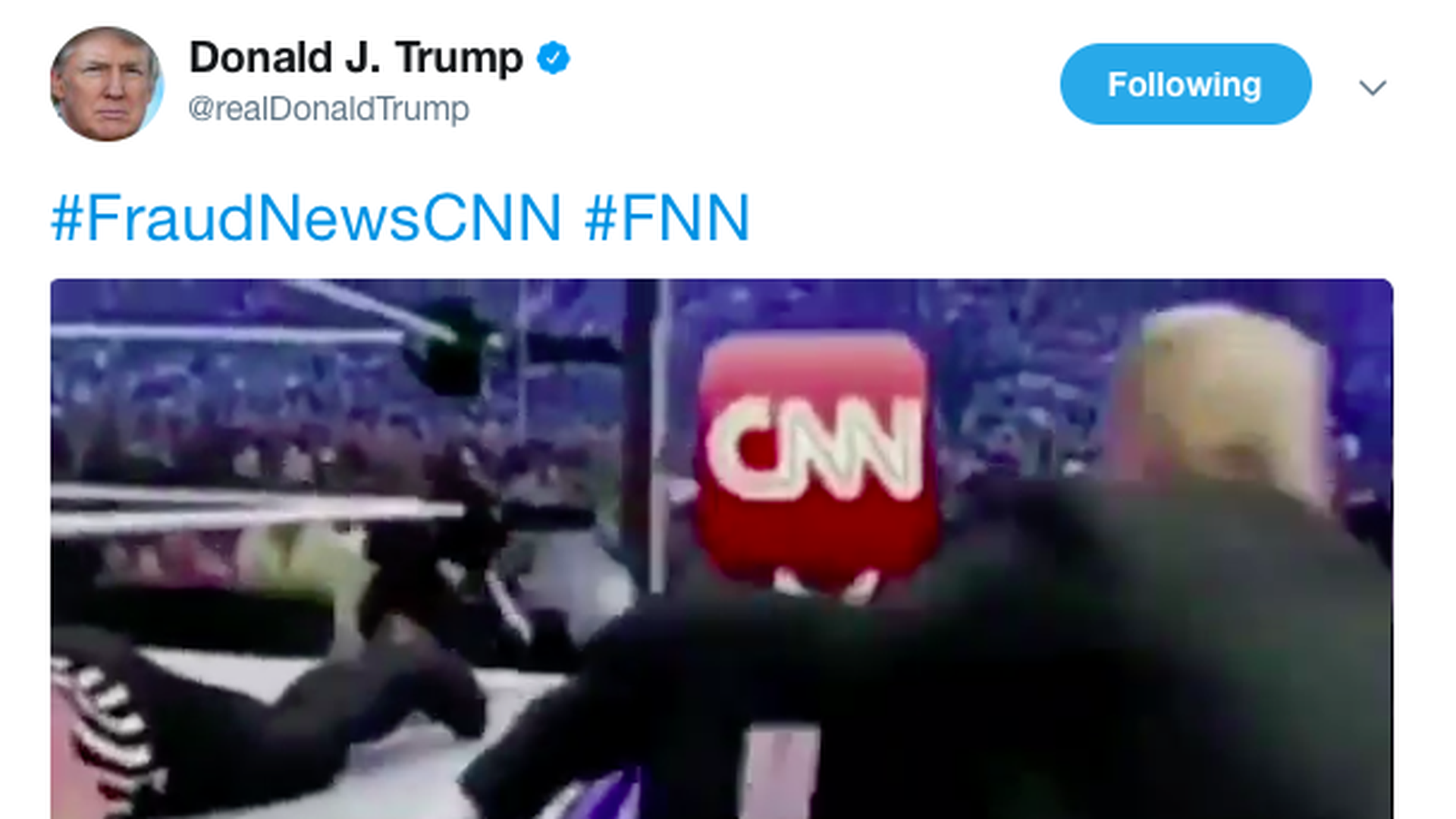 Click here to see/hear the president's fantasy smackdown.
Swan tweets: "President Trump caps off Energy Week."
https://www.axios.com/newsletters/axios-am-33106bbd-7de6-4226-b32f-7567d28d83da.html?chunk=2#story2
2. If you read only 1 thing: "the backdrop of progress"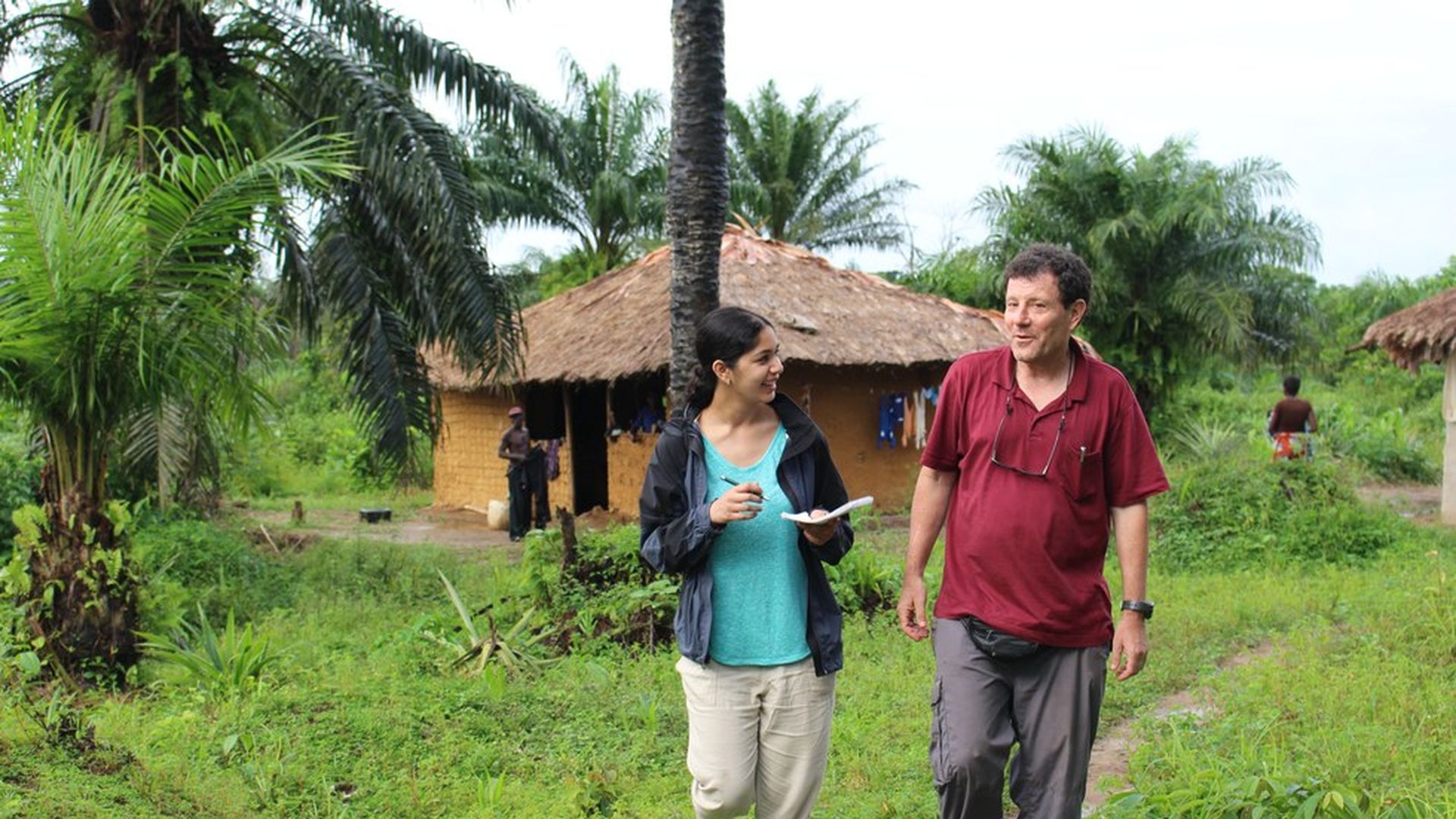 In his opening paragraph, N.Y. Times columnist Nick Kristof declares: "2017 is likely to be the best year in the history of humanity."
OK, you've got me!
Kristof writes from Ganta, Liberia, under the headline, "Good News, Despite What You've Heard: The world is beating disease, poverty, illiteracy":
"I'm on my annual win-a-trip journey with a university student, who this year is Aneri Pattani, a newly minted graduate of Northeastern University."
The world is defeating leprosy: "Worldwide, cases have dropped 97 percent since 1985, and it is now easily treatable. A global plan set 2020 as a target for no more children to become deformed by leprosy."
"The progress against leprosy reflects the larger gains against poverty and disease — which I believe may be the most important trend in the world today. Certainly it's the best news nobody knows about."
"Perhaps the optimism doesn't feel right. You're alarmed by President Trump (or Nancy Pelosi), terrorism and the risk of rising seas, if we're not first incinerated by North Korean nukes. ... [R]emember that for most of history humans agonized over something more elemental: Will my children survive?"
"The truth is that the world today is not depressing but inspiring. ... The most important historical force in the world today is not President Trump, and it's not terrorists. Rather, it's the stunning gains on our watch against extreme poverty, illiteracy and disease; it's all those 12-year-olds out there who never catch leprosy and instead go to school."
https://www.axios.com/newsletters/axios-am-33106bbd-7de6-4226-b32f-7567d28d83da.html?chunk=3#story3
3. Get smart fast: "the muddled mess scenario"
The media gives short shrift to festering crises, then overwhelms us with coverage after they ignite. At Axios, we try to keep big risks on your radar, and illuminate issues that national leaders are worrying about but not talking about.
The lead story of today's L.A. Times pulls together key threads on a vital debate that's getting too little attention ... "U.S. risks escalation in Mideast: As rout of Islamic State nears, Trump's lack of strategy may leave the door open for Iran and Russia," by Tracy Wilkinson, W.J. Hennigan and Mike Memoli:
What's happening now: "With American-backed ground forces poised to recapture Mosul in Iraq and Raqqah in Syria, Islamic State's de facto capitals, U.S. commanders are confident they soon will vanquish the militant group from its self-declared caliphate after three years of fighting."
What happened before: "Trump promised to announce in his first month in office a new strategy for defeating Islamic State. As president, he has promised for more than a month to hold a news conference to discuss the effort."
The problem: "He has yet to do either. But an intense debate is underway among the Pentagon, the State Department and the White House over the way forward."
The debate: "Defense Secretary James N. Mattis and national security advisor H.R. McMaster have signaled different priorities. The Pentagon argues that it only aims to defeat Islamic State and has no intention of being pulled into a conflict with Iran. Mattis ... has advocated 'de-confliction' zones that would essentially divvy up Syria and keep competing forces apart."
Why it matters ... Ilan Goldenberg, a former senior State Department official who now heads the Middle East program at the nonpartisan Center for a New American Security: "What I worry about is the muddled mess scenario ... When you start shooting down planes and running into each other, it quickly goes up the escalation ladder."
https://www.axios.com/newsletters/axios-am-33106bbd-7de6-4226-b32f-7567d28d83da.html?chunk=4#story4
Bonus: Pic du jour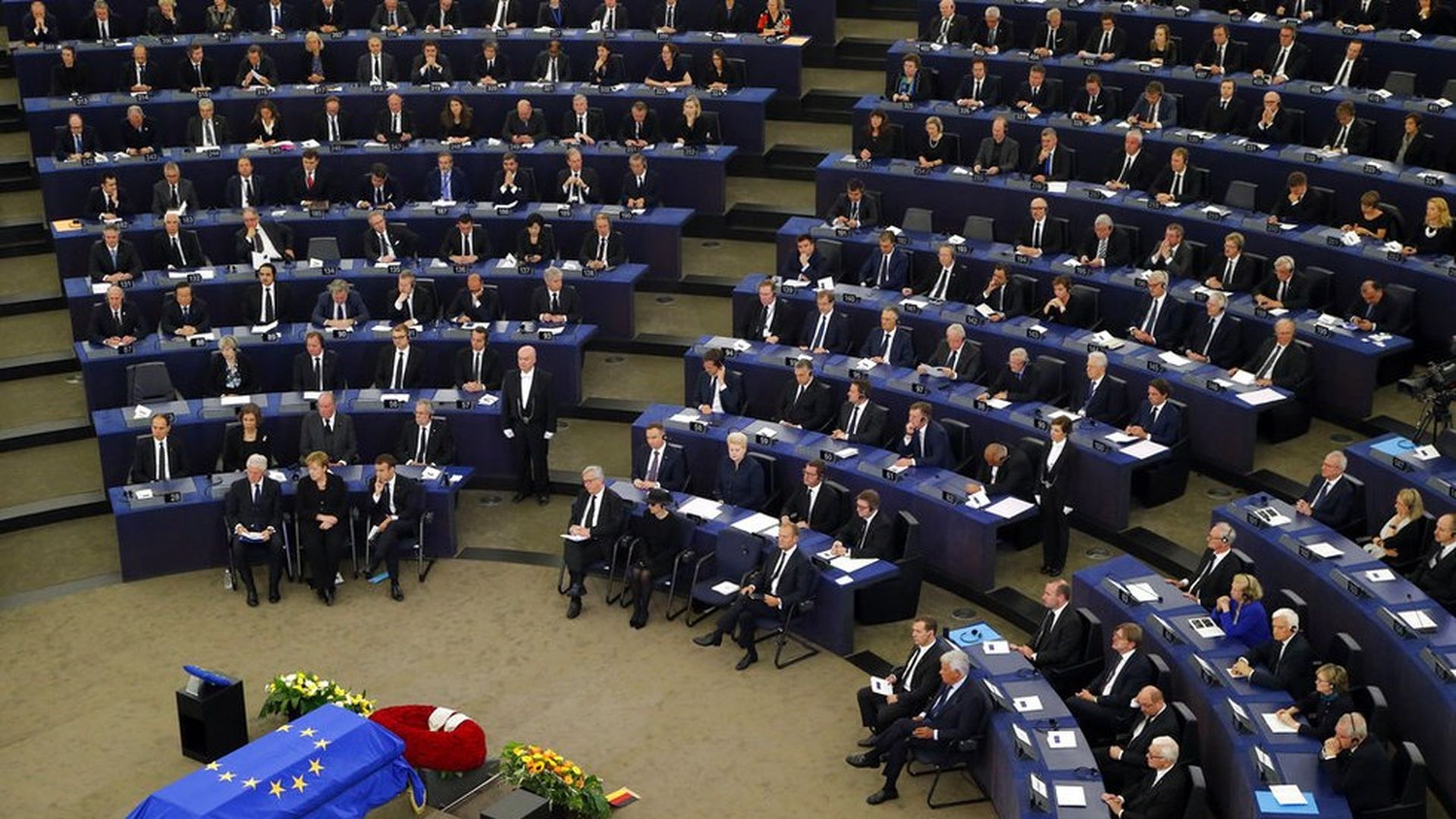 Current and former leaders from Europe and beyond (including Bill Clinton) gathered in Strasbourg, eastern France, where this homage ceremony was held yesterday for former German Chancellor Helmut Kohl, the architect of reuniting East and West Germany.
His widow refused a German state funeral after his death June 16 at age 87.
https://www.axios.com/newsletters/axios-am-33106bbd-7de6-4226-b32f-7567d28d83da.html?chunk=5#story5
4. Trump's travels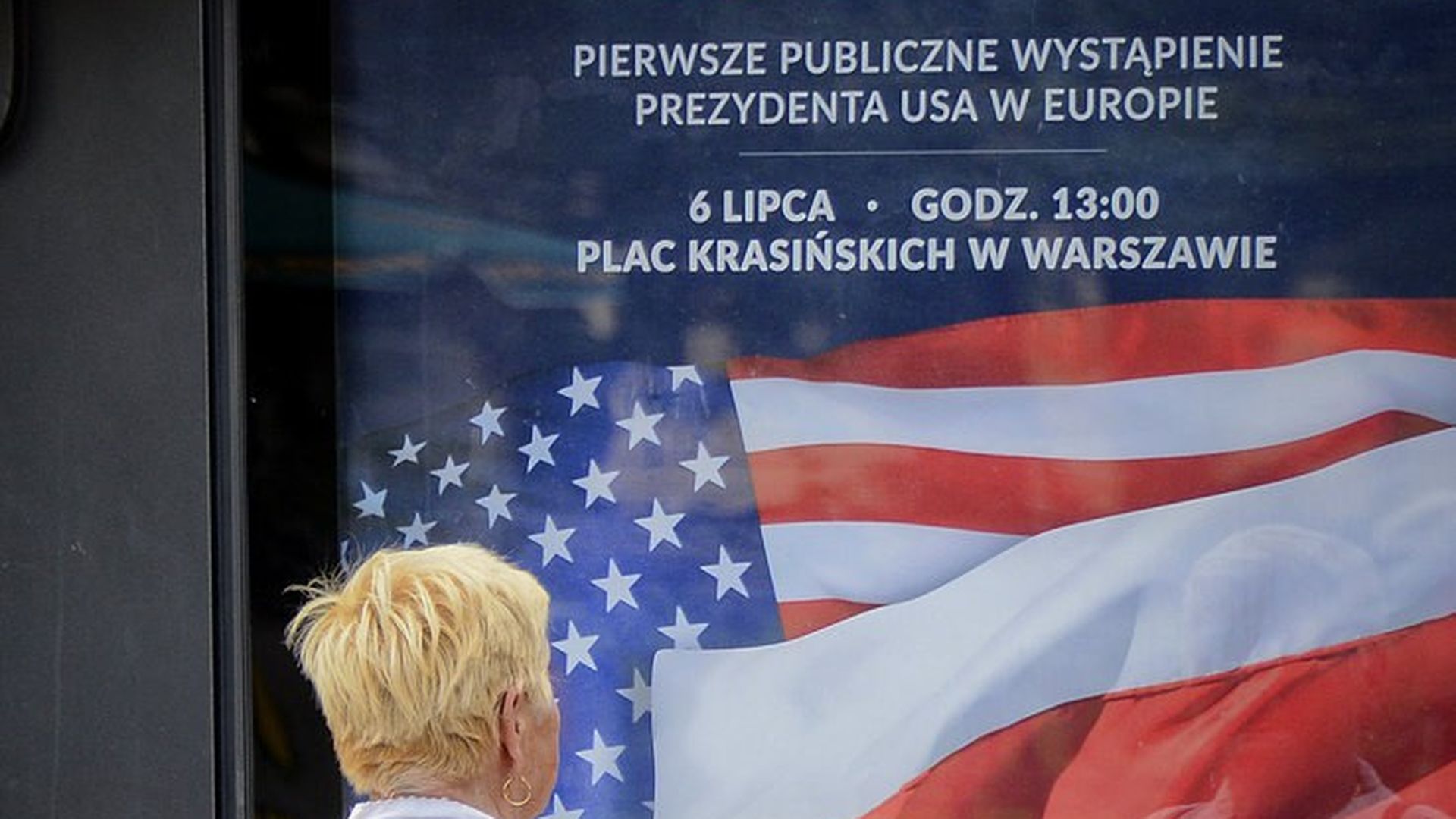 "Poland 1st: Why Trump visits ex-communist nation before UK," by AP's Vanessa Gera in Warsaw:
"Trump is breaking with tradition [Thursday] by visiting Poland, an ex-communist country in central Europe, before making a presidential visit to longtime allies Britain, France or Germany."
"The White House has stressed Poland's importance as a loyal NATO ally and its potential as an energy partner."
"Trump will be welcomed in Poland by populist leaders who are closely aligned with his worldview and who gained power in 2015 with the same brand of nationalistic, anti-Muslim rhetoric that has put both the new U.S. leader and the Poles in conflict with leaders in Western Europe."
"Like Trump, Poland's leaders seek to restore more national sovereignty and weaken international institutions like the European Union."
"The hundreds of thousands of Polish-American voters in the United States represent an important constituency in several battleground states, and last year they helped give Trump the edge he needed in Michigan, Wisconsin and Pennsylvania."
P.S. From his home in Bedminster, N.J., Trump will speak by telephone at 8 tonight with Japan Prime Minister Shinzo Abe, and at 8:45 with China President Xi Jinping. Topic is G-20 preview.
https://www.axios.com/newsletters/axios-am-33106bbd-7de6-4226-b32f-7567d28d83da.html?chunk=6#story6
5. Being Ivanka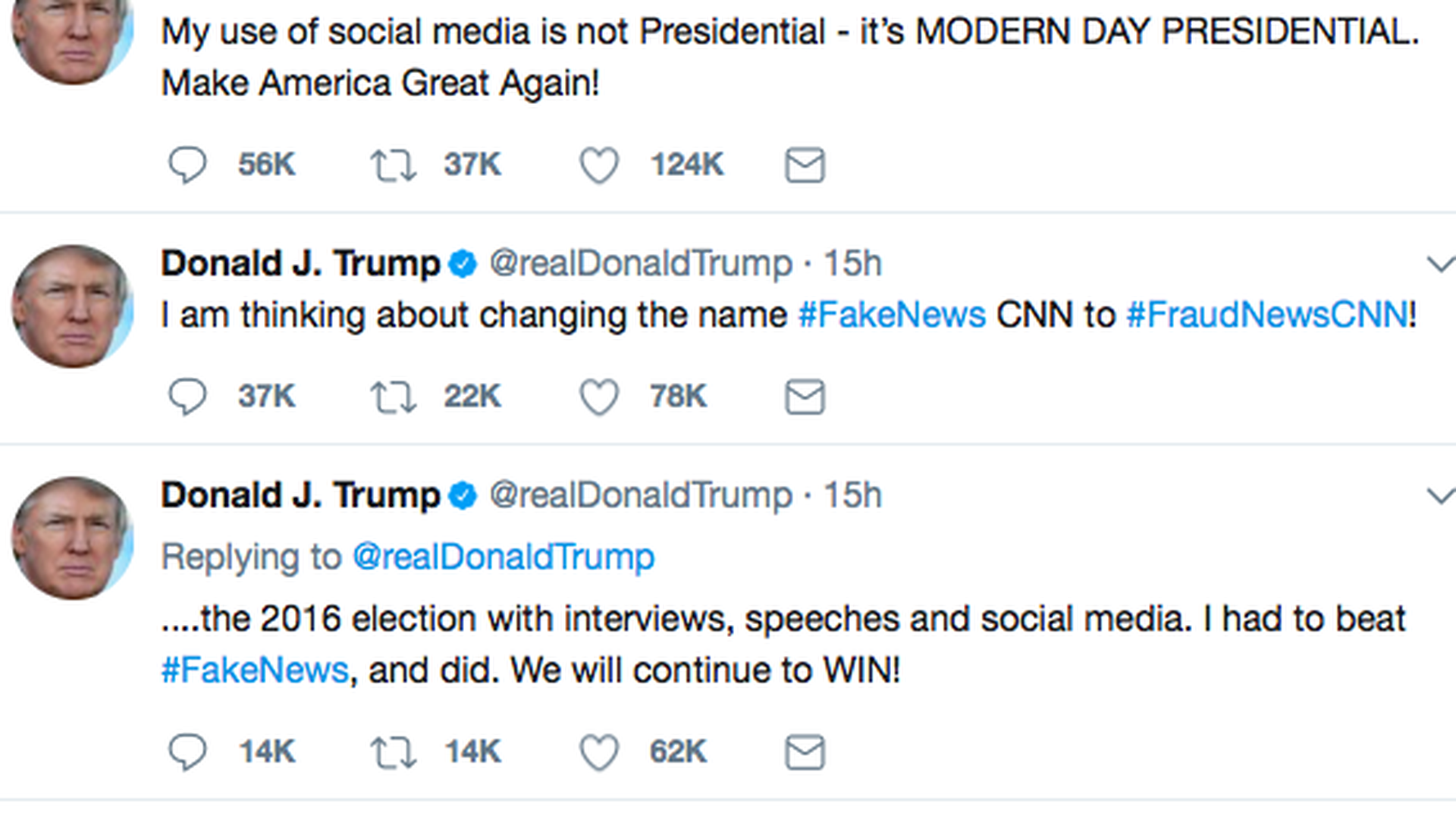 "When Dad's the president — a look inside Ivanka Trump's complicated world," by WashPost's Monica Hesse and Krissah Thompson:
"Ivanka Trump's office: clean, white, quiet. A zone of punctual start times ... [a] short, winding walk away from her father's Oval Office downstairs. ... When he wants her opinion, he asks for it and she gives it, but without expectation that it will be followed. She sees her role as not to persuade, but to inform and support ...
"The media and political world exploded [over the Joe/Mika tweets] ... 'Where are Jared and Ivanka right now?' Politico demanded. Ivanka was discussing policy. ...
"[W]hen Ivanka presents her dad with information, she said she tells him what she thinks, and then tries to tell him what the other side's strongest arguments are. 'A lot of the way people try to get things done, or sell things in Washington, is they present facts that align with the outcome that they want the other person to come to ... In business it's the same — they tell you the good facts about a company, not the bad facts. I don't do that. I have never done that."
Be smart: Fact-based persuasion is very much the Jared Kushner approach, as well. When he's trying convince Trump of something, he quietly marshals visits and phone calls with people involved in the topic who are likely to be resonant with Trump.
https://www.axios.com/newsletters/axios-am-33106bbd-7de6-4226-b32f-7567d28d83da.html?chunk=7#story7
6. 1 big surprise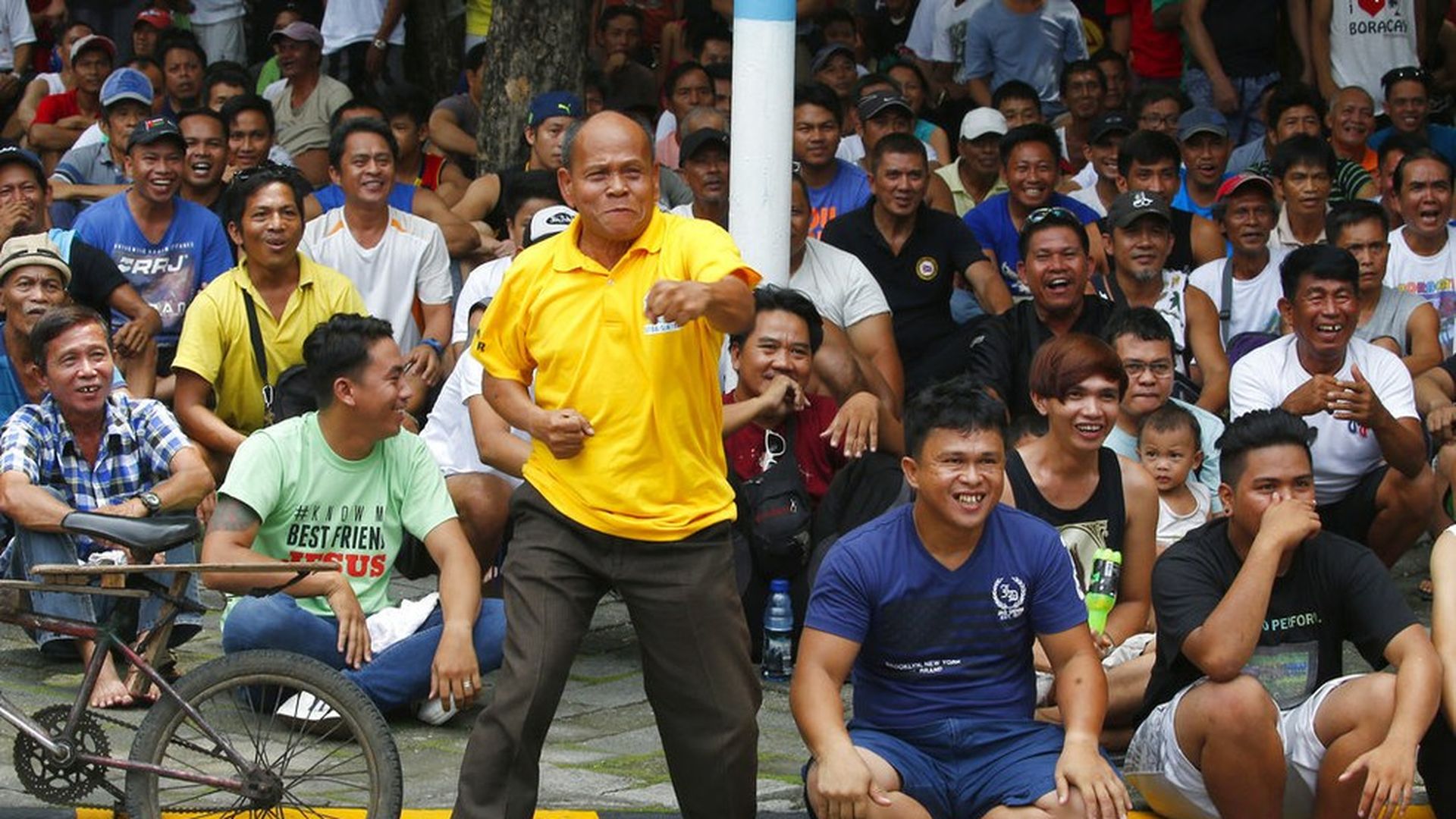 AP Sports Writer John Pye in Brisbane, Australia: Manny "Pacquiao's long-time trainer Freddie Roach tipped a 'short and sweet' knockout win for the 11-time world champion in Sunday's so-called 'Battle of Brisbane,' but [Jeff] Horn [of Australia] got a unanimous points decision in his first world title fight — delighting the 51,052-strong crowd."
"The 38-year-old Philippines senator arrived in Brisbane a week ahead of the fight with a chartered plane carrying more than a hundred supporters and as the hot favorite to beat Horn. He leaves without the WBO belt. ... Pacquiao didn't attend the formal post-fight news conference, sending a spokesman to say he was getting treated for the cuts. He also declined to do any interviews in the dressing room."
P.S. "Supermax contract" ... ESPN: "Two-time NBA MVP Stephen Curry has agreed to a five-year, $201 million extension — the richest contract in league history — with the Golden State Warriors."
"Curry is the first NBA star who will sign a supermax contract, the crossing of a $200 million threshold that eventually will become the norm for the NBA's biggest superstars."