Axios AM
September 23, 2022
🍂 Happy Friday and welcome to fall — the autumnal equinox arrived last night. Smart Brevity™ count: 1,180 words ... 4½ mins. Edited by Noah Bressner.
1 big thing: American power crisis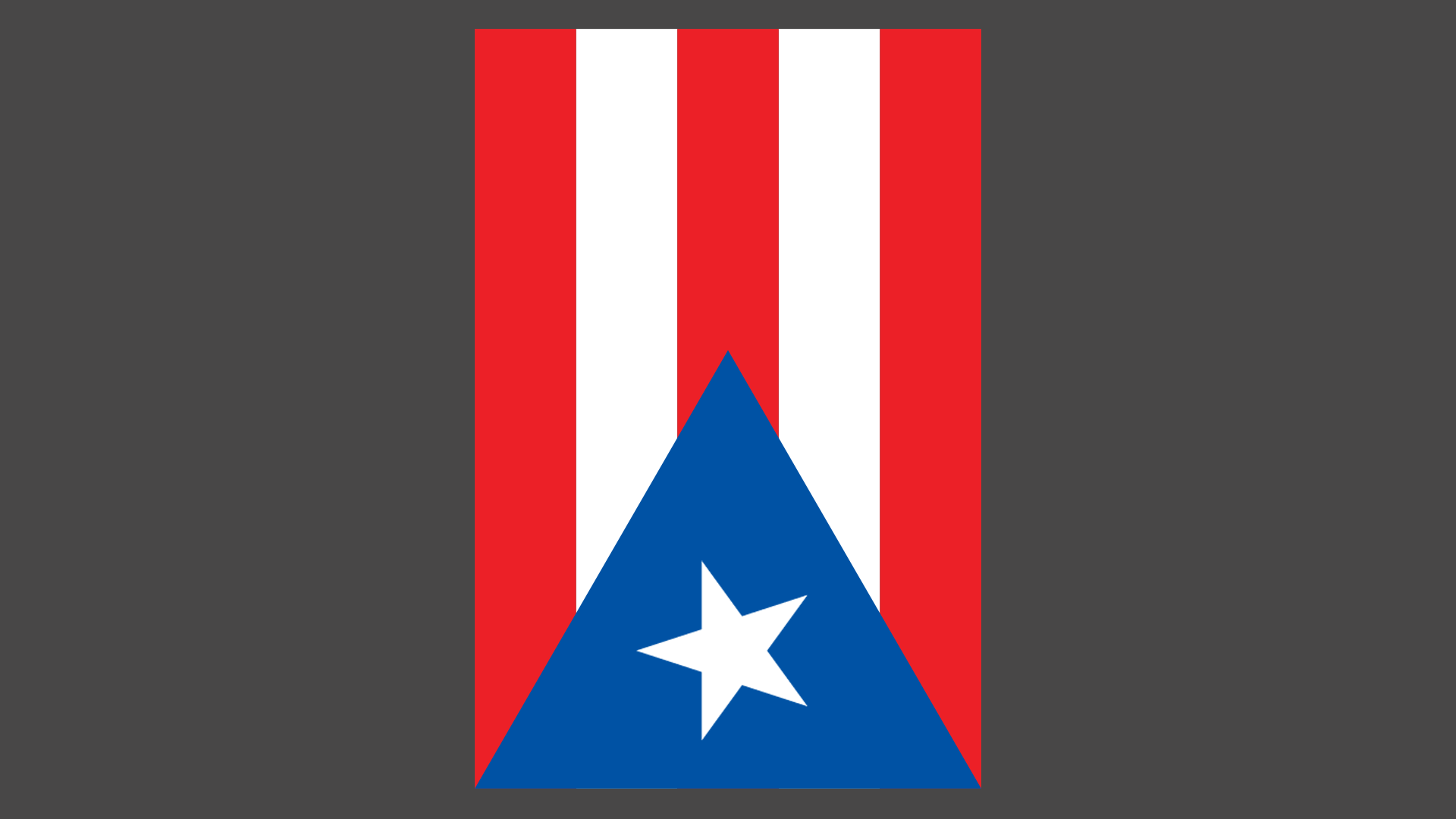 Even after several years of political and legal battles over how to revive its economy and fix basic utilities, Puerto Rico continues to careen from crisis to crisis.
Why it matters: The U.S. territory and its 3 million residents are caught in a financial and infrastructure quagmire with a steep human cost — including a 41% poverty rate, Axios' Nathan Bomey writes.
What's happening: Puerto Rico's entire power grid — which has been in bankruptcy for the last half-decade — went down after Hurricane Fiona ripped through on Sunday.
Only about 32% of Puerto Rico residents had power restored by yesterday. About 3 in 4 were without clean water.
"Even relatively minor storms can shut down the power grid," said Eric LeCompte, executive director of Jubilee USA Network, which advocates for debt relief for Puerto Rico.
University of Puerto Rico economist José Caraballo-Cueto tells Axios: "It's not just the electrical grid — it's also the sewers, it's also the streets, highways, bridges, schools."
Flashback: Control of the island's grid was transferred last year to a private operator, LUMA Energy, in hopes of improving the dilapidated system.
LUMA "has failed miserably," Caraballo-Cueto says, noting that the switch has led to rate spikes and more blackouts.
👀 What we're watching: Debate persists, both in Washington and San Juan, over whether the island would be better off if it won statehood — a longstanding goal for Democrats and progressives.
2. Scoop: Biden officials may try to oust World Bank head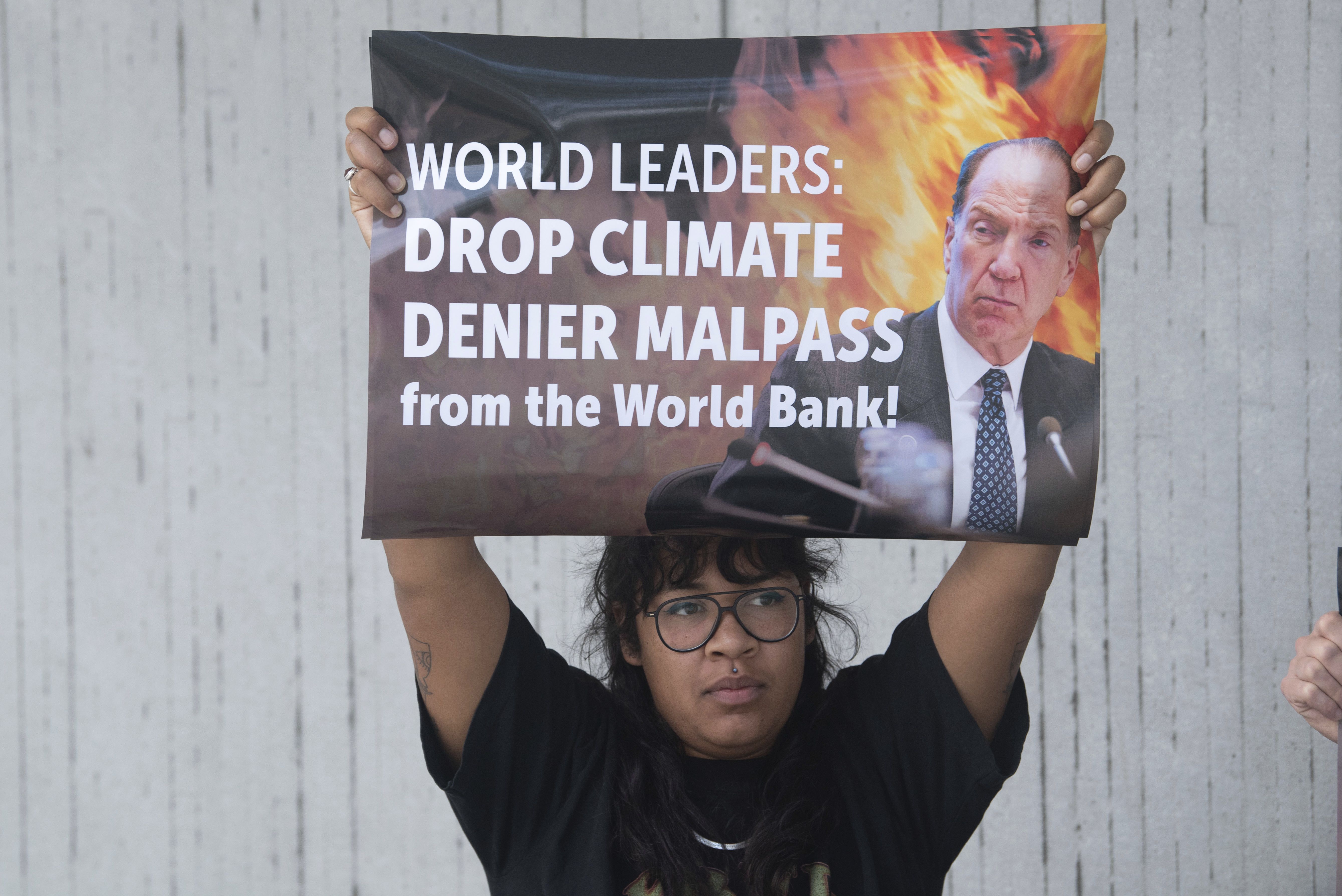 Biden officials have considered trying to oust World Bank President David Malpass, a Trump administration holdover who has waffled on climate, Axios' Hans Nichols reports.
Malpass was already on thin ice. Then this week, on the sidelines of the UN General Assembly in New York, he dodged when asked if humans cause climate change.
That set off international calls for his resignation.
He went into damage control yesterday, saying on CNN: "I'm not a denier."
Malpass' botched response provides ammunition to aides who want President Biden to spend political capital to attempt to remove him.
But officials are unsure if the U.S. could orchestrate the ouster. Malpass was confirmed by the bank's board of executive directors, which the White House doesn't control.
🔎 The intrigue: Among potential replacements discussed by some Biden officials are former Vice President Al Gore and former Secretary of State John Kerry, now Biden's climate envoy.
Other possibilities include former New York Mayor Mike Bloomberg and Raj Shah, president of the Rockefeller Foundation.
3. 🗳️ House GOP's fall fight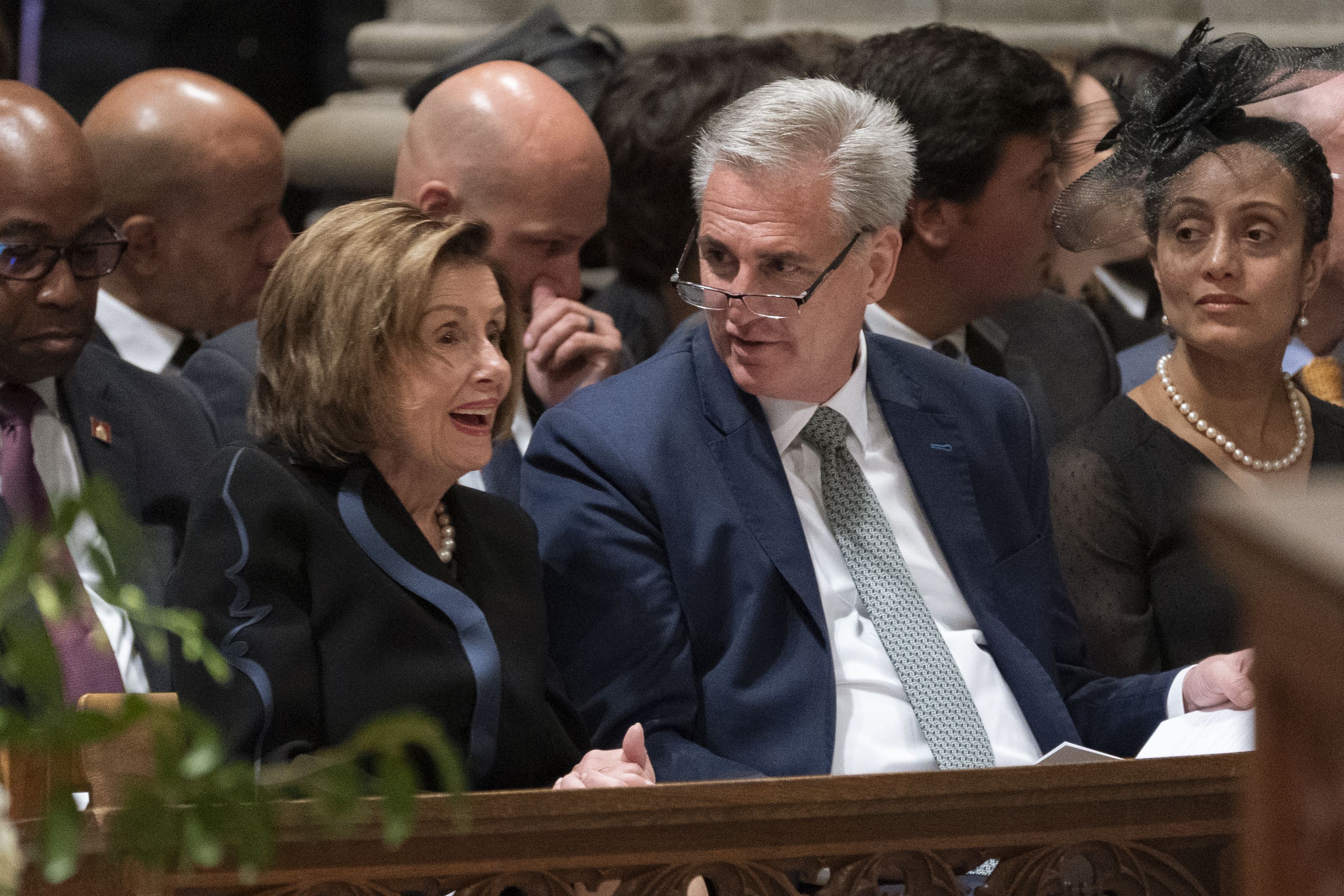 House Republicans will roll out a four-part "Commitment to America" today — to the delight of Democrats, who see plenty to campaign against, Axios' Andrew Solender and Alayna Treene report.
Why it matters: This is vaguer and smaller than the GOP's aggressive "Contract with America" of 1994. This plan aims to give Republicans a unified message for the final stretch to Nov. 8.
State of play: Dems seized on a GOP pledge to "protect the lives of unborn children and their mothers" — as well as sections on ballot access, and taking aim at Democrats' drug pricing law.
4. 🌐 Global inequality declines
Discussions of global wealth inequality often concentrate on the top 1% or even 0.01%. But the big picture — driven by the rise in Chinese wealth — is that wealth inequality has been steadily decreasing for nearly all of this century, Axios chief financial correspondent Felix Salmon writes.
Why it matters: China used to be a poor country. As it became richer, it narrowed the size of the "between countries" wealth gap.
The bottom half of the U.S. wealth distribution is lots richer now than pre-pandemic, Felix adds.
What happened: Student loan payments were paused. Stimulus checks poured in. Housing and stock-market wealth rose fast.
5. 📊 Union approval highest in 57 years
71% of Americans approve of labor unions — the highest reading since 1965, according to Gallup.
Approval is 89% for Ds ... 56% for Rs.
Why it matters: Retail, warehouse and fast-food workers — empowered by the tight labor market — have made union inroads at Starbucks, Amazon and Chipotle.
6. 📈 U.S. Latino economy rebounds from COVID
📨 You're invited: Join us virtually for the Axios and Noticias Telemundo inaugural Axios Latino Visionarios event next Thursday at 6 p.m. ET, with newsmakers from policy, culture and business. Register here for livestream.
Total economic output of U.S. Latinos reached $2.8 trillion in 2020, passing the GDP of the U.K or India, Axios' Russell Contreras writes.
The findings are in a new report by the Latino Donor Collaborative, unveiled at the L'Attitude conference in San Diego.
Why it matters: The report shows U.S. Latino buying power and economic output grew during the pandemic, despite its disproportionate impact on Latino communities.
The resilient workforce rebounded quickly, the report says.
What's happening: Pay in low-wage positions in which Latinos are overrepresented — including hospitality and service jobs — grew as businesses struggled to find workers.
7. 🖼️ Portrait of power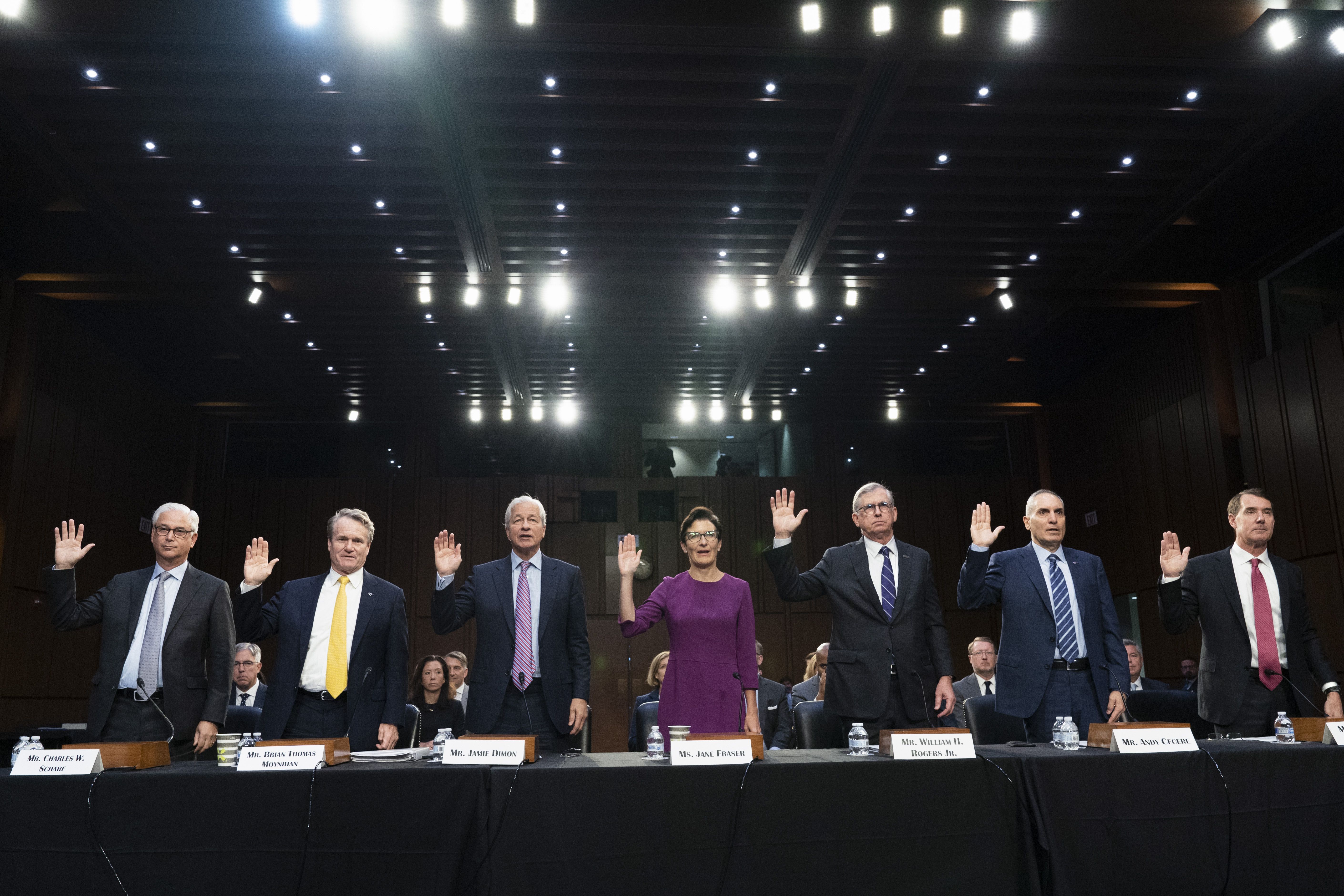 The CEOs of the nation's biggest banks appeared at annual hearings before the House on Wednesday and Senate yesterday.
From left, at the Senate Banking Committee: Wells Fargo CEO Charles Scharf ... Bank of America CEO Brian Moynihan ... JPMorgan CEO Jamie Dimon ... Citigroup CEO Jane Fraser ... Truist CEO Bill Rogers ... U.S. Bancorp CEO Andy Cecere ... and PNC CEO Bill Demchak.
8. 🏈 Big catches for Amazon, Apple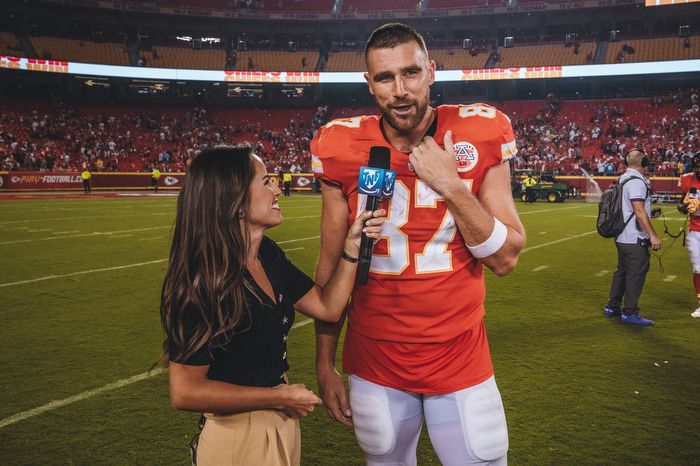 An impressive 13 million people watched Amazon Prime's debut "Thursday Night Football" game last week between the Kansas City Chiefs and the L.A. Chargers, Axios' Sara Fischer writes.
Why it matters: Ratings for the game — the first Amazon streamed exclusively — show Americans will keep watching the NFL, even if it's not on regular TV.
Amazon says the audience was younger: The average viewer was 46, compared to the average NFL viewer the same week on linear TV — 53.
Amazon said in a memo obtained by CNBC that the game drew a record number of signups for Amazon Prime over a three-hour period.
Between the lines: The game drew more eyeballs than the Thursday night game that aired during the same week last year between Washington and the New York Giants.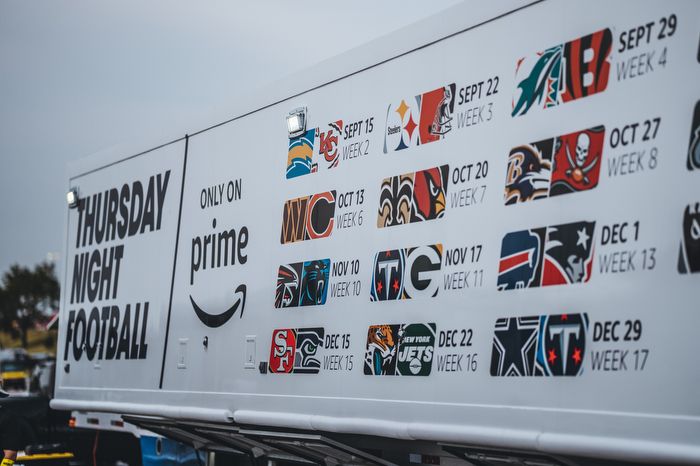 🎤 Apple Music will sponsor the halftime show at Super Bowl LVII in Glendale, Ariz., on Feb. 12, the NFL announced last night.
120 million+ viewers watched this year's halftime show live.
Why it matters: Apple Music replaces Pepsi as sponsor, in a deal the NFL shopped for about $50 million, the N.Y. Times reports (subscription).
Apple and the NFL are wrangling over pricing for the NFL Sunday Ticket out-of-market package. The NFL wants as much as $2.5 billion — $1 billion more than it now gets from DirecTV, The Times said.
📬 Invite your friends to sign up to get their daily essentials — Axios AM, PM and Finish Line.