https://www.axios.com/newsletters/axios-am-2dbe61e0-2d8d-49fd-aa7c-bd1d6f637a8f.html?chunk=0#story0
1 big thing: ​The ministers of Trump's truths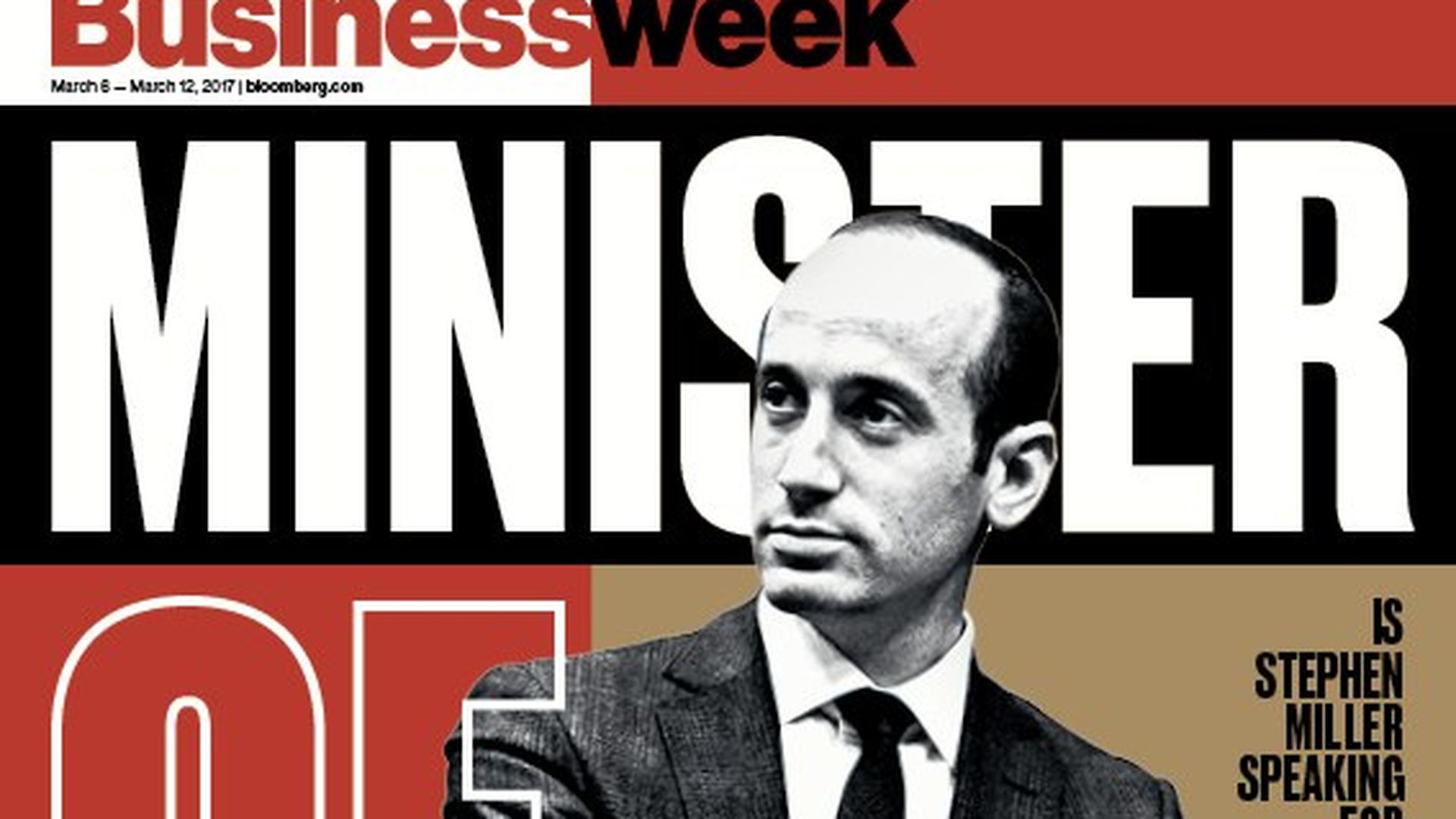 Forget the theater, the palace intrigue, the stumbles. One thing you should know on Day 40 (and soon the 40th night) of President Trump is this: This a Bannon-Miller presidency in the making. Think about the dark view of the state of the world, of the state of our nation, of the state of media. This is the worldview of the Stephens -- chief strategist Bannon and policy guru Miller -- trumpeted by Trump. We see this in ...
A budget draft that guts the regulatory state to fund a defense build-up.
A war without end with the media, where allies like Breitbart get Oval Office face time and frenemies like the New York Times get endlessly tagged as evil.
A clamp-down on immigrants, visitors from Muslim countries, trade, companies exporting jobs.
A dismissive view of the U.N. and conventional views on China.
The slow destruction of political norms, and Washington customs and niceties.
Stephen Miller, 31, is the "Minister of Truth" on the cover of the forthcoming Bloomberg Businessweek, profiled by Josh Green. Bannon, of course, is quoted extensively.
"Economic nationalism, as defined by Trump's advisers, would seize the levers of government and the presidential bully pulpit to direct resources to helping marginalized U.S. workers. ... Miller's us-vs.-them vision for overhauling U.S. policy and his combative defense of Trump have all the elements of a compelling talk-radio rant.
"But actually enacting Trump's agenda would deliver a tremendous shock to the political system, one sure to spark massive resistance. ... For all the impact his executive actions have had on U.S. immigration policy, the bulk of his agenda is legislative—and it has slowed to a crawl, despite Republican majorities in the House and Senate. ... 'I understand his vision, his ideas,' Miller says. 'I can be an implementer.'"
Classic Miller: "I'm prepared to to on any show, anywhere, anytime, and repeat it, and say the president of the United States is correct. One. Hundred. Percent."
https://www.axios.com/newsletters/axios-am-2dbe61e0-2d8d-49fd-aa7c-bd1d6f637a8f.html?chunk=1#story1
2. Our questions about the speech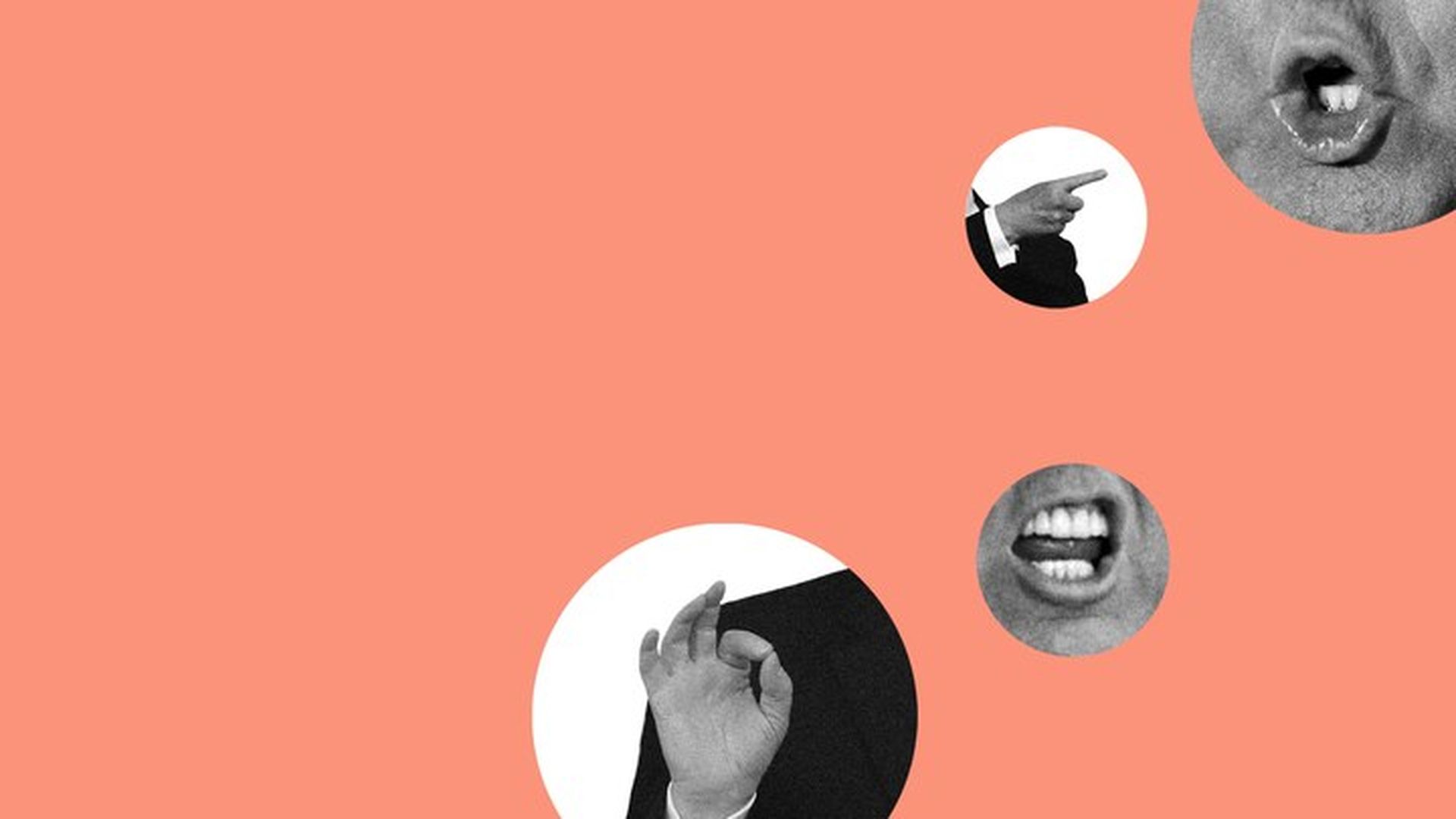 What we'll be listening for at 9 p.m. ET:
The real state of our Union is unsettled — on edge. Does the president acknowledge that, and do anything to alleviate it?
If he tries to break the ice with humor about himself, what trait does he choose?
What will Trump say that's tailored directly to lawmakers, to balance the bulk of his speech, which'll be aimed beyond the chamber?
Can Trump convince Republicans that there's a clear path to success on his big-ticket agenda items: health care, taxes, infrastructure?
Will Democrats have a "You lie!" moment?
How will Trump handle it?
What will he say about Russia?
What will he say about the media?
How closely does he stick to the prompter?
Does he deliver on aides' promise of a sunny speech?
https://www.axios.com/newsletters/axios-am-2dbe61e0-2d8d-49fd-aa7c-bd1d6f637a8f.html?chunk=2#story2
3. Reality v. spin
The White House is casting President Trump's speech tonight as "an optimistic vision for all Americans." Axios' Jonathan Swan has a reality check:
"The Obamacare repeal-and-replace process is buckling under enormous strain. (Tax reform is a mess, too. But let's stick with healthcare as it's the first priority for Republicans.) House GOP leaders need much more from Trump than a gauzy vision speech. They need a specific, forceful declaration of support for the House's Obamacare repeal-and-replace plan.
Here's what the White House wants you to hear tonight (per an administration background briefing with reporters last night):
It's big on promises made and kept. Trump will spend the early part of his speech running through these fulfilled promises — mostly executive orders and unilateral actions like withdrawing from the Trans-Pacific Partnership trade deal.
Core themes of the speech: Economic opportunity plus protecting the American people.
When asked whether Trump would be attacking his "enemies" (aka the "fake news" media), a senior official responded: "it's fair to say this is a look forward."
Trump didn't just rely on his top speechwriter Stephen Miller for the speech. Agencies were consulted. And Trump got lots of info from "listening sessions" with folks from the healthcare industry, business community, coal miners, union officials, and other frontline workers.
Trump on the N.Y. Times, in Oval Office interview with Breitbart's Matt Boyle: "[I]f you read the New York Times, it's—the intent is so evil and so bad … The stories are wrong in many cases, but it's the overall intent. Look at that paper over the last two years. … [T]hey write lies.
https://www.axios.com/newsletters/axios-am-2dbe61e0-2d8d-49fd-aa7c-bd1d6f637a8f.html?chunk=3#story3
4. The choices
We told you in our first preview of tonight's speech that lawmakers want specific plans and paths, not campaign slogans. Rep. Tom Cole (R-Okla.) has a checklist in a New York Times Op-Ed, "What the G.O.P. Wants Trump to Say Tonight," calling for Trump to "become an active participant in the legislative process":
"How much money will be pumped into the Pentagon, and will it be offset by reduced spending on domestic priorities such as early childhood education, biomedical research and clean drinking water?"
"Do Republicans finance their new health care system by keeping some of the Obamacare taxes or, as some suggest, taxing upper-end health insurance plans — an idea they previously opposed?"
"And will the tax cuts ... be made permanent and paid for by a 'border adjustment tax' on imports, or phased out at the end of a decade, as was the case with the George W. Bush tax cuts?"
The rub: "There are divisions within Republican ranks in Congress on all these issues."
https://www.axios.com/newsletters/axios-am-2dbe61e0-2d8d-49fd-aa7c-bd1d6f637a8f.html?chunk=4#story4
5. Trump's faces
Guests who'll be seated with First Lady Melania Trump tonight, as described by the White House:
Maureen McCarthy Scalia, widow of Justice Antonin Scalia.
Megan Crowley: At 15 months, Megan was diagnosed with Pompe Disease and not expected to live more than a few years. To look for a cure, her father founded Novazyme Pharmaceuticals, a five-person startup that he built into a 100-person company. Megan, age 20, is now a sophomore at Notre Dame.
Jessica Davis and Susan Oliver: Jessica and Susan are the widows of Detective Michael Davis and Deputy Sheriff Danny Oliver, California police officers killed in the line of duty in 2014 "by an illegal immigrant." Their names are memorialized in the Davis-Oliver bill, aimed at increasing cooperation between federal and local officials to enforce immigration laws.
Denisha Merriweather: After struggling with classes and switching schools often, Denisha moved in with her godmother and enrolled in the Florida Tax Credit Scholarship Program. She began going to a private school, Esprit de Corps Center for Learning, and became the first member of her family to graduate from high school and college.
Jamiel Shaw, Sr.: Shaw's son, Jamiel Jr., was a high school football star before he was shot "by an illegal immigrant, who was also a gang member," in 2008.
https://www.axios.com/newsletters/axios-am-2dbe61e0-2d8d-49fd-aa7c-bd1d6f637a8f.html?chunk=5#story5
6. The unsocial social network
The WSJ dives into how Snap is different than Twitter and Facebook.
The office: "[T]he company defiantly operates unlike most Silicon Valley outfits, where collaboration and wide-open office spaces are prized. ... Snap doesn't have a headquarters."
The founder: "Former employees say often the only way they knew co-founder and CEO Evan Spiegel was at work was by seeing his chauffeured SUV. He avoids holding companywide meetings and prefers to dispense information to individuals or small groups, they say."
And the quotes:
"Evan doesn't talk much."
"For someone of his age, he operates with much more wisdom than anyone else I have seen. I find him to be a very, very clear thinker. ... [H]e gets it right every time."
https://www.axios.com/newsletters/axios-am-2dbe61e0-2d8d-49fd-aa7c-bd1d6f637a8f.html?chunk=6#story6
7. Bob Gates' leadership advice for Trump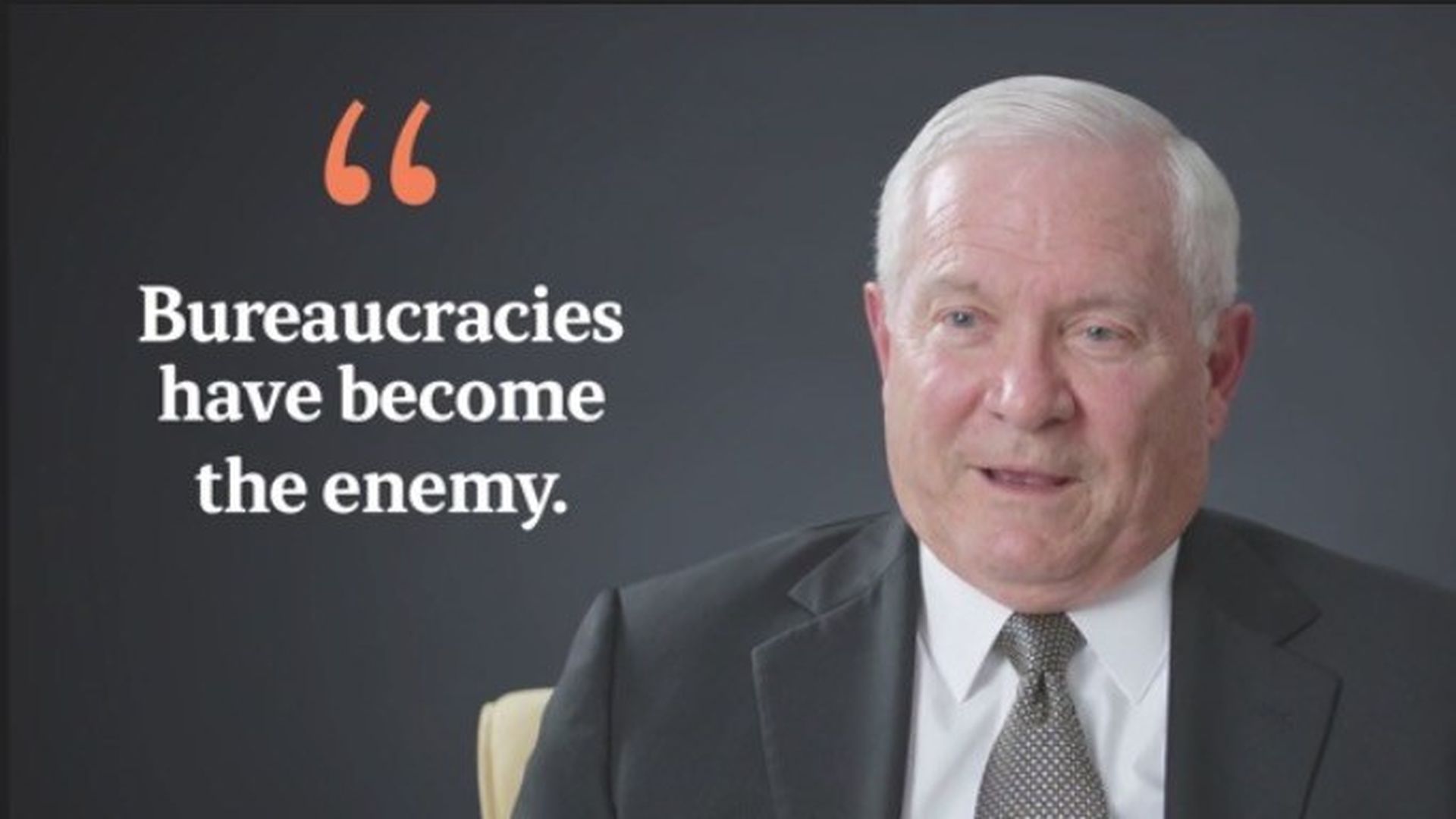 For our "Smarter, Faster" video series, Bob Gates — the former SecDef and CIA director, and lifelong practitioner of reforming massive organizations — says a key is making the people beneath you "believe that the changes are their changes."
https://www.axios.com/newsletters/axios-am-2dbe61e0-2d8d-49fd-aa7c-bd1d6f637a8f.html?chunk=7#story7
8. Hot in tech
"Buffett reveals $18bn Apple stake" -- top of Financial Times second front: "Berkshire had $7bn of its $122bn equity portfolio invested in Apple at the end of 2016 after almost a year of incremental purchases ... Berkshire is now one of Apple's top five shareholders, with a stake worth $18.2bn."
https://www.axios.com/newsletters/axios-am-2dbe61e0-2d8d-49fd-aa7c-bd1d6f637a8f.html?chunk=8#story8
9. Fortune: World's Most Admired Companies
3,800 executives, analysts, directors, and experts voted. These are the top All-Stars, winning votes from inside and outside their industries:
Apple
Amazon
Starbucks
Berkshire Hathaway (Warren Buffett)
Disney
Alphabet (parent of Google)
General Electric
Southwest Airlines
Facebook
Microsoft (tie for 9th with Facebook)
https://www.axios.com/newsletters/axios-am-2dbe61e0-2d8d-49fd-aa7c-bd1d6f637a8f.html?chunk=9#story9
10. 1 fun thing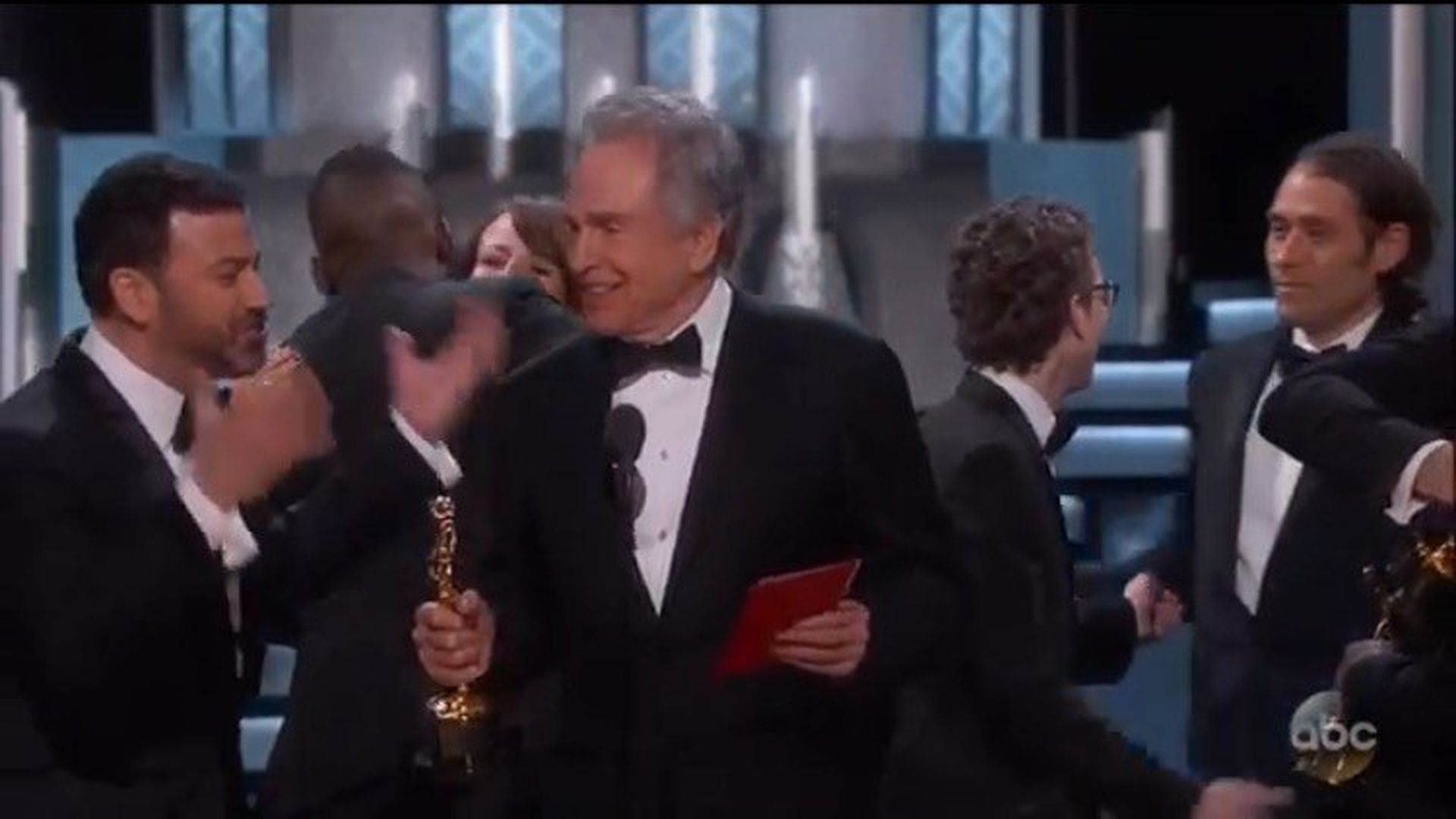 Jimmy Kimmel uses his monologue to give the host's-eye-view of the #OscarFail: "I don't know if you know this but I hosted the Oscars last night. ... Any of you ever host the Oscars before? ... Except for the end, it was a lot of fun. It went very well. We were chugging along, and then, all of a sudden out of nowhere, it turned into one of those Maury Povich paternity-test shows. It was the weirdest TV finale since 'Lost' ... 'La La Land' was simultaneously, somehow, the biggest winner and loser last night. You know it's a strange night when the word 'envelope' is trending on Twitter. ...
"I'm now sitting in the audience, watching these speeches. The plan is for me to end the show from the audience in a seat next to Matt Damon, who, ... whatever confusion there was about who won, Matt Damon lost. He was a loser. He is a loser.
"But we're sitting there and we notice some commotion going on and Matt says, 'I think I heard the stage manager say they got the winner wrong.' Because the stage manager is on the stage -- the stage manager is never on-camera. ... So we're sitting there -- you just kinda figure: Well, the host will go onstage and clear this up. And then I remember, 'Oh, I'm the host!' ...
"My first instinct was to tell [the producer of 'La La Land'] to run! ... I'm standing there like an idiot, feeling bad for these guys. But also trying really hard not to laugh, to be honest. ... As I walked offstage, people started speculating ... 'Did you pull a prank?' ... If I pulled a prank, ... when they opened it, there woulda been like a Bed Bath & Beyond coupon."
"A Transcript of the Best-Picture Mixup: It Was 'La La Land,' Until It Was 'Moonlight.'"