Axios AM
October 05, 2022
Wishing a peaceful Yom Kippur and easy fast for those who observe.
Smart Brevity™ count: 1,394 words ... 5 minutes. Edited by Noah Bressner.
1 big thing: Making Twitter cool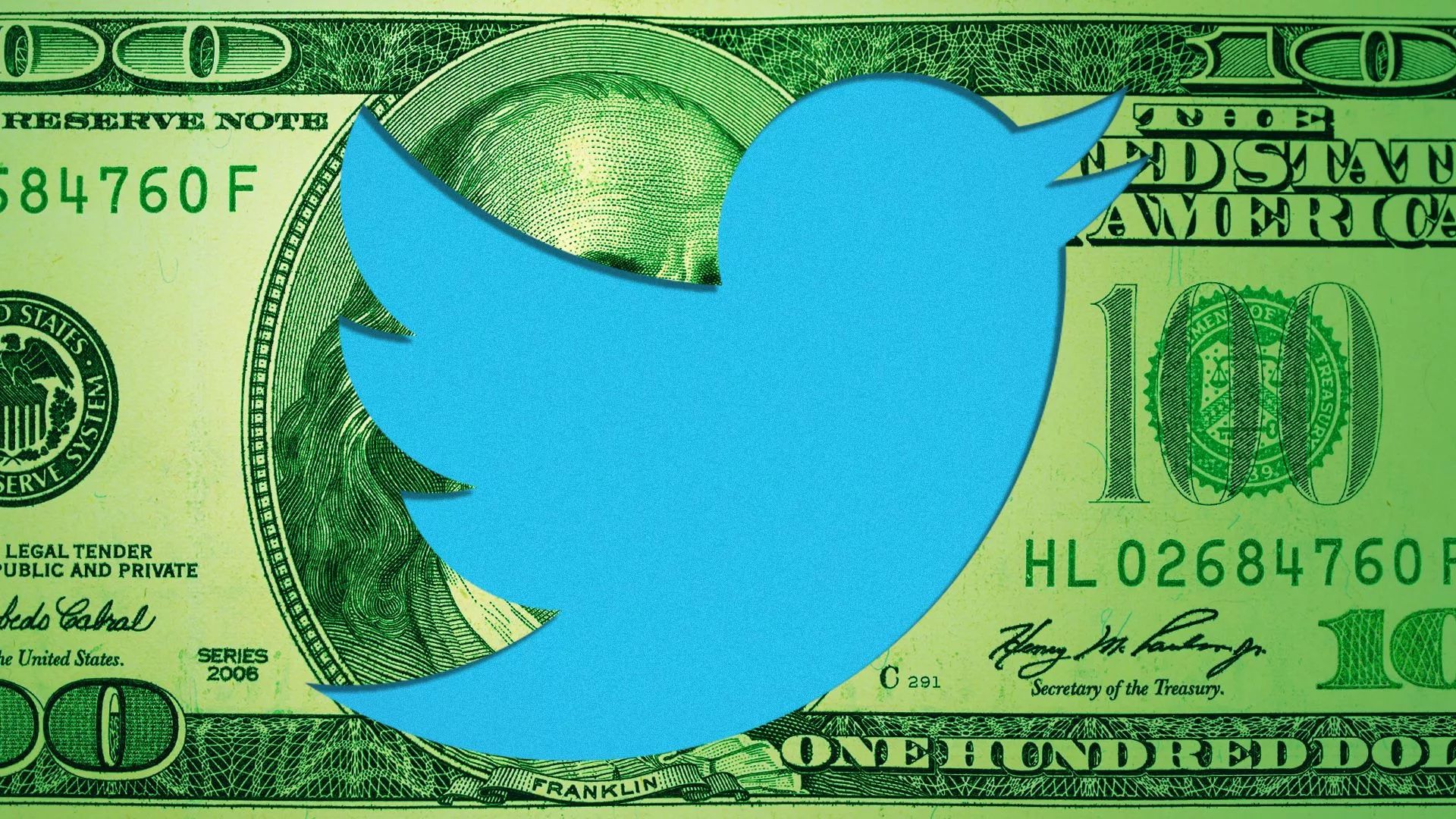 The world's richest man soon will own one of the world's most consequential public squares, Axios Pro Rata author Dan Primack writes:
Elon Musk told Twitter via letter that he again is willing to buy the company at $54.20 per share. That's the same price Musk agreed to pay back in April, before he sued to renege.
If Twitter accepts and Delaware Chancery Court stays the case, neither of which has yet happened, it would preempt a trial that had been set to begin on Oct. 17.
Between the lines: Musk had become increasingly pessimistic about his chances of prevailing in court. Sources say he's been talking to people about Twitter's future as if he expected to eventually own it.
It's unclear why Musk chose to reverse course now. One possibility is that he wanted to avoid a deposition that was set to begin on Thursday.
🔎 The intrigue: Musk is about to buy a company where many employees view him negatively — and where many with significant stock holdings have been itching with senioritis.
🔮 What's next: Musk's primary mission will be to grow Twitter by significantly upgrading its products.
He hinted at that in text messages disclosed last week, in which he emphasized hiring good engineers over good managers.
That could include copying features of rivals Instagram and TikTok + developing new features that attract a younger demographic.
The bottom line: Musk wants to make Twitter cool again.
🎧 "Empire of Risk," the second installment of our "How it Happened" podcast docuseries on Musk vs. Twitter, dropped this week. Hear it here.
2. Musk's to-do list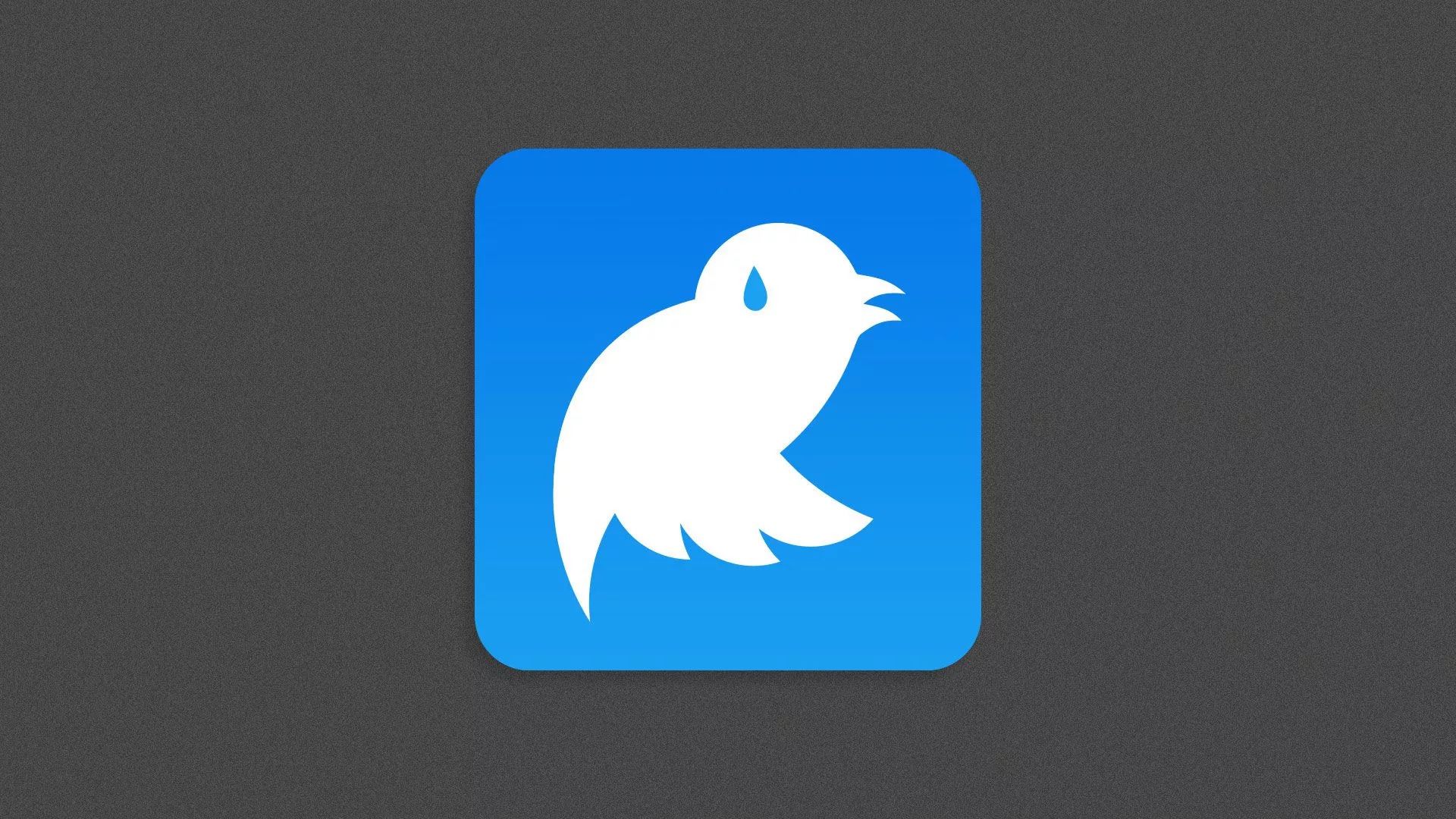 Here are immediate tasks Elon Musk would face as Twitter's new proprietor, Axios managing editor Scott Rosenberg writes from the Bay Area:
Free speech: Musk has said Twitter should enforce fewer rules about speech, and let users say anything that is not explicitly outlawed by their governments. 15 years of experience with online social networks tell us that such an approach is wildly impractical — and likely to unleash floods of spam, bullying, fraud and disinformation.
Donald Trump: The biggest free-speech choice of all Musk will immediately confront is whether to re-platform the former president. Musk has said he's against permanent bans — and many of his fans believe he'll invite Trump back to the service.
Business: Big social platforms typically start with meteoric user growth, then build massive revenue streams with fat profit margins. Twitter has never figured out how to fulfill that pattern.
Under the hood: During Musk's months-long effort to wriggle out of his deal to buy Twitter, he has complained that the service is overrun by fake accounts and bots. Last month, Twitter's former security head filed a whistleblower complaint charging the company with a slew of operational lapses.
Staffing: A Musk-owned Twitter will face the challenge of trying to retain and inspire teams at Twitter whose work Musk has repeatedly disparaged. More likely, he will have to hire a ton of talent to replace the departing droves.
3. 📈 S&P's best day of '22
The S&P 500 had its best day of the year, up 3.1%, Matt Phillips writes for Axios Markets.
Twitter's 22% gain helped — but stocks were up across the board.
The index notched its best two-day run — up 5.7% — since the early days of the COVID crisis when the Fed rushed in to keep the economy from collapsing.
🧠 What's happening: This year's atrocious performance of both stocks and bonds has been driven almost entirely by the Fed's effort to raise rates to tamp down inflation.
As inflation reports have continued to arrive too high, Fed Chair Jerome Powell has doubled down on his commitment to keep hiking rates.
Stock-market investors seem to think the potential pain — and pivot away from hikes — could come sooner than they thought even a few days ago.
💡 The reasons: New data shows the U.S. jobs engine may be starting to sputter. Openings in August collapsed by more than 1 million.
4. 🔋 Most EV owners switch for good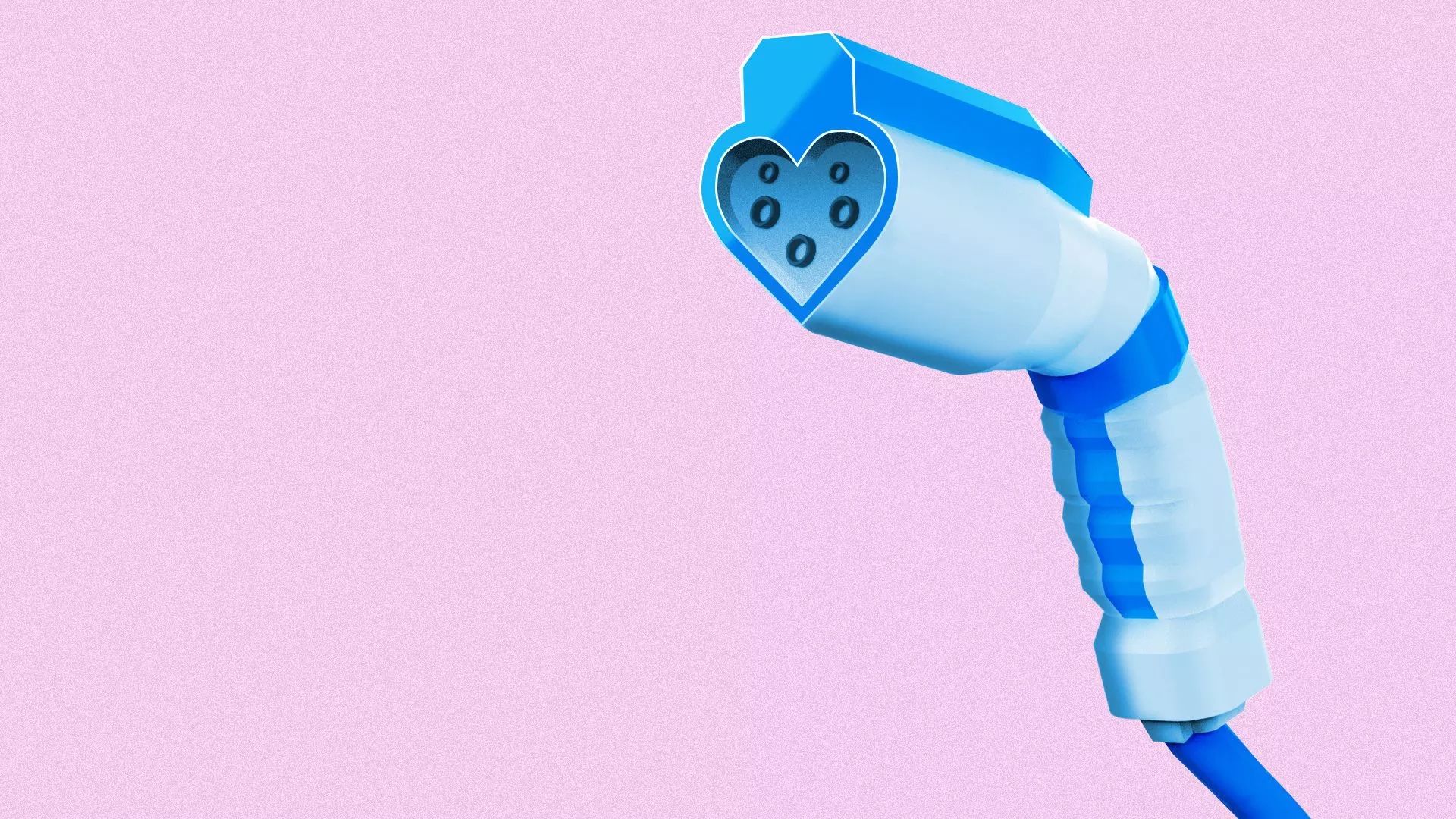 People who buy electric vehicles really like them: Vehicle registration data shows most EV owners tend to buy an EV for their next car, too, Joann Muller writes from Detroit for Axios What's Next.
Why it matters: The data reveal a growing embrace of electric cars, as automakers and the federal government pour billions into EV and battery production.
💡 What's happening: Axios is tracking the historic shift away from gasoline by examining U.S. vehicle registration data from S&P Global Mobility.
Two-thirds (65.3%) of EV-owning households that bought a new car in 2022 got another electric.
5. 🌀 Son swam half mile to save mom from Ian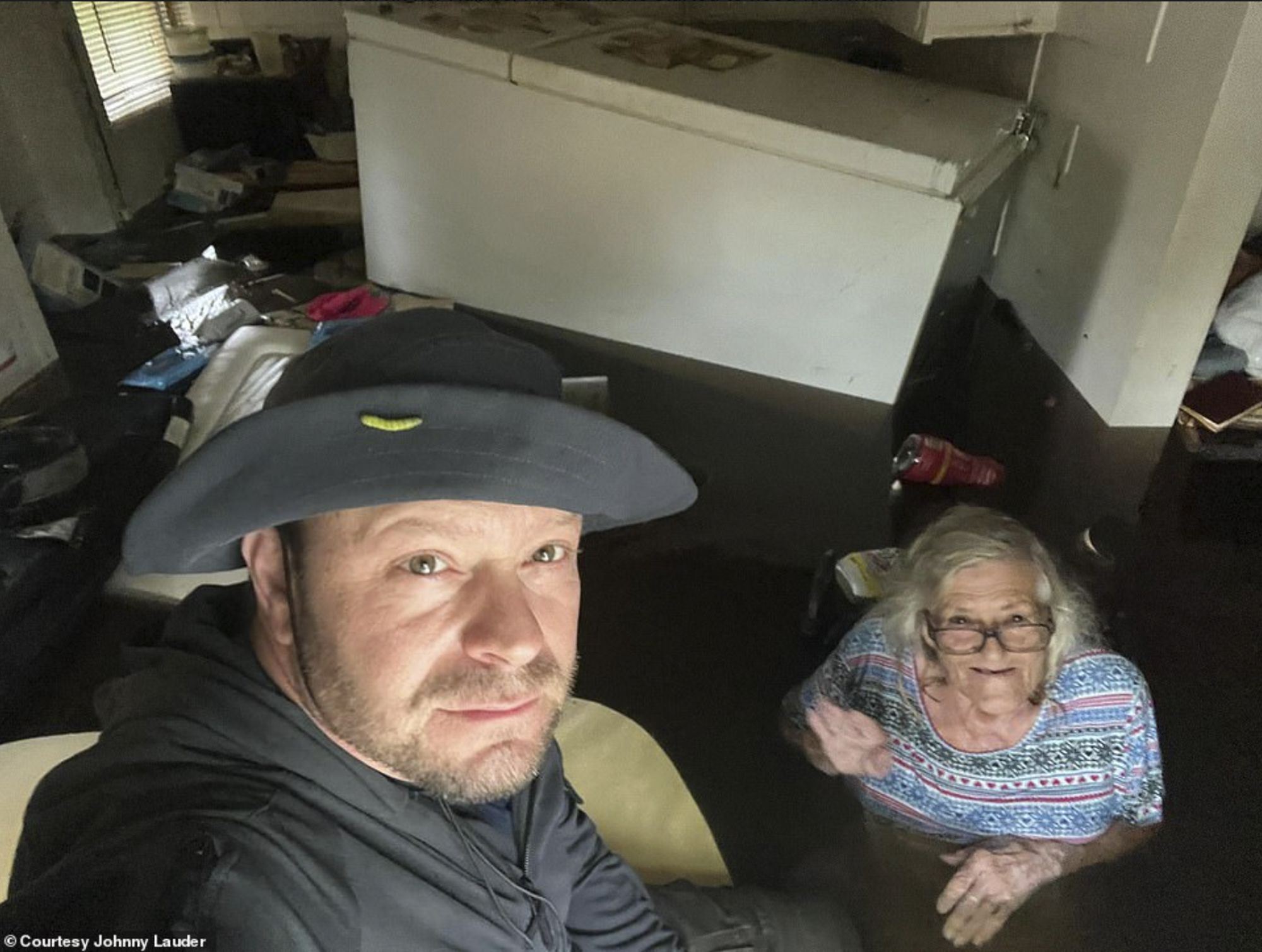 Above: Johnny Lauder takes a selfie with his 86-year-old mother, Karen Lauder, as he came to rescue her after water flooded her home in Naples, Fla., last Wednesday.
When he arrived, she was submerged nearly to her shoulders in murky water, AP's Trish Ahmed writes.
Karen Lauder, who lost a leg and requires a wheelchair, had refused to leave, despite pleading from her family. Her son sent short videos and photos to let relatives know she was OK.
He said his mom's house had flooded about 6 inches during Hurricane Irma in 2017, so she assumed a similar outcome this time.
But Hurricane Ian, one of the most powerful storms ever recorded in the U.S., sent more than 3 feet of water into her home, trapping her.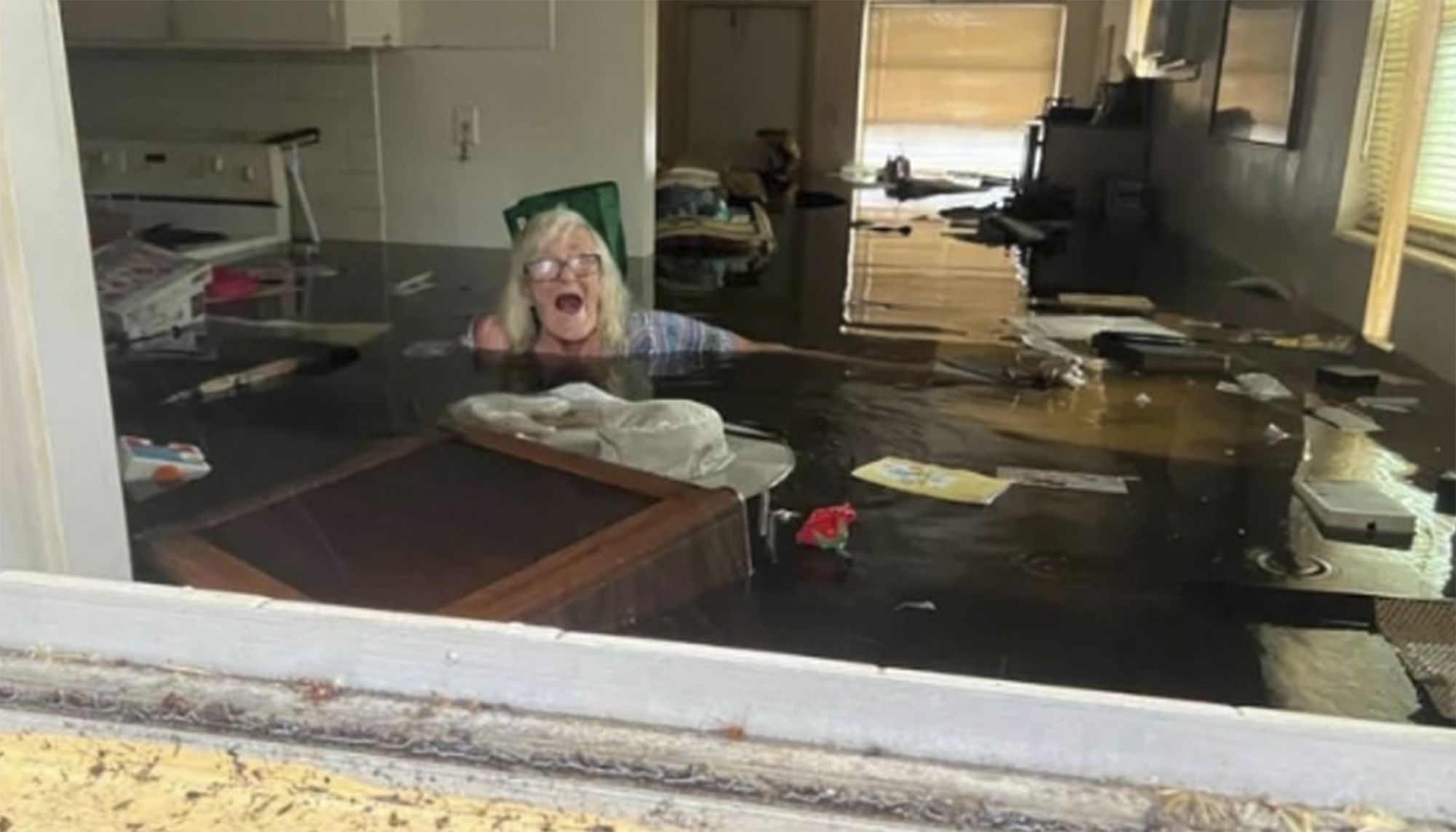 Lauder, sheltering half a mile away at his son's house, dove out the window.
He swam, walked, waded and kicked for about 45 minutes to get to her house.
Lauder heard his mother screaming as he approached.
He put her on a table and bundled her in dry sheets from a high shelf.
Lauder said his mom was taken to a hospital because of infections: "But they were treated, and she's warm. She's in a soft comfy bed. She's good."
"My mom has changed her tone," he added. "She will be evacuating next time."
6. ⚾ Homer for history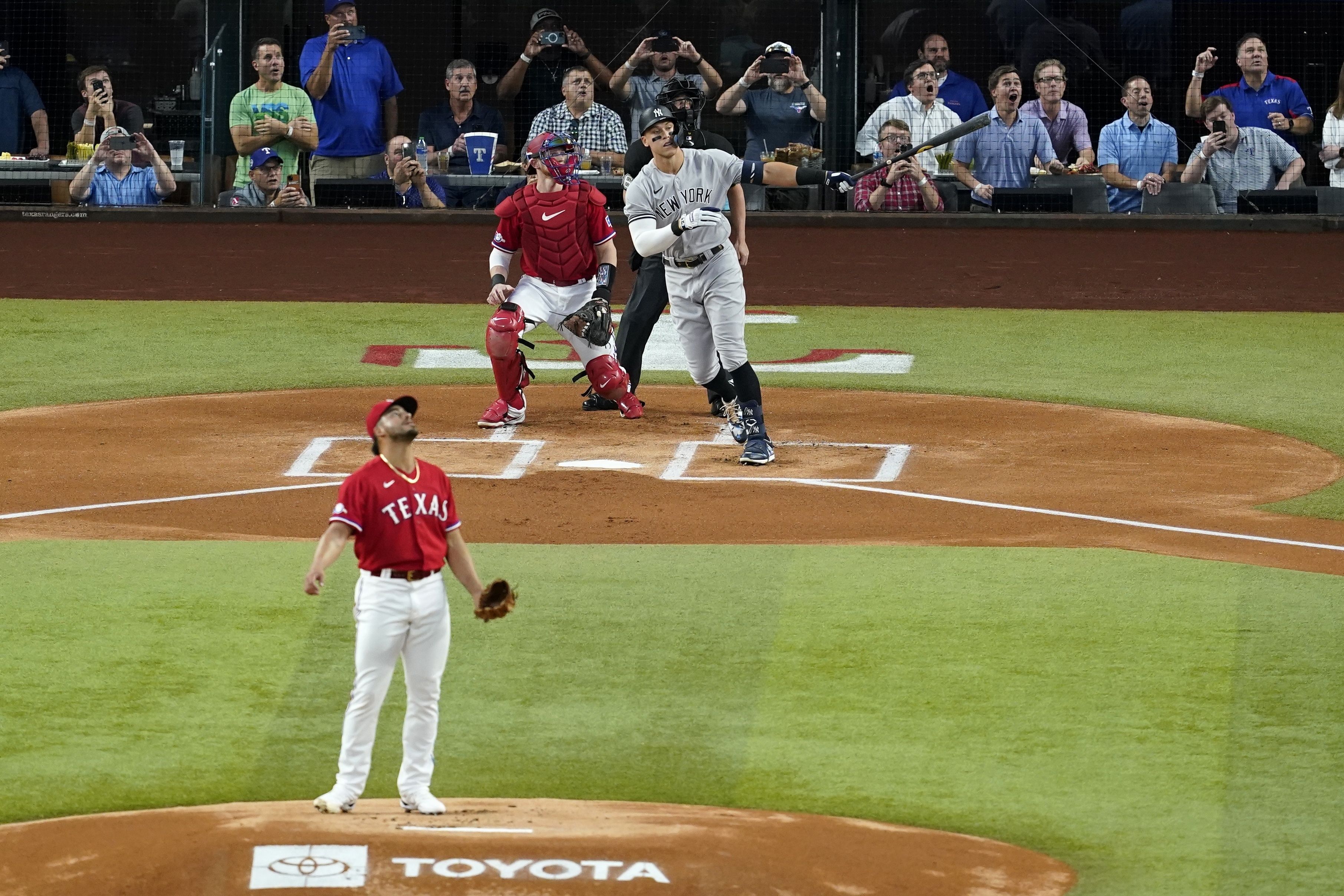 Yankees outfielder Aaron Judge hit his 62nd home run of the season last night, breaking Roger Maris' American League record set in 1961.
Judge hit his record-setting homer during his first at-bat in the second game of a doubleheader against the Texas Rangers, Axios' TuAnh Dam reports.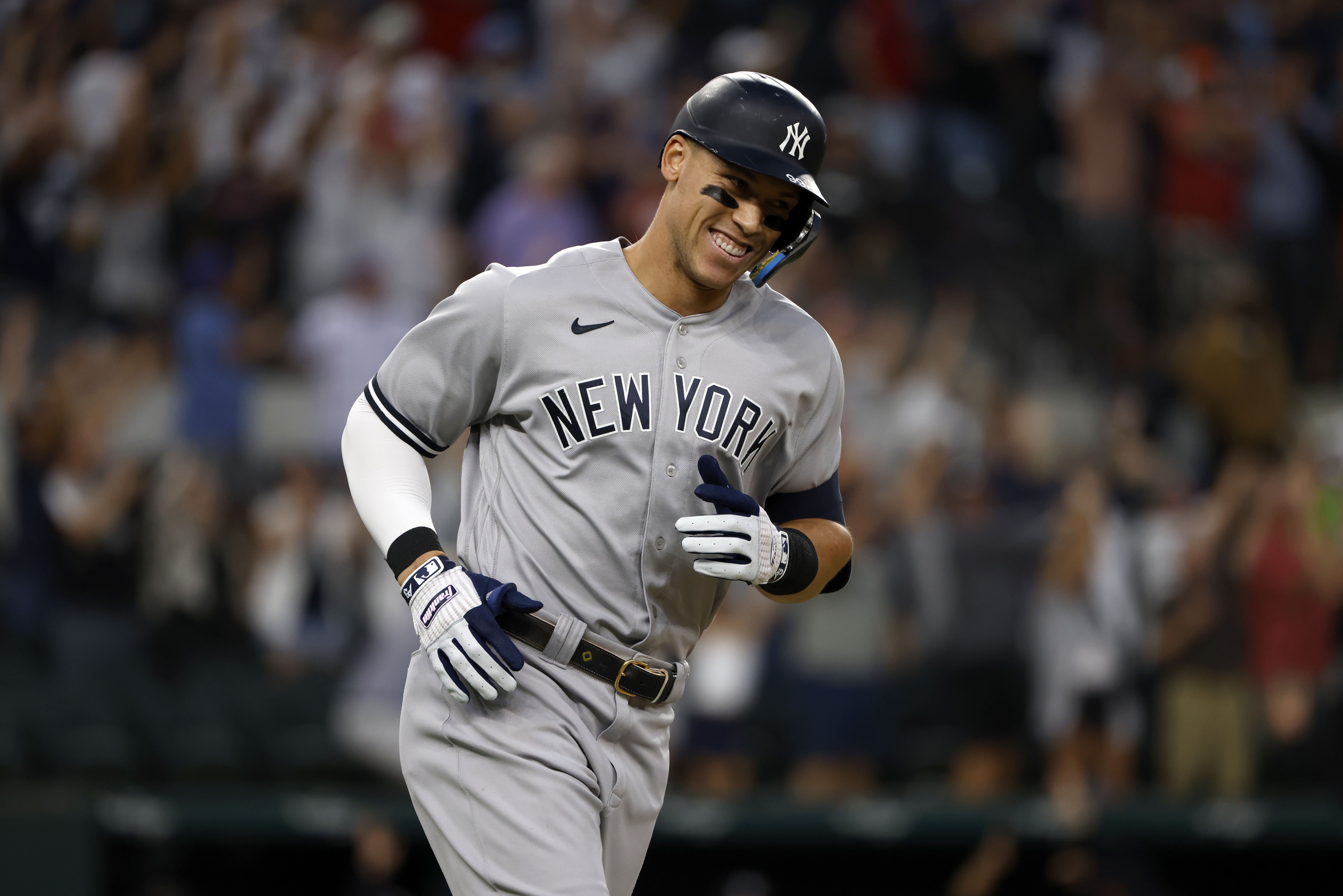 Judge is still in the hunt for the Triple Crown — when a hitter leads his league in batting average, home runs and RBIs in the same season.
He trails Minnesota's Luis Arráez in batting average with one game left.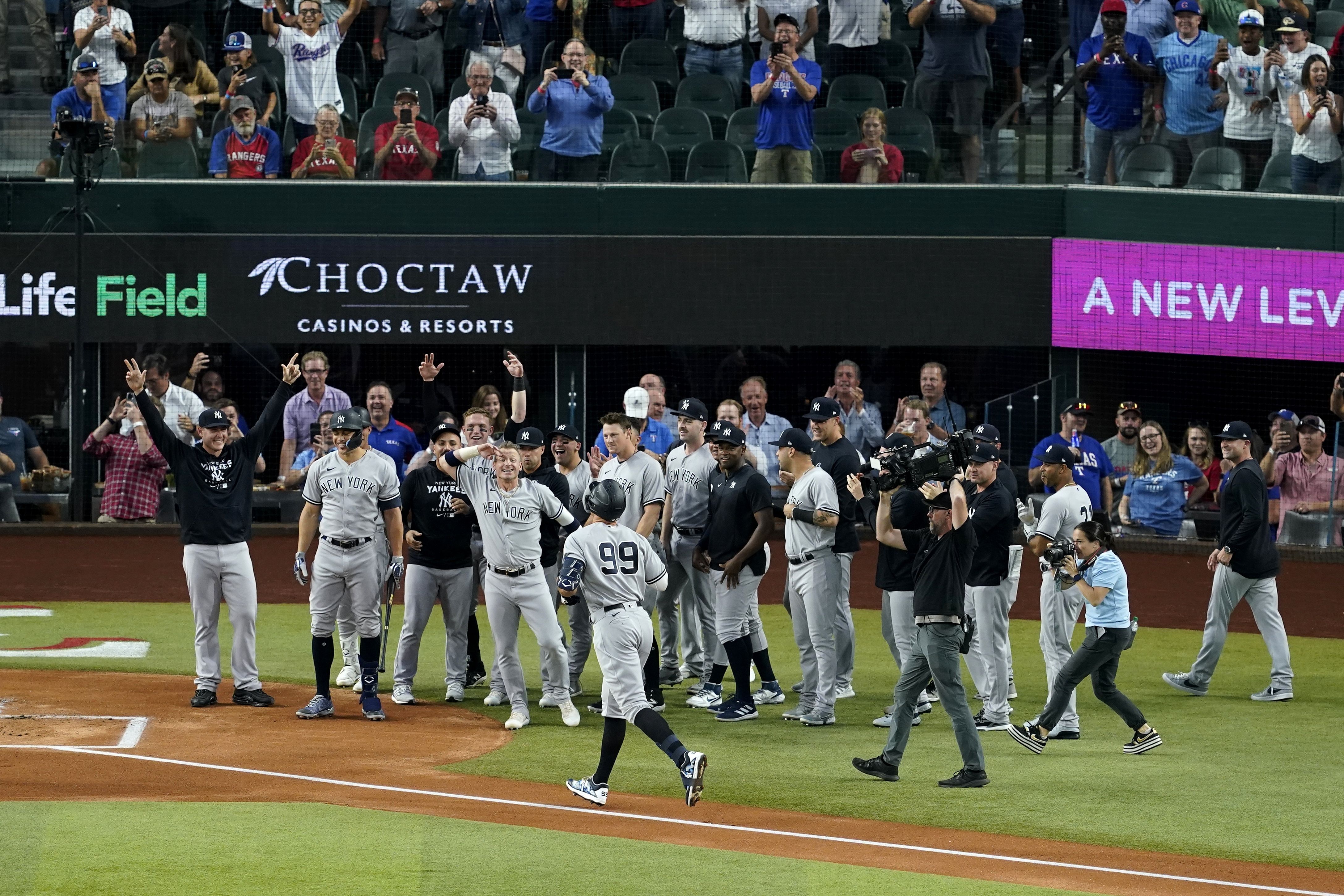 Five other players — Maris, Barry Bonds, Mark McGwire, Sammy Sosa and Babe Ruth — have hit 60 or more home runs in a single season.
McGwire has admitted steroid use. Bonds and Sosa have denied allegations that they used performance-enhancing drugs.
President Biden tweeted: "History made, more history to make."
7. ⚽ Soccer scum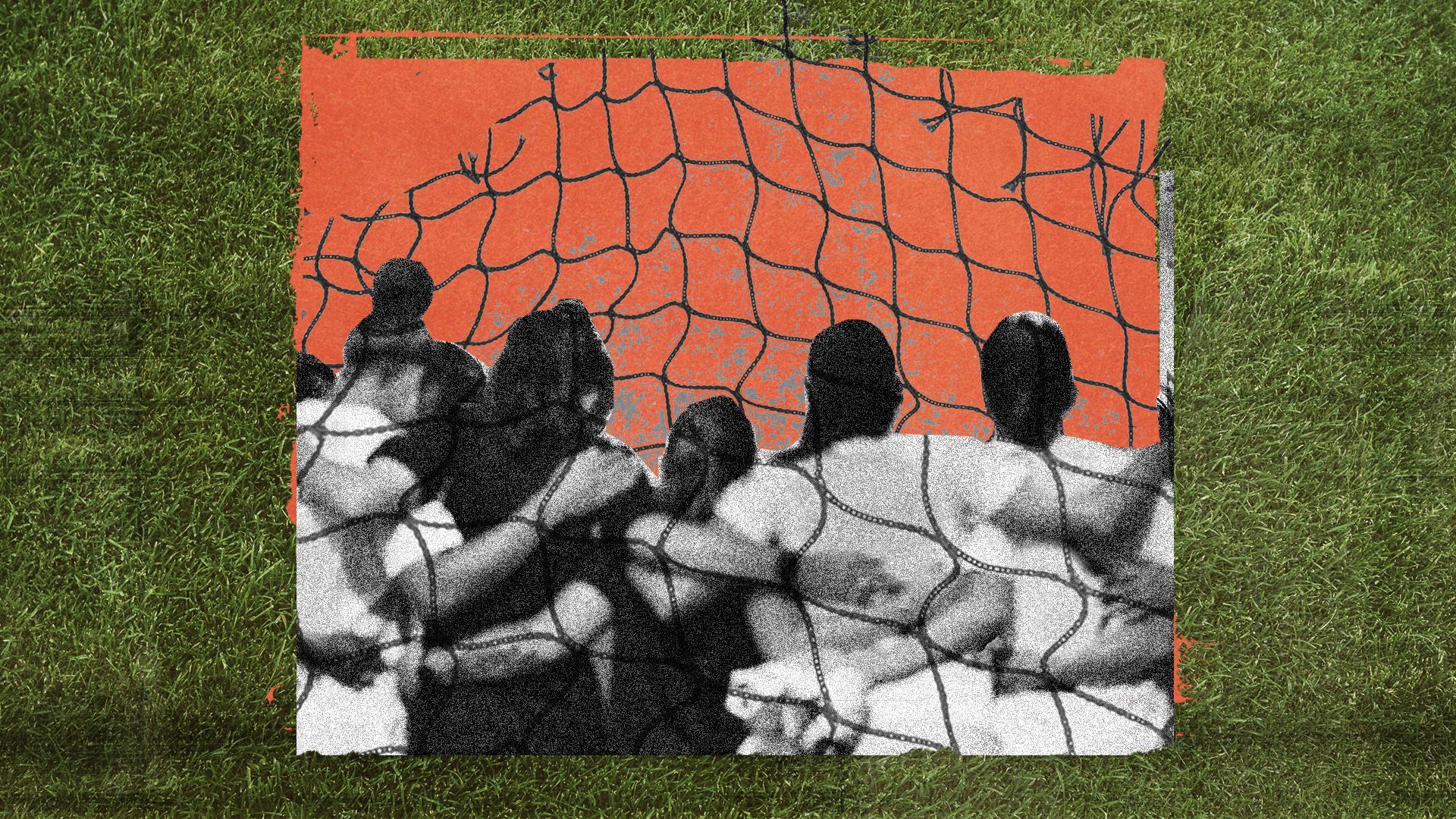 Sexual misconduct and verbal and emotional abuse had "become systematic" in the National Women's Soccer League, according to a highly anticipated report, Axios' Erin Doherty writes.
Why it matters: The report details abuse, vicious coaching tactics and a repeated failure by team executives and the league to intervene.
Between the lines: Included in the report is a previously undisclosed encounter between then-player Erin Simon and Christy Holly, a male former head coach.
"[S]he recalls Holly opened his laptop and began the game film," per the report. The coach told Simon that he was going to touch her for every bad pass.
"When her teammate picked her up to drive home, Simon broke down crying."
The big picture: Players began speaking out last year.
A reckoning followed across the league — with games canceled, the commissioner stepping down and multiple coaches fired.
Go deeper: Read the report ... Share this story.
8. 📷 Parting shot
I grew up in the L.A. area, but I'd never seen this view of the Hollywood sign: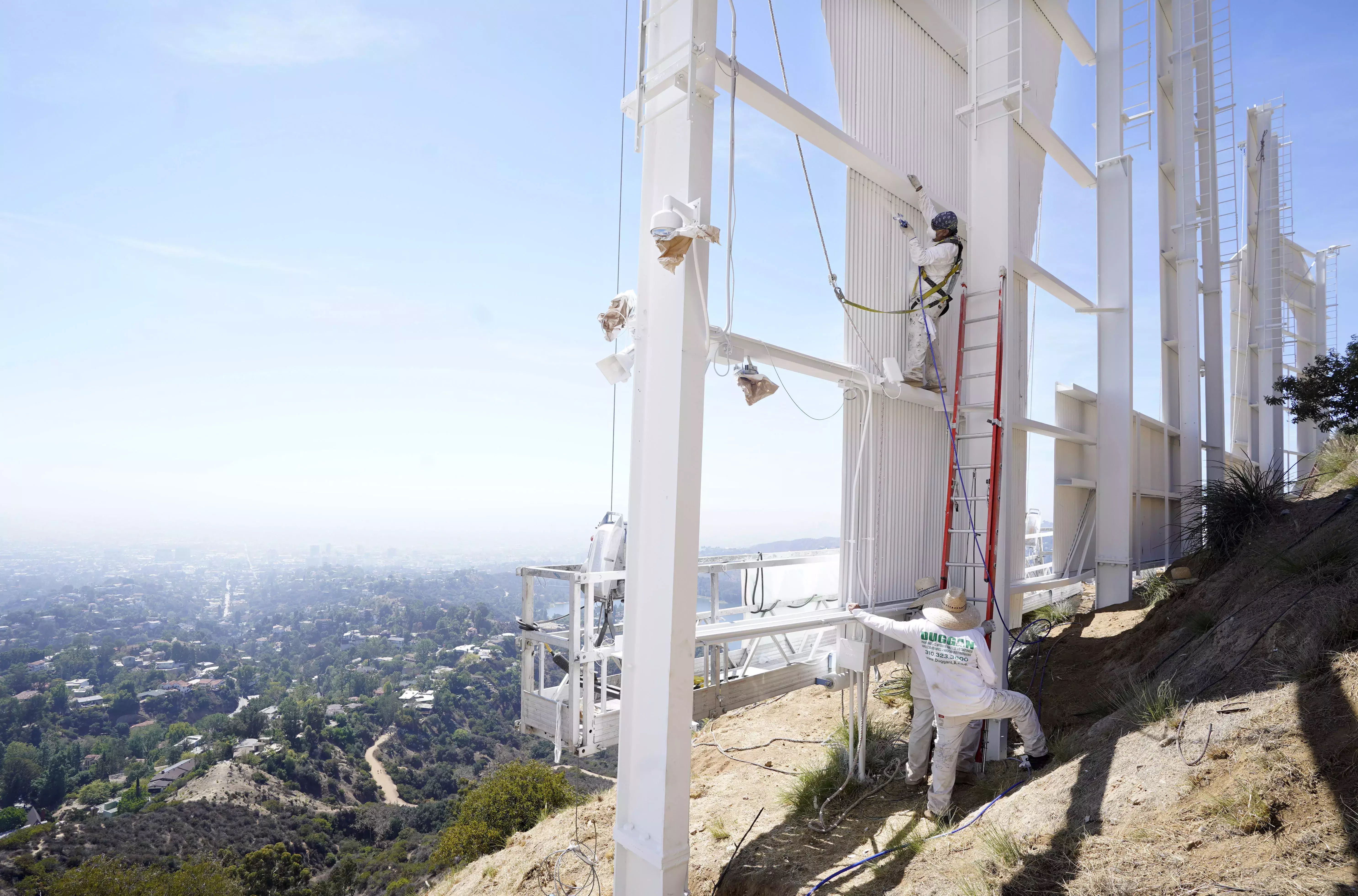 Workers are painting the "Y" of the Hollywood sign, after pressure-washing and rust removal. Contractors this week began using 250 gallons of primer and white paint to ready the sign for its centennial next year.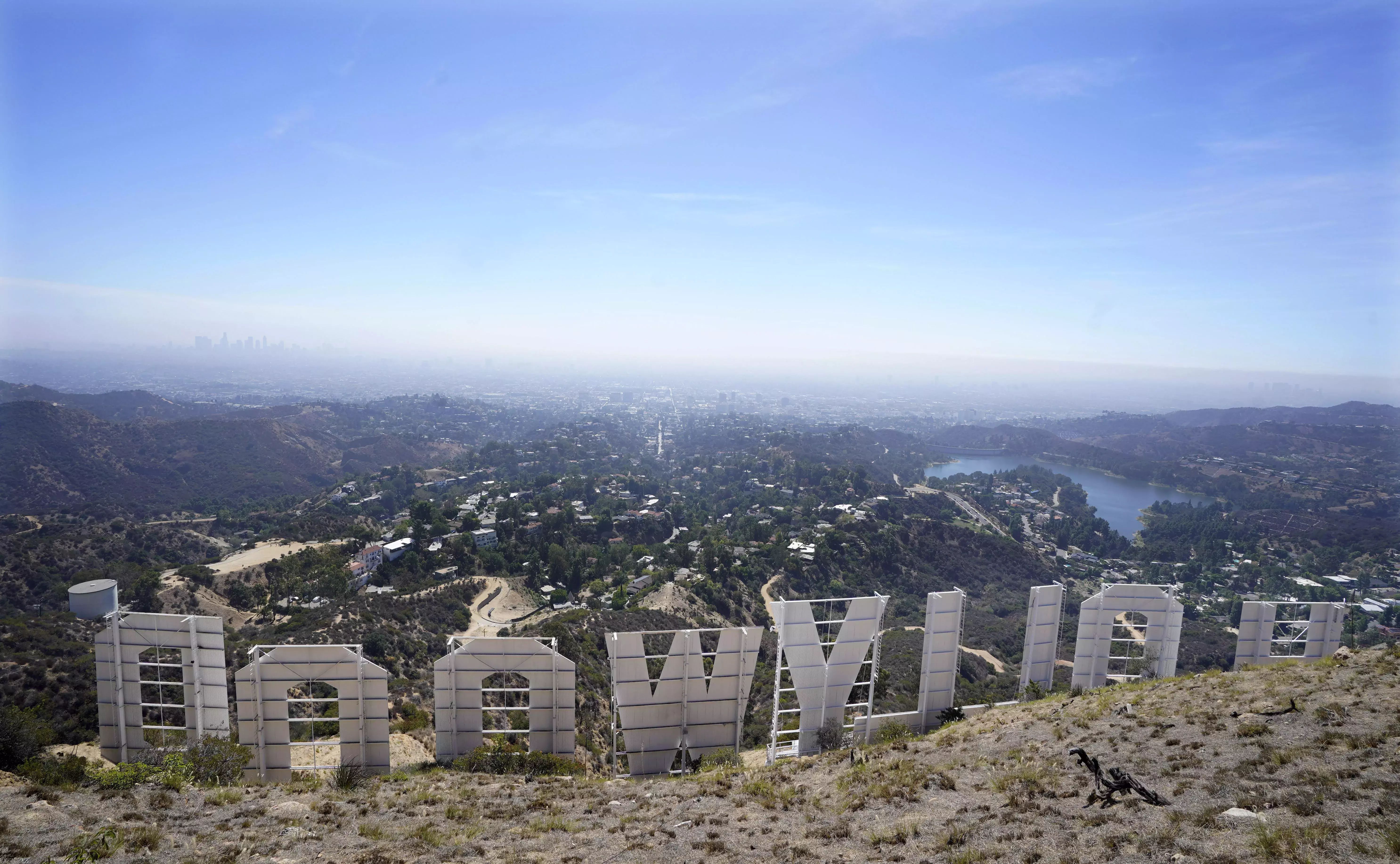 The sign read "Hollywoodland" when it was built in 1923 to promote a real-estate development.
📬 Invite your friends to sign up to get their daily essentials — Axios AM, PM and Finish Line.