https://www.axios.com/newsletters/axios-am-2d2acf8c-7ada-4326-9725-6218f30b813c.html?chunk=0#story0
1 big thing: We're watching more video, but not on TV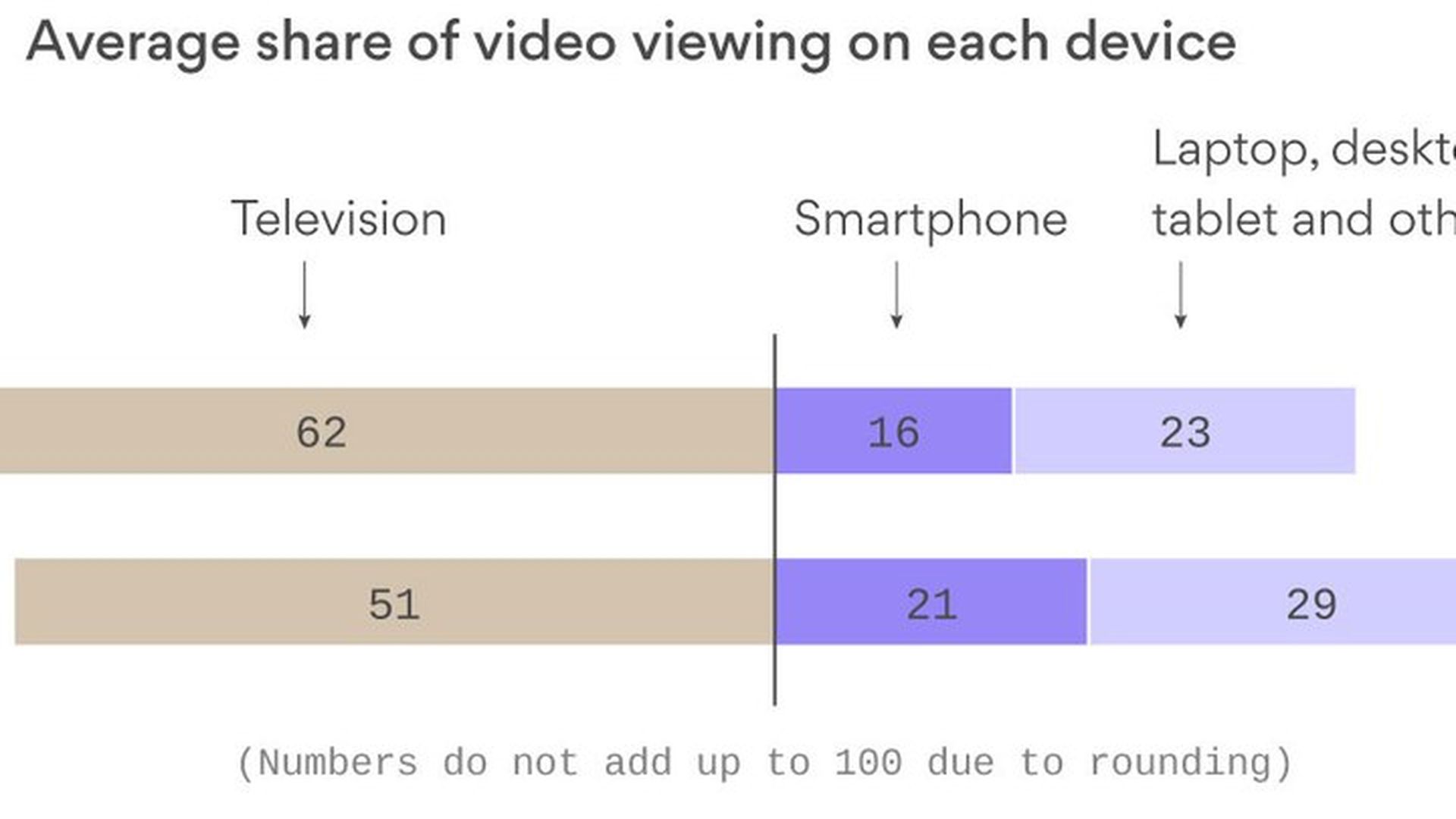 The disruption in print media is now coming to everything you watch — including cable, local and network TV. Axios media trends reporter Sara Fischer unpacks a Consumer Technology Association study that's one of the best windows into the upheaval we've seen:
Video viewership has increased more than 30% over the past five years to 16.8 hours per week But almost half of all video viewing is being done on devices other than TV (smartphone, laptop, desktop, tablet, etc.).
That near 50/50 split represents a dramatic change from just four years ago, when consumers viewed TV video 62% of the time. Desktop video viewership has declined by over 50% since 2012.
For the first time, more people are using streaming services for content than paid TV.
Around 1/3 of consumers say that mobile-video viewing quality isn't great. Most publishers and advertisers are still creating horizontal video products with desktop and TV viewership in mind, instead of optimizing their content for vertical viewing on smartphones.
"ESPN plans to trim its on-air talent roster" — L..A. Times' Stephen Battaglio: "The Walt Disney Co. unit said there will be an unspecified reduction in the 1,000 employees who currently perform on TV, radio and podcasts as the sports broadcaster adapts to changing consumer habits. The size of the reduction, which is expected in June, has yet to be determined."
https://www.axios.com/newsletters/axios-am-2d2acf8c-7ada-4326-9725-6218f30b813c.html?chunk=1#story1
2. What Steve Bannon is reading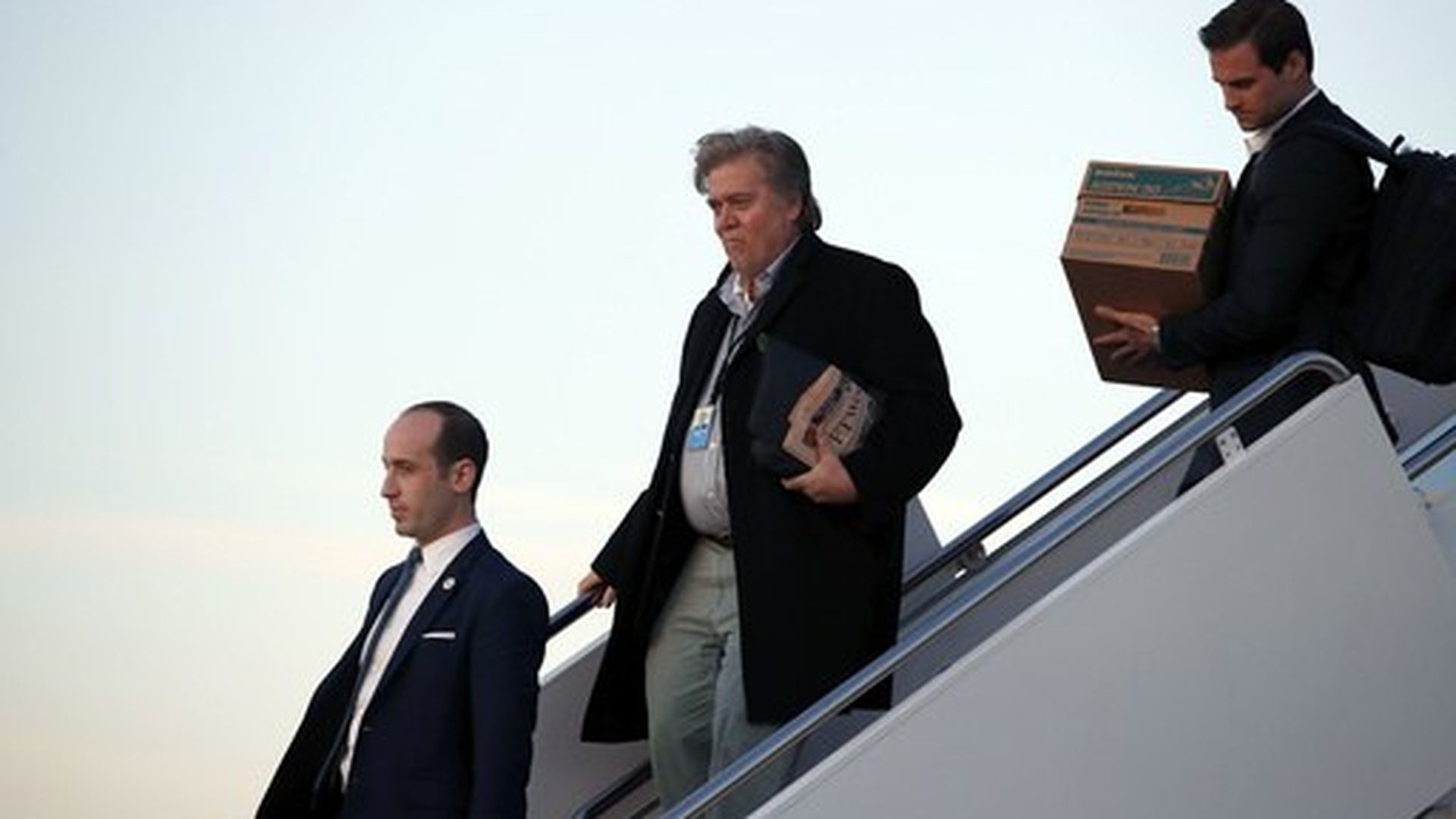 Steve Bannon's thinking is seminal to every plan of this White House. And Axios' Jonathan Swan reports that a book seminal to Bannon's thinking is "The Revolt of the Elites and the Betrayal of Democracy," in which author Christopher Lasch argues that the "chief threat" to American democracy and Western culture comes not from the masses but "from those at the top of the social hierarchy."
Bannon tells Swan that the book, published in 1995, is one of his favorites explaining in explaining the global trend toward nationalism. Bannon says the 2016 election is a testament to Lasch's predictive powers: "He 'called' the 'Party of Davos' a decade before it became a thing."
Why this matters: "Revolt of the Elites" gives you insight into Bannon's disdain for experts, his hatred of both parties' establishments, his skepticism towards multinationals, his commitment to information warfare and the Breitbart comments section, his antipathy towards "globalists," and his particular distrust of the West Coast elite — Lasch says they feel more loyalty to Hong Kong and Singapore than to "Middle America."
https://www.axios.com/newsletters/axios-am-2d2acf8c-7ada-4326-9725-6218f30b813c.html?chunk=2#story2
3. Today is Day 47 ...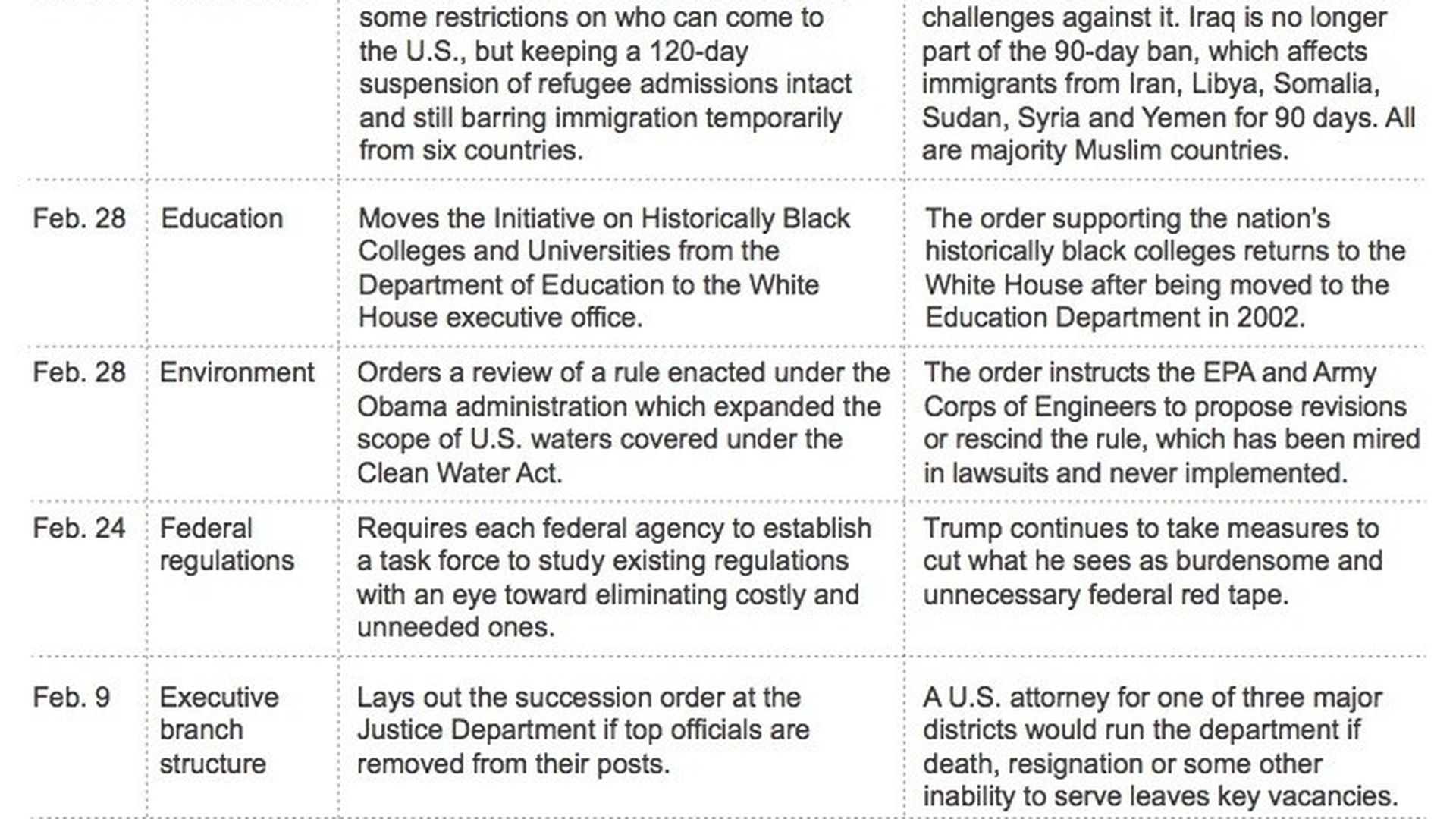 ... almost to halftime of Trump's 100 days!
Yesterday, just after Trump's low-key release of his effort to court-proof his executive order on immigration, House Republicans unveiled their Obamacare replacement package:
Axios' David Nather reports in his speed read that the House's two main health care committees — Ways and Means, and Energy and Commerce — start work on the bills tomorrow.
A key plot line, per Nather's "Vitals" newsletter ... How will the conservative Republicans react? They're the ones who threatened to vote against anything less aggressive than the 2015 repeal bill, which this definitely is. Freedom Caucus chairman Mark Meadows said on "Hannity" last night that "we're making progress," but other early signs aren't good: Rep. Jim Jordan reportedly doesn't like it, a Republican Study Committee memo calls it a "Republican welfare entitlement," and Rep. Justin Amash tweeted that it was "Obamacare 2.0."
https://www.axios.com/newsletters/axios-am-2d2acf8c-7ada-4326-9725-6218f30b813c.html?chunk=3#story3
4. Deep dive
The New Yorker's Adam Davidson spent months digging into what he calls "Donald Trump's Worst Deal: The President helped build a hotel in Azerbaijan that appears to be a corrupt operation engineered by oligarchs tied to Iran's Revolutionary Guard":
"The sustained back-and-forth between the Trump Organization and the Mammadovs has legal significance. If parties involved in the Trump Tower Baku project participated in any illegal financial conduct, and if the Trump Organization exerted a degree of control over the project, the company could be vulnerable to criminal prosecution."
https://www.axios.com/newsletters/axios-am-2d2acf8c-7ada-4326-9725-6218f30b813c.html?chunk=4#story4
5. Tops in media trends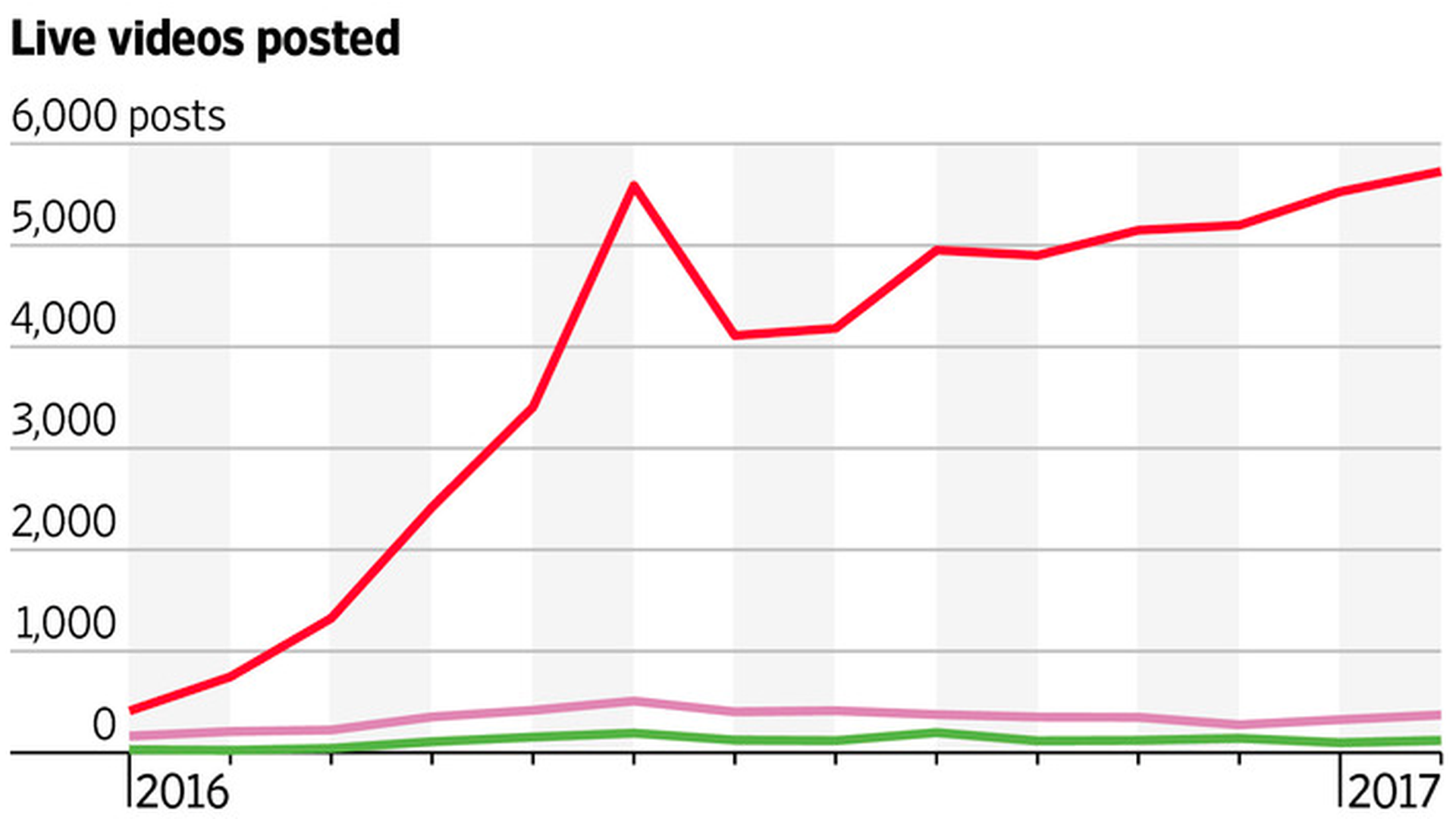 Facebook Live's popularity wanes slightly, according to a Wall Street Journal front-pager, "Facebook Wasn't Ready for Video's Dark Side: After rushed rollout, company wrestles with how to censor violence," by tech reporter Deepa Seetharaman:
"[P]eople have used Facebook Live to broadcast at least 50 acts of violence, including murder, suicides and the beating in January of a mentally disabled teenager in Chicago."
"Zuckerberg, eyeing Snap Inc.'s Snapchat and Twitter Inc.'s Periscope, ... budgeted more than $100 million to pay media organizations and celebrities to post live videos ... Nearly a year later, many publishers say Facebook Live viewership is lackluster. Facebook is still tinkering with ways for them to earn money from their broadcasts."
"A person familiar with the development of Facebook Live said the company 'didn't grasp the gravity of the medium' during the planning process."
"Few technology leaders embody the industry's agility like Mr. Zuckerberg, 32 years old, who has a 'high tolerance for ambiguity and a high tolerance for risk.' ... Zuckerberg tries to preserve a startup mentality at Facebook even though it is now valued at nearly $400 billion."
"Posters with Facebook's longtime motto 'Move fast and break things' dot the headquarters campus, even though the motto was changed three years ago. (The new motto stresses speed and stability.)" — "Move Fast With Stable Infra."
https://www.axios.com/newsletters/axios-am-2d2acf8c-7ada-4326-9725-6218f30b813c.html?chunk=5#story5
6. Why taxing robots will be so hard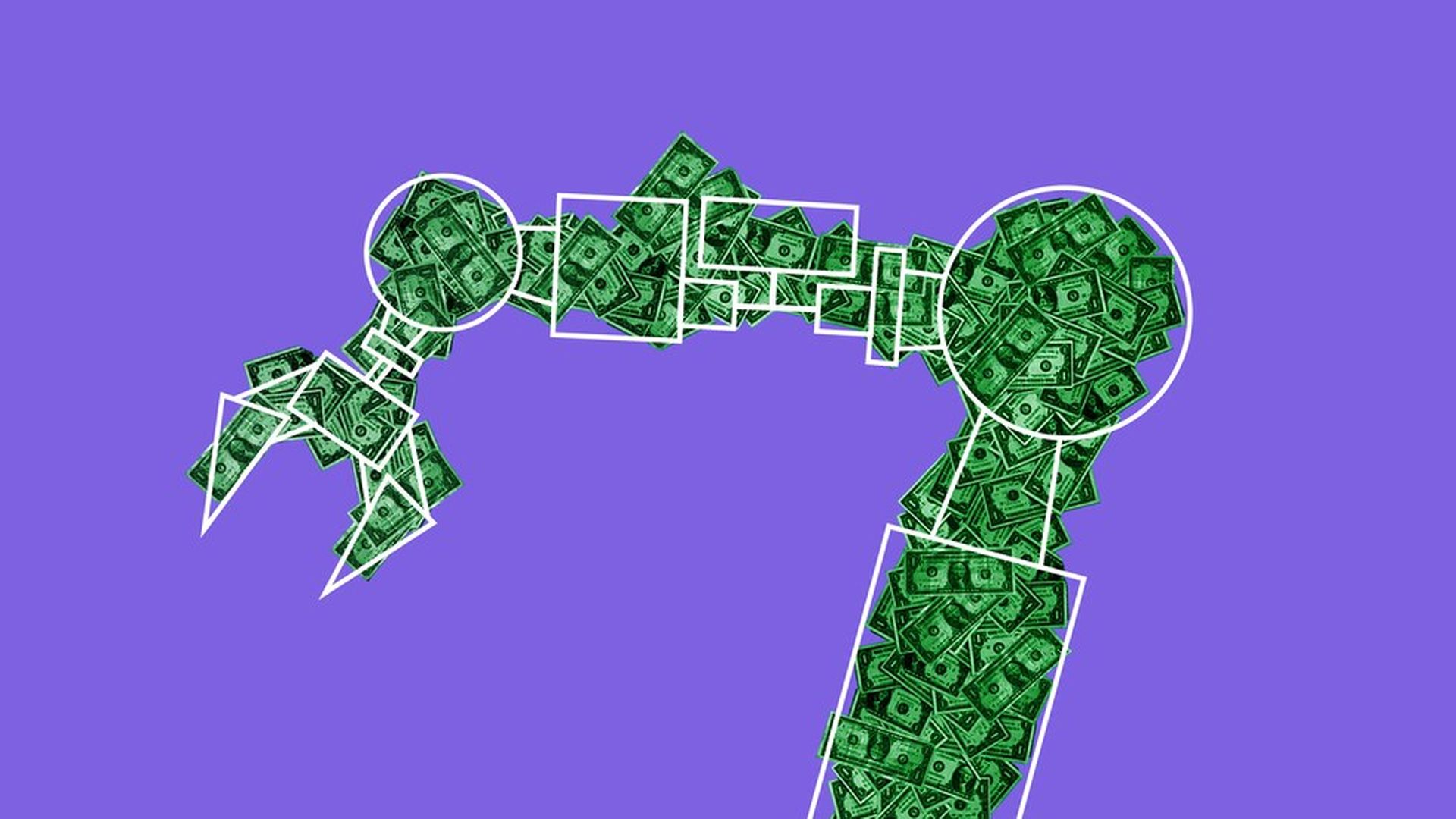 Bill Gates is among the big names in politics and industry who have proposed taxing robots to make up for revenue that'll be lost as human workers are replaced by machines in industries like trucking and fast food. Axios' David McCabe finds complications:
The International Federation of Robotics, which represents manufacturers and trade groups, argues that industrial automation leads "to the creation of new, safer, higher-skilled and higher-income jobs that increase pension contributions."
The tax would be criticized as an attempt to slow down innovation: Former Treasury Secretary Larry Summers has called it "protectionism against progress."
The context: The broader debate over how to deal with the inequality created by automation is a source of global anxiety.
https://www.axios.com/newsletters/axios-am-2d2acf8c-7ada-4326-9725-6218f30b813c.html?chunk=6#story6
7. Trending in business: Is Nevada our Greece?
Axios' Chris Matthews writes from New York that Nevada still hasn't recovered from the financial crisis ... Financial Times Alphaville's Matthew Klein points to some depressing data from the Silver State: "Adjusting for changes in population, Nevada's real output is a staggering 21 per cent below its 2006 peak, and more than 10 per cent below its level from two decades ago — a performance only comparable to Greece," Klein writes.
Key stat: Nevada's unemployment rate has fallen from close to 14% in 2010 to just above 5% today, but much of that has been the result of workers leaving the labor force altogether.
Why it matters: Nevada is case in point of the Trump administration argument that the economy is not as healthy as headline data like the official unemployment rate say.
https://www.axios.com/newsletters/axios-am-2d2acf8c-7ada-4326-9725-6218f30b813c.html?chunk=7#story7
8. Valerie Jarrett on working with the "enemy"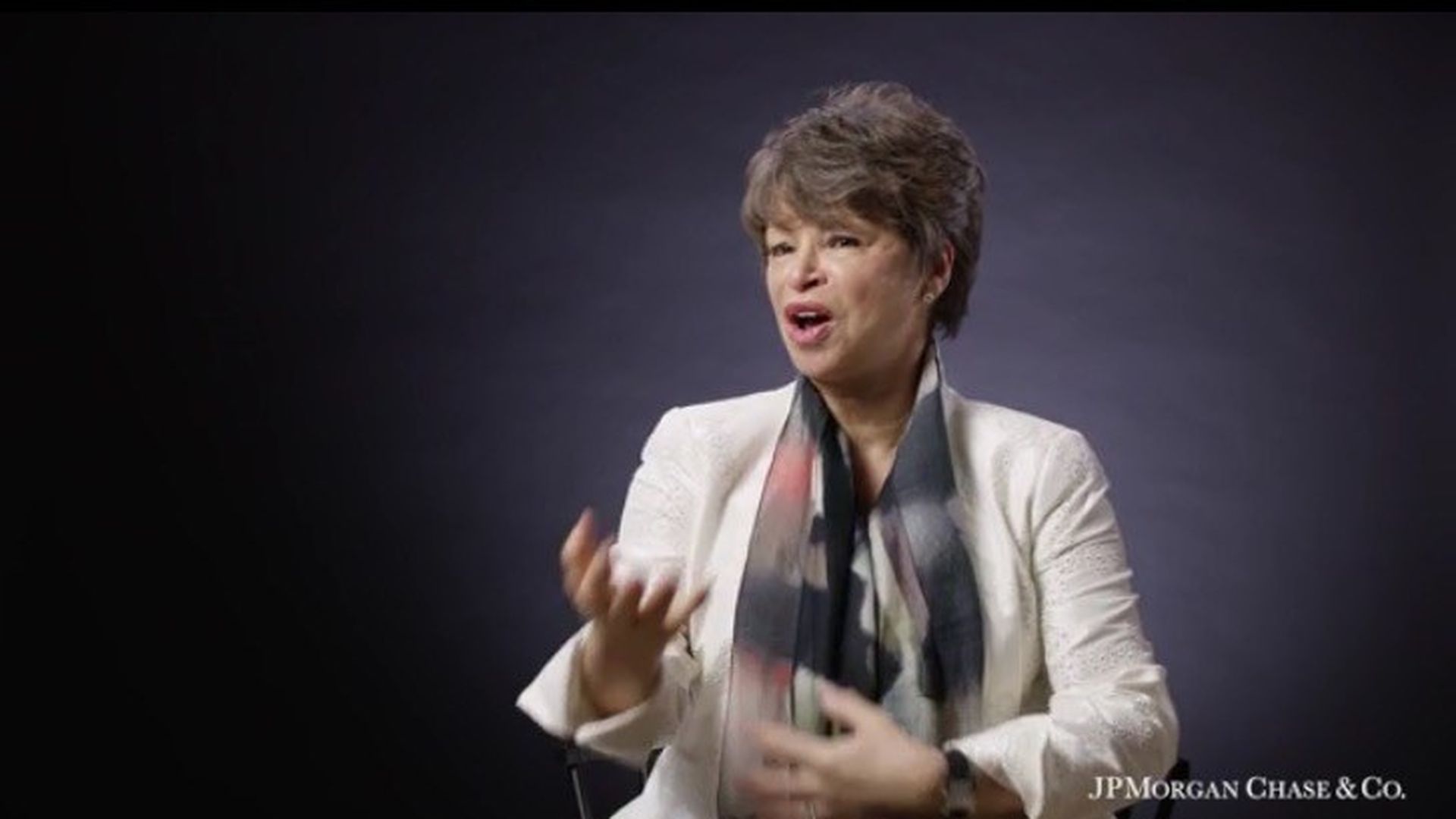 In the new installment of our "Smarter, Faster" video series, Valerie Jarrett talks about finding a "safe space" to work with Mark Holden of Koch Industries — criminal justice reform.
She also told me about two new friends after her Secret Service detail vanished — Uber and Lyft.
https://www.axios.com/newsletters/axios-am-2d2acf8c-7ada-4326-9725-6218f30b813c.html?chunk=8#story8
9. Never mind
Axios AM yesterday linked to an article by Bloomberg 's Michael Riley saying the Center for American Progress had been asked to pay a ransom by Russian hackers. Bloomberg has added a statement from the progressive group: "CAP has no evidence we have been hacked, no knowledge of it and no reason to believe it to be true. CAP has never been subject to ransom."
Neera Tanden, the group's president and CEO, tweeted: "This story is wrong as it relates to CAP. We have not been hacked nor have we heard of any ransom request." BuzzFeed's Rudy Cramer quoted Neera: "CAP has not paid a ransom. CAP folks, like many, have received phishing attempts, but no evidence of a hack."
Reading between the lines: Riley has some 'splaining to do. You may not know if you've been hacked. You DO know if you have been asked to pay a ransom.
https://www.axios.com/newsletters/axios-am-2d2acf8c-7ada-4326-9725-6218f30b813c.html?chunk=9#story9
10. 1 fun thing
Axios reporter Shane Savitsky passes this along from his hometown news ... The Greater Scranton (Pa.) YMCA banned cable news in the gym because it was starting too many fights: "[T]his is a safe haven, and people want to come here and feel safe and feel part of a community, and when arguments are being, you know, taking place over politics and things like that, they don't feel safe."