Good Thursday morning ...
https://www.axios.com/newsletters/axios-am-2d212b68-3535-412f-9c80-0cce005f990d.html?chunk=0#story0
1 big thing: Trump's greatest fear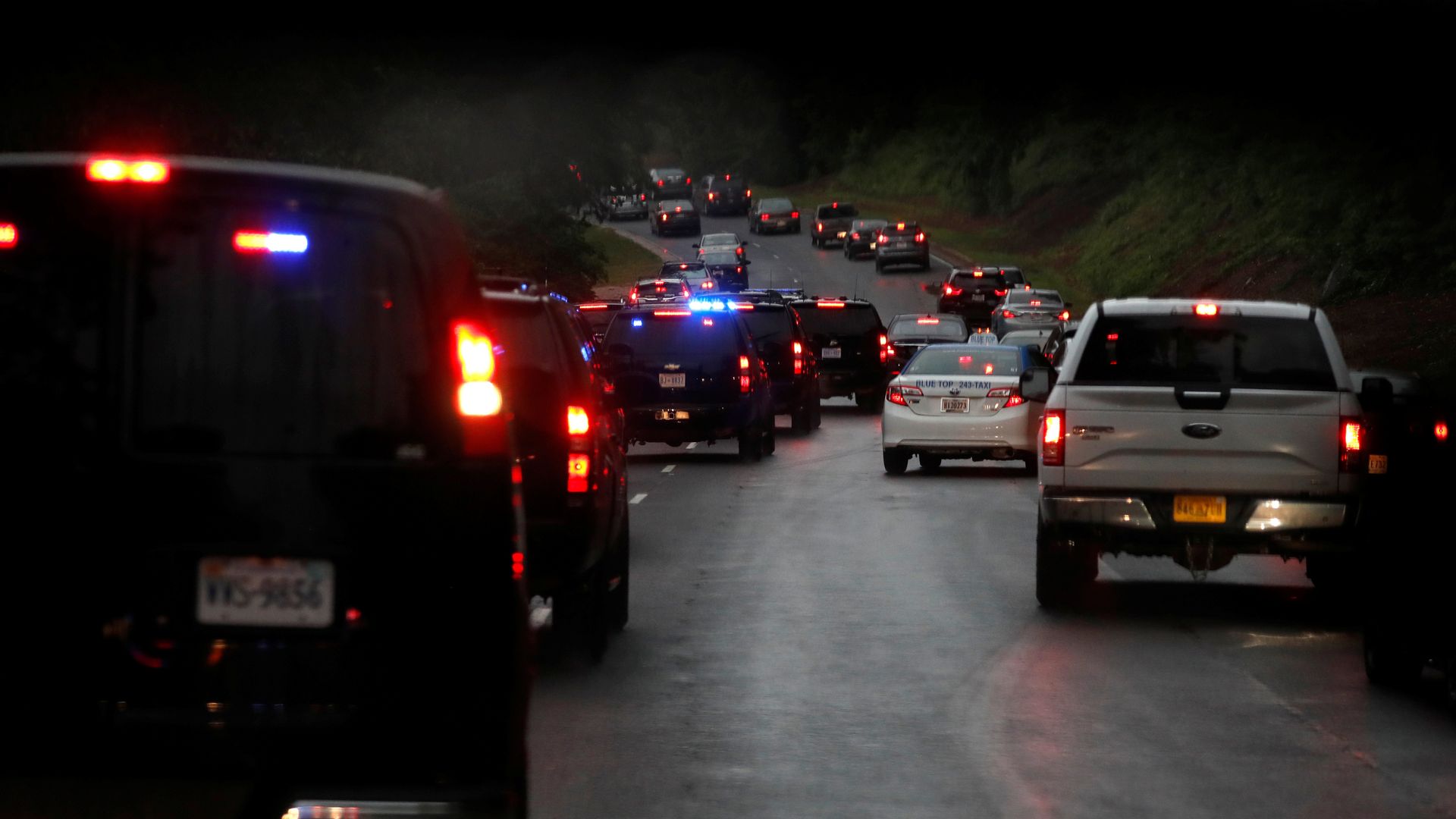 President's Trump's M.O. is to project confidence in every setting: Even in small groups, he's loath to reveal even a tincture of self-doubt.
On North Korea, though, there have been private moments when his breezy talking of "winning" has evaporated and confidants found him almost awestruck by the enormity of what he's confronting.
This isn't just a big real estate deal or even a blustery trade standoff: The stakes are infinitely beyond anything he's dealt with, and Trump knows it. 
The closest the president has come to being privately rattled has been when the rhetoric with North Korea got hot last year, and the world braced for the worst.
A lot of the other potential crises Trump faces — turmoil in the Middle East and a trade war with China — seem abstract and distant to him, inside sources tell Jonathan Swan and me.
But the way he's discussed North Korea and the threat of nuclear war suggests to sources who've discussed the subject with him that this threat is more vivid and real to him.
Nobody has given us a convincing theory why — perhaps it's him growing up as a child of the 1950s. But he registers the North Korean threat viscerally in a way he doesn't seem to register any other threat. 
Why it matters: Now, Trump is trying to defuse one of the world's greatest risks, with a partner — "Little Rocket Man" — who looked ready to deal, but now suddenly sounds like he's returning to brinksmanship.
https://www.axios.com/newsletters/axios-am-2d212b68-3535-412f-9c80-0cce005f990d.html?chunk=1#story1
2. The Year of Mueller: Appointed 1 year ago today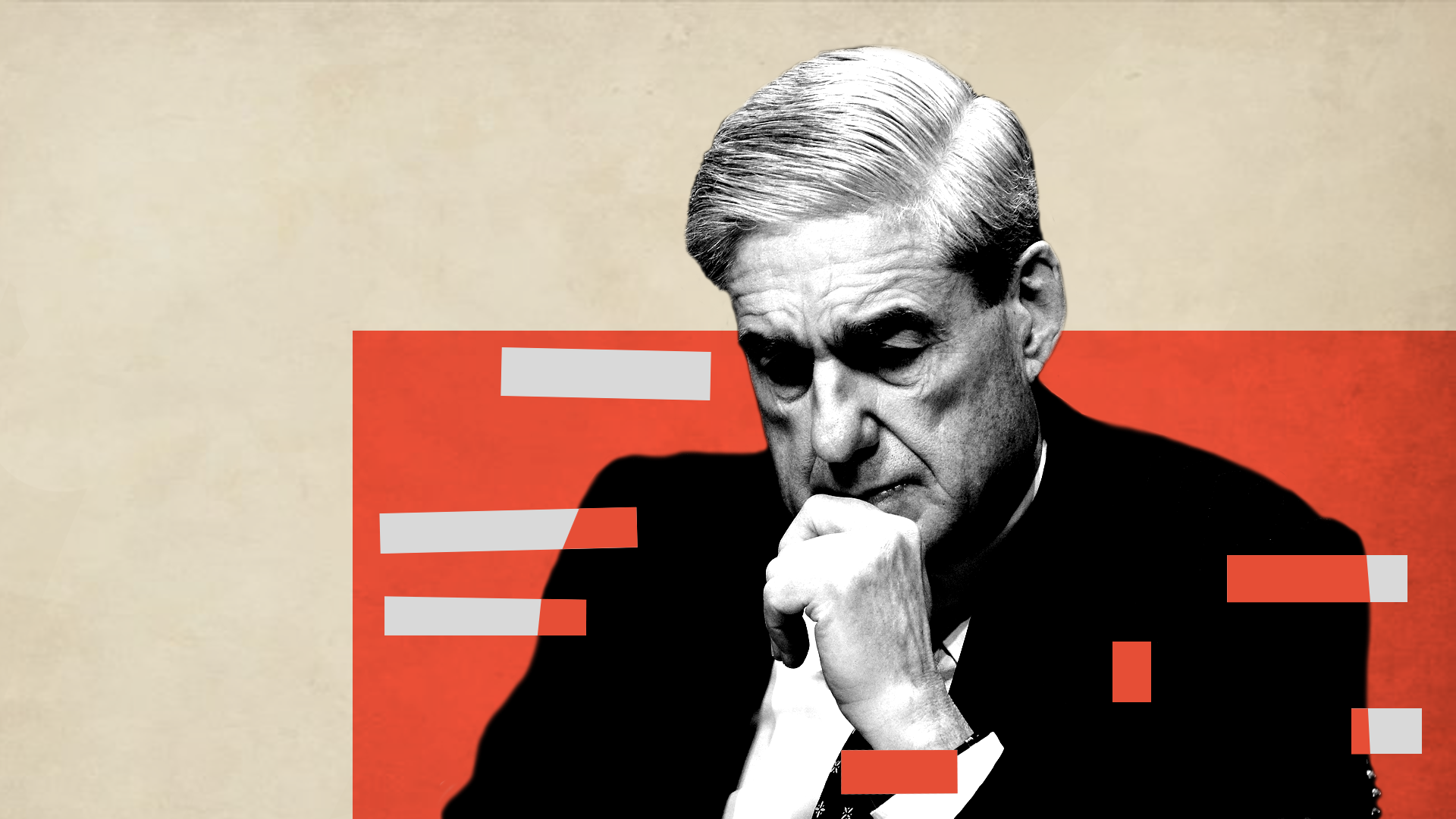 President Trump, in a statement one year ago today, reacting to the appointment of former FBI Director Robert S. Mueller as special counsel in the Russia inquiry:
"I look forward to this matter concluding quickly."
N.Y. Times, 1 year ago: "Trump was notified only after [Deputy Attorney General Rob] Rosenstein signed the order, when the White House counsel, Donald F. McGahn II, walked into the Oval Office around 5:35 p.m. to tell him. Mr. Trump reacted calmly but defiantly, ... saying he wanted to 'fight back.'"
"He quickly summoned his top advisers, most of whom recommended that he adopt a conciliatory stance. But his son-in-law, Jared Kushner, who had pushed Mr. Trump to fire [FBI Director James] Comey, urged the president to counterattack."
Original code name for the investigation, back in 2016, via N.Y. Times (2-col. lead story: "How F.B.I. Embarked, With Strictest Secrecy, On Trump Team's Trail"):
Today's key news: Rudy Giuliani, a lawyers for Trump, says Mueller indicated in a meeting with Trump legal team a few weeks ago that a sitting president cannot be indicted under past legal opinions issued by the Justice Department.
Why it matters, via WashPost: "The special counsel's conclusion signals that it would be left to Congress to address any finding of wrongdoing by Trump."
P.S. USA Today lead story: "Trump formally disclosed [yesterday] that he paid his attorney [Michael Cohen a range of $100,000 to $250,000] as reimbursements for expenses — which included a $130,000 payoff to ... Stormy Daniels."
For history: The Senate Intelligence Committee "backed U.S. intelligence agencies' finding that Moscow tried to boost Donald Trump's 2016 presidential campaign by hacking and spreading misinformation, a bipartisan conclusion that breaks with a House panel's position." (WSJ)
Go deeper ... Mueller's year: 10 moments that mattered, by Axios' Haley Britzky.
https://www.axios.com/newsletters/axios-am-2d212b68-3535-412f-9c80-0cce005f990d.html?chunk=2#story2
3. Trump's former SecState warns of "crisis of ethics"
Rex Tillerson, former Exxon CEO and first Secretary of State for President Trump, didn't mention Trump by name while addressing graduating cadets at Virginia Military Institute yesterday, but he didn't have to:
"If we do not as Americans confront the crisis of ethics and integrity in our society and among our leaders in both the public and private sector — and regrettably at times even the nonprofit sector — then American democracy as we know it is entering its twilight years."
"If our leaders seek to conceal the truth, or we as people become accepting of alternative realities that are no longer grounded in facts, then we as American citizens are on a pathway to relinquishing our freedom."
Tillerson added that "America's future [should] be fact-based — not based on wishful thinking, not hoped-for outcomes made in shallow promises."
N.Y. Times Quote of the Day ... Tillerson: "When we as people, a free people, go wobbly on the truth even on what may seem the most trivial matters, we go wobbly on America."
https://www.axios.com/newsletters/axios-am-2d212b68-3535-412f-9c80-0cce005f990d.html?chunk=3#story3
4. Trump snapshot: Views steady, good and bad
https://www.axios.com/newsletters/axios-am-2d212b68-3535-412f-9c80-0cce005f990d.html?chunk=4#story4
5. Dems 2018
Shot ... AP: "Primary election season is still young, but the liberal wing of the Democratic Party is already celebrating."
"Democratic primary voters have chosen decidedly liberal candidates in several closely watched congressional primary elections, a sign that the left is driving much of Democrats' enthusiasm and may be winning the tug of war with moderates over the direction of the party."
Chaser ... Third Way, the center-left think tank: "You have to ignore lots of examples to conclude the far left is winning the supposed 'Dem civil war.'"
"The truth is that moderates, progressives, and Blue Dogs have all won primaries [Tuesday] night & over the past few months. Dems need all wings of the party to win."
https://www.axios.com/newsletters/axios-am-2d212b68-3535-412f-9c80-0cce005f990d.html?chunk=5#story5
6. Dems 2020
"Yes, Democrats have a non-Trump message" — E.J. Dionne column in WashPost, based on 2020 hopefuls' speeches at this week's Center for American Progress's Ideas Conference:
"[Y]ou could hear behind many of Tuesday's speeches echoes of John F. Kennedy's 1960 slogan, 'Let's get America moving again.' The idea was that Trump and the GOP are ignoring the problems most voters care about, or are making them worse."
https://www.axios.com/newsletters/axios-am-2d212b68-3535-412f-9c80-0cce005f990d.html?chunk=6#story6
7. China investing in Silicon Valley to bring tech home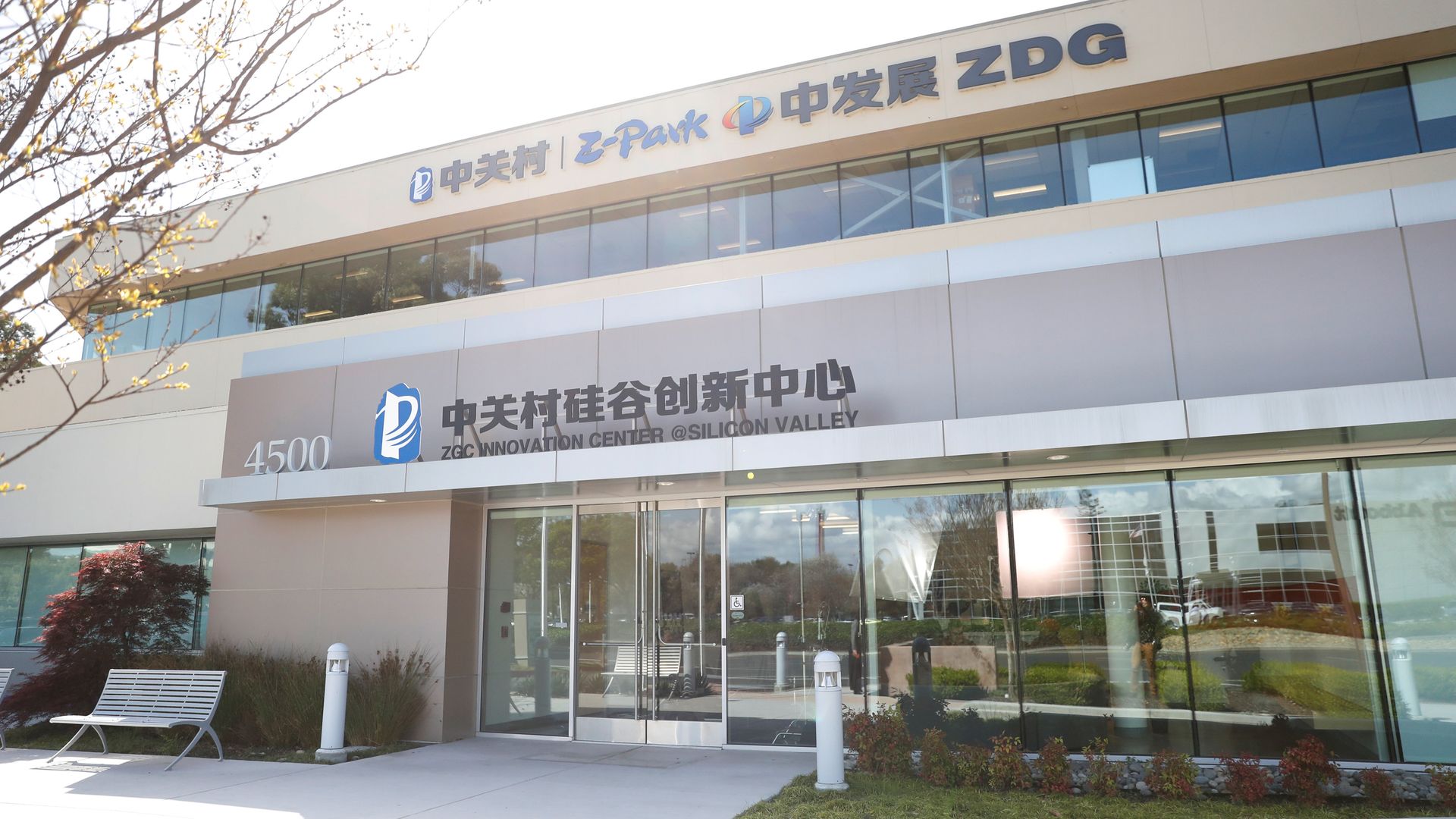 A surge in "China-focused accelerators — which support, mentor and invest in early-stage startups — is part of a larger wave of Chinese investment in Silicon Valley," Reuters' Koh Gui Qing and Salvador Rodriguez report:
"At least 11 such programs have been created in the San Francisco Bay Area since 2013, according to ... Crunchbase."
"Some work directly with Chinese governments, which provide funding. Reuters interviews with the incubators showed that many were focused on bringing U.S. startups to China."
Why it matters: "For U.S. government officials wary of China's growing high-tech clout, the accelerator boom reaffirms fears that U.S. technological know-how is being transferred to China through investments, joint ventures or licensing agreements."
https://www.axios.com/newsletters/axios-am-2d212b68-3535-412f-9c80-0cce005f990d.html?chunk=7#story7
8. Steven Brill: My generation rigged America for ourselves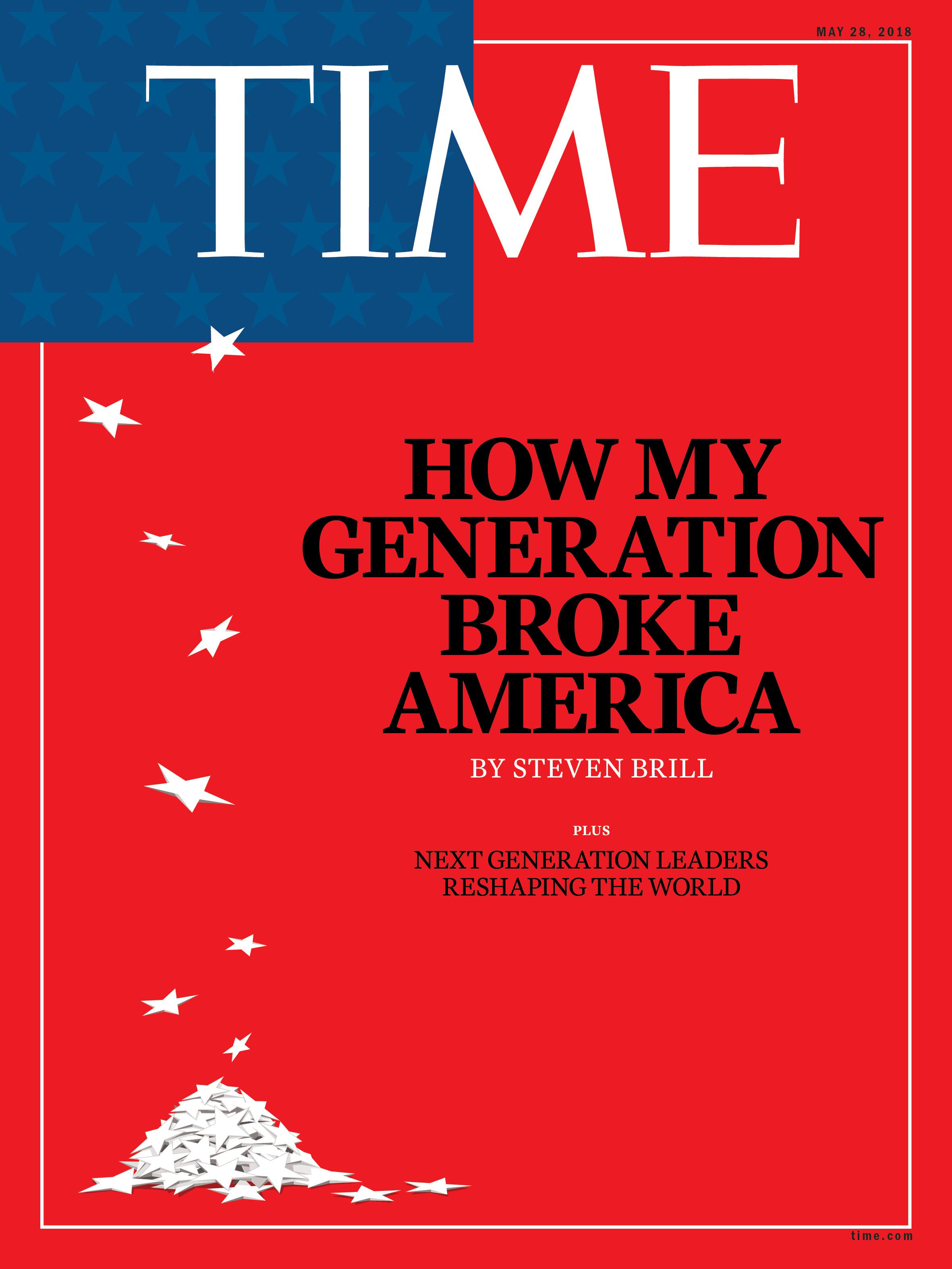 Courtesy TIME
TIME magazine's new cover story is an adaptation of a forthcoming book by Steven Brill, "Tailspin: The People and Forces Behind America's Fifty-Year Fall — and Those Fighting to Reverse It," out May 29:
"From matters small … to large, it is clear that the country has gone into a tailspin over the last half-century, when John F. Kennedy's New Frontier was about seizing the future, not trying to survive the present."
"[M]any of the most talented, driven Americans used what makes America great — the First Amendment, due process, financial and legal ingenuity, free markets and free trade, meritocracy, even democracy itself — to chase the American Dream. And they won it, for themselves."
"Then, in a way unprecedented in history, they were able to consolidate their winnings, outsmart and co-opt the forces that might have reined them in, and pull up the ladder so more could not share in their success or challenge their primacy."
Why it matters: The result is a "new, divided America" between the protected and the unprotected.
https://www.axios.com/newsletters/axios-am-2d212b68-3535-412f-9c80-0cce005f990d.html?chunk=8#story8
9. First look: Facebook arms race for future elections
Facebook today will announce a partnership with the Atlantic Council aimed at helping deter manipulation of the platform during elections around the world:
"Experts from their

Digital Forensic Research Lab

will work closely with our security, policy and product teams to get Facebook real-time insights ... on emerging threats and disinformation campaigns."
The plan is to focus on specific geographic areas, "monitoring for misinformation and foreign interference and also working to help educate citizens."
Why it matters, from Axios' Sara Fischer: About 87% of Facebook's user base is outside the U.S., so the opportunity for election manipulation around the world is massive. And platform manipulation in those countries can be even harder to manage, because of language and cultural barriers. 
Facebook CEO Mark Zuckerberg made a point during his call with reporters in April and to lawmakers during his congressional hearings to emphasize the fact that Facebook sees election integrity as a global effort.
Elections ahead: Mexico, July 1 ... Pakistan, July 15 ... Brazil, Oct. 7 ... U.S., Nov. 6.
https://www.axios.com/newsletters/axios-am-2d212b68-3535-412f-9c80-0cce005f990d.html?chunk=9#story9
10. 1 food thing
"Salt shakers, once ubiquitous at fancy restaurants, have vanished. That's deliberate, say top chefs," Bloomberg's Kate Krader reports:
"The No. 1 reason salt shakers are gone is the [cheap] quality of the product they held: fine, iodized salt that costs about $1 a pound at supermarkets and delivers a harsh blast of saline that can blemish the food."
"As chefs have gained in fame, they want to be the ones adding it."
Tables are too crowded.
And it's not a good look: "Some chefs favor salt grinders, but that utilitarian aesthetic doesn't work for every dining room. Others offer photogenic little bowls with flakes of pricey salt ... Those get expensive, since the salt has to be replaced for each new set of guests. They also get stolen."