https://www.axios.com/newsletters/axios-am-2bbc634a-3746-4c14-b4b0-8954b8ac6637.html?chunk=0#story0
1 big thing: Trump looks abroad for victory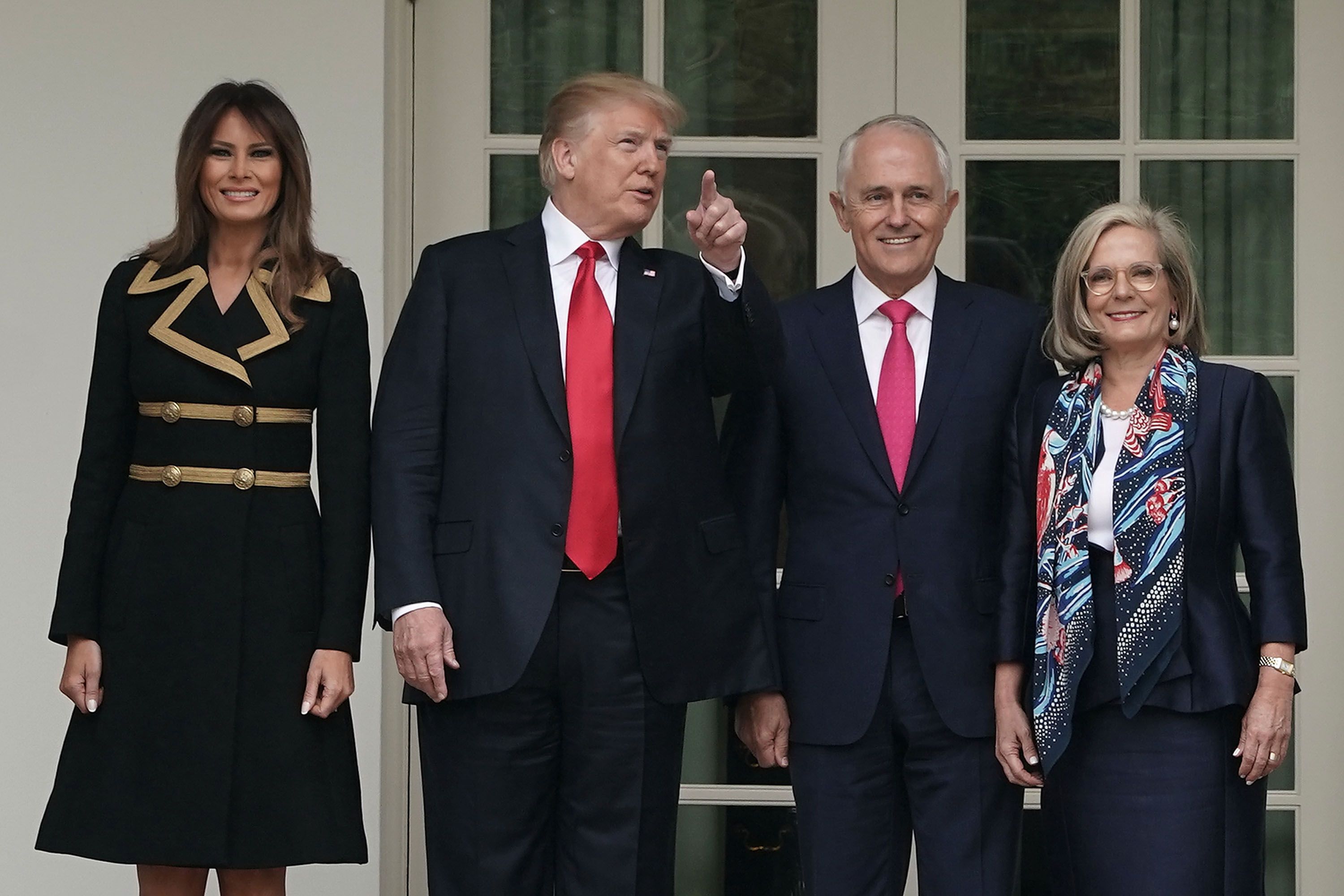 Normality amid chaos: President Trump and First Lady Melania Trump welcome Australian Prime Minister Malcolm Turnbull and his wife, Lucy, to the White House yesterday. (Alex Wong / Getty Images)
Unlikely to score a big domestic victory heading into the midterm elections and his own reelection, President Trump is trying a new angle in his effort to broker a meaningful peace deal in the Middle East.
Trump has accelerated his diplomatic efforts among quarreling Arab monarchies, starting with an upcoming series of White House visits by leaders of Saudi Arabia, Qatar and the United Arab Emirates, Axios' Jonathan Swan reported last night.
Why it matters: The administration hopes these separate meetings could lead to a summit in the U.S. in late spring, perhaps focused on Qatar and its alleged ties to terrorism.
Any progress in the Middle East would be a respite for Trump from the homefront, which yesterday brought a month's worth of news:
N.Y. Times Quote of the Day ... Rick Gates, former top aide on Trump campaign, explaining in a letter to friends and family that he was pleading guilty to charges stemming from the inquiry into Russia's interference in the 2016 election:
"The reality of how long this legal process will likely take, the cost, and the circuslike atmosphere of an anticipated trial are too much. I will better serve my family moving forward by exiting this process."
https://www.axios.com/newsletters/axios-am-2bbc634a-3746-4c14-b4b0-8954b8ac6637.html?chunk=1#story1
2. Corporate America flexes against guns
Exclusive ... Beginning what could become a widespread financial squeeze on gun manufacturers, Bank of America says in a statement to Axios that it will reexamine its relationship with banking clients who make weapons like AR-15s.
The statement: "We are joining other companies in our industry to examine what we can do to help end the tragedy of mass shootings, and an immediate step we're taking is to engage the limited number of clients we have that manufacture assault weapons for non-military use to understand what they can contribute to this shared responsibility."
Reading between the lines: This sounds like Bank of America thinks that servicing these manufacturers may not be consistent with its Responsible Growth strategy, which calls for "addressing the challenges of our time."
The context: In 2015, Bank of America and other banks backed away from funding coal mining.
Delta tweet this morning: "Delta is reaching out to the NRA to let them know we will be ending their contract for discounted rates through our group travel program. We will be requesting that the NRA remove our information from their website."
The big picture: "A call to boycott the National Rifle Association became the top trend on Twitter as users of the global social media platform demanded that a variety of companies sever ties with the lobbying group."
"The online furor [came] a day after the NRA's leaders attacked the media and Democrats, claiming the fallout from last week's Florida high school massacre was being politicized." (Bloomberg)
Go deeper ... Axios list of companies dropping NRA partnerships amid social media uproar.
https://www.axios.com/newsletters/axios-am-2bbc634a-3746-4c14-b4b0-8954b8ac6637.html?chunk=2#story2
3. Top talker: We're all gun owners, and here's why
"For many Florida teachers, it's an indignity on top of tragedy. Inside their retirement plans, they hold stock in the companies that make the AR-15 rifle," Reshma Kapadia writes in the "Streetwise" column of Barron's:
"The $163 billion Florida Retirement Pension Plan had a $4 million stake in gun manufacturers as of Dec. 31. Nearly half of that comes from a low-cost index fund that tracks the broad-based Russell 3000."
"Indexing giants Vanguard and BlackRock are the largest investors in the three major publicly traded gun makers. BlackRock owns 11% of American Outdoor Brands, formerly Smith & Wesson ... Together, BlackRock and Vanguard own 26% of Sturm Ruger, which makes semi-automatic rifles including the AR-15. And they're the No. 2 and No. 3 owners, respectively, of Vista Outdoor."
Why it matters: "Investors combing through fund holdings could easily miss these positions. ... The gun makers may not matter to asset managers, but the reverse isn't true. The fund giants help keep the stocks of gun makers afloat."
https://www.axios.com/newsletters/axios-am-2bbc634a-3746-4c14-b4b0-8954b8ac6637.html?chunk=3#story3
Bonus: Pics du jour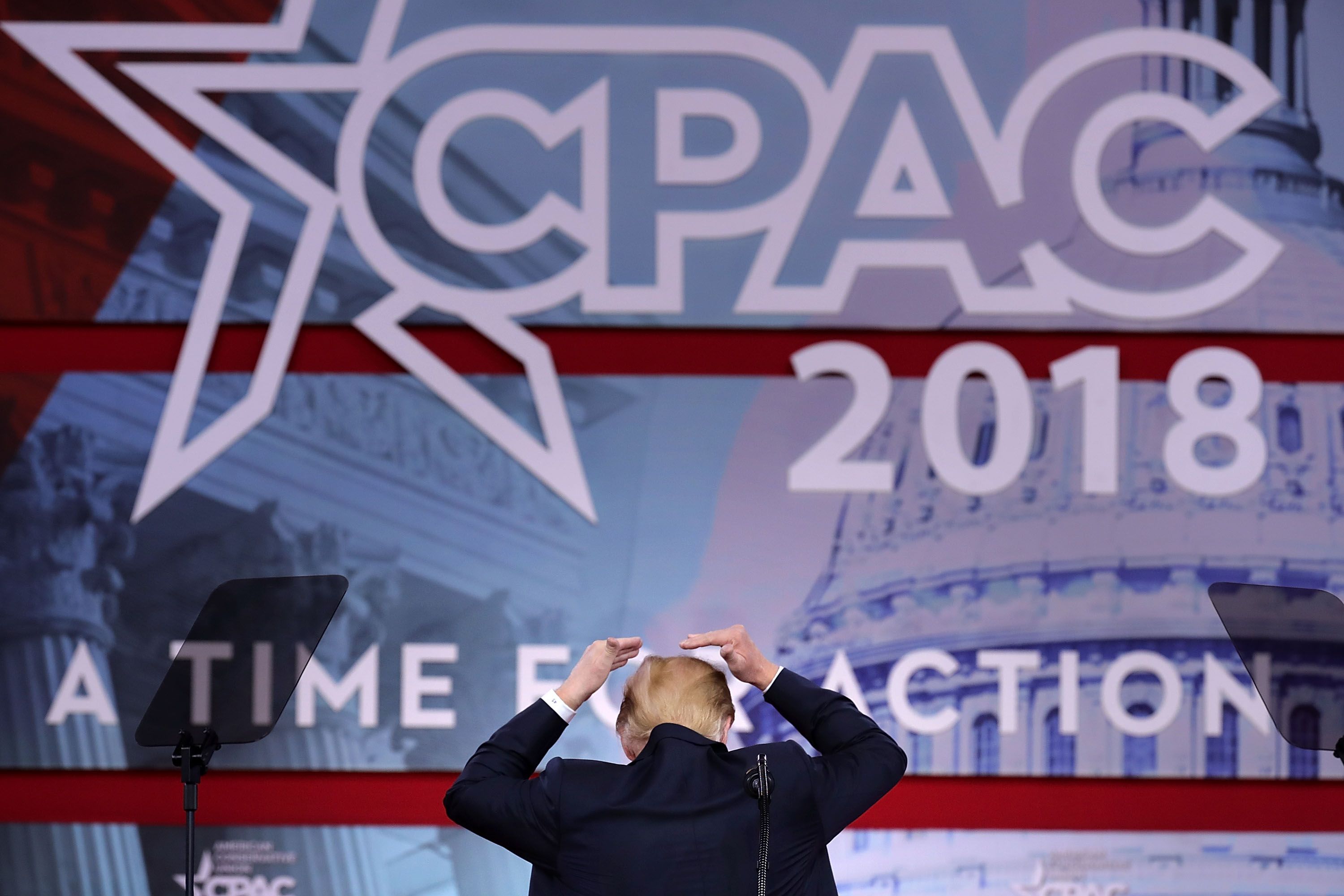 President Trump jokes about covering his bald spot. (Chip Somodevilla / Getty Images)
President Trump, spotting a rear view of himself during his 75-minute appearance at the Conservative Political Action Conference:
"By the way, what a nice picture that is. Look at that. I'd love to watch that guy speak. (Laughter.) Oh, boy.  That's a — I try like hell to hide that bald spot, folks. I work hard at it. (Applause.) It doesn't look bad. Hey, we're hanging in. We're hanging in. We're hanging in there, right? Together, we're hanging in."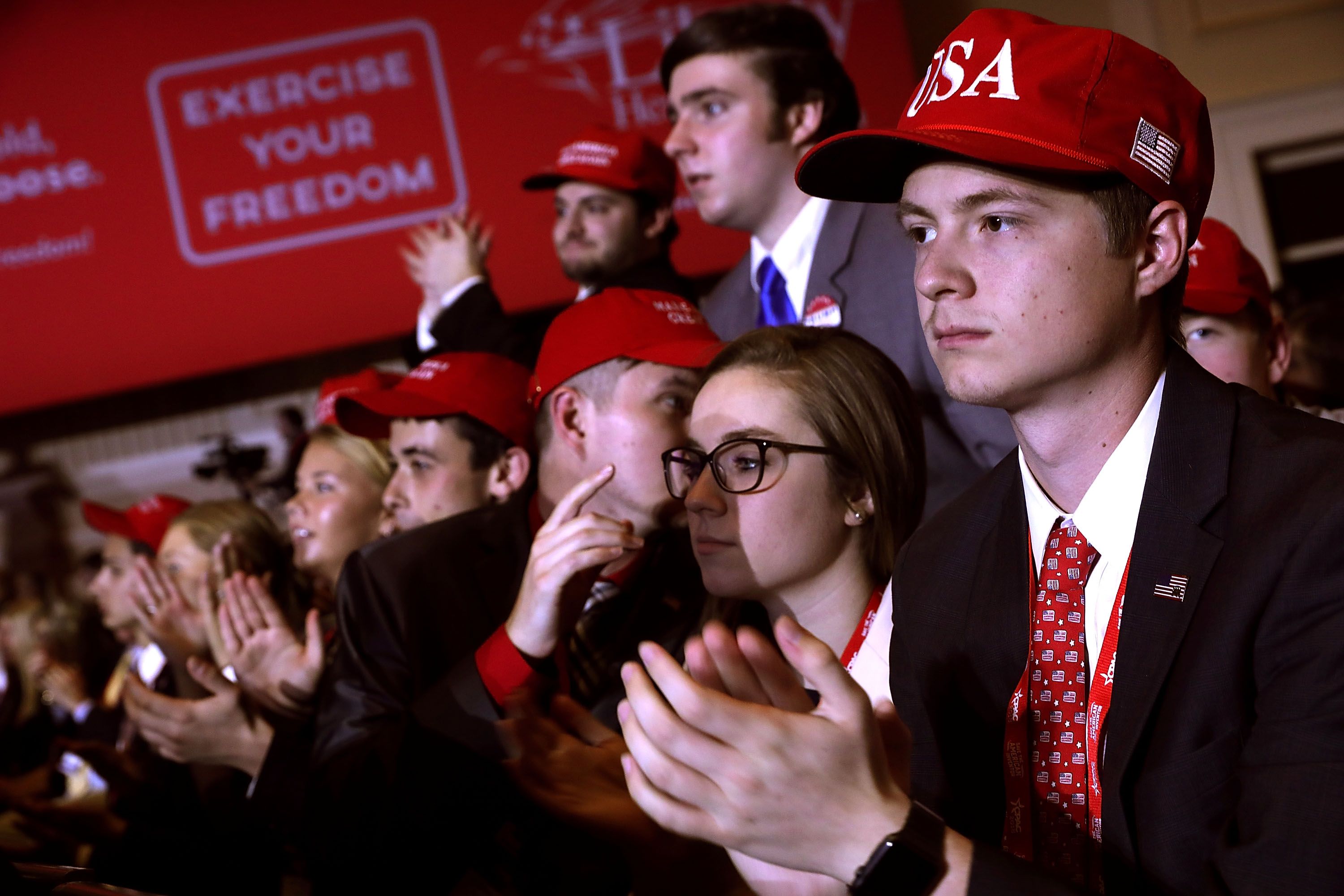 Young supporters cheer as Trump addresses CPAC in National Harbor, Md. (Chip Somodevilla / Getty Images)
https://www.axios.com/newsletters/axios-am-2bbc634a-3746-4c14-b4b0-8954b8ac6637.html?chunk=4#story4
4. System failure doomed students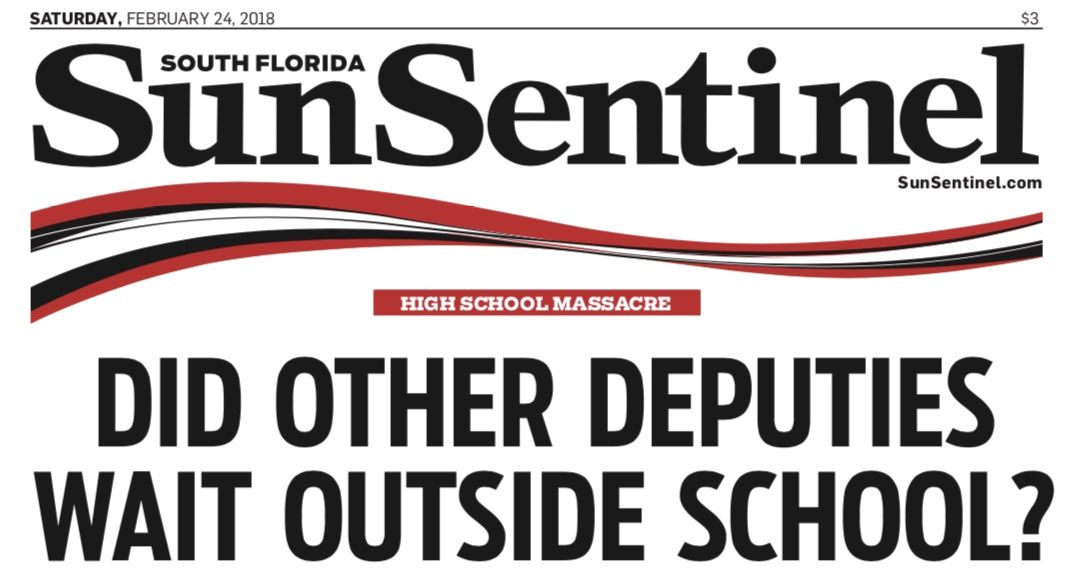 Courtesy the Sun Sentinel
"Instead of rushing in, several Broward sheriff's deputies waited outside Marjory Stoneman Douglas High School while a killer gunned down schoolchildren, according to other officers on the scene," the Fort Lauderdale Sun Sentinel reports:
"[A]t least three deputies waited outside, including School Resource Officer Scot Peterson, police sources told the Sun Sentinel.
"Two additional deputies are being investigated over whether they mishandled warnings about Cruz in the months before the shooting; the FBI has admitted it failed to investigate similar claims; and the Florida Department of Children & Families, which looked into concerns about Cruz, concluded that he was no risk to himself or others."
New details on FBI botch, via Miami Herald: "Despite ... dire warnings and the FBI's awareness of a September 2017 tip ... labeling Cruz as a potential 'school shooter,' ... the [FBI] call center intake specialist and a supervisor decided not to take further investigative action, ... according to ... Republican Sen. Charles Grassley," chair of the Senate Judiciary Committee, which is investigating.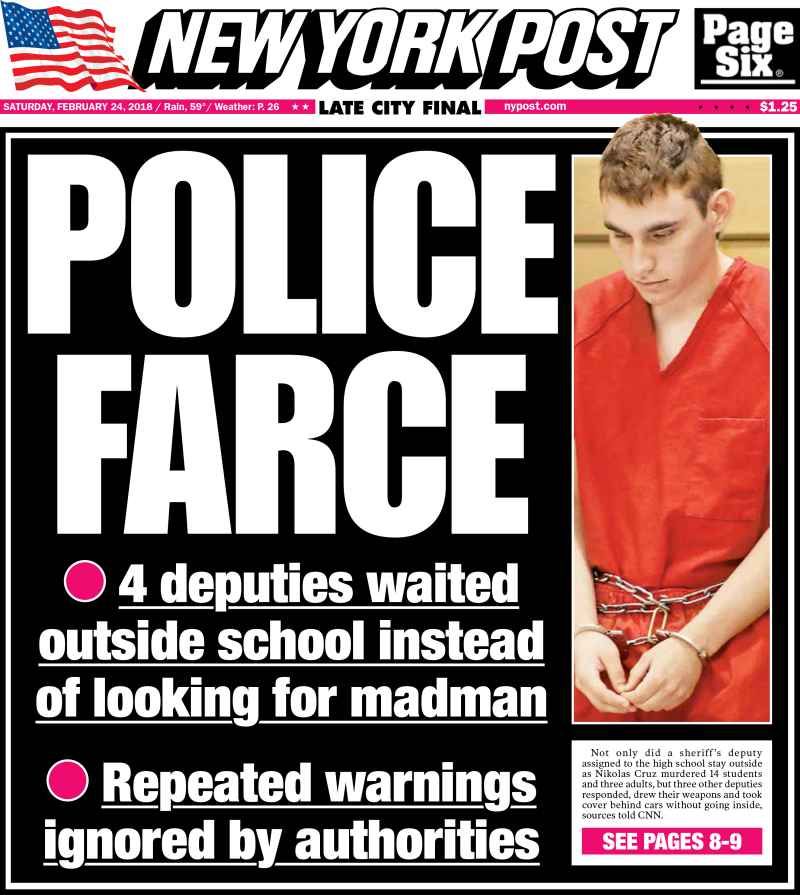 Courtesy N.Y. Post
https://www.axios.com/newsletters/axios-am-2bbc634a-3746-4c14-b4b0-8954b8ac6637.html?chunk=5#story5
5. Weekend read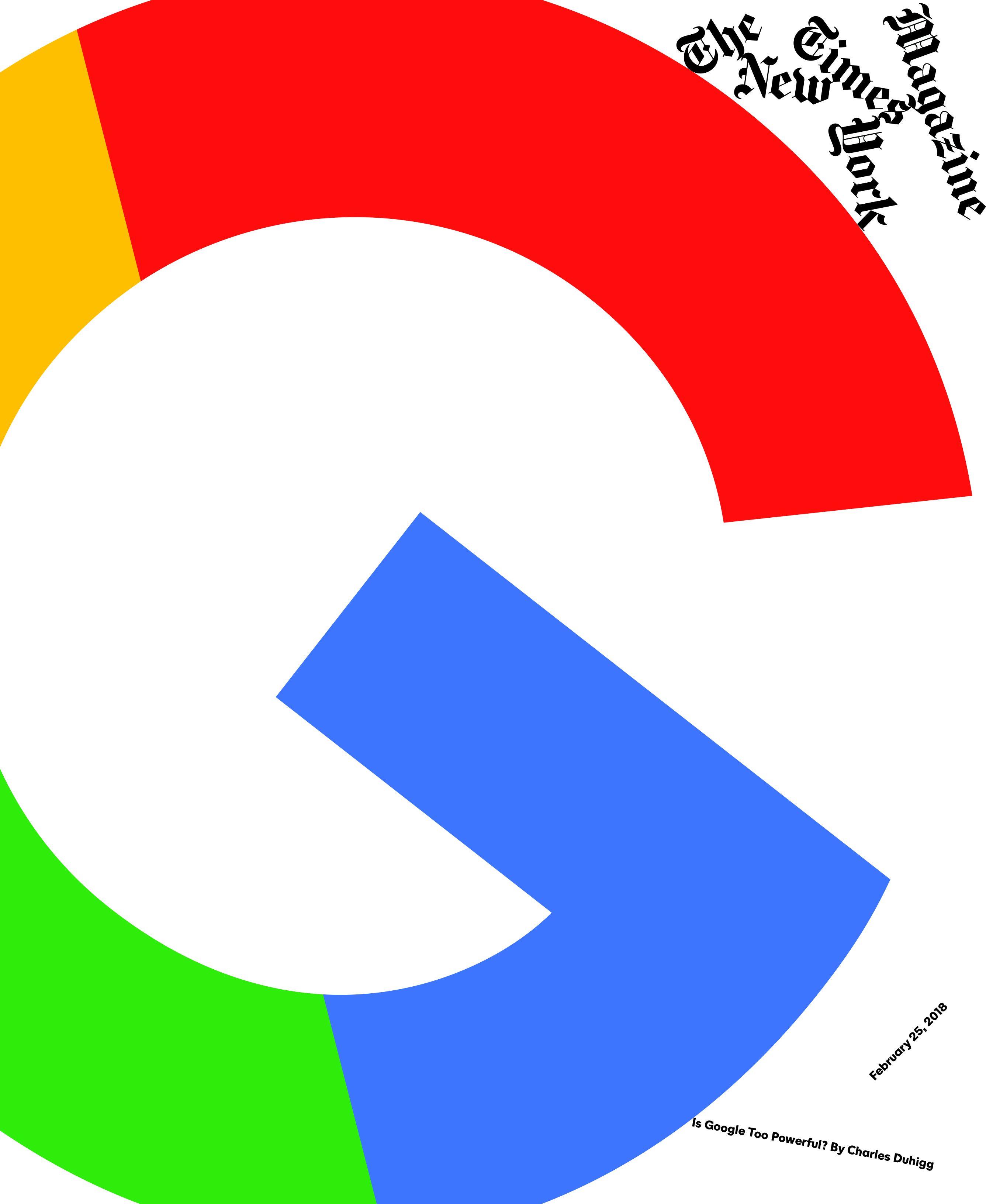 Courtesy The New York Times
In "The Case Against Google" — the cover story of tomorrow's N.Y. Times Magazine — Charles Duhigg (author of the bestselling "The Power of Habit") explores the antitrust case against Google, and whether the company's algorithmic alchemy stacks the deck against its competitors:
"[A]ntitrust has always been about progress. Antitrust prosecutions are part of how technology grows. Antitrust laws ultimately aren't about justice, as if success were something to be condemned; instead, they are a tool that society uses to help start-ups build on a monopolist's breakthroughs without, in the process, being crushed by the monopolist. And then, if those start-ups prosper and make discoveries of their own, they eventually become monopolies themselves, and the cycle starts anew.
"If Microsoft had crushed Google two decades ago, no one would have noticed. Today we would happily be using Bing, unaware that a better alternative once existed. Instead, we're lucky a quixotic antitrust lawsuit helped to stop that from happening. We're lucky that antitrust lawyers unintentionally guaranteed that Google would thrive."
Duhigg's bottom line: "[I]f you love technology — if you always buy the latest gadgets and think scientific advances are powerful forces for good — then perhaps you ought to cheer on the antitrust prosecutors. Because there is no better method for keeping the marketplace constructive and creative than a legal system that intervenes whenever a company, no matter how beloved, grows so large as to blot out the sun."
"If you love Google, you should hope the government sues it for antitrust offenses — and you should hope it happens soon, because who knows what wondrous new creations are waiting patiently in the wings.
Google response, included in the article: "We absolutely do not make changes to our search algorithm to disadvantage competitors ... We make hundreds of changes to search every year, all with the same goal: Delivering users the best, most relevant search results."
"Each change, large and small, affects millions of sites, some who see their rankings improve, others who drop. ... [O]ur ultimate responsibility is to deliver the best results possible to our users, not specific placements for sites within our results."
Pushback from the right:
"More Antitrust Revisionism Aimed at Big Tech," by Iain Murray, Competitive Enterprise Institute vice president of strategy, on National Review.
"[A]nother underpowered case for breaking up Big Tech," by James Pethokoukis, a columnist and blogger at American Enterprise Institute.
https://www.axios.com/newsletters/axios-am-2bbc634a-3746-4c14-b4b0-8954b8ac6637.html?chunk=6#story6
6. 1 stone thing: Curling gold for USA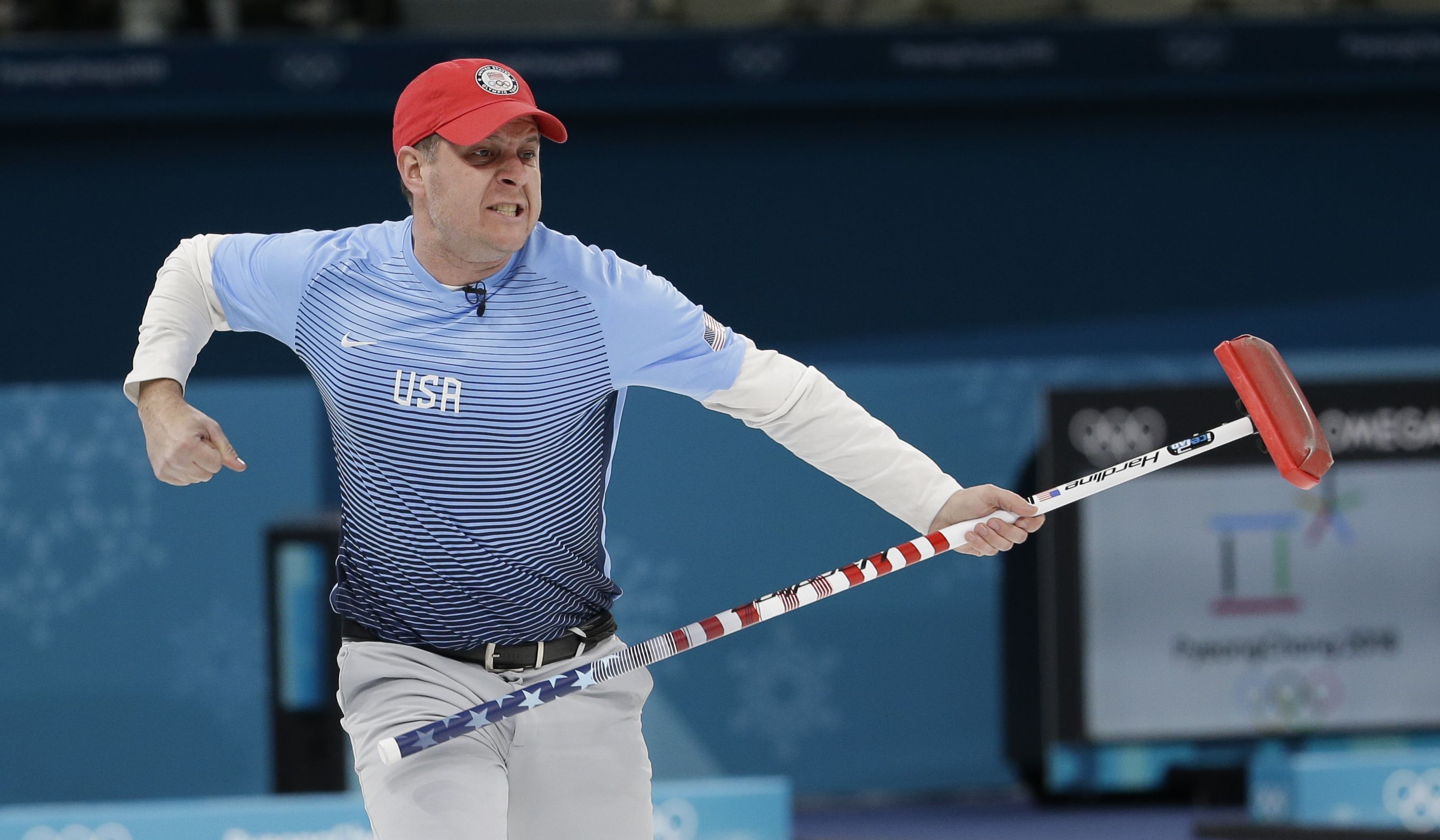 USA curling skipper John Shuster cheers during the men's final match against Sweden. (AP's Natacha Pisarenko)
"Miracurl on Ice ... Team USA defeats Sweden to win first curling gold medal" — NBC Olympics' Cara Cooper:
"For the fifth straight game John Shuster and Team USA rattled the best curlers in the world, and again came away with a win for the U.S.'s first ever Olympic curling gold medal by defeating Sweden 10-7."
"The U.S., with Shuster, Tyler George, Matt Hamilton and John Landsteiner, had two strategies coming in — limit Sweden's scoring and avoid the big end, and messy up the house with yellow rocks to force Sweden to make plays."
"Sweden looked rattled at times, and missed several big shots as the tension of the game seemed to get to the young players. Both teams were playing with skips who have Olympic experience — four Games for Shuster and three for Sweden's Niklas Edin — but other players were younger and not used to games of this magnitude."
"It never seemed to rattle the U.S. though. They continued to put on the pressure on, and that wasn't more apparent than in the eighth end. Sweden took a timeout, and subsequently missed the next shot as the U.S. continued to fill the house."
"Edin's final throw landed on the hammer, surrounded by four U.S. stones, and Shuster, like he's done so much the last four games, came through. A perfect throw that barely required sweeping went right through the house."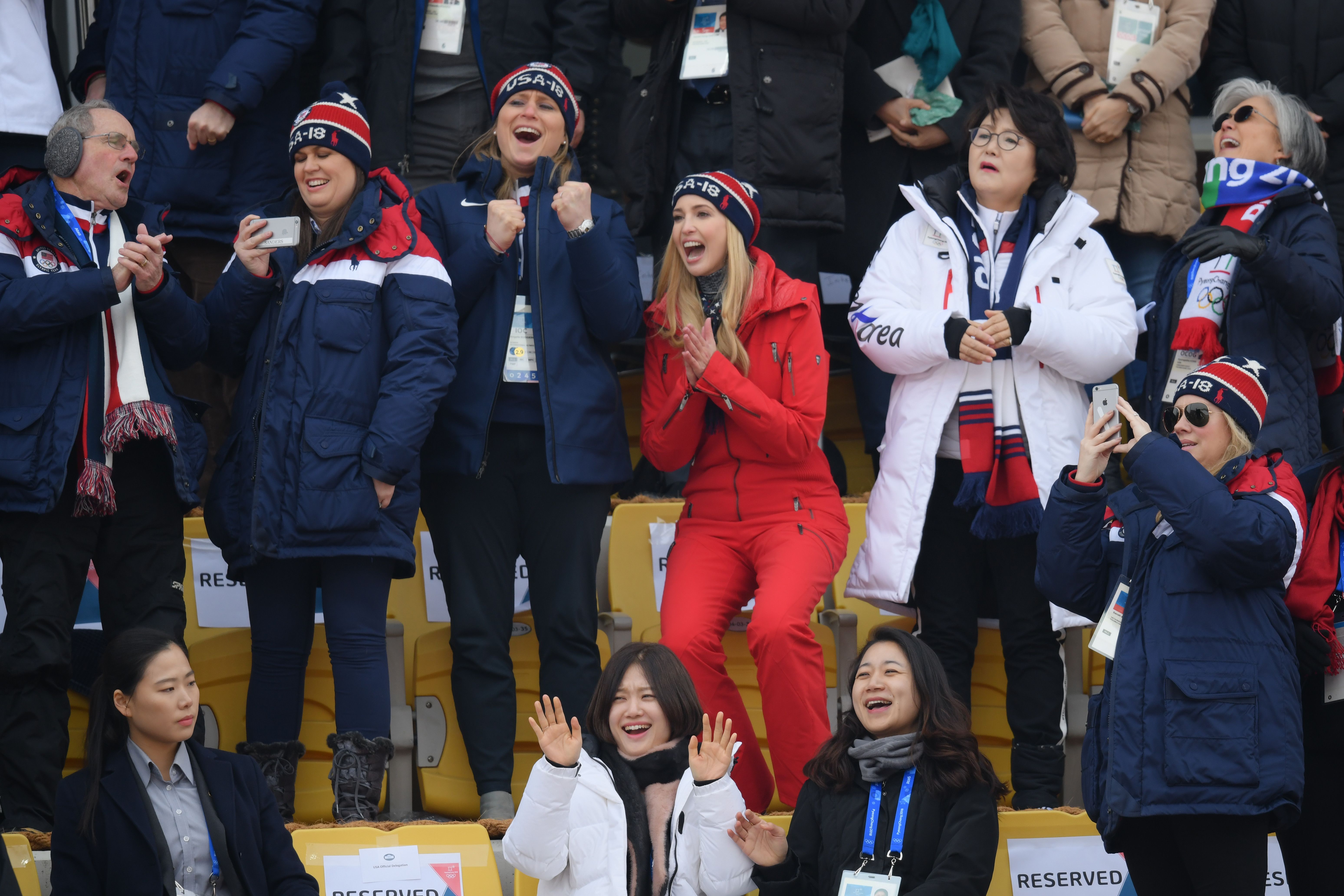 Ivanka Trump (in red) cheers for USA snowboarder Chris Corning, who finished fourth overall in the men's big air final. Ivanka was joined by (l to r) White House Press Secretary Sarah Sanders, IOC executive board member Angela Ruggiero, South Korean first lady Kim Jung-sook and South Korean Foreign Minister Kang Kyung-wha. (Carl Court / Getty Images)