Good Wednesday morning ...
Situational awareness: "Gina Haspel appears to have secured enough votes to be confirmed as the country's next CIA director after stating in a letter to [Sen. Mark Warner] that the agency never should have detained terrorist suspects and employed brutal interrogation techniques against them." (WashPost)
https://www.axios.com/newsletters/axios-am-2ba9c770-daa8-4991-8c4e-14c56804cf24.html?chunk=0#story0
1 big thing: The rise of the pro-Trump media machine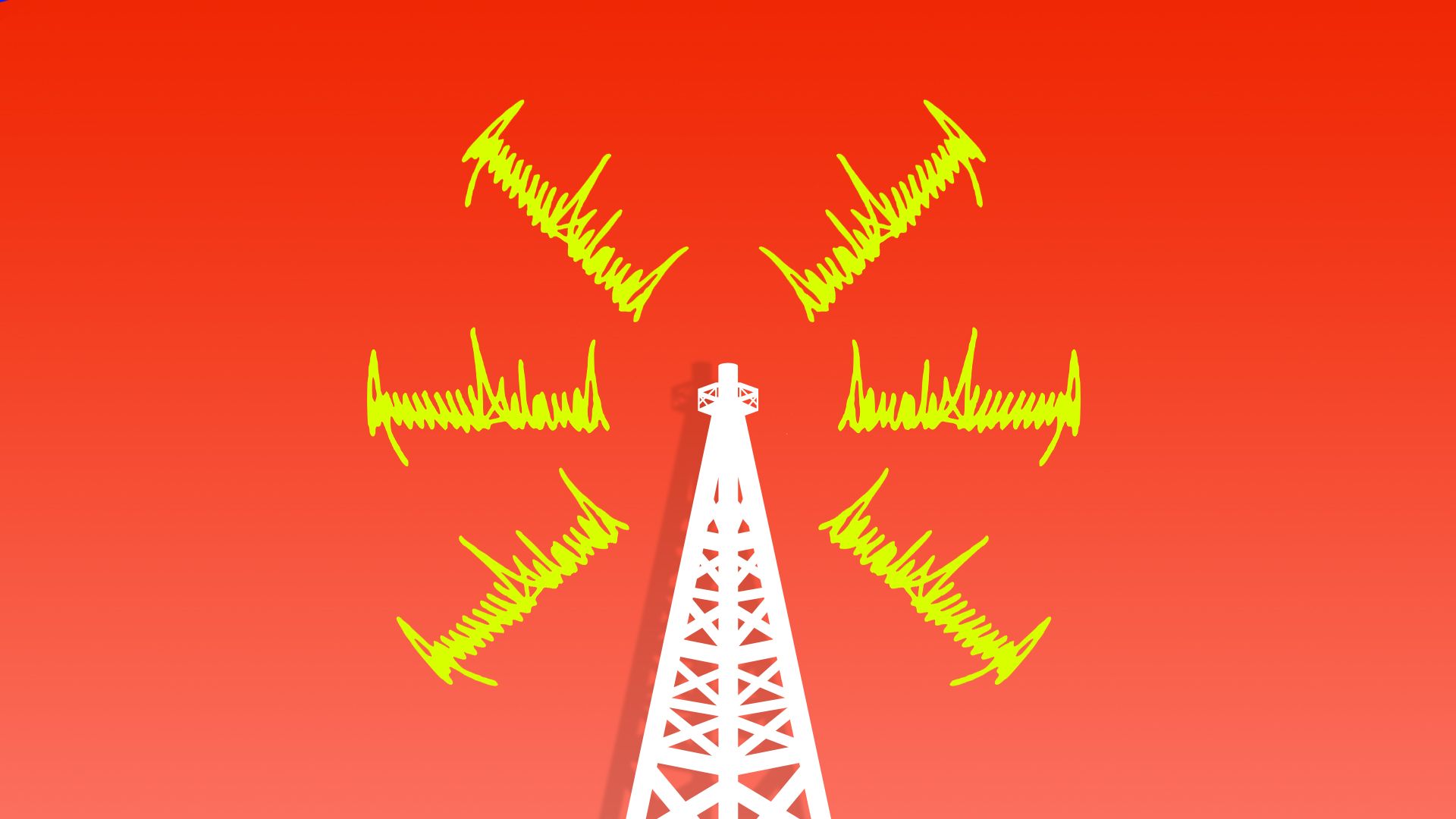 Pro-Trump media is spreading across the U.S., disseminating Trumpian rhetoric about fake news and mainstream media bias through every medium, Axios' Sara Fischer writes:
The latest: "Bill O'Reilly is in talks to head back to cable news in his old 8 p.m. slot, but this time at Newsmax TV," according to N.Y. Post's "Page Six."
Newsmax owner Chris Ruddy is close friends with President Trump, and O'Reilly's return to the spotlight would give the President another media ally to disseminate his talking points.
The big picture, from Rodney Benson, chair of NYU's Department of Media, Culture, and Communication:
"Many of the media moving toward subscriptions have disproportionately left-liberal audiences."
"While liberal media draw their circles ever tighter around themselves (via paywalls, high-level content, etc.), conservatives are fighting to extend their mass reach."
We see this trend in every medium:
Be smart: In the past, the out-of-power party got the media bump (right-wing radio under President Clinton).
Instead, Trump is lifting all media boats: Crooked Media's Pod Save America, founded by Obama alumni, is one of the era's huge success stories.
https://www.axios.com/newsletters/axios-am-2ba9c770-daa8-4991-8c4e-14c56804cf24.html?chunk=1#story1
2. North Korea's quest for leverage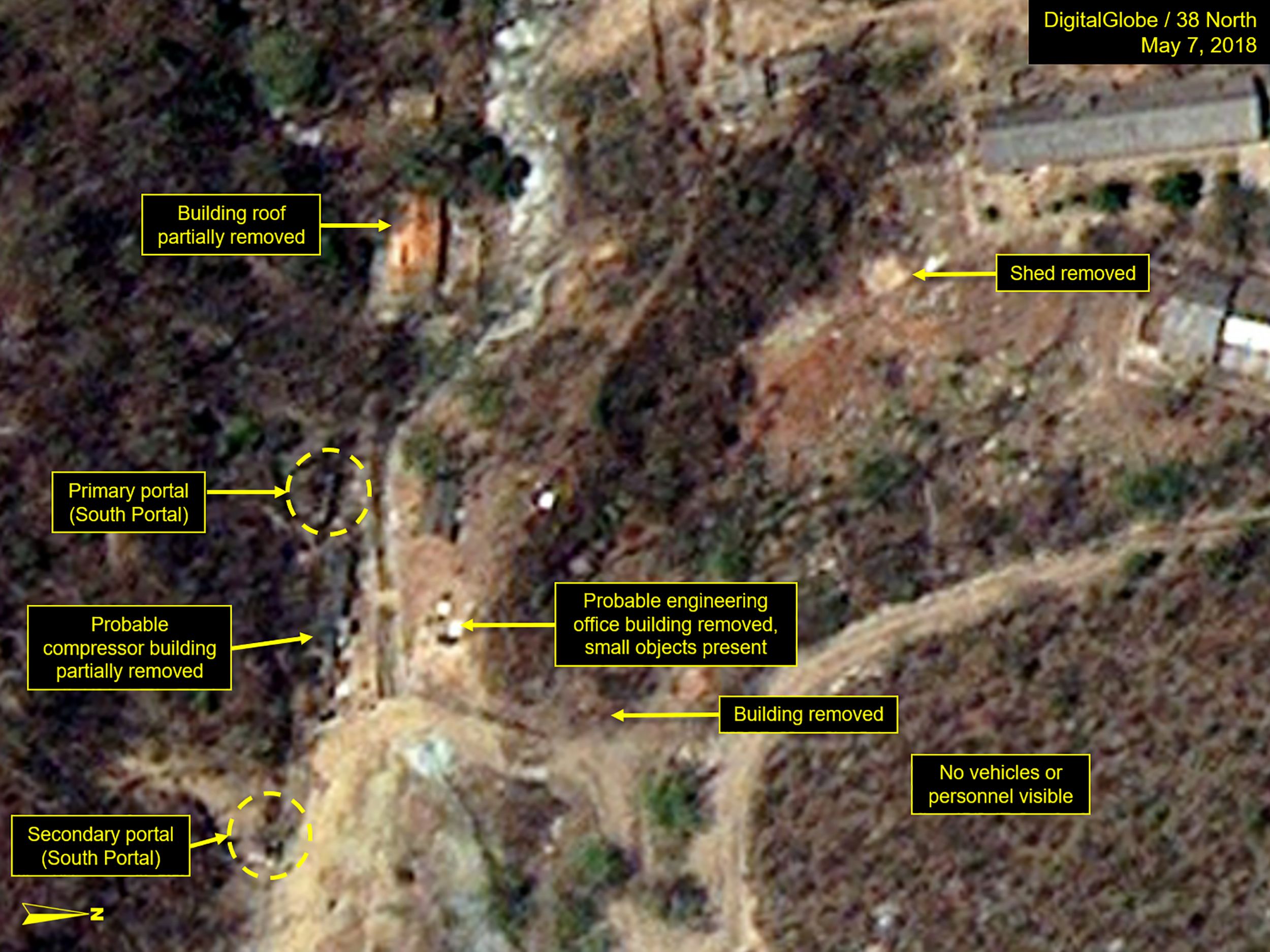 Satellite photo last week of North Korea's nuclear test site at Punggye-ri (DigitalGlobe/38 North via Getty Images)
"No, North Korean leader Kim Jong Un isn't killing his summit with President Trump. Or at least, he's highly unlikely to," AP's Kim Tong-Hyung writes from Seoul:
The threat "is seen as a move by Kim to gain leverage and establish that he's entering the crucial nuclear negotiations from a position of strength."
New overnight ... North Korea's "Kim Kye-kwan, a vice foreign minister, rejected the administration's demand that it quickly dismantle its nuclear program as Libya did 15 years ago, singling out John Bolton, Mr. Trump's new national security adviser, for condemnation." (N.Y. Times)
NBC News Pentagon correspondent Hans Nichols calls the statement "a clear backsliding, a clear moving of the goalposts by North Korea."
The White House view ... A source close to Trump tells Jonathan Swan:
"Trump's Jerusalem decision — and his willingness to endure the harsh blowback and repercussions on the ground there — is very helpful in his other negotiations, NoKo and Iran in particular."
"He's followed through on something that would (and has!) scare any other politician to death. That has to be in the back of your mind if you're a world leader trying to maneuver in high-stakes negotiations with Trump."

https://www.axios.com/newsletters/axios-am-2ba9c770-daa8-4991-8c4e-14c56804cf24.html?chunk=2#story2
3. White House's futile leak crackdown
President Trump boards Marine One yesterday. (Kevin Dietsch/Pool/Getty Images)
"Despite active efforts to flush out administration leakers — including machines used to detect unauthorized cell phones in the West Wing — ... Trump and his senior aides haven't yet been able to stem the flow of damaging information," CNN's Kaitlan Collins writes:
"The White House banned the use of personal cell phones [including Apple Watches] in the West Wing in January. ... Officials now either leave their personal devices in their cars, or ... deposit them in lockers that have been installed at West Wing entrances."
"Sources said it's common to find several staffers huddled around the lockers throughout the day ... The lockers buzz and chirp constantly from 6 a.m. to 8 p.m. Monday through Friday."
"Sweeps are carried out to track down personal devices that have made it ... into the building. ... [M]en dressed in suits and carrying large handheld devices have been seen roaming the halls of the West Wing, moving from room to room, scouring the place for devices that aren't government-issued."
"If one is detected, one of the men will ask those in the room if someone forgot to put their phone away. ... [I]f no one says they have a phone, the men begin searching the room."
"[A] group of lawmakers was waiting for the President in the West Wing while a sweep was being carried out. The device picked up a Samsung Galaxy, which was in the pocket of one of the visiting lawmakers."
Be smart: A few current and former White House officials tell Jonathan Swan that much of the leaking stems from an extraordinarily toxic and dysfunctional organizational culture that has persisted since inauguration:
Deeply factionalized. Lots of suspicion of peers. Constant questioning of loyalty. Constant use of press to settle scores.
And the response is always to hunt for the "leaker" and to try to instill fear, but rarely to examine that organizational culture that has led to such rampant leaking.
https://www.axios.com/newsletters/axios-am-2ba9c770-daa8-4991-8c4e-14c56804cf24.html?chunk=3#story3
4. Pic du jour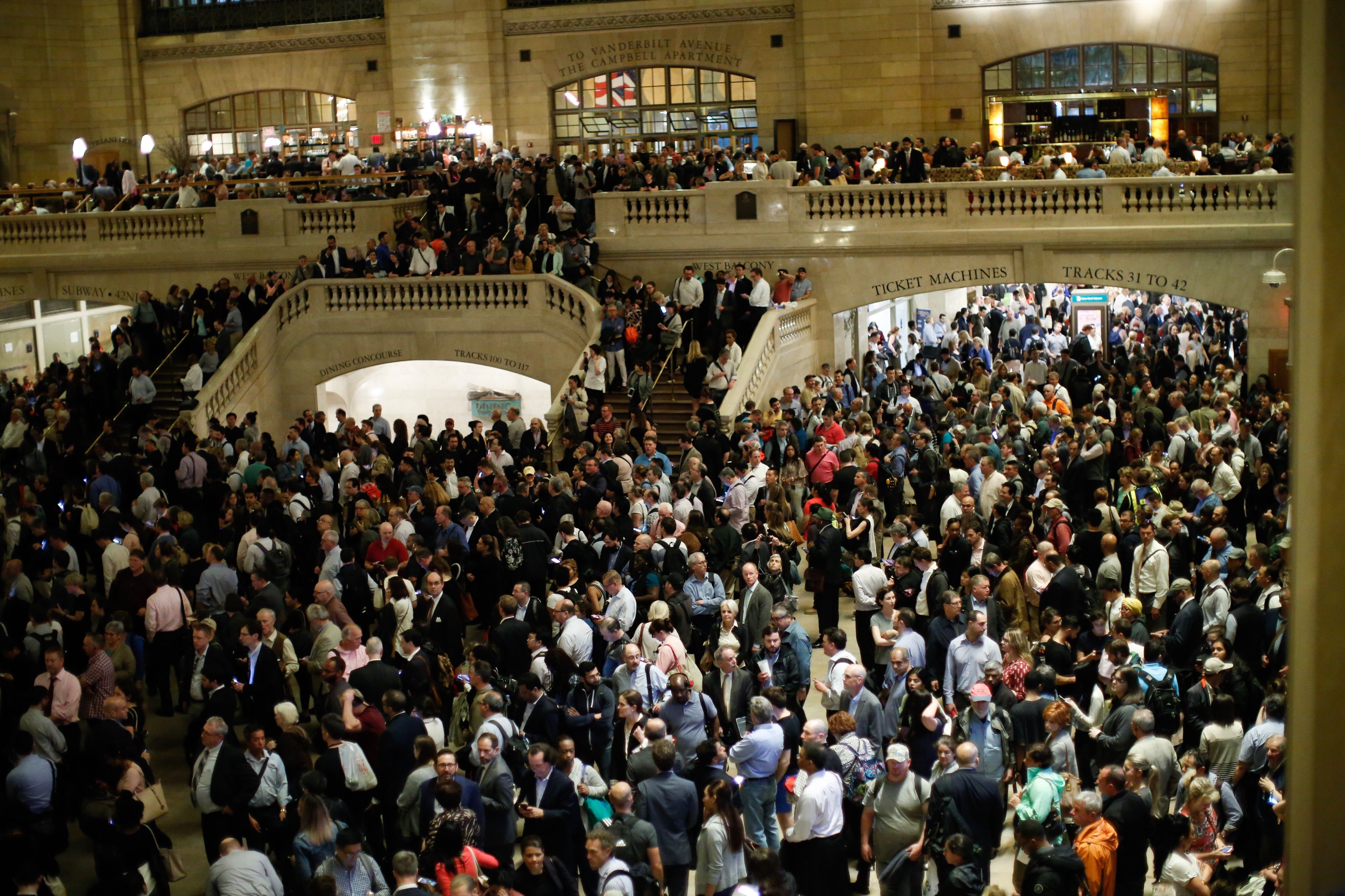 Eduardo Munoz Alvarez/Getty Images
Crowds wait after a severe thunderstorm snarled the evening commute at New York's Grand Central Station yesterday.
https://www.axios.com/newsletters/axios-am-2ba9c770-daa8-4991-8c4e-14c56804cf24.html?chunk=4#story4
5. Trump's young Republican problem
President Trump suffers from an enthusiasm gap with younger Republicans — especially women, according to a SurveyMonkey analysis of its polls since the start of Trump's presidency.
Republican voters from 18 to 44 are less likely to strongly approve of Trump than those 45 or older.
Why it matters, from Axios' David Nather: That could be good for GOP voter turnout, since older voters are traditionally more likely to show up at the polls. But it also suggests Trump's brand of politics is getting a more skeptical look from the younger voters who are the future of the party.
Go deeper: SurveyMonkey, "Thirteen charts explain the 2018 Trump approval uptick."
https://www.axios.com/newsletters/axios-am-2ba9c770-daa8-4991-8c4e-14c56804cf24.html?chunk=5#story5
6. Women win big in Pennsylvania primaries
"A state representative, an Air Force veteran and two high-powered lawyers — all women — won Democratic House primaries ... in Pennsylvania, where a record number of women ran for House seats in a year of intense political enthusiasm among female Democrats," the N.Y. Times' Trip Gabriel writes:
"It was a night of victories for at least seven Democratic women running for the House in a state that has an all-male congressional delegation of 20 and a Statehouse dominated by male politicians."
Why it matters: "Female candidates showed strength in nearly every region of Pennsylvania, from the Philadelphia suburbs to the conservative southwest."
https://www.axios.com/newsletters/axios-am-2ba9c770-daa8-4991-8c4e-14c56804cf24.html?chunk=6#story6
7. Nearly 20 fissures spewing lava and toxic gas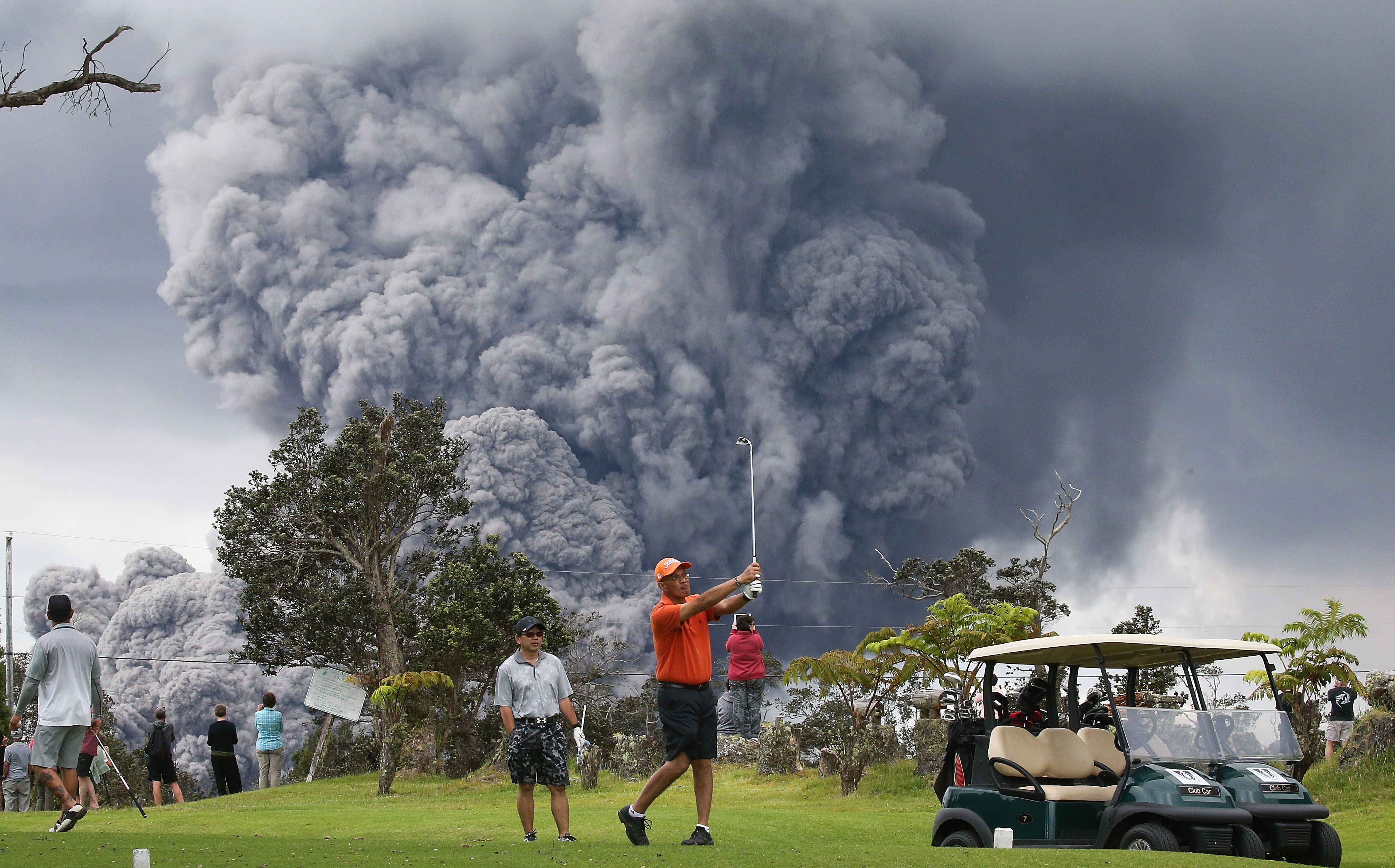 Mario Tama/Getty Images
People play golf in Hawaii Volcanoes National Park yesterday as an ash plume rises in the distance from the Kilauea volcano on Hawaii's Big Island.
Honolulu Star-Advertiser: "The National Weather Service has extended the ashfall advisory for areas of the Big Island ... Ash accumulation up to a quarter-inch is expected to be deposited in the advisory areas."
https://www.axios.com/newsletters/axios-am-2ba9c770-daa8-4991-8c4e-14c56804cf24.html?chunk=7#story7
8. A moviemaker courts Trump country
"Making Movies in the Trump Era for the Audience Hollywood Ignored ... Producer Dallas Sonnier fled Los Angeles to create 'populist entertainment'" — Wall Street Journal's Erich Schwartzel (subscription):
In his October release, "Brawl in Cell Block 99," Vince Vaughn "portrayed an out-of-work mechanic who killed Mexican drug dealers to protect his wife from a forced abortion. It had a tiny theatrical release with little media coverage, but its DVDs were a hit at Walmart as soon as they hit the shelves."
Why it matters: "Hollywood has occasionally targeted conservative moviegoers, releasing faith-based movies in specific neighborhoods or producing patriotic blockbusters such as 'American Sniper.' The difference is that Mr. Sonnier is betting a whole company on a strategy of finding consumers he says are 'outside the coasts,' marrying ideology with opportunism."
https://www.axios.com/newsletters/axios-am-2ba9c770-daa8-4991-8c4e-14c56804cf24.html?chunk=8#story8
9. Remembering Tom Wolfe, journalism legend, dead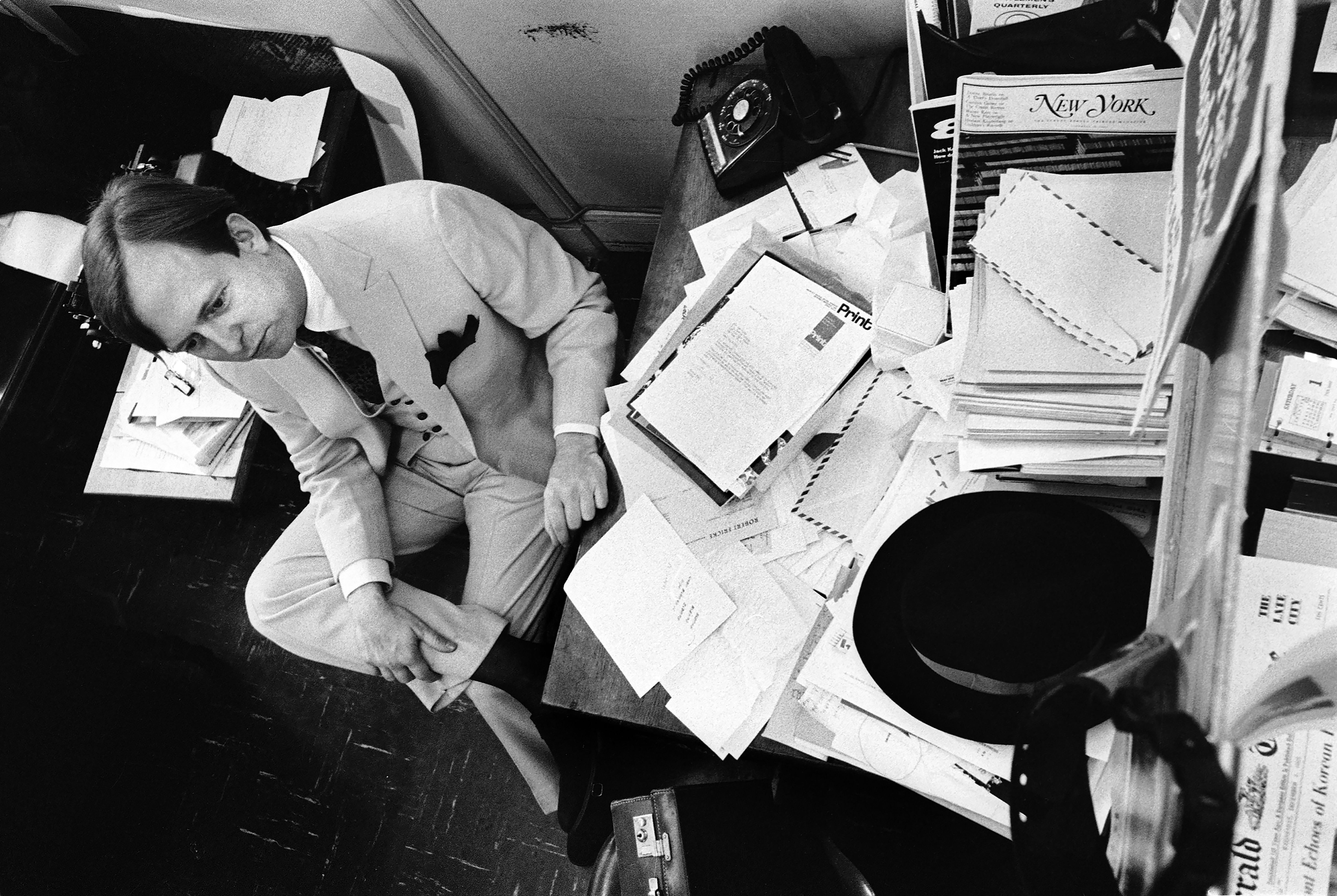 Tom Wolfe in 1965, at age 34 (Jack Robinson/Getty Images)
"As a journalist and novelist, Tom Wolfe [who died yesterday, aged 88] could, like no one else, take one particular broad subject — class and status — and slice it thin for examination and diagnosis, like a pathologist with a microtome," New York magazine's Christopher Bonanos writes:
"He became known as a man-about-town for his elaborately hand-tailored clothes, including, of course, those white suits — such a perfect metaphor for the detached journalistic observer in a sooty, grimy city. (What does wearing a white suit require? That you stand aside and take notes, that you look but not touch.)"
"His on-page manner depended on ridiculously long sentences, sometimes depending on the heavy use of … ellipses … and more ellipses … and complex punctuation like :::::. He was probably the first postmodernist on a major metro daily, co-opting some of the prolix habits of high 19th-century style — repurposed with winks and detached irony."
"Wolfe subsequently got into the business of writing fiction. And, as he rather assertively pointed out in a notorious essay for Harper's, ... he believed in reported fiction, shot through with field research and Whartonian social observation. ... Bonfire of the Vanities was and is the novel of New York in the Greed Decade."
This is amazing ... "[H]e put more phrases into popular usage than any writer of his era: The Me Decade. The Right Stuff. Masters of the Universe. Radical Chic. Good Old Boy. Social X-rays. Pushing the Envelope." (N.Y. Times)
https://www.axios.com/newsletters/axios-am-2ba9c770-daa8-4991-8c4e-14c56804cf24.html?chunk=9#story9
10. 1 fun thing: A convention for Marriott points geeks
An estimated 70 million lifetime points were in the room when 50 Marriott Rewards points aficionados, who had connected through a decade-old internet forum, gathered at the Renaissance Arlington Capital View.
The N.Y. Times' intrepid Alan Blinder, who covers the South:
"They spend hours freely doling out ideas and recommendations online, and they affectionately call their in-person gathering 'TIPPLE,' shorthand for 'The Insider Points, Pints and Liquor Extravaganza.'"
Roger Nicholson, a 49-year-old operations executive from Texas who has more than 3 million lifetime points: "It's a bunch of Marriott loyalists, a bunch of Marriott travel geeks."
"[T]hey act as screen-named guides to a lucrative world governed by 'Megabonus' promotions and fine print, category changes and free night certificates."
Blinder notes: "Since I joined the National desk of The New York Times in 2013, I have amassed more than 2 million Marriott points, the bounty of about two dozen sunrises at the Renaissance St. Louis Airport, several nights at the Courtyard near Interstate 20 in Tuscaloosa, Ala., and hundreds of nights elsewhere."