https://www.axios.com/newsletters/axios-am-29ac6995-725a-4a6c-bb35-5c9cea845e9a.html?chunk=0#story0
1 big thing: Points on the board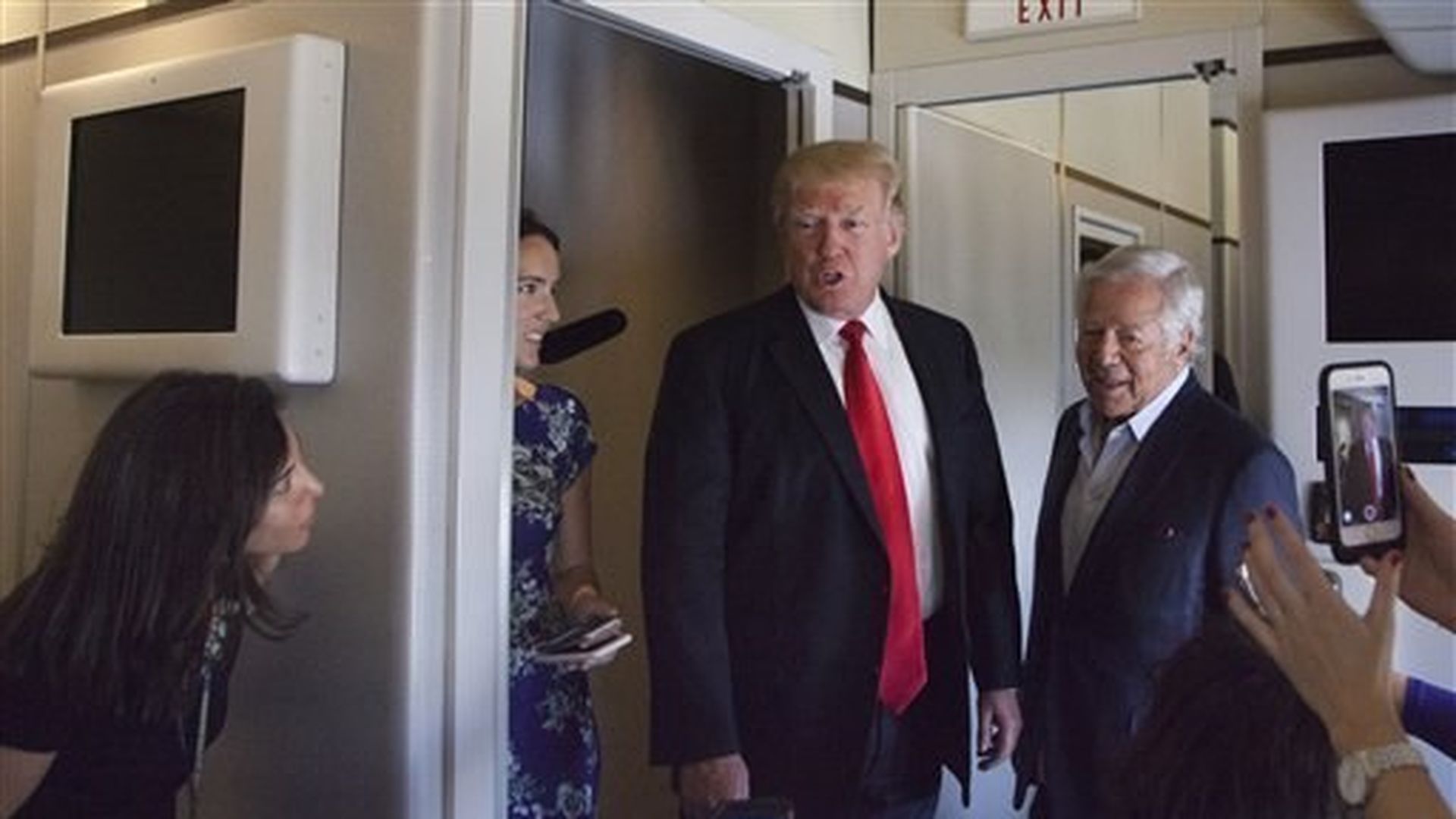 First day of spring … The White House hopes that a trifecta this week of trade, health care and the Supreme Court will be the start of a points-on-the-board phase — after a spate of tempests that helped push Trump's Gallup approval rating to a low of 37%, down 8 points from the week before:
White House officials tell me that Commerce Secretary Wilbur Ross met with President Trump at Mar-a-Lago this weekend to walk POTUS through an aggressive trade agenda for the coming weeks, including five executive orders that are slated to begin rolling out this week.
Thursday night is the epic House vote on health care. The votes aren't there yet, but a Republican lobbyist tells me Speaker Ryan had to be The Gambler: "It was either call the hand, or fold."
And today at 11 a.m. is the start of an expected four days of Senate Judiciary Committee confirmation hearing for Judge Neil Gorsuch for the Supreme Court. Opponents admit it was a savvy pick that already looks like a win for the White House.
What it means: Trump has a new runway for showing capacity to lead, govern and cut deals — a chance for the Art of the Donald to prevail over the self-inflicted din. Allies pray that past performance is not an indicator of future outcomes.
https://www.axios.com/newsletters/axios-am-29ac6995-725a-4a6c-bb35-5c9cea845e9a.html?chunk=1#story1
2. Digital shakeup for both parties
In the third part of their series on campaign data, Sara Fischer and Kim Hart go inside the ways competitive politics sharpened data tools and tactics:
"After Trump's surprise victory, sources say a major operational shakeup is in store for Democrats, who've enjoyed the lead in the digital race for nearly a decade. GOP operatives, who significantly grew their data and ground games since 2008, are continuing to develop big data platforms and new media tactics to better target specific voters while also broadening their base."
https://www.axios.com/newsletters/axios-am-29ac6995-725a-4a6c-bb35-5c9cea845e9a.html?chunk=2#story2
3. Hot spots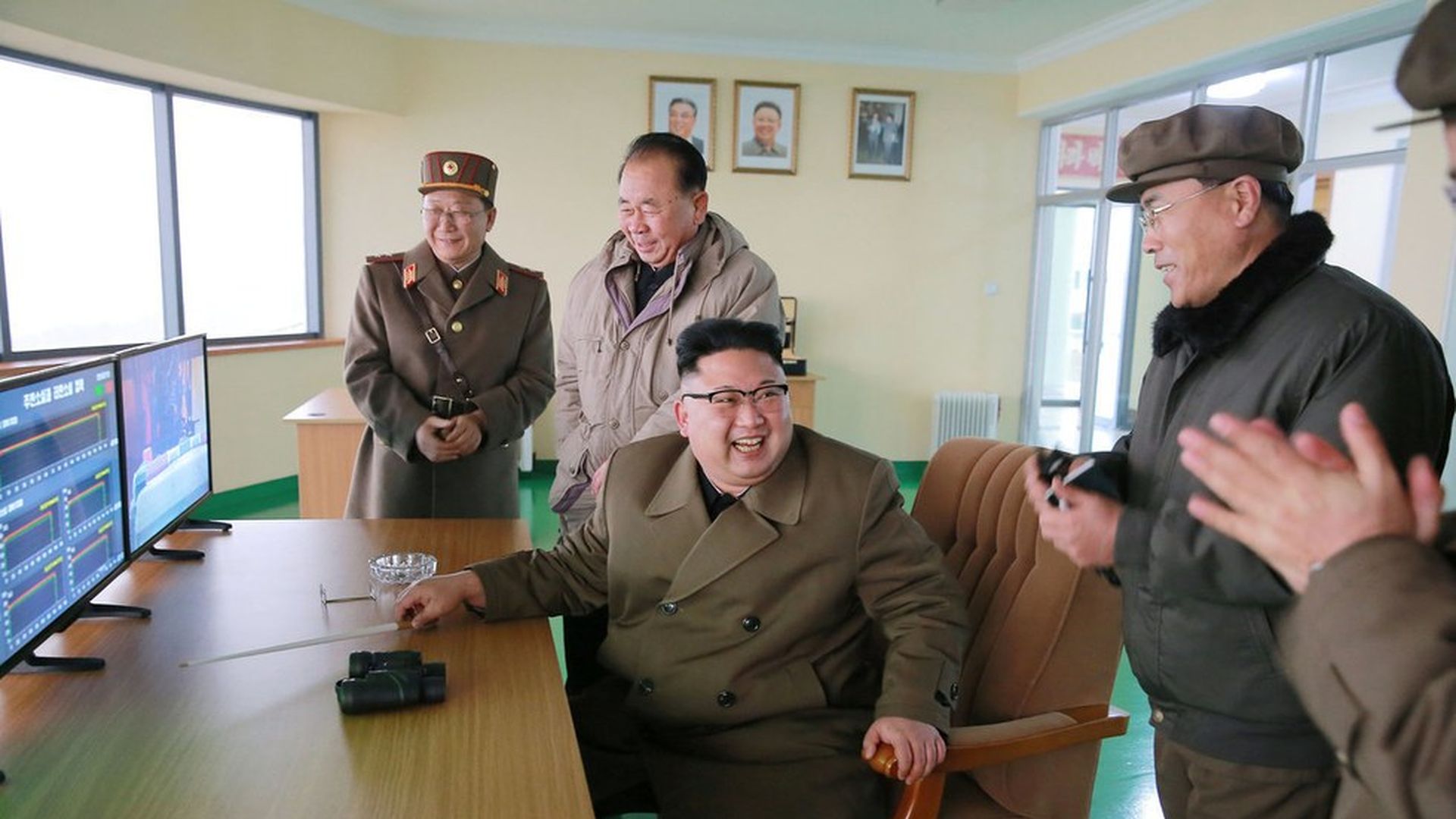 "North Korea rocket-engine test shows 'meaningful' progress," by Reuters' Ju-min Park in Seoul: "[A]n analyst said it was a dangerous step towards the North's goal of developing a rocket that could hit the United States. [The regime's] news agency said ... the engine would help North Korea achieve world-class satellite-launch capability, indicating a new type of rocket engine for an intercontinental ballistic missile."
"The North's announcement of a successful engine test came as U.S. Secretary of State Rex Tillerson was in Beijing at the end of his first visit to Asia for talks dominated by concern about North Korea."
Palace intrigue ... "What China wants from Trump," by Jonathan Swan: "The Chinese ambassador in Washington — Cui Tiankai, a silky operator — has been focusing intensely on the White House rather than the State Department, particularly cozying up to Jared Kushner and Ivanka Trump.
"One source says Cui has been dealing mostly with Kushner, and has been AWOL at State. Tillerson ... should be responsible for that relationship. But he's still got no Asia lead installed at State (and, in fact, doesn't even have a Number Two there)."
https://www.axios.com/newsletters/axios-am-29ac6995-725a-4a6c-bb35-5c9cea845e9a.html?chunk=3#story3
4. "Pay raises are back in style" — for CEOs
Shot ... Wall Street Journal lead of B1, "CEO Pay Climbs With the Market," by Theo Francis and Joann Lublin: "Median pay for the chief executives of 104 of the biggest American companies rose 6.8% for fiscal 2016 to $11.5 million, on track to set a post recession record."
Chaser ... Financial Times, top of second front, "Wall Street chill: Analysts rein in profit outlook as risks emerge to record-breaking stocks rally," by Adam Samson and Nicole Bullock in N.Y.: "Earnings for companies listed on the S&P 500 index ... are predicted to rise 9 per cent in the first quarter, ... a reduction from the 12.3 per cent expected at the start of this year."
https://www.axios.com/newsletters/axios-am-29ac6995-725a-4a6c-bb35-5c9cea845e9a.html?chunk=4#story4
5. Wall Street frets over fate of corporate tax cut
Axios' Chris Matthews writes from New York: "Between Election Day and March 1, the S&P 500 rose nearly 11%, but has fallen 0.17% in the roughly three weeks since. This loss of momentum indicates that investors are beginning to worry about the fate of corporate tax reform, as the debate over healthcare is revealing broader divisions among Republicans in Washington, according to the Wall Street Journal."
Why it matters: Corporate tax cuts are the simplest way for Washington to cheer up Wall Street — Goldman Sachs recently estimated that the House GOP tax reform plan would boost S&P 500 income by 10%, more than enough to justify the recent run up in stocks. But a closer look at the data shows that investors have lost some confidence in the Republican Party's ability to shepherd major corporate tax relief into law.
https://www.axios.com/newsletters/axios-am-29ac6995-725a-4a6c-bb35-5c9cea845e9a.html?chunk=5#story5
6. Hot in Silicon Valley
Axios' Kia Kokalitcheva writes from S.F. ... Uber's executive exodus continues: Jeff Jones, the former Target CMO who joined Uber six months ago as its president of ride-sharing, has left the company. While Jones says it's because his values conflict with Uber's, the company has strongly hinted that it has to do with its search for a COO to become CEO Travis Kalanick's No.2.
Uber's head of mapping, former Googler Brian McClendon, is also leaving, according to the N.Y. Times. He's leaving on amicable terms and will pursue politics in Kansas, where he grew up.
What's next? One of the biggest remaining questions is what exactly happened. Jones' departure seemed abrupt, and he made a pointed statement about Uber's culture and values to Recode — not what you'd expect from a seasoned brand expert who worked at public companies.
@DanPrimack: "Makes sense that Jones is leaving Uber after not getting #2 job. Spilling out into open also makes sense as he may not have vested yet."
Techmeme's influence in Silicon Valley: In a profile of Techmeme founder Gabe Rivera ("Meet The Man Whose Site Mark Zuckerberg Reads Every Day"), BuzzFeed looks at the news aggregator's enduring influence on Silicon Valley's news consumption.
It's the go-to source for top tech execs like the CEOs of Facebook, Google, and LinkedIn, and the tech press regularly reads it even if it's not necessarily concerned with being included among the links its editors cherry-pick.
https://www.axios.com/newsletters/axios-am-29ac6995-725a-4a6c-bb35-5c9cea845e9a.html?chunk=6#story6
7. Tops in media trends
Coming attractions: The newspaper industry's decades-long holy grail, The Daily Me, is coming to fruition — online ...
Liz Spayd reports in her N.Y. Times Public Editor column: "By midyear, The Times will begin an ambitious new effort to customize the delivery of news online ... What readers see when they come to The Times will depend on factors like the specific subjects they are most interested in, where they live or how frequently they come to the site."
"Several ideas are being evaluated. Some, readers will choose, like signing up for alerts when a favorite columnist publishes. Others, The Times will enact on its own. For example, a story could be moved out of the lead position for a reader who has already seen it, or it could be kept in the lead longer for those who come to the site infrequently. Fans of particular subjects might see more of that content visible on their mobile device or home page."
https://www.axios.com/newsletters/axios-am-29ac6995-725a-4a6c-bb35-5c9cea845e9a.html?chunk=7#story7
8. "Chronicler of wise guys and underdogs"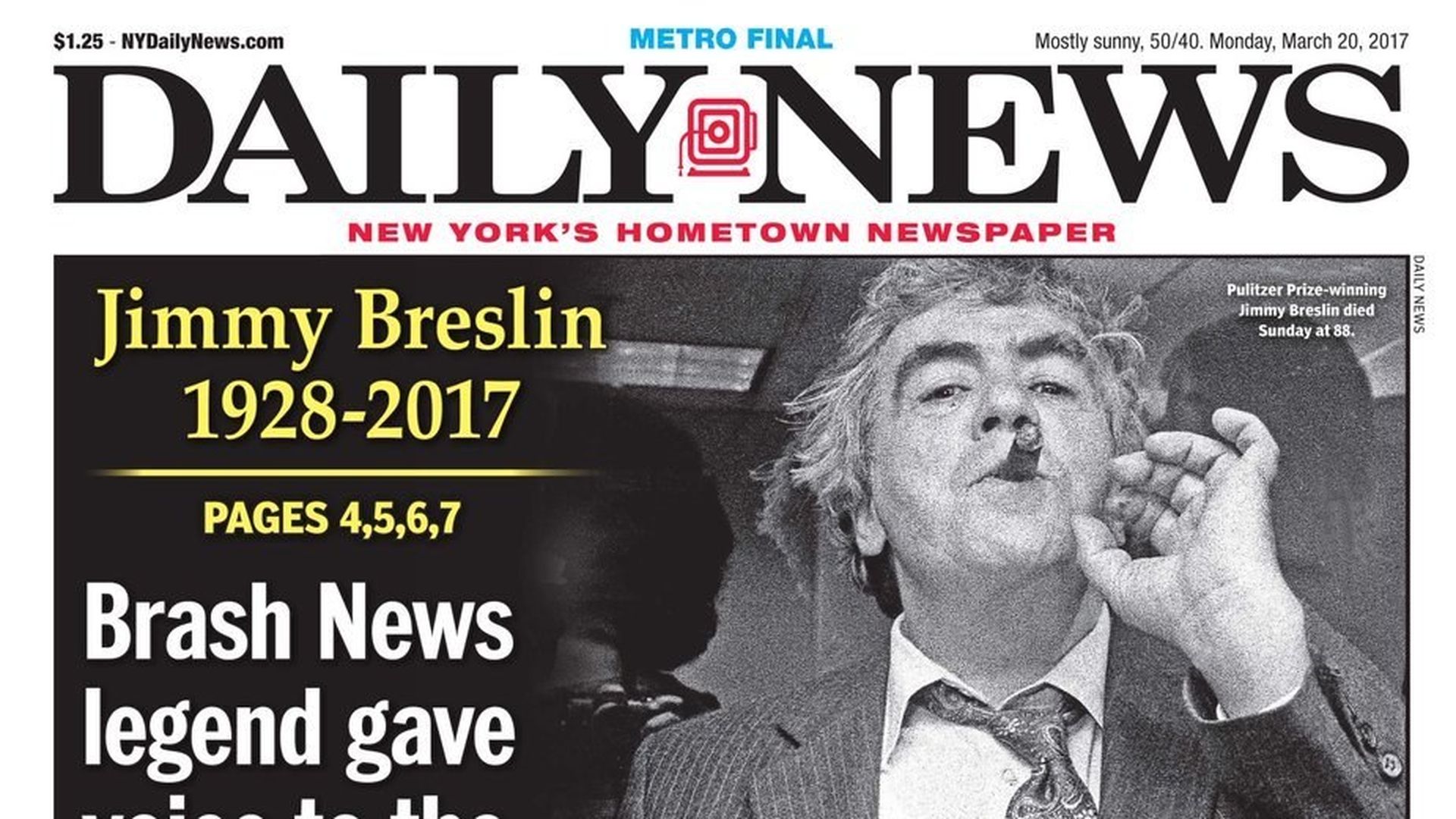 "A look back at some of Jimmy Breslin's best columns": "Breslin's legacy was already set in stone by the time his Pulitzer Prize for commentary arrived in 1986. The Pulitzer board honored him for 'columns which consistently champion ordinary citizens.'"
"His award-winning Daily News pieces that year were not his most famous — there were no legends, no murderers. Instead, Breslin's winning works gave a voice to marginalized New Yorkers, like his story about the AIDS epidemic rendered through one gay man dying of the disease."
Best passage in Dan Barry's A1 N.Y. Times obit, "Acidic Yet Empathetic, His Pen Rattled the Mighty in New York":
"With prose that was savagely funny, deceptively simple and poorly imitated, Mr. Breslin created his own distinct rhythm in the hurly-burly music of newspapers. Here ... is how he described Clifton Pollard, the man who dug President John F. Kennedy's grave, in a celebrated column from 1963 that sent legions of journalists to find their 'gravedigger.'"
"Pollard is forty-two. He is a slim man with a mustache who was born in Pittsburgh and served as a private in the 352nd Engineers battalion in Burma in World War II. He is an equipment operator, grade 10, which means he gets $3.01 an hour. One of the last to serve John Fitzgerald Kennedy, who was the thirty-fifth President of this country, was a working man who earns $3.01 an hour and said it was an honor to dig the grave."
https://www.axios.com/newsletters/axios-am-29ac6995-725a-4a6c-bb35-5c9cea845e9a.html?chunk=8#story8
9. A Muppet on the spectrum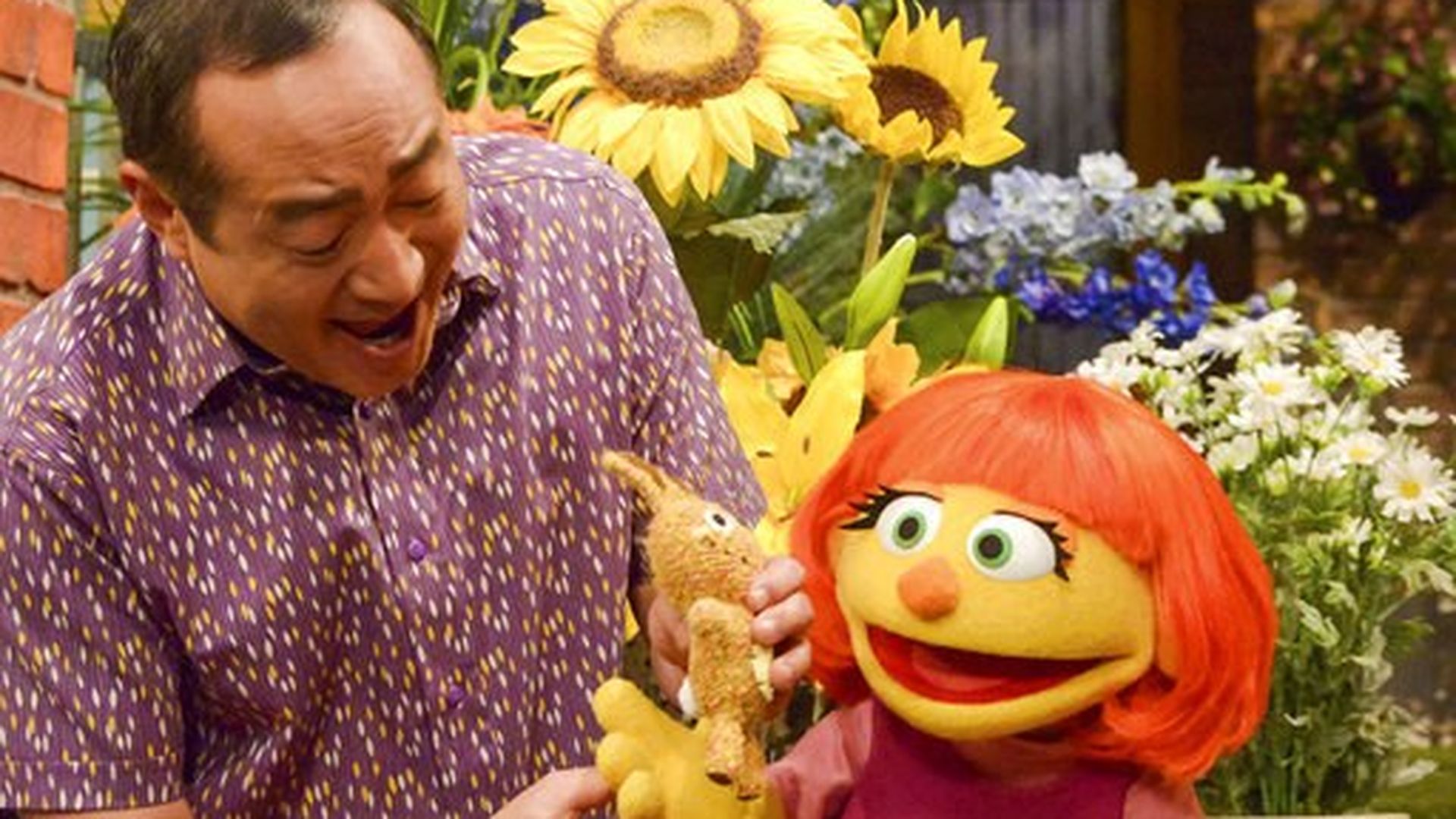 "A Muppet with autism to be welcomed soon on 'Sesame Street,'" by AP Television Writer Frazier Moore: "Julia, a Muppet youngster with blazing red hair, bright green eyes — and autism[,] ... is one of the gang":
"On this friendliest of streets (actually Studio J at New York's Kaufman Astoria Studios, where 'Sesame Street' lives) Julia is about to play a game with Oscar, Abby and Grover. In this scene being taped for airing next season, these Muppet chums have been challenged to spot objects shaped like squares or circles or triangles. 'You're lucky,' says Abby to Grover. 'You have Julia on your team, and she is really good at finding shapes!'"
"She makes her TV debut on 'Sesame Street' in the 'Meet Julia' episode airing April 10 on both PBS and HBO. Additional videos featuring Julia will be available online."
"Developing Julia and all the other components of this campaign has required years of consultation with organizations, experts and families within the autism community."
Jeanette Betancourt, Sesame Workshop's senior vice president of U.S. Social Impact: "In the U.S., one in 68 children is diagnosed with autism spectrum disorder ... We're modeling the way both children and adults can look at autism from a strength-based perspective: finding things that all children share."
The role of Julia is played by "Stacey Gordon ... a Phoenix-based puppeteer who ... has a [13-year-old] son with autism, and, before she started her family, was a therapist to youngsters on the spectrum."
https://www.axios.com/newsletters/axios-am-29ac6995-725a-4a6c-bb35-5c9cea845e9a.html?chunk=9#story9
10. 1 fun thing: Twin toddlers make a break for it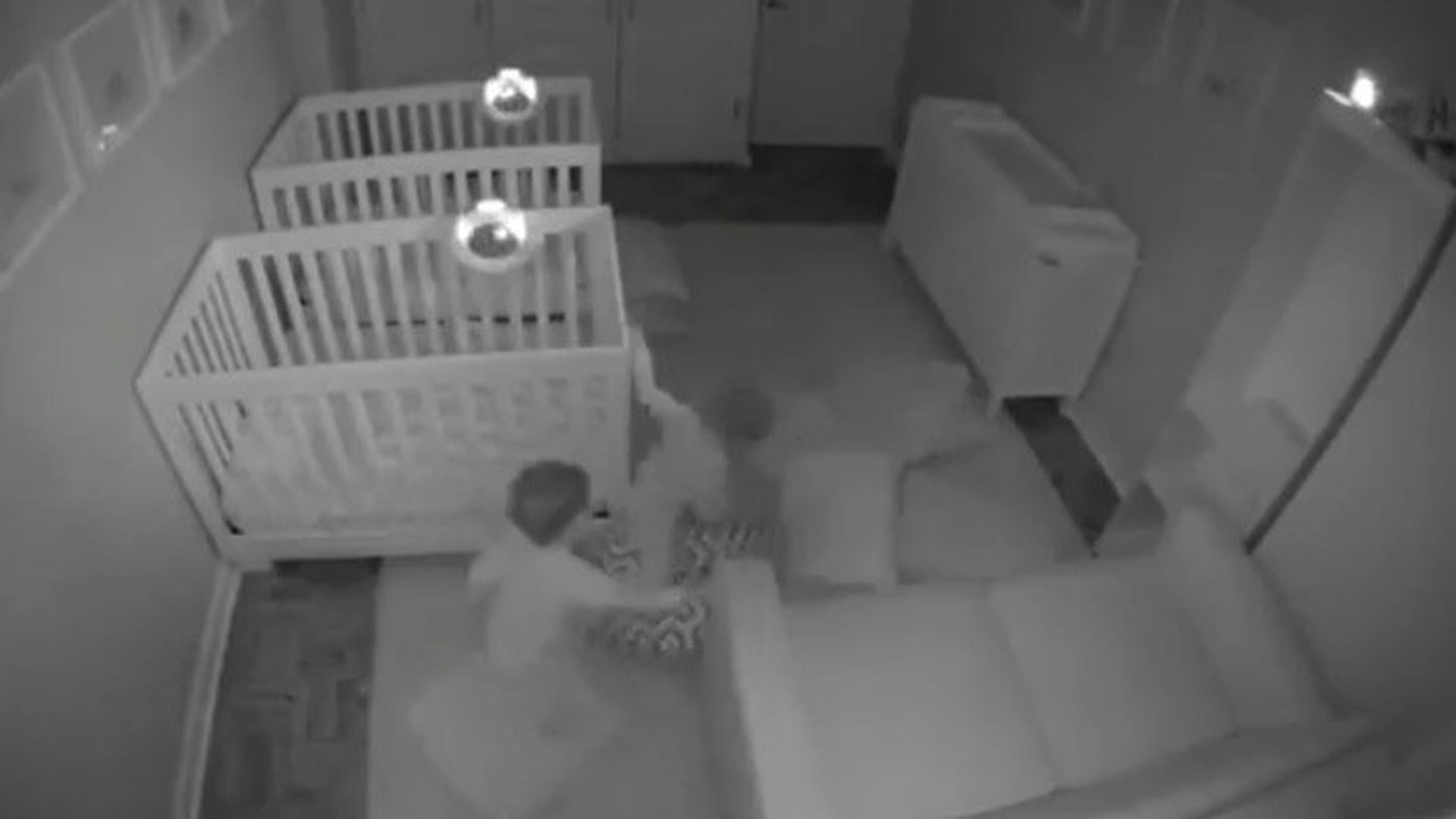 52 million views ... Captured by a Nest monitoring system, 2-year-old twins Andrew and Ryan Balkin of New York City star in a hyperlapse video of their nighttime shenanigans, including pillow forts, gymnastics and an earnest chat on the sofa.
Their parents, Jonathan and Susana Balkin, keep putting them back in their cribs, but the overnight party continues.