December 07, 2020
🇺🇸 Good Monday morning. It's Pearl Harbor Day, a time for humble gratitude to the Greatest Generation.
Today's Smart Brevity™ count: 1,193 words ... 4½ minutes
🎬 Tonight on "Axios on HBO," at 11 p.m. ET/PT on all HBO platforms ... Chris Krebs, fired as head of U.S. election cybersecurity, tells Jonathan Swan about "one type of threat" from President Trump. (Clip) 
And tune in for the results of a year-long Axios national security investigation, which will also be an "Axios Investigates" takeover edition of tomorrow's Axios AM.
💻 Join us tomorrow at 12:30 p.m. ET for an Axios Virtual Event on the future of healthcare payments. Register here. 
1 big thing: Administration promises normality in 2021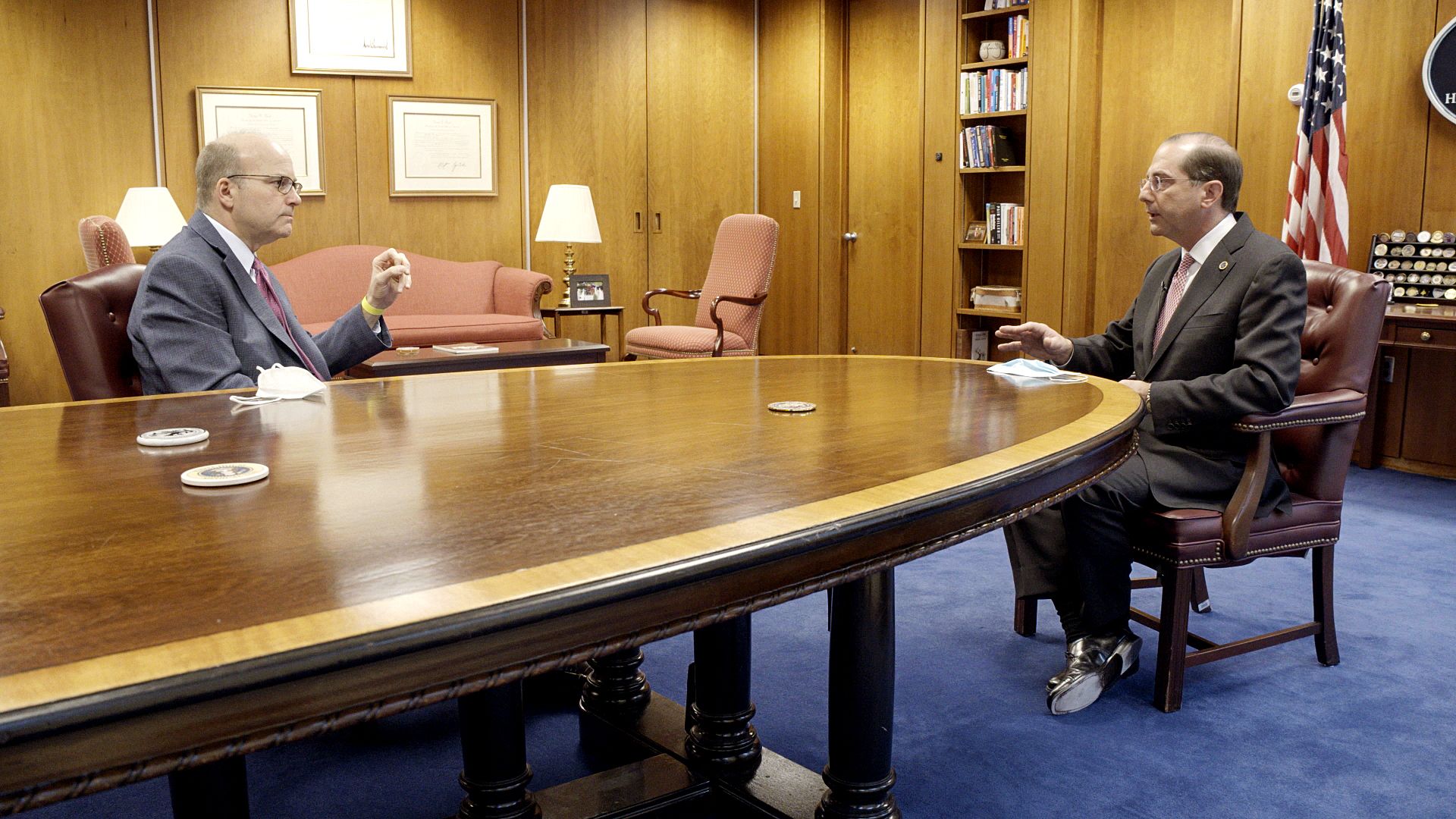 Despite new signs of tight supply, Health and Human Services Secretary Alex Azar tells me for "Axios on HBO" that every American will be able to get a coronavirus vaccine by the second quarter of 2021.
"My expectation is that next year, we return to normalcy in our lives thanks to the incredible work of Operation Warp Speed and these vaccines, as well as the therapeutics," Azar said in an interview in his private conference room.
Reality check: A lot would have to go right in order to meet Azar's 2021 timeline. But it's not outside the realm of what experts see as realistic in a best-case scenario, Axios health care editor Sam Baker writes.
A CNN analysis of the expected size of 27 states' first shipment "showed that none were getting enough vaccine ... to vaccinate all their first priority group, including health care workers and long-term care residents."
The WashPost reported on Sunday's front page that vaccine shipments will start as "a trickle" compared to the flood that states were expecting.
I asked Azar if we can expect packed college-football and NFL stadiums next fall.
"That is my hope," he said.
The U.S. death count is now over 280,000.
Azar told me: "We've saved hundreds of thousands, if not millions of lives."
See the full "Axios on HBO" interview tonight at 11 p.m. ET/PT on all HBO platforms.
2. "Harder Line": Biden's climate diplomacy
World leaders will convene virtually on Saturday to mark the fifth anniversary of the Paris Climate Agreement, which President-elect Biden has pledged to rejoin on Day One, Amy Harder writes in her "Harder Line" column.
Given the limits of Biden's domestic political agenda, the pledge is likely to lean more heavily than ever before on non-federal action, which there's been a lot of over the last four years.
Action by states, cities and private business could cut U.S. emissions up to 37% by 2030 compared to 2005 levels, according to a 2019 report by a consortium of environmental groups and former state leaders.
That percentage could rise to nearly 50% if the federal government reengaged, the report said.
3. 📚 Scoop: Bob Woodward's next book — and his new co-author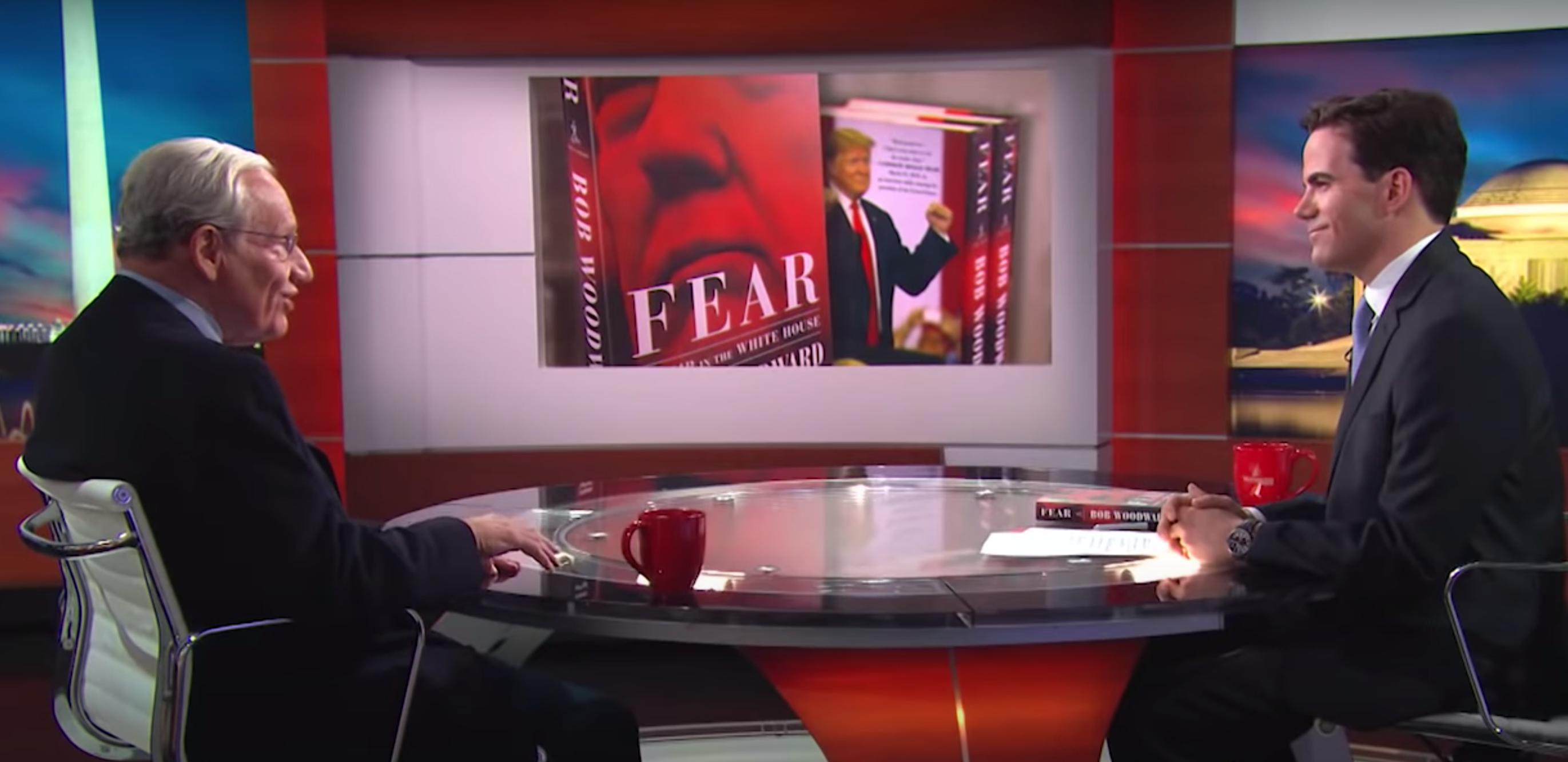 When Bob Woodward called President Trump to warn him that "Rage" would be "a tough book," Trump replied, as Woodward recounted on "60 Minutes": "Well, I didn't get you on this book. Maybe I'll get you on the next one."
He'll get a chance sooner than he thought.
Bob Woodward and Robert Costa, both of The Washington Post, are teaming up to write a book on the final days of the Trump presidency and the first phase of the Biden presidency.
It'll be Woodward's 21st book, all published by Simon & Schuster, and Costa's first.
"We're two pure reporters — what happened and why — and this is a perfect landscape for that kind of work," Woodward told me.
No title or publication date are being given, but I'm told this'll be done on a compressed timeline.
Robert Barnett represented both. Jonathan Karp, CEO of Simon & Schuster, will edit the book. 
Woodward will remain an associate editor of The Post, and Costa will remain a national political reporter, on leave. 
Costa is also moderator and managing editor of "Washington Week" on PBS, a job he's held since 2017. And he has been a political analyst for MSNBC and NBC News since 2015. Costa is expected to focus entirely on the book in the coming year, according to a person familiar with the project.
⚡ Also in Woodwardland ... After working feet away from Bob in his Georgetown home office for six books and 13 years, editor and researcher Evelyn M. Duffy is going full-time with her book-doctor practice, Open Boat Editing.
"While working in-house with Woodward, Duffy spent nights and weekends building her company, ... editing book proposals and manuscripts for journalists and other nonfiction writers." Follow her: @_EvelynMDuffy.
4. "Lost generation": Surge of warnings on remote learning
"A flood of new data — on the national, state and district levels — finds ... students of color and those in high-poverty communities fell further behind" with virtual schooling, the WashPost reports.
"[T]he shift to remote school in the spring set white students back by one to three months in math, while students of color lost three to five months."
5. Mental health takes huge pandemic hit
Americans' mental health is the worst it's been in two decades, Axios' Caitlin Owens writes from a new Gallup poll.
6. Biden picks his pandemic responders
President-elect Biden picked California Attorney General Xavier Becerra for HHS secretary and a Harvard infectious disease expert, Dr. Rochelle Walensky, to head his CDC.
Other members of his health team will include Anthony Fauci as chief medical adviser, Vivek Murthy [Corrected] as surgeon general and Jeff Zients as coronavirus coordinator. Go deeper.
Hans Nichols' thought bubble: In selecting Becerra for HHS, Biden solved a demographic challenge that followed pressure from the Congressional Hispanic Caucus and, in particular, Mexican-American lawmakers.
Not only did he grant them a high profile pick, but he also gave it to someone that many of them served with in the House.
Flashback ... Axios 5 days ago: "Hispanic lawmakers press Biden to name Becerra or Perez for attorney general."
7. Visa, Mastercard confront Pornhub after Kristof column
Nick Kristof gets results. Credit card giants Visa and Mastercard said they're reviewing their relationship with Pornhub after the N.Y. Times columnist documented that the website offers videos of rape and underage sex.
Kristof's column in yesterday's Sunday Review section, "The Children of Pornhub," shows that the site displays revenge pornography and other examples of explicit video taken without consent of the participants:
"Pornhub became my trafficker," a woman named Cali told [Kristof]. She says she was adopted in the United States from China and then trafficked by her adoptive family and forced to appear in ... videos beginning when she was 9. Some videos of her being abused ended up on [the site] and regularly reappear there, she said. ...
[A]side from limiting immunity so that companies are incentivized to behave better, here are three steps that would help: 1.) Allow only verified users to post videos. 2.) Prohibit downloads. 3.) Increase moderation.
PayPal last year stopped processing payments to Pornhub, which is owned by the pornography conglomerate MindGeek, AP reports.
Visa said that if Pornhub is violating the law or bank policies, the website will be prohibited from accepting Visa.
Mastercard promised "immediate action" if the allegations are substantiated.
Amex said it prohibits use of the card on "digital adult content websites.''
Pornhub said it employs moderators to screen every upload, and that it removes illegal material. But Kristof showed oceans of it remains.
8. Pics du jour: Center of political universe
Above, during a debate last night carried nationally by CNN and Fox News, Sen. Kelly Loeffler (R-Ga.) referred more than a dozen times to her opponent in the Jan. 5 runoff, the Rev. Raphael Warnock of Atlanta's Ebenezer Baptist Church, as "radical, liberal Raphael Warnock," per the Atlanta Journal-Constitution.
"She also refused multiple times to answer whether President Donald Trump had lost the 2020 election."
Below, Democratic challenger Jon Ossoff debates an empty podium after Sen. David Perdue (R) declined to attend. Go deeper.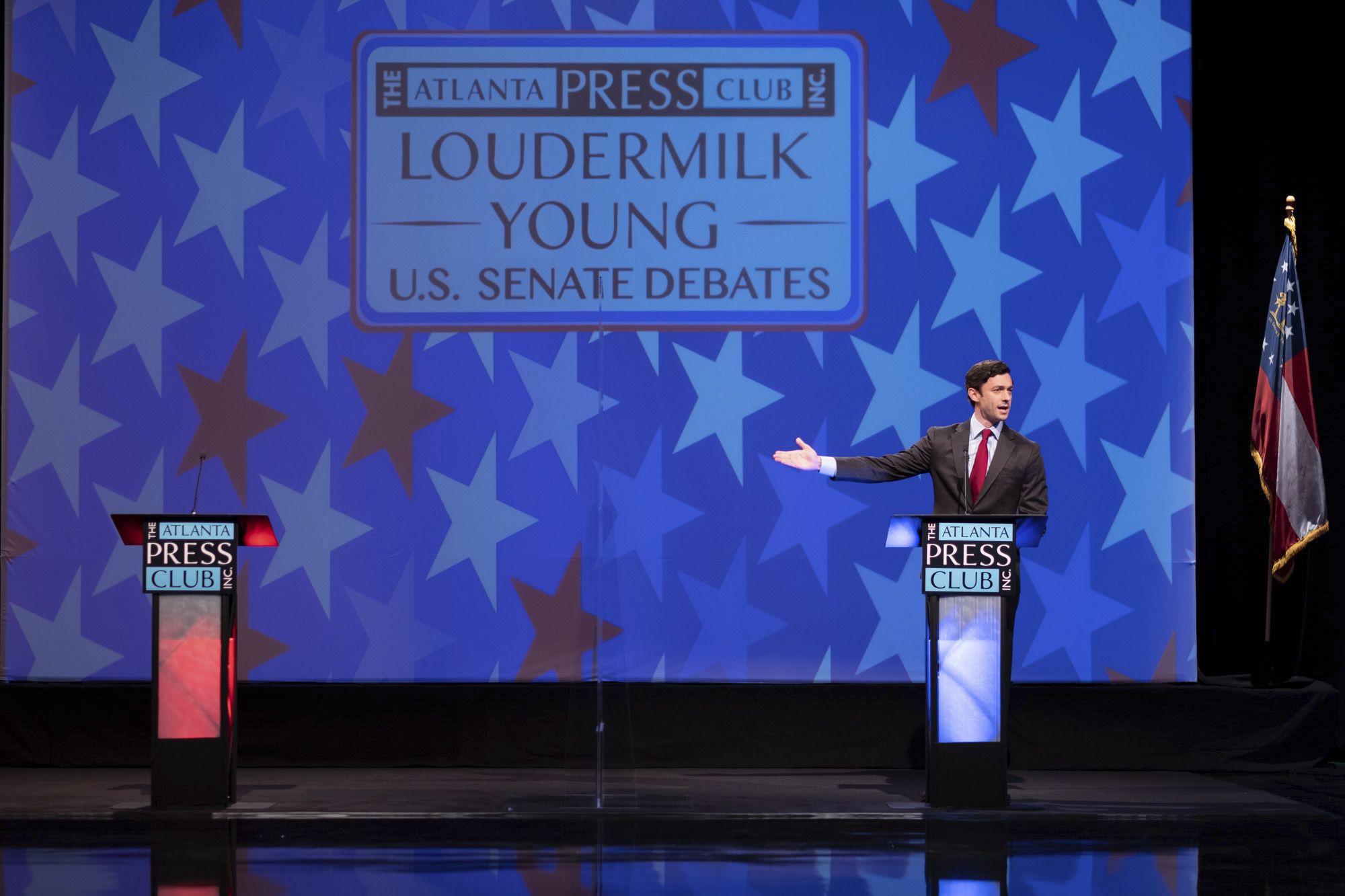 9. Local governments fight to retain trust
As coronavirus infections pile up in rural America, counties and towns are relying on an "unofficial and almost intangible resource: the bond of trust between citizens and the government closest to them," write Felicity Barringer and Francisco L. Nodarse of Stanford's Bill Lane Center for the American West.
Why it matters: Local governments have always garnered more trust than "distant" ones. They now risk losing it at a time when their communities, often home to more vulnerable populations and fragile health care systems, are being ravaged by the virus.
10. 1 smile to go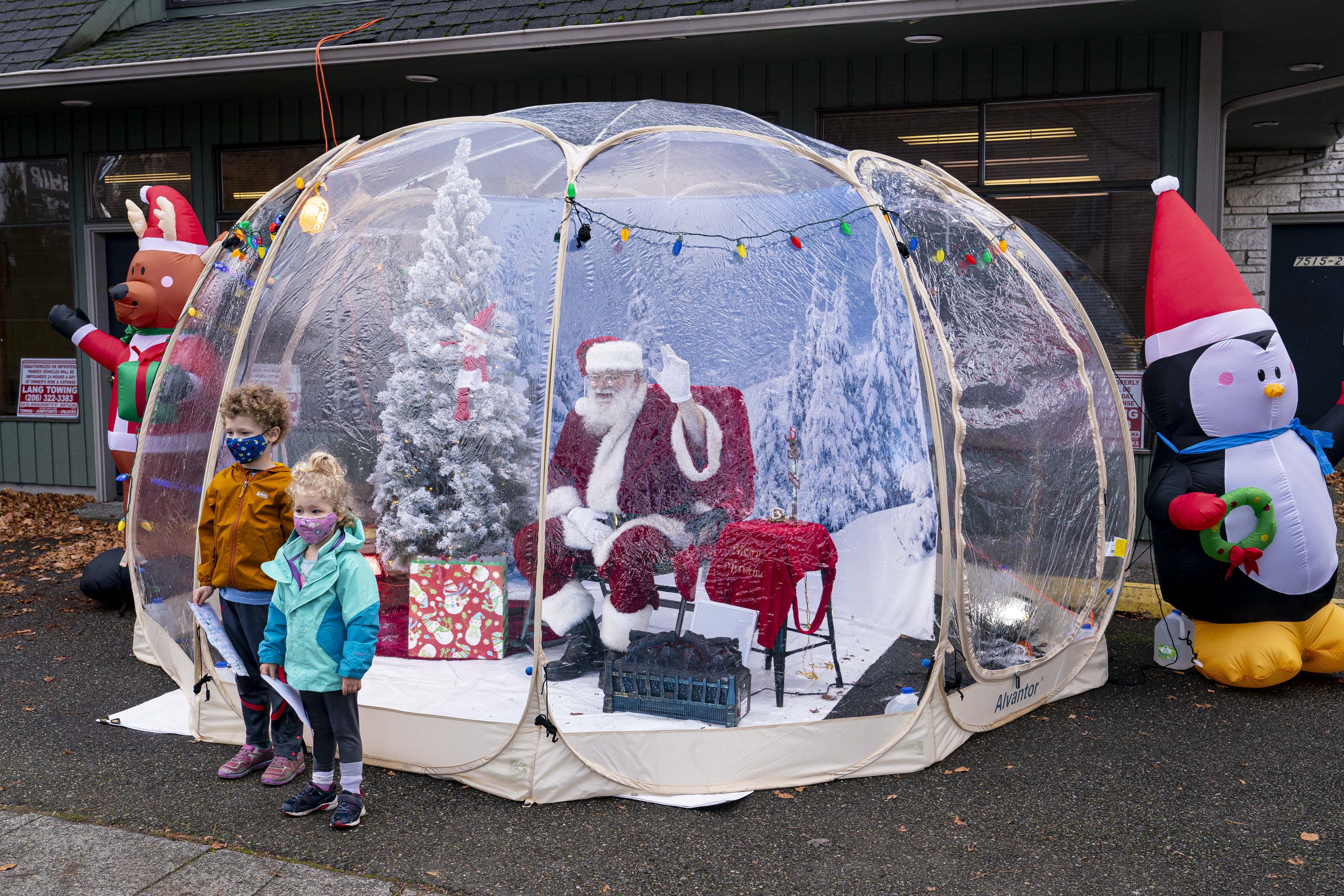 In Seattle, Mateo Johnson, 6, and Neah Johnson, 3, pose yesterday with "Seattle Santa," set up in a socially-distanced snow globe.
📬 Thanks for starting your week with us. Please invite your friends to sign up for Axios AM/PM.