You asked for it ... You got it! Axios PM — our super-quick take on what's happened while you've been doing actual work — detonates Tuesday afternoon, following the holiday weekend. Sign up here — I look forward to continuing the conversation. (The same link is an easy way to get your friends, colleagues and relatives to join the Axios AM breakfast bunch. Ditto for Future of Work, our newsletter coming soon on robots, artificial intelligence and automation.)
https://www.axios.com/newsletters/axios-am-2752cd00-5ed0-4e8e-a869-689745db68eb.html?chunk=0#story0
1 big thing: Bannon's back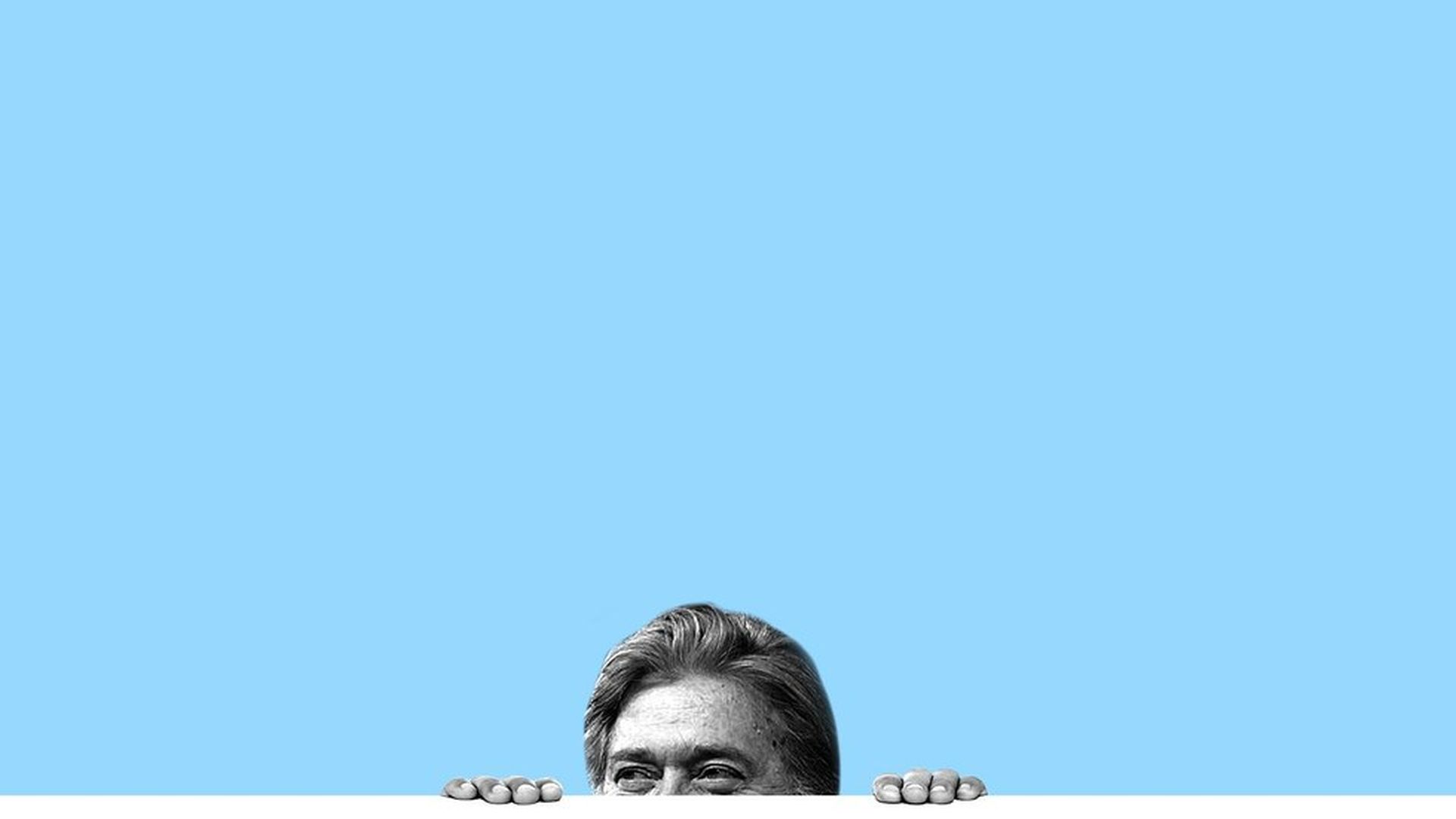 The crises engulfing the White House have produced a sudden resurgence of power and purpose for Chief Strategist Steve Bannon, who had seen his clout wane as the Jivanka faction gained sway.
Nine sources in the West Wing and within Trump's close orbit tell Axios' Jonathan Swan that the Russia scandals are Bannon's shot at redemption.
He's being described as a "wartime consigliere" relishing a fight against the "deep state," media, Democrats and investigators.
Why it matters: The once-omnipotent Bannon had been on rocky footing lately — Trump has vented about him to a number of people. But the war-room team being built to respond to the crises is a joint effort led by Jared Kushner, Bannon (who declined to comment for this story) and Chief of Staff Reince Priebus.
The senior staff that had been out for each other is now united by a common enemy.
The new mission fits Bannon's skills and passions: Cunning at misdirection and deflection, he played a key role during the tensest moments of the campaign, deploying scorched-earth tactics against Hillary Clinton.
The planned war room is not conceived as replacing current staff, but rather adding "experienced veterans from the campaign trail who recognize the gravity of the situation."
https://www.axios.com/newsletters/axios-am-2752cd00-5ed0-4e8e-a869-689745db68eb.html?chunk=1#story1
2. Kushner, "a focus," offers to cooperate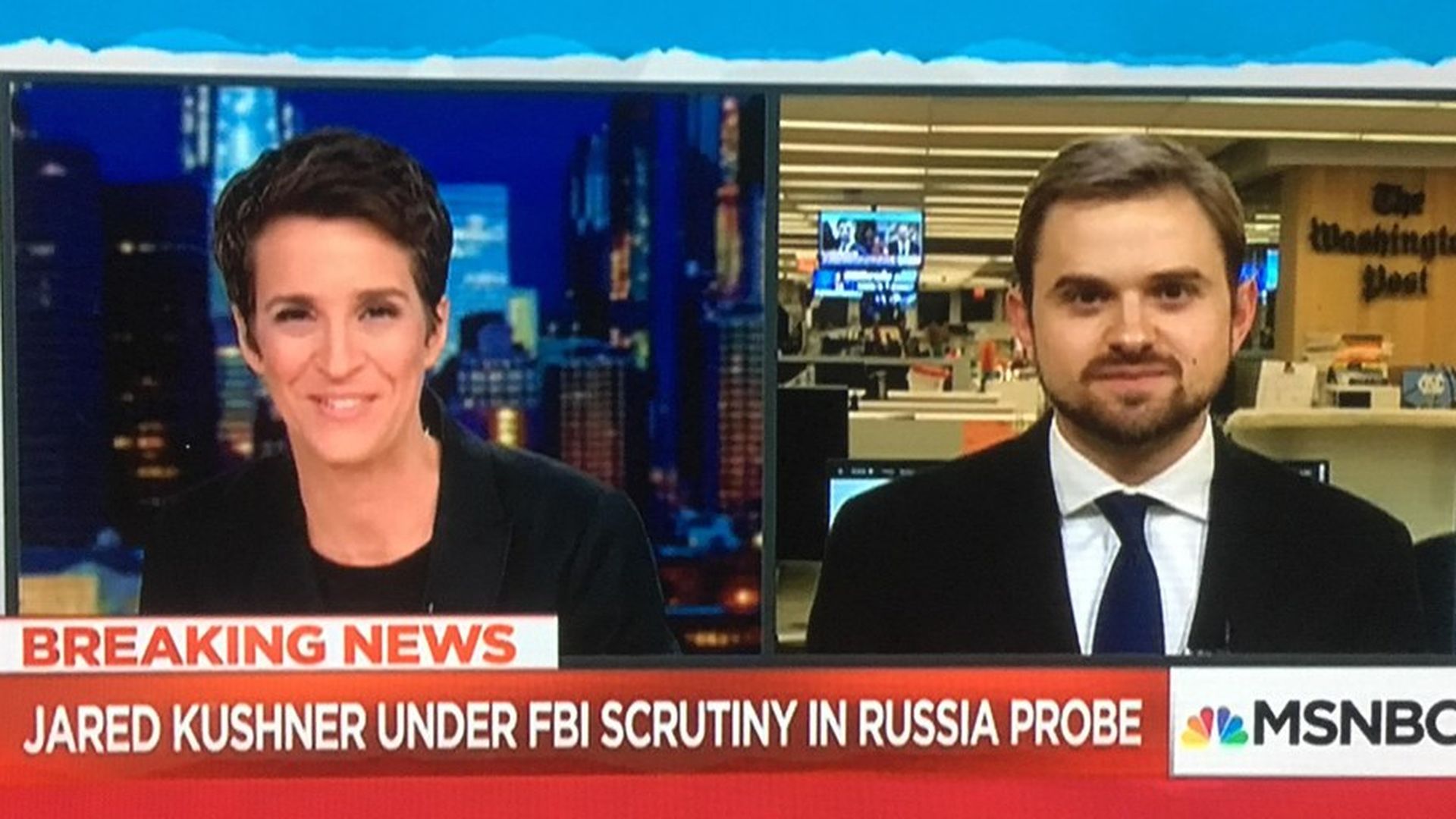 Surprising no one in the West Wing, Jared Kushner was named yesterday as the "current White House official" who was reported last week to be "a significant person of interest" in the Russia investigation:
WashPost 2-column lead story, "Kushner meetings with Russians are a focus of probe," by Matt Zapotosky, Sari Horwitz, Devlin Barrett and Adam Entous: "Kushner, who held meetings in December with the Russian ambassador and a banker from Moscow, is being investigated because of the extent and nature of his interactions with the Russians."
"The Post has not been told that Kushner is a target — or the central focus — of the investigation, and he has not been accused of any wrongdoing."
"[I]nvestigators are also looking broadly into possible financial crimes — but ... people familiar with the matter ... did not specify who or what was being examined."
Statement from Kushner lawyer Jamie Gorelick, suggesting he hasn't been contacted by investigators: ""Mr. Kushner previously volunteered to share with Congress what he knows about these meetings. He will dothe same if he is contacted in connection with any other inquiry."
Why it matters: Jared has his hands in everything. So even the best case scenario is bad: This is a terrific, distracting time suck at the very top of the White House.
https://www.axios.com/newsletters/axios-am-2752cd00-5ed0-4e8e-a869-689745db68eb.html?chunk=2#story2
3. Big Sky apology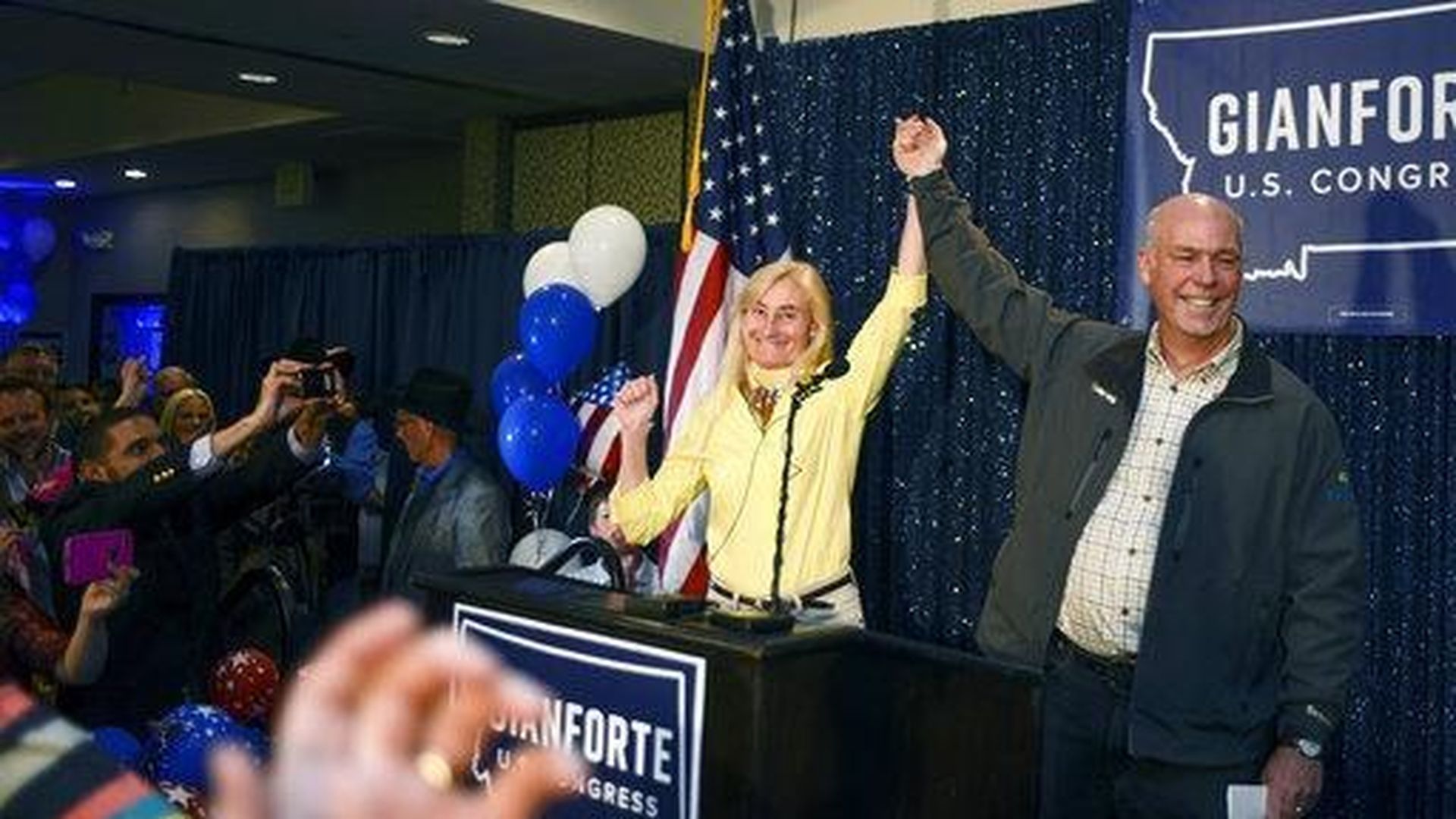 In Montana, Republican U.S. House candidate Greg Gianforte, charged on election-eve with assaulting a reporter, wins (50.2% to 44.1%), then apologizes:
N.Y. Times' Jonathan Martin and Alex Burns: "Gianforte apologized to the Guardian reporter, Ben Jacobs, by name, acknowledged he 'made a mistake ... You deserve a congressman who stays out of the limelight and just gets the job done.'"
"Gianforte's success underscored the limitations of the Democrats' strategy of highlighting the House's health insurance overhaul and relying on liberal anger toward President Trump, at least in red-leaning states."
Why it matters: The GOP had a near-death experience. Republicans and Trump had better get some concrete things done, or they will blow this once-in-a-generation opportunity.
N.Y. Times Quote of the Day ... Speaker Paul Ryan on Gianforte, while polls were open: "Should the gentleman apologize? Yeah, I think he should apologize. I know he has his own version, and I'm sure he's going to have more to say, but there's no call for this, no matter what — on any circumstance."
https://www.axios.com/newsletters/axios-am-2752cd00-5ed0-4e8e-a869-689745db68eb.html?chunk=3#story3
4. Sneak peek: Al Franken's book
Here's a taste of "Al Franken: Giant of the Senate," by Sen. Al Franken (D-Minn.), the "Saturday Night Live" alumnus, out Tuesday from Twelve Books:
"Here's the thing you have to understand about Ted Cruz. I like Ted Cruz more than most of my other colleagues like Ted Cruz. And I hate Ted Cruz."
"When Trump demanded an investigation into those millions of fraudulent votes, it reminded me of O.J. Simpson, who, after being acquitted of murdering his ex-wife and Ron Goldman, vowed to spend the rest of his life 'finding the killer or killers.'"
On campaign life: "[I]magine ... the training montage from a 'Rocky' movie, with a driving soundtrack and energetic editing. But instead of jumping rope, I'm eating hotdish at an assisted-living facility that traditionally has high caucus turnout."
The funniest Republican in the Senate ... Lindsey Graham: "In 2016, Lindsey ran for president, and found himself somewhere around fifteenth in a field of seventeen. Running into him in the senators' bathroom, I told him, 'Lindsey, if I were voting in the Republican primaries, I'd vote for you.' ... [W]ithout hesitation, he replied, 'That's my problem.'"
https://www.axios.com/newsletters/axios-am-2752cd00-5ed0-4e8e-a869-689745db68eb.html?chunk=4#story4
5. "You are graduating into a world that needs purpose"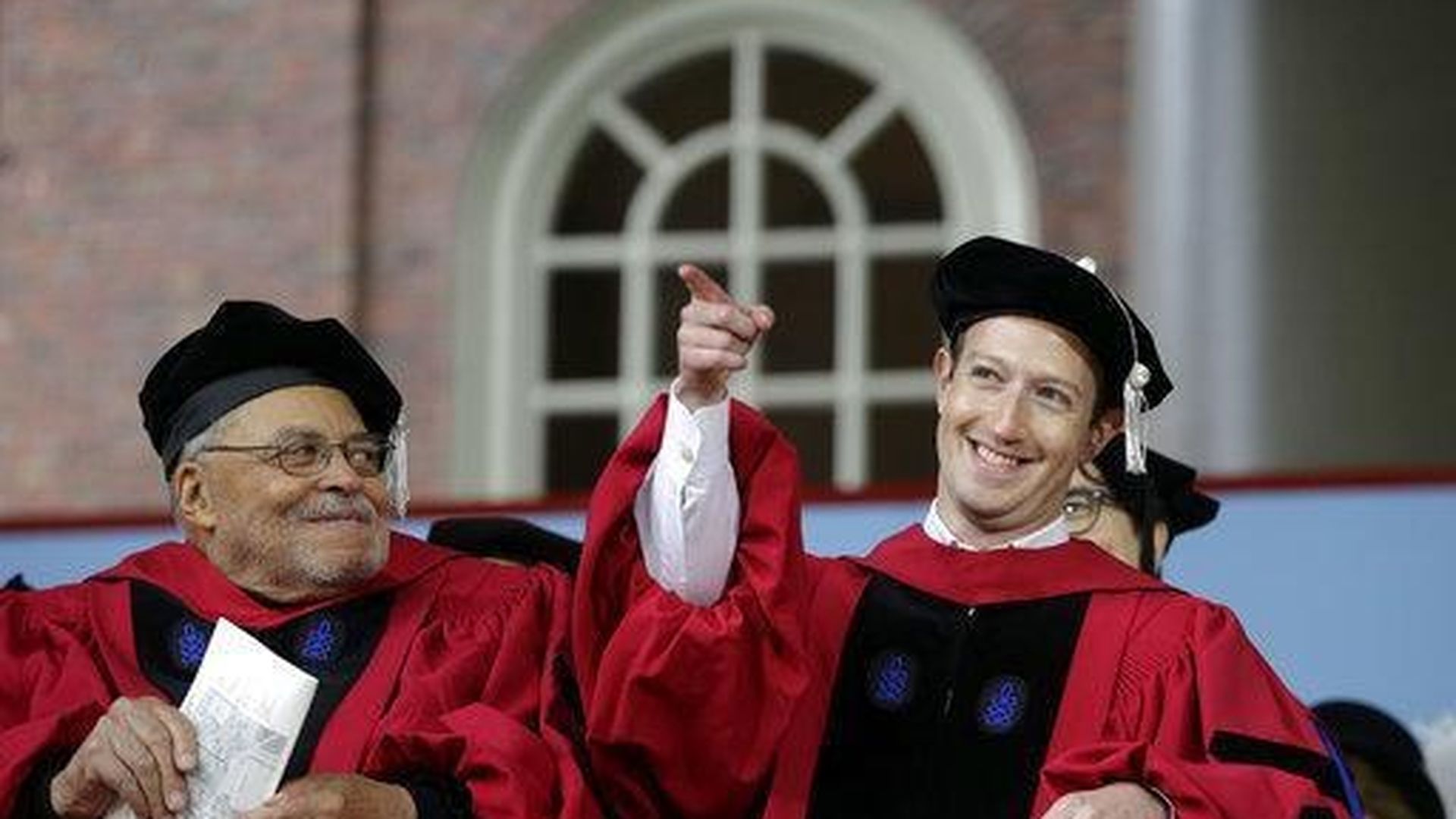 Facebook CEO Mark Zuckerberg, who dropped out of Harvard in 2004 after launching his social network in his dorm room, returned 12 years later to receive an honorary degree, and was introduced to graduates as "Dr. Mark Zuckerberg." From his commencement address:
"A student in a dorm room, connecting one community at a time, and keeping at it until one day we connect the whole world. Change starts local. Even global changes start small — with people like us."
"[I]t's our time to define a new social contract for our generation. We should have a society that measures progress not just by economic metrics like GDP, but by how many of us have a role we find meaningful."
"We should explore ideas like universal basic income to give everyone a cushion to try new things."
"We're all going to make mistakes, so we need a society that focuses less on locking us up or stigmatizing us. And as technology keeps changing, we need a society that focuses more on continuous education throughout our lives."
https://www.axios.com/newsletters/axios-am-2752cd00-5ed0-4e8e-a869-689745db68eb.html?chunk=5#story5
6. 🇮🇹 Trump in Italy before returning tomorrow night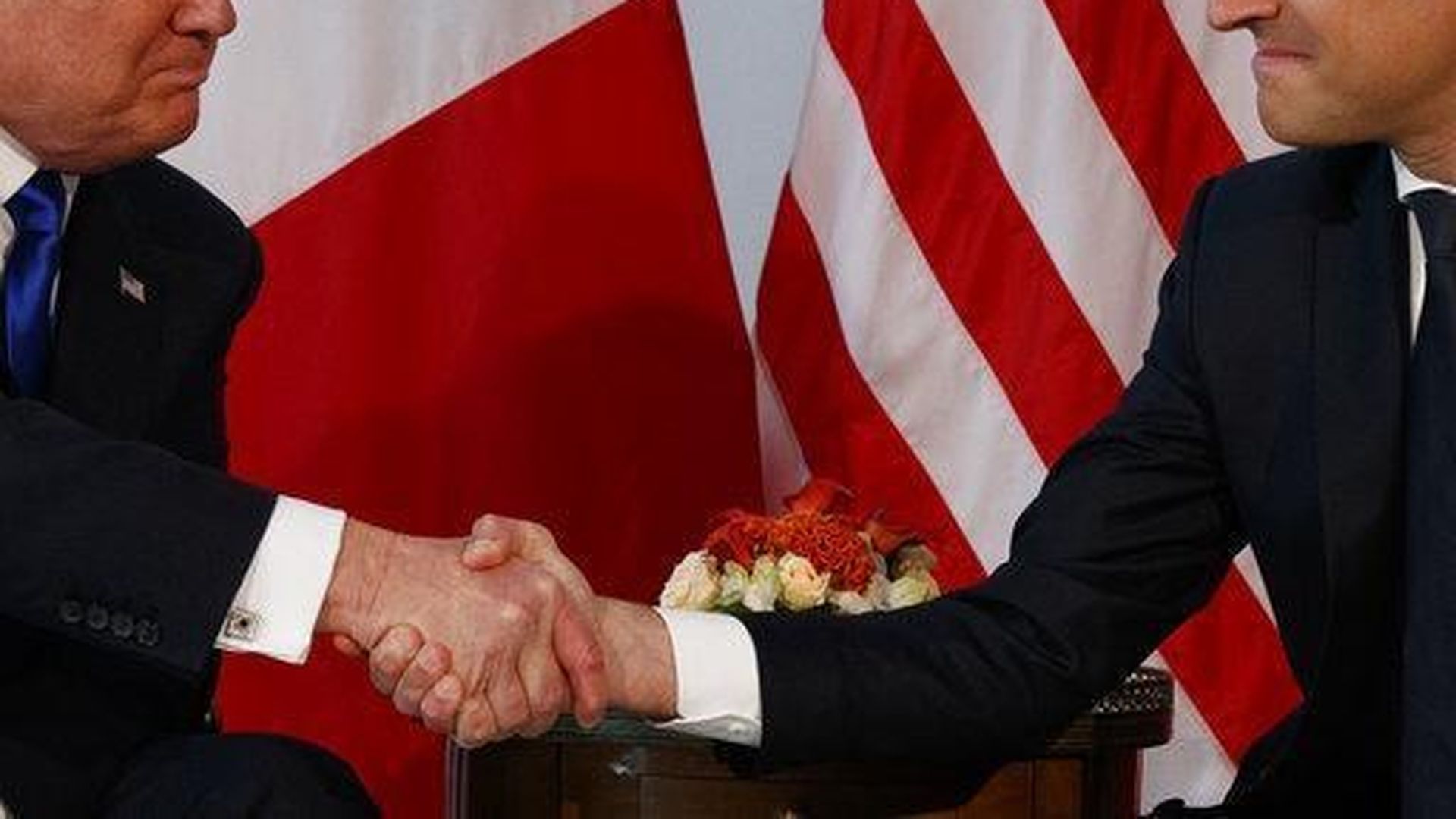 Omission galls allies ... N.Y. Times 1-column lead story, "TRUMP'S MESSAGE TO NATO IS PAY UP, NOT 'ALL FOR ONE': ALLIES GET A SCOLDING — Europe Doesn't Hear a Firm Endorsement of Mutual Defense," by Mike Shear, Mark Landler and James Kanter, in Brussels:
"On a tense day when Mr. Trump brought the 'America first' themes of his presidential campaign to the very heart of Europe, he left European leaders visibly unsettled, with some openly lamenting divisions with the United States on trade, climate and the best way to confront Russia."
Pushy, pushy ... "Watch President Trump push a prime minister aside," by CNN's Daniella Diaz: "While walking with the NATO leaders during his visit to the alliance's headquarters, ... Trump pushed aside Dusko Markovic, the prime minister of Montenegro, as he moved to the front of a group of the leaders."
"Trump shoves fellow NATO leader aside on his first summit" — Reuters: He confidently adjusted his suit as he emerged in the front of the group, closer to NATO head Jens Stoltenberg.
Death grip? ... President Trump, who had called Marine Le Pen the "strongest" candidate in the French election, met the new French President, Emmanuel Macron, in Brussels and told him: "You were my guy."
Pool report from WashPost's Phil Rucker: "The two presidents ... shook hands for an extended period of time. Each president gripped the other's hand with considerable intensity, their knuckles turning white and their jaws clenching and faces tightening."
https://www.axios.com/newsletters/axios-am-2752cd00-5ed0-4e8e-a869-689745db68eb.html?chunk=6#story6
7. GOP operative gets 2.5 gigabytes of Dem docs
"How Alleged Russian Hacker Teamed Up With Florida GOP Operative: Political consultant Aaron Nevins received documents from hacker 'Guccifer 2.0' and posted some on his blog," by Wall Street Journal's Alexandra Berzon and Rob Barry:
U.S. officials believe Guccifer 2.0 is linked to Russian military intelligence. ... DCCC [Democratic Congressional Campaign Committee] documents sent to Mr. Nevins analyzed specific Florida districts, showing how many people were dependable Democratic voters, how many were likely Democratic voters but needed a nudge, how many were frequent voters but not committed ...
Besides posting some of the hacked material on his blog, Mr. Nevins said he passed some on to Florida journalists. He said he didn't use any in his consulting business, which includes running grass-roots-style campaigns for corporations and wealthy landowners seeking to influence local politics.
https://www.axios.com/newsletters/axios-am-2752cd00-5ed0-4e8e-a869-689745db68eb.html?chunk=7#story7
8. Turkish attack in D.C.: frame by frame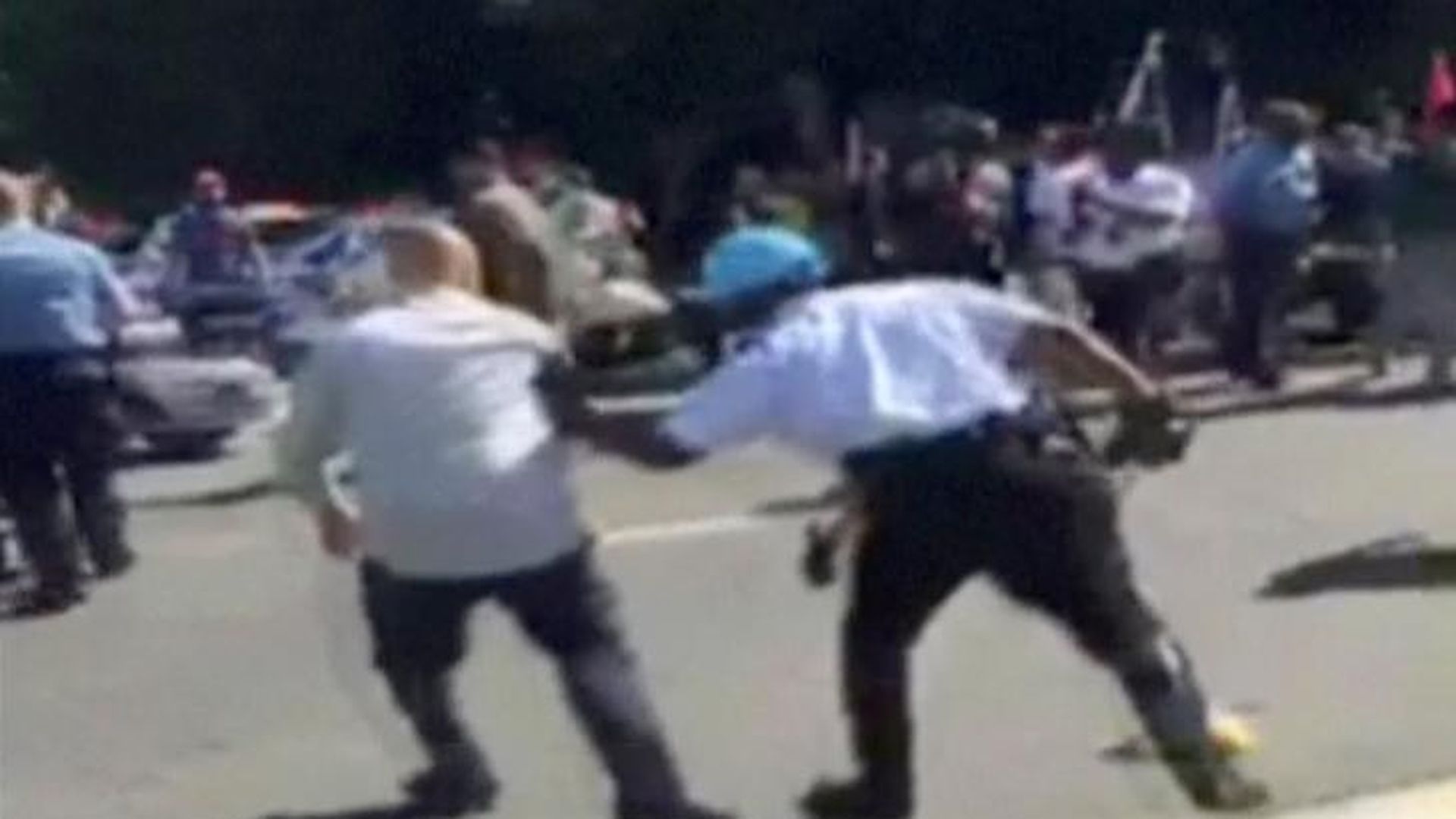 A remarkable interactive reconstruction from the N.Y. Times, "Did the Turkish President's Security Attack Protesters in Washington? What the Video Shows":
Labels for individual "Men in Dark Suits" include "Rushed, punched protesters" ... "Kicked, punched protesters" ... "Choked, slammed woman" ... "Kicked man in head" ... "Kicked man on ground" .... "Punched, kicked two protesters."
"Ten of the men who attacked protesters appear to be part of a formal security detail. They dressed in dark suits, and they wore in-ear radio receivers, Turkish breast pins and lanyards with identification cards. At least four of the men carried guns."
Why it matters: "Turkey's president, [Recep Tayyip] Erdogan, watched the brawl from a black Mercedes-Benz sedan parked nearby, at the Turkish ambassador's residence. ... [V]ideo ... shows that at least one member of the security detail positioned next to him rushed into the fight and started kicking and punching protesters."
https://www.axios.com/newsletters/axios-am-2752cd00-5ed0-4e8e-a869-689745db68eb.html?chunk=8#story8
9. "More is not always better"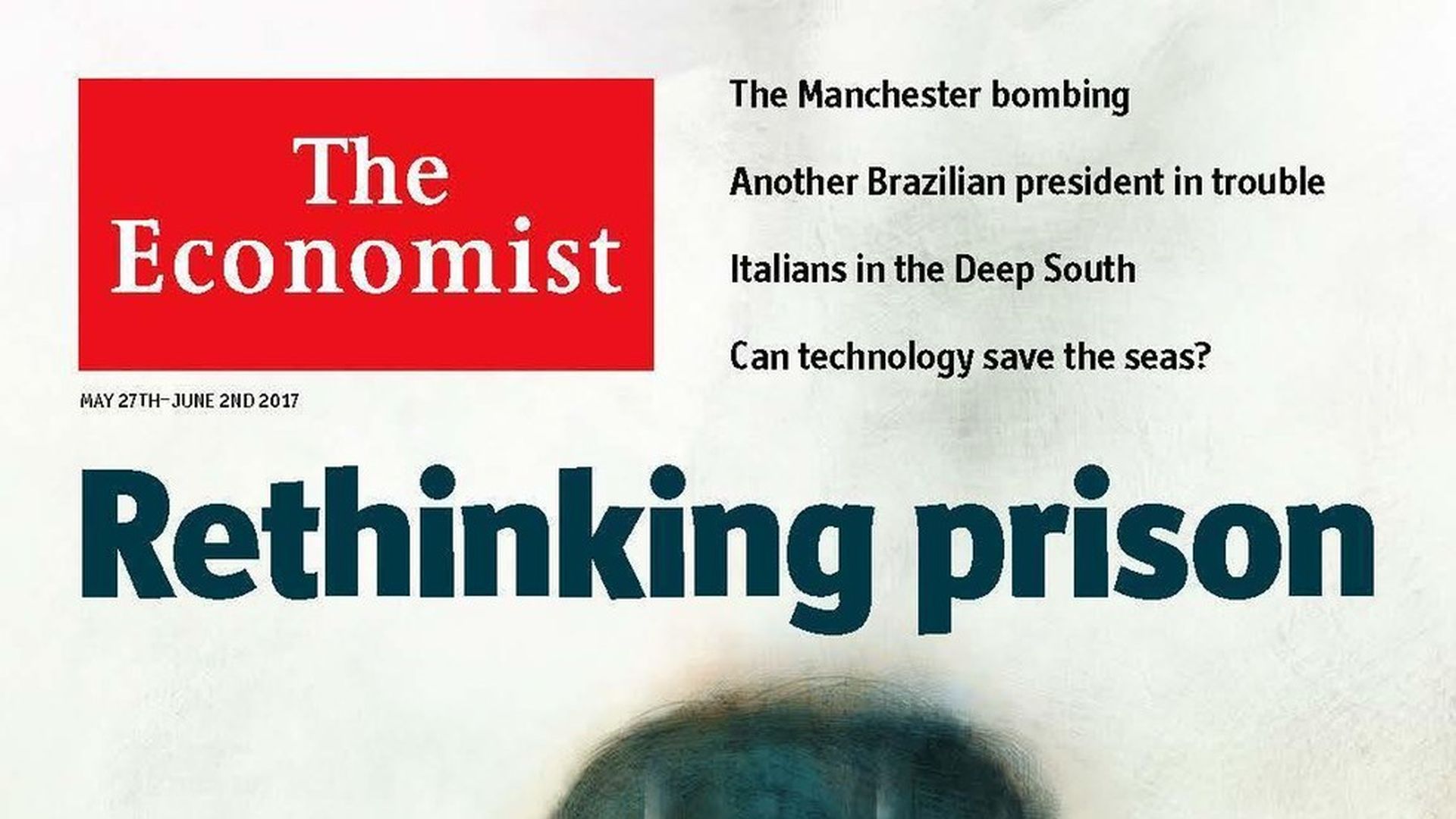 Economist cover story, "Jail break: America's prisons are failing. Here's how to make them work — A lot is known about how to reform prisoners. Far too little is done":
America passed the point of negative returns long ago. Its incarceration rate rose fivefold between 1970 and 2008. Relative to its population, it now locks up seven times as many people as France, 11 times as many as the Netherlands and 15 times as many as Japan. ...
A ten-year sentence costs ten times as much as a one-year sentence, but is nowhere near ten times as effective a deterrent. Criminals do not think ten years into the future. If they did, they would take up some other line of work. ...
Appeals to make prisons more humane often fall on deaf ears; voters detest criminals. But they detest crime more, so politicians should not be afraid to embrace proven ways to make prison less of a school of crime and more of a path back to productive citizenship.
https://www.axios.com/newsletters/axios-am-2752cd00-5ed0-4e8e-a869-689745db68eb.html?chunk=9#story9
10. 1 fun thing: Snapchat streaks
Ask your kids the longest streak they've heard of ... "Whatever You Do, Don't Let Your Snapchat Streak End Today: Snapchat fans go to extremes to make daily check-ins; 'send a blank picture'" — Wall Street Journal A-hed, by Katherine Bindley:
"Send a snap, get one back within 24 hours; send another, get another. After three days, it's an official streak that continues as long as each person sends a snap within a 24-hour window."
"A streak earns a flame emoji and a number showing how many days the chat has gone on. An hourglass appears when time is running out."
"Do whatever it takes to beat the clock. Dropped your phone in the ocean? Borrow a friend's, log on and snap. Grounded with no phone? Get a friend to log on as you and send snaps."
Elizabeth Kroll, 17, of Lapeer, Mich., has a streak that "hit 437 days on Tuesday, she says — snapping even friends she is angry with. ... To save a streak with a friend whose phone died, Ms. Kroll got the friend's password. 'I had to log in for four days and Snapchat myself.'"