July 14, 2020
Good Tuesday morning. "Axios Today," our 10-minute podcast, is ready for your ears.
Today at 12:30 p.m. ET, Caitlin Owens and I will host an Axios virtual event on new tech spawned by the pandemic. Register here.
Bulletin: The Trump administration was planning to go ahead today with the execution of the first federal prison inmate in 17 years, after a divided Supreme Court reversed lower courts and ruled federal executions could proceed in a 5-4 vote. (AP)
1 big thing ... Axios-Ipsos poll: Parents fear return to school
71% of U.S. parents polled in the new Axios-Ipsos Coronavirus Index say it'd be risky to send children back to school in the fall — including nine in 10 Black Americans and even a slim majority of Republicans, Axios' Margaret Talev writes.
Why it matters: President Trump and Education Secretary Betsy DeVos have threatened to withhold federal funds from schools that don't reopen. These findings suggest that the pressure campaign could backfire.
As with so many aspects of the pandemic, there are big differences in risks perceived by Ds and Rs, and between whites and people of color.
82% of Democrats and 53% of Republicans say returning to school would be very or moderately risky.
89% of Black parents saw returning to school as a large or moderate risk, compared with 80% of Hispanic parents and 64% of white parents.
Driving the news: Officials announced plans yesterday for some giant metro areas, erring on the side of caution.
In California, with Gov. Gavin Newsom locked down much of the state amid a virus surge, officials announced that public schools in Los Angeles and San Diego (825,000 students) will hold online classes only.
Gov. Andrew Cuomo said New York schools will open only if the daily infection rates in their region are below 5% over a 14-day average: "We're not going to use our children as guinea pigs."
How it's playing ...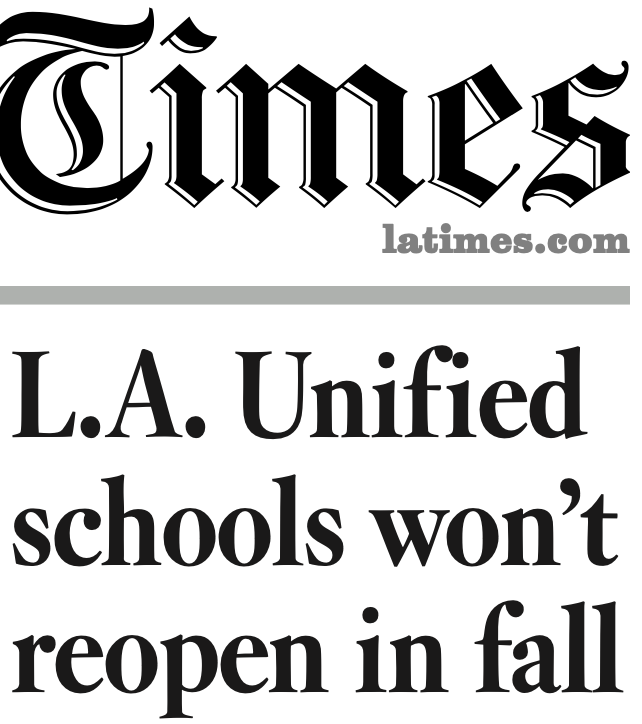 2. More Republicans back masks
Nearly two-thirds of Americans — and a noticeably increasing number of Republicans — say they're wearing a face mask whenever they leave the house, Axios' Sam Baker writes from the new Axios-Ipsos Coronavirus Index.
62% of those surveyed said they're wearing a mask "all the time" when they leave the house — up from 53% when we asked the same question two weeks ago.
The biggest jump was among Republicans: 45% say they're wearing a mask all the time, up from 35% at the end of June.
Even though it's narrowing, there's still a big partisan divide: 95% of Democrats say they wear a mask some or all of the time outside the house, compared with 74% of Republicans.
Between the lines: These numbers may seem high — do two-thirds of the people you pass on the street have a mask on?
But the fact that more people are claiming to wear them is a sign that masks are increasingly seen as important.
My favorite stat: 15% said they've told someone else to put on a mask.
3. Summer of Mars
Three missions from three nations — the U.S., China and the United Arab Emirates — head to Mars in the next month, writes Miriam Kramer, author of Axios Space.
The UAE, a new player in planetary exploration, is expected to launch its first spacecraft to the Red Planet this evening.
Why it matters: More nations are going to space as the costs of launch and development drop.
The U.S. is the only nation to successfully land and operate rovers on the Martian surface, and expectations for NASA's new Perseverance mission are high.
This rover is designed to collect interesting samples of rock and dirt, and will hunt for signs of past life from its landing site.
It's part of setting the stage for eventual human missions to the Red Planet.
The China and UAE missions will be historic feats if they get to Mars at all.
China's mission — which includes an orbiter, lander and a rover — would be the country's first solo journey to Mars.
The UAE sees its Hope mission as a way to boost scientific know-how in the Middle East. UAE leaders want science to be "deeply integrated" into the nation's economy, Omran Sharaf, Hope's project lead, told Axios.
The intrigue: All three of the missions had to contend with virus issue in to get to the launch pad this summer.
NASA persevered with Perseverance during the pandemic because the window to launch to Mars only comes around every two years.
🚀 Sign up for Miriam Kramer's weekly newsletter, Axios Space.
4. Tweet du jour
5. How your office plant could save your life
Office furniture lined with plants could be used to clean air in cubicles, Axios' Joann Muller writes from Detroit.
Why it matters: People won't feel safe returning to schools, offices, bars and restaurants unless they can be assured they won't be infected by virus particles in the air.
The University of Oregon's Institute for Health in the Built Environment is designing micro-environments that could provide office workers with their own supply of fresh air.
HyPhy is a twist on the traditional cubicle: It's a personal clean air pod that integrates a fern called Azolla into the furniture to provide personalized air circulation and purification.
The plants, when treated with ultraviolet lights under the desk, may help kill pathogens, while pumping localized fresh air into the cube's breathing zone.
6. "America on track for the worst coronavirus response in the developed world"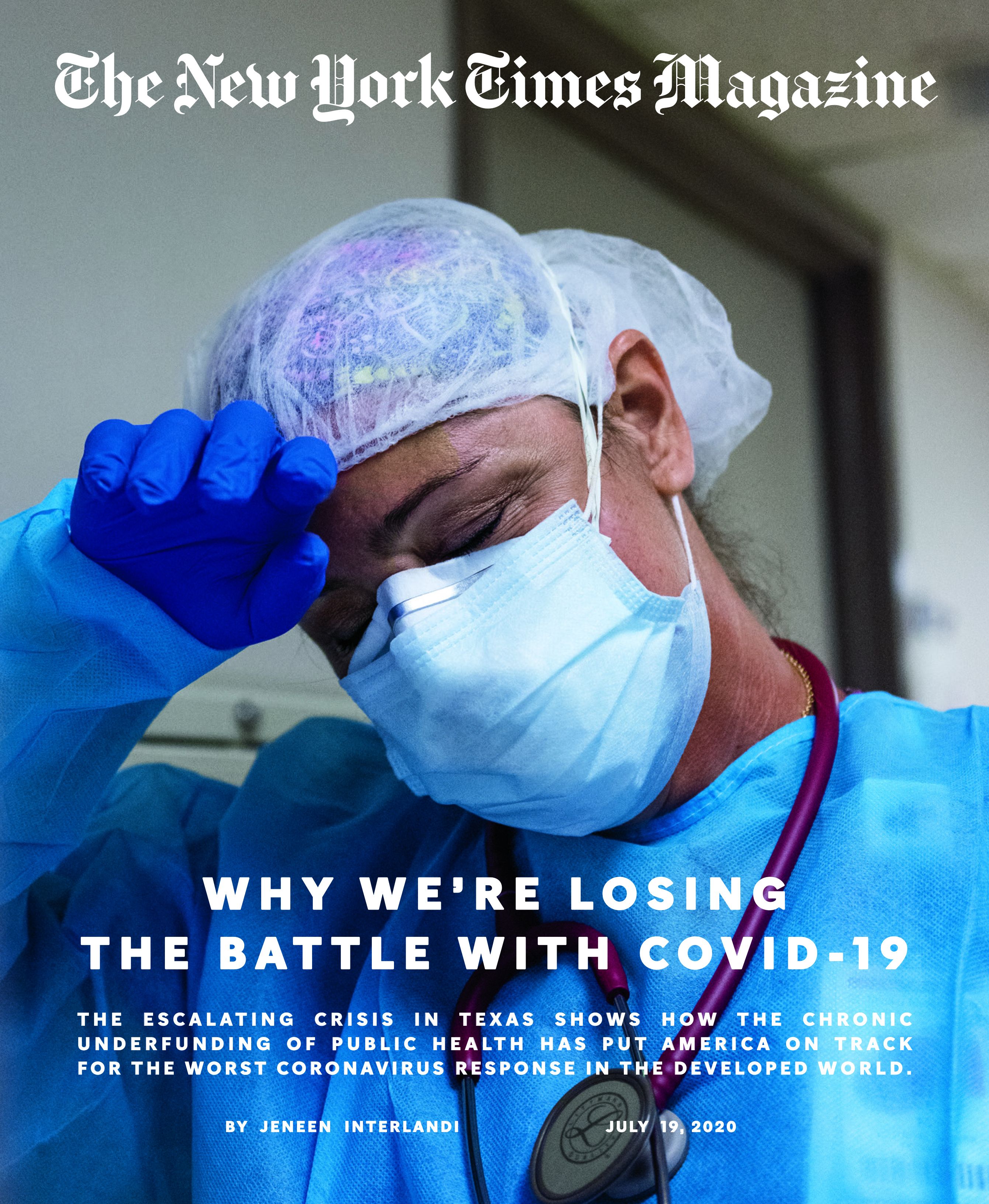 7. First look: America's 2020 bellwether counties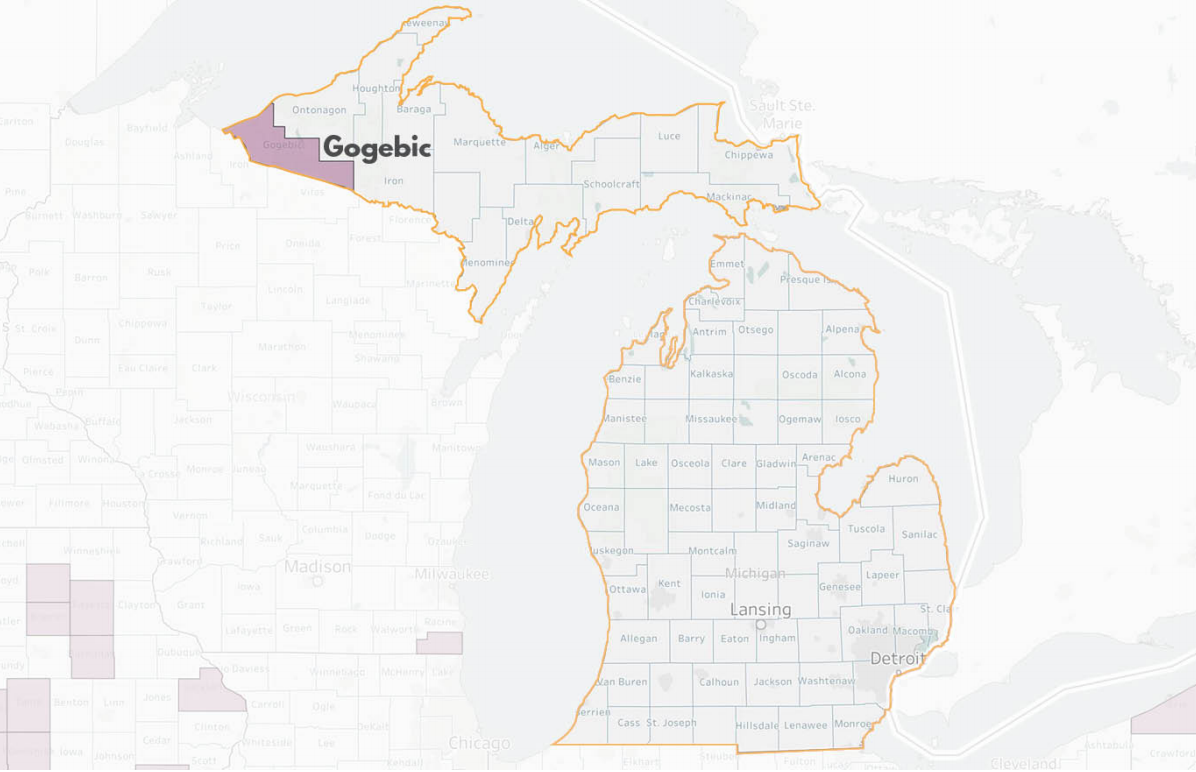 Political junkies know Macomb County, Mich. But Gogebic?!
Gogebic County in Michigan's Upper Peninsula will cast a tiny amount of votes, but went for President Trump in 2016 and a Democratic ticket in 2018 and looks like the state's political median in the age of Trump.
Third Way, the center-left think tank, is out with "Bellwether Counties 2020," isolating 21 counties in the swing states of Michigan, Pennsylvania and Wisconsin as well as the Senate battlegrounds of Arizona, Iowa and North Carolina.
Why it matters, from David de la Fuente, who wrote the report: These counties may be the best indication leading up to November, and even on election night, of which way a state will tip.
About half of the bellwethers are mostly suburban, or in an urban county with heavy suburban influence.
8. Graphic du jour: The great acceleration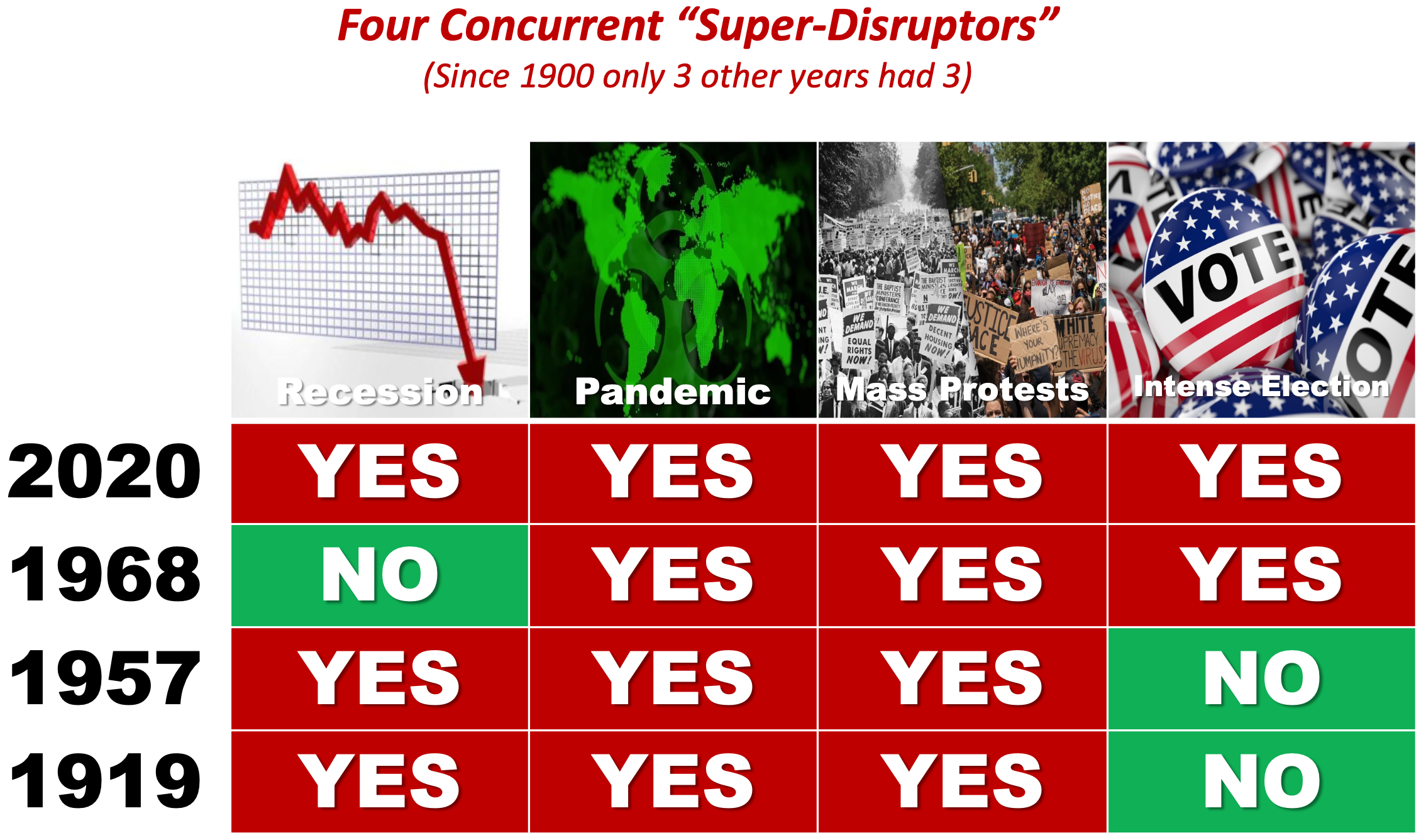 Bruce Mehlman of Mehlman Castagnetti Rosen & Thomas, who tells me he spends about 50 hours on each of his famous quarterly decks, has delved into all the ways the pandemic is bringing us the future faster.
Bruce's bottom line: If things feel historically disruptive, it's because they are.
9. WNBA tip-off set in 11 days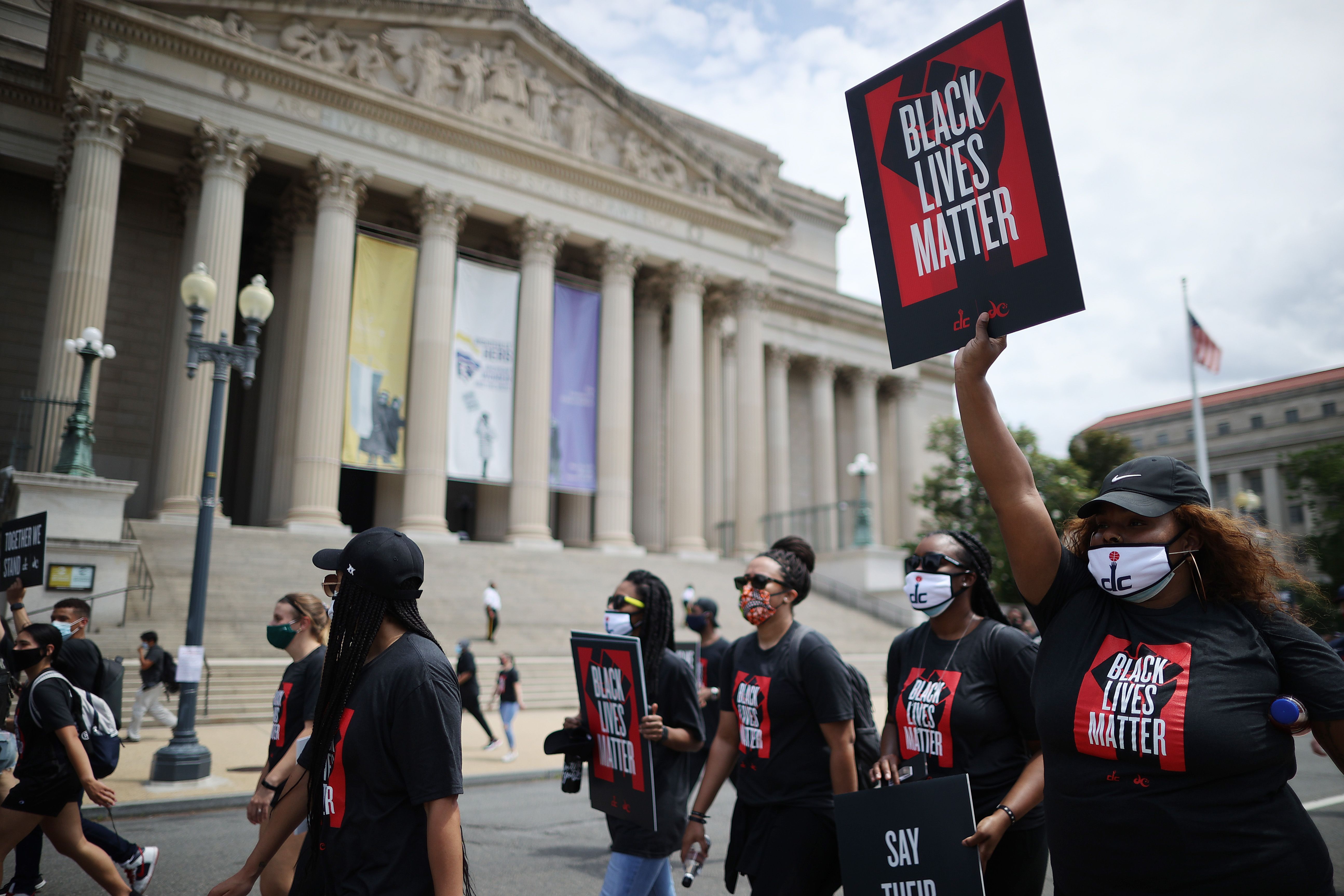 The WNBA season is scheduled to tip off July 25 (five days ahead of the NBA), with opening-weekend games dedicated to the Black Lives Matter movement, AP's Doug Feinberg writes.
All 12 WNBA franchises will play the opening weekend and honor victims of police brutality and racial violence.
Team uniforms will display Breonna Taylor's name. Players will have the option to continue to wear Taylor's name for subsequent games.
All season, players will wear warm-up shirts with "Black Lives Matter" on the front and "Say Her Name" on the back.
The league's 24th season will be played at a single site in Bradenton, Fla.
10. 1 smile to go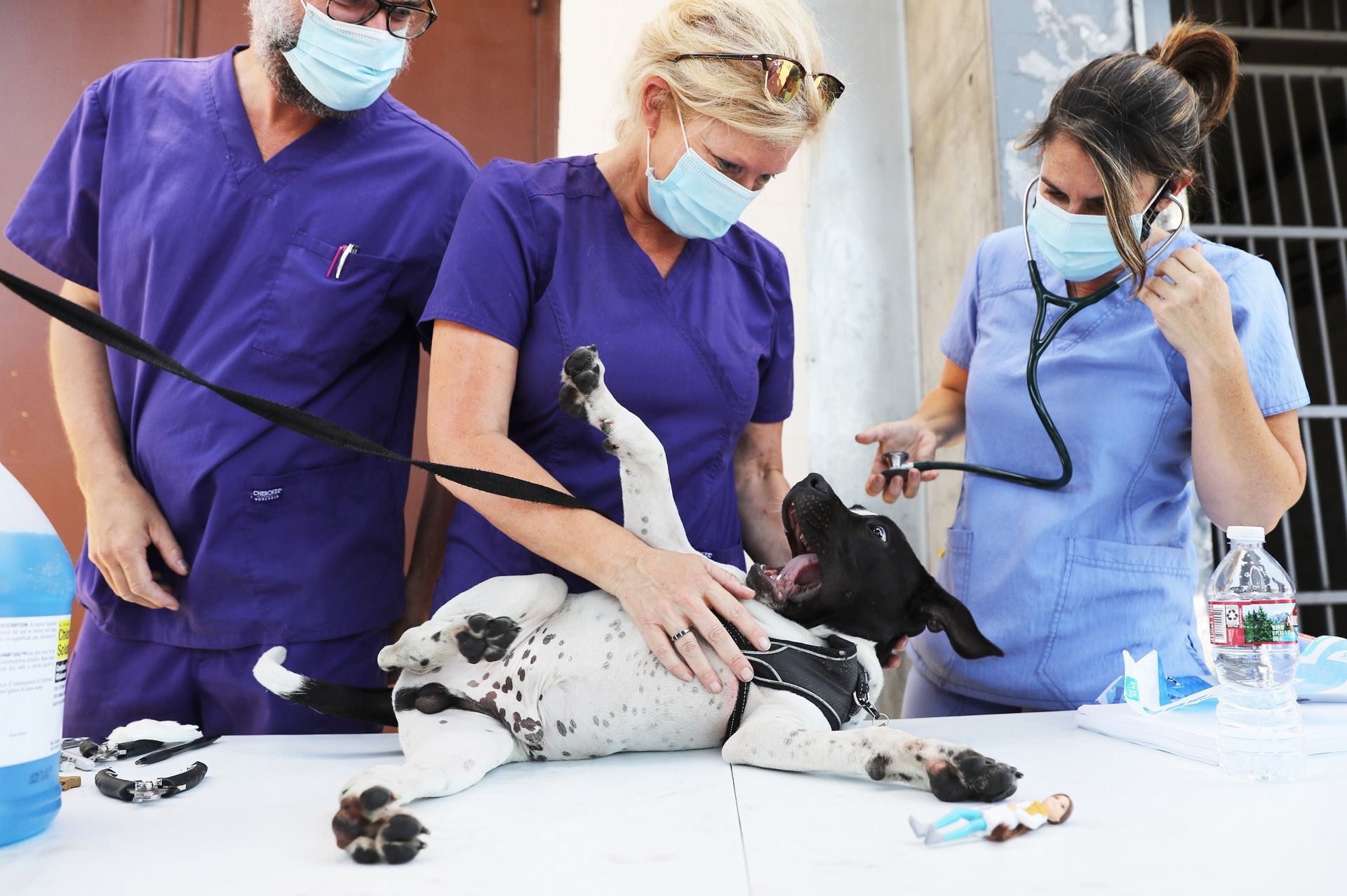 Juice, a pit bull on L.A.'s Skid Row, is checked yesterday by Christian Kjaer, Amanda Howland and Dr. Gabe Rosa at a mobile vet service.
The Pets in Need Project has been traveling to areas with homeless populations throughout California over the past eight weeks, and has provided about 1,200 pets with food and free veterinary services.
📱 Thanks for reading Axios AM. Please invite your friends to sign up here.