Coming soon from Axios: 2 hot new newsletters ... Future of Work: Steve LeVine reports on the biggest ricochet story in our lives: robots, artificial intelligence, jobs, and global economics. ... Axios Science: Alison Snyder delivers the most important news from the frontiers of medicine, space, neuroscience, physics and more. Sign up here.
Also check out this genius work by Axios editorial/graphic team: the Affordable Care Act repeal tracker.
https://www.axios.com/newsletters/axios-am-257c2657-6a2b-4911-82a0-657d1a8c8f15.html?chunk=0#story0
1 big thing: "McMaster's War"?
Over the next two weeks, President Trump will confront a momentous decision on escalation in Afghanistan, a topic that until now has received little public debate.
The Washington Post's lead story, "U.S. is poised to ramp up Taliban fight," by Missy Ryan and Greg Jaffe, reveals one of the most consequential choices that has yet faced this young administration. The Post says the Cabinet is supportive, there are dissenters in the White House, and the president's view is unknown:
"Trump's most senior military and foreign policy advisers have proposed a major shift in strategy in Afghanistan that would effectively put the United States back on a war footing with the Taliban."
"The plan comes at the end of a sweeping policy review built around the president's desire to reverse worsening security in Afghanistan and 'start winning' again, said one U.S. official."
"The new strategy ... has the backing of top Cabinet officials."
Why it matters: "The ... changes would ... reverse moves by ... Obama to steadily limit the U.S. military role in Afghanistan, along with the risk to American troops and the cost of the war effort."
"Trump is expected to make a final call ... before a May 25 NATO summit in Brussels."
"Inside the White House, those opposed to the plan have begun to refer derisively to the strategy as 'McMaster's War,' a reference to H.R. McMaster, the president's national security adviser. The general, who once led anti-corruption efforts in Afghanistan and was one of the architects of President George W. Bush's troop surge in Iraq, is the driving force behind the new strategy at the White House."
Key point by N.Y. Times' Michael Gordon, following the Post story: "In some respects, [the decision] is a liability for a president who has called for putting 'America first.' Deploying more troops would cost billions of dollars, and there is no guarantee of a clear win."
https://www.axios.com/newsletters/axios-am-257c2657-6a2b-4911-82a0-657d1a8c8f15.html?chunk=1#story1
2. Zuck's year on the road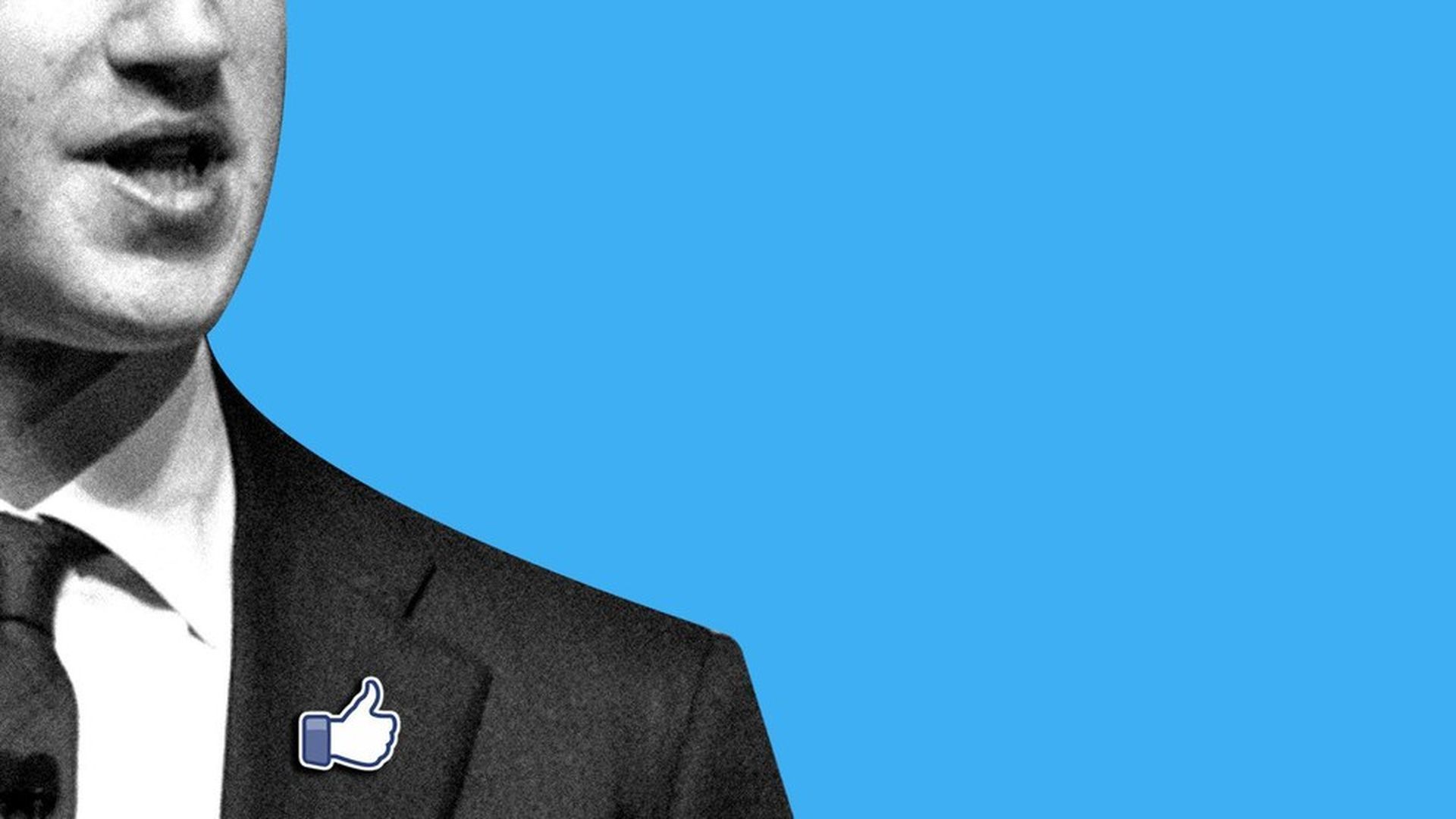 Facebook CEO Mark Zuckerberg's nationwide tour, aimed at hitting all 50 states this year, has spurred oodles of speculation about his political ambitions. Axios' David McCabe writes that while the Zuckerberg-for-president story has been overhyped, his friends think he may run for something one day:
Why it matters: The presidential election showed Zuckerberg that he doesn't understand a lot of Facebook's users, and this trip is a way to learn about a part of the world he's been isolated from since at least his Harvard days. He's already met with Facebook users who helped elect Trump.
The optics: Events on the trip are mostly private, which Facebook says encourages the people Zuckerberg is meeting with to be candid without the press watching.
Zuckerberg has devoted significant time over the last several years to improving as a public speaker.
The latest swing took him through the Midwest for several made-for-the-media events, but without the media. Zuckerberg ate dinner with an unsuspecting Ohio family who didn't know he was their mystery guest until 15 minutes before he showed up.
Dip into our STREAM for more on the Zuck-capade.
https://www.axios.com/newsletters/axios-am-257c2657-6a2b-4911-82a0-657d1a8c8f15.html?chunk=2#story2
3. The geography of life expectancy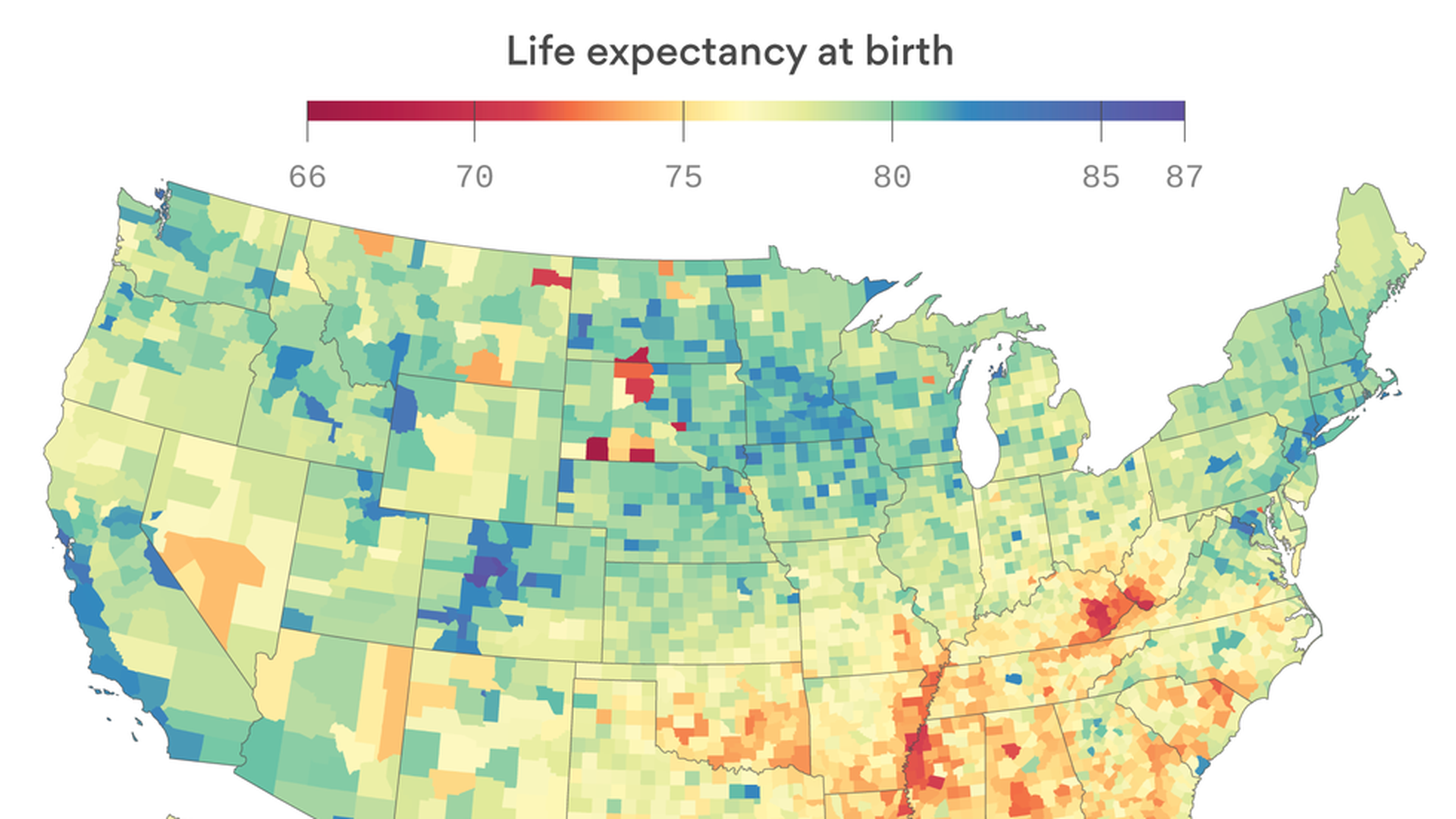 https://www.axios.com/newsletters/axios-am-257c2657-6a2b-4911-82a0-657d1a8c8f15.html?chunk=3#story3
4. "I did my job"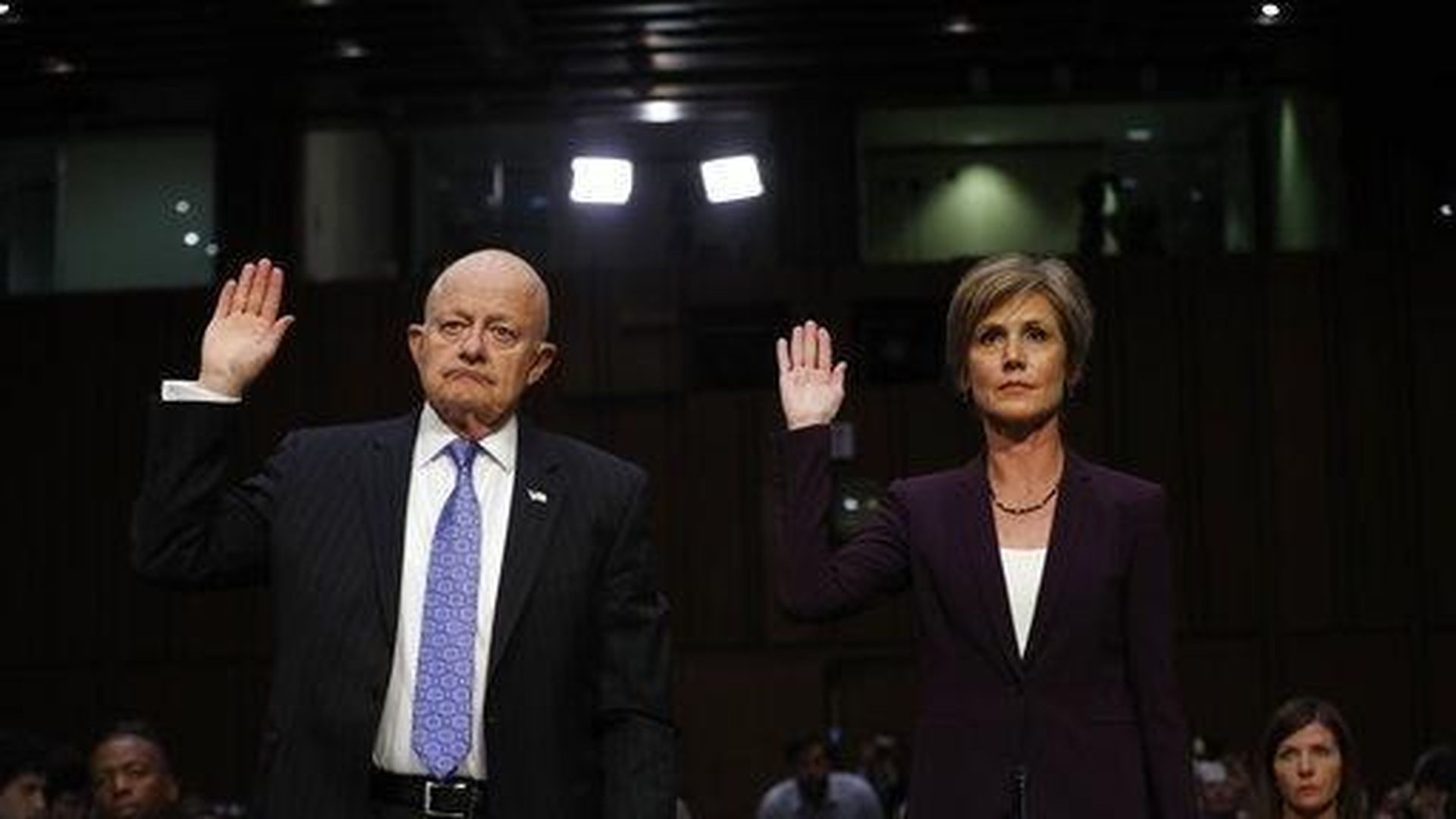 N.Y. Times Quote of the Day ... Former acting Attorney General Sally Yates, at a Senate hearing yesterday, on Mike Flynn: "To state the obvious: You don't want your national security adviser compromised with the Russians."
WashPost's Devlin Barrett and Sari Horwitz: "Yates testified ... that she expected White House officials to 'take action'' on her January warning that ... Flynn could be blackmailed."
Takeaways by NYT's Matthew Rosenberg:
"Perhaps the biggest takeaway ... was that a lot of people had serious concerns about Mr. Flynn serving as national security adviser. But none of them was named Donald J. Trump."
"Yates said ... she ... was not the source of any reports about Mr. Flynn.
Yates, who was fired by Trump when she refused to defend his travel restrictions, said: "Not only was the department not consulted, we weren't even told about it ... I learned about this from media reports."
Trump tweeted last night: "Sally Yates made the fake media extremely unhappy today --- she said nothing but old news! ... The Russia-Trump collusion story is a total hoax, when will this taxpayer funded charade end? ... Biggest story today between Clapper & Yates is on surveillance. Why doesn't the media report on this? #FakeNews!"
https://www.axios.com/newsletters/axios-am-257c2657-6a2b-4911-82a0-657d1a8c8f15.html?chunk=4#story4
5. Commencement speakers avoid Trump
Most college graduations are a "No-Trump Zone," per a front-pager by USA Today's Rick Hampson:
"Most college and university graduation speakers contacted by USA TODAY said they would not address the elephant in the stadium. And mention of the president and party politics has been conspicuously absent from the speeches that already have been given."
https://www.axios.com/newsletters/axios-am-257c2657-6a2b-4911-82a0-657d1a8c8f15.html?chunk=5#story5
6. Getting Trump on the line
Jared "Kushner emerged as conduit for Canada on NAFTA talks," by AP's Julie Pace and Catherine Lucey:
"According to a White House official, aides to Canadian Prime Minister Justin Trudeau called Kushner urgently on April 26 after seeing news reports that Trump was considering signing an executive order withdrawing from NAFTA."
"Kushner told his Canadian counterpart that this was a matter the leaders needed to discuss themselves ... The Canadians asked when Trudeau should call. After checking at the White House, Kushner called back to say Trump was ready to talk now."
Chaser ... N.Y. Times front page, "Trump Acts, And Kushners Stand to Gain," by Eric Lipton and Jesse Drucker:
"It was the first major piece of legislation that President Trump signed into law, and buried on Page 734 was one sentence that brought a potential benefit to the president's extended family: renewal of a [visa] program offering permanent residence in the United States to affluent foreigners investing money in real estate projects here."
"A White House statement said the administration 'is evaluating wholesale reform of the EB-5 [visa] program.'"
https://www.axios.com/newsletters/axios-am-257c2657-6a2b-4911-82a0-657d1a8c8f15.html?chunk=6#story6
7. The talk of Wall Street
Wall Street's "fear gauge" dropped to its lowest since 1993 following centrist Emmanuel Macron's victory in France, Reuters reported: "The CBOE Volatility index dropped 0.8 point to close at 9.77 ... A declining VIX typically indicates a bullish outlook for stocks."
Be smart ... The Wall Street Journal warns: "Some investors interpret the VIX's decline as a contrary indicator of where the market will go. Their view is that ... investors have grown too complacent. And some say investors are turning to other financial instruments to protect against a downdraft in stocks."
https://www.axios.com/newsletters/axios-am-257c2657-6a2b-4911-82a0-657d1a8c8f15.html?chunk=7#story7
8. The ex-presidents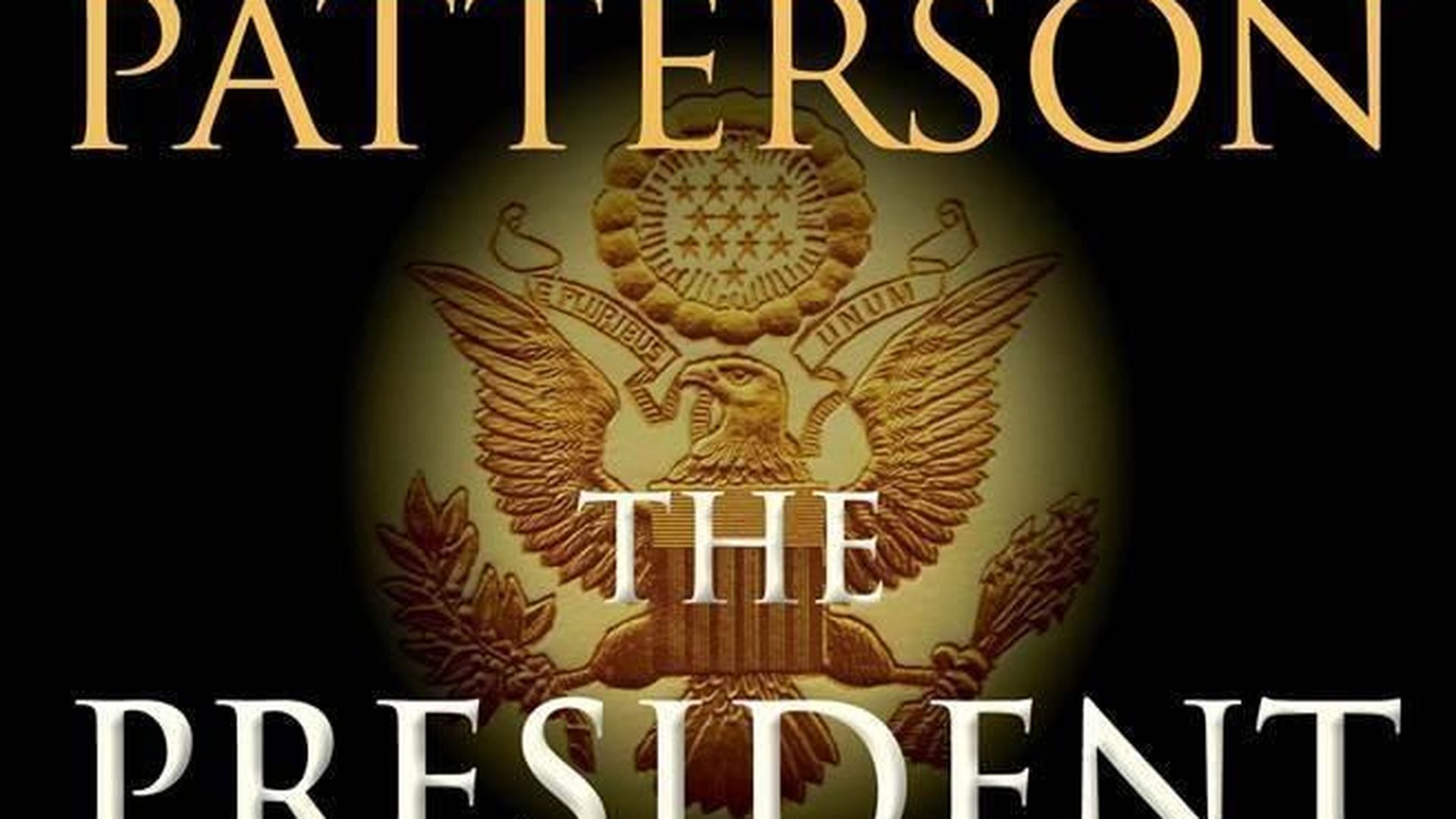 "Obama starts defining his new role in the age of Trump," by AP's Julie Pace: "After dropping out of sight for a pair of glamorous island getaways, Obama is emerging for a series of paid and unpaid speeches, drawing sharp contrasts with Trump even as he avoids saying the new president's name."
"[T]he attention surrounding Obama has ... magnified the vacuum for new Democratic leadership, a reality that aides say is not lost on the former president."
"In an unusual move for a former president ... Obama taped a video endorsing Emmanuel Macron, the eventual winner of the French presidential election. He backed Macron after Trump appeared to side with nationalist candidate Marine Le Pen."
"Obama advisers say ... he is willing to consider requests for support from overseas candidates. Later this month, he'll appear alongside German Chancellor Angela Merkel, who faces elections later this year, for a panel on democracy.
"Obama's stop in Germany will coincide with Trump's first visit to Europe as president, ... setting up a stark contrast between the 44th and 45th presidents on the world stage."
Bill Clinton teams up with James Patterson to pen White House thriller, per N.Y. Times' Alexandra Alter: "In June 2018, Alfred A. Knopf and Little, Brown and Company will jointly publish 'The President Is Missing' ... a 'unique amalgam of intrigue, suspense and behind-the-scenes global drama' that will be 'informed by insider details that only a president can know.'"
How it happened: "The project came about late last year when Robert B. Barnett, ... who represents both Mr. Clinton and Mr. Patterson, had the idea of pairing them up on a novel."
https://www.axios.com/newsletters/axios-am-257c2657-6a2b-4911-82a0-657d1a8c8f15.html?chunk=8#story8
9. 2018 watch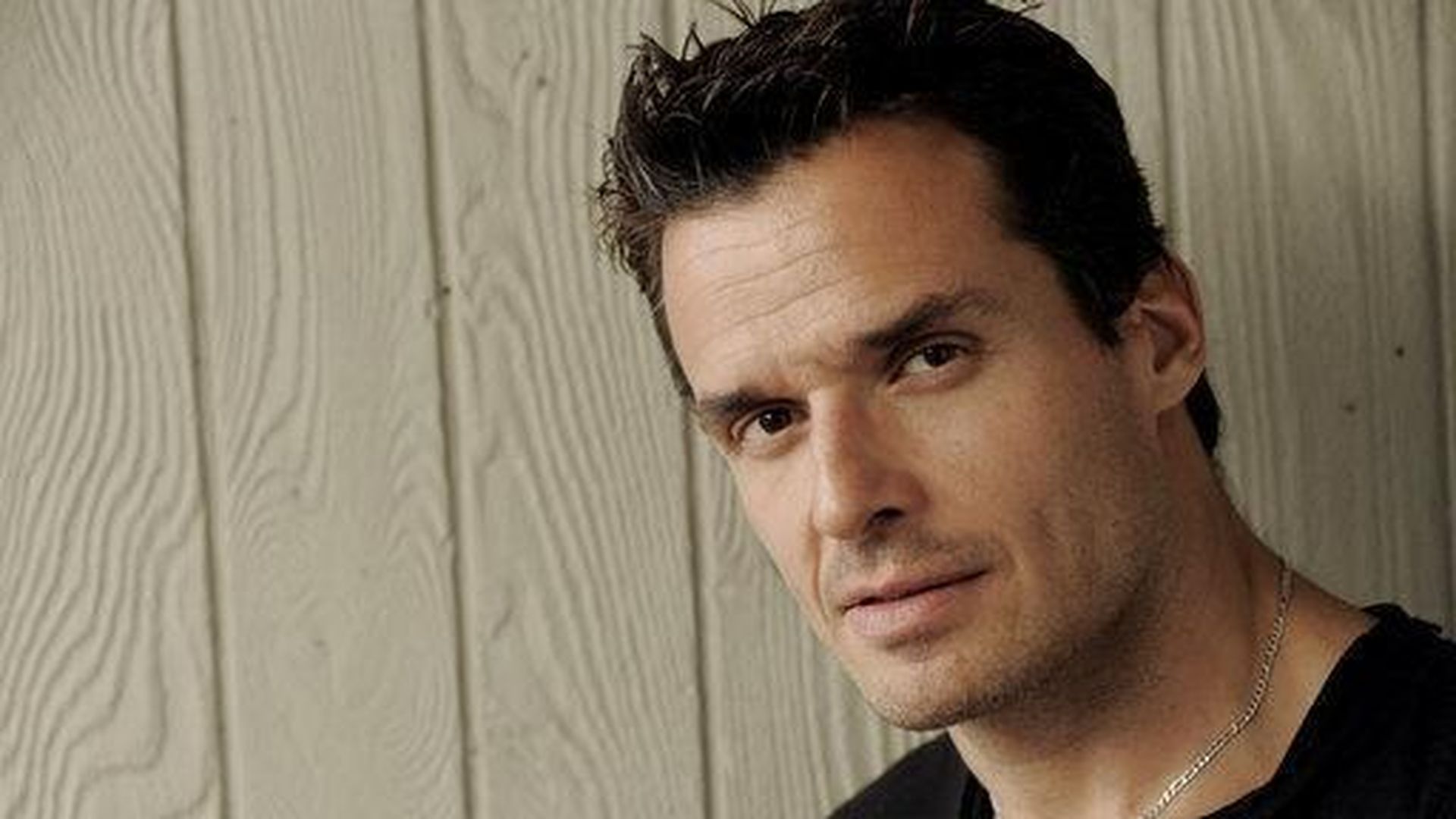 Actor Antonio Sabato Jr. is running for Congress, challenging Rep. Julia Brownley (D-Westlake Village), who represents the southern central coast and most of Ventura County, the L.A. Times reports:
"Sabato is ... best known for roles in 'General Hospital' and 'Melrose Place.'"
"The 45-year-old was a vocal supporter of President Trump during the 2016 presidential campaign and spoke on his behalf at that year's Republican National Convention. ... Sabato said afterward that he was blacklisted by Hollywood producers because of his visible support for Trump."
https://www.axios.com/newsletters/axios-am-257c2657-6a2b-4911-82a0-657d1a8c8f15.html?chunk=9#story9
10. 1 fun thing: Just a coincidence?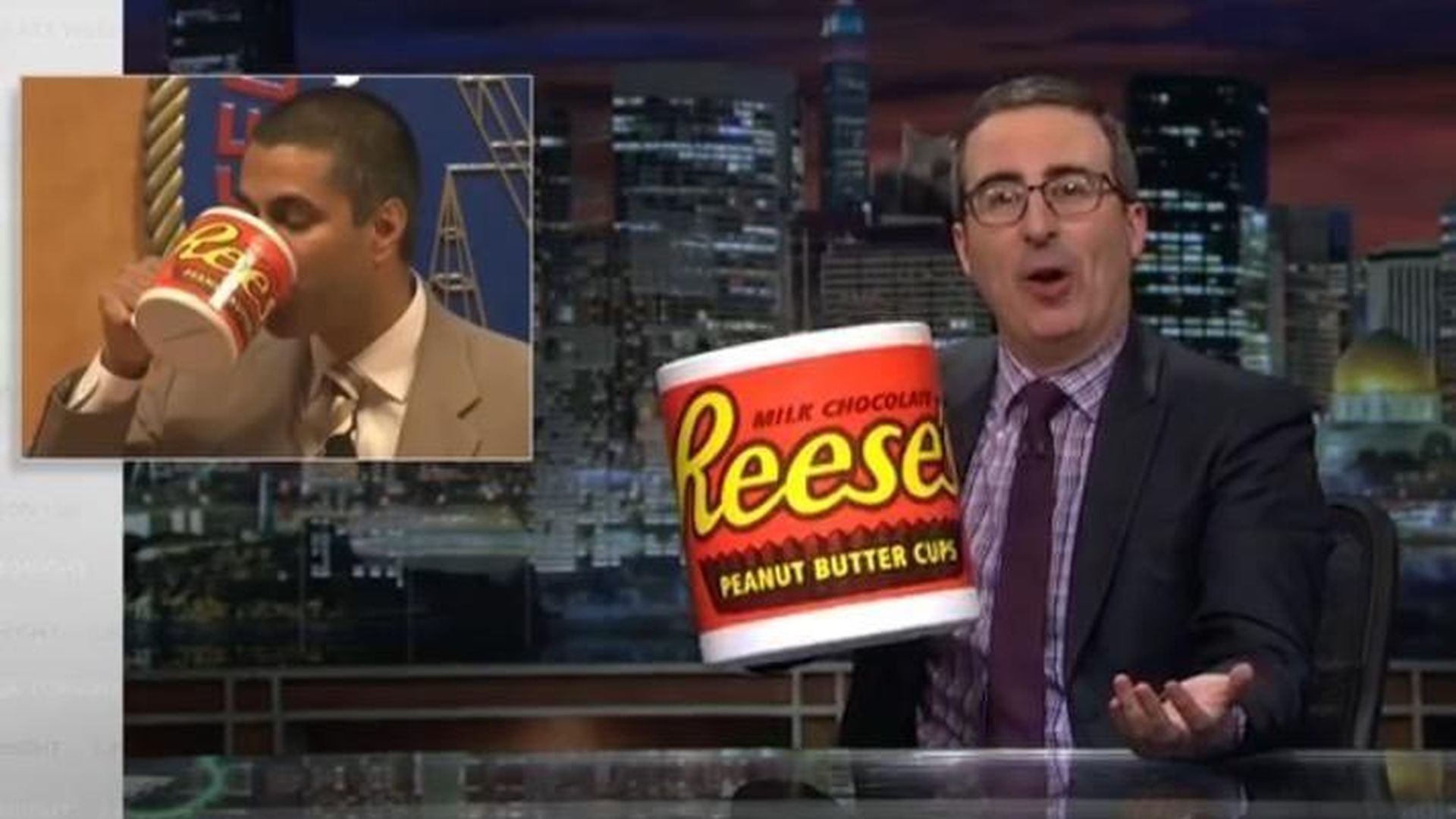 The FCC says its website was hit with an online attack Sunday night, about the same time HBO's John Oliver urged viewers to flood the site with comments supporting current net-neutrality regulations, per USA Today's Mike Snider:
"Three years ago, Oliver spurred a massive response after a segment on net neutrality on ... Last Week Tonight. After explaining the principle that the FCC was considering — Internet service providers (ISPs) should treat all legal content and applications equally and not block or slow content — he encouraged fans to submit supportive comments on the agency's website. That caused the site to crash."
"On his latest episode, ... Oliver urged viewers 'once more into the breach.'"
Axios' David McCabe: "The FCC says members of the public had trouble filing comments ... on Sunday and early Monday morning because of a cyberattack."