Axios AM
June 07, 2022
Good Tuesday morning. Smart Brevity™ count: 1,480 words ... 4½ mins. Edited by Noah Bressner.
📨 Please join Axios' Kia Kokalitcheva and Dan Primack tomorrow at 12:30 p.m. ET for a half-hour virtual event on the current market for private companies. Guests include Sequoia Capital partner Pat Grady and Kalorama Partners CEO and managing director Harvey L. Pitt. Sign up here.
🎒 1 big thing: Teachers on brink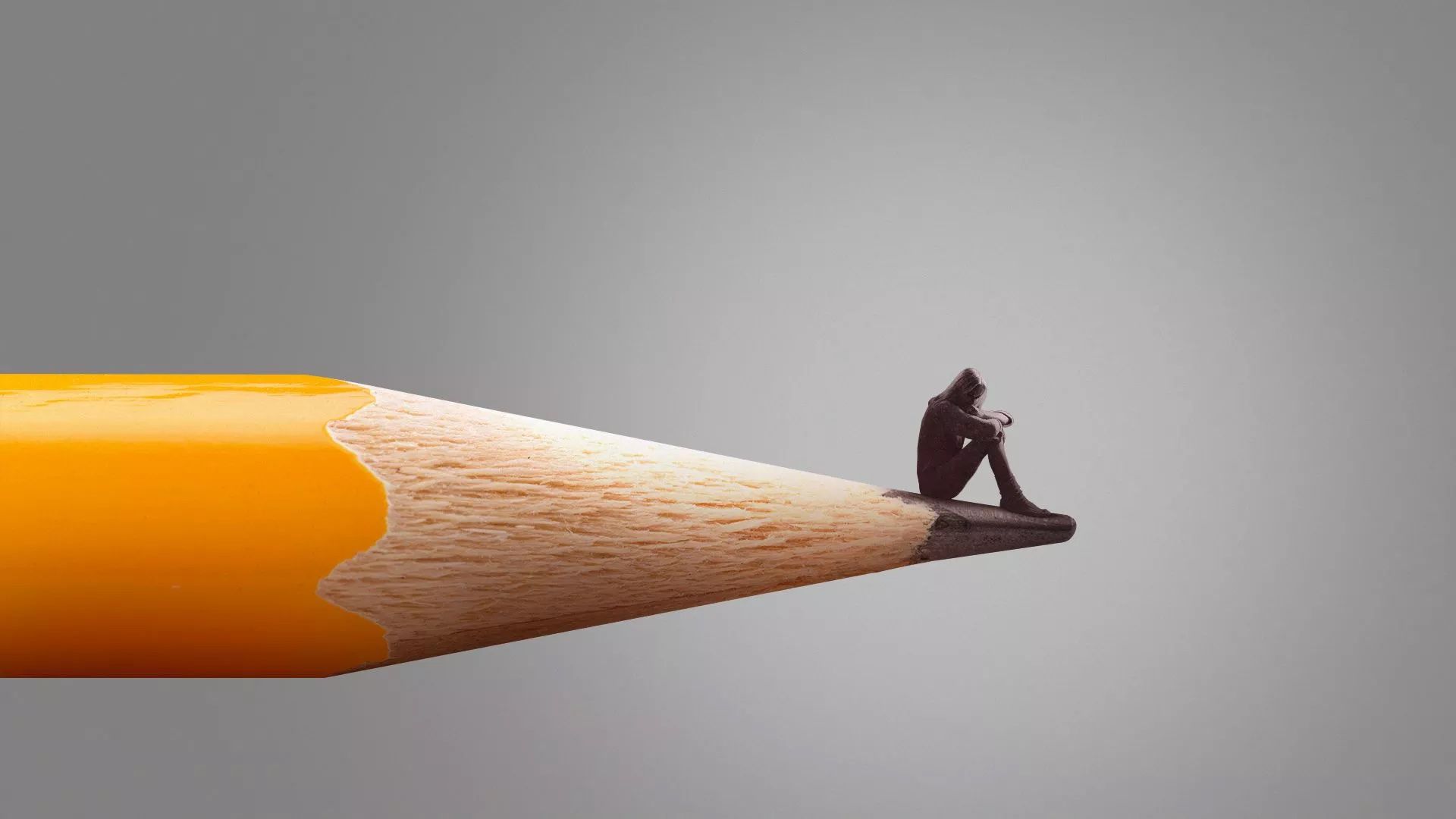 Teaching has become one of the most draining jobs in America, Axios' Erica Pandey and Alison Snyder report.
Today's teachers are navigating school shootings, a pandemic and intensifying political interference in their lesson plans — all while their wages remain stagnant.
Why it matters: Teachers are asking whether the burdens are worth it. Experts warn of a coming staffing shortage.
What's happening: Teaching has long been an underpaid profession. But in the last two years, America's demands on its educators have mounted.
When the pandemic hit, teachers were asked to take on virtual instruction overnight — a task many felt unprepared for, both in their own skills, and the technology available to them and their students.
When schools reopened, teachers became essential workers who risked infection — and their lives — to come into classrooms.
They feel unsafe in a country that has already seen 27 school shootings this year.
And their classrooms have become political minefields, as lawmakers dictate what they can teach, what students read and what programs are offered to help kids with their social and emotional needs.
In the 1970s, the U.S. minted roughly 200,000 new teachers a year. That has fallen to below 90,000.
An NEA survey found 55% of educators are considering leaving the profession earlier than they planned.
😎 Schools are still filled with passionate teachers who care deeply for their students.
Sari Beth Rosenberg, who teaches high school history in New York City, said: "Classrooms might be our last great hope in helping this generation come up with solutions to fix these crises."
What we're watching: Administrators around the country are trying to find small ways to ease the burden on teachers.
That includes free breakfast and coffee, and extra paid time off.
💡 What you can do: Parents and other community members can send messages of support and cards of thanks.
2. AI could help detect guns before shootings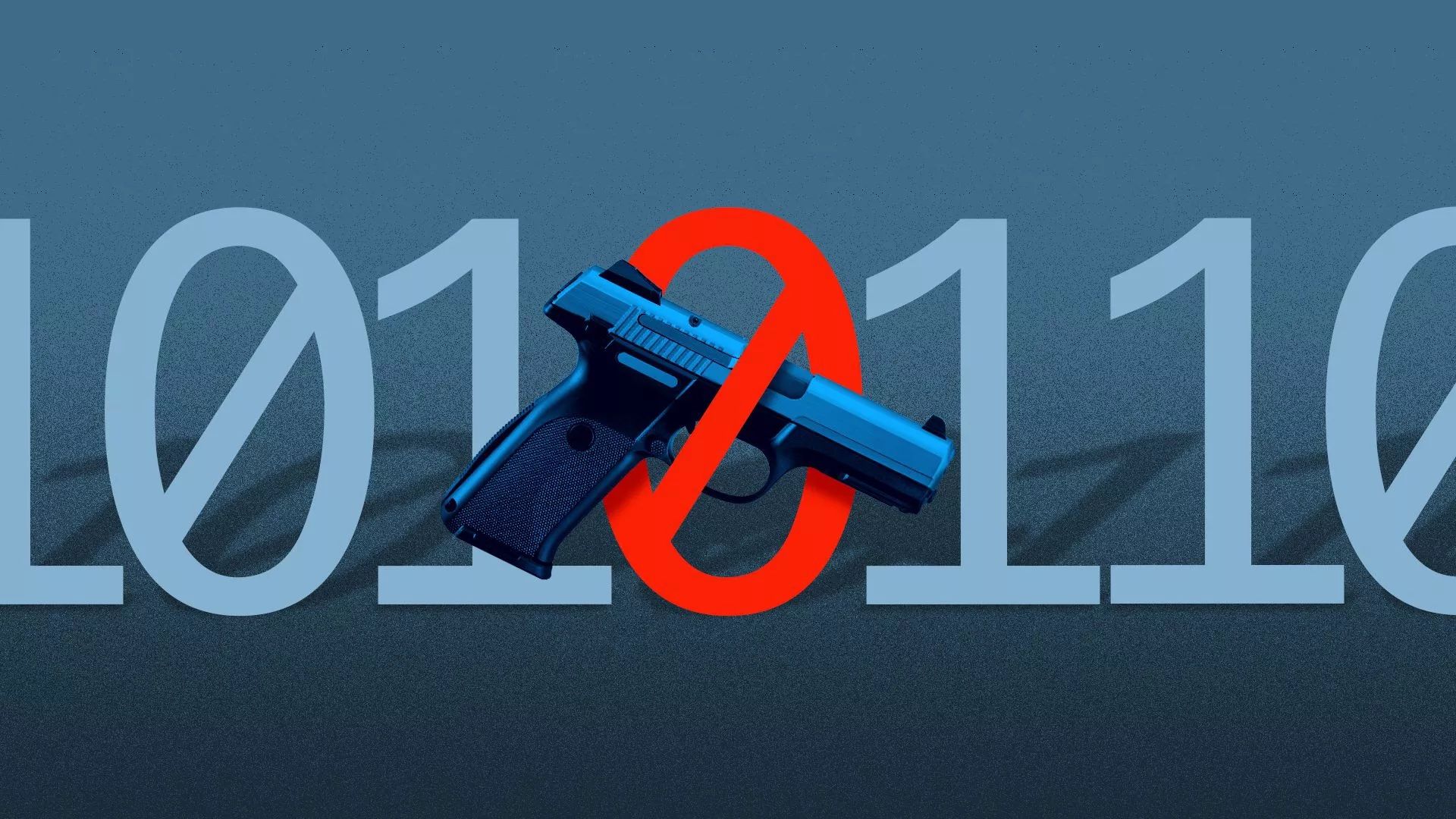 Artificial intelligence can help spot guns and identify potential shooters.
But critics of AI surveillance systems worry about the technology's record of bias, particularly against people of color, Joann Muller writes in Axios What's Next.
How it works: A high-speed screening system, Evolv, uses ultra-low frequency electromagnetic fields to detect concealed weapons as people walk through a portal.
North Carolina's Charlotte-Mecklenburg school system, with 150,000 students, is installing the scanners at a cost of $1.7 million over three years.
Evolv generated false positives from some Google Chromebook laptops.
Hexwave, developed at an MIT lab and licensed by Liberty Defense Holdings, is a similar system. It uses 3D imaging and AI to detect concealed weapons as people walk between two panels.
ZeroEyes, used by schools in 18 states and now being piloted at Oxford High, integrates its AI software with a school's existing surveillance cameras to identify guns in a camera's field of view. Assailants often brandish their weapon before a rampage, the company says.
The security image, stamped with the time and location, is then reviewed by a trained military veteran to verify that the object detected is in fact a gun.
Within about five seconds, ZeroEyes will issue an alert to the school.
Reality check: AI technology is expensive — $25 monthly per camera, in the case of ZeroEyes. In a large high school with 200 cameras, that's $5,000 per month.
3. 🎞️ 1/6 witness: Proud Boys filmmaker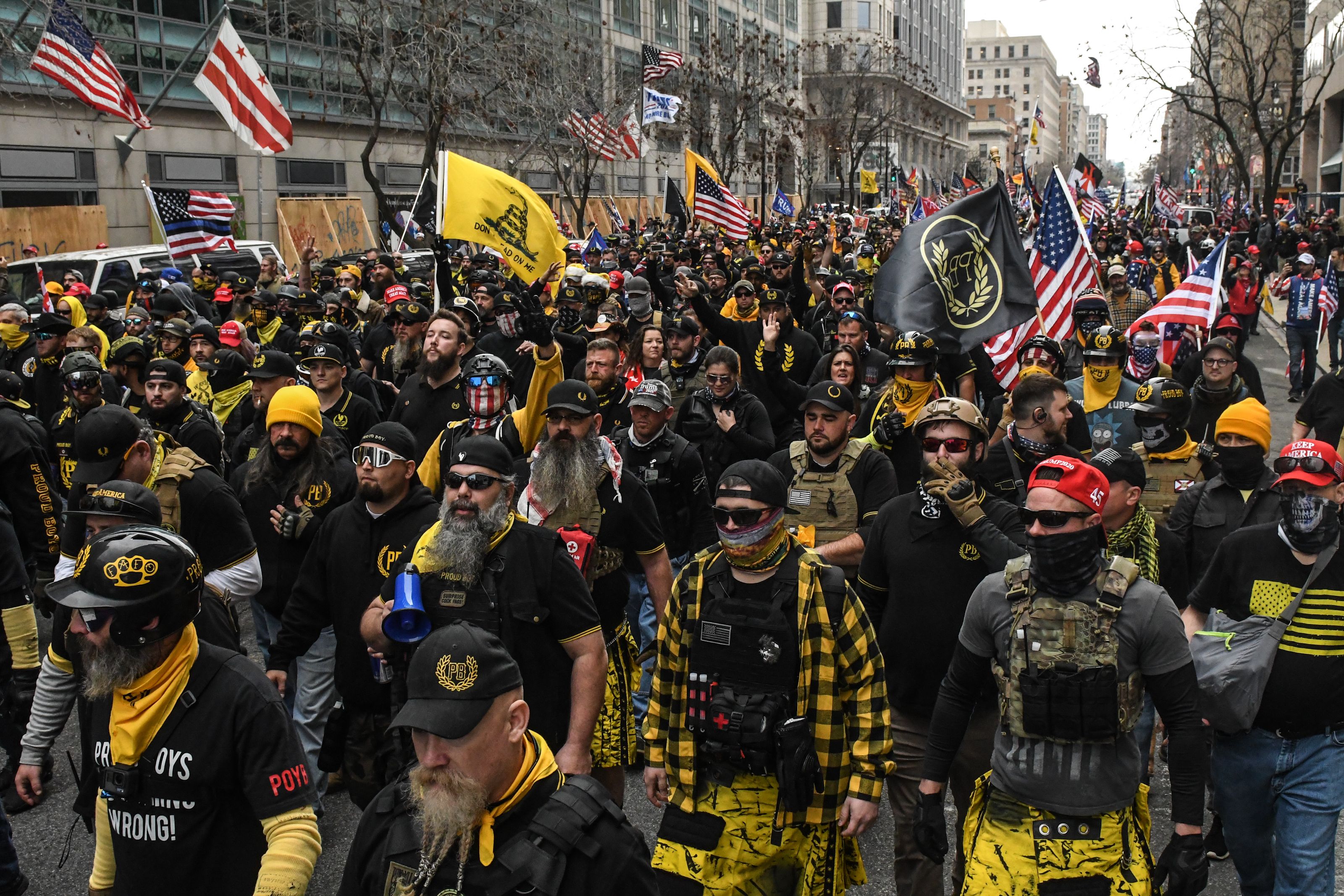 A witness list hasn't been released ahead of Thursday's prime-time hearing by the House's Jan. 6 committee — to be carried live, Watergate-style, by all three broadcast networks. But now we know a leadoff:
A British documentary filmmaker who recorded members of the far-right Proud Boys as they stormed the Capitol tells AP he'll testify.
Nick Quested witnessed the group's planning before the attack and accompanied Proud Boys as they walked to the Capitol from President Trump's speech.
Quested says he was filming the group as part of a documentary about extremism in America.
The former Proud Boys chairman, Henry "Enrique" Tarrio, and four other members were charged yesterday with seditious conspiracy for the Capitol attack.
The filmmaker was with Tarrio the night before the attack, when he met in an underground D.C. garage with Elmer "Stewart" Rhodes, the founder and leader of the Oath Keepers, another extremist group.
4. 📊 Trust in government nears historic low
Only two in 10 Americans trust the government in Washington to do what is right "just about always" (2%) or "most of the time" (19%), a Pew Research Center poll found.
Why it matters: Trust in government has plummeted to 20% from 73% in 1958, when the National Election Study began asking the question. It's part of a collapse in America's faith in most large institutions.
👀 Look at this divide: 29% of Democrats and Dem-leaning independents say they trust government vs. 9% of Republicans and Republican-leaners.
5. 📺 Scoop: CNN scrutinizes talent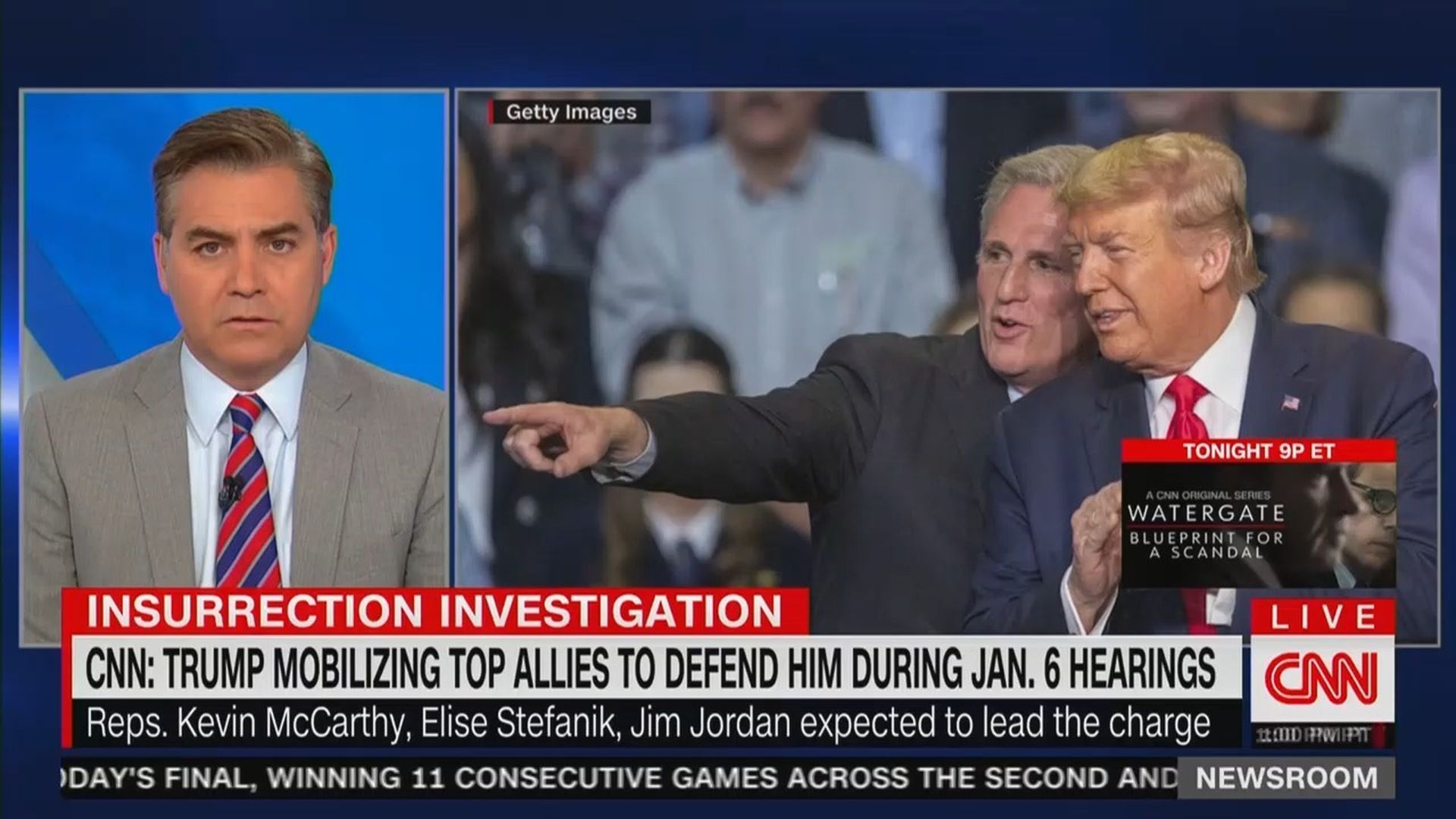 Chris Licht, CNN's new boss, is evaluating whether personalities who grew polarizing during the Trump era can become less partisan, Axios Media Trends author Sara Fischer reports.
Why it matters: Some on-air personalities, including Jim Acosta and Brian Stelter, became the face of the network's liberal shift to conservative critics. If anchors can't adjust to Licht's less partisan tone and strategy, they could be out.
Licht wants to give those personalities a chance to adapt.
That includes respectful interviews that don't feel like P.R. stunts.
For producers and bookers, that includes making programming decisions focused on nuance, not noise.
Between the lines: Licht doesn't want to shy away from personality programming, especially in prime time. But he wants to be sure partisan voices don't dominate in a way that harms CNN.
Licht and Warner Bros. Discovery CEO David Zaslav have been clear about their goal of dialing back partisan, alarmist programming in favor of traditional journalism.
6. 🇬🇧 Boris wounded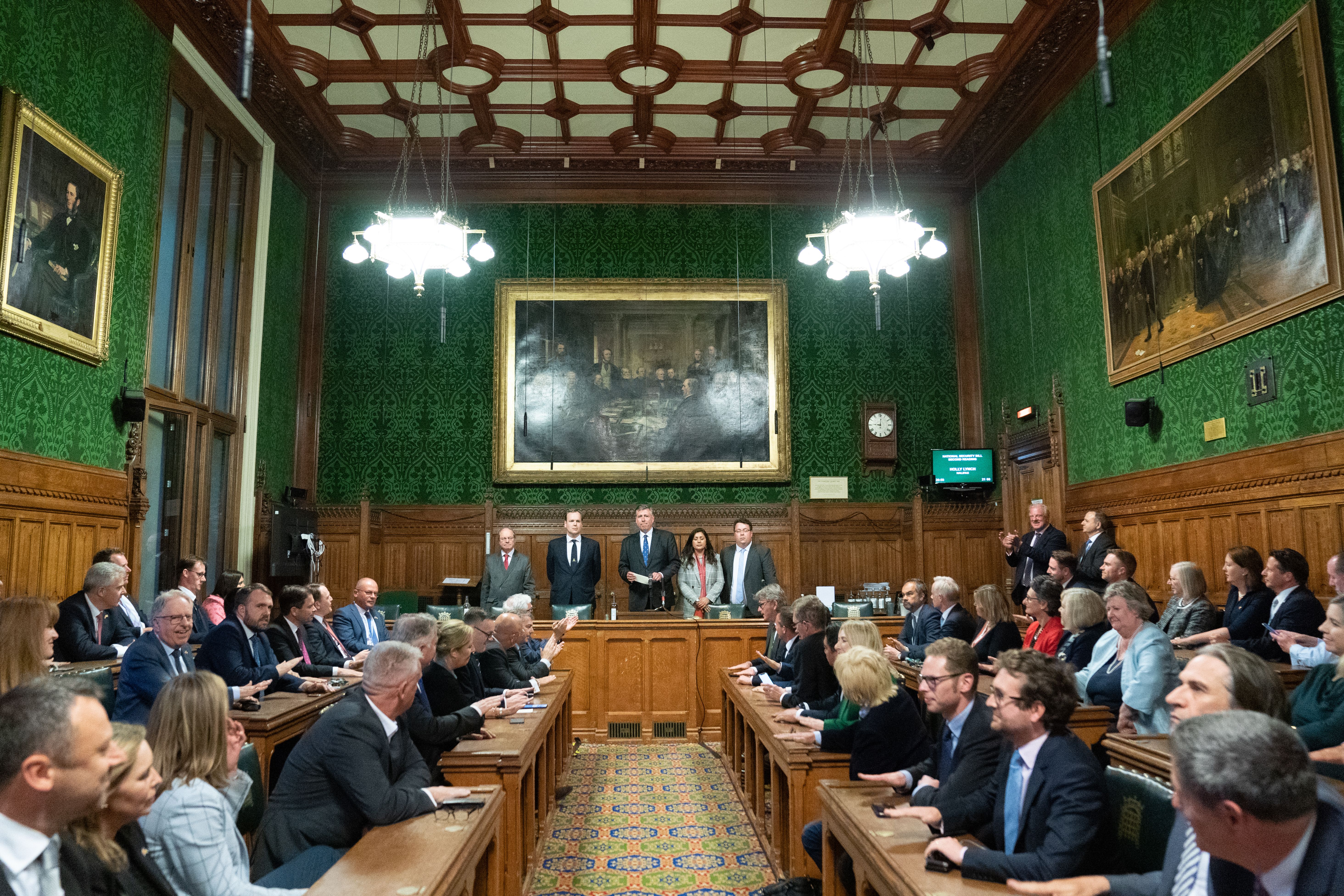 Boris Johnson survived a confidence vote last night, but limps on in the knowledge that four in 10 members of Parliament from his own party want him gone, Axios World author Dave Lawler writes.
How it happened: Conservative rebels triggered the vote after Johnson was found to have broken the law by attending multiple parties during a strict COVID lockdown. His approval rating is down to 29%. He was booed on Friday while attending Queen Elizabeth II's Platinum Jubilee.
The 211-to-148 vote was far too close for comfort.
Margaret Thatcher resigned in 1990 after surviving a leadership challenge by a similar margin. Theresa May fared better than Johnson in a 2018 confidence vote but was still gone six months later.
What's next: The next pressure point for Johnson comes June 23, when Conservatives defend two parliamentary seats. If they do badly, pressure to resign will mount.
7. First look: Big companies take pledge on mental health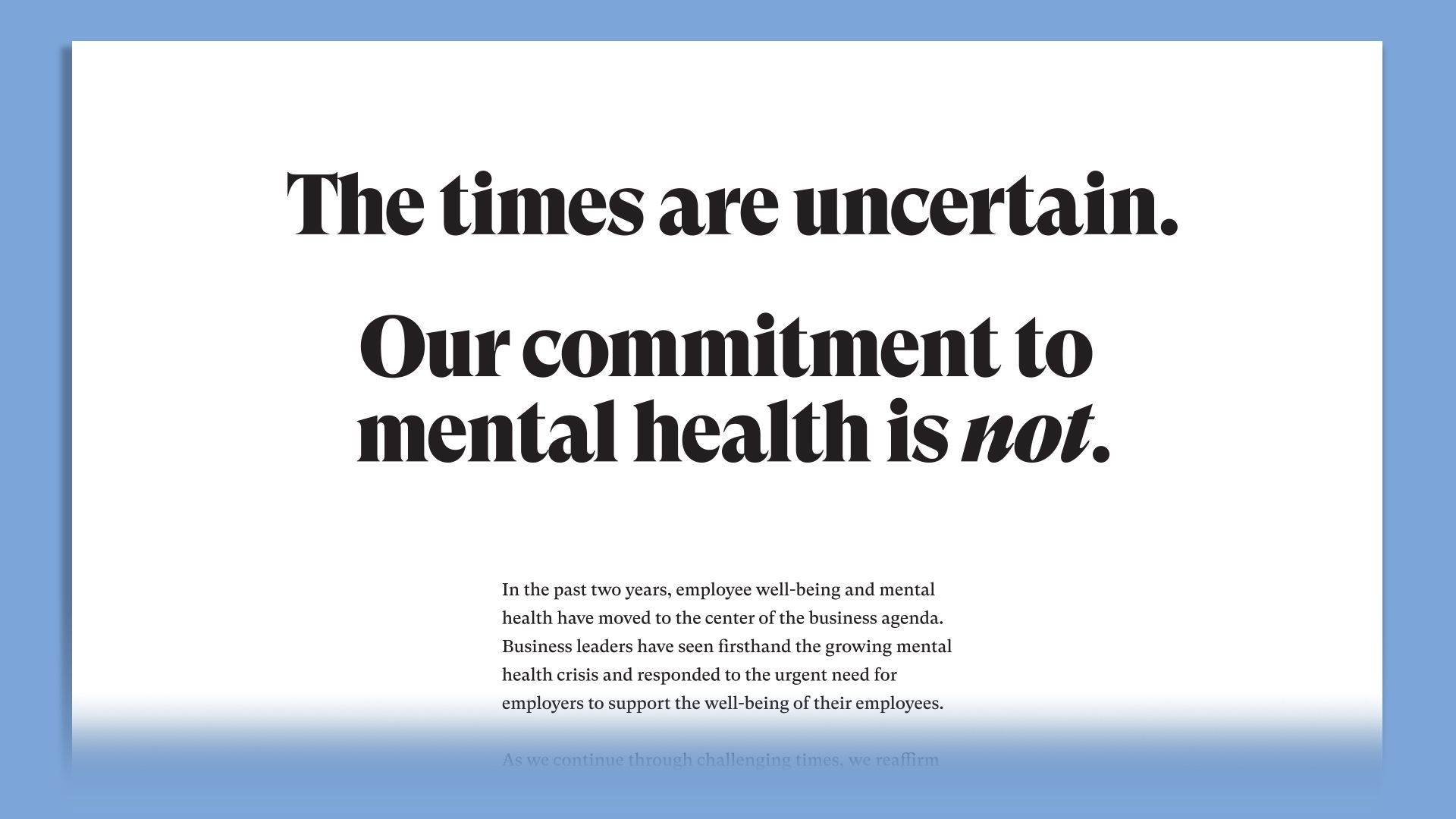 In this full-page ad in today's New York Times, major companies and nonprofits pledge "to continue prioritizing the well-being and mental health of our employees through the uncertain times that lie ahead."
Arianna Huffington — founder and CEO of Thrive, which aims to end the stress and burnout epidemic for the world's leading enterprises — tells me she was hearing concerns "that as the economic times are getting tougher, the advances made during the last two years in support of employee mental health and well-being could be lost."
"It's in challenging times that we most need to double down on our mental resilience," she said. "We deliberately included both Fortune 50 companies and high-growth startups, as hiring freezes and other cost-cutting measures are already happening across the board."
Go deeper: Read the pledge, see the list of signers.
8. 🌮 1 food thing: Future of drive-thrus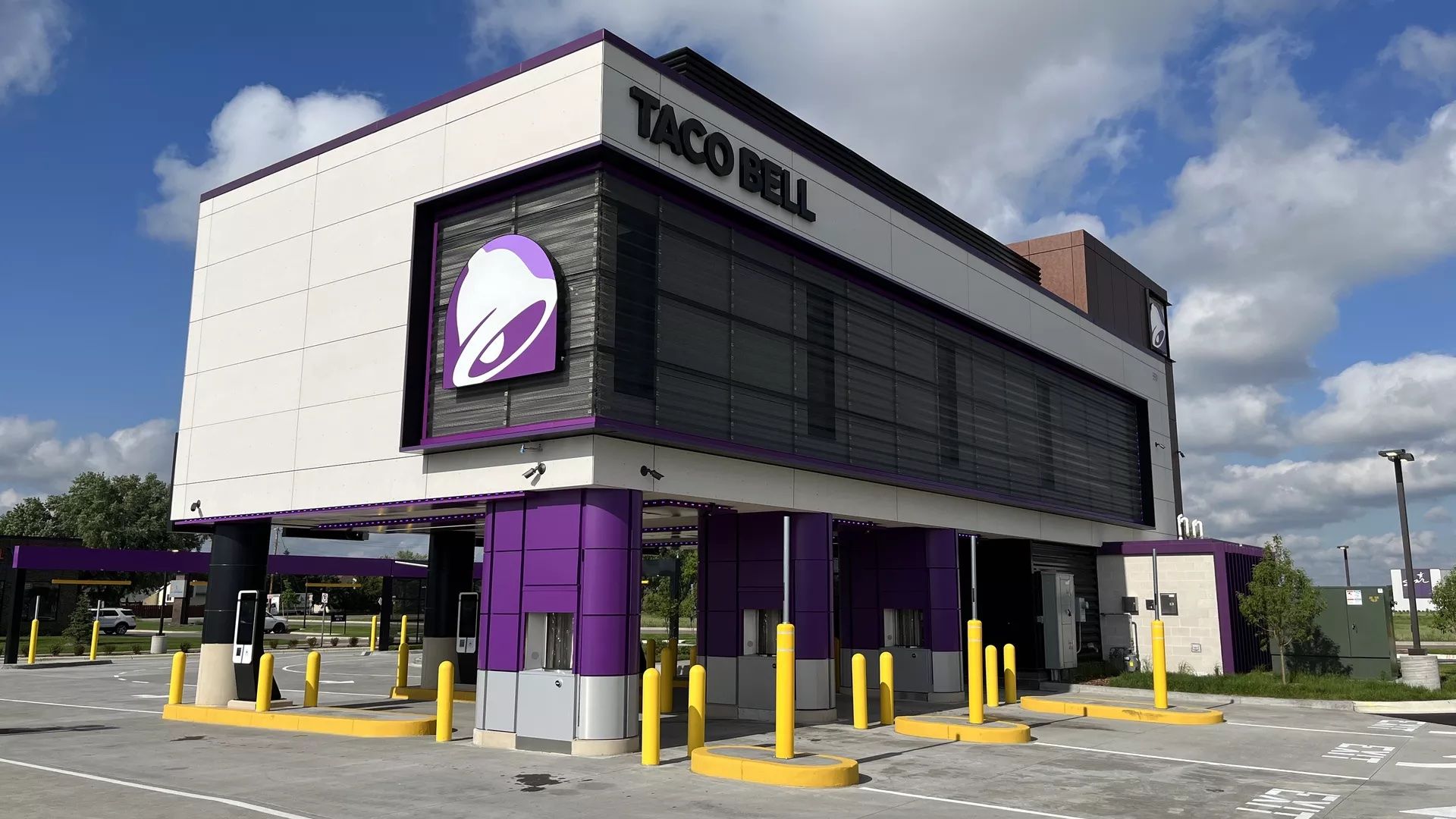 Taco Bell's new Defy restaurant concept puts the kitchen on stilts — then lowers orders to cars below through vertical lifts, like the tube in a bank drive-thru, Axios' Kelly Tyko reports.
Taco Bell's first two-story Defy location opens today in the Minneapolis suburb of Brooklyn Park, Minn.
There are four lanes — three for mobile or delivery orders, and the fourth for traditional takeout.
How it works: Nick Halter of Axios Twin Cities got a tour yesterday, and shows us the ropes.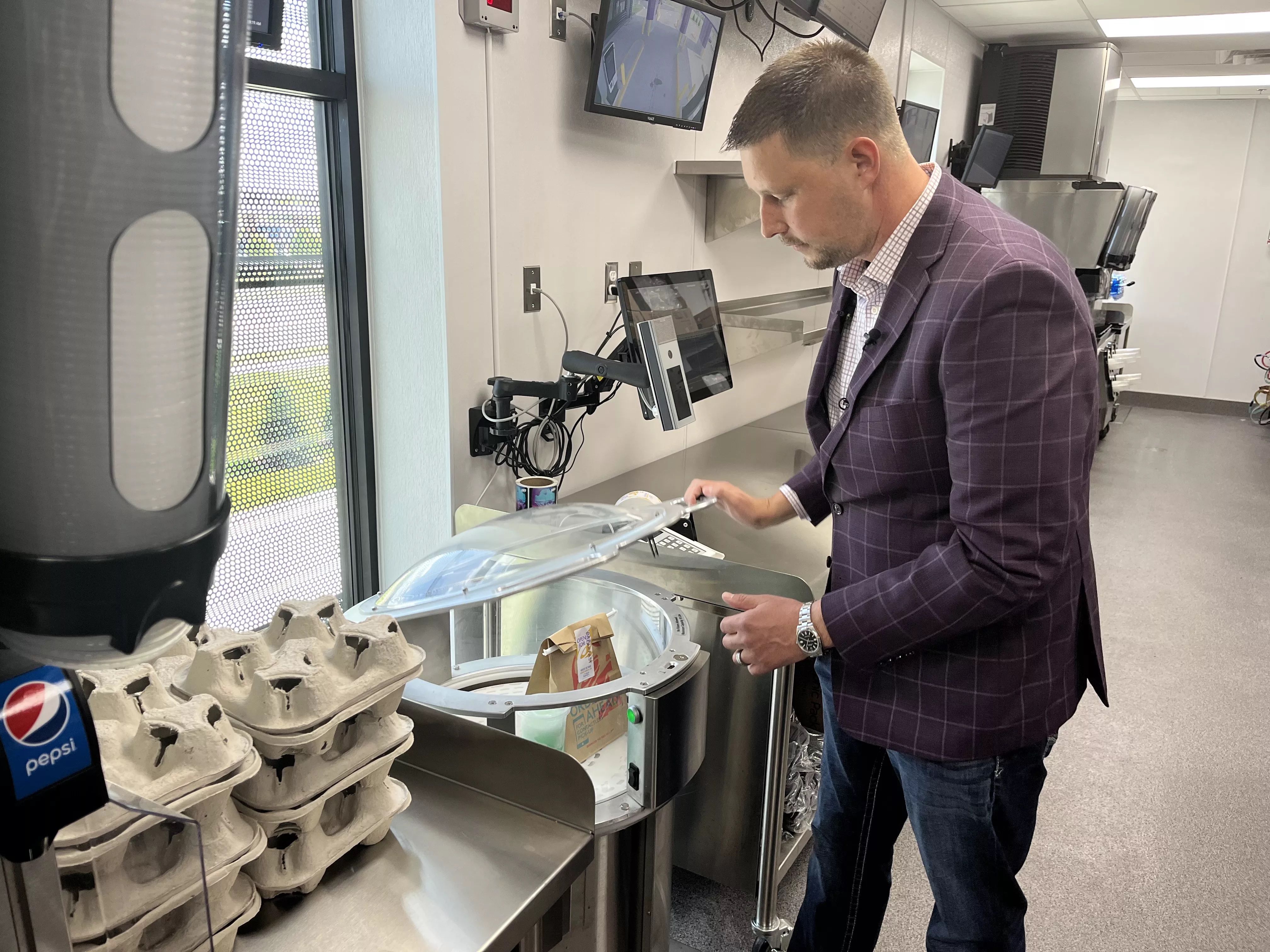 Tacos are loaded into this lift system and dropped down ...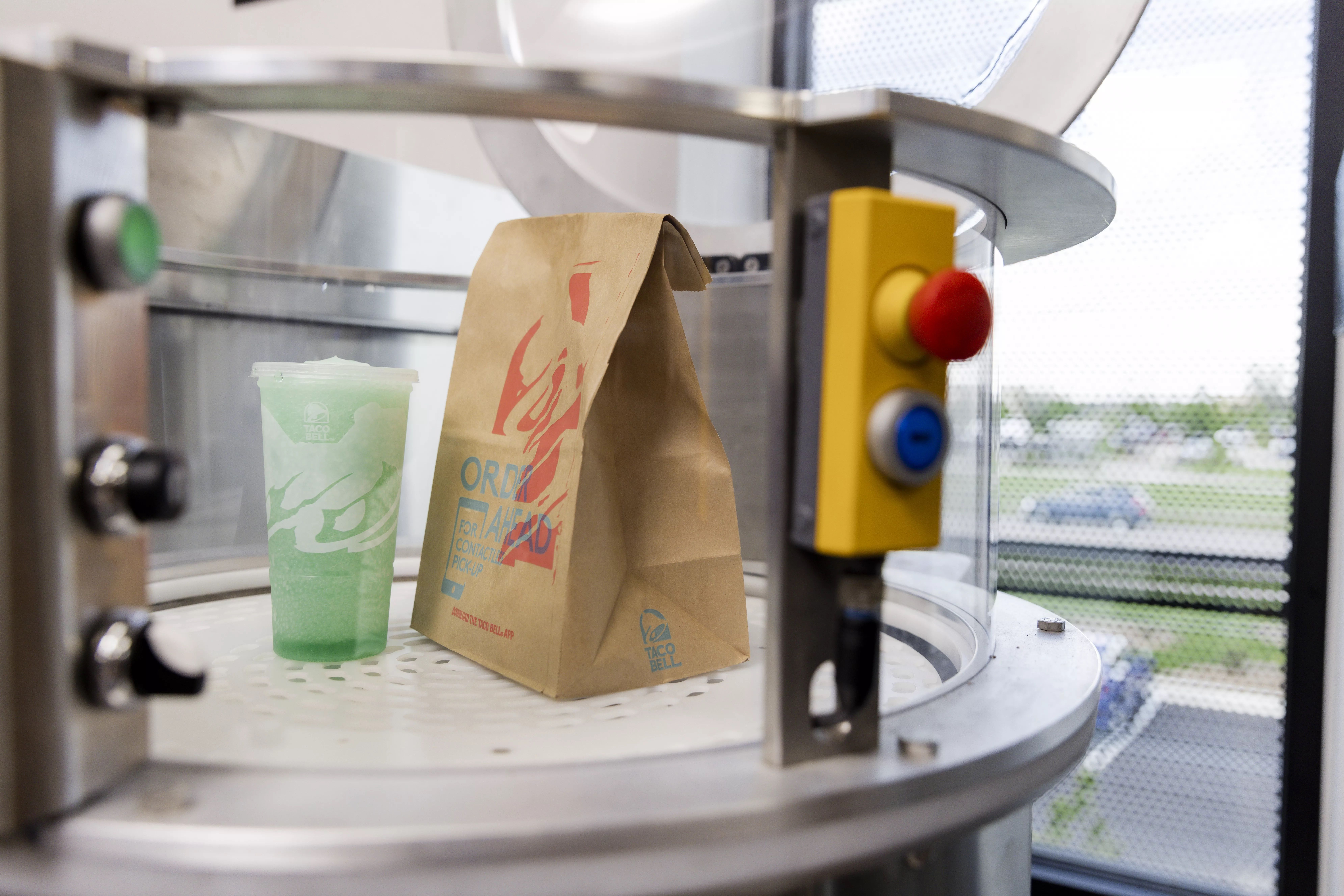 ... to kiosks like this.
📬 Invite your friends to sign up here to get their daily essentials — Axios AM, PM and Finish Line.