🥞 Good Sunday morning ...
"Use often!" ... Trump tweets this morning: "The Syrian raid was so perfectly carried out, with such precision, that the only way the Fake News Media could demean was by my use of the term 'Mission Accomplished.' I knew they would seize on this but felt it is such a great Military term, it should be brought back. Use often!"
https://www.axios.com/newsletters/axios-am-22c6b0aa-5a55-4dc9-ba0c-7954278be3a4.html?chunk=0#story0
1 big thing: The FBI's revenge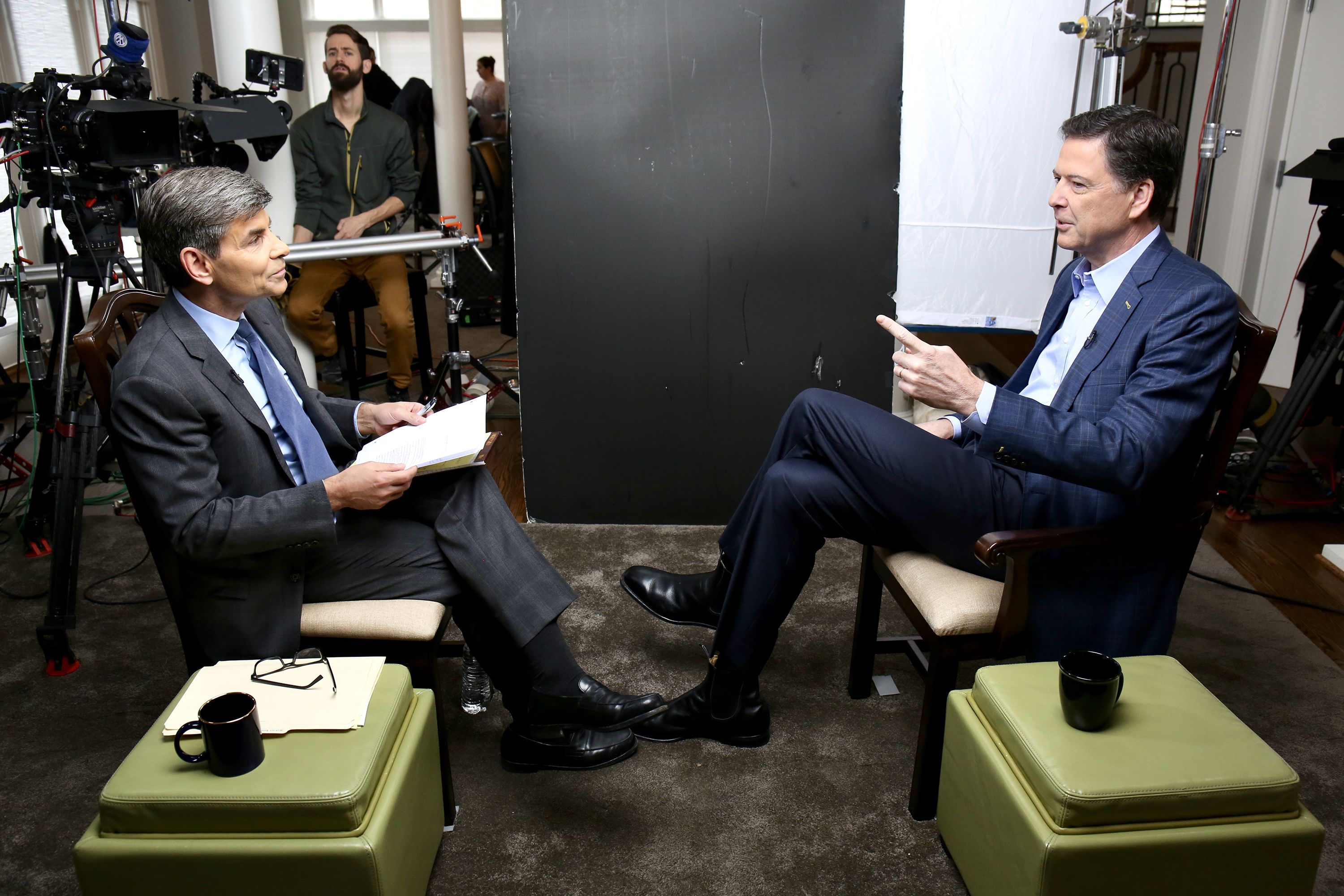 George Stephanopoulos and James Comey (Ralph Alswang/ABC News)
Back in December, President Trump tweeted: "After years of Comey, with the phony and dishonest Clinton investigation (and more), running the FBI, its reputation is in Tatters - worst in History! But fear not, we will bring it back to greatness."
Now, the FBI is getting its revenge. All at once, Trump is being pounded by the bureau and its alumni, with a three-pronged threat:
The broadest narrative comes from fired FBI director James Comey, who concludes his piercing, detailed attacks in "A Higher Loyalty," out Tuesday: "There is reason to believe this fire will leave the presidency weaker and Congress and the courts stronger, just as the forest fire of Watergate did." On Monday, Comey spent nearly five hours with ABC's George Stephanopoulos (airing at 10 tonight as a "20/20" special). Sources familiar with the Comey interview say ABC has held back some of his strongest news-making bites. A source present at the taping said Comey's comments will "shock the president and his team" and "add more meat to the charges swirling around Trump."
The clearest and most immediate threat, in the view of some White House aides, comes from the New York feds' investigation into Trump's longtime lawyer and fixer Michael Cohen, who joined the Trump Organization in 2006. Trump advisers worry Cohen could serve as a Rosetta stone to the past decade of Trump's high-wire business dealings. The raid on Cohen's office has rattled Trump like no previous twist in the investigation.
Robert Mueller's investigation has the potential to yield embarrassing revelations about Trump's campaign, transition and presidency, whether clumsy shortcuts or something more. Trump lawyers say the White House turned over more than 20,000 pages of documents, and the campaign provided more than 1.4 million.
Why it matters: As Trump confronts complex international eruptions and prepares for a summit with North Korea, the FBI clearly has taken up residence in his head.
The Twitter rants were nothing compared with his on-camera blast at the federal investigators on Monday: Trump used "disgrace" seven times and "disgraceful" twice, and called the FBI raid on Cohen's office and hotel room (Trump said the agents "broke into the office") "an attack on our country, in a true sense. It's an attack on what we all stand for."
Be smart: The intelligence community, which Trump has also taunted and maligned, could still harbor surprises for a flummoxed president.
One outside ally of the White House told me: "He picked fights with the two institutions that have the ability to find information people want hidden — a serious miscalculation about the relative power arrangements of the pieces of the executive branch."
P.S. To give you a sense of the tack Comey will take on the book tour ahead, he dedicates the book to "my former colleagues, the career people of the Department of Justice and the FBI, whose lasting commitment to truth keeps our country great."
Comey: "We are experiencing a dangerous time in our country, with a political environment where basic facts are disputed, fundamental truth is questioned, lying is normalized, and unethical behavior is ignored, excused, or rewarded."

https://www.axios.com/newsletters/axios-am-22c6b0aa-5a55-4dc9-ba0c-7954278be3a4.html?chunk=1#story1
2. A tougher take on Comey
The WashPost's front page has a tough-ish review of James Comey's "A Higher Loyalty," out Tuesday — "How does Comey live up to 'ethical leadership' he extols?" by book critic Carlos Lozada:
"Trump ... lurks in Comey's schoolboy battles with bullies ... 'All bullies are largely the same ... They threaten the weak to feed some insecurity that rages inside them.'"
Comey, on his days battling mafia families as U.S. attorney in Manhattan: "As I found myself thrust into the Trump orbit, I once again was having flashbacks to my earlier career as a prosecutor against the Mob. The silent circle of assent. The boss in complete control. The loyalty oaths. The us-versus-them worldview. The lying about all things."
"Comey cops to petty misdeeds ... But when the stakes rise, self-examination diminishes.
"Comey's own ethical leadership suffers most in the book's treatment of his one-time boss, former attorney general Loretta Lynch."
A key passage from Comey's book, noted by Lozada:
"I've prosecuted and overseen many cases involving obstruction of justice, but in this case, I am not the prosecutor. I am a witness. I have one perspective on the behavior I saw, which while disturbing and violating basic norms of ethical leadership, may fall short of being illegal."
Chris Matthews tells me, in advance of a special he narrates at 9 tonight on MSNBC, "Headliners: James Comey":
"James Comey is the most politically significant FBI Director since J. Edgar Hoover. He may end up more important to American history than Donald Trump."
https://www.axios.com/newsletters/axios-am-22c6b0aa-5a55-4dc9-ba0c-7954278be3a4.html?chunk=2#story2
3. An Obama alumnus critiques the strikes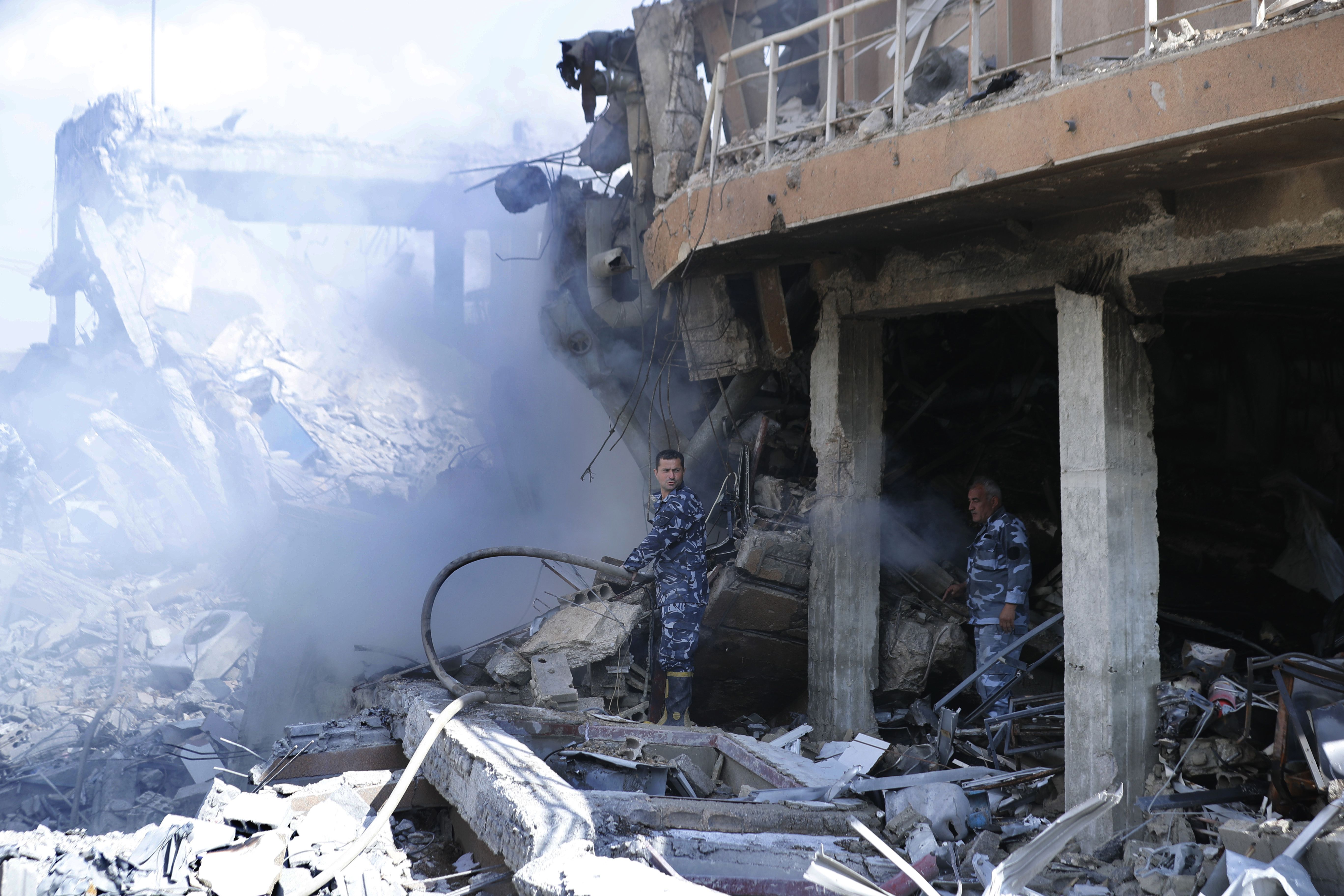 Unluckiest firefighters: Smoke rises from the Syrian Scientific Research Center after attack. (AP's Hassan Ammar)
Michèle Flournoy — former Under Secretary of Defense for Policy under President Obama, co-founder and managing director of WestExec Advisors, and former CEO of the Center for a New American Security — provides Axios with her analysis of the Syria strikes:
"What Trump got right: upheld the international norm against [chemical weapon] use, built international support for and participation in the strikes, sought to minimize collateral damage — Syrian, Russian, Iranian."
"What Trump got wrong: continuing to use taunting, name-calling tweets as his primary form of (un)presidential communication; failing to seriously consult Congress before deciding to launch the strikes; after more than a year in office, still no coherent Syria strategy."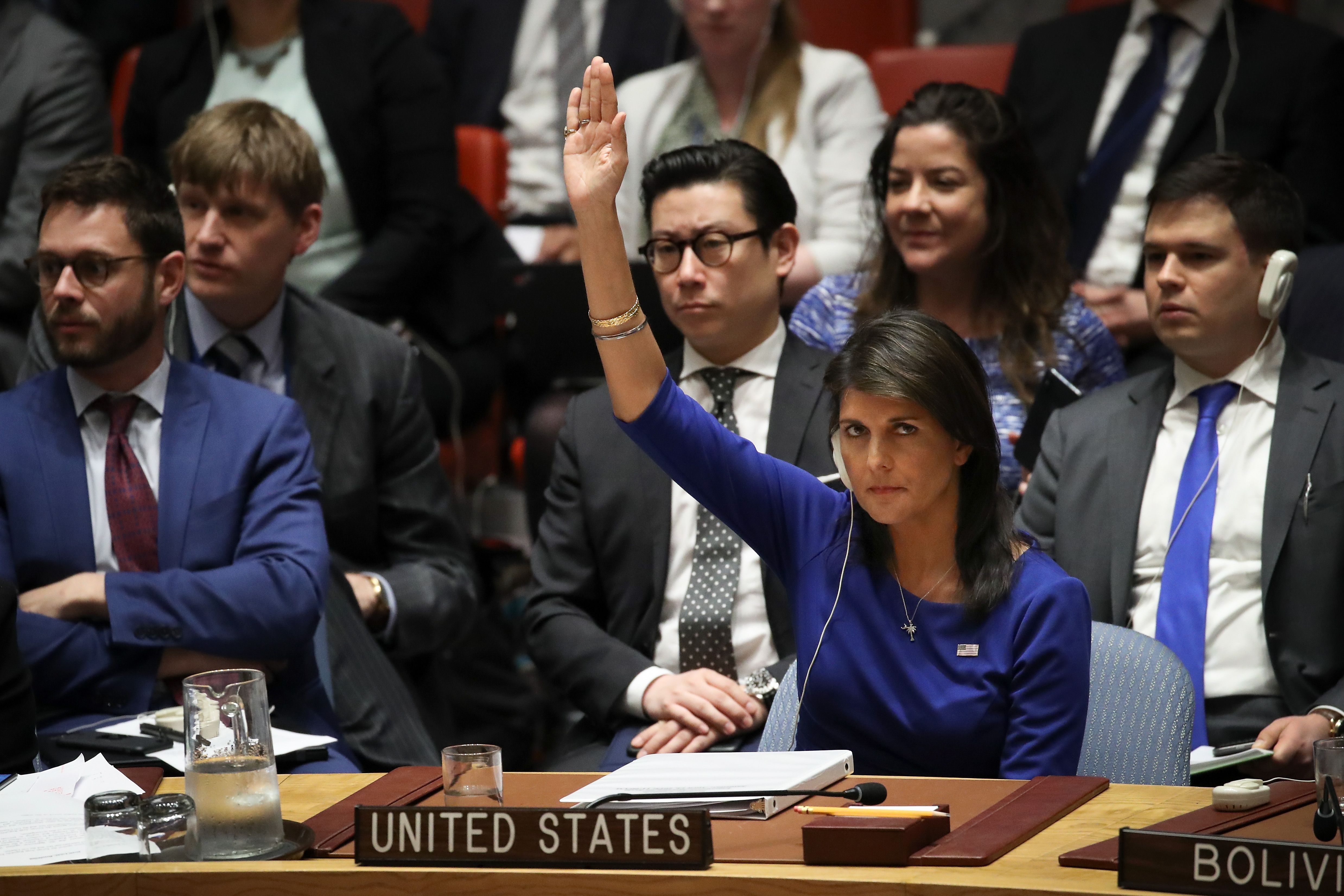 U.S. ambassador to the U.N. Nikki Haley vetoes Russian effort to condemn Syria strike. (Drew Angerer/Getty Images)
https://www.axios.com/newsletters/axios-am-22c6b0aa-5a55-4dc9-ba0c-7954278be3a4.html?chunk=3#story3
4. For old times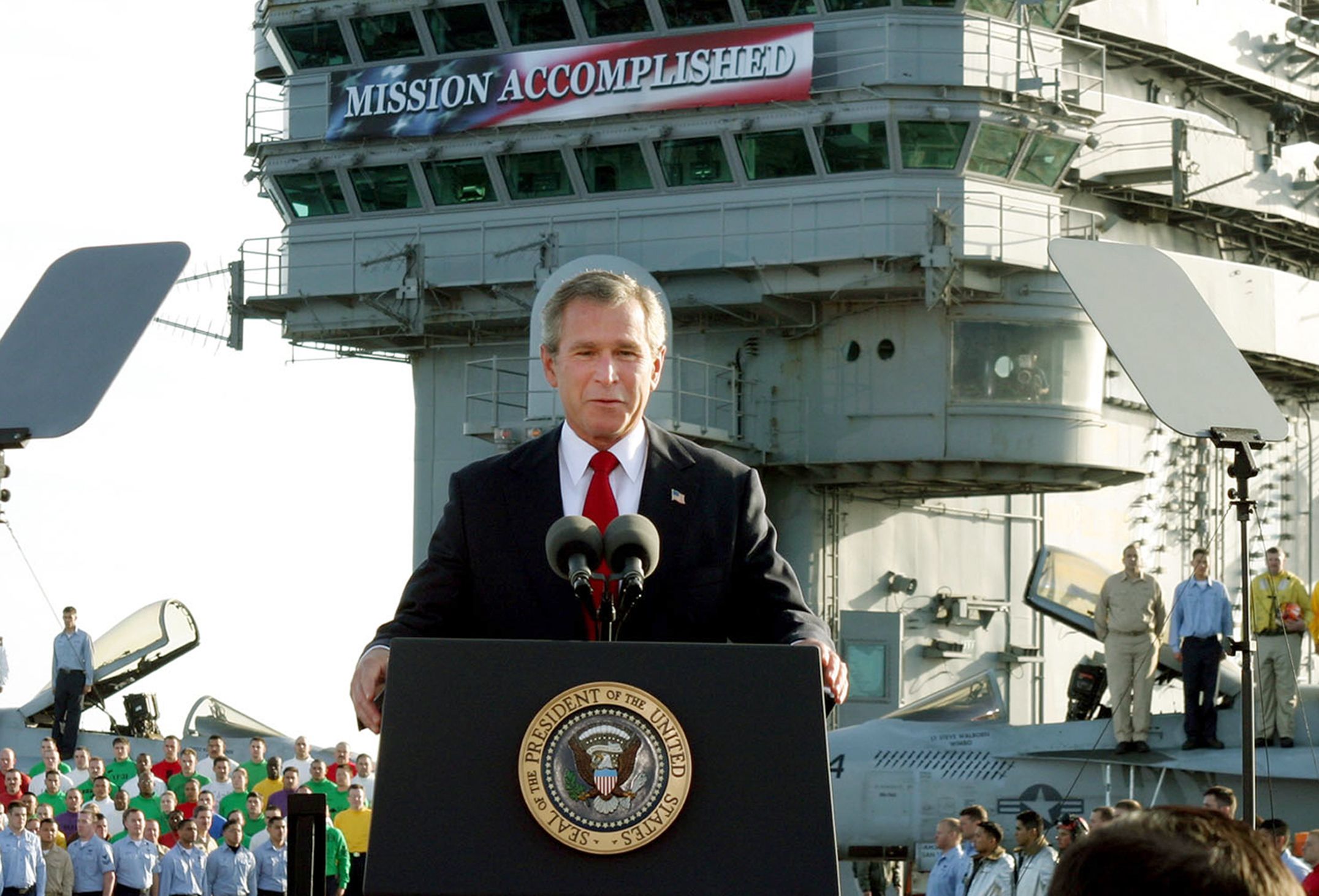 AP's J. Scott Applewhite
Shot ... Trump on Twitter yesterday: "Mission Accomplished!"
Chaser ... Phrase haunted Bush: "Back in 2003, a flight suit-clad President George W. Bush stood on an aircraft carrier under a giant 'Mission Accomplished' banner and declared that 'major combat operations in Iraq have ended' — just six weeks after the invasion. But the war dragged on for many years after that."
https://www.axios.com/newsletters/axios-am-22c6b0aa-5a55-4dc9-ba0c-7954278be3a4.html?chunk=4#story4
5. How the strikes played, in London and New York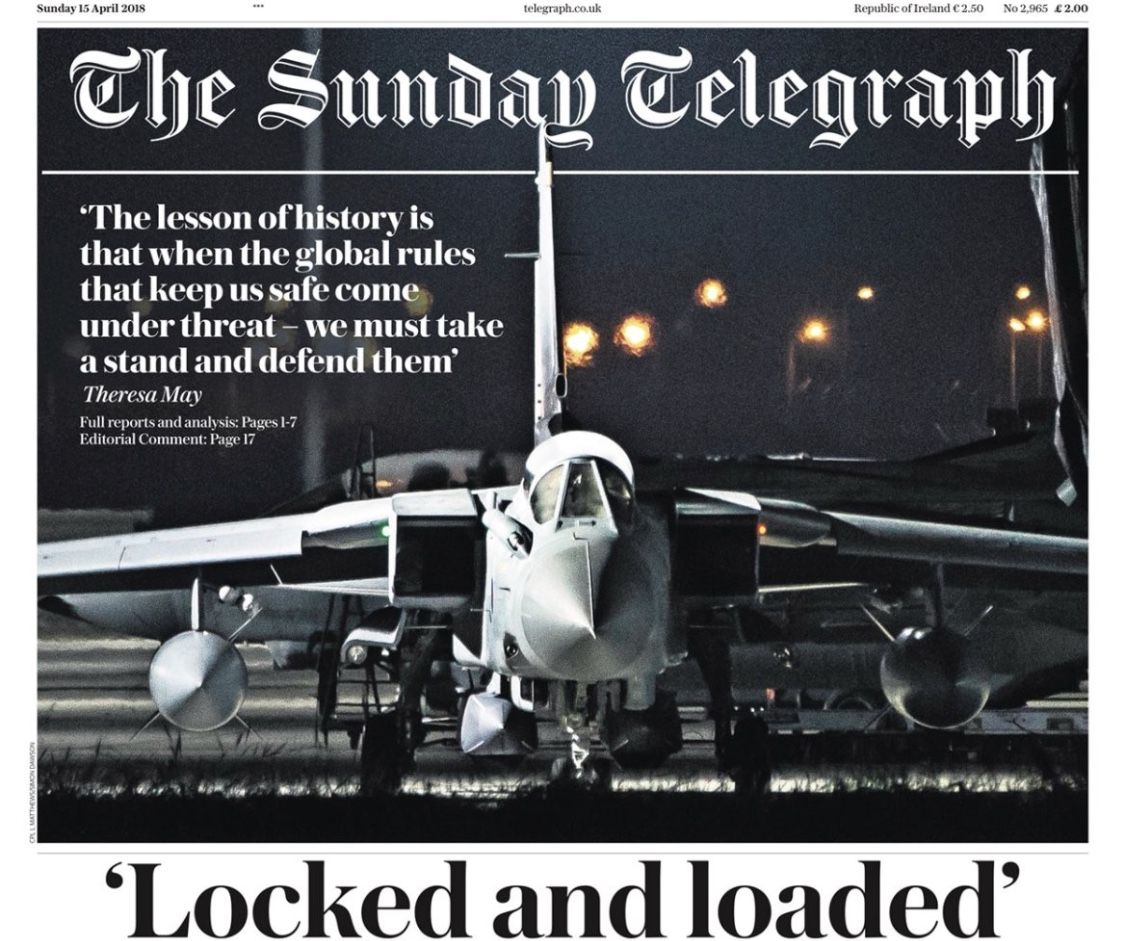 Courtesy The Daily Telegraph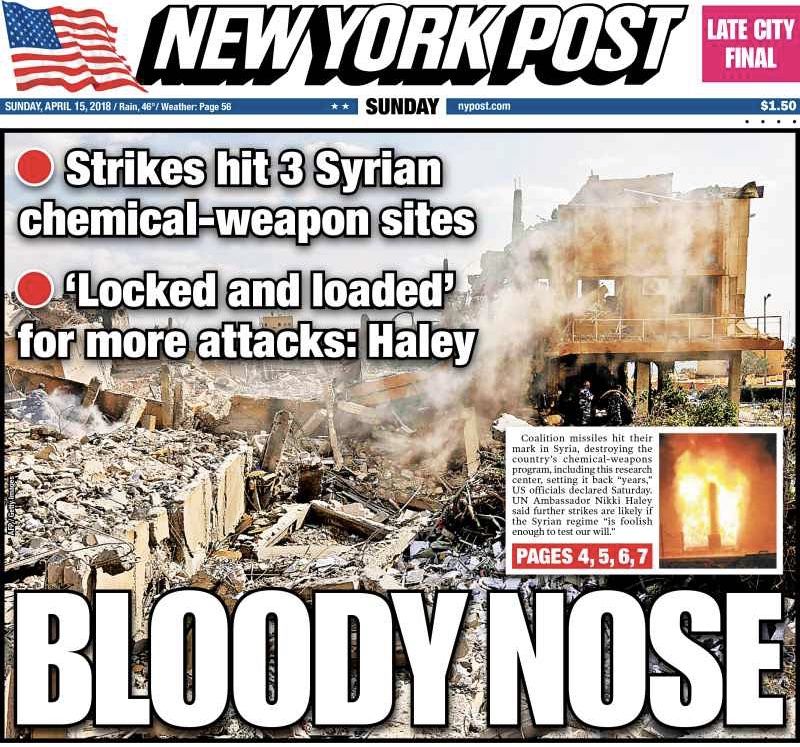 Courtesy N.Y. Post
https://www.axios.com/newsletters/axios-am-22c6b0aa-5a55-4dc9-ba0c-7954278be3a4.html?chunk=5#story5
6. Pentagon claims 2,000% rise in Russia trolls
Pentagon spokeswoman Dana White said at a briefing yesterday that there had been a "2,000% increase in Russian trolls in the last 24 hours," as part of a disinformation campaign following the strike against Syria.
Gizmodo calls the statistic "bizarre," and notes that the Pentagon didn't say how it quantified the trolls.
The bottom line, from Axios' Haley Britzky: The problem of Russian actors generating division and conflict among Americans isn't going away.
https://www.axios.com/newsletters/axios-am-22c6b0aa-5a55-4dc9-ba0c-7954278be3a4.html?chunk=6#story6
7. Black men's arrest at Starbucks prompts national outcry
The "Philadelphia's mayor's office and Police Department have begun separate investigations into the arrest of two African American men waiting to meet an acquaintance at a Center City Starbucks on Thursday after a video of the incident was widely shared on social media," the Philadelphia Inquirer reports:
"The video, which was posted by Philadelphia-based author Melissa DePino, ... shows at least six Philadelphia police officers taking the two men into custody without resistance. By 5 p.m. Saturday, the video had gathered nearly 4.3 million views."
"[T]he two men can be seen being escorted from a table at the cafe in handcuffs while a white man, who has been identified as Philadelphia real estate investor Andrew Yaffe, asks why officers were called and attempts to explain to police that the two men were waiting for him."
The police commissioner "said in a video posted to Facebook on Saturday afternoon that police responded ... to a 911 call reporting a disturbance. The men had refused to leave the cafe after asking to use the restroom without placing an order, which violated Starbucks policy, staff members told police."
Starbucks statement: "We apologize to the two individuals and our customers and are disappointed this led to an arrest ... We take these matters seriously and clearly have more work to do when it comes to how we handle incidents in our stores."
"We are reviewing our policies and will continue to engage with the community and the police department to try to ensure these types of situations never happen in any of our stores."
https://www.axios.com/newsletters/axios-am-22c6b0aa-5a55-4dc9-ba0c-7954278be3a4.html?chunk=7#story7
8. An ad legend falls
Sir Martin Sorrell, 73, abruptly resigned as CEO of WPP, the world's largest advertising group, ahead of the findings of an investigation into alleged personal misconduct.
Sorrell statement: "Obviously I am sad to leave WPP after 33 years. It has been a passion, focus and source of energy for so long. However, I believe it is in the best interests of the business if I step down now.
Why he matters, from Axios' Sara Fischer: Sorrell is one of the most influential people in media, advertising and marketing. But he recently faced a board investigation into his behavior (with no material conclusions) and has faced headwinds trying to navigate his company through a grim advertising marketplace.
"The Gary Player of advertising" ... A memorable assessment for Axios readers by a Sorrell client and friend, who asked not to be named in order to be more candid:
"End of an era. Guy was a living legend. But he built the company, owned the company and ran it like it was his own for years, even though it was publicly traded."
"Paid himself more money than any CEO in the U.K. for years by 3x and always got hell for doing so, because executive remuneration is highly controversial" in London.
"Finally was forced to get a real board of directors and they clearly had enough of him running the place like he still owned it outright."
"The Gary Player of advertising. Nobody has racked up more air miles. Traveled all over the world all the time."
"Was always where the action was, and yet would return an email in minutes no matter where he was in the world and what time of day."
"Not to everyone's taste, but I loved being with him because he was so engaged in the global conversation at the highest levels and always had interesting insights. Suspect that won't change. ... I think he will have another act."
https://www.axios.com/newsletters/axios-am-22c6b0aa-5a55-4dc9-ba0c-7954278be3a4.html?chunk=8#story8
9. This weekend's most worthy curl-up read
This elegantly presented N.Y. Times takeout is the extremely rare long story that you'll read from beginning to end — and that delivers on what it promises:
"Never Solved, a College Dorm Fire Has Become One Man's Obsession: The 1967 blaze at Cornell University killed 9, including members of a fast-track Ph.D. program. No one was ever charged, but an amateur investigator thinks he knows who set it," by N. R. Kleinfield, a former long-time member of The Times's Metro staff, is a freelance writer and the author of eight books."
"A thunderous event once joined them, but they had drifted apart to follow adult lives. ... They had always carried the fire with them. Many of them ... had been seized by survivor's guilt. Flashbacks and nightmares haunted them, as did what would later be identified as post-traumatic stress disorder."
https://www.axios.com/newsletters/axios-am-22c6b0aa-5a55-4dc9-ba0c-7954278be3a4.html?chunk=9#story9
10. 1 fun thing: The Harry Potter economy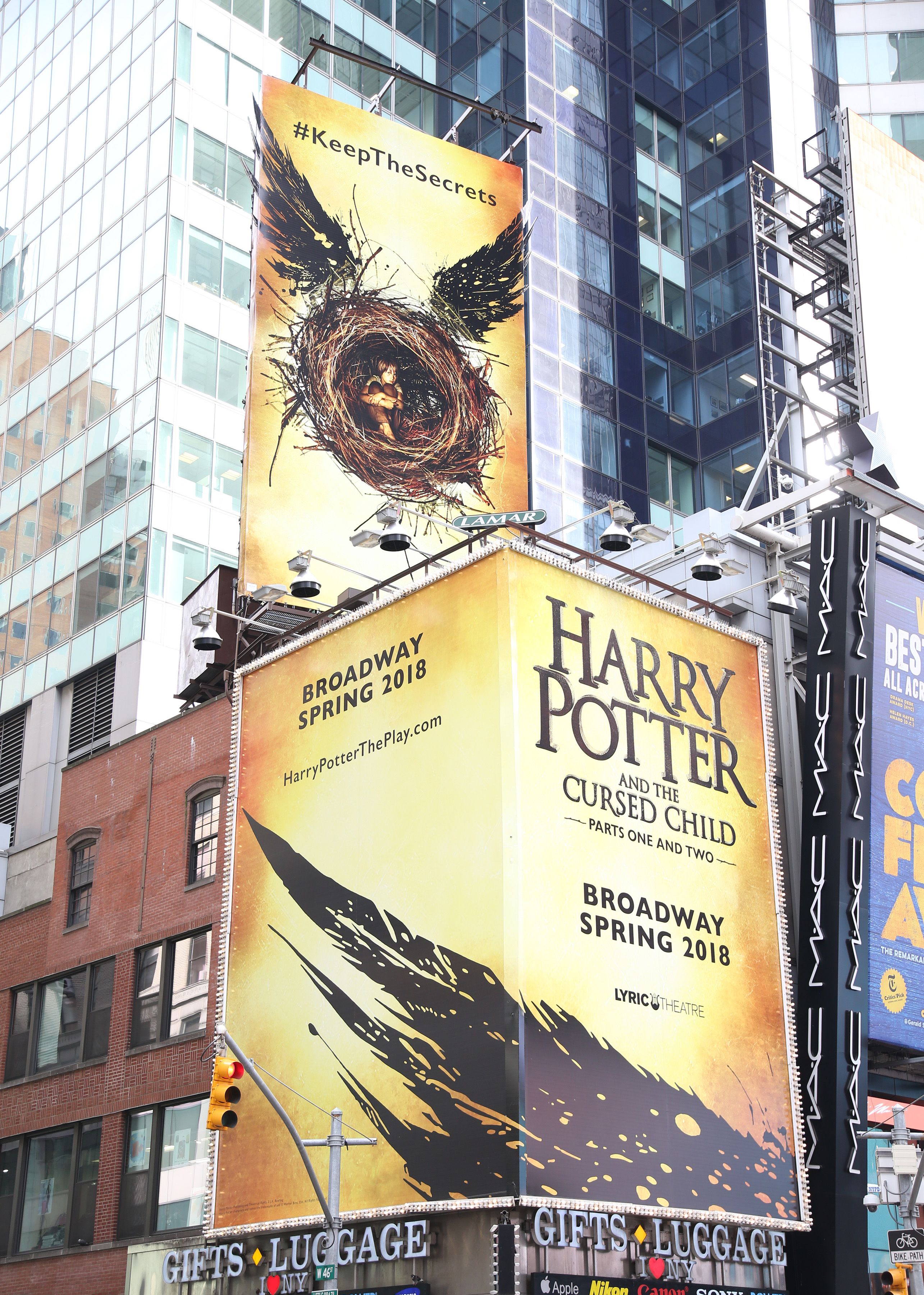 Times Square billboard (Walter McBride/Getty Images)
"Harry Potter and the Cursed Child," a two-part Broadway drama now in previews and opening April 22, cost about $68.5 million, more than for any other nonmusical in history, per the N.Y. Times' Michael Paulson:
Why it matters: "It's a huge bet in a flop-prone industry, but also a seemingly safe one, predicated on the expectation that 'Cursed Child' will become a big hit on Broadway, a long-running production that can spin off profits for years."
"Even in previews, as the cast finds its footing and the creative team makes adjustments, the show is setting box-office records."
"Potter fans have been filling up the Lyric, one of Broadway's largest theaters, and the $2.1 million the play took in during the first week of April was more than any play had previously grossed in a single week."