https://www.axios.com/newsletters/axios-am-21652f7d-bd6c-409a-9ce7-5a4db72e4a8f.html?chunk=0#story0
1 big thing: Trump's "fundamental question of our time"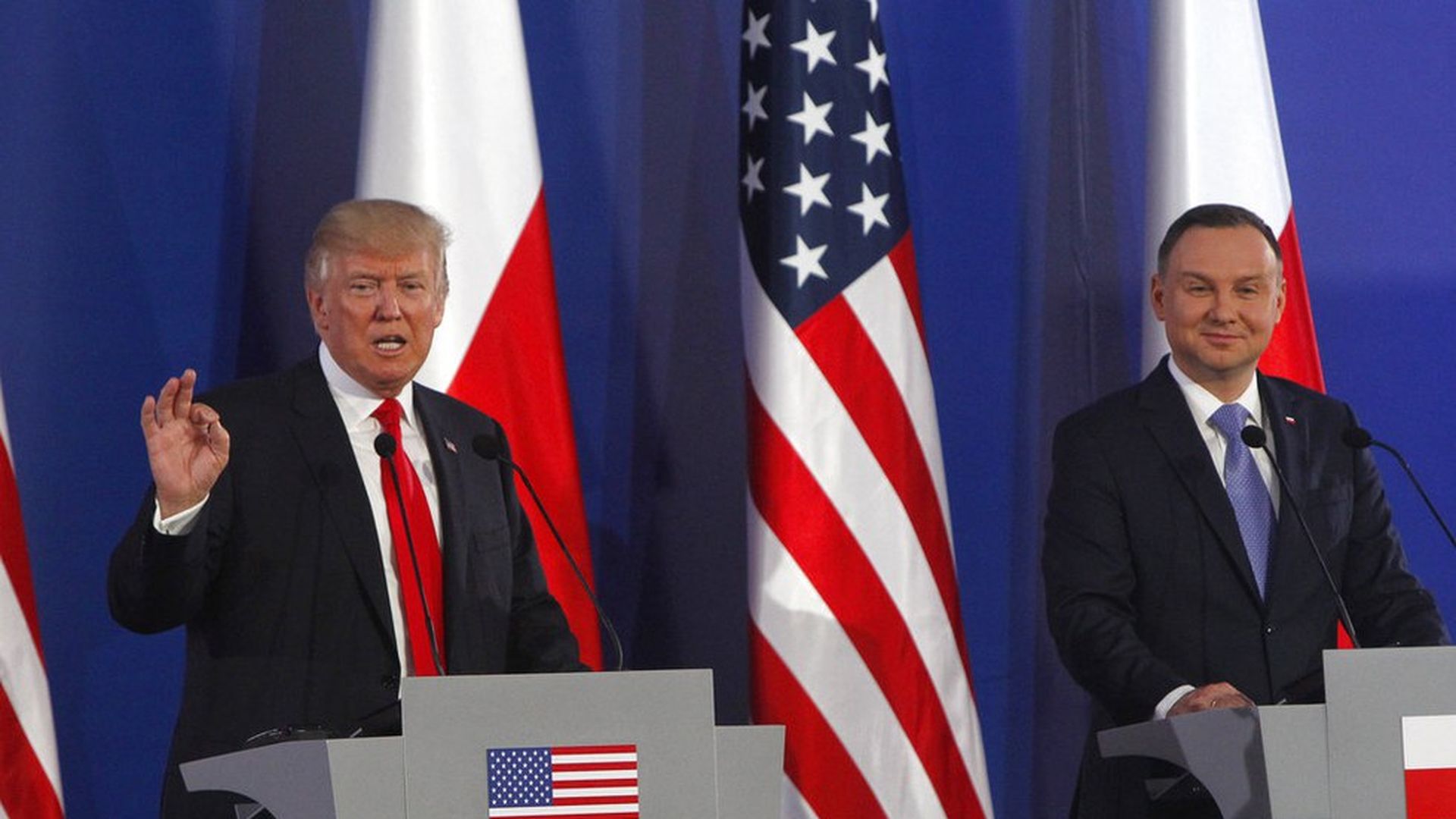 In Warsaw today (7:15 a.m. ET), President Trump delivers what the White House sees as one of the most important speeches of his presidency. He won't identify himself with the nationalist populist ruling party in Poland, but has something grander in mind.
Addressing thousands of Poles in a public square, the president will present himself as the leader of the West. Trump's team, led by senior policy adviser Stephen Miller, saw an opportunity to use the story of the Polish resistance as the setting for a new rallying cry to Western civilization.
But, but, but ... "America first" stings in places that aren't America. Trump's neglect or contempt of traditional alliances has risked his office's traditional mantle as leader of the free world.
From Trump's text: "The fundamental question of our time is whether the West has the will to survive. ... Our own fight for the West does not begin on the battlefield — it begins with our minds, our wills, and our souls."
Between the lines, from Jonathan Swan, who spoke to sources familiar with the drafting: The speech will implicitly reject the premise that Trump has retreated from the world and given up on American leadership, whether it be his withdrawal from the Trans-Pacific Partnership trade deal, his checkered history with NATO, or his exit from the Paris climate accord.
In Trump's address to Congress, he called for a "renewal of the American spirit." Today, Trump will in effect call for a renewal of the spirit of the West to fight new enemies. What the President wants the world to hear: America is again standing up for traditional values — "family, freedom, country, God" — and rallying Europeans who support those values.
Trump will speak in front of the memorial to the Warsaw Uprising of 1944, when more than 150,000 Poles died in the effort to drive the Nazis out of Warsaw and re-establish their independence before Stalin's Soviet forces could capture the city.
New enemies: Trump will point to a set of new threats to the West: Islamic terrorists, state sponsors of terror (mainly Iran), "new forms of threats from traditional competitor nations," and "bureaucratic excesses."
More from the speech: "Americans, Poles, and the nations of Europe value individual freedom and sovereignty. We must work together to counter forces, whether they come from inside or out, from the South or the East, that threaten ... to erase the bonds of culture, faith and tradition that make us who we are."
"I am here today not just to visit an old ally, but to hold it up as an example for others who seek freedom and who wish to summon the courage and the will to defend our civilization. ... While we will always welcome new citizens who share our values and love our people, our borders will always be closed to terrorism and extremism."
https://www.axios.com/newsletters/axios-am-21652f7d-bd6c-409a-9ce7-5a4db72e4a8f.html?chunk=1#story1
Breaking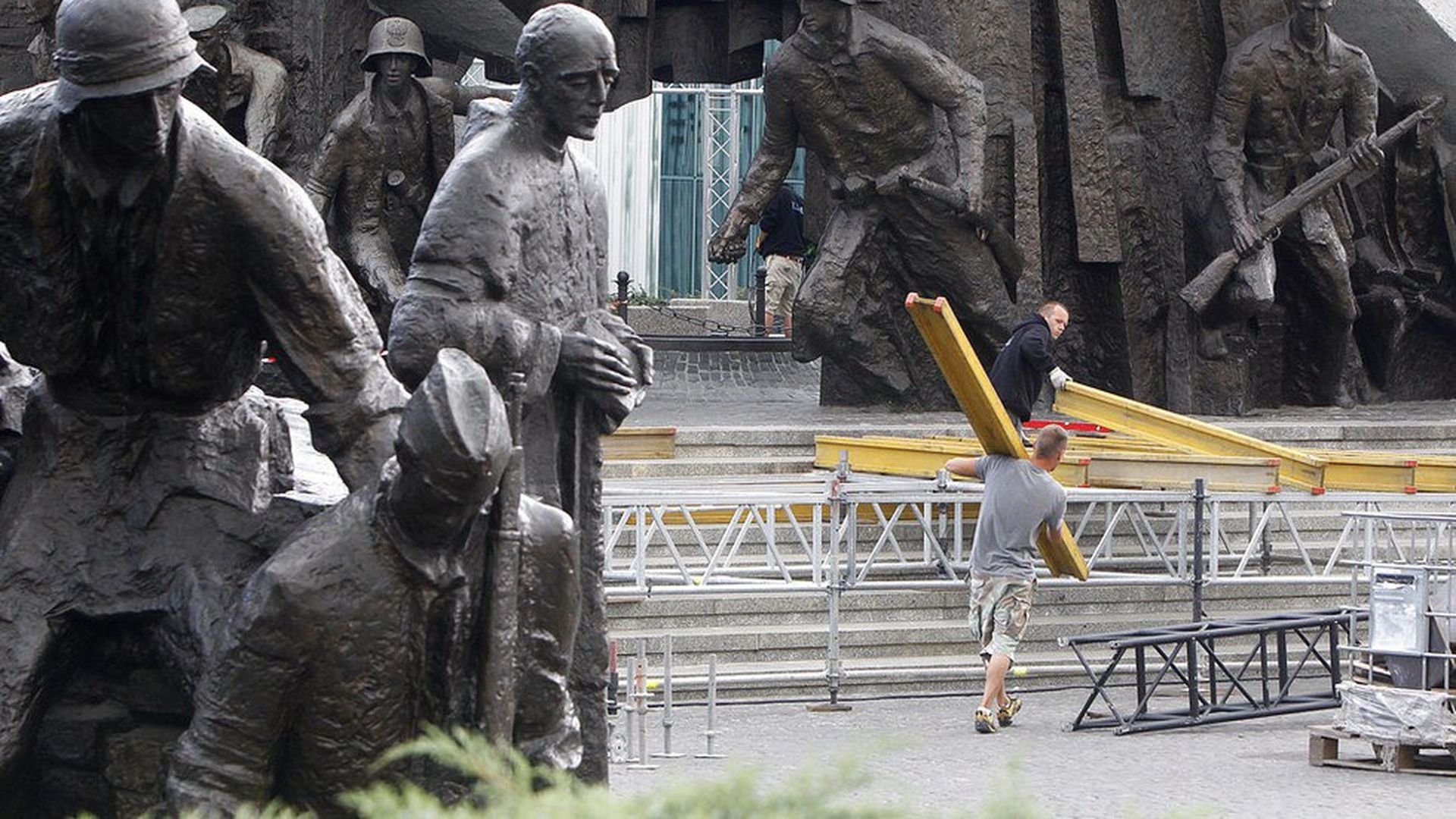 Trump in Warsaw this morning, at the first overseas press conference of his presidency, per AP:
"Trump says he agrees that Russia meddled in the 2016 presidential election, but he is repeating his assertion that he believes 'other countries' may have done the same ... 'nobody really knows for sure.' He was speaking a day ahead of his first face-to-face meeting with Russian President Vladimir Putin."
"Trump says Obama 'choked' and 'did nothing' because he believed ... Clinton would win the election."
https://www.axios.com/newsletters/axios-am-21652f7d-bd6c-409a-9ce7-5a4db72e4a8f.html?chunk=2#story2
2. North Korea in two bites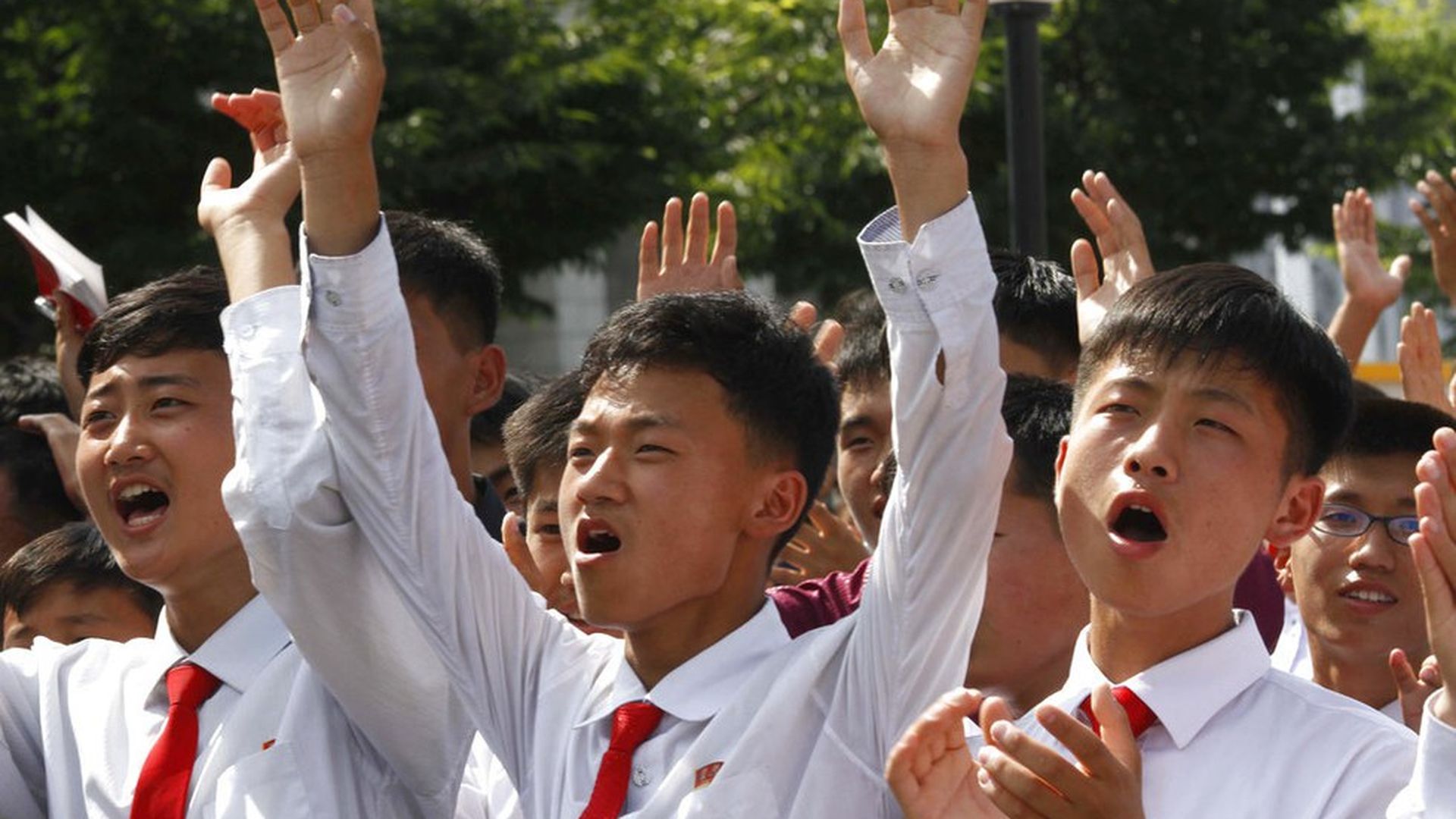 "First Strike Is Option Few Can Stomach: Attacking North Korea Would Risk Grim Toll ... 'Surgical Strike' Could Spin Into 'Worst Kind of Fighting'" — N.Y. Times' Motoko Rich in Seoul: "Even the most limited strike risks staggering casualties, because North Korea could retaliate with the thousands of artillery pieces it has positioned along its border with the South.""Nearly half [South Korea's] population lives within 50 miles of the Demilitarized Zone, including the 10 million people in Seoul, its capital.""[W]hile the South Korean government has indicated it may buy about 1.8 million gas masks for use in the event of a chemical attack, that would not be nearly enough to protect the population.""Time is not on our side": State of U.S. missile defenses — AP National Security Writer Bob Burns: "The Pentagon has a total of 36 missile interceptors in underground silos on military bases in Alaska and California, due to increase to 44 by year's end. ... Sometimes likened to hitting a bullet with a bullet, the collision is meant to incinerate the targeted warhead, neutralizing its nuclear explosive power.Why it matters: "[T]he Pentagon is not satisfied that the current defensive system is adequate for North Korea's accelerating missile advances."
https://www.axios.com/newsletters/axios-am-21652f7d-bd6c-409a-9ce7-5a4db72e4a8f.html?chunk=3#story3
3. The talk of tech: Tough day for Tesla
"Volvo Gives Tesla a Shock, As Others Plan Electric Push ... Jaguars, BMWs and Fords, among others, will offer a system that uses battery technology to comply with emissions rules" — Wall Street Journal front-pager by John Stoll and Tim Higgins:
"Nearly all global vehicle makers are mounting their own electric-car push, powered by ever-cheaper prices for batteries, stricter emissions rules and lucrative government incentives for customers."
"Tesla's shares fell more than 7%, ... the steepest decline in a year in which the company passed both General Motors Co. and Ford Motor Co. in stock-market valuation."
Why it matters: "The Volvo announcement is 'the hard-reality case that Tesla will face intense competition by next decade from legacy [auto makers] ... Musk's lead isn't as sizable as often believed.'"
https://www.axios.com/newsletters/axios-am-21652f7d-bd6c-409a-9ce7-5a4db72e4a8f.html?chunk=4#story4
4. Paragraph of the day
CNN v. POTUS ... N.Y. Times' Michael Grynbaum, on p. B1:
"White House advisers have discussed a potential point of leverage over their adversary, a senior administration official said: a pending merger between CNN's parent company, Time Warner, and AT&T. Mr. Trump's Justice Department will decide whether to approve the merger, and while analysts say there is little to stop the deal from moving forward, the president's animus toward CNN remains a wild card."
https://www.axios.com/newsletters/axios-am-21652f7d-bd6c-409a-9ce7-5a4db72e4a8f.html?chunk=5#story5
5. "History could have been different"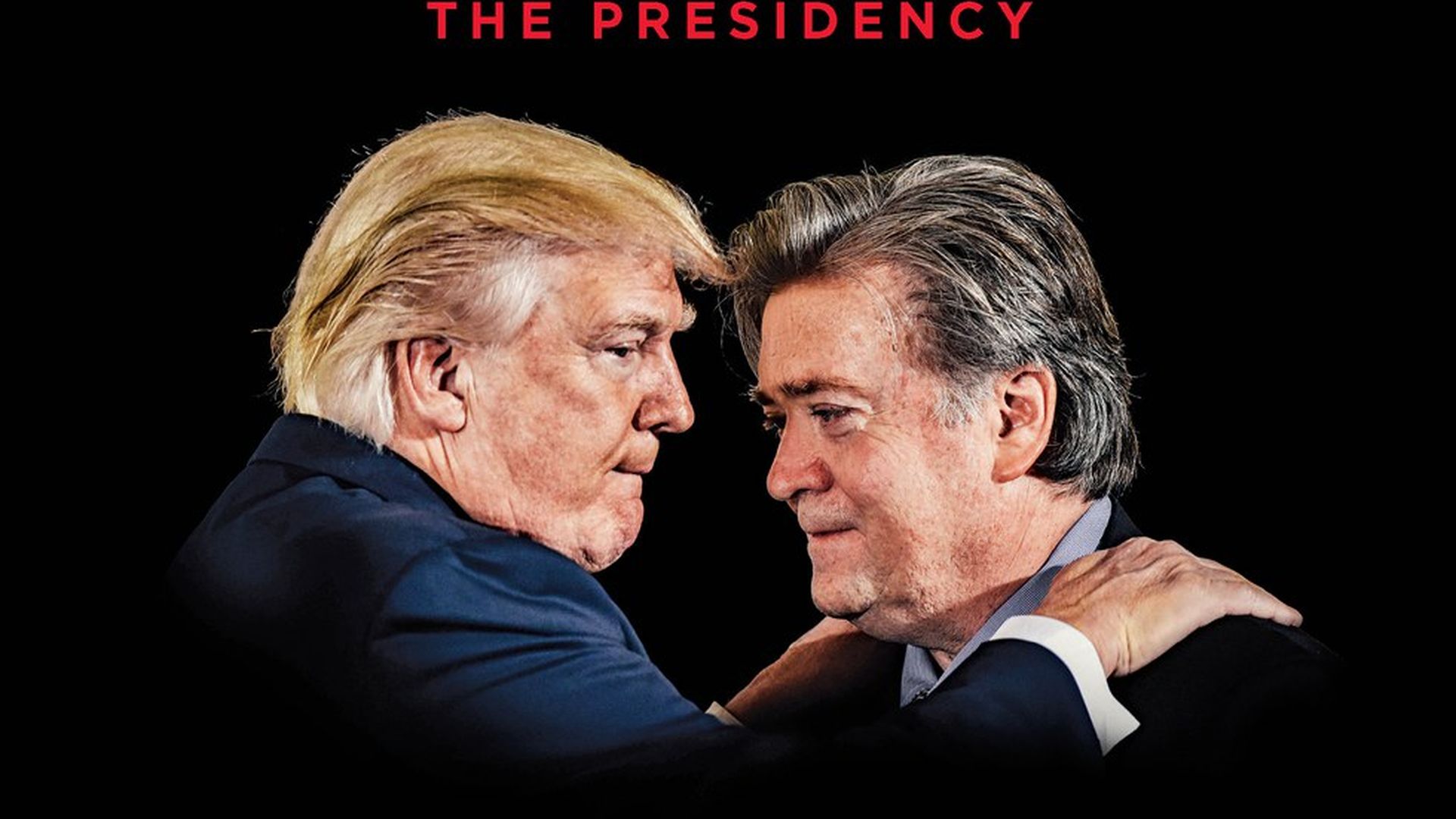 Excerpt from Josh Green's "Devil's Bargain: Steve Bannon, Donald Trump, and the Storming of the Presidency," out July 18 from Penguin Press ... Bloomberg Businessweek adaptation, "The Remaking of Donald Trump: In the multicultural days of The Apprentice, he rose to a level of popularity with minorities that the GOP could only dream of. Then he torched it all to prepare for a hard-right run at the presidency":
"It's almost impossible to imagine now, but in the period just before he entered politics, Trump's appeal to blacks and Hispanics was powerful enough to make him the darling of corporate America. ... Trump's multicultural appeal was an achievement that a sclerotic Republican Party was increasingly desperate to match.""The Apprentice drew a mass audience that pulled in an especially high proportion of black and Hispanic viewers.""Inside Trump's circle, the power of illegal immigration to manipulate popular sentiment was readily apparent, and his advisers brainstormed methods for keeping their attention-addled boss on message. They needed a trick, a mnemonic device. In the summer of 2014, they found one that clicked. 'Roger Stone and I came up with the idea of "the Wall,'' and we talked to Steve [Bannon] about it,' says [early Trump campaign aide Sam] Nunberg. 'It was to make sure he talked about immigration.'""Initially, Trump seemed indifferent to the idea. But in January 2015, he tried it out at the Iowa Freedom Summit, a presidential cattle call put on by David Bossie's group, Citizens United. 'One of his pledges was, "I will build a wall," and the place just went nuts,' says Nunberg. ... Trump waited a beat and then added a flourish that brought down the house. 'Nobody builds like Trump.'"
https://www.axios.com/newsletters/axios-am-21652f7d-bd6c-409a-9ce7-5a4db72e4a8f.html?chunk=6#story6
6. Fahrenthold's next Pulitzer?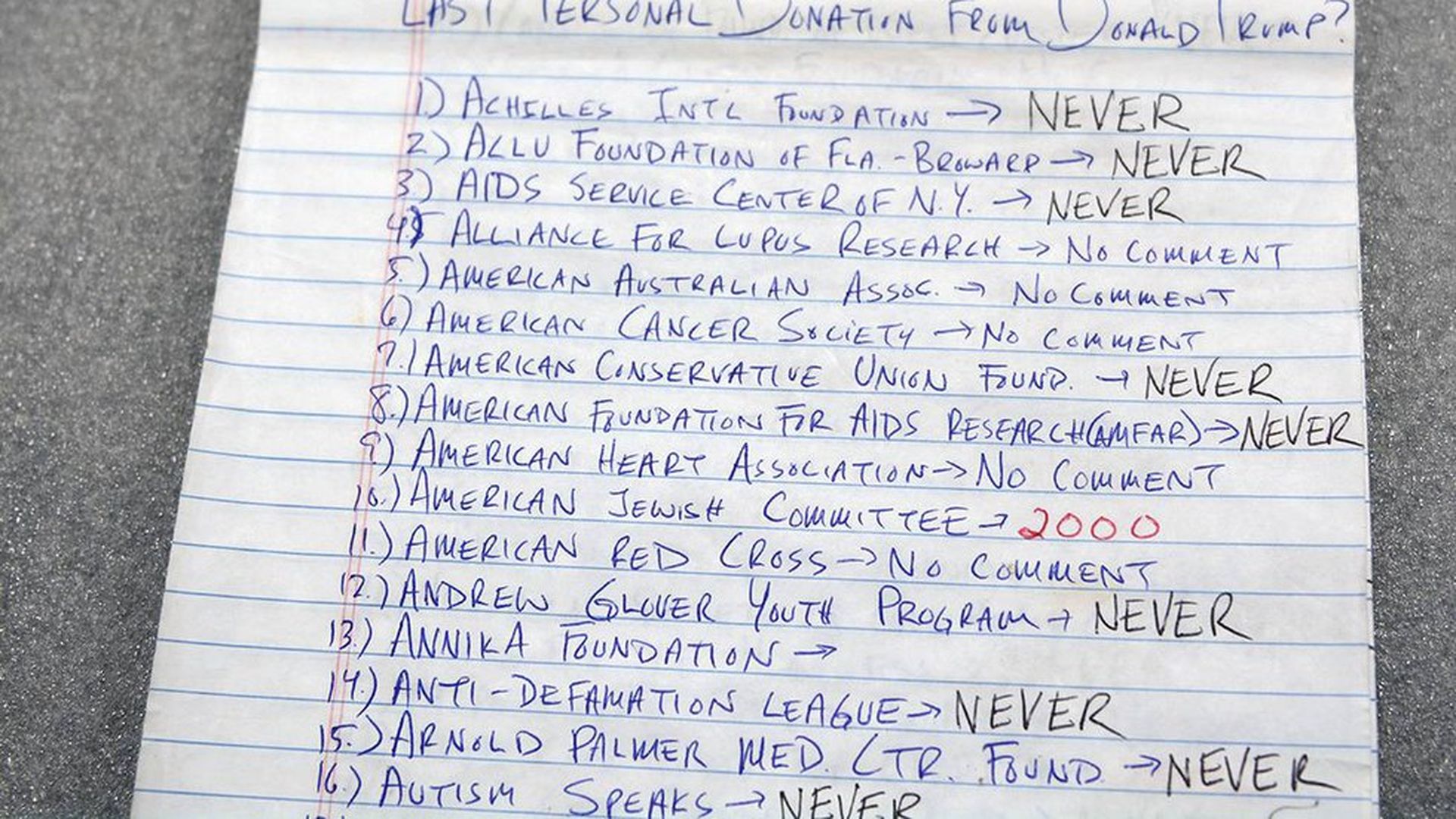 The buzz ... The next big project from David Fahrenthold, the WashPoster who won the Pulitzer for writing relentlessly about Trump's (lack of) charitable contributions, is ... Trump's golf partners.
https://www.axios.com/newsletters/axios-am-21652f7d-bd6c-409a-9ce7-5a4db72e4a8f.html?chunk=7#story7
7. Beyond the bubble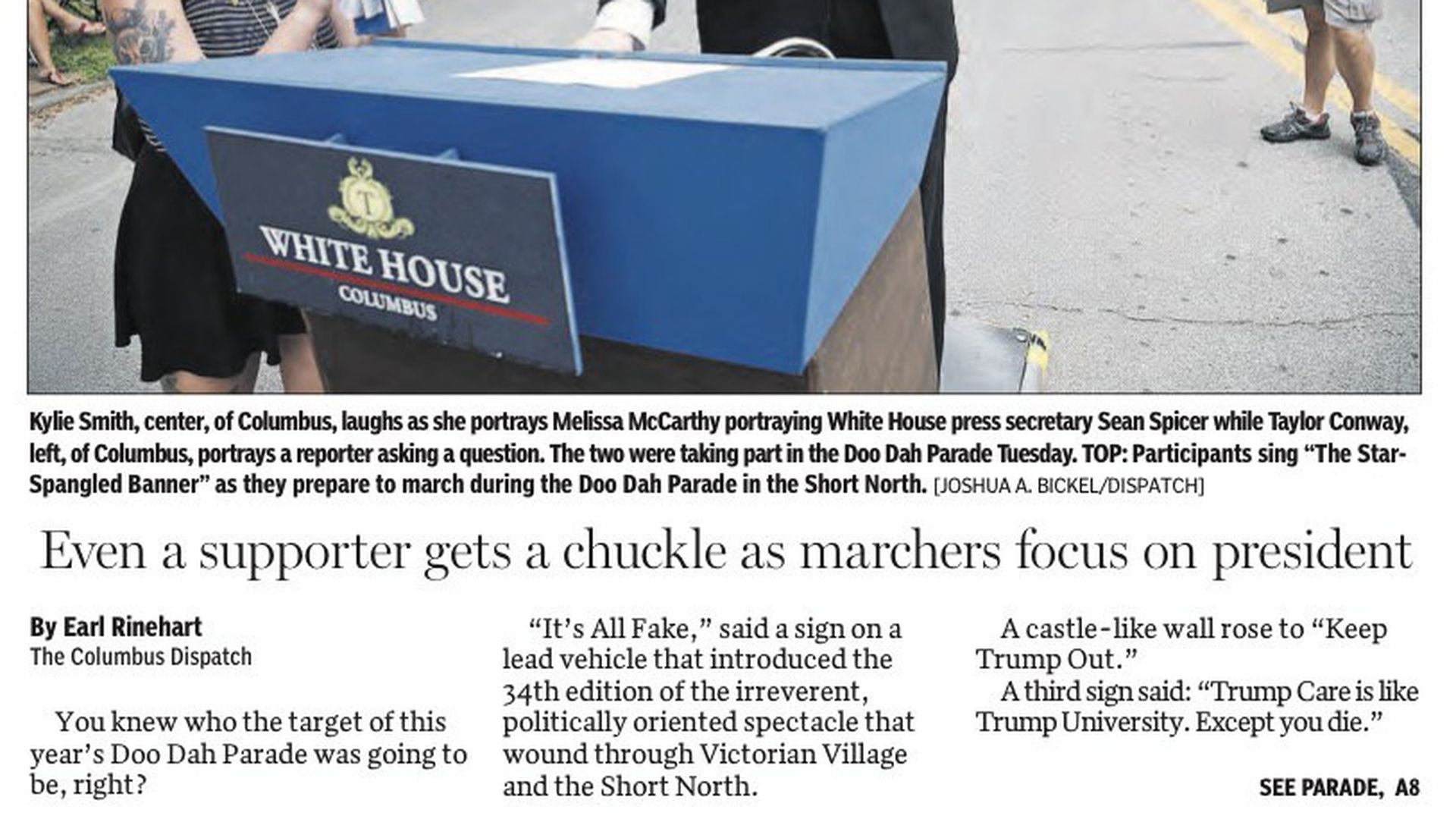 From the heart of Trump country ... cover of yesterday's Columbus (Ohio) Dispatch.
https://www.axios.com/newsletters/axios-am-21652f7d-bd6c-409a-9ce7-5a4db72e4a8f.html?chunk=8#story8
8. Media trends: The "TV all the time" phenomenon
"Critic's Notebook: The Post-Review, Post-Premiere, Post-Finale World of Peak TV," by Hollywood Reporter Chief TV Critic Tim Goodman:
"[I]t's not like people are ignoring TV. They are drowning in it."
"Nobody is all caught up on TV, so that means everything is evergreen. Welcome to the new consumption model."
"In the last two years, television critics have definitively realized they can't watch everything and there's nobody left even willing to lie about it."
Why it matters: "[E]ndless choice means that premieres have less value. ... [F]inales don't have the same impact. ... [R]eviews are evergreen. ... [S]poilers are now both infinite and hold less power. There are no seasons."
https://www.axios.com/newsletters/axios-am-21652f7d-bd6c-409a-9ce7-5a4db72e4a8f.html?chunk=9#story9
9. Business beach reads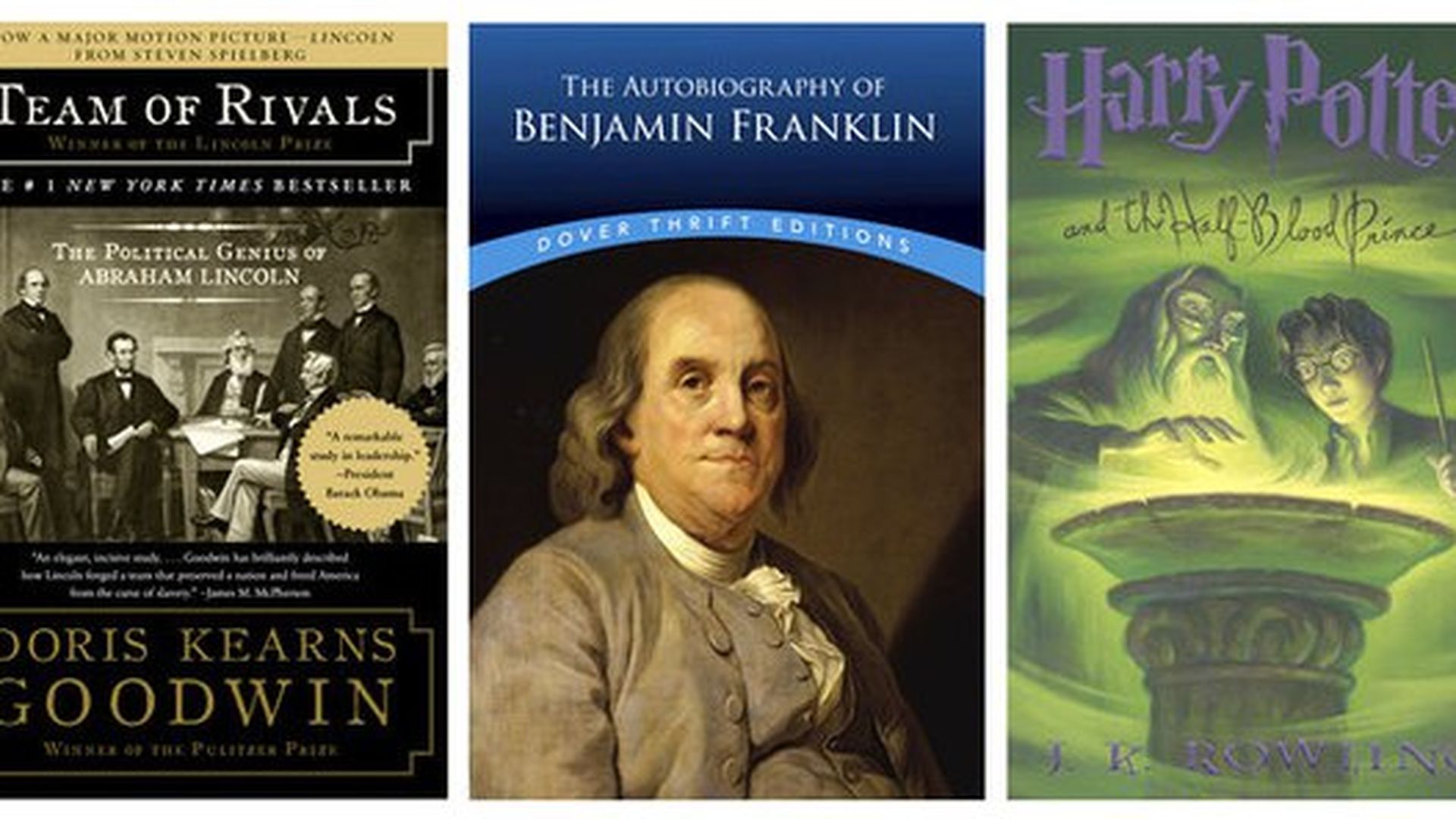 https://www.axios.com/newsletters/axios-am-21652f7d-bd6c-409a-9ce7-5a4db72e4a8f.html?chunk=10#story10
10. 1 fun thing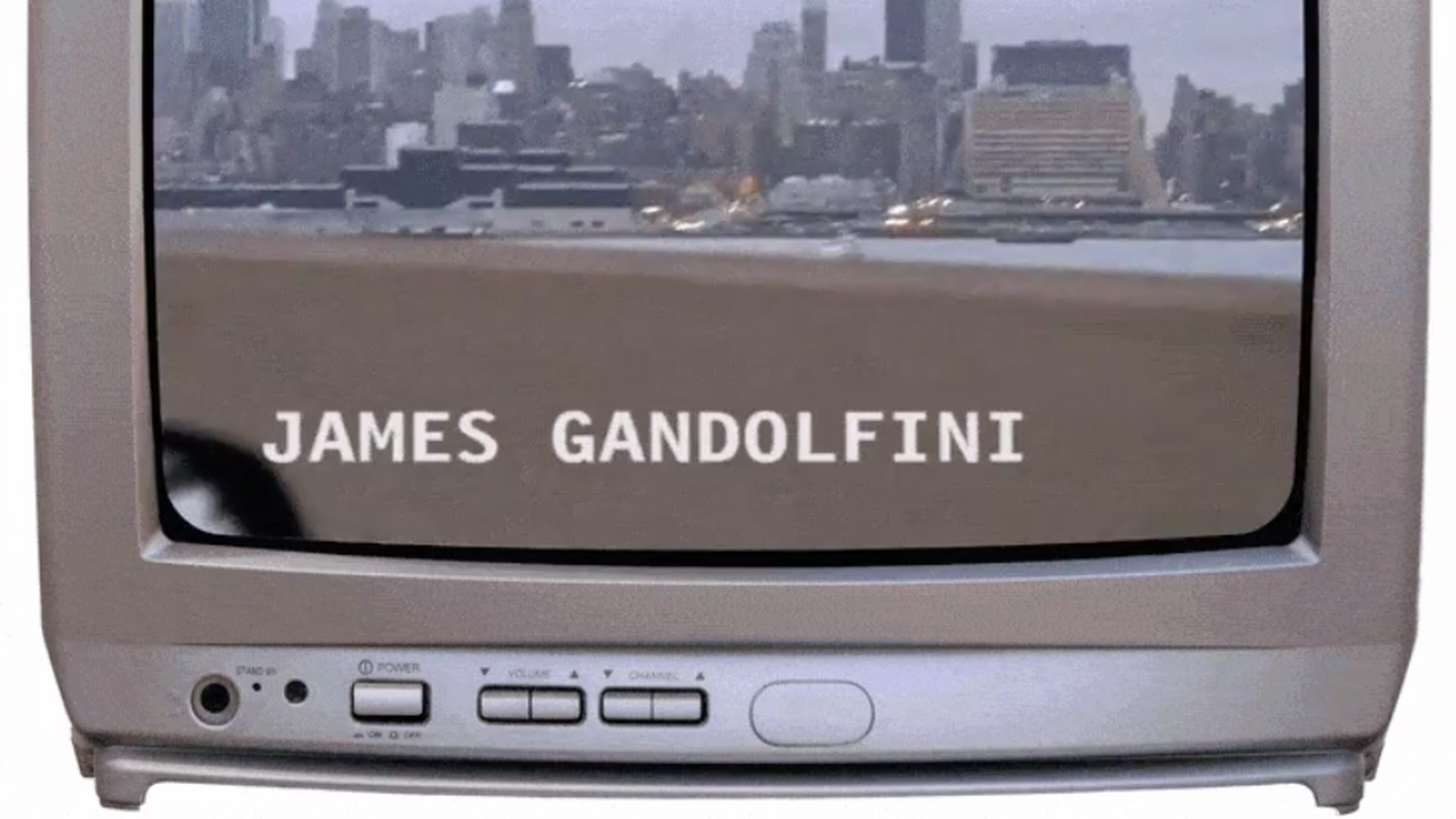 "In the age of streaming TV, who needs title sequences?" by Lance Richardson for The Verge:
"Until Tony Soprano took viewers on a strange journey over the New Jersey Turnpike for the very first time in 1999, television title sequences were mostly straightforward affairs. ... But with The Sopranos, and two years later with Six Feet Under, something began to shift."
"The tech has permitted a degree of play and experimentation ... that once might have caused a designer to be fired."
"At the same time, the way we consume TV shows has also changed dramatically. Streaming services have made binging mainstream ... [T]itle sequences can feel misplaced ... a vestigial nuisance for viewers who are four episodes into a season-long binge."
"[T]his spring, Netflix began to tantalize a 'skip intro' button."
"Last year, "the producers behind [Netflix] American Horror Story decided to drop the show's famously evocative opener for AHS: Roanoke ... 'People were furious online ... I took all these screencaps of people yelling, "Where is the title sequence? How dare you!"'"