Axios AM
September 05, 2018
☕️ Good Wednesday morning ...
1 big thing: Furious Trump trapped by hundreds of Woodward tapes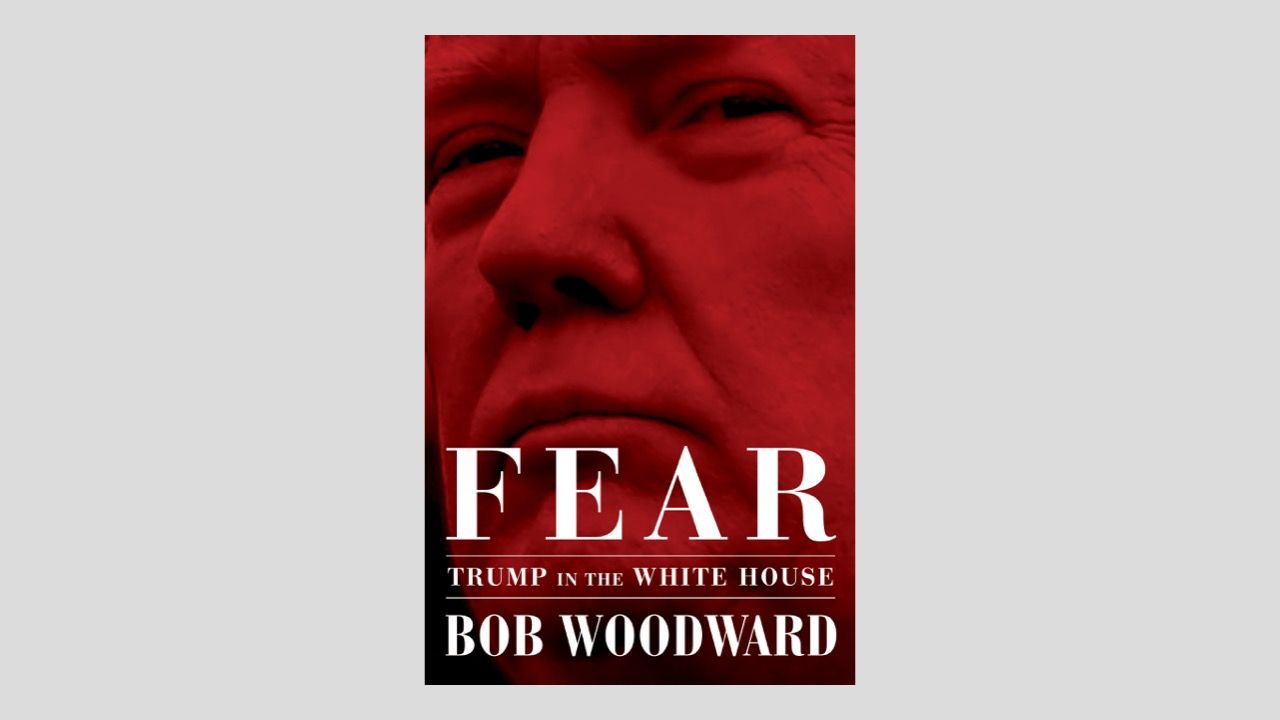 President Trump is livid at the betrayal and stunning allegations in Bob Woodward's forthcoming "Fear," but limited in his ability to fight back because most of the interviews were caught on hundreds of hours of tape, officials tell Jonathan Swan and me.
The book, out Tuesday (9/11) from Simon & Schuster, re-creates — verbatim — page after page of private conversations with him.
The 420-page portrait is all the more damaging because many of the scenes concern foreign policy and national security — truly heavy stuff.
In one emblematic passage, Woodward writes: "The operations of the Oval Office and White House were less the Art of the Deal and more often the Unraveling of the Deal. The unraveling was often right before your eyes, a Trump rally on continuous loop. There was no way not to look."
After the Washington Post posted excerpts yesterday, administration officials did little to deny specific revelations in the book, and instead spent the day speculating about Woodward's likely sources.
One reason that few passages are being disputed: Woodward based the book on hundreds of hours of tapes of his interviews with current and former West Wing aides and other top administration officials.
Nevertheless, several top officials issued denials:
White House chief of staff John Kelly: "The idea I ever called the President an idiot is not true, in fact it's exactly the opposite."
Defense Secretary James Mattis: "The contemptuous words about the President attributed to me in Woodward's book were never uttered by me or in my presence."
Some choice cuts, reflecting the way administration officials and alumni depicted Trump to Woodward:
Trump to James Clapper, then Director of National Intelligence, who briefed him at Trump Tower during the transition on the intelligence community's findings that Putin had interfered in the election: "l don't believe in human sources ... These are people who have sold their souls and sold out their country ... I don't trust human intelligence and these spies."
Defense Secretary James Mattis, to laughter, a month after Trump took office: "Secretaries of Defense don't always get to choose the president they work for."
Trump to Tom Bossert, the president's adviser for homeland security, cyber security and counterterrorism, who asked Trump if he had a minute: "I want to watch the Masters. ... You and your cyber ... are going to get me in a war — with all your cyber shit."
"Trump was given a Reader's Digest version of the Hezbollah briefing."
Stephen Miller to Reince Priebus after Trump had ordered his first chief of staff to get the resignation of Attorney General Jeff Sessions: "We're in real trouble. Because if you don't get the resignation, he's going to think you're weak. If you get it, you're going to be part of a downward-spiral calamity."
"Trump was editing an upcoming speech with [then-staff secretary Rob] Porter. Scribbling his thoughts in neat, clean penmanship, the president wrote, 'TRADE IS BAD.'"
Former White House economic adviser Gary Cohn told Trump: "You have a Norman Rockwell view of America."
"Several times Cohn just asked the president, 'Why do you have these views [on trade]?' 'I just do,' Trump replied. 'I've had these views for 30 years.' 'That doesn't mean they're right,' Cohn said. 'I had the view for 15 years I could play professional football. It doesn't mean I was right.'"
The book's last paragraph: "[I]n the man and his presidency [former Trump lawyer John] Dowd had seen the tragic flaw. In the political back-and-forth, the evasions, the denials, the tweeting, the obscuring, crying 'Fake News,' the indignation, Trump had one overriding problem that Dowd knew but could not bring himself to say to the president: 'You're a [email protected]#$ing liar.'"
2. Woodward: Trump erupts over Mueller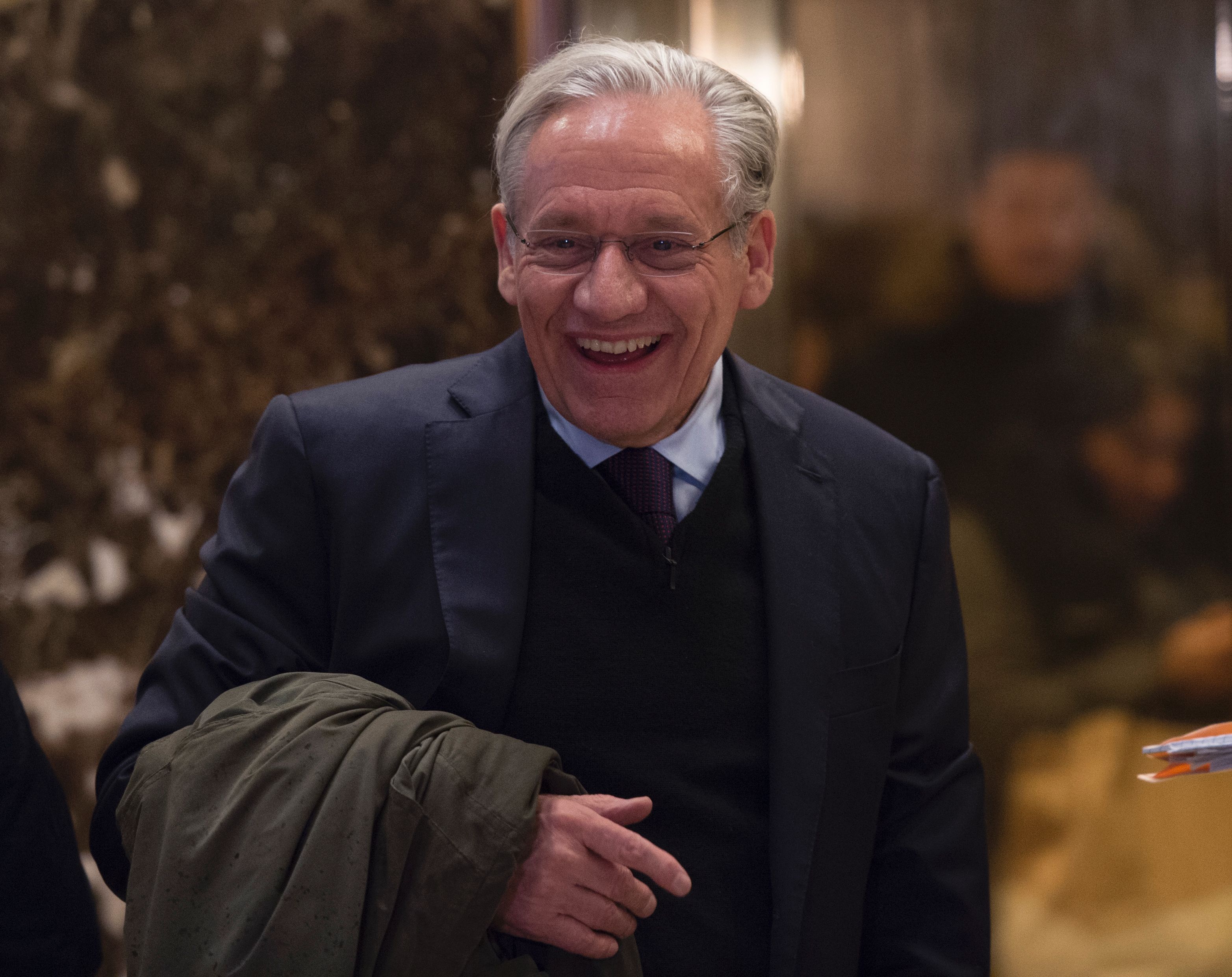 On the day after Robert Mueller was named special counsel, Bob Woodward writes in "Fear," President Trump "erupted into uncontrollable anger, visibly agitated to a degree that no one in his inner circle had witnessed before."
"He watched a two-hour block of Fox News, and then most of the two-hour long blocks of MSNBC and CNN that he had TiVo'd."
"He raged at the coverage": "Everybody's trying to get me ... It's unfair. Now everybody's saying I'm going to be impeached ... They're going to spend years digging through my whole life and finances."
This January, former Trump lawyer John Dowd held a White House practice session for the president, designed to show Trump what Mueller testimony would be like. (Spoiler: It didn't go well.)
Trump said of fired FBI director James Comey: "He's a liar ... The guy's a crook, he's a liar."
Trump to Dowd on why he thought he should testify: "I think the president of the United States cannot be seen taking the Fifth."
On the N.Y. Times' revelation about the Trump Tower meeting during the campaign, involving Don Jr. and others:
"It was a huge story, suggesting — but not proving — some kind of subterfuge and clandestine cooperation with the Russians. The president was in orbit and called [lawyer John] Dowd to complain about leaks and the press."
3. Trump on his tweets: I'm "the Ernest Hemingway of 140 characters"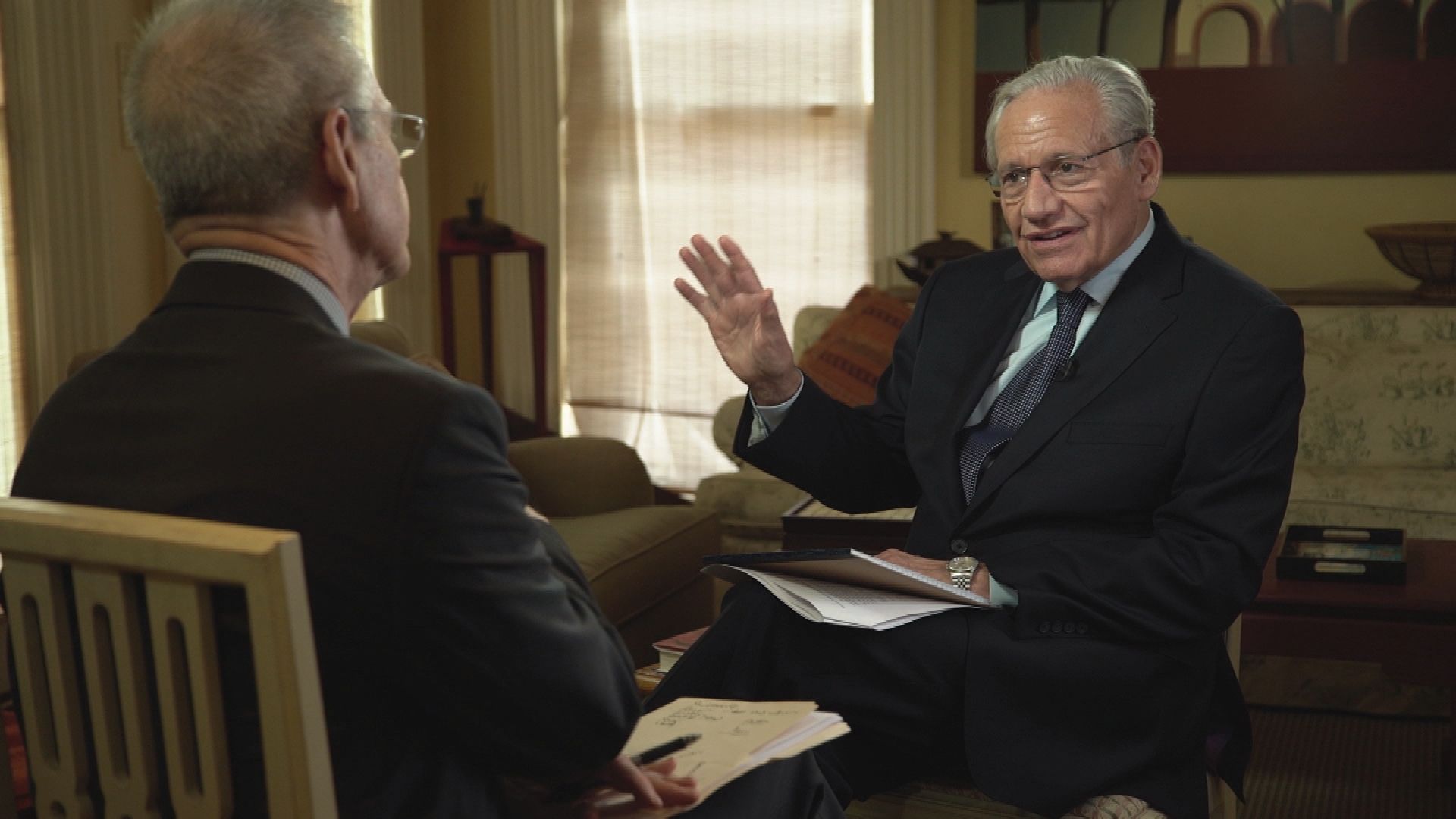 Memorable moments from Bob Woodward's "Fear" ...
Trump life advice: "Trump gave some private advice to a friend who had acknowledged some bad behavior toward women. Real power is fear. It's all about strength. Never show weakness. You've always got to be strong. Don't be bullied. ... 'You've got to deny, deny, deny and push back on these women.'"
"'If you admit to anything and any culpability, then you're dead. That was a big mistake you made. You didn't come out guns blazing and just challenge them. You showed weakness. You've got to be strong. You've got to be aggressive. You've got to push back hard. You've got to deny anything that's said about you. Never admit.'"
When Twitter doubled its character limit from 140 to 280, Trump told staff secretary Rob Porter: "[I]t's a bit of a shame because I was the Ernest Hemingway of 140 characters.'"
Why Mattis doesn't do Sunday shows:
"White House Press Secretary Sean Spicer, who was a commander in the Naval Reserves, tried several times to persuade Mattis to appear on Sunday talk shows on behalf of the administration."
"The answer was always no. 'Sean,' Mattis finally said, 'I've killed people for a living. If you call me again, I'm going to [email protected]#$ing send you to Afghanistan. Are we clear?'"
4. Pics du jour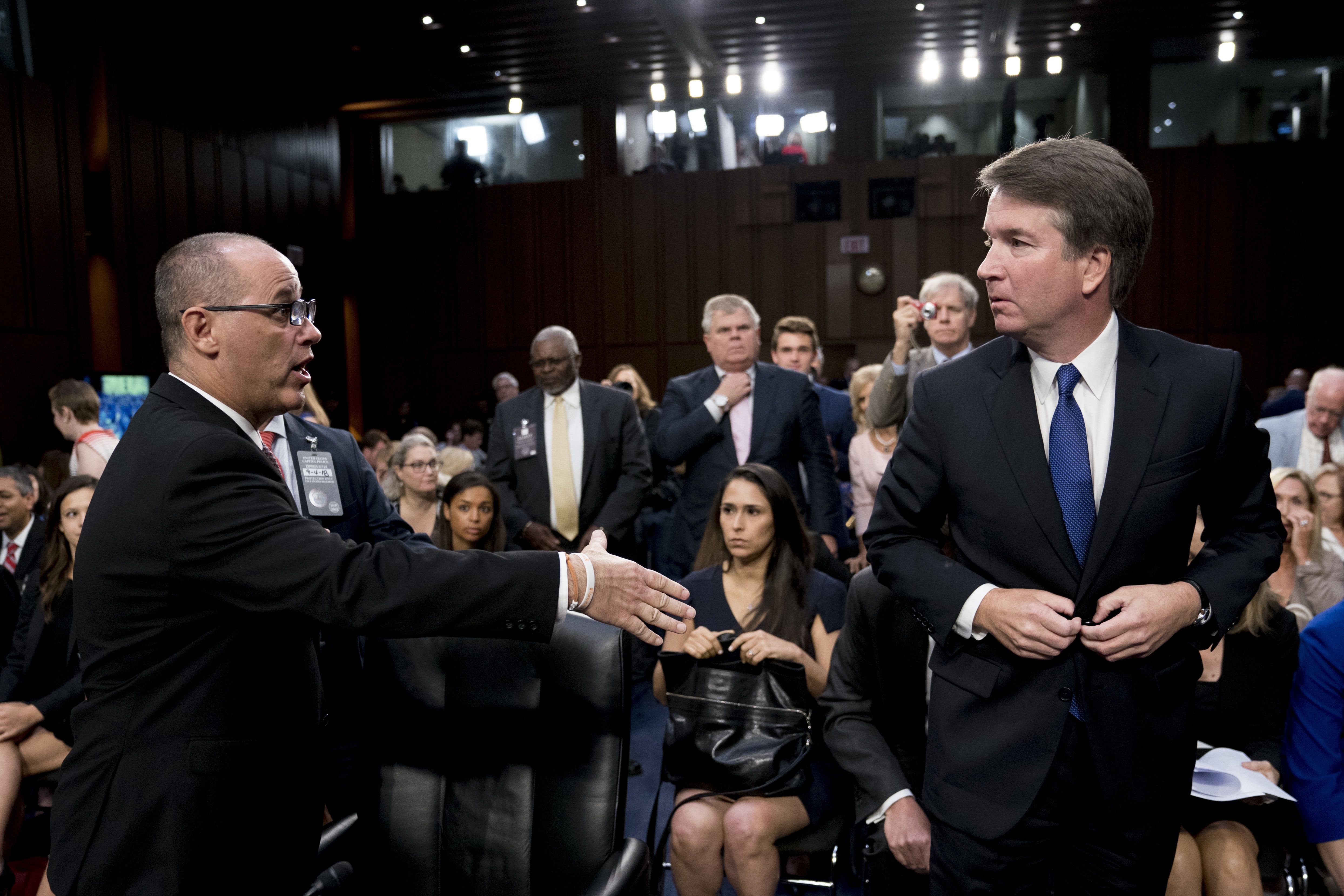 Fred Guttenberg — father of Jaime Guttenberg, killed in the high school shooting in Parkland, Fla. — approaches Brett Kavanaugh as he leaves for a lunch break from his Senate Judiciary Committee confirmation hearing.
White House spokesman Raj Shah told AP that security intervened before Kavanaugh could shake the hand of the "unidentified individual."
After senators wrangled most of the day as Kavanaugh sat silent (the White House counted 63 interruptions and 129 complaints about documents), the nominee finally was sworn in and began his opening statement at 4:37 p.m. — as hour 8 began.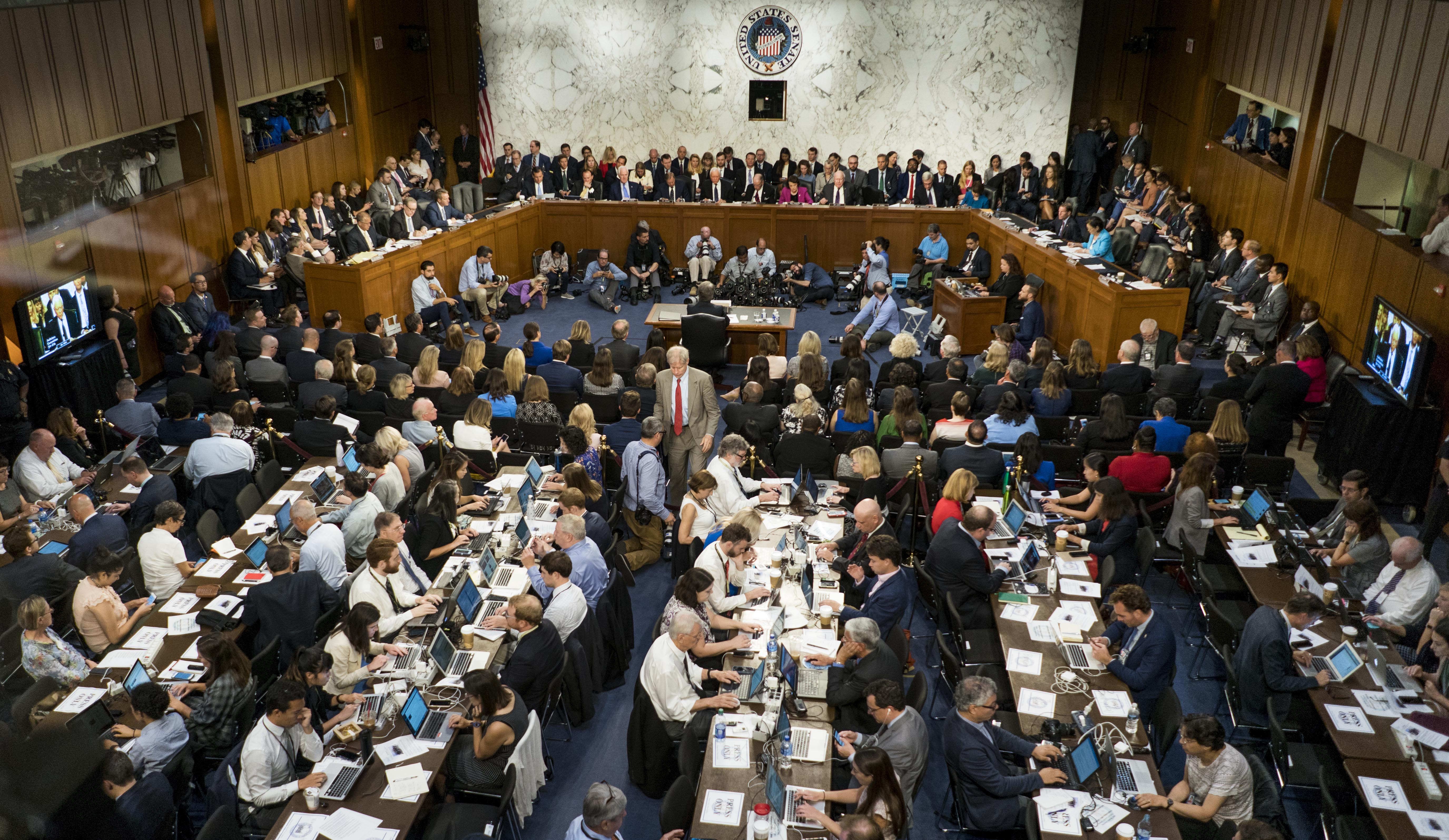 5. Factory towns of the future
Just as entire communities revolved around the automobile, steel and other industries in the last century, many places in America now depend almost entirely on e-commerce giants like Amazon, writes Axios' Erica Pandey.
"The pendulum is swinging back, bringing jobs to places that had been left behind" as manufacturing plants closed down, says Michael Mandel, chief economic strategist at the Democratic-leaning Progressive Policy Institute.
"I see e-commerce as a really good corrective to the concentration of jobs in cities and coasts."
The other side: The scores of warehousing jobs supporting many rural American towns are also among the most vulnerable to automation.
6. Big Tech's big day
From the opening statement Facebook COO Sheryl Sandberg will deliver today to the Senate Intelligence Committee, when she testifies alongside Twitter CEO Jack Dorsey:
"We are learning from what happened, and we are improving. When we find bad actors, we will block them. When we find content that violates our policies, we will take it down. And when our attackers use new techniques, we'll share them to improve our collective defense. We are even more determined than our adversaries, and we will continue to fight back."
"This is an arms race, and that means we need to be ever more vigilant."
7. Court confirmations trend tighter
Most Supreme Court justices are confirmed by lopsided majorities, but since the 1990s, partisan votes have become more common.
Why it matters: Brett Kavanaugh's confirmation vote is almost certain to continue this trend, as he faces a narrow Republican majority and fierce opposition from Senate Democrats.
Bonus: Stat du jour
8. "Change can't wait"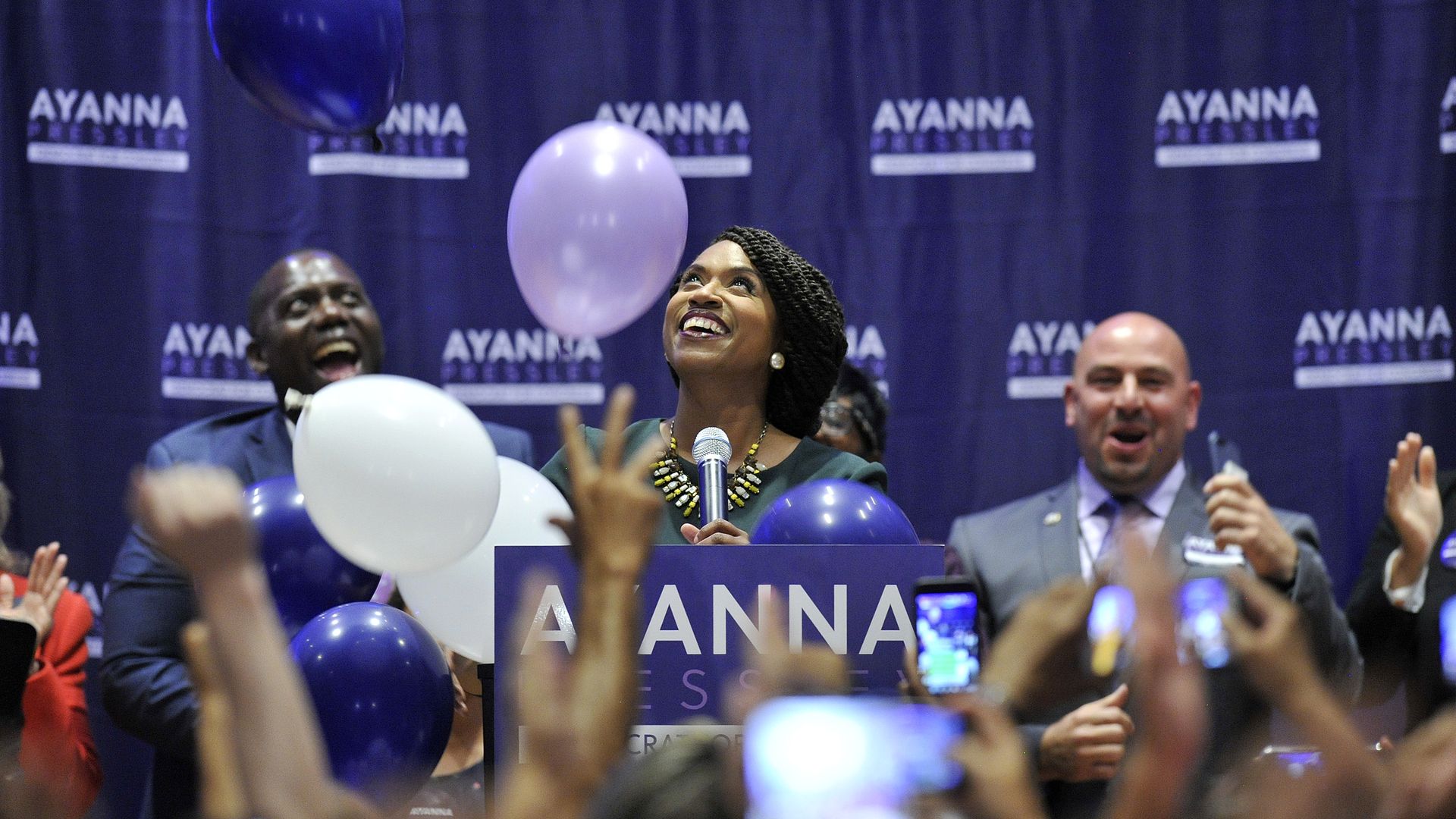 "Ayanna Pressley upended the Massachusetts political order on Tuesday, scoring a stunning upset of 10-term Representative Michael Capuano and positioning herself to become the first African-American woman to represent the state in Congress," writes the N.Y. Times' Katharine Seelye:
"Pressley propelled her candidacy with urgency, arguing that in the age of Trump, 'change can't wait.'"
The bottom line, per Axios' Alexi McCammond: The political climate in 2018 favors women, political newcomers, and underdogs. Pressley is the latest example of that in one of the last Democrat-on-Democrat primaries of the season.
9. Climate on the ballot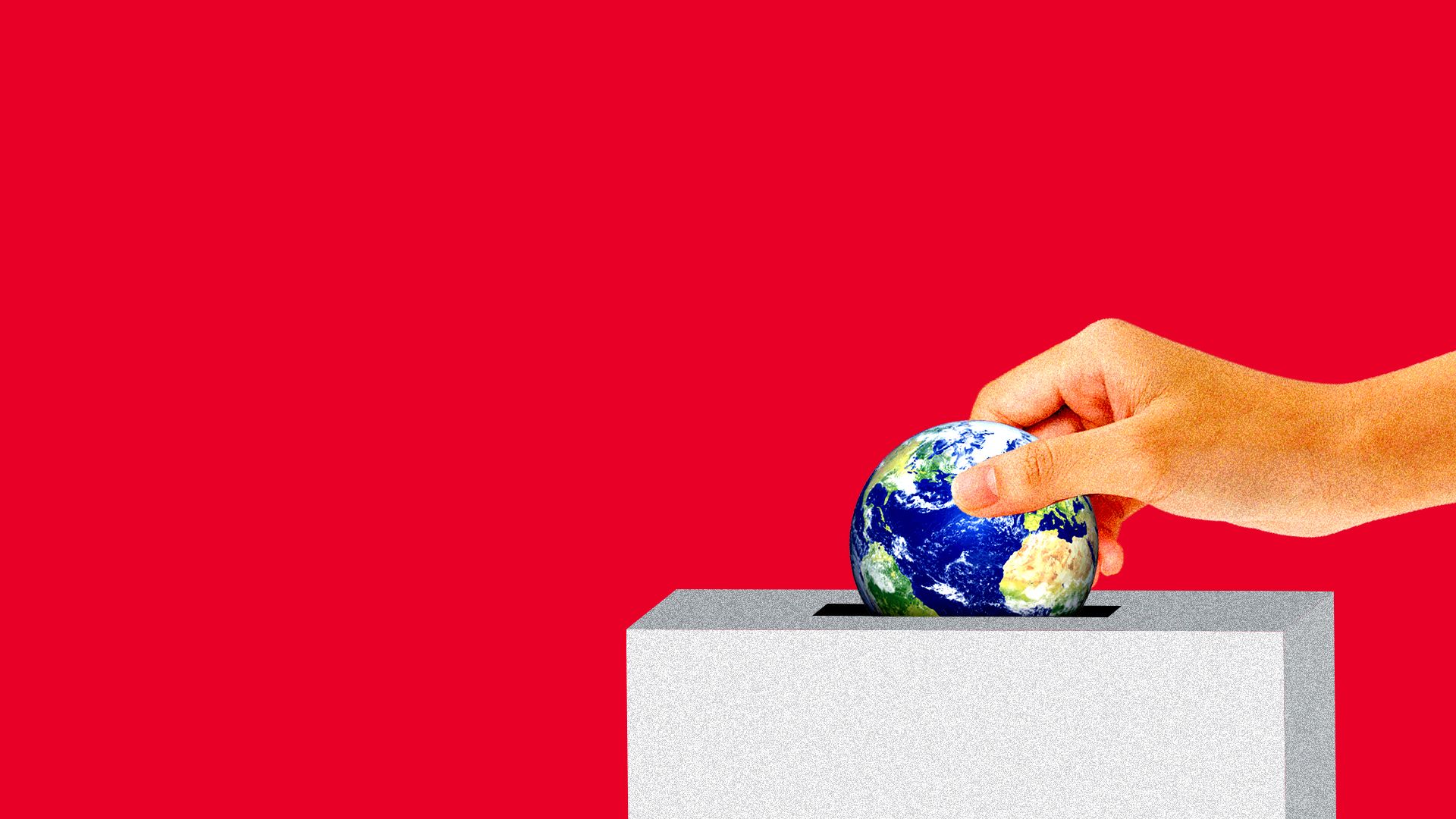 Bubbling beneath the battle for control of Congress during this fall's midterm election cycle is a series of consequential energy and climate fights, Axios' Amy Harder writes in her "Harder Line" energy column.
Why it matters: From California to Colorado to Florida, the midterm elections will go a long way in shaping both state-level policies and Washington's future appetite to consider legislation in this area.
10. 1 📺 thing
"NBC orders new 'Law & Order' series about hate crimes," reports the Los Angeles' Times Meredith Blake:
"The series will aim to tackle a relevant subject matter at a time when hate crimes are on the rise in major American cities, noted the press statement from NBC."
"'As with all of my crime shows, I want to depict what's really going on in our cities and shine a light on the wide-ranging victims and show that justice can prevail,' [co-creator Dick] Wolf said in the statement."
"A premiere date for the series has not been announced."
Thanks for reading. See you all day on Axios.com.