☕️ Good Monday morning, and happy Presidents Day!
Fun fact ... On the official table of federal holidays, the Office of Personnel Management has this footnote about today: "This holiday is designated as 'Washington's Birthday' in section 6103(a) of title 5 of the United States Code, which ... specifies holidays for Federal employees. Though other institutions such as state and local governments and private businesses may use other names, it is our policy to always refer to holidays by the names designated in the law."
https://www.axios.com/newsletters/axios-am-1f1556b0-0771-41cb-95a5-e71dc5f69eca.html?chunk=0#story0
1 risqué thing: Let's talk about sex, maybe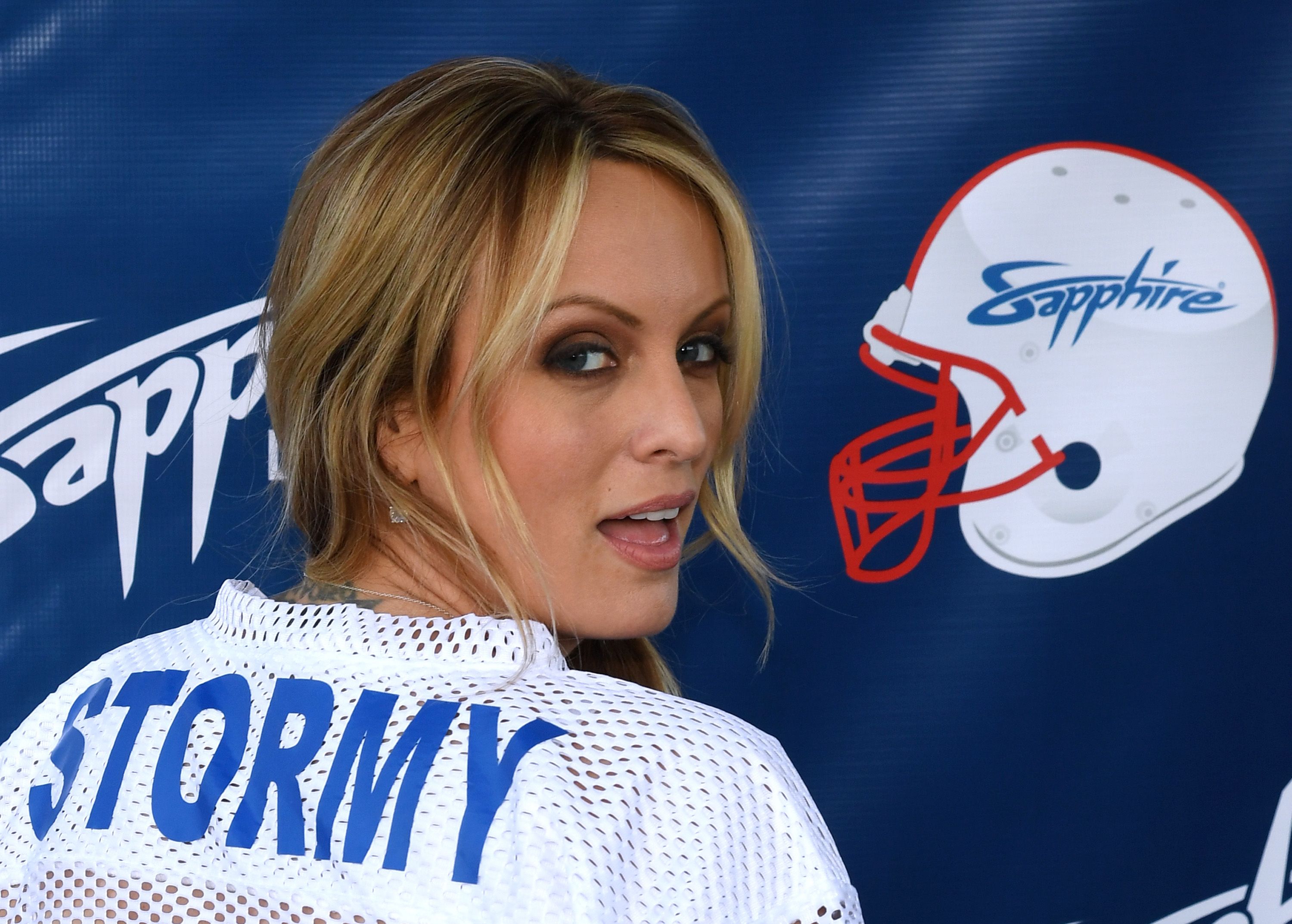 Adult film actress/director Stormy Daniels hosts a Super Bowl party in Vegas this month. (Ethan Miller / Getty Images)
Lost in Russia, and internal intrigue, and FBI trashing and mean tweets: Donald Trump is confronting a slow-moving sex scandal that would easily sink most politicians and presidents.
It includes porn stars, hush money, caught-on-tape crudeness and tawdry tabloids. And Bill Clinton would blush at how easily Trump seems to duck consequences for it all:
Today's N.Y. Times front page, above the fold, "Tools of Trump's Fixer: Tough Talk, Hush Money and the Tabloids," profiling longtime Trump personal lawyer Michael Cohen: "Cohen's role has come under scrutiny amid recent revelations that he facilitated a payment to silence a porn star, but his aggressive behind-the-scenes efforts stretch back years."
"In the summer of 2016, American Media [publisher of National Enquirer, Star, Us Weekly] came to Mr. Cohen with a story involving [Karen] McDougal, [a] former Playboy Playmate. She claimed to have had a consensual affair with Mr. Trump in the mid-2000s, early in his marriage to Melania Trump. Mr. Trump denies an affair."
Cohen said he used his own money for a $130,000 payment in October 2016 to "an adult film star, Stephanie Clifford, who used the stage name Stormy Daniels, and who once said she had

had an affair with Mr. Trump

."
"She was alleging that she had had a consensual sexual relationship with Mr. Trump after they met at a [Lake Tahoe] celebrity golf tournament about 10 years earlier (Mr. Trump denies her claims)."
The big change ... The two women say they will no longer honor agreements that had silenced them:
AP reported last week: "Stormy Daniels ... believes she is now free to discuss an alleged sexual encounter with [Trump [because she] believes that Trump's personal lawyer, Michael Cohen, invalidated a non-disclosure agreement after two news stories were published."
Gina Rodriguez, her manager: "Everything is off now, and Stormy is going to tell her story."
In The New Yorker last week, Ronan Farrow interviewed Karen McDougal, the former Playmate: "McDougal fears that [American Media] will retaliate for her public comments by seeking financial damages in a private arbitration process mandated by a clause of her contract. But she said that changes in her life and the emergence of the #MeToo moment had prompted her to speak."
McDougal: "Every girl who speaks ... is paving the way for another."
Be smart: These years-old incidents are getting new attention in the #MeToo context. It could make things tough for Trump in the suburbs in 2020. Remember: More women vote than men, and more women are running and organizing than ever before. Trump, and his treatment of women, is a massive motivator. 
But so far, his popularity with his base has survived every possible incursion. 
Amid all of this, Trump support is strongest among ... evangelicals — the same group that demanded President Clinton's scalp for his sex sins. 
https://www.axios.com/newsletters/axios-am-1f1556b0-0771-41cb-95a5-e71dc5f69eca.html?chunk=1#story1
2. Another flip by Mueller
Rick Gates, former Trump campaign aide, will plead guilty within days to fraud-related charges in a deal with Robert Mueller, per L.A. Times' David Willman:
Gates "has made clear to prosecutors that he would testify against Paul Manafort, the lawyer-lobbyist who was the campaign chairman.
In October, Gates was indicted alongside Manafort. (N.Y. Times headline: "Rick Gates, a Protégé of Paul Manafort.")
"[A] person familiar with [the talks said] Gates, a longtime political consultant, can expect 'a substantial reduction in his sentence'' if he fully cooperates ... He said Gates is likely to serve about 18 months in prison."
P.S. A new statement from Joel Kaplan, Facebook V.P. of global public policy, cleaning up tweets by another Facebook exec:
"Nothing we found contradicts the Special Counsel's indictments. Any suggestion otherwise is wrong."
Context from Facebook: "We've consistently said that government investigators — and only government investigators — are in a position to fully determine what happened in 2016. That's why we shared what we found with investigators, who have access to a much greater range of facts, including ones that are confidential."
Go deeper ... Axios' David McCabe: "Facebook worked over the weekend to drive home the argument, including to Capitol Hill staffers, that [V.P. of ads Rob] Goldman's comments didn't speak for the company."
"It also pointed to places where its cooperation with Mueller boosted the indictment, and its commitment to working with the FBI to prevent abuse on its platform."
https://www.axios.com/newsletters/axios-am-1f1556b0-0771-41cb-95a5-e71dc5f69eca.html?chunk=2#story2
3. Grieving students take charge of gun debate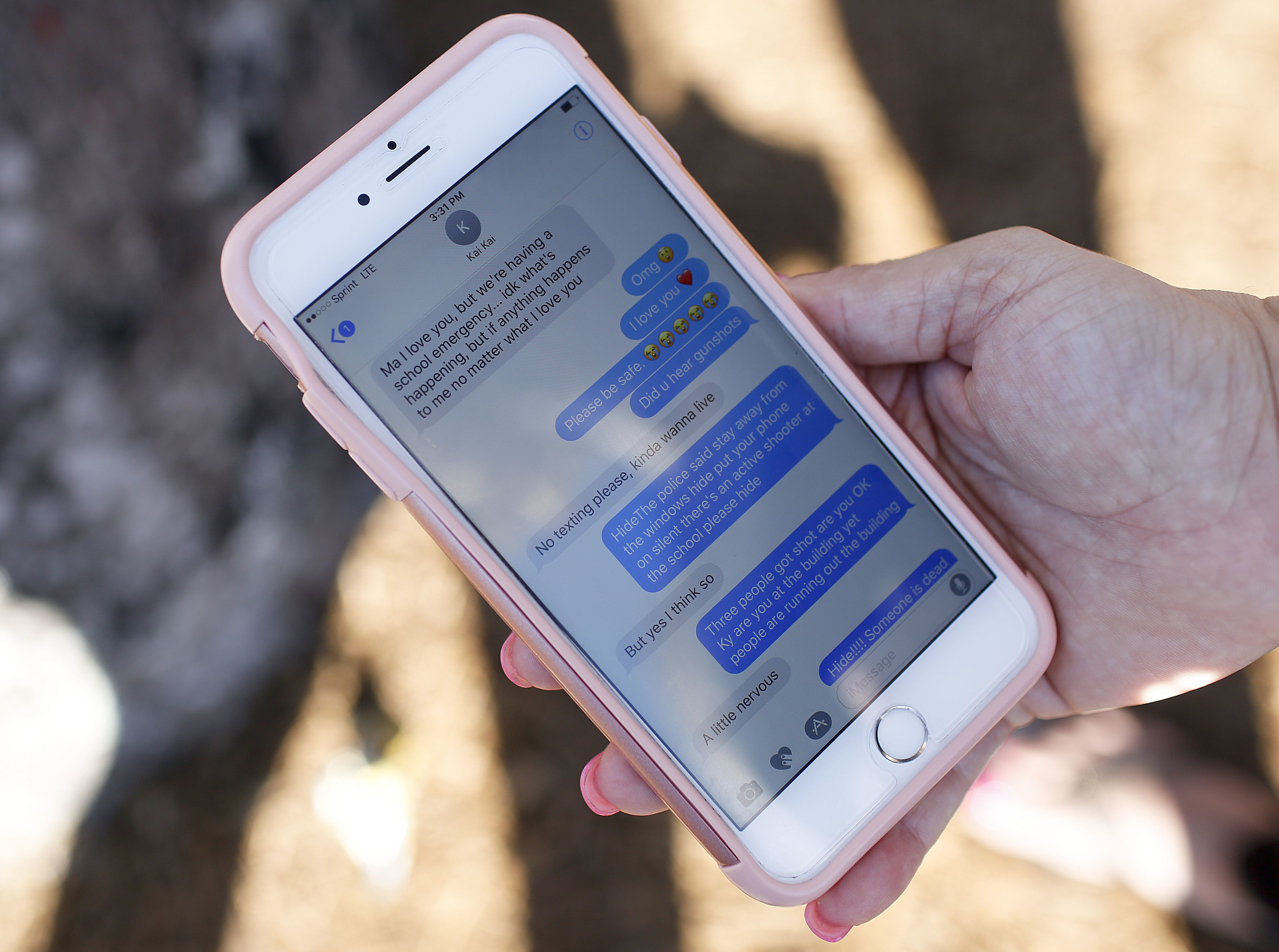 Alana Koer, 41, of Parkland, Fla., shows text messages she received from her son, Kai, 17, who survived the attack. (AP's Brynn Anderson)
"After the terror, still wiping the tears, the students of Marjory Stoneman Douglas High School resolve that their classmates' deaths will lead to change," per the Fort Lauderdale Sun Sentinel:
"The teens plan a trip to Tallahassee this week to lobby legislators for gun control. They are organizing a March in Washington, D.C., on March 24."
"They are appearing on national TV to question why the country's leaders have not done something to end the violence."
"As the teens gathered Sunday at North Community Park in Parkland, ... the picnic tables under the gazebo became their makeshift headquarters."
Why it matters: "After mass school shootings at Columbine High School, Virginia Tech and Sandy Hook Elementary School, parents and activists urged changes to gun control policy. This time, high school students are taking the lead."
Breaking ... White House press secretary Sarah Sanders:
"The President spoke to Senator [John] Cornyn [R-Tex.] on Friday about the bipartisan bill he and Sen. [Chris] Murphy [D-Conn.] introduced to improve Federal Compliance with Criminal Background check Legislation."
"While discussions are ongoing and revisions are being considered, the President is supportive of efforts to improve the Federal background check system."
https://www.axios.com/newsletters/axios-am-1f1556b0-0771-41cb-95a5-e71dc5f69eca.html?chunk=3#story3
Bonus: Tweet du jour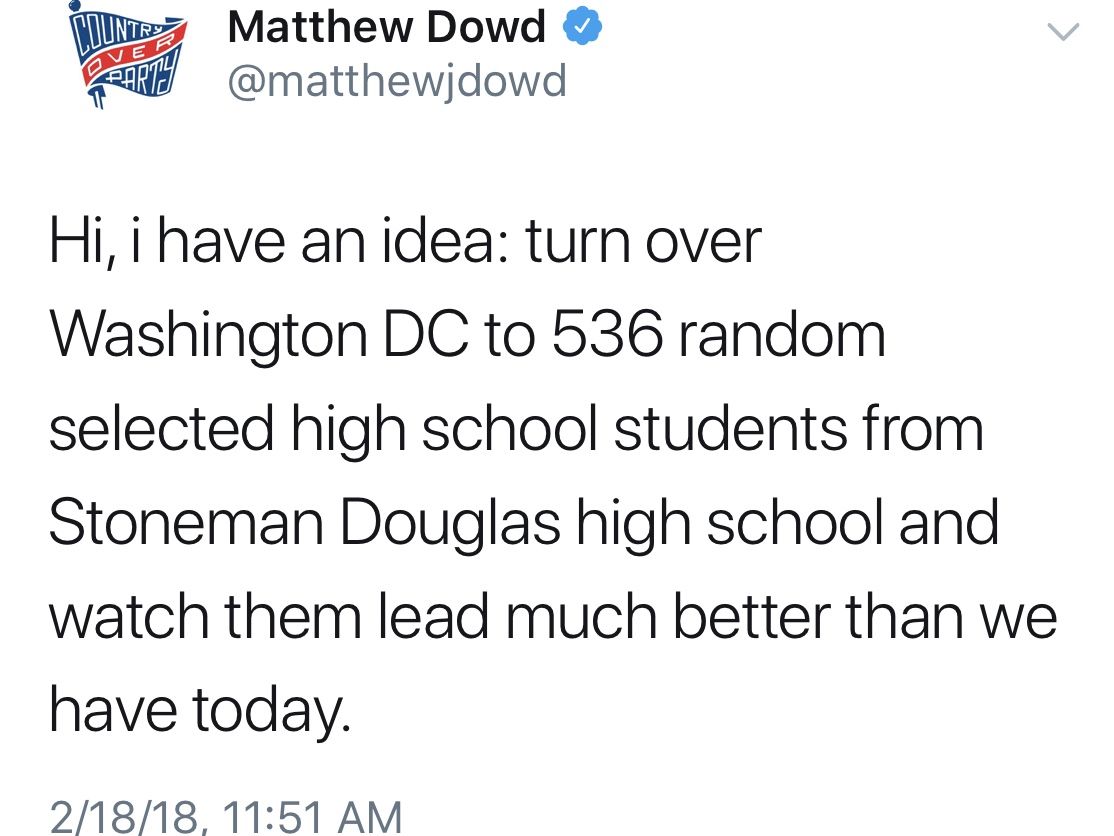 Runner-up: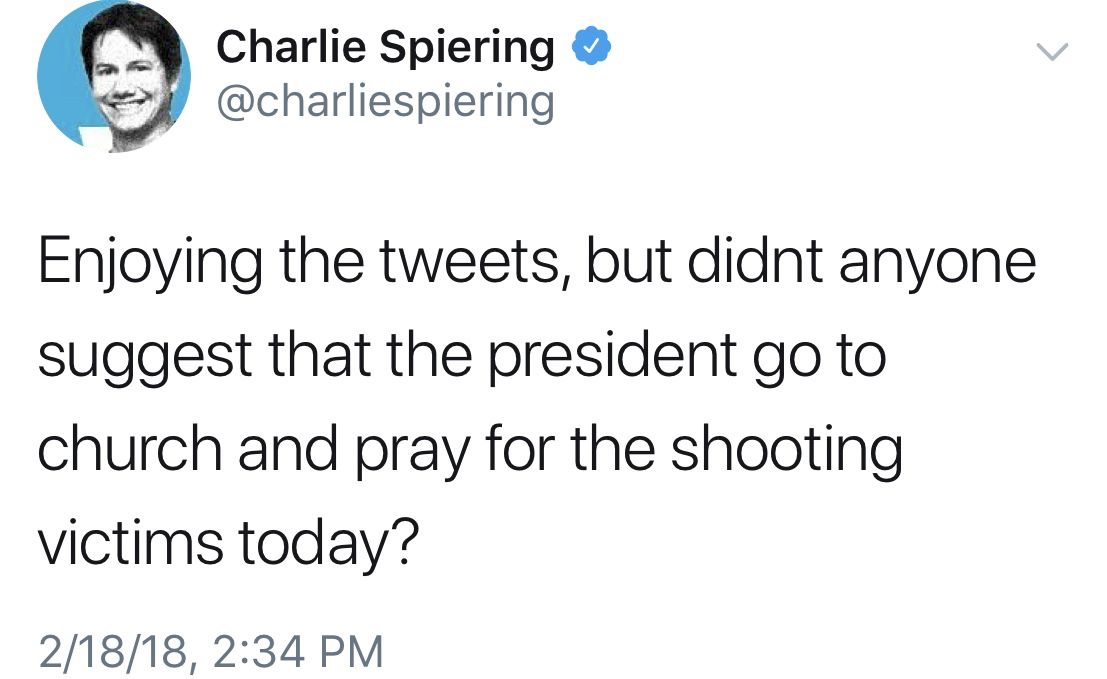 https://www.axios.com/newsletters/axios-am-1f1556b0-0771-41cb-95a5-e71dc5f69eca.html?chunk=4#story4
4. The only story that matters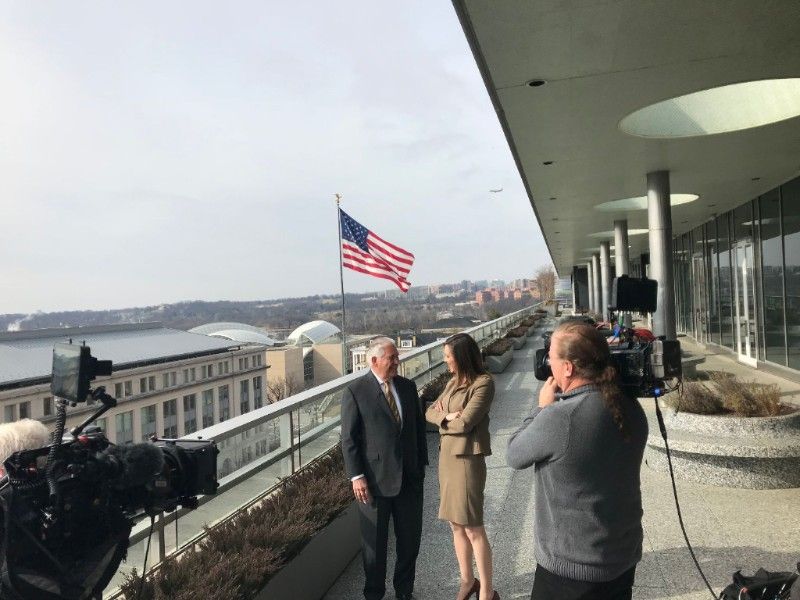 Margaret Brennan interviews Secretary Tillerson. (CBS News)
"I'm going to use all the time available to me. Our diplomatic efforts will continue until that first bomb drops. My job is to never have a reason for the first bomb to drop. And we don't know precisely how much time is left on the clock."
— Secretary of State Rex Tillerson to CBS News White House correspondent Margaret Brennan, on "60 Minutes"
(Video)
https://www.axios.com/newsletters/axios-am-1f1556b0-0771-41cb-95a5-e71dc5f69eca.html?chunk=5#story5
5. "Do you recognize this? You should. It's yours"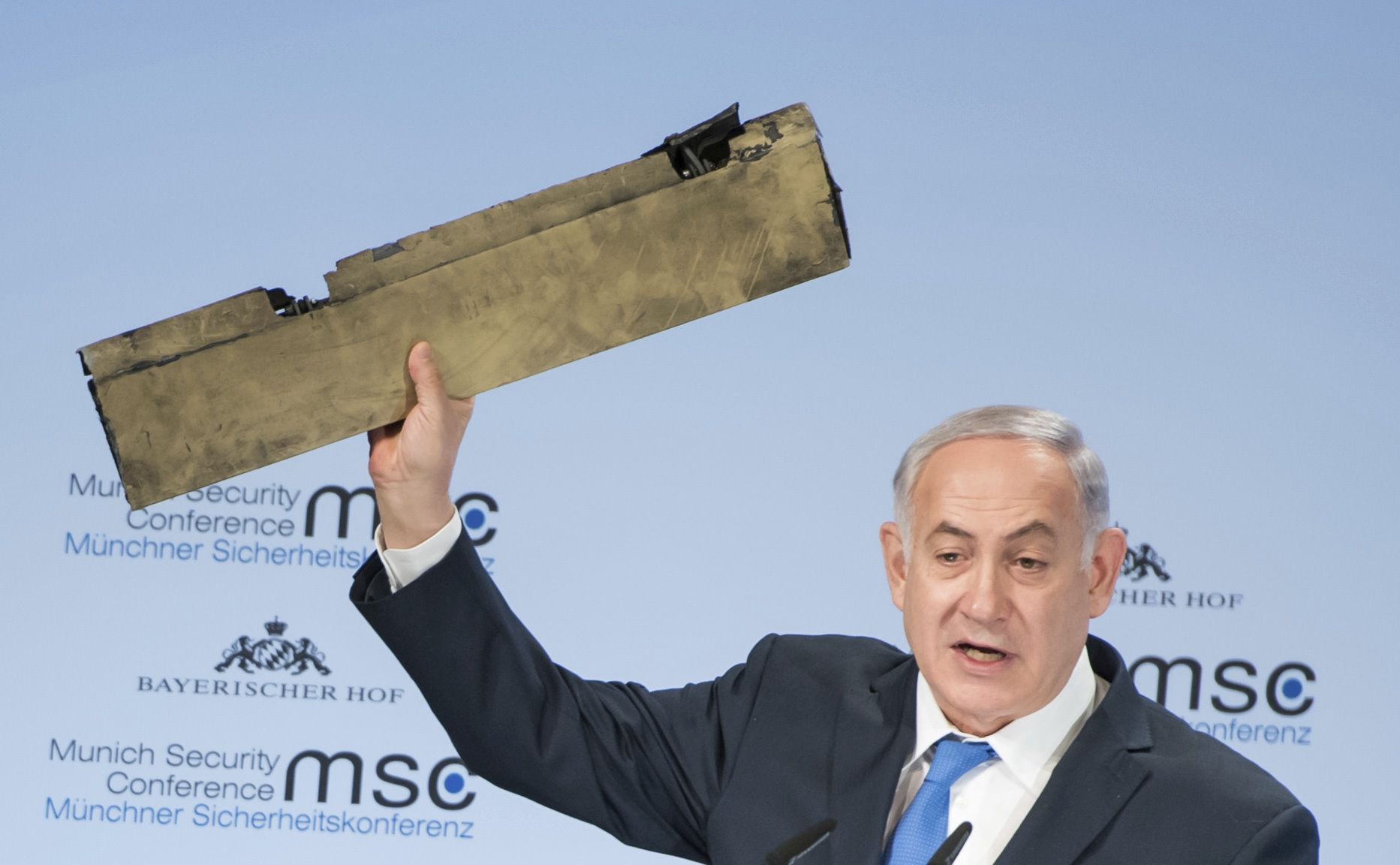 Netanyahu brandishes a piece of what he says is an Iranian drone. (Lennart Preiss/ Munich Security Conference / dpa via AP)
In his first address to the annual Munich Security Conference, which draws security and defense officials and diplomats from across Europe and the U.S., Israeli Prime Minister Benjamin Netanyahu held up a piece of what he said was an Iranian drone that flew into Israeli airspace this month, Reuters reports:
Why it matters: "Netanyahu said ... Israel could act against Iran itself, not just its allies in the Middle East, after border incidents in Syria brought the Middle East foes closer to direct confrontation."
Netanyahu's quote: "We will act if necessary not just against Iran's proxies but against Iran itself."
https://www.axios.com/newsletters/axios-am-1f1556b0-0771-41cb-95a5-e71dc5f69eca.html?chunk=6#story6
6. Not a bad idea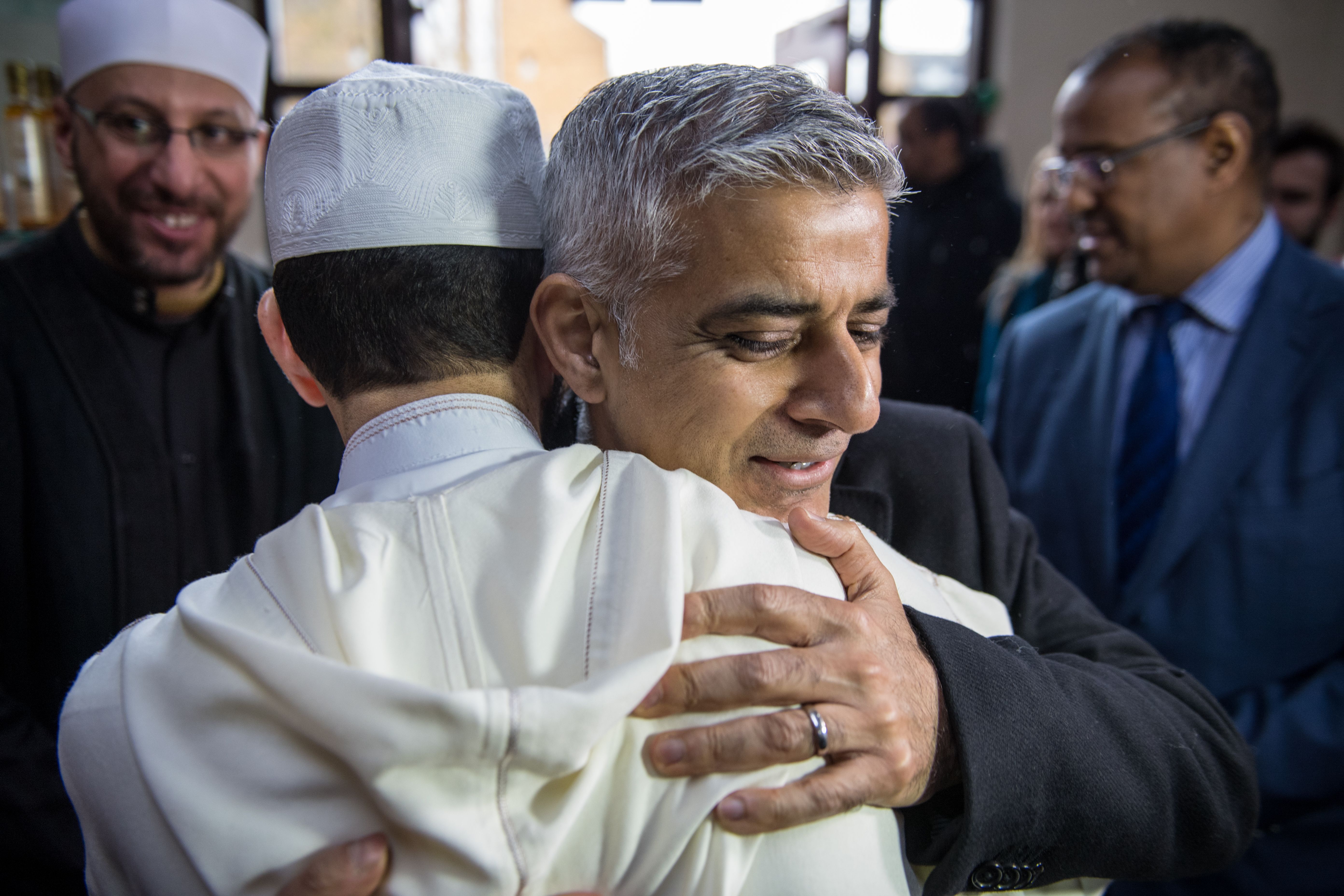 Photo by Chris J Ratcliffe / Getty Images
The Mayor of London, Sadiq Khan, embraces a Muslim cultural leader during a visit to Al Manaar mosque on Visit My Mosque Day yesterday.
Visit My Mosque Day is a national initiative: Over 200 mosques across the U.K. hold open days to welcome in their neighbors of all faiths, and no faith.
https://www.axios.com/newsletters/axios-am-1f1556b0-0771-41cb-95a5-e71dc5f69eca.html?chunk=7#story7
7. Tracking power
Sen. Tammy Duckworth (D-Ill.) is educating the tradition-bound Senate on creating a workplace that makes room for new moms, AP's Laurie Kellman writes:
"The decorated Iraq War veteran who lost both legs when her helicopter was shot down is an Asian-American woman in the mostly white, mostly male and very fusty Senate. And now, with a baby due in April [a second daughter], she'll be the first senator to give birth while in office."
Duckworth, a civilian pilot who got a Ph.D. in 2015 and was an Assistant Secretary of Veterans Affairs under President Obama, advocates for working families, entrepreneurs and veterans.
Her pinned tweet, rebutting a Trump tweet: "I will not be lectured about what our military needs by a five-deferment draft dodger."
"Duckworth, who turns 50 in March, says she appreciates the historic nature of her baby's birth, as well as the fact that she represents working mothers and women having babies later in life. She fully expects to have to find a place to nurse in some quiet parlor off the Senate floor."
"Duckworth is already in the history books. She's the first female amputee elected to Congress, the first Asian-American to represent Illinois in Washington and the first member of Congress born in Thailand."
"The first area specifically set up for lactation opened in the Capitol only a dozen years ago. The House installed its first lavatory for women lawmakers in 2011. The Senate has had its own women's restroom for 25 years."
https://www.axios.com/newsletters/axios-am-1f1556b0-0771-41cb-95a5-e71dc5f69eca.html?chunk=8#story8
8. Forthcoming New Yorker cover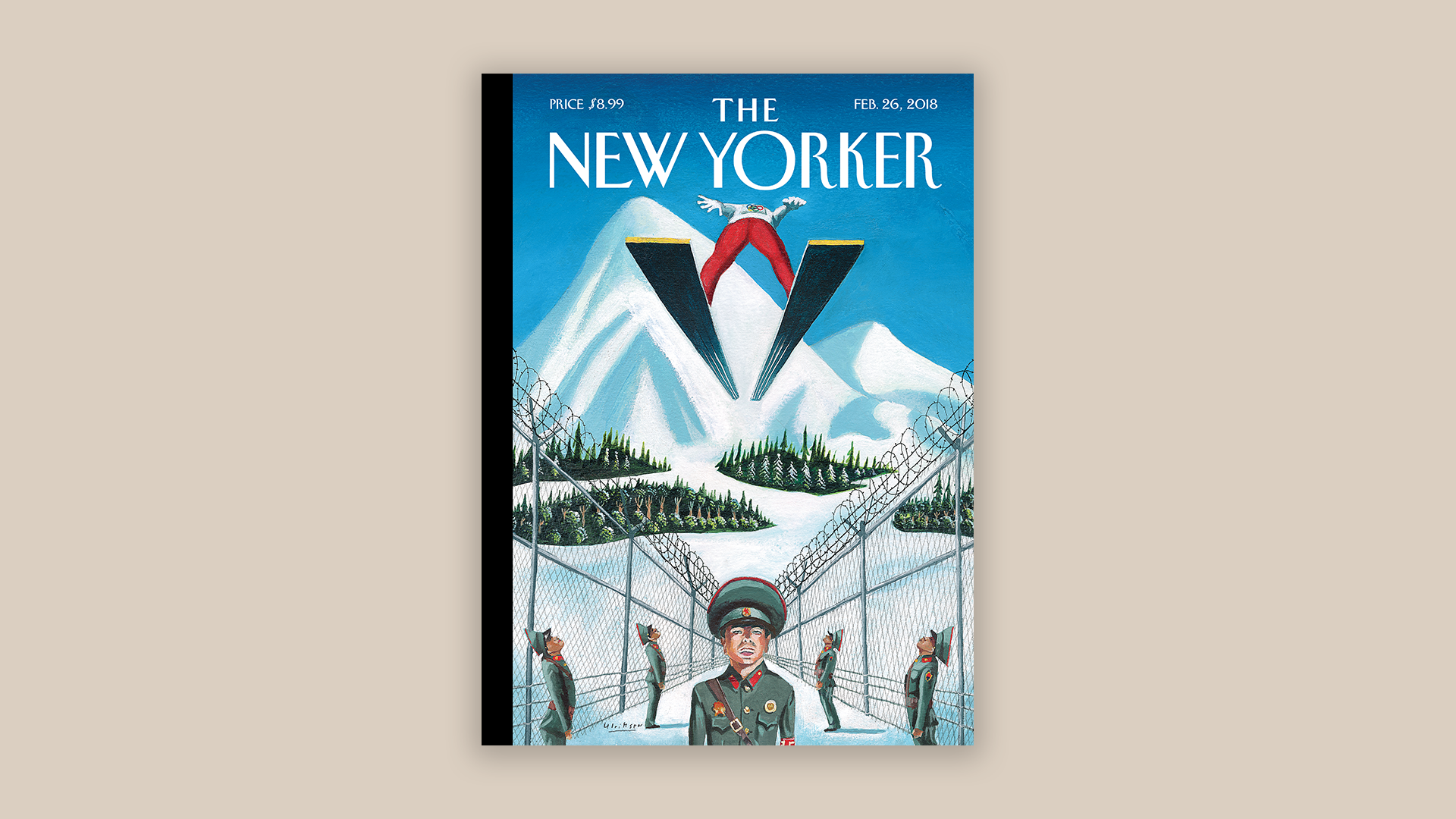 "Slippery Slopes" ...
"Cover Story": "Sports can be an opportunity for some of the world's most talented to leap to their freedom," the artist Mark Ulriksen says, about his cover, inspired by the Winter Olympics in Pyeongchang, South Korea.
https://www.axios.com/newsletters/axios-am-1f1556b0-0771-41cb-95a5-e71dc5f69eca.html?chunk=9#story9
9. John Oliver takes on "America First"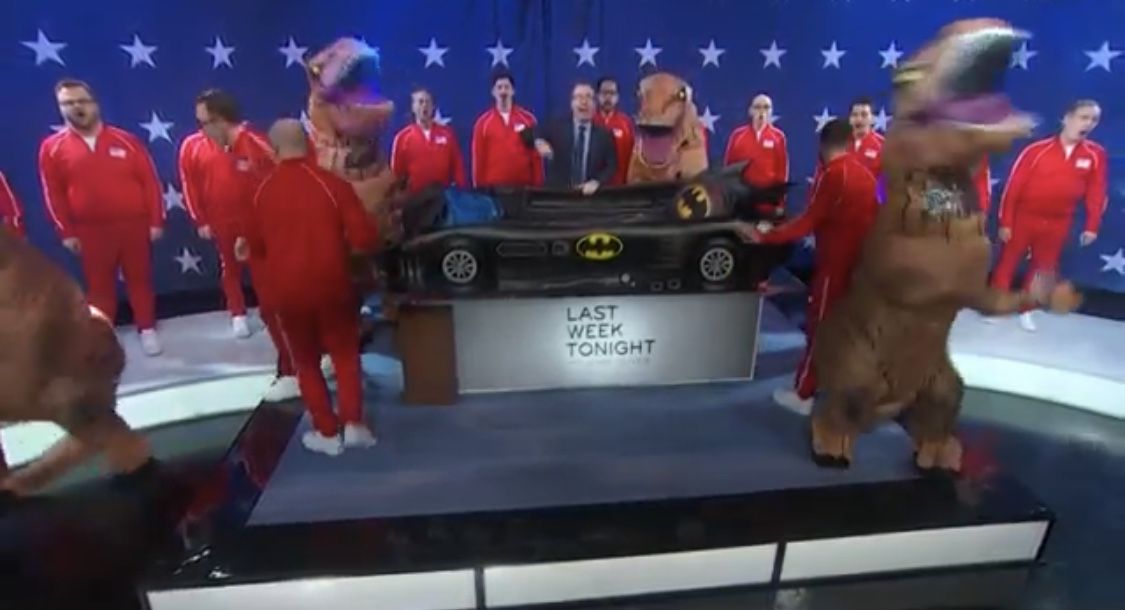 HBO
"Trump vs. The World" ... The big finish of John Oliver's Season 5 premiere of "Last Week Tonight" on HBO included America's "beautiful mass of contradictions, where good and bad is mixed together": a Batmobile bed, YouTube dinosaurs, Popeyes Chicken and the New York City Gay Men's Chorus.
After a montage of Trump saying "America First": "Now, if you are another country watching that, you may well be wondering: Wait, when has America's attitude ever not been 'America First'? They've been putting America first since they arrived in America, very much second."
https://www.axios.com/newsletters/axios-am-1f1556b0-0771-41cb-95a5-e71dc5f69eca.html?chunk=10#story10
10. 🏀 1 hoop thing: "World's richest pickup game"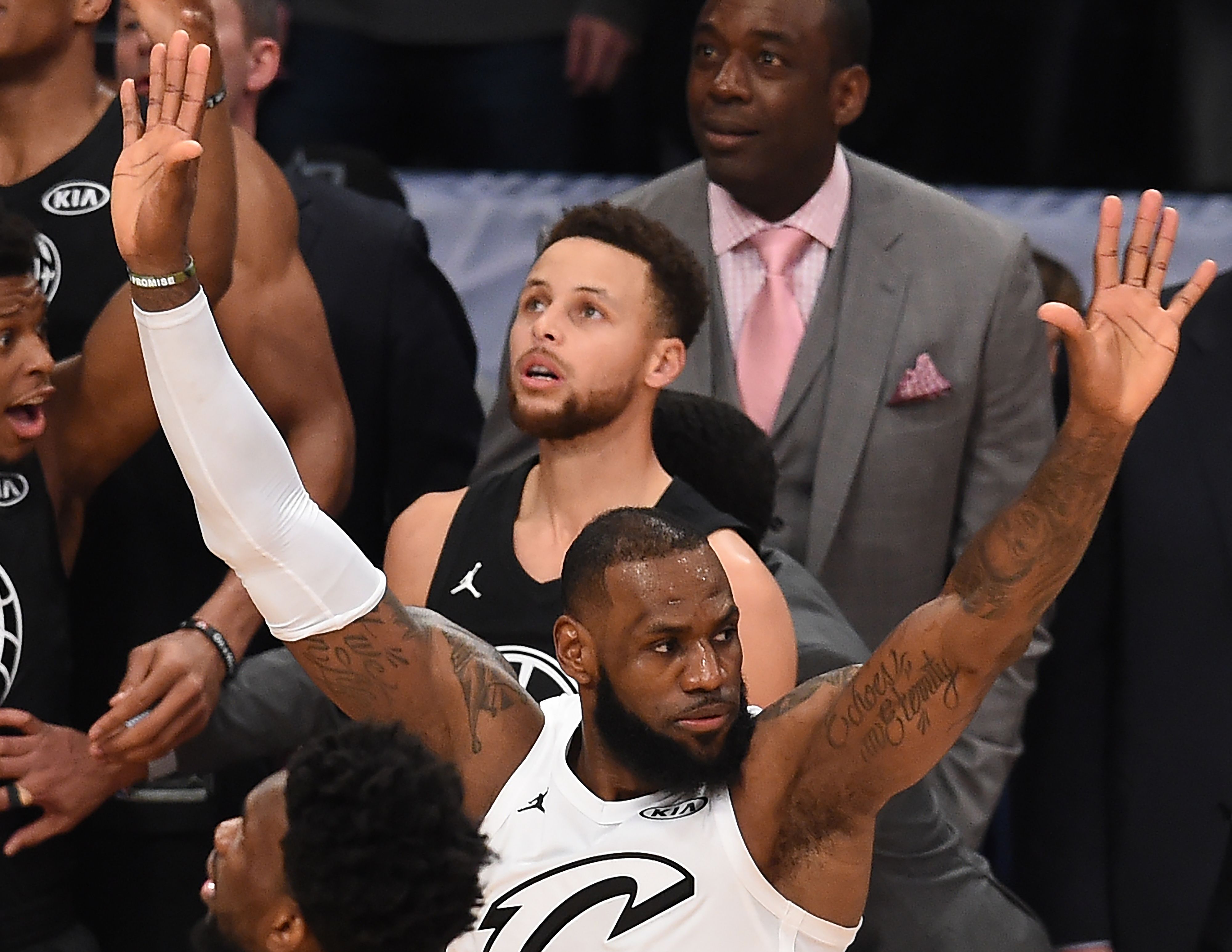 LeBron James (front) and Steph Curry (back), as Team LeBron defeated Team Stephen 148-145 (Robyn Beck / AFP / Getty Images)
Team LeBron edges Team Steph 148-145 in NBA All-Star Game ... "LeBron James and Kevin Durant swarmed all over Stephen Curry in the final seconds, preventing the NBA's best shooter from finding even a patch of open air to launch a tying 3-pointer," AP's Greg Beacham writes from L.A.:
"For the first time in 67 All-Star games, the league abandoned the traditional East-West format used since 1951, instead allowing the two captains to pick their sides. That twist turned a sometimes staid event into the world's richest pickup game."
"James scored 29 points and hit the go-ahead layup with 34.5 seconds to play, winning his third All-Star Game MVP award."
Hollywood home game ... Spotted: Jack Nicholson, Beyonce, Rihanna, Snoop Dogg, Chadwick Boseman, Chance the Rapper, Jimmy Kimmel, Michael B. Jordan, Chris Rock, Ludacris, Common, Spike Lee, Cardi B, Andy Garcia, Dave Chappelle, DJ Khaled, Tracy Morgan, Sean Combs, Odell Beckham Jr.
"[P]regame host Kevin Hart ... lobbed roast-style jokes at the All-Stars with mostly blah results. After a much-criticized pregame national anthem from Fergie, N.E.R.D and Migos performed an energizing halftime show."
Up next: "The 68th NBA All-Star Game will be in Charlotte on Feb. 17, 2019. North Carolina was scheduled to host the 2017 All-Star Game, but lost it" because of the state's transgender bathroom restrictions, since repealed.
Charlotte "Hornets owner Michael Jordan got a standing ovation when he appeared at center court."