Axios AM
March 29, 2022
Good Tuesday morning. Today's Smart Brevity™ count: 1,463 words ... 5½ mins. Edited by Zachary Basu.
1 big thing: Real-estate crackup
Office vacancy rates are climbing in major markets across the country, with growing signs of distress in loans backed by office buildings, Axios Markets co-author Matt Phillips writes.
Why it matters: As we told you in Axios Finish Line last week, most office workers will never again spend five-day, 40-hour weeks in physical buildings. That has massive implications for banks and the commercial real-estate market.
What's happening: Barclays analysts noted last week that the share of problem mortgages on office buildings (missed payments or other signs of trouble) is over 21% — the highest since the financial crisis.
Private equity giant Blackstone stopped making payments on a loan backing a 600,000-square-foot art deco office tower in midtown Manhattan. The building, 1740 Broadway, is expected to be nearly empty next year after the main tenant, troubled retailer L Brands, decided not to renew its lease.
Blackstone told Axios that the building "faces a unique set of challenges," adding that "we continue to be big believers in New York and cities like it that are hubs for innovation and talent."
Between the lines: The office real-estate market isn't going to collapse overnight — leases on commercial office space often lock tenants in for as long as 10 years.
Office vacancy rates nationwide have risen from 9.7% to 12.2% over the past two years, according to Barclays, which cited data from Costar, a commercial real-estate database.
Those numbers likely overstate how much of that office space is actually being used.
Data from Kastle Systems, measuring foot traffic into offices, shows vacancies of 60% in major markets.
🥪 A sign of hope: Sales at Pret a Manger stores around Wall Street are 57% of pre-COVID levels — about the same as in London's financial district in January. Sales there are now 87% of normal. —Bloomberg's Pret Index
2. Taiwan sees itself in Ukraine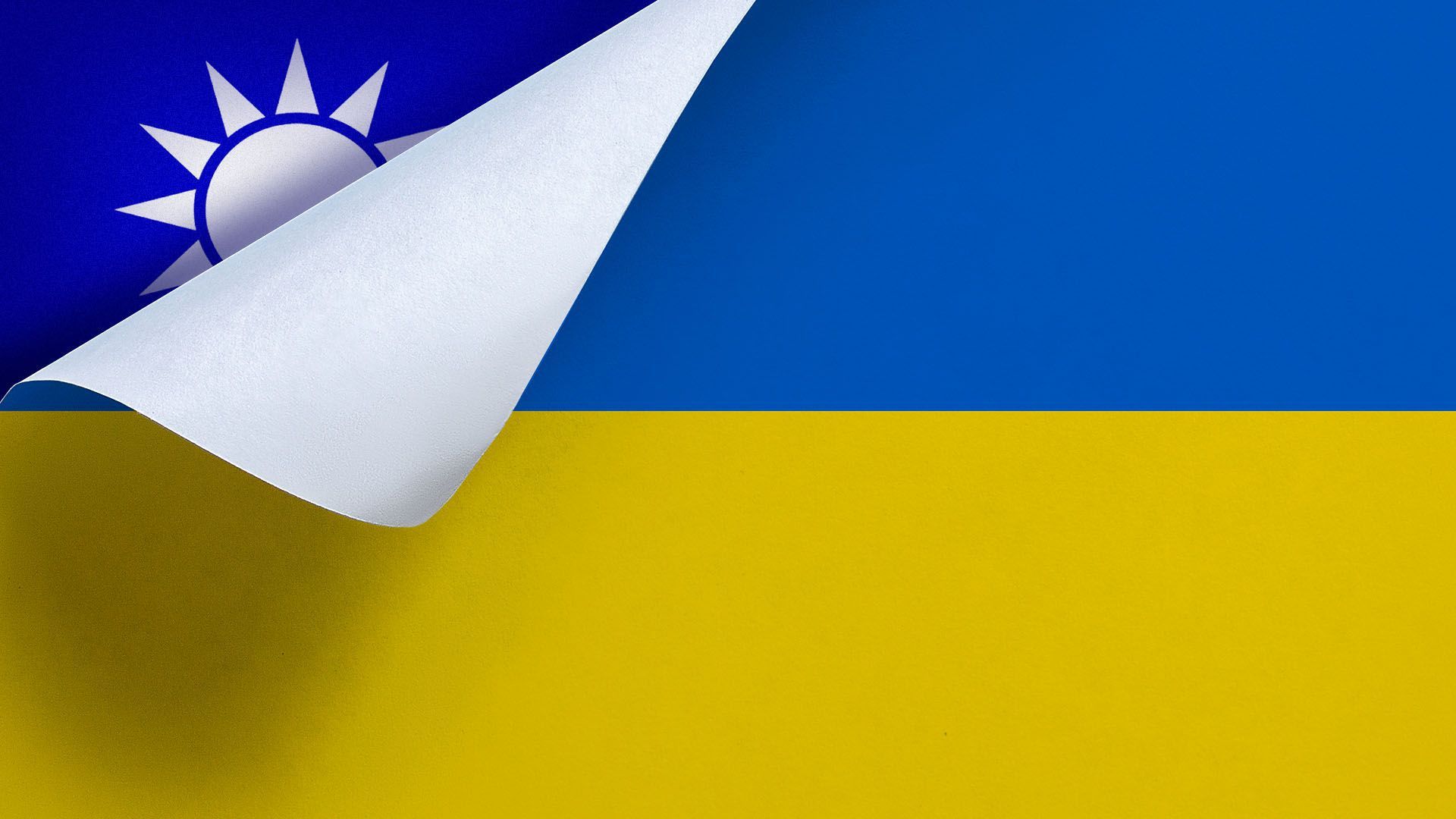 Many Taiwanese see Ukraine's response to Russia's invasion as a lesson in how to repel a future Chinese military assault, Axios China author Bethany Allen-Ebrahimian reports.
Why it matters: "If Ukraine can do it, then Taiwanese people should be able to do it as well," I-chung Lai, president of the Taiwan-based think tank Prospect Foundation, told Axios.
Taiwan and Ukraine face similar threats, from China and Russia respectively. Both have publicly known intentions to subsume some or all of their territory.
The people of both Taiwan and Ukraine have fought hard to create their own democratic institutions, while their larger authoritarian neighbors have tried to undermine those efforts.
Both Taiwan and Ukraine have been kept out of multilateral bodies — the UN in Taiwan's case, NATO in Ukraine's case.
What's happening: Many Taiwanese are saying Russia's invasion of Ukraine is a wake-up call. Taiwan buys high-end weapons systems from the U.S. but lacks the extensive training and equipment that has powered the Ukrainian resistance.
Taiwanese defense minister Chiu Kuo-cheng said last week that the government was considering extending compulsory military service from the current four months to up to one year.
"Among the general public, there also is a surge in interest about training their own defense skills," including emergency aid and medic training, Lai told Axios.
The bottom line: Ukraine has shown the Taiwanese public "the people's will is the crucial factor for the defense," Lai said.
3. Biden behind the curtain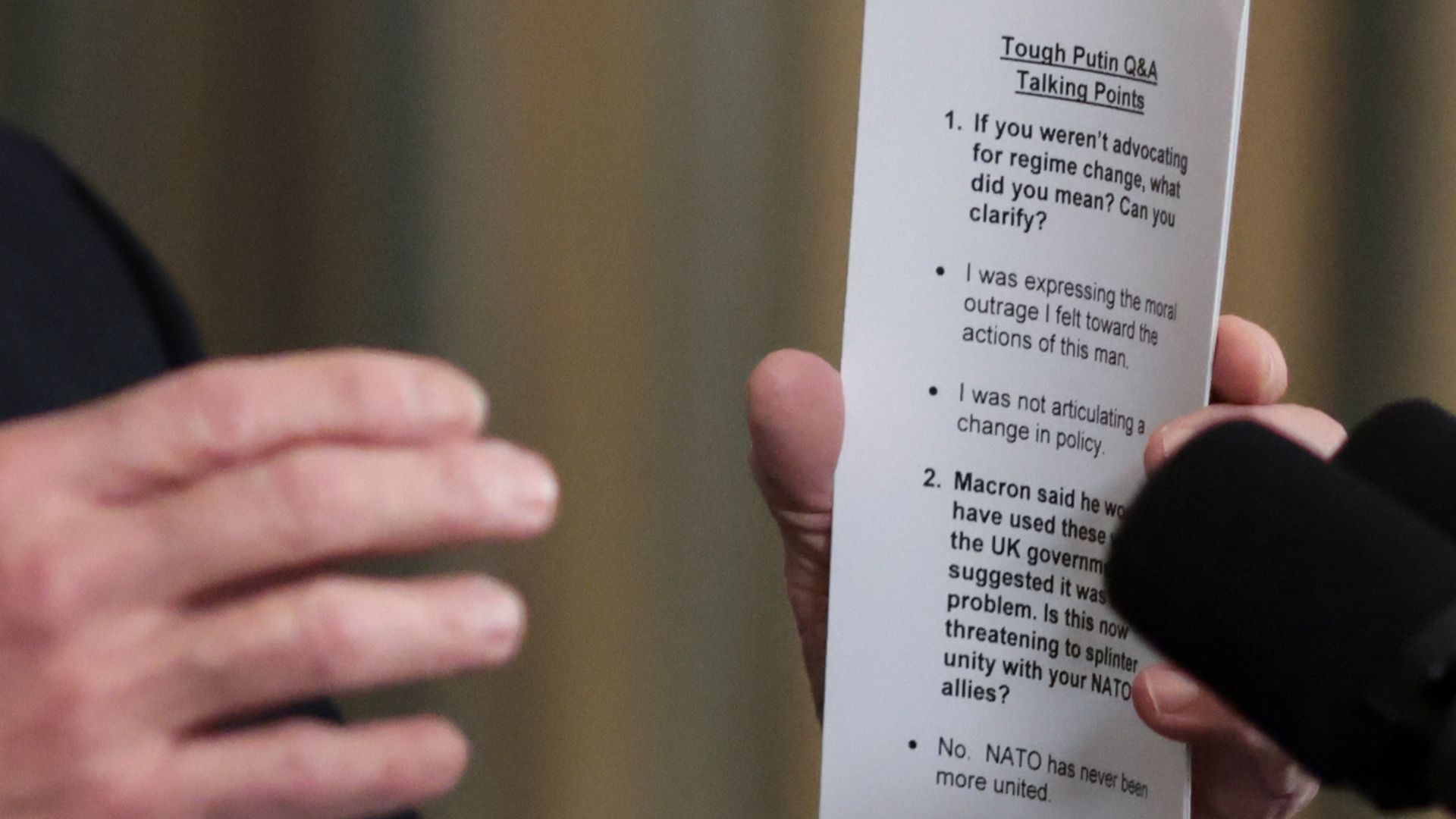 When President Biden spoke to reporters about the budget he unveiled yesterday, he carried this card with talking points about his ad-lib this weekend that Vladimir Putin "cannot stay in power." What he said:
I'm not walking anything back. The fact of the matter is I was expressing the moral outrage I felt toward the way Putin is dealing, and the actions of this man ... just the brutality of it. Half the children in Ukraine. I had just come from being with those families. ...
I want to make it clear: I wasn't ... articulating a policy change. I was expressing the moral outrage that I feel, and I make no apologies for it.
4. Young women out-earn men in 22 cities
Women under 30 out-earned men in 22 cities across the country, including New York and D.C., Axios Markets co-author Emily Peck writes from a Pew Research analysis of Census data through 2019.
Why it matters: The gender wage penalty is less severe when women are just starting out in their careers. Women aged 16-29 earn 93%, on average, of what men make, compared with 84% for all women.
In the other 228 cities Pew analyzed, young women earned less than men.
The cities where women are getting ahead generally have plenty of jobs that require higher levels of education, says Marianne Cooper, a sociologist at Stanford who studies women and leadership. And women have been earning more college degrees than men for decades.
What we're watching: This edge in pay likely won't last as these women grow older. Women are promoted at a slower pace, Cooper said. And those who have children typically face a wage penalty. Fathers typically get a wage bump.
But women's wages have been rising faster than men's lately, as a labor shortage pushes up pay.
5. 🏗️ $4.7 billion to make D.C.-area business more diverse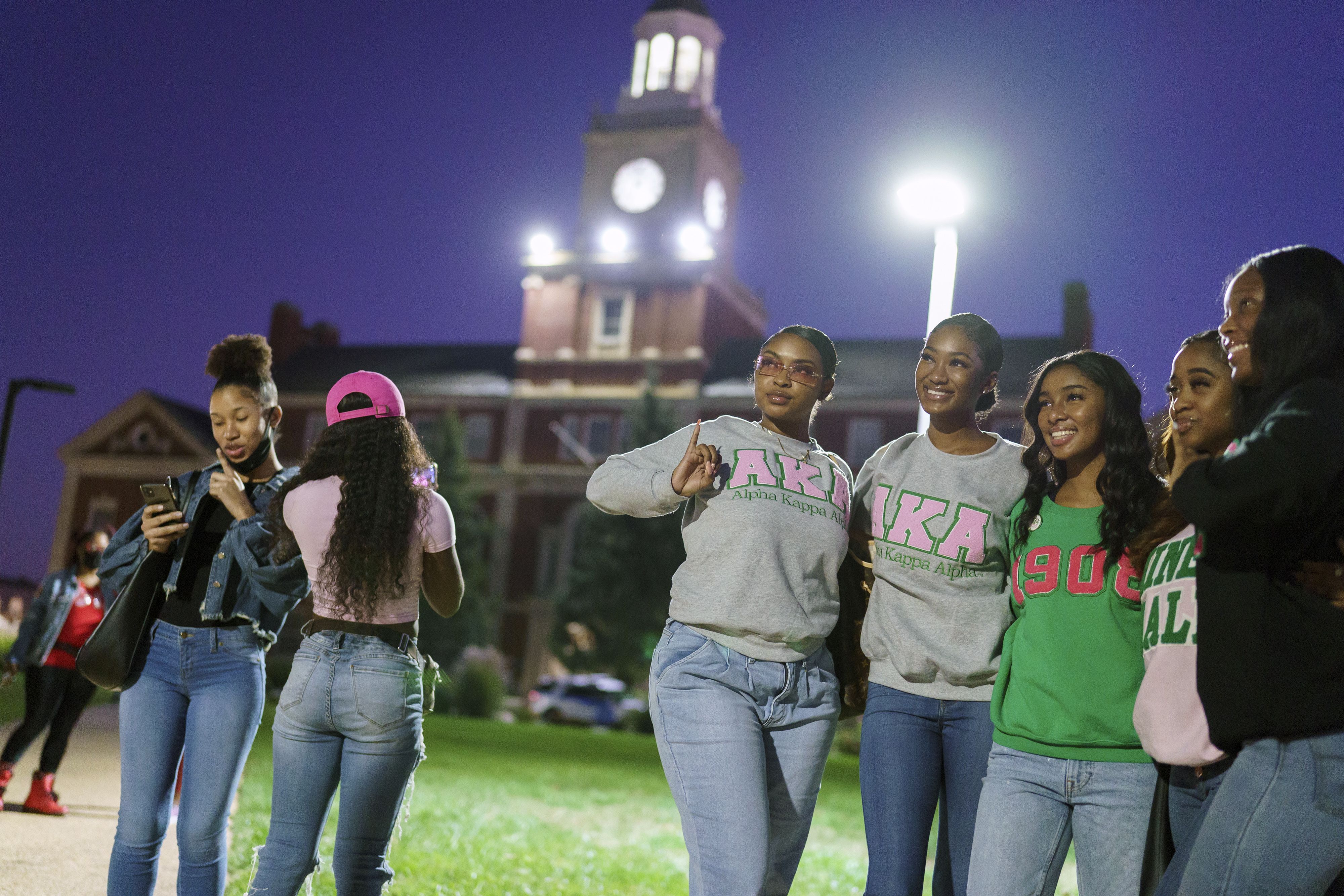 Vice President Harris will return to her alma mater, Howard University, tomorrow for a Greater Washington Partnership announcement of $4.7 billion in commitments over five years to increase the diversity of Capital Region businesses and workers.
Why it matters: The partnership — an alliance of CEOs and community leaders from Baltimore to Richmond — believes that in the global war for talent, the region's economic future will be tied to being more inclusive.
Harris will deliver remarks on small business. She'll be joined by Commerce Secretary Gina Raimondo and Small Business Administration head Isabel Guzman.
👀 What we're watching: The partnership hopes this plan will become a model for other regions' approach to economic growth, with collaboration across public and private sectors.
6. Will Smith: At 53, "I am a work in progress"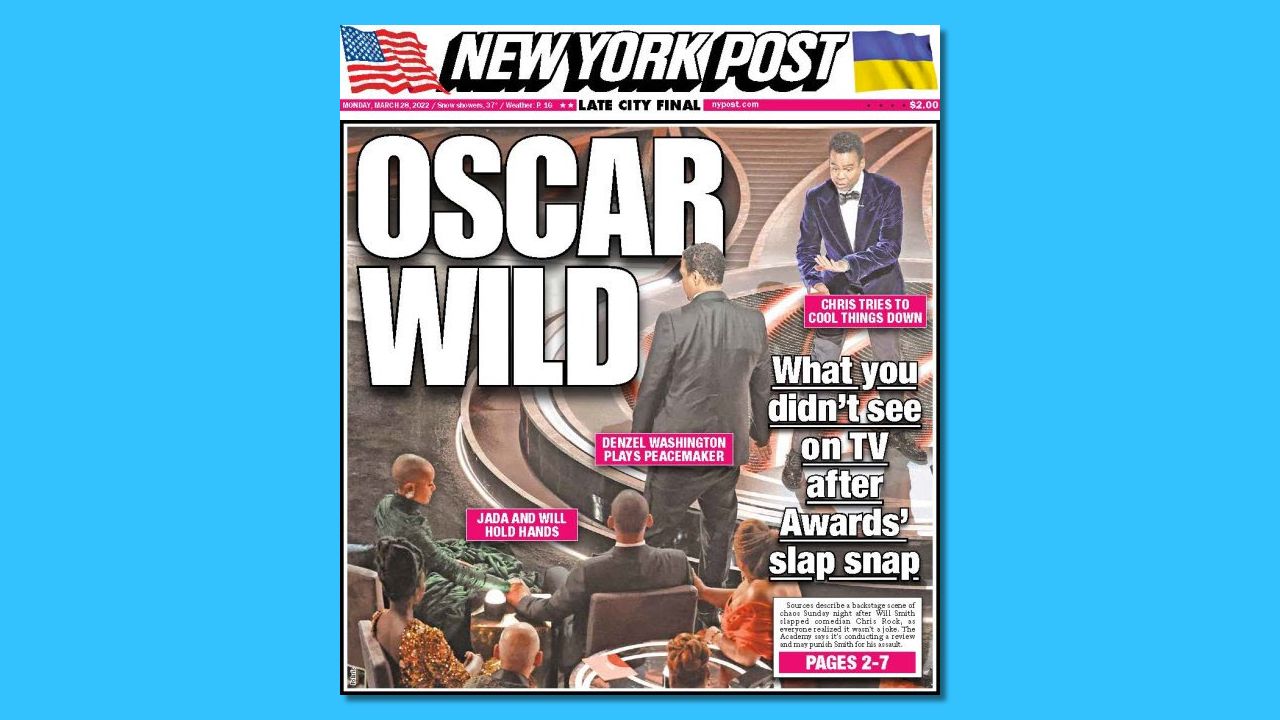 After a day of online mayhem, Will Smith apologized to Chris Rock for the "slap heard 'round the world":
Violence in all of its forms is poisonous and destructive. My behavior at last night's Academy Awards was unacceptable and inexcusable. Jokes at my expense are a part of the job, but a joke about Jada's medical condition was too much for me to bear and I reacted emotionally. ...
I was out of line and I was wrong. I am embarrassed and my actions were not indicative of the man I want to be. ... I am a work in progress.
Comedians reacted to the slap with horror:
Kathy Griffin tweeted: "Now we all have to worry about who wants to be the next Will Smith in comedy clubs and theaters."
7. 🏀 Women's Final Four set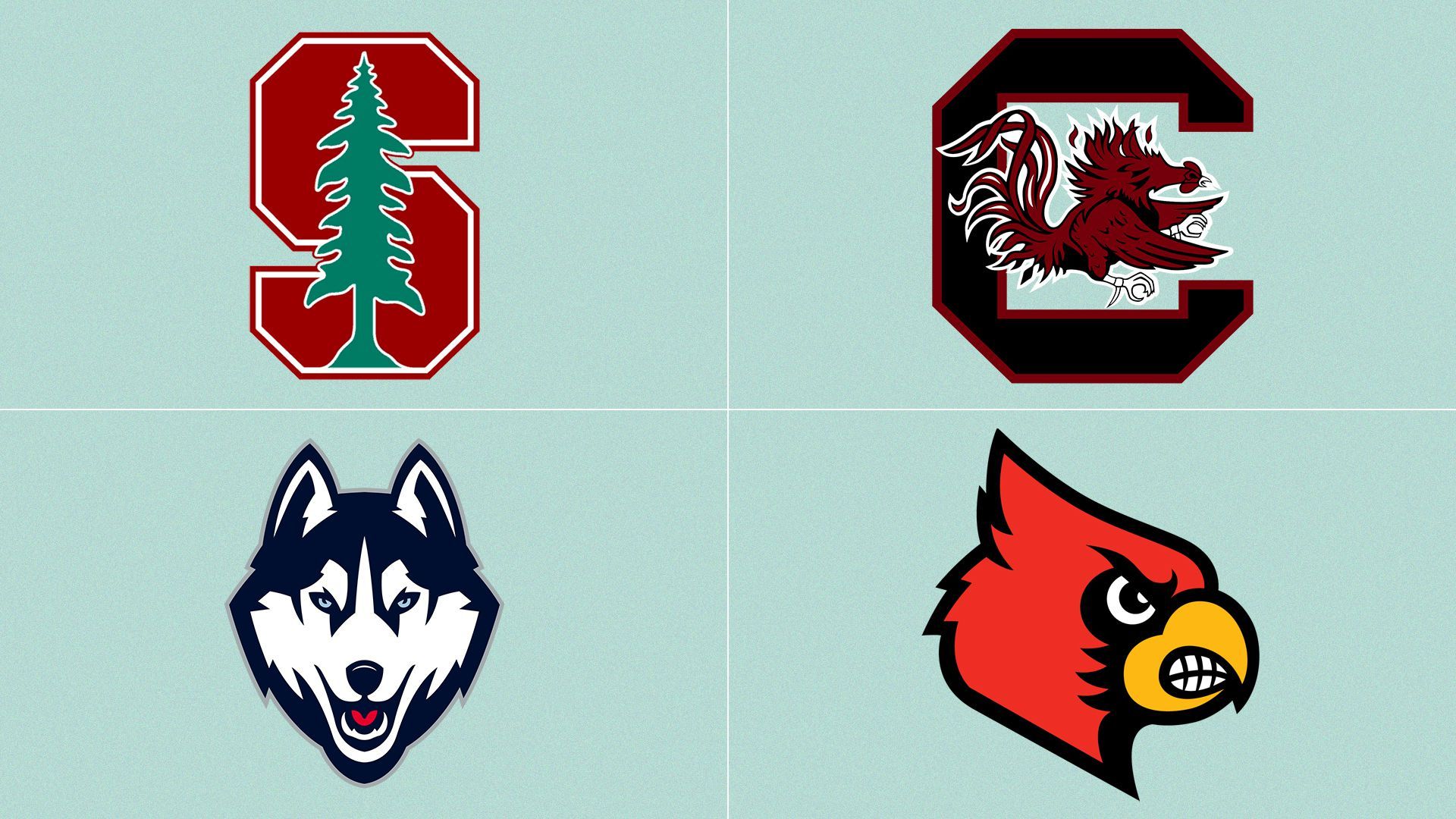 UConn is in the women's Final Four for the 14th consecutive time, joined in Minneapolis by three No. 1 seeds: South Carolina, Stanford and Louisville.
Axios Sports editor Kendall Baker points to these stats:
The three winningest Division I coaches have all reached this year's Final Four: Duke's Mike Krzyzewski (1,202 wins) ... Stanford's Tara VanDerveer (1,157) ... UConn's Geno Auriemma (1,148).
Social media stars: UConn's Paige Bueckers (973,000 Instagram followers) and Louisville's Hailey Van Lith (696,000) are two of the most-followed college athletes. Both are now able to cash in on their fame.
See Kendall's chart of March Madness social-media followings.
8. 📚 Dr. Seuss comeback
A year after six Dr. Seuss books were shelved for racist imagery, the family franchise is doing better than ever, Axios' Sara Fischer and Russell Contreras write.
Why it matters: Efforts by Dr. Seuss Enterprises — the private company that manages the work of the late Theodor Seuss Geisel — to acknowledge the past haven't slowed down the future.
Dr. Seuss is the No. 1 literary license in the U.S. by print sales, according to data from NPD BookScan. That means it's selling more copies than any other intellectual-property-based books, children's or adults.
Many of Dr. Seuss' most famous titles, especially "Green Eggs and Ham," continue to resonate with multicultural communities.
What's happening: Netflix has announced five new, animated series and specials based on Dr. Seuss books. The streaming giant is hoping to use the new shows to hook preschoolers.
Amazon is developing a baking competition series inspired by Dr. Seuss books, Variety reports.
The White House, which didn't mention Dr. Seuss during its annual Read Across America Day last year, included him this year.
The intrigue: Dr. Seuss' books are still a mainstay of literacy programs, including in communities of color.
📬 Invite your friends to sign up here to get their daily essentials — Axios AM, PM and Finish Line.