Axios AM
January 13, 2021
🐪 Hello Wednesday. Today's Smart Brevity™ count: 1,191 words ... 4½ minutes.
Inauguration Day is a week from today.
⚡ Situational awareness: Axios is #23 on Glassdoor's list of the top 200 Best Small and Medium Companies to Work. Axios CEO Jim VandeHei tweets: "secret sauce: a talent/people team that rocks and 220-plus colleagues who care."
🔥 Get our top political scoops each night in Sneak Peek, jammed with hot reporting from both ends of Pennsylvania Avenue. Sign up here.
1 big thing: Top Republicans want Trump done — forevermore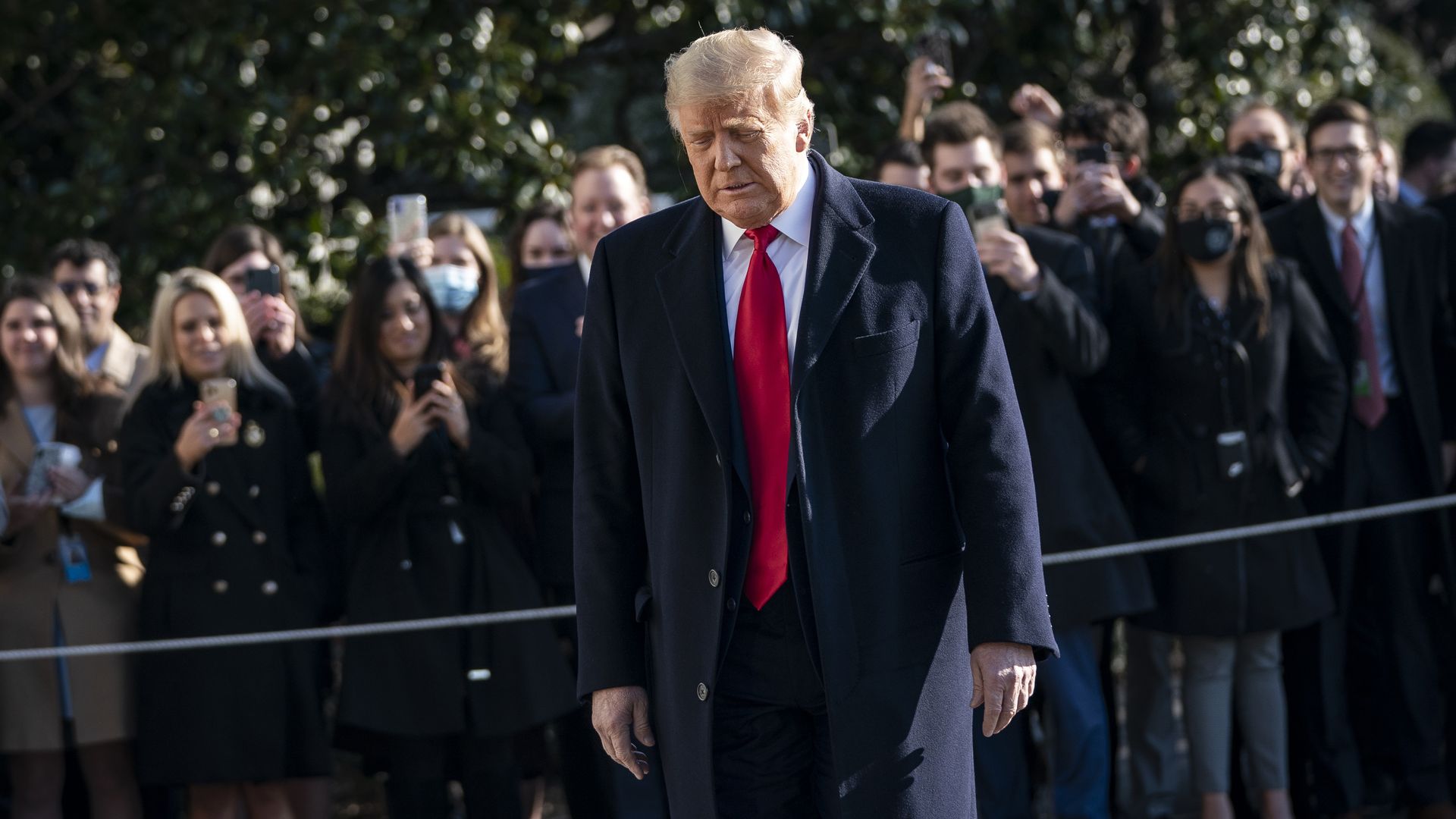 Top Republicans want to bury President Trump, for good. But they're divided whether to do it with one quick kill via impeachment, or let him slowly fade.
A House impeachment vote, which would make Trump the first president to be impeached twice, is expected mid-afternoon.
Sources tell me Senate Majority Leader Mitch McConnell would be more likely than not to vote to convict Trump — a green light for other Republican senators to follow.
House Republican Leader Kevin McCarthy would love a Trumpless world, but doesn't want to knife him with fingerprints. This school of thought wants to let Trump do himself in, without a big party fight over his sins and sentence.
The fade-away caucus sees a danger that the impeachment-conviction route is, as a prominent conservative put it, "making him Jesus. ... Truly stupid."
But an effort by McCarthy to push a lighter punishment for Trump censure has crumbled.
Republican sentiment turned swiftly against the unrepentant Trump yesterday, starting with a New York Times report that McConnell is "pleased" that Democrats are moving to impeach Trump.
That was followed by a stunning statement by House GOP Conference Chair Liz Cheney, the third-ranking House Republican leader, who said of Trump's abetting of the Capitol "mob": "There has never been a greater betrayal by a President of the United States of his office and his oath to the Constitution. I will vote to impeach the President."
Other Republican House members joining Cheney in supporting impeachment (via AP): Reps. John Katko of New York, a former federal prosecutor; Adam Kinzinger of Illinois, an Air Force veteran; Fred Upton of Michigan; and Jaime Herrera Beutler of Washington.
McConnell, 78, knows this fight will be his legacy. "If you're McConnell, you want to be remembered for defending the Senate and the institution," said a Republican familiar with McConnell's thinking.
McConnell is furious at Trump for his total lack of remorse for the Capitol siege, and believes that Trump could only be an impediment to Republicans regaining the Senate majority that they lost on the president's watch.
Trump pushback ... Trump senior adviser Jason Miller, citing a poll of battleground-state voters by John McLaughlin, said: "[I]f you're a Republican who votes for impeachment, you're likely serving your last term."
The bottom line ... The way one well-wired Republican put it: "People have been waiting for Trump to do himself in since the escalator ride. If we want him gone, Republicans are going to have to take him down."
Go deeper ... "Explainer: How Trump's 2nd impeachment will unfold."
📺 For following today's impeachment proceedings, MSNBC will be free — no login — at MSNBC.com starting at 9 a.m. ET.  
2. 📊 Raging trust crisis

Americans are losing trust in leaders across every area of life — and the information coming from every source of news, Sara Fischer writes from the annual Edelman Trust Barometer, out today, which measures trust globally.
Why it matters: The sobering report shows that people crave facts more than ever. But most have bad habits and a growing distrust of everything from journalists to vaccines and contact tracing. Across every type of institution — media, government, business and NGOs — trust has fallen to historic lows.
Business is the only institution that is now perceived as being both ethical and competent enough to solve the world's problems, Edelman found in the survey, which covers 27 countries, with more than 1,000 respondents per country.
CEOs are the only societal leaders trusted to tell the truth and fix problems.
The trust deficit has gotten so bad that people don't know who or what to believe anymore, and they don't even trust themselves to get facts right.
A majority of people around the world believe that journalists, government leaders and business leaders are all purposely trying to mislead people by spreading misinformation.
Most people have terrible information hygiene, and admit that they don't actively verify information, avoid echo chambers or share things without first vetting information.
3. Leading in crisis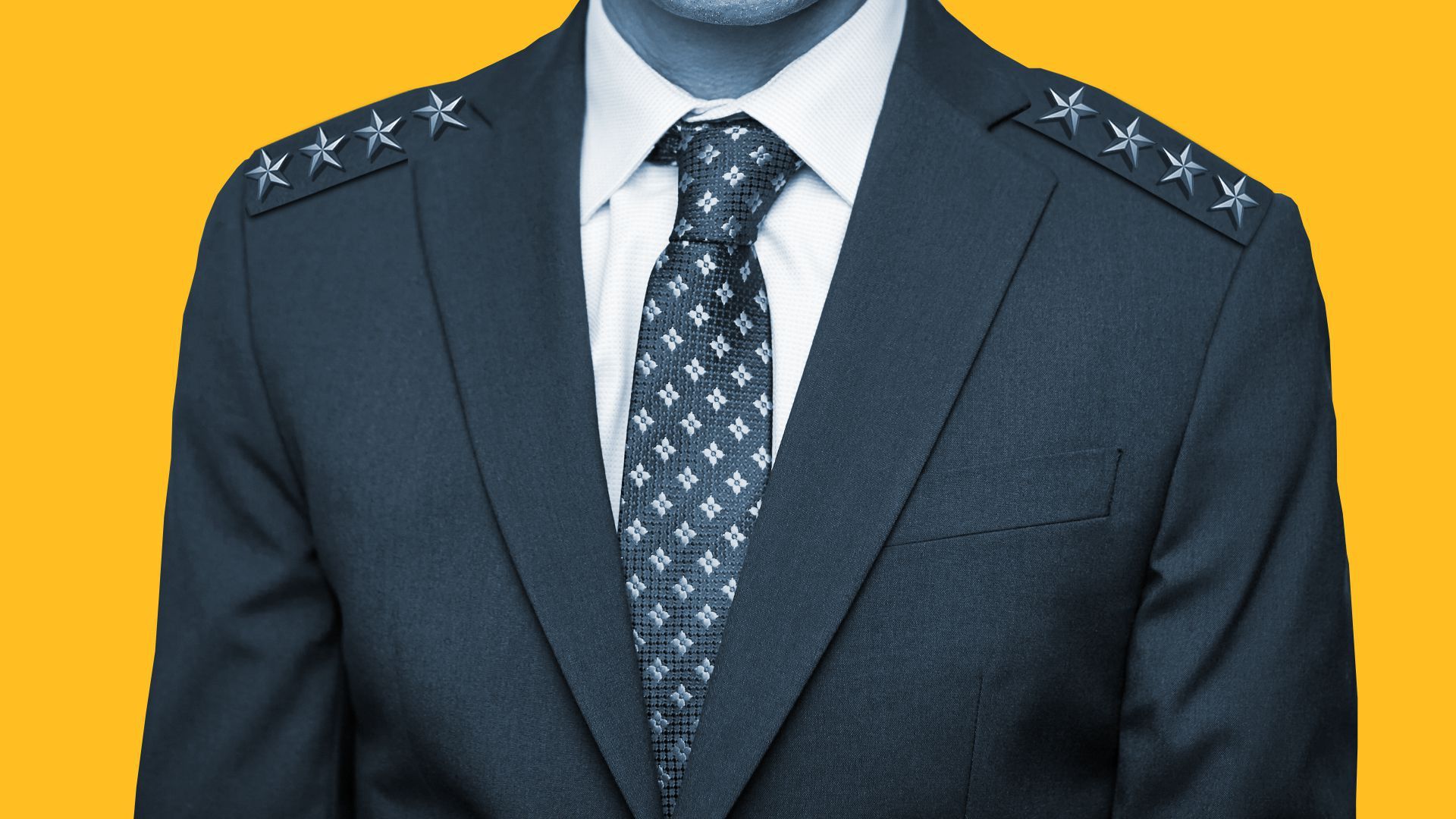 Erica Pandey, author of the weekly Axios @Work newsletter, has these tips from H.R. experts and CEOs about leading through crisis:
1. The most important move for CEOs and other leaders is to acknowledge chaos — such as the events in D.C. — instead of ignoring it.
"Being silent is the biggest mistake," says Lars Schmidt, founder of Amplify, an HR consulting firm. "All your employees are thinking about it. And the idea of continuing to have meetings and expecting employees to be productive while this profound moment is taking place is shortsighted."
2. Remain optimistic:
CEOs can point to signs of hope, such as the vaccine rollout, or help employees refocus by speaking about the company's greater mission.
3. A good culture is now a company's strongest asset:
"Employee wellbeing has crawled out of the corner of the benefits department, and it has crashed onto the CEO's desk," Josh Bersin, an HR industry analyst and author, tells Axios.
4. The resegregation of U.S. schools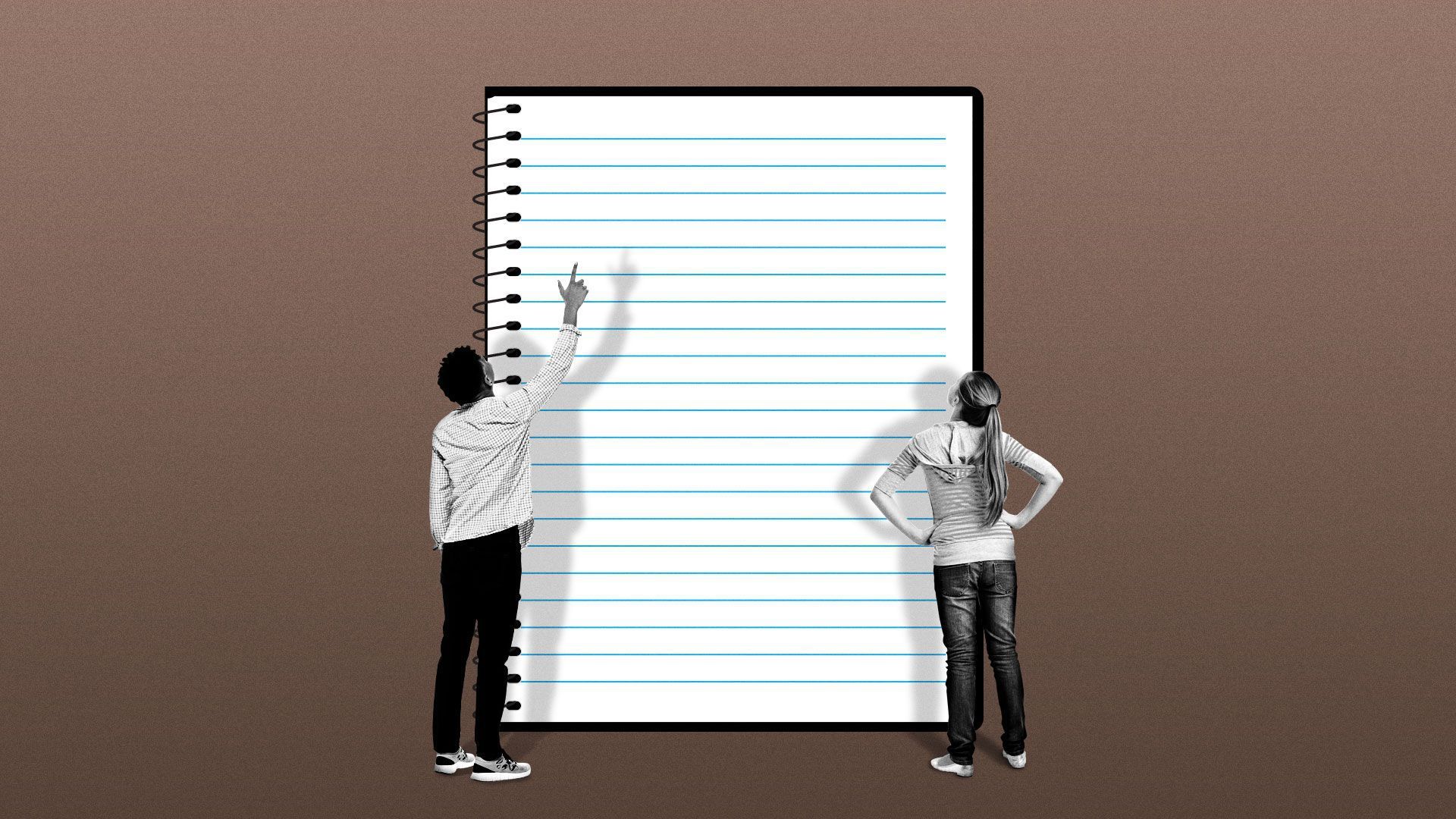 School segregation between Black and white students has returned to 1968 levels, even as the nation grows more diverse, Axios race and justice reporter Russell Contreras writes.
At the peak of desegregation in 1988, around 37% of Black students nationally attended schools with a majority of white students. Only 19% did so in 2018, according to a report from The Civil Rights Project at UCLA.
Why it matters: Black and white school segregation has deepened toward pre-Civil Rights Movement-era numbers despite decades of strides.
This places Black students into school districts with fewer resources than white students — but in more diverse settings than in 1968, since the percentage of Latino and Asian American students has skyrocketed.
5. Women take CES stage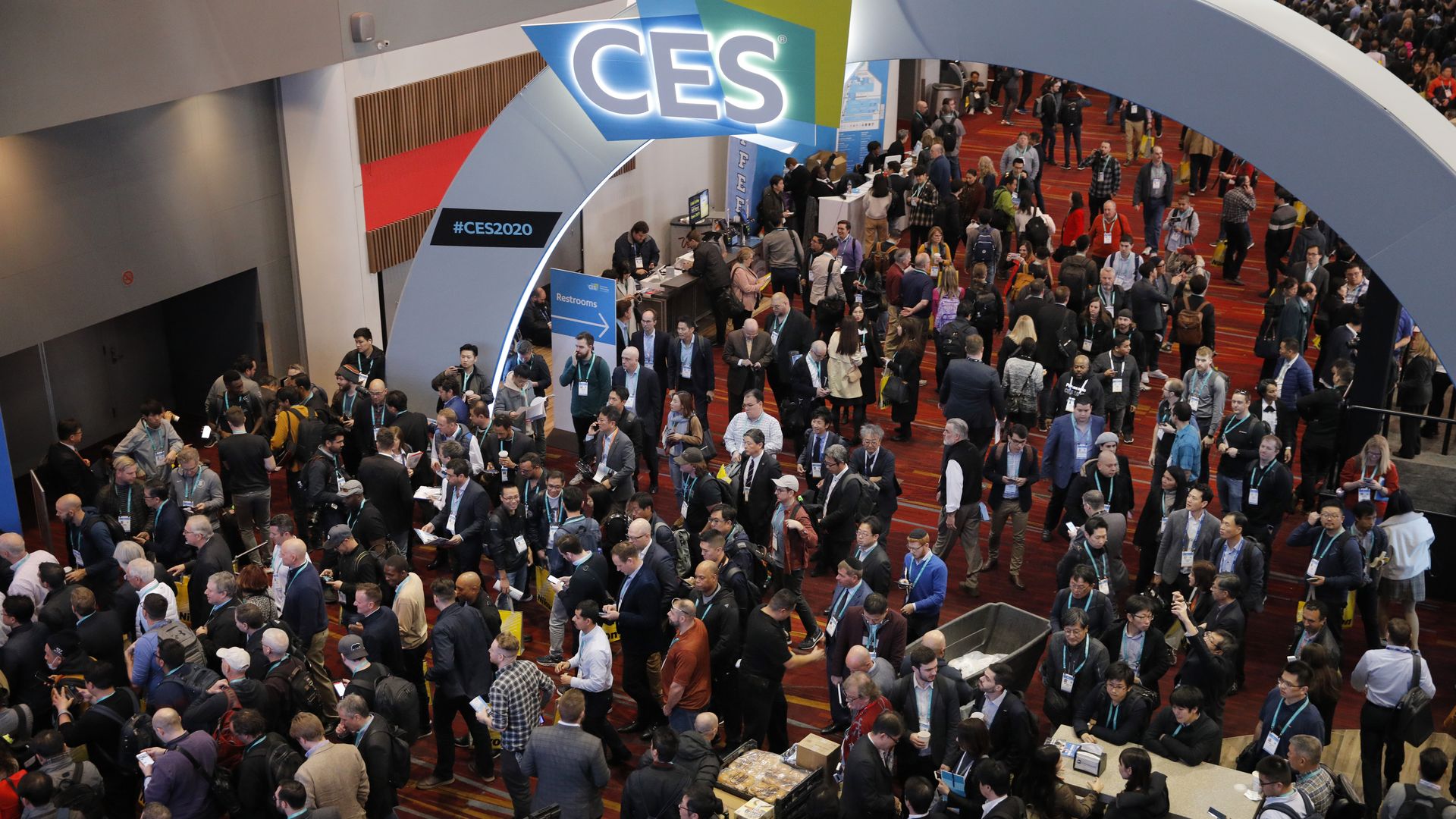 The CEOs of Best Buy, GM and AMD all used the CES electronics show's virtual stage yesterday to outline how they're keeping their businesses moving forward amid the pandemic, Axios chief tech correspondent Ina Fried writes.
Why it matters: It was just three years ago that CES had no female CEOs as part of its main corporate keynote lineup. Yesterday, there were three: Best Buy CEO Corie Barry, GM CEO Mary Barra and AMD chief Lisa Su.
💻 Catch up quick on CES with Axios' single-page roundup.
6. Confidence diverges for Ds, Rs
Following the Capitol insurrection, economic confidence among Ds and Rs has gone in opposite directions, Axios Markets author Dion Rabouin reports.
Overall confidence edged lower, according to the Morning Consult Index of Consumer Sentiment, dropping 0.64 points.
Confidence among Democrats rose nearly 4 points, but fell by 5.6 points among Republicans.
Morning Consult economist John Leer says in a note that the likely explanation is that after last week's riot, just 13 percent of Republicans believe the election could be overturned, down from 27 percent in mid-December.
7. Musk geopolitical straddle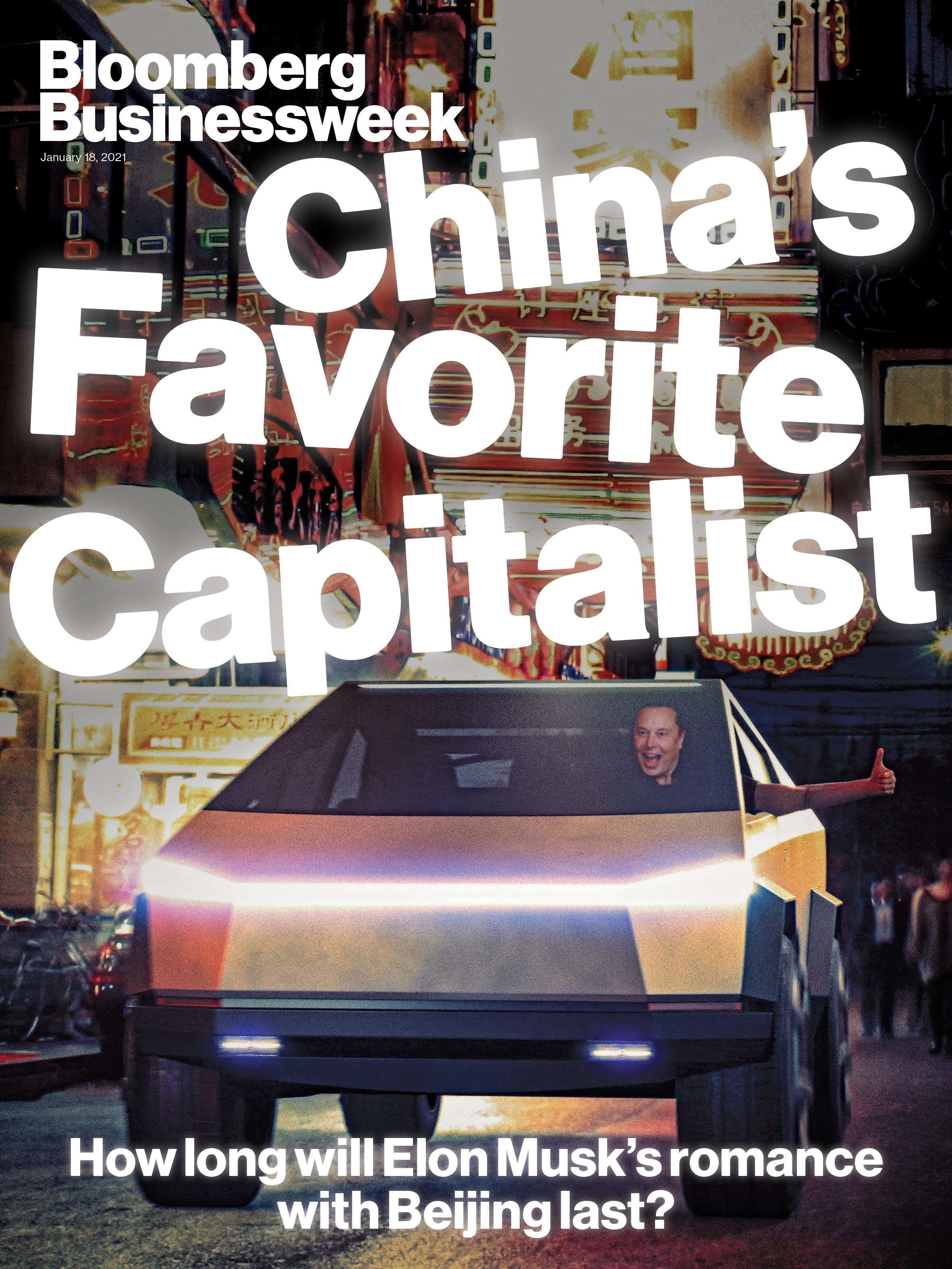 "Beloved by many liberals for his environmental credentials," Bloomberg Businessweek writes about Elon Musk, "hailed ... for his efforts to restore U.S. manufacturing, and — through SpaceX—trusted by the Pentagon to launch spy satellites, he seems as popular in Washington as he is in Beijing."
8. Hot job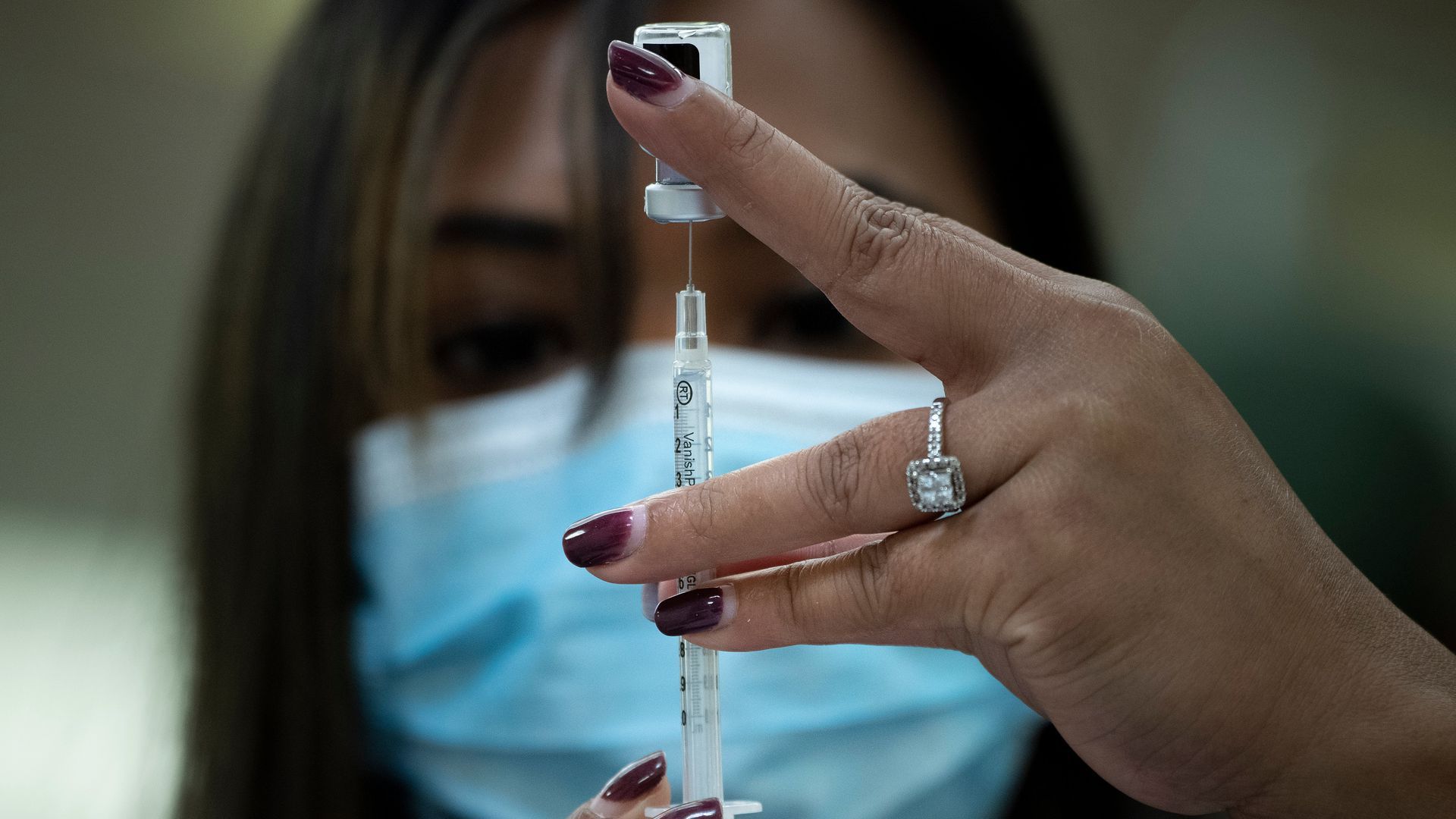 The enormous task of distributing the vaccine across America is leading to a spike in pharmacy job openings, Erica Pandey writes.
Pharmacy job postings were up 9.7% in December compared a year ago, according to the jobs site Indeed.
Other sectors that are doing relatively well are construction and e-commerce.
📱 Sign up for Erica Pandey's weekly Axios @Work newsletter.
9. 🗞️ Time capsule


10. Cartoon du jour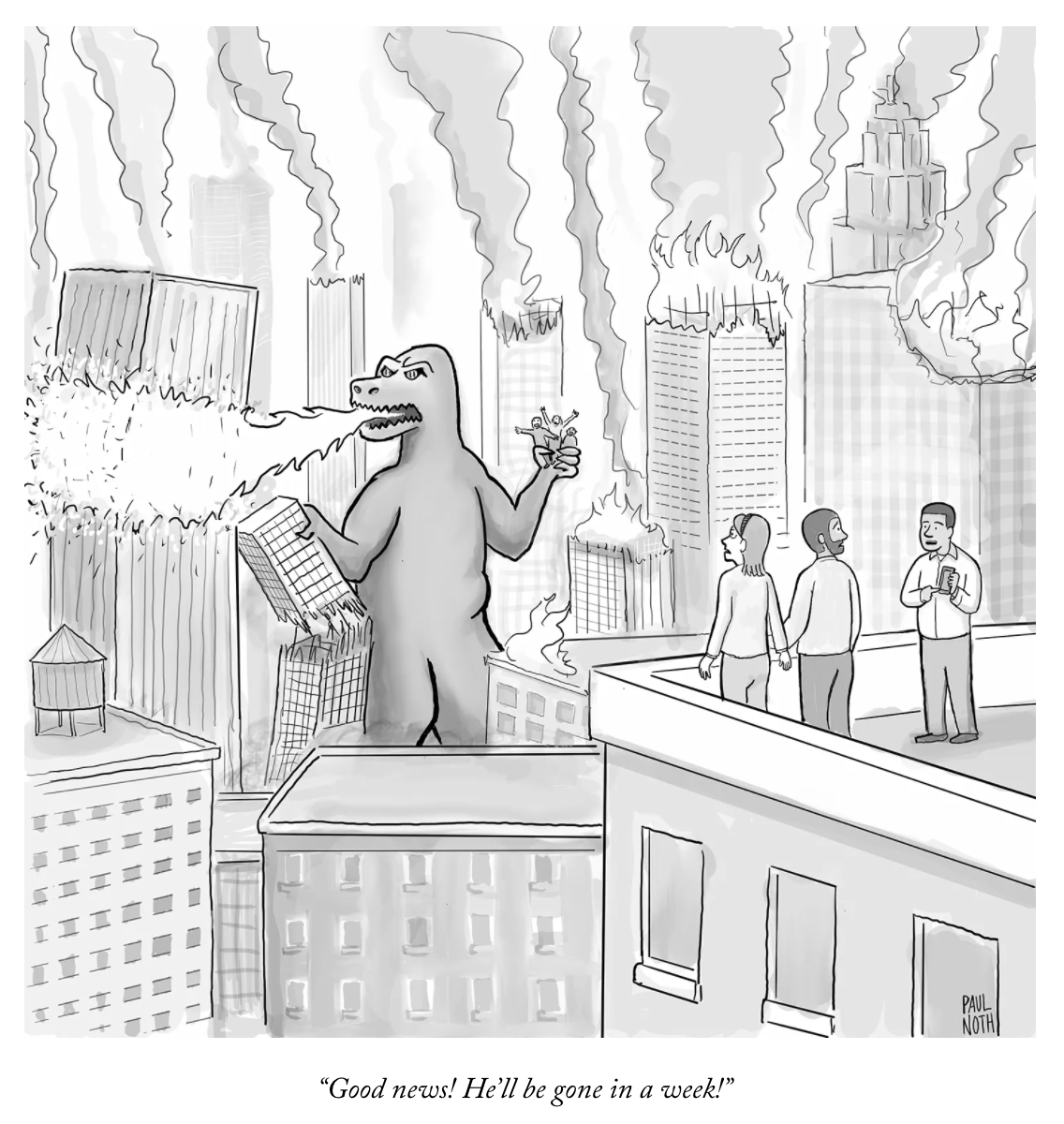 📬 Thanks for starting your day with us. Please invite your friends to sign up for Axios AM/PM.