https://www.axios.com/newsletters/axios-am-19652fbe-762d-4b26-a976-2e80cefd7f29.html?chunk=0#story0
1 big thing: The message behind the pardon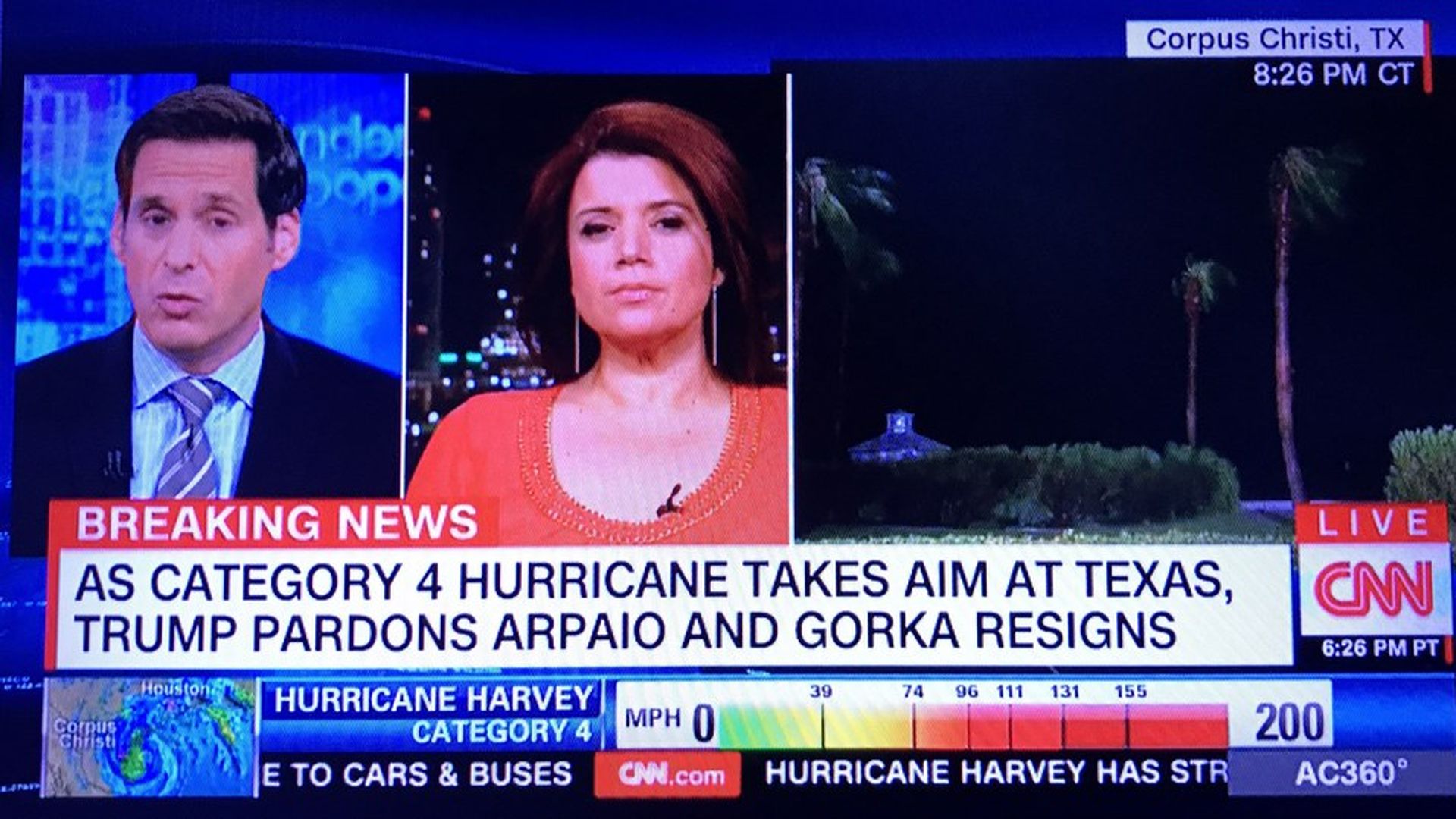 It was an end-of-summer Friday night and President Trump, ensconced at Camp David, wanted to show the establishment who's boss.
In any other time, we'd have had saturation coverage of a once-in-a-decade hurricane aimed at the nation's petrochemical heart. And a rookie president facing the prospect of his first domestic calamity would have been fretting and sweating his understaffed government's response.
Not Trump! Instead, he melted the news circuits — forcing the cable newsers to go with boxes in boxes in boxes. The Friday night news dump:
Trump issues his first pardon, sparing Joe Arpaio of Arizona — who called himself "America's Toughest Sheriff," and was known for hunting immigrants and humiliating convicts — from posssible jail time for a federal conviction stemming from immigration patrols that focused on Latinos.
Seb Gorka, a bombastic White House aide known only to cable-news viewers, posted a blistering departure letter. In a very unusual move, the White House blasted an email to reporters making it clear the Bannon protégé had been forced out: "Attribute to a White House Official: Sebastian Gorka did not resign, but I can confirm he no longer works at the White House."
Trump formalized his "ban on transgender individuals joining the military but gave the Pentagon the authority to decide the future of openly transgender people already serving."
Oh, and BTW, North Korea fired three short-range missiles. (They crashed.)
Oh, and NBC reported: "Mueller issued grand jury subpoenas ... seeking testimony from public relations executives [from firms including Podesta Group and Mercury LLC] who worked on an international campaign organized by Paul Manafort."
Bob Bauer, a New York University law professor who was White House counsel to President Obama, tells me: "There is nothing usual about this ... pardon — issued weeks after the court order and before any appeal or sentencing; previewed at a political rally."
Why it matters: The aggressive Arpaio pardon — so early in a presidency, and without the usual Justice Department protocols — raises the possibility that Trump was sending a message to targets and witnesses in the Mueller probe.
Republican commentator Ana Navarro said on CNN that this was Trump reminding: "I have absolute power to pardon and I have no qualms ... come hell or high water."
https://www.axios.com/newsletters/axios-am-19652fbe-762d-4b26-a976-2e80cefd7f29.html?chunk=1#story1
2. Coming attractions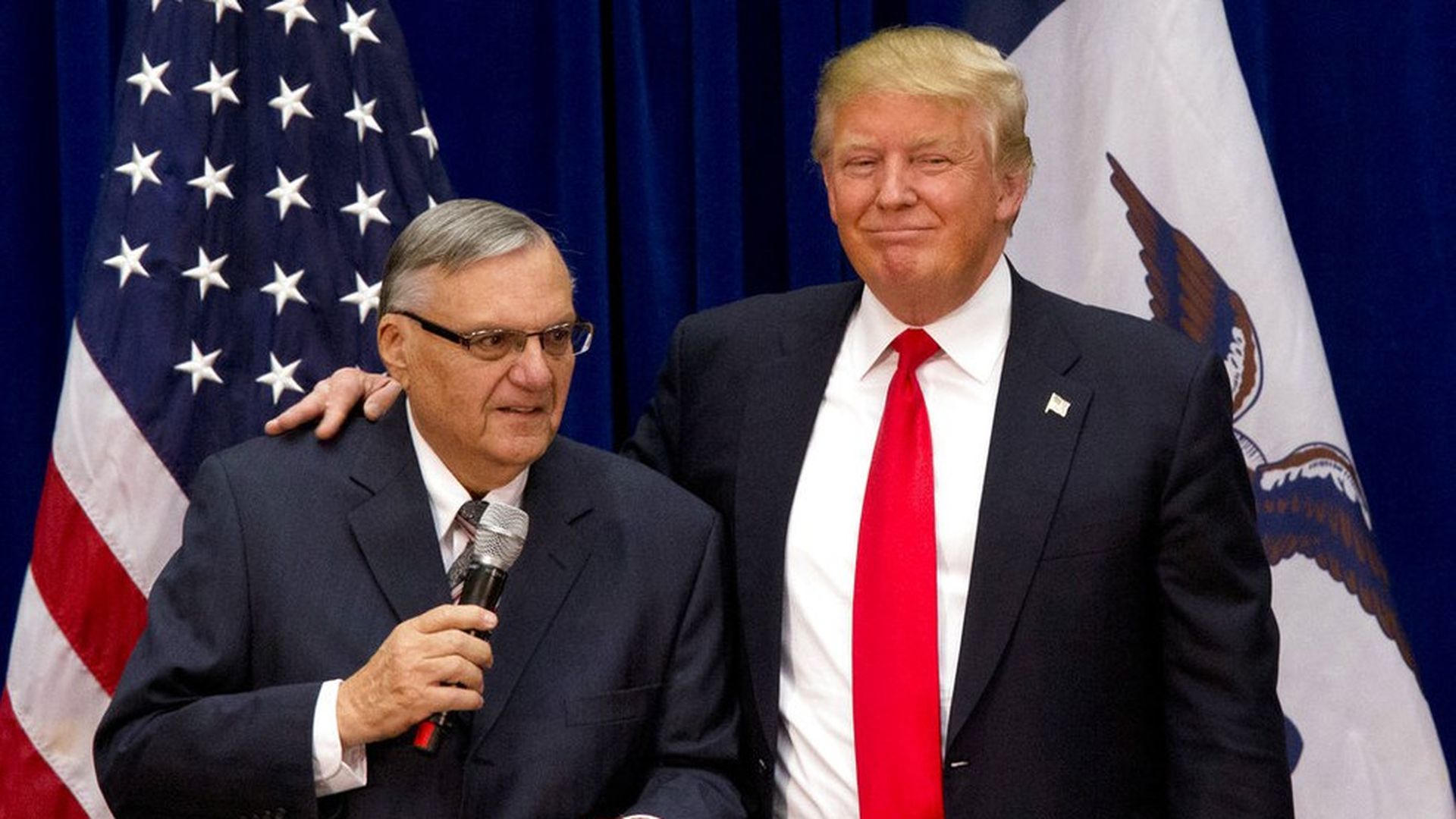 Arpaio in a phoner with Fox's Sean Hannity, two hours after the pardon was issued: "I'm going to do a news conference early next week and get to the bottom of this and show the abuse of the judicial system and politics. I'm not going down without trying to defend myself."
"I'm going to discuss all that with my lawyer. I think people will be shocked. They probably won't believe [the] news media, trying to destroy me all these years. But we'll ... try to get the message out Monday or Tuesday."
The conversation ... Jon Favreau, a founder of Crooked Media and co-host of Pod Save America, tweets: "Trump's Arpaio pardon is on par with Trump's Charlottesville response. The guy tortured people because of their ethnicity."
https://www.axios.com/newsletters/axios-am-19652fbe-762d-4b26-a976-2e80cefd7f29.html?chunk=2#story2
3. Harvey's horror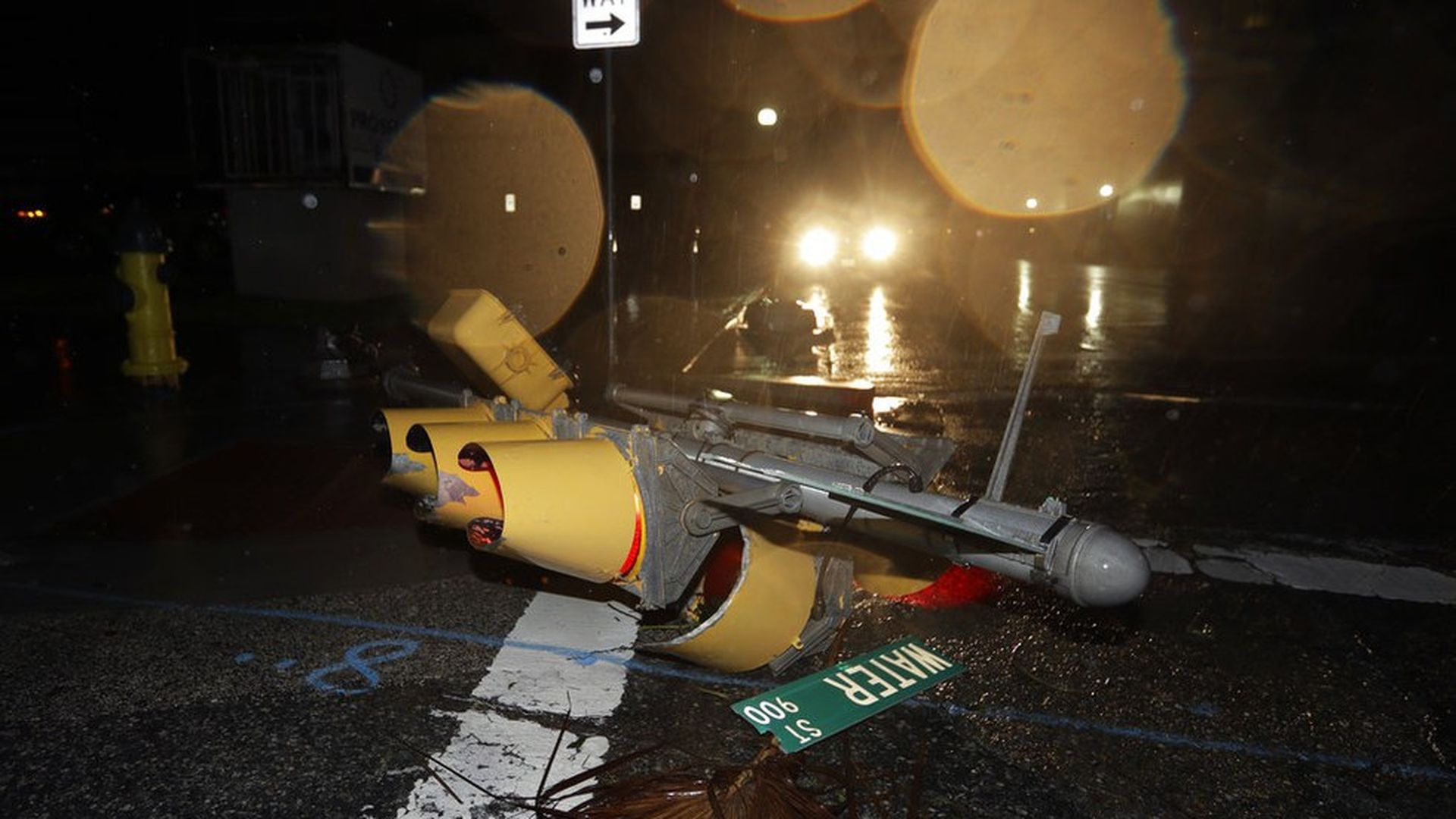 Weather Channel banner: "Worst Yet To Come ... Injuries, Buildings Destroyed, 200,000+ Without Power, Thousands Stranded on Cruise Ships: Cat. 4 Destruction in Texas."
AP latest: "The fiercest hurricane to hit the U.S. in more than a decade made landfall Friday night about 30 miles ... northeast of Corpus Christi as a Category 4 storm with 130 mph ... winds. It gradually weakened ... and ... by 5 a.m. ... was downgraded to a Category 1 — still sustaining winds of 90 mph."
https://www.axios.com/newsletters/axios-am-19652fbe-762d-4b26-a976-2e80cefd7f29.html?chunk=3#story3
4. Hot shot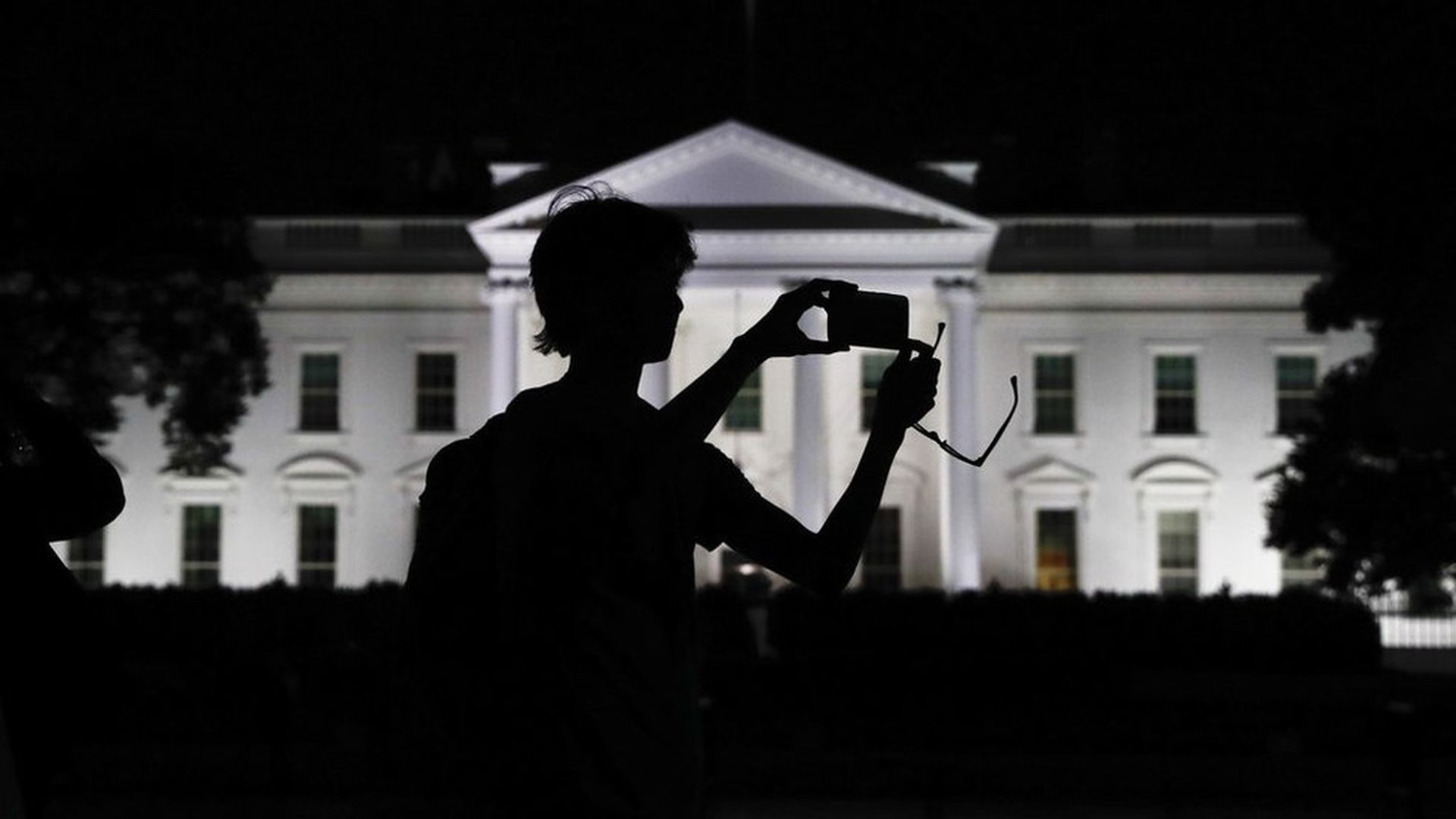 A tourist on Pennsylvania Avenue photographs the illuminated White House last night.
https://www.axios.com/newsletters/axios-am-19652fbe-762d-4b26-a976-2e80cefd7f29.html?chunk=4#story4
5. The self-styled "Dr. G"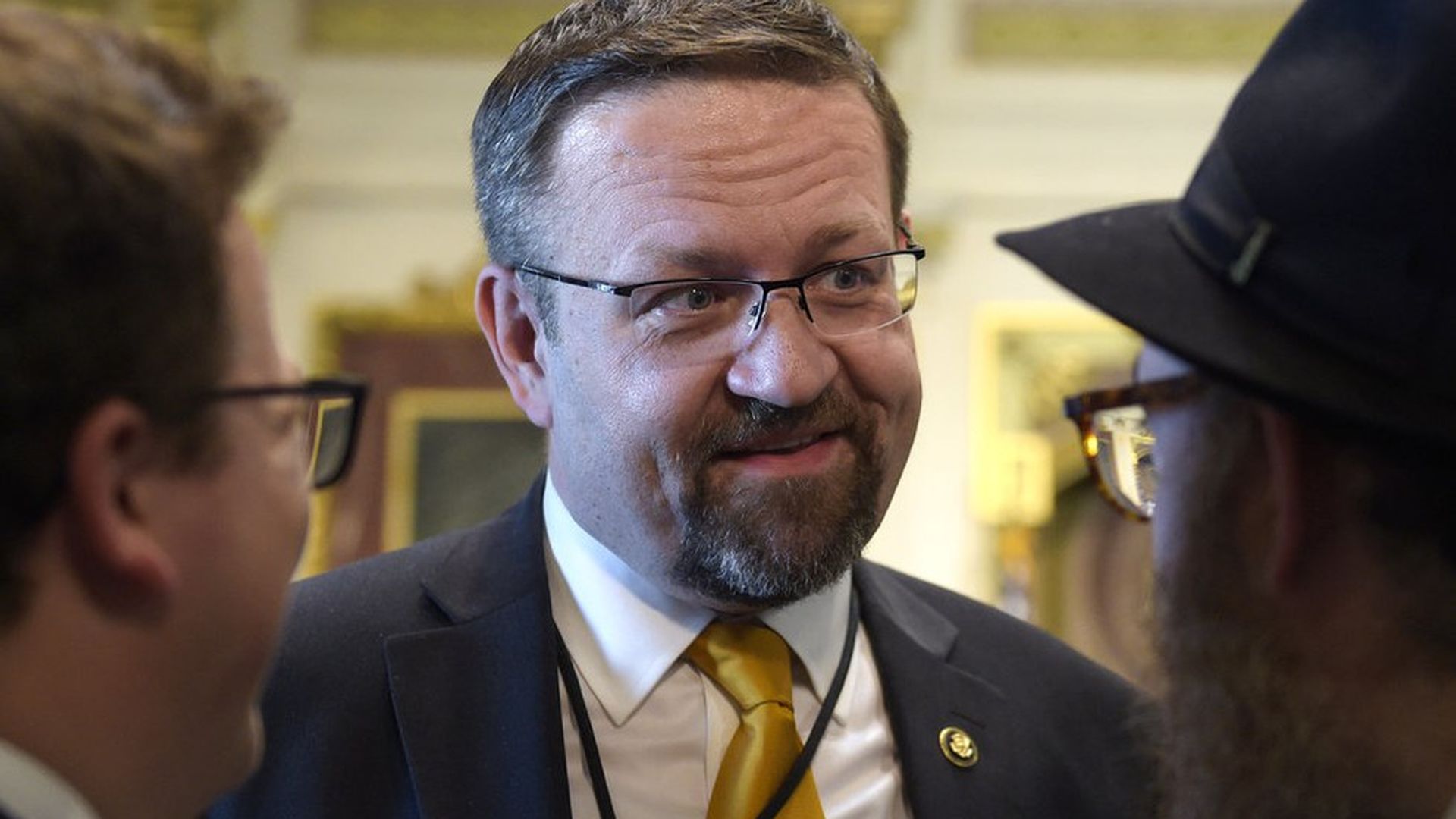 From the departure letter to President Trump by Seb Gorka, a Deputy Assistant to the President with no known responsibilities besides blasting "fake news" in Trump-pleasing cable TV hits:
"Regrettably, outside of yourself, the individuals who most embodied and represented the policies that will 'Make America Great Again,' have been internally countered, systematically removed, or undermined in recent months.
"This was made patently obvious as I read the text of your speech on Afghanistan this week ... The fact that those who drafted and approved the speech removed any mention of Radical Islam or radical Islamic terrorism proves that a crucial element of your presidential campaign has been lost."
A great line from Axios' Jonathan Swan: "Trump raved about Gorka's performances, telling colleagues he had no idea what Gorka actually did but loved him on TV."
https://www.axios.com/newsletters/axios-am-19652fbe-762d-4b26-a976-2e80cefd7f29.html?chunk=5#story5
6. Tweet of the week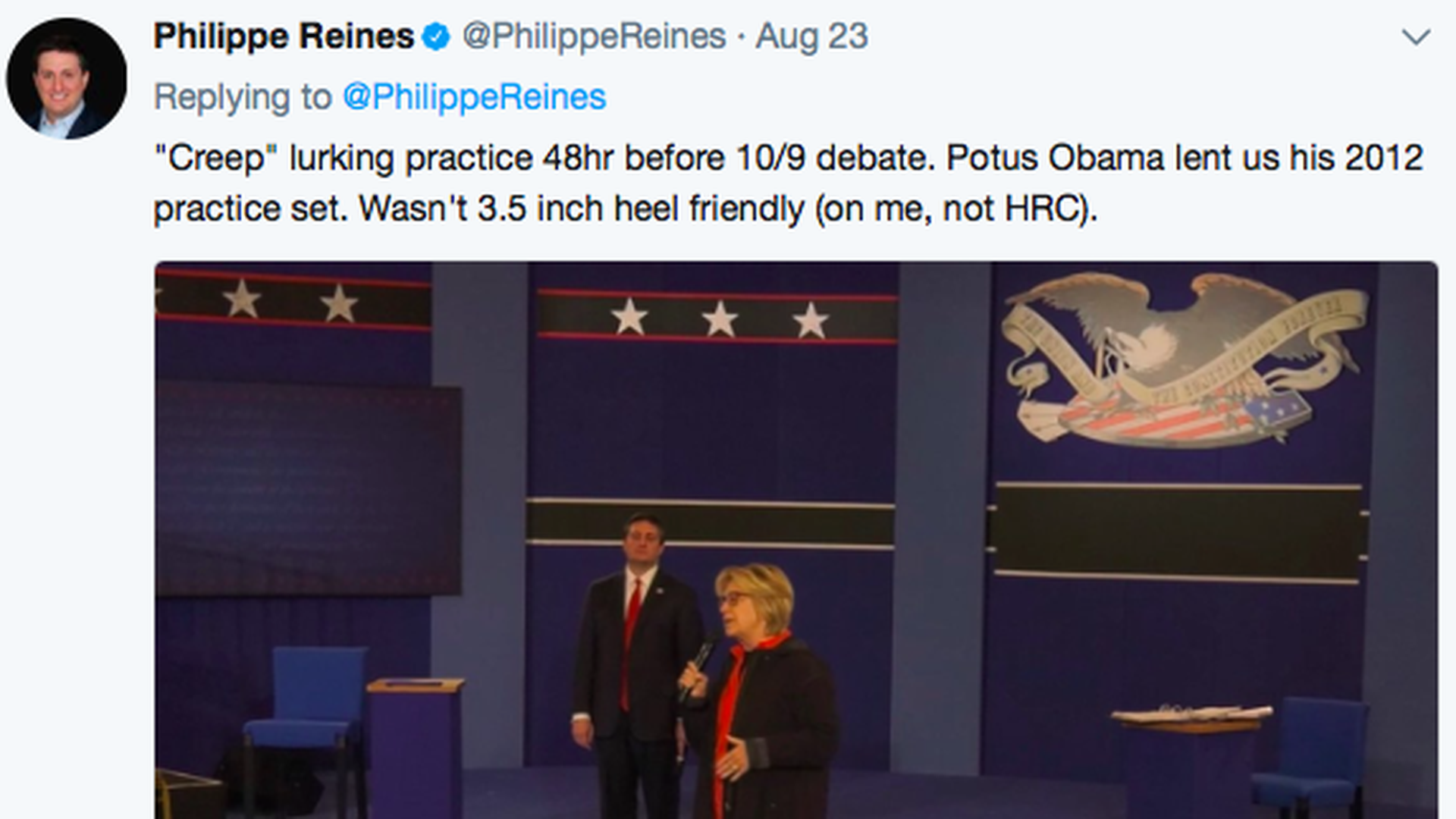 After "Morning Joe" aired exclusive audio excerpts, Hillary Clinton's forthcoming campaign memoir, "What Happened" (out 9/12), creeped right back up to #1 on Amazon.
Worth the click ... Philippe Reines, the longtime Hillary confidant who played Donald Trump in debate prep, tweets this priceless video: "Not easy to avoid the unwanted Trump hug, sometimes it even takes practice... A favorite moment from debate prep (9/24/16)."
Go deeper ... Philippe talks to MSNBC's Ari Melber.
P.S. Awkward on Martha's Vineyard: Vernon Jordan invited Bill and Hillary Clinton to come to the Vineyard for tonight's party celebrating his 82nd birthday (was Aug. 15). But a little bird tells me the Clintons didn't know that the bash is at the home of Lynn Forester de Rothschild — one of her biggest supporters during the campaign, who has been trashing her to all listeners since the election.
https://www.axios.com/newsletters/axios-am-19652fbe-762d-4b26-a976-2e80cefd7f29.html?chunk=6#story6
7. The new Rocket Men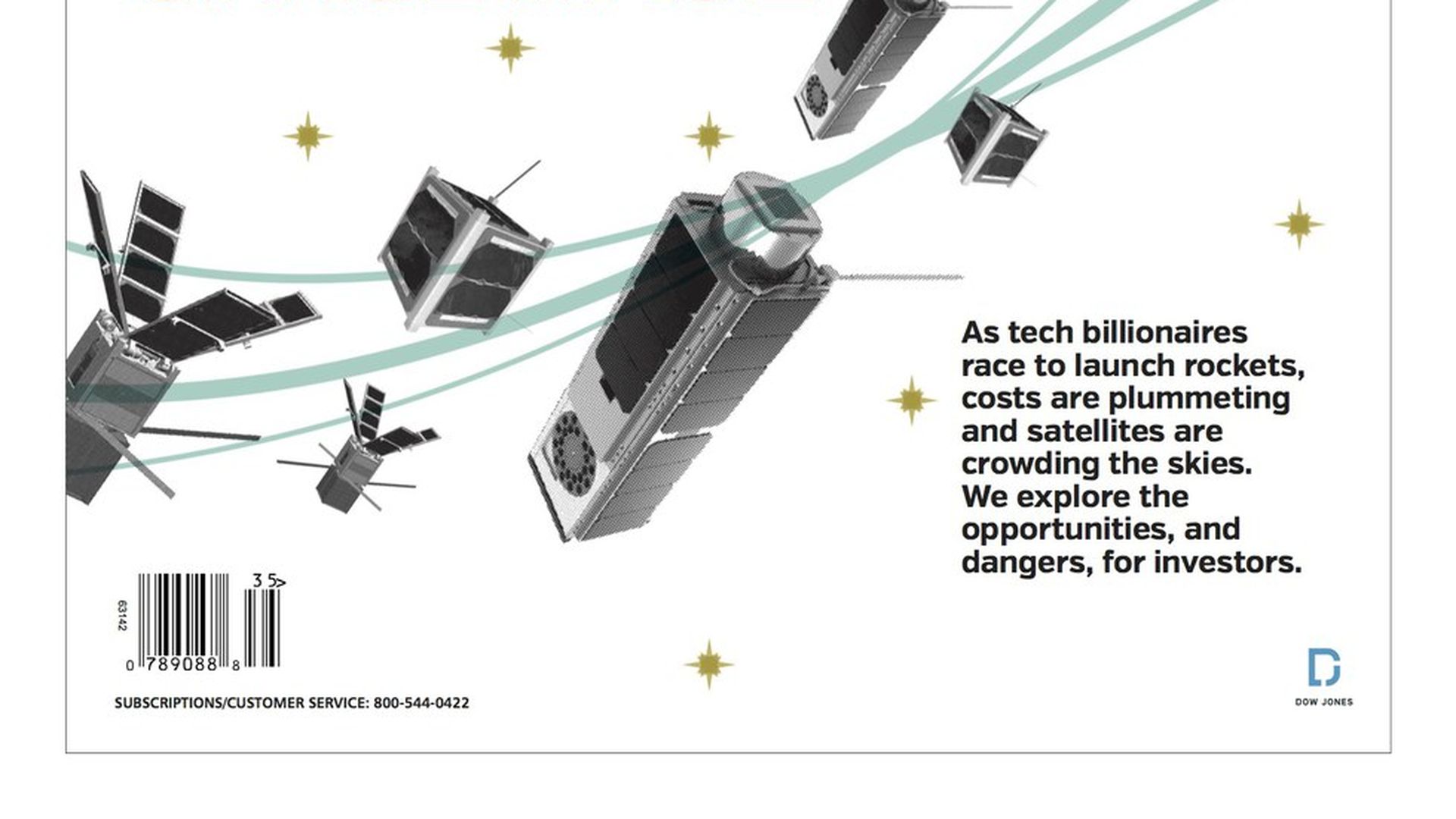 "New Space Age Offers Promise and Peril for Investors: Plunging costs have fueled new space ventures by public and private companies and wealthy entrepreneurs" — Barron's cover story by Jack Hough (subscription):
'[B]illionaire technology titans are ... creating the fastest pace of change in decades."
The four big players:
"SpaceX, a side project of Tesla founder Elon Musk, has grabbed a leading market share in commercial satellite launches by undercutting its main rival, Europe's Arianespace, by up to 40%. Musk's long-term goal is to colonize Mars."
"Jeffrey Bezos, founder of Amazon.com and privately owned Blue Horizon, plans to compete on launches, too, and has a vision of moving manufacturing to space."
"Richard Branson, of Virgin Group, hopes to sell space flights to vacationers."
"Microsoft alum Paul Allen unveiled the world's largest plane in May, called the Stratolaunch aircraft, with triple the wingspan of a Boeing 737. It is meant to carry three launch vehicles, each of which can put a 1,000-pound satellite into low orbit."
Why it matters: "Launch costs have fallen more in the past decade than in the prior whole of the space age."
https://www.axios.com/newsletters/axios-am-19652fbe-762d-4b26-a976-2e80cefd7f29.html?chunk=7#story7
8. Top talker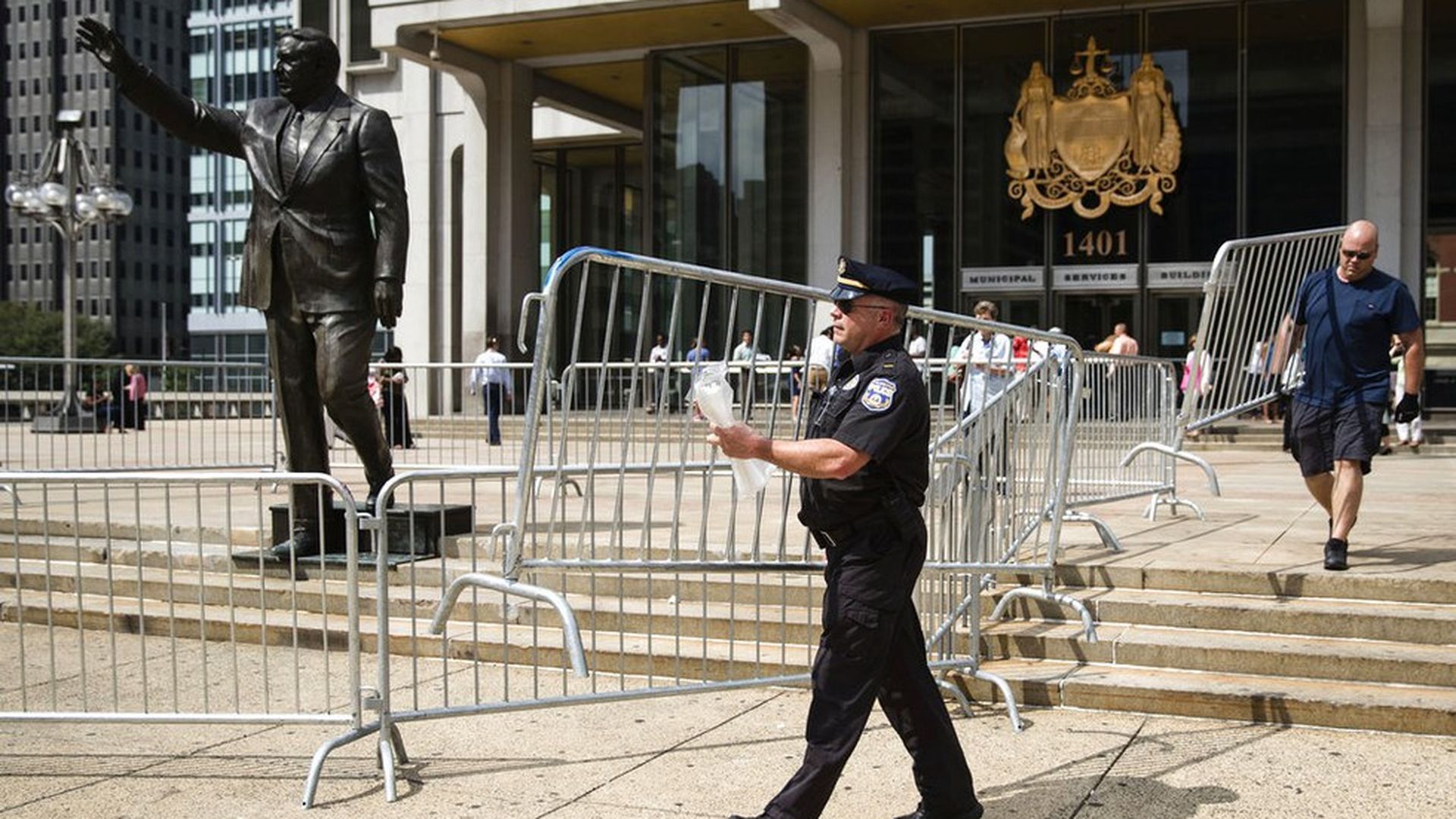 "Far From Dixie, Outcry Grows Over a Wider Array of Monuments," by Trip Gabriel on the N.Y. Times front page (print headline: "Topple Columbus, Too? Statue Outcry Spreads"):
"[T]he anger from the left over monuments and public images deemed racist, insensitive or inappropriate has quickly spread to statues of Christopher Columbus and the former Philadelphia tough cop mayor Frank Rizzo, Boston's landmark Faneuil Hall, a popular Chicago thoroughfare and even Maryland's state song."
Why it matters: "The disputes over America's racial past and public symbols have proliferated with dizzying speed, spreading to states far beyond the Confederacy and inspiring campaigns by minorities and political progressives across the country."
Danger for the left: The disputes "have become to some an example of politically correct sentiments gone too far, with the potential to mobilize the right and alienate the center.
"Paul Begala, the Democratic strategist, said his party was 'driving straight into a trap Trump has set,' because the president seeks to shift the focus away from comments he made about white supremacists to his charge that opponents are trying to 'take away our history.'"
N.Y. Times Quotation of the Day ... Helen Gym, a Philadelphia councilwoman, on her support for removing a monument to Mayor Frank Rizzo, who is loathed by some African-Americans for his harsh tactics toward blacks: "Just because Philadelphia wasn't a part of the Confederacy doesn't mean we get a pass."
https://www.axios.com/newsletters/axios-am-19652fbe-762d-4b26-a976-2e80cefd7f29.html?chunk=8#story8
9. How Trump rolled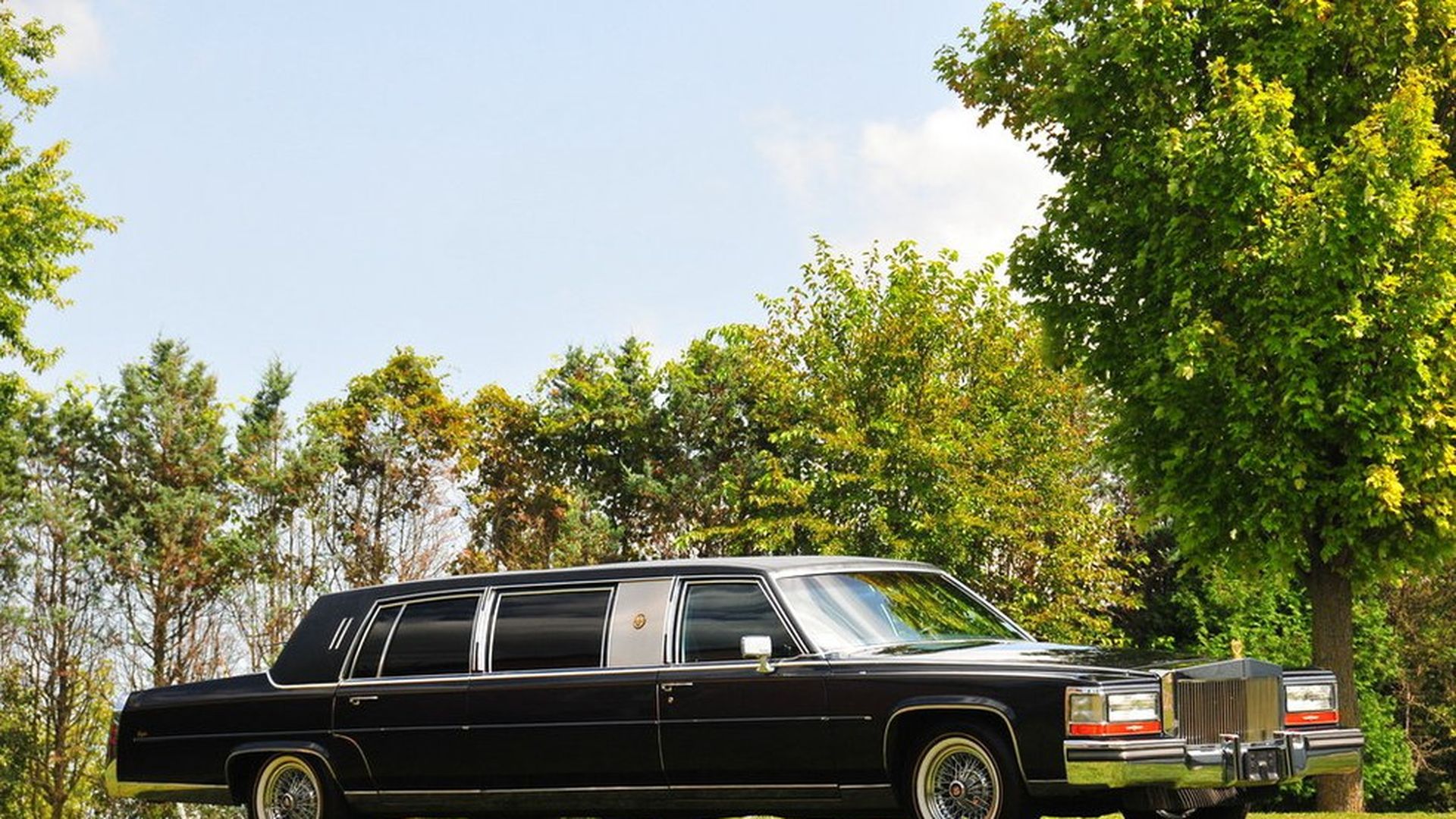 This 1988 Cadillac limousine once owned by President Trump that was recently acquired by Volo Auto Museum in Volo, Ill. Museum director Brian Grams tells AP that the limo was built to be an office on wheels — with fax machine, TV, VCR, three phones and a shredder.
https://www.axios.com/newsletters/axios-am-19652fbe-762d-4b26-a976-2e80cefd7f29.html?chunk=9#story9
10. 1 fun thing: Fight Night