Axios AM
December 28, 2020
☕ Happy Monday! Today's Smart Brevity™ count: 1,184 words ... 4½ minutes.
🇨🇳 Breaking: A Chinese court handed a four-year jail term today to a citizen-journalist who reported from Wuhan at the peak of the coronavirus outbreak, on grounds she was "picking quarrels and provoking trouble," Reuters reports. (Go deeper.)
🇸🇦 One of Saudi Arabia's most prominent women's rights activists was sentenced today to nearly six years in prison under a vague and broadly worded law aimed at combating terrorism, according to state-linked media. — AP
1 big thing: 5 trends that will shape America in '21
President-elect Biden is going to spend 2021 trying to return America to what he considers a more normal time, while President Trump tries to lock down control of the GOP — all at a time when misinformation and alternate narratives get even worse.
Here are five of the storylines that will shape America next year, narrated by Axios experts in virtual conversations with CEO Jim VandeHei:
1. Biden is going to be "a man on a small, lonely island trying to unite the country," White House and politics editor Margaret Talev reports.
"I think the only thing he really controls is himself, and that's [why] he'll try to use the bully pulpit."
2. President Trump's expected announcement that he'll run for president again in 2024 allows him "to freeze the Republican Party in place," according to Jonathan Swan.
And for those Republicans who want to run in 2024 themselves and hope Trump will walk off into the sunset: "He ain't doing that."
3. The Federal Reserve "has created this environment where there's no such thing as risk," but that can't go on forever and Wall Street knows it, Axios Markets editor Dion Rabouin says.
"It's the make-believe economy ... The nuts and bolts of buyers and sellers, of the market, of creating products and selling things, that's not going well at all. But the Fed has just said: If the stock market goes down, we will be here with our fake funny money."
4. If any real moves to crack down on the power of Big Tech happen, they're more likely to come from the executive branch — the Justice Department or FTC — than from Congress, Axios Login maestro Ina Fried says from S.F.
5. The rise of alternate universes is on track to get even worse, Axios Media Trends expert Sara Fischer tells Jim:
"The information economy definitely favors speed and scale, as well as hyperbole. It does not favor facts and measured reporting."
2. On phone with Trump: Getting to "yes"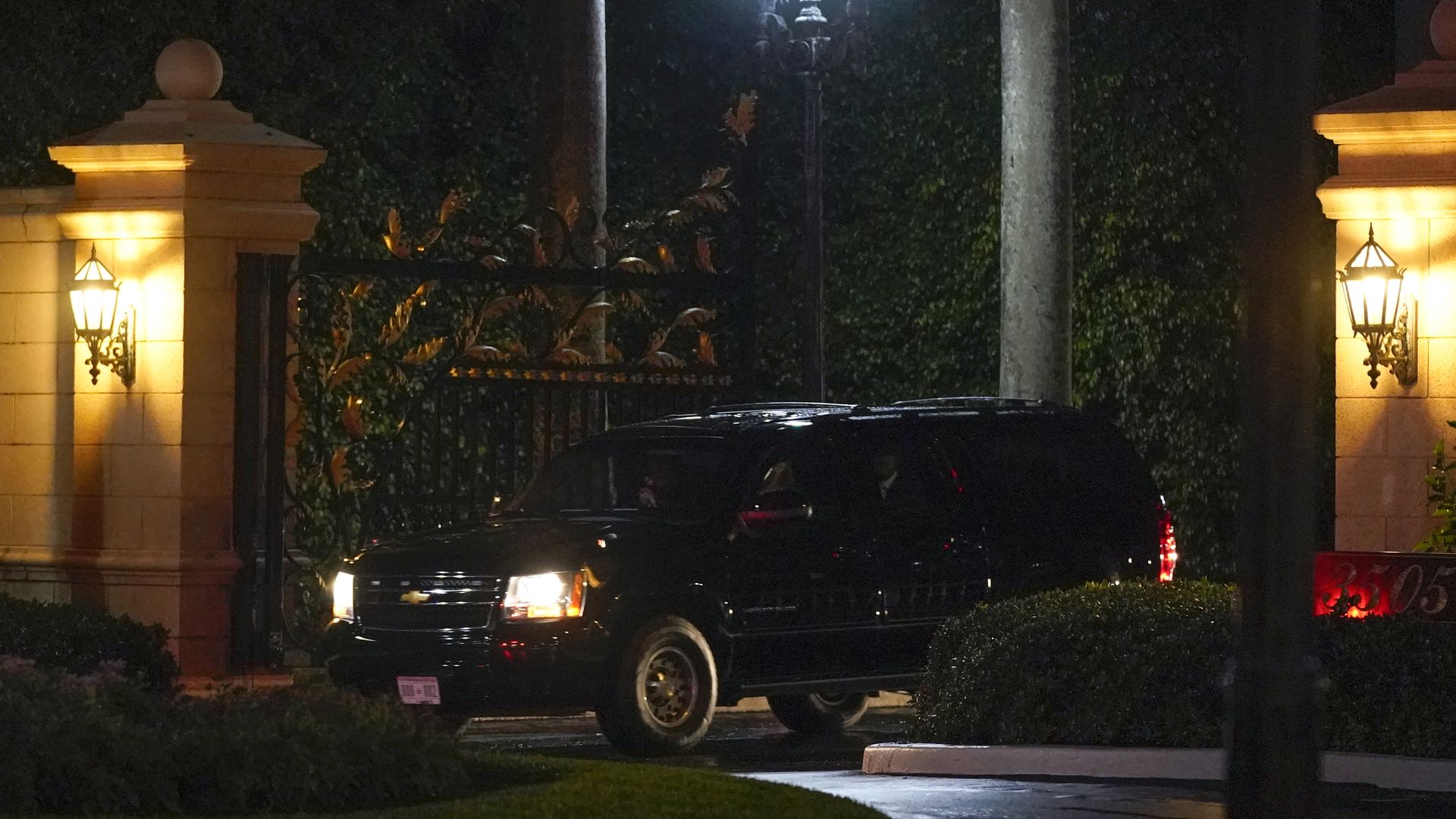 Getting a cranky, stubborn President Trump to belatedly sign the COVID relief bill, after unemployment benefits had already lapsed, was like being a hostage negotiator, or defusing a bomb.
The deal was closed on a Sunday afternoon phone call with Trump, Treasury Secretary Steven Mnuchin and House Republican Leader Kevin McCarthy.
"This is good," Trump finally said, an official familiar with the call told me. "I should sign this."
How it happened: Over many days, Mnuchin and McCarthy — aided by Sen. Lindsey Graham, who golfed with Trump in West Palm Beach on Friday — indulged the president's rants, told him there was great stuff in the bill, and gave him "wins" he could announce, even though they didn't change the bill.
Playing to his vanity, they invoked his legacy and reminded him he didn't want to hurt people.
Trump's sweeteners, from his 8:15 p.m. statement: "[T]he House and Senate have agreed to focus strongly on the very substantial voter fraud which took place in the November 3 Presidential election."
Reality check ... Pollster Frank Luntz told me: "It may be too late. Too late for him, too late for the economy, too late for Covid, and too late for the Georgia senators."
📄 Go deeper: Updated highlights of what's in the bill.
3. 40-page tick-tock: Trump resisted masks from Day 1

The New Yorker is devoting nearly the entire issue — something the magazine has done just a handful of times in its history — to "The Plague Year," a 40-page account by Lawrence Wright about how American botched its virus response.
Larry's prescient thriller — "The End of October," out in April — was about a global pandemic sparked by a mysterious virus that originated in Asia.
Much of Wright's narration of the West Wing's panicked early response is from the point of view of deputy national security adviser Matt Pottinger, a former Marine and China correspondent for The Wall Street Journal and Reuters:
On March 4th, as Matt Pottinger was driving to the White House, he was on the phone with a doctor in China. Taking notes on the back of an envelope while navigating traffic, he was hearing valuable new information about how the virus was being contained in China. The doctor ... emphasized that masks were extremely effective with COVID ...
Still on the phone when he parked his stick-shift Audi, on West Executive Avenue, next to the West Wing, Pottinger forgot to put on the parking brake. As he rushed toward his office, the car rolled backward, narrowly missing the Vice-President's limo, before coming to rest against a tree.
While the Secret Service examined the errant Audi, Pottinger kept thinking about masks. ...
Nobody in the White House wore a mask until Pottinger donned one, in mid-March. Entering the West Wing, he felt as if he were wearing a clown nose. People gawked. Trump asked if he was ill. Pottinger replied, "I just don't want to be a footnote in history — the guy who knocked off a President with COVID."
Worthy of your time: Keep reading.
4. Brands bet on working from home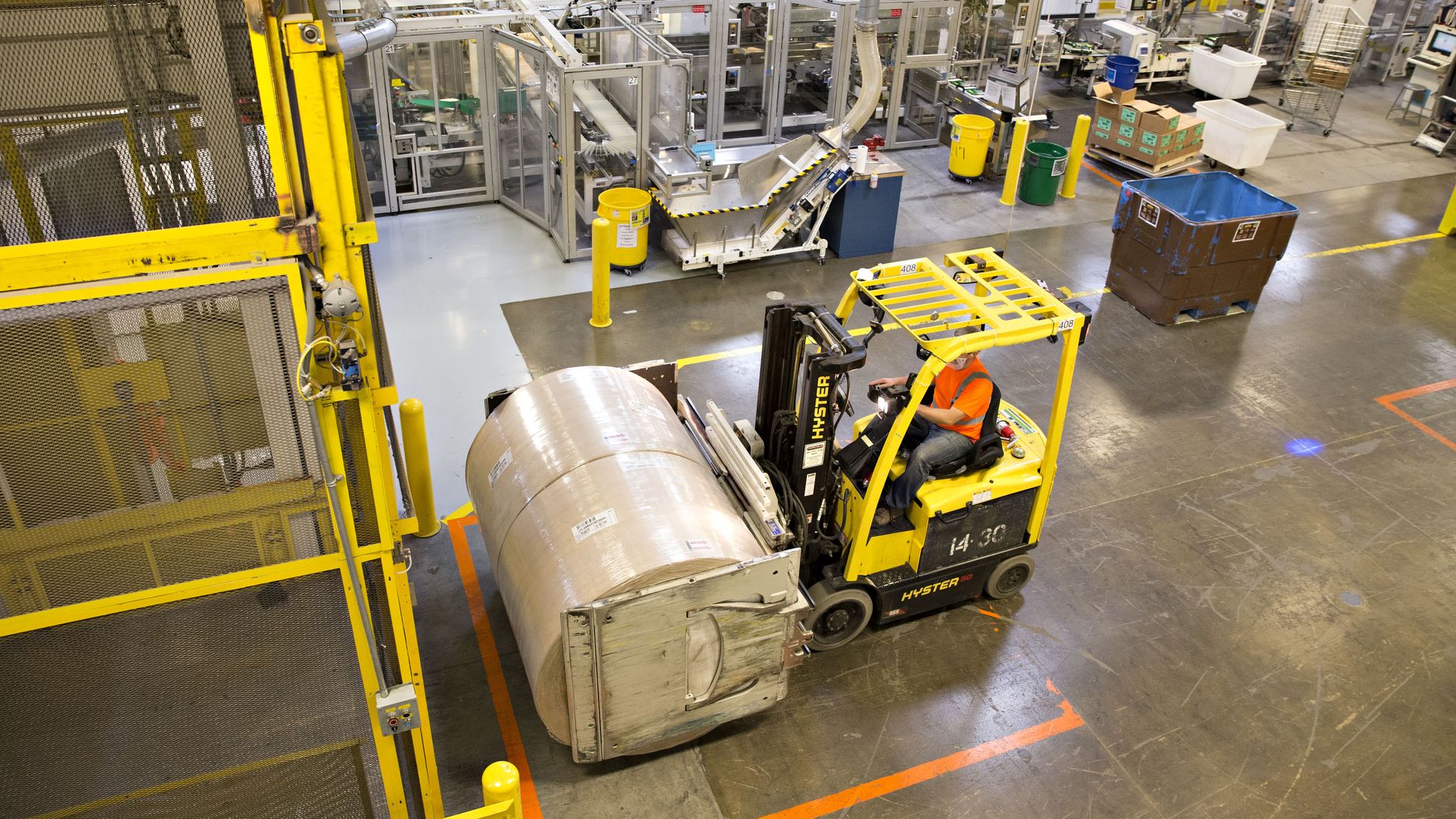 "Consumer-product companies are expanding factories and revamping production lines, wagering that work-from-home habits like growing beards and fixing quick lunches will outlast the coronavirus pandemic," The Wall Street Journal reports (subscription).
"Kimberly-Clark Corp. is converting a plant to make toilet paper for homes instead of offices, and Procter & Gamble Co. is adding beard-care products."
"Kraft Heinz Co. raised production of ... Kraft Mac & Cheese cups, Oscar Mayer cold cuts and Philadelphia cream cheese ... Now the company is spending more than $100 million to add more production capacity next year."
J.M. Smucker Co. has retrofitted machines to make sizes "of Folgers and Dunkin' coffee that it expects to be popular with people working from home."
5. Nashville authorities: Loner blew himself up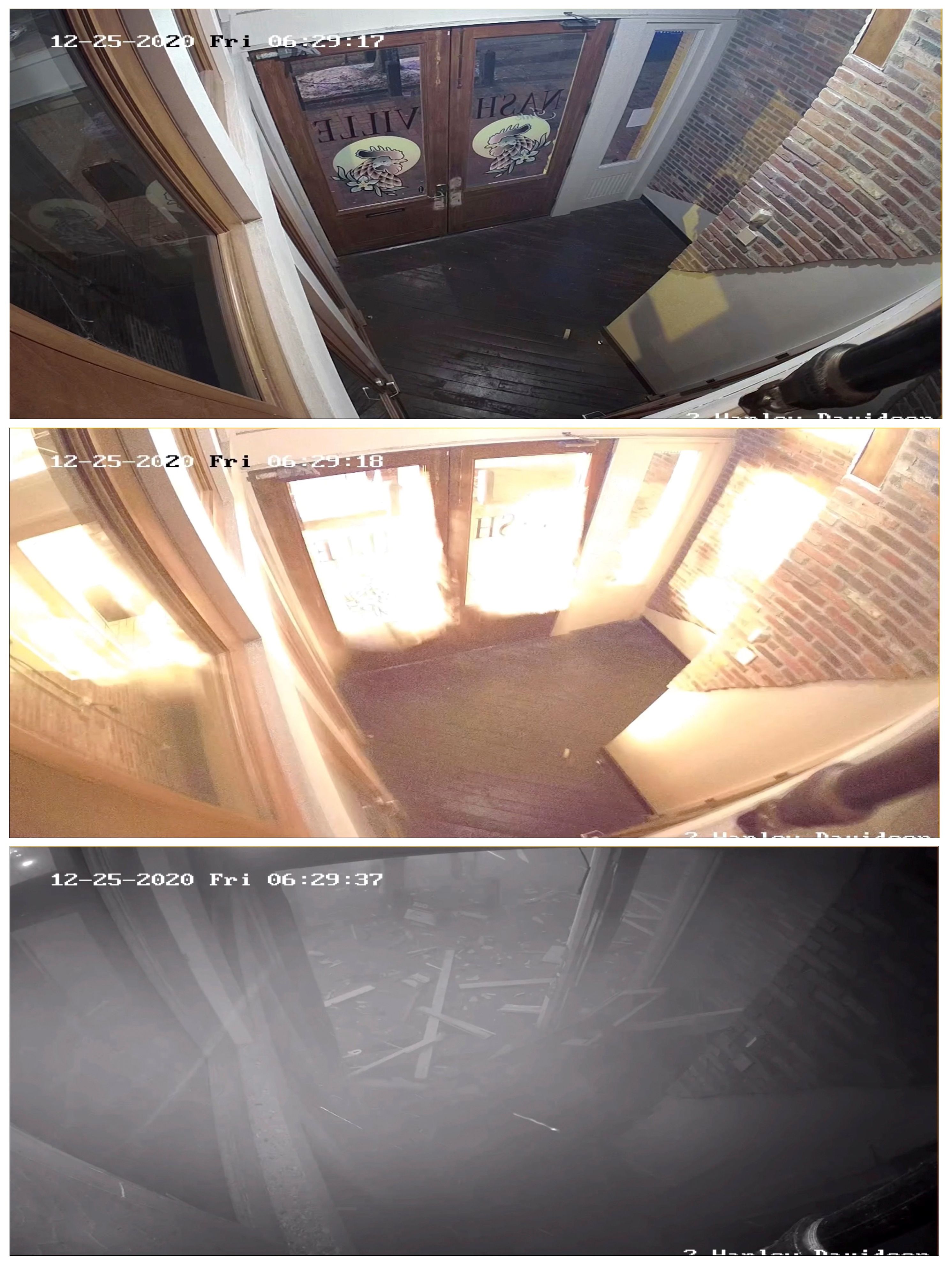 This sequence, taken from a video provided by Nashville Downtown Hostel, shows the moment the R.V. bomb exploded on Christmas morning.
DNA evidence confirmed that the remains of the lone bomber, a self-employed 63-year-old, was found at the scene, The Tennessean reports.
6. 🥊 Trump's favorite paper turns its back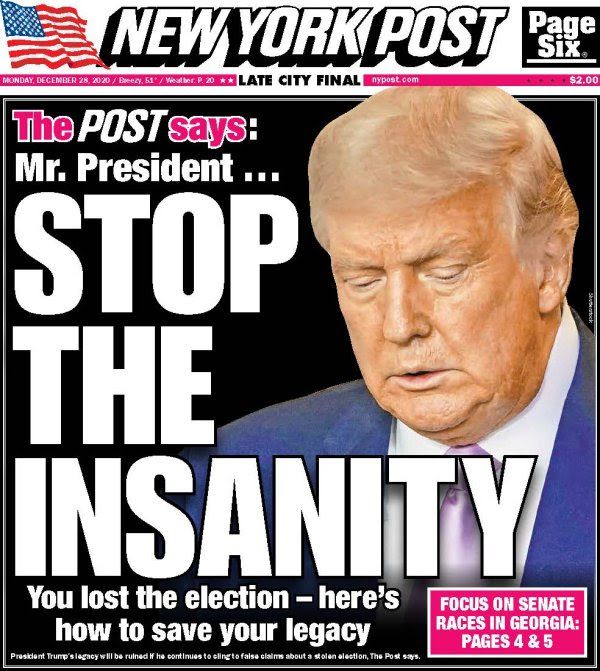 President Trump personally fed the N.Y. Post's "Page Six" when he lived in Manhattan, and reached for that Post first once he moved to D.C. Rupert Murdoch — co-chair of Fox Corp. and executive chair of News Corp, which includes the Post — became a Trump confidant.
Murdoch had grown exasperated with Trump, and now it's divorce. The Post, which endorsed Trump, says in an editorial:
If you insist on spending your final days in office threatening to burn it all down, that will be how you are remembered. Not as a revolutionary, but as the anarchist holding the match.
7. 🎞️ Biggest box-office debut of shutdown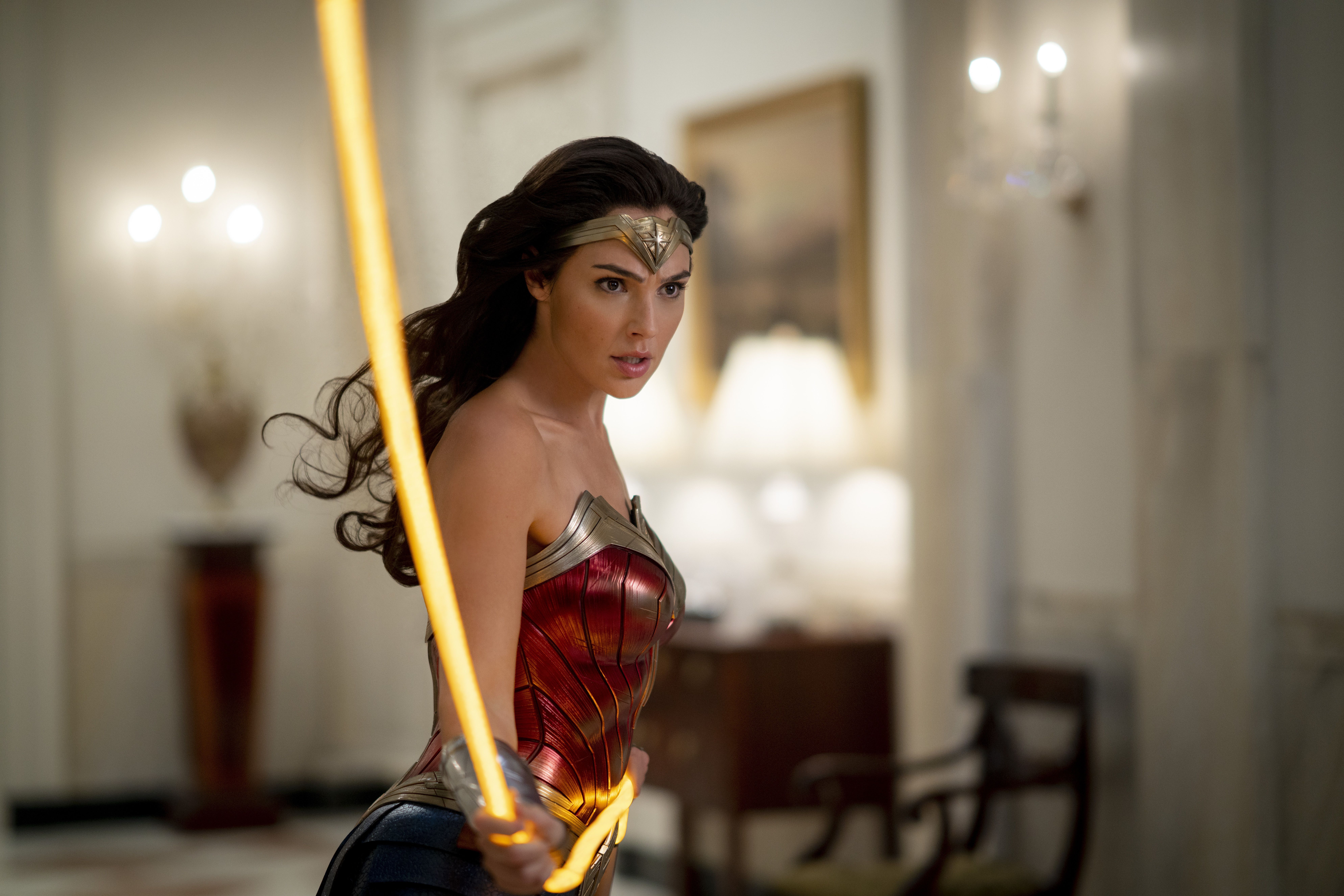 Despite premiering simultaneously by streaming service, "Wonder Woman 1984" managed the best box-office debut of the pandemic, opening with $16.7 million over the Christmas weekend, AP's Jake Coyle writes from studio estimates.
That's only a faint glimmer of typical business during the holiday season: Last year, "Star Wars: Rise of Skywalker" exceeded $32 million on Christmas Day alone.
35% of North American theaters are currently open, according to Comscore.
8. 🤔 1 smile to go: "Out of office" when we're ALWAYS out of office
Sam Baker, Axios health care editor, has a delightful solution to that conundrum, which I'm sharing with his permission: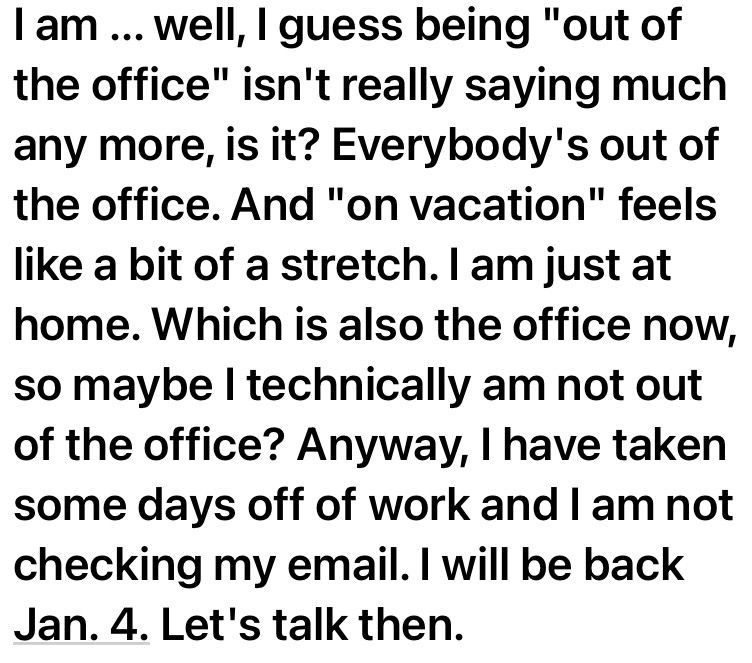 📬 Thanks for starting your week with us. Please invite your friends to sign up for Axios AM/PM.