Axios AM
July 12, 2022
Good Tuesday morning. Smart Brevity™ count: 1,172 words ... 4½ mins. Edited by Noah Bressner.
📈 You're invited: Today at 3:30 p.m. ET, please join Axios' Javier David, Erica Pandey and Niala Boodhoo for a 45-min. virtual event on the digitization of small business. Guests include SBA Administrator Isabel Casillas Guzman ... 1863 Ventures founder Melissa Bradley ... and National Small Business Association president and CEO Todd McCracken. Register here.
1 big thing: Home buyers retake upper hand
Elon Musk isn't alone in trying to back out of a deal:
The percentage of pending home sales that fell through in June shot up to a new post-pandemic high of 14.9%, Axios' Emily Peck writes from an analysis of MLS data that Redfin released yesterday.
Why it matters: This is a sign of how fast the housing market adjusted to the surge in mortgage rates that started in March. It signals the beginning of a return to sanity from the boom, where the balance of power is shifting back to home buyers. Prices are likely to cool somewhat.
What's happening: Sharp rate increases didn't just pump the brakes on the housing market — they drove it into a wall, said Taylor Marr, an economist at Redfin.
But he expects the number of cancellations to come down as sellers adjust pricing to the new reality.
Zoom in: Cancellations in formerly hot metro areas in the Southwest are soaring. In Las Vegas they were 27%. Several Florida cities are seeing cancellations near 25%, including Lakeland, Jacksonville and Orlando.
2. 🛑 Americans tune out
Engagement with news plunged during the first half of this year compared to the first half of 2021 — and in some cases has fallen below pre-pandemic levels, Axios' Neal Rothschild and Sara Fischer write.
Why it matters: Americans have grown exhausted from the constant barrage of bad headlines that have replaced Trump-era crises, scandals and tweets.
The big picture: The level of news consumption in 2021 nosedived following historic highs in 2020. Despite a slew of major stories, readers have retrenched further in 2022.
The war in Ukraine, a series of deadly mass shootings, the Jan. 6 hearings and the Supreme Court's revocation of abortion rights haven't captured the same level of attention spurred by the onset of the pandemic and the 2020 election.
Details: Engagement with news content across all platforms declined significantly in the first half of 2022.
Prime-time cable-news viewership was down 19% for the first half of this year compared to the first half of 2021. CNN and MSNBC were down 47% and 33%, respectively. Fox News was up 12%.
News app sessions for the top 12 mainstream most-trafficked publishers dropped 16% in the first half of 2022, according to data from Apptopia.
Website visits for the top five news websites in the U.S. by unique visits tracked by Similarweb dropped 18% in the first half of 2022.
Between the lines: The steep drop-off in social media engagement with news was likely influenced by Facebook deemphasizing news in the News Feed as it seeks to move consumption to its News Tab.
Interest in the presidency has declined considerably under President Biden compared to the previous four years.
3. "High noon for Liz Cheney"
James Bennet, former N.Y. Times editorial page editor and editor-in-chief of The Atlantic, was named Lexington columnist for The Economist.
Former Sen. Alan Simpson (R-Wyo.), 90 — who has known House Jan. 6 committee Vice Chair Liz Cheney (R-Wyo.), 55, since she was a girl — says in Bennet's debut dispatch that he doesn't know whether she'll win her uphill GOP primary on Aug. 16.
"That's not the golden chalice for Liz," Simpson said. Her chalice is blocking former President Trump's path back to power.
The testimony elicited by her somber, methodical questioning "may just achieve that," Bennet writes.
The weekly Lex column, dedicated to U.S. politics, takes its name from Lexington, Mass., the site where — as the London-based Economist puts it — "the American Revolutionary War" began.
🏛️ The House Jan. 6 committee holds a hearing today at 1 p.m. ET.
4. 🔭 1,000 words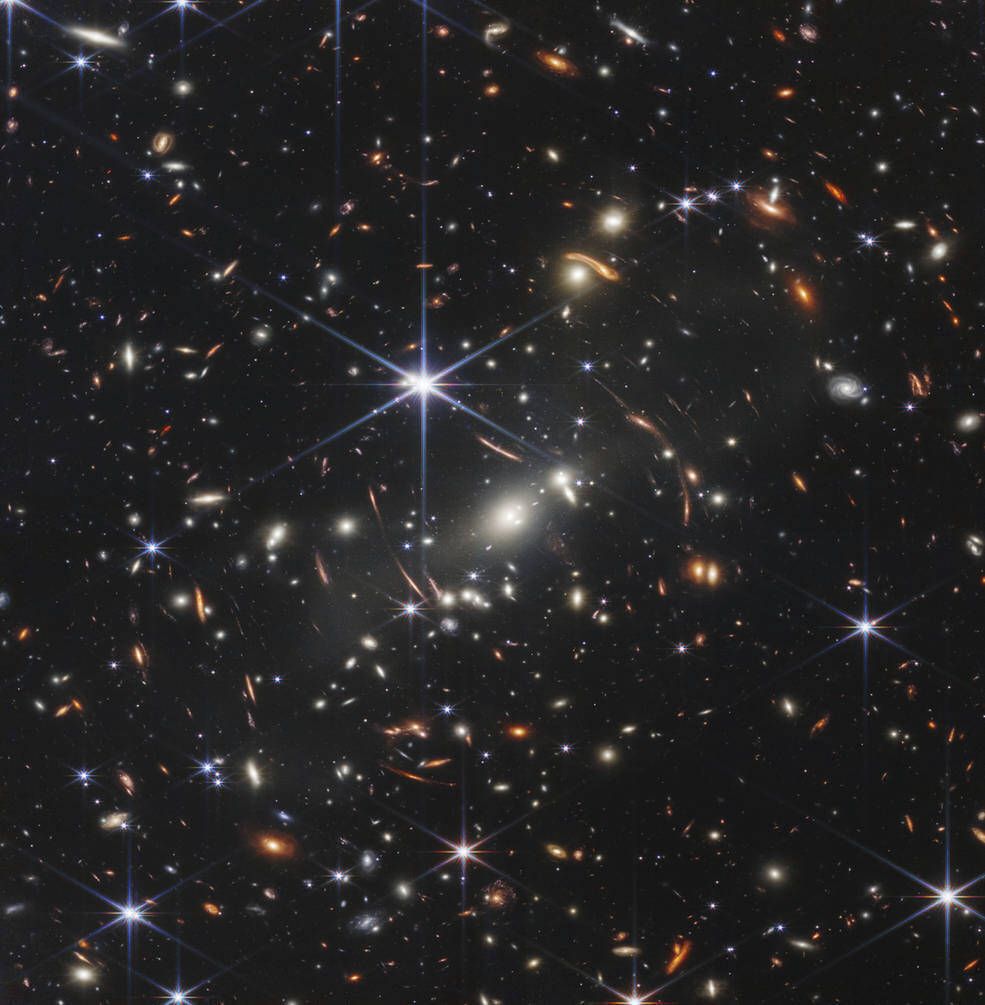 This is a cluster of galaxies as they appeared 4.6 billion years ago.
President Biden unveiled the first full-color scientific image from NASA's James Webb Space Telescope, showing off the observatory's power with the deepest infrared image of the universe ever seen publicly.
Why it matters: The milestone sets the stage for the rest of the $10 billion telescope's mission to rework our understanding of how the universe evolved from the earliest galaxies, Axios Space author Miriam Kramer reports.
Biden said the images "are going to remind the world that America can do big things. And they'll remind the American people, especially our children, that there's nothing beyond our capacity."
🔮 Today at 10:30 a.m. ET, NASA will reveal more images from the telescope. You can watch the announcement live on NASA TV starting at 9:45 a.m. ET.
5. 🐦 Twitter to Musk: No exit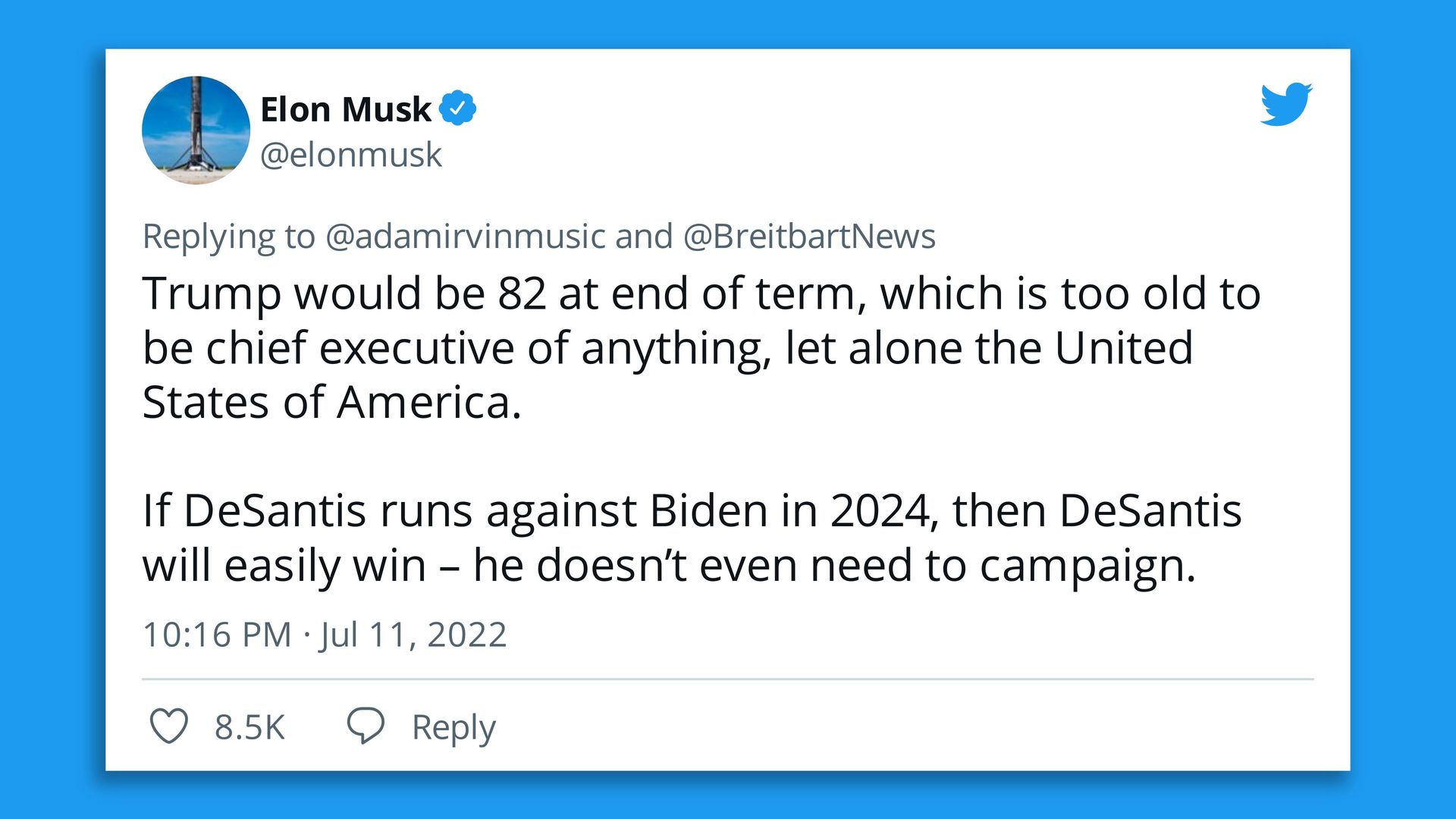 The general legal consensus is that Twitter has the upper hand on Elon Musk, based on what's currently known, in its effort to force him to complete his $44 billion takeover deal, Axios' Dan Primack says.
Twitter said yesterday in a letter filed with the SEC that Musk's effort to abandon his deal is "invalid and wrongful."
Musk's team said Friday that Twitter "appears to have made false and misleading representations."
6. 💻 Teleworking plunges in first half
The share of Americans working remotely because of COVID is leveling off, Alex Fitzpatrick writes for Axios What's Next.
Just 7.1% of American workers teleworked because of the pandemic in June — cut in half from 15.4% in January. (Bureau of Labor Statistics)
7. 🚨 Iranian drones to Russia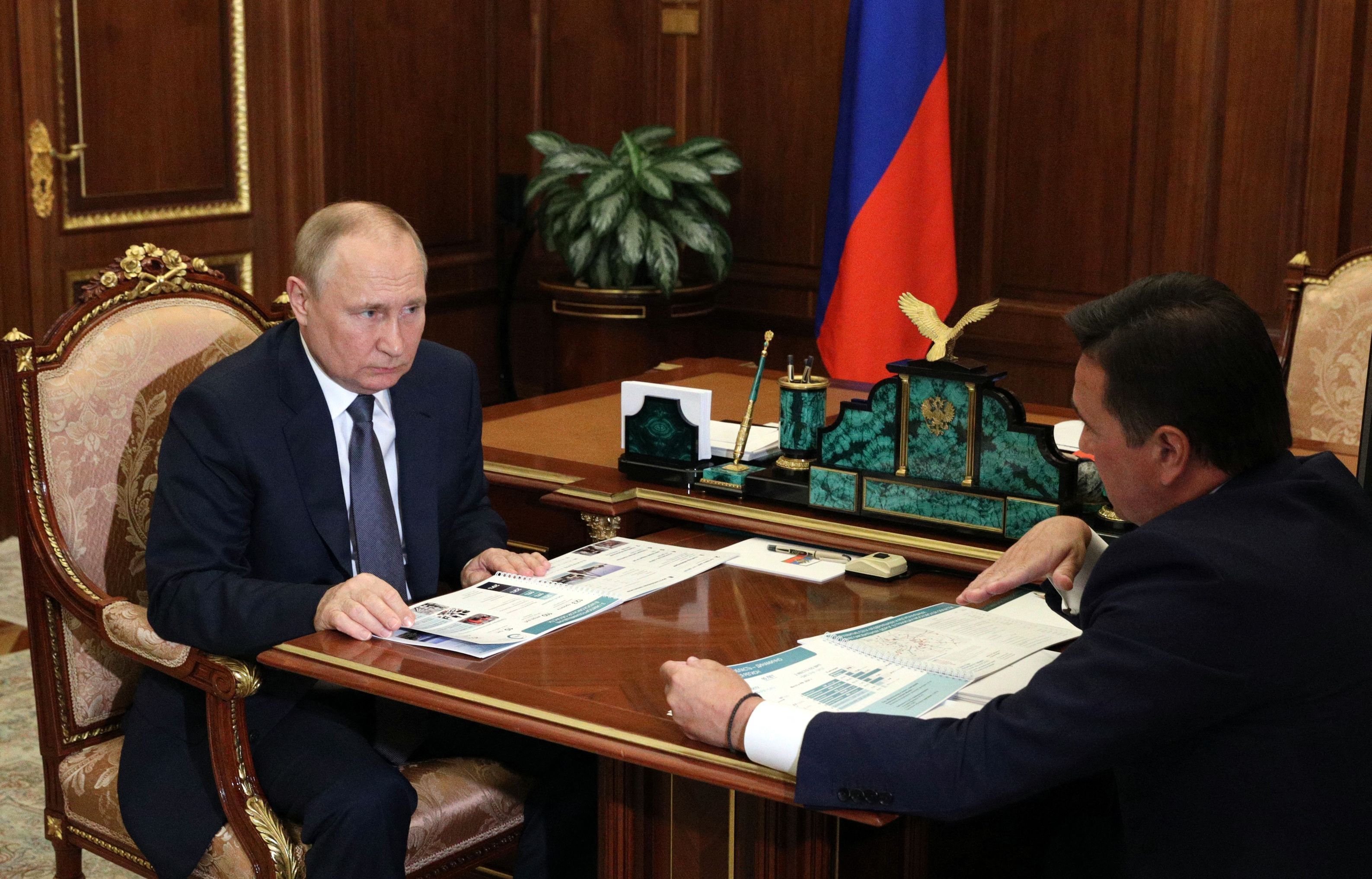 ⚡ Breaking: The Kremlin said today that Vladimir Putin will visit Tehran next week, for a trilateral meeting with the leaders of Iran and Turkey, the so-called Astana format of meetings for Syria-related talks.
The White House said Iran is providing Russia with "hundreds" of unmanned aerial vehicles — including weapons-capable drones for use in Ukraine, AP reports.
National Security Adviser Jake Sullivan said it's unclear whether Iran has already provided any of the unmanned systems to Russia. But the U.S. believes Iran is preparing to train Russian forces to use them as soon as this month.
🔮 What's next: President Biden leaves tonight for Israel and Saudi Arabia, where Iran's nuclear program will be a big topic.
8. ⚾ Dodger Dog strike looms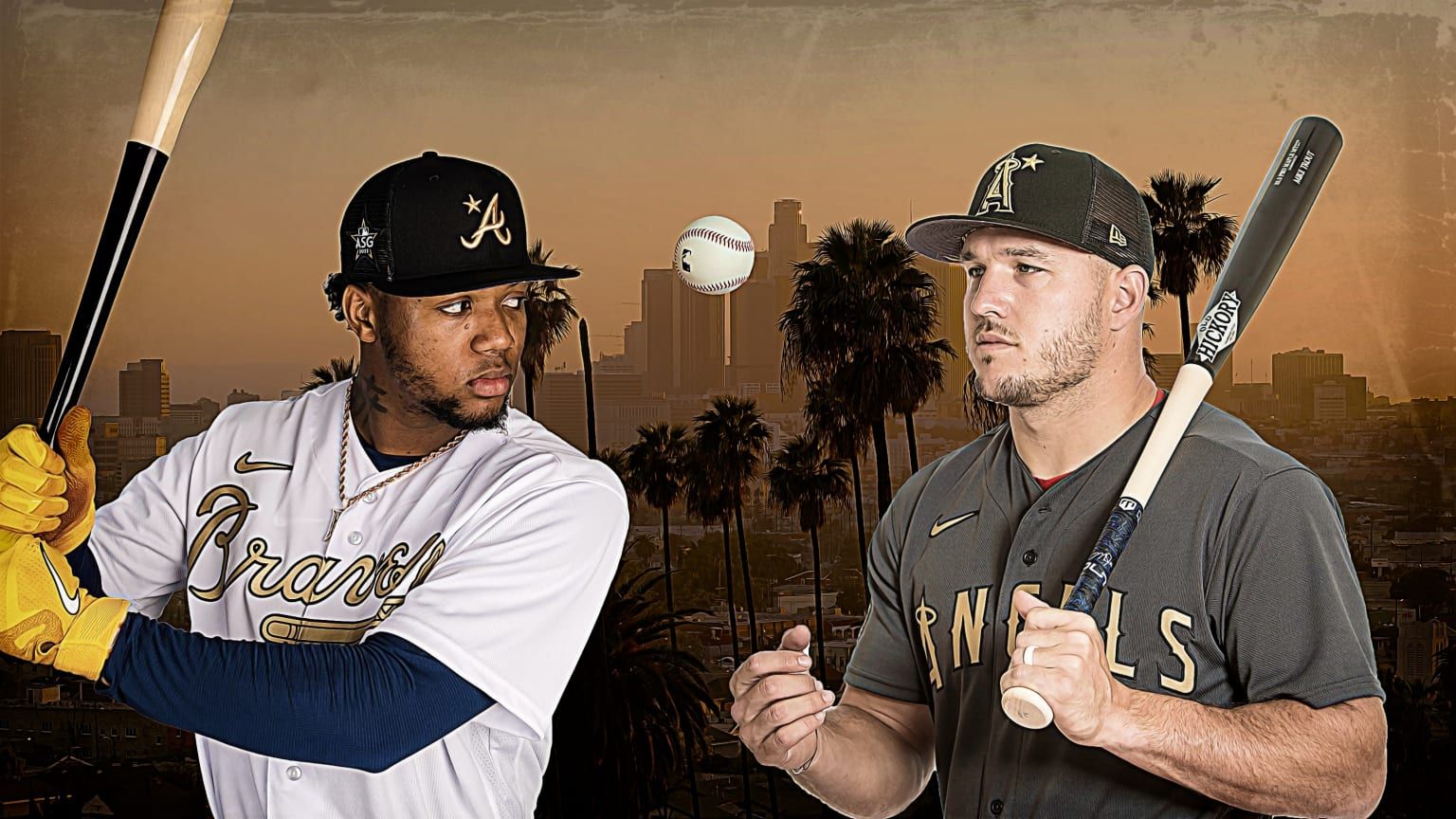 Dodger Stadium concession workers voted overwhelmingly to authorize a strike — a week before MLB's All-Star Game comes to Chavez Ravine for the first time since 1980.
More than 1,500 workers for concessions giant Compass Group and Levy Restaurants voted 99% in support of the authorization, Reuters reports.
The union said it represents food servers, bartenders, suite attendants, cooks and dishwashers at the iconic L.A. stadium.
Union leaders said a strike could be called at any moment.
The 92nd annual Midsummer Classic will be a week from today, after four days of warmup festivities, beginning this Friday.
📬 Invite your friends to sign up here for their daily essentials — Axios AM, PM and Finish Line.