August 04, 2020
🍿 In the public interest, HBO is making last night's entire episode of "Axios on HBO" — Jonathan Swan's 38-minute interview with President Trump — available for free on all of HBO's global platforms. See it here.
💻 You're invited! Tomorrow at 12:30 p.m. ET, I'd love for you to join Niala Boodhoo, host of our "Axios Today" podcast, and me for an Axios virtual event exploring small business in time of the virus, with The Curvy Bride owner Michelle Files, Satori Yoga Studio co-founder Andrea Stern, and Sen. James Lankford (R-Okla.).
1 big thing: 🎬 "Axios on HBO" ... Trump says election outcome could take 2 months
President Trump told Jonathan Swan in a White House interview with "Axios on HBO," taped last week and aired last night, that "lots of things can happen" with voting by mail if the presidential race isn't decided on election night.
"You know, you could have a case where this election won't be decided on the evening of Nov. 3. This election could be decided two months later," Trump said.
Voting by mail is a problem, he added, because "lots of things will happen during that period of time. Especially when you have tight margins. Lots of things can happen. There's never been anything like this."
The president said voting by mail will be "massively bigger ... in terms of the kind of millions and millions of ballots. I've never seen anything like this."
Why it matters, from Axios managing editor David Nather: Trump's comments — which contradict the lengthy history and widespread use of mail-in voting — could be a preview of claims he'd make to undermine trust in the results.
🎥 Trump also dismissed the legacy of the late Rep. John Lewis, saying he made a "big mistake" by not coming to his inauguration. Watch.
Trump said "I really don't know," when asked how history will remember the Democratic congressman: "I don't know John Lewis. He chose not to come to my inauguration. ... I never met John Lewis, actually, I don't believe."
When asked if he found Lewis' life impressive, Trump responded: "He didn't come to my inauguration. He didn't come to my State of the Union speeches. And that's OK. That's his right. And, again, nobody has done more for Black Americans than I have."
"He should have come. I think he made a big mistake."
2. U.S. playing by China's internet rules
President Trump's confrontation with TikTok suggests the U.S. is starting to view the internet like China does — as a network that countries control within their borders, Axios managing editor Scott Rosenberg writes from the Bay Area.
Today's global internet has split into three zones:
The EU's privacy-focused network.
China's government-dominated network.
The U.S.-led network dominated by a handful of American companies.
Why it matters: As the global internet splinters further, the U.S. and China are entering a Cold War-style battle for the hearts and minds of users and developing nations.
In this fight, U.S. nationalism may make a weaker case to the world than the ideal of internet freedom and open networks that the U.S. once evangelized.
Trump's threat to ban the Chinese-owned TikTok, with Microsoft in talks to buy the video-sharing app's U.S. operations, puts other foreign-owned companies on notice that the U.S. intends to favor American-owned digital businesses.
That's a giant break from a long-established bipartisan consensus that American interests are best served by a marketplace, online and off, managed as a level playing field.
Our thought bubble: The Trump administration's strong-arming of TikTok threatens to cede U.S. high ground as a champion of fair markets and networks.
3. Axios-Ipsos poll: Fear of voting
Democrats are twice as likely as Republicans to worry about in-person voting — with nearly two in three seeing it as a risk to their health, Axios White House editor Margaret Talev writes from this week's Axios-Ipsos Coronavirus Index.
Why it matters: This could pose a significant disadvantage for Joe Biden and other Democratic candidates in November if the pattern holds.
Overall, 52% of the respondents in Week 19 of our national survey ranked in-person voting as risky.
64% of Democrats, 59% of independents and just 29% of Republicans see in-person voting as very or somewhat risky.
More women than men see it as risky, 57% to 47%.
65% of Hispanic, 63% of Black and 45% of white respondents see it as risky.
4. Pic du jour: More than 100 million in storm's path
A wave crashes against the pier in Garden City, S.C., south of the spot Hurricane Isaias made landfall.
112 million people, from Georgia to Massachusetts, are under a tropical storm warning. (CNN)
5. 📊 3 stats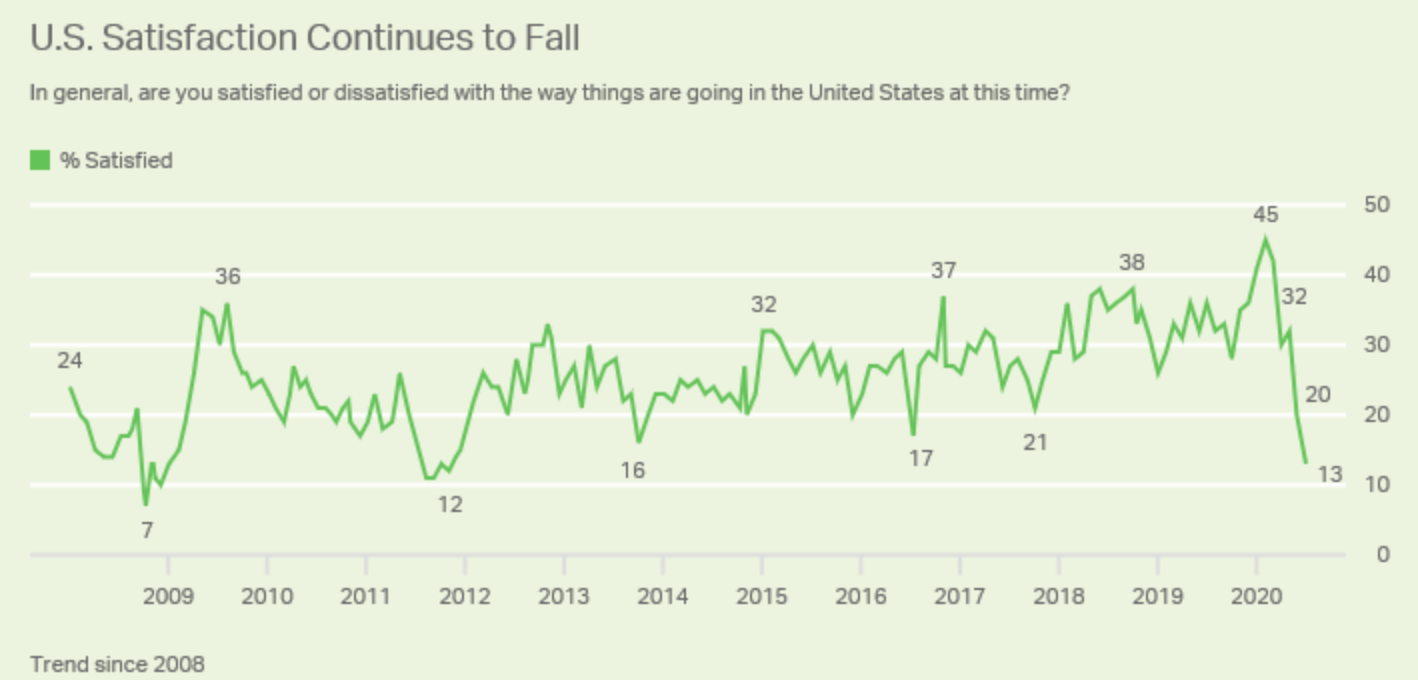 Gallup reports that 13% of U.S. adults are satisfied with the state of the nation, down seven points in the past month, and 32 points since reaching a 15-year high in February. Satisfaction hasn't this low since November 2011.
73% of Americans see too much bias in news reporting as "a major problem," up from 65% in 2017, according to a study out today from the Knight Foundation and Gallup. Go deeper.
The UN said today that the pandemic has led to the largest disruption of education in history, with schools closed in more than 160 countries in mid-July, affecting more than 1 billion students. —AP
6. GOP plans "nightly surprise" for revamped convention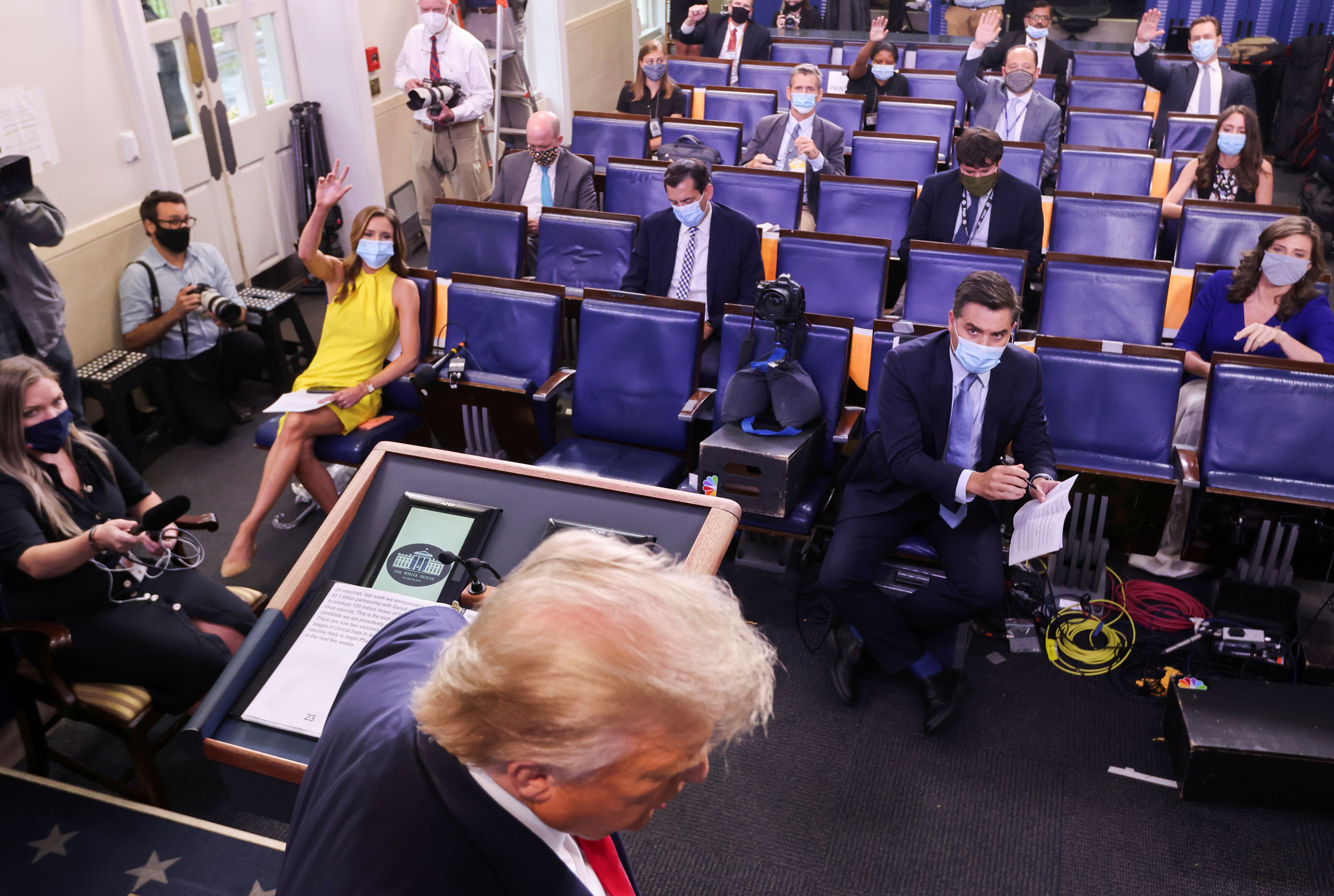 The reworked Republican National Convention will be a four-night spectacle including still-under-wraps venues, a 10 p.m. "nightly surprise" and guests and themes playing to "the forgotten men and women of America," two senior Trump campaign officials tell Axios' Alayna Treene.
The messaging will focus heavily on "very granular details" of what a second term for President Trump would look like, and will attack "cancel culture," "radical elements" of society and threats to public safety.
The themes:
Monday night will focus on America as "a land of heroes."
Tuesday: "Land of promise."
Wednesday: "Land of opportunity."
Thursday: "Land of greatness" and Trump's plan to lead voters to "the great American comeback."
7. Trump registering more new voters than Democrats in key states
The Trump campaign and RNC have registered 100,000 voters in the 2020 cycle, shrinking Democrats' advantage in swing states, according to Trump Victory data provided exclusively to Axios' Stef Kight.
Why it matters: Democrats still have more active registered voters in Pennsylvania, North Carolina and Florida. But Republicans have narrowed the gap in those states by tens of thousands of voters since 2016.
The big picture: Coronavirus has drastically changed the voter registration game. Activists and volunteers typically focus their efforts on big events, college campuses or other crowded locations. But crowds are rarer in a pandemic.
8. U.S. Chamber finds "inequality on Main Street"
A new survey from the U.S. Chamber of Commerce and MetLife, provided exclusively to Axios Markets editor Dion Rabouin, shows a 17-point increase in the number of small business owners who say minority-owned small businesses face more challenges than non-minority-owned ones.
"The pandemic could exacerbate and elongate the economic struggles already facing minority-owned businesses and families," Suzanne Clark, president of the U.S. Chamber, said in a statement.
In July, 69% of respondents said minority-owned companies faced a tougher road, compared with 52% in January.
The change was most notable among white-owned small businesses, with 67% now saying they agree, and 24% saying they disagree.
In the first quarter, 47% of white-owned businesses said they agreed and 40% disagreed. 
To wit, two-thirds (66%) of all small businesses acknowledge that minority-owned businesses have been disproportionately impacted by COVID-19.
The Chamber's survey found minority-owned business owners more likely than their white counterparts to report difficulty obtaining loans, express fears about permanently closing and predict declining revenues.
9. Pioneers: Maria Bartiromo's 25th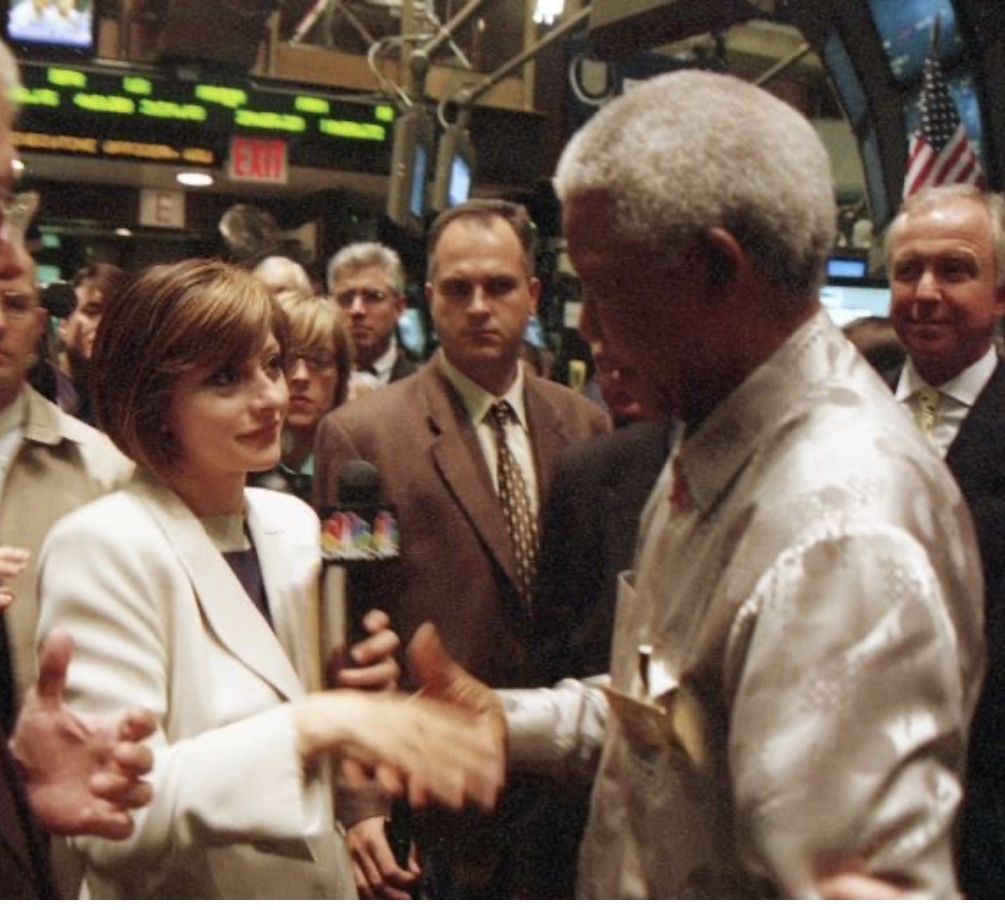 Fox Business anchor Maria Bartiromo today will virtually ring the bell of the NYSE to celebrate the 25th anniversary of her historic first report from the trading floor for CNBC, at age 27, on Aug. 4, 1995.
"It was a Wall Street boys' club, and I turned up there, a young woman with a camera, and they had to get used to it," Bartiromo recalled for the N.Y. Post. "I'm proud to have had the courage to go down there and face this sea of suits."
Today, Bartiromo clocks 17 hours of live TV each week — including Fox News' "Sunday Morning Futures," where she made news with Secretary of State Mike Pompeo this weekend.
The N.Y. Times wrote in 2007 that she "turns up daily on the stock exchange floor, to stand among the chaos, interviewing business leaders as traders run around her."
"Bartiromo, unfazed, only seems to talk a bit louder and maybe — though it hardly seems possible — a bit faster, in her distinctive Bay Ridge accent."
10. Surge for women-focused newsrooms
Women are pushing back against the gender imbalance in media by launching their own news nonprofits and focusing on topics many traditional news companies have long ignored, Axios media trends expert Sara Fischer writes.
Why it matters: "The news business is already gendered," says Emily Ramshaw, co-founder and CEO of The 19th*, which launched this week as a nonprofit, nonpartisan newsroom covering the intersection of women, politics and policy.
Men "decide who's quoted, what experts are reflected, whether it lives on the home page or if a story is covered at all," Ramshaw added.
Exclusive: Prism, a BIPOC (Black, Indigenous, and people of color)-led nonprofit news outlet, is launching this week to focus on coverage of electoral justice, gender justice, workers' rights, criminal justice, racial justice and immigration.
What's next: These nonprofits are managed to accommodate the unique challenges faced by women in the workforce.
The 19th* is giving employees six months of fully-paid family leave and four months of fully-paid caregiver leave.
📬 Sign up for Sara Fischer's weekly newsletter, Axios Media Trends, out today.
📱 Thanks for reading Axios AM. Please invite your friends to sign up here.