August 01, 2018
Welcome to August!
Situational awareness: "U.S. District Court Judge Robert Lasnik in Seattle issued a temporary restraining order blocking the release of downloadable blueprints for 3D-printed firearms." (Seattle Times)
1 big thing ... The fall foretold: Preview of epic days to come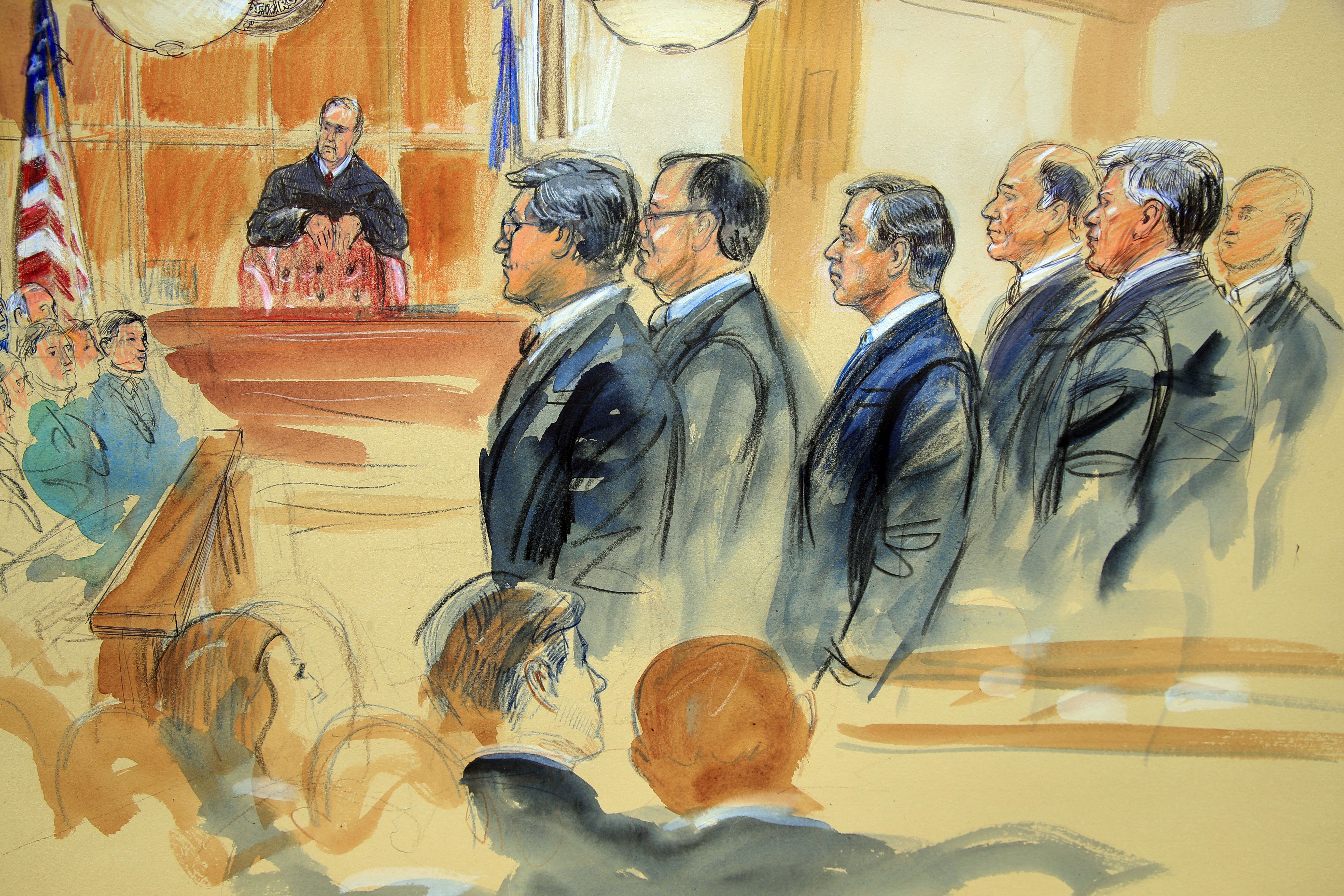 Squint at the colorful, consequential news of the past 24 hours, and you see a preview of special counsel Robert Mueller's report(s) — plus a glimpse of the debates that will divide America through the fall, and heading into the presidential campaigns of 2020:
President Trump set the tone for the day by tweeting at 7:58 a.m.: "Collusion is not a crime, but that doesn't matter because there was No Collusion."
Then came the first day of the first trial stemming from Mueller's investigation. The headline out of opening statements at the trial of Paul Manafort, Trump's former campaign chair, at the federal courthouse in Alexandria, Va.:
"Assistant U.S. Attorney Uzo Asonye offered some new numbers and details on Paul Manafort's income and spending, saying the $60 million he made in Ukraine was only between 2010 and 2014," the WashPost reported. "He had a $15,000 jacket, Asonye said, 'made from an ostrich.'"
The WashPost's Bob Costa told Brian Williams on MSNBC that Manafort's quest for a presidential pardon could be hurt by the fact that the trial isn't televised, with reporters taking notes the old-fashioned way: "If you're playing for anything with President Trump, you almost have to appear on television."
Shortly before the jury was seated in early afternoon, Facebook announced what the N.Y. Times called "a political influence campaign that was potentially built to disrupt the midterm elections."
"The company did not definitively link the campaign to Russia. But Facebook officials said some of the tools and techniques used by the accounts were similar to those used by the [Kremlin-linked] Internet Research Agency."
A few hours later, as if teleporting himself to a comfy parallel universe, Trump hopped on Air Force One and flew to Tampa for a "Make America Great Again Rally" where the president's rhetoric (carried live on Fox News and Fox Business, but not MSNBC or CNN) was as over-the-top as we've seen:
"We may have to do some pretty drastic things, but we're gonna get [the wall]. Because the Democrats ... are not ... allowing our values to take place in our country."
On "the gang members ... the drug dealers and the child predators and the criminal aliens": "We're throwing them the hell out of our country."
"Remember the attack on 'Merry Christmas'? They're not attacking it anymore — everyone's happy to say it. That was under siege. ... Now they're all putting up 'Merry Christmas' again. And that's because — only because — of our campaign."
"If ... the Democrats had won ... they would have opened your borders, gotten rid of law enforcement. ... And instead of going up, the market [in the middle of a nine-year bull run] would be half of what it was, if we're lucky."
AP fact check: "Trump wrongly claimed that shoppers need to show photo identification to buy groceries."
Amid all this, Watergate sleuths Woodward and Bernstein are back in the news:
Carl Bernstein was one of three bylines on a CNN report last week that Trump lawyer Michael Cohen is prepared to testify that Trump knew about the June 2016 Trump Tower meeting with Russians.
Be smart: All this foreshadows events that will unfold against the heat of the midterms and Trump's reelection campaign, promising hot days to come — with no respite for a divided, angry America that's only digging in.
2. Facebook wins a news cycle
Facebook, which has been a press punching bag, cleanly won the news cycle with yesterday's announcement about deleting suspicious political accounts:
Lead headline of today's N.Y. Times print edition: "FACEBOOK BUSTS A SHADOWY PLOT TO JOLT ELECTIONS."
Lead headline of WashPost print edition: "Facebook disrupts new troll operation."
This was the first announcement from any social platform about signs of a new coordinated disinformation campaign ahead of the 2018 elections, Axios Sara Fischer and David McCabe point out.
Facebook managed to avoid a fierce political battle over the disinformation campaign's motive while also getting credit for shutting it down:
On a press call following Facebook's announcement, executives including Chief Operating Officer Sheryl Sandberg, made it clear that assigning blame for the disinformation campaign falls to Washington.
Facebook would have walked into a political trap by assigning attribution to the root of the disinformation operation. But it didn't have to:
Senate Intelligence Committee Vice Chairman Mark Warner immediately blamed the "Kremlin" for the campaign.
House Democratic Leader Nancy Pelosi said that Facebook's announcement confirms intelligence agencies' findings "that Russia is actively utilizing social media in a coordinated effort to sow discord among the American people and undermine our democracy."
Our thought bubble: If Facebook says its platform is being abused, it wouldn't be surprising if other platforms are being manipulated or facing threats, too.
Facebook, which has gotten the brunt of the heat for how Russian actors used its platform, now has the benefit of being seen as forthcoming and transparent — even without giving a full picture of who's behind the campaign it discovered.
3. Facebook's "bad actors"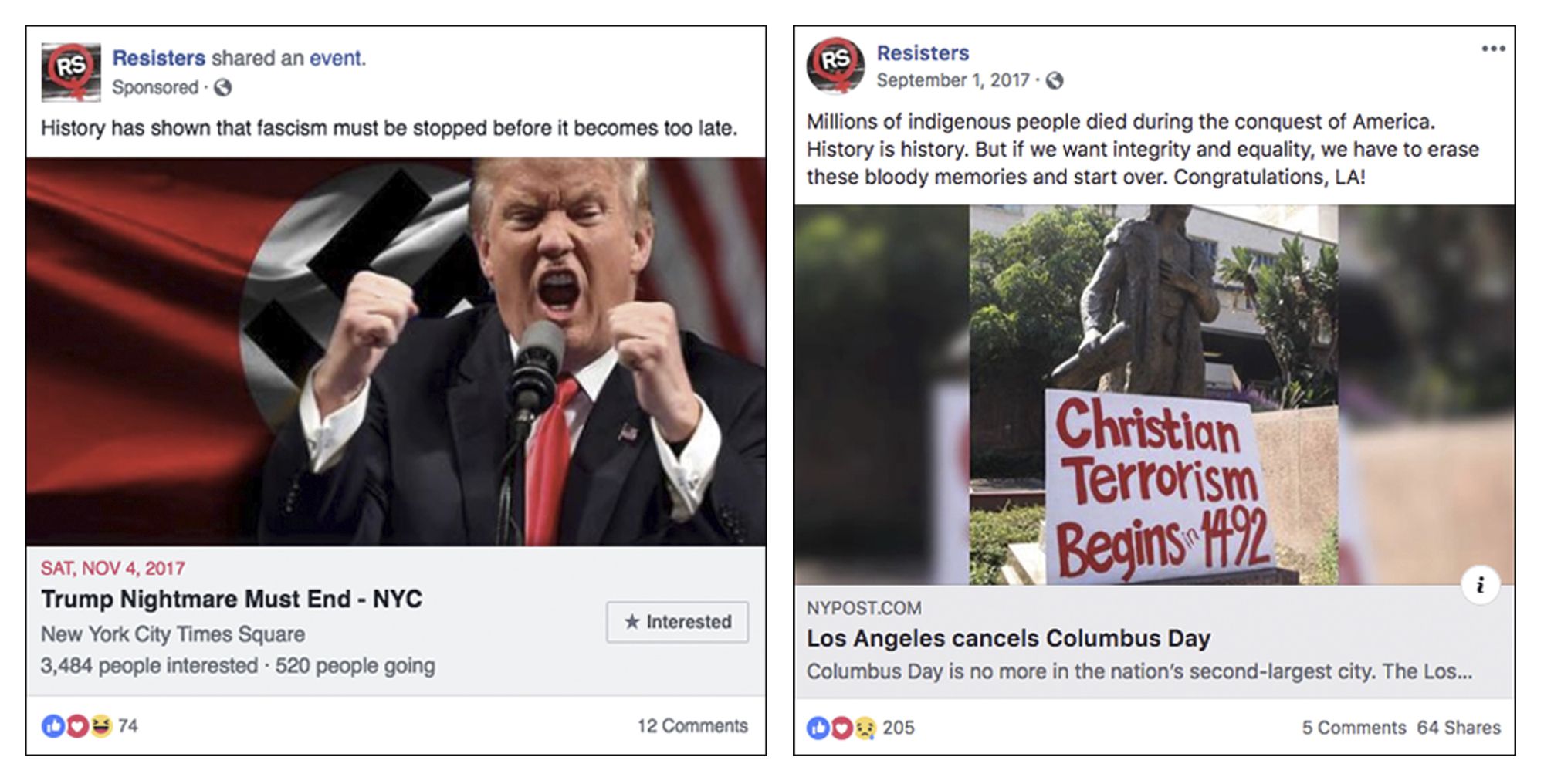 Here are examples from 32 suspicious pages and accounts on Facebook and Instagram, possibly linked to Russia, that Facebook announced yesterday it had removed "because they were involved in coordinated inauthentic behavior."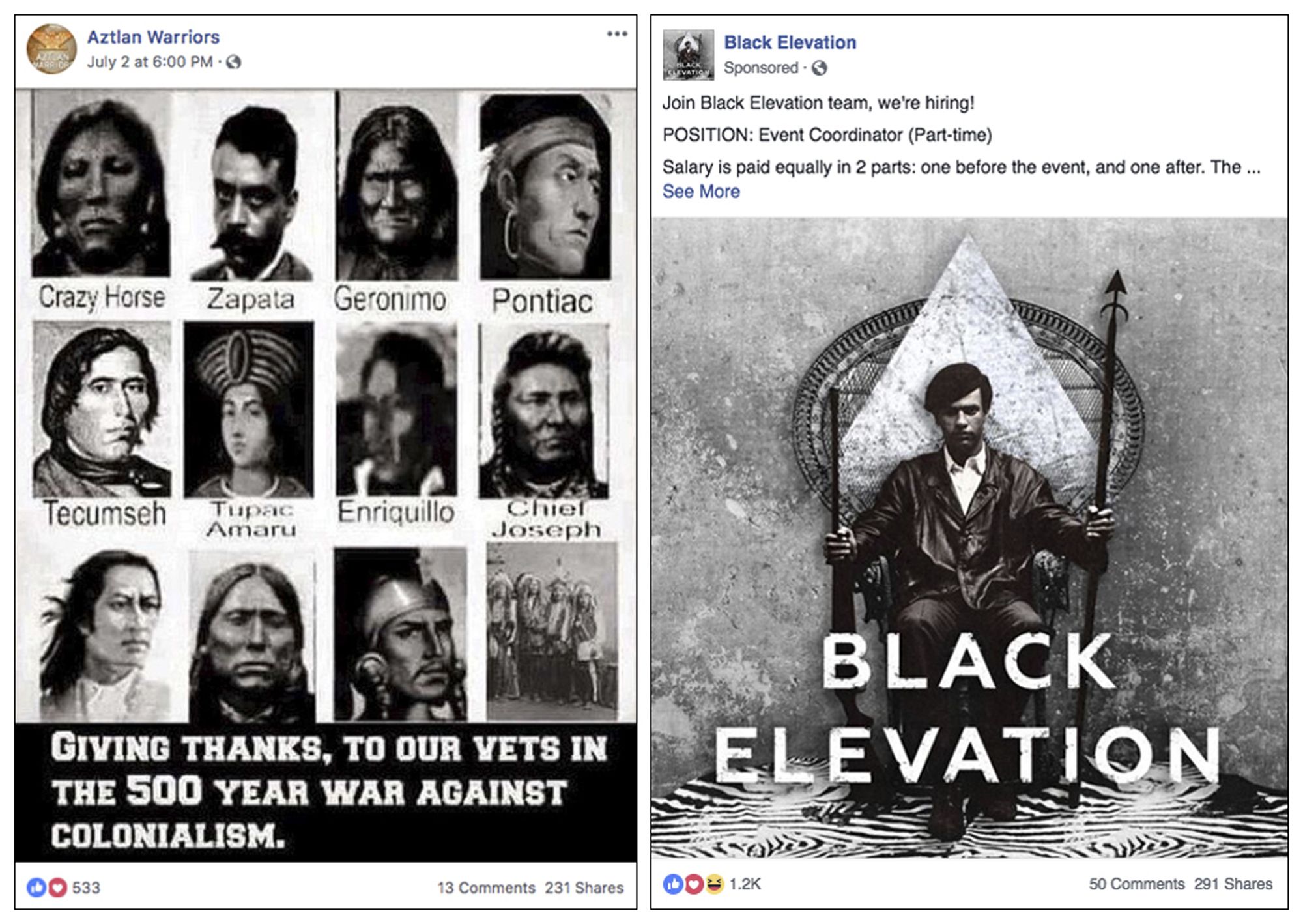 P.S. "Trump criticized for not leading effort to secure elections ... As alarms blare about Russian interference in U.S. elections, the Trump administration is facing criticism that it has no clear national strategy to protect the country during the upcoming midterms," AP's Deb Riechmann reports.
4. Pic du jour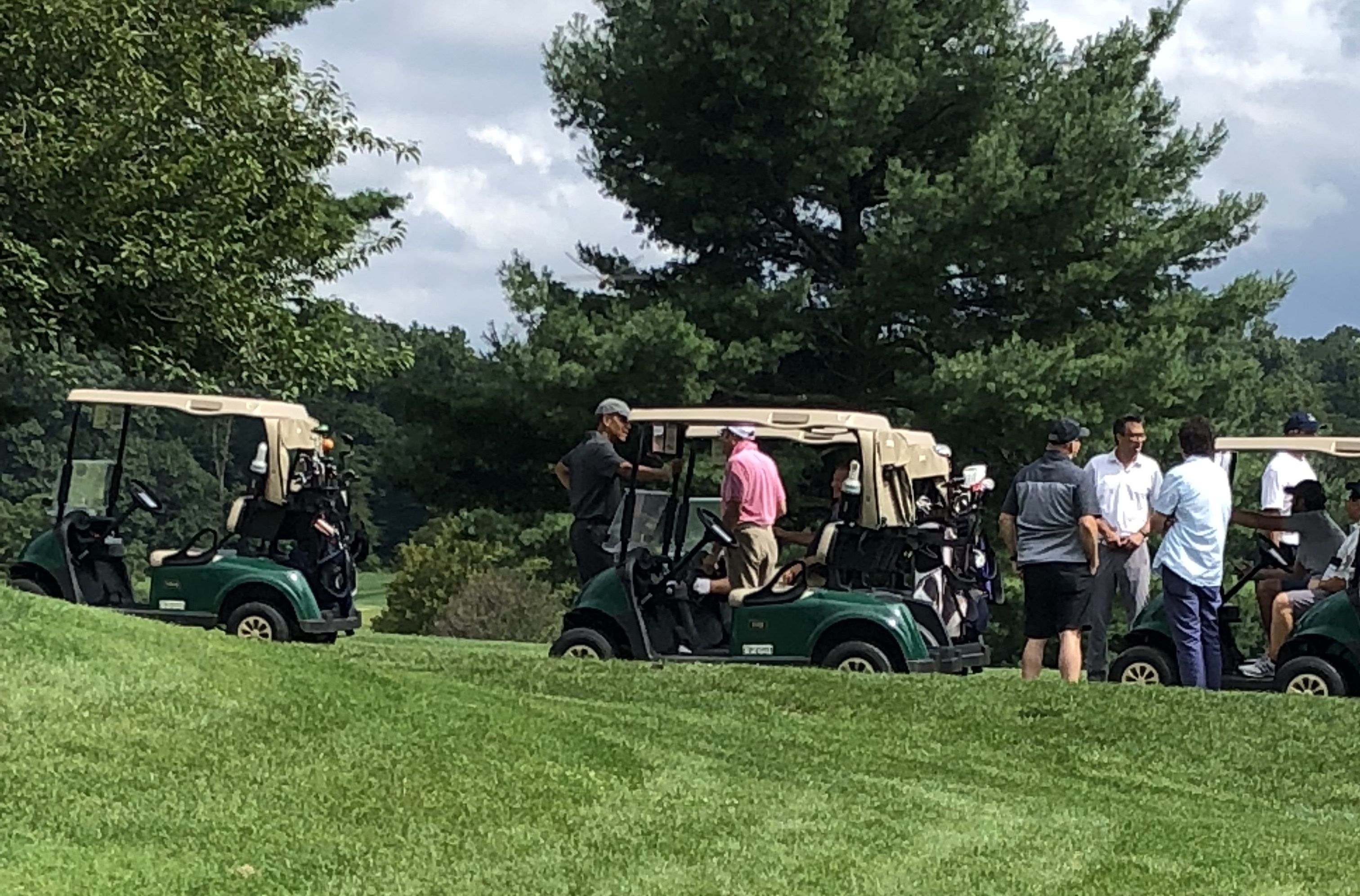 President Obama golfs yesterday at Army Navy Country Club in Fairfax, Va.
5. Bite of the day
Jeffrey Lewis, an arms control expert at the Middlebury Institute of International Studies at Monterey (Calif.), in a New York Times article headlined, "North Korea Keeps Building Missiles Despite U.S. Overtures":
"They are expanding everything ... And to be fair, they have never said they agreed to give up nuclear weapons. The South Koreans have said the North Koreans have agreed to give up nuclear weapons. Trump has said they have agreed to give them up. But they have never said it."
6. Thanks, North Korea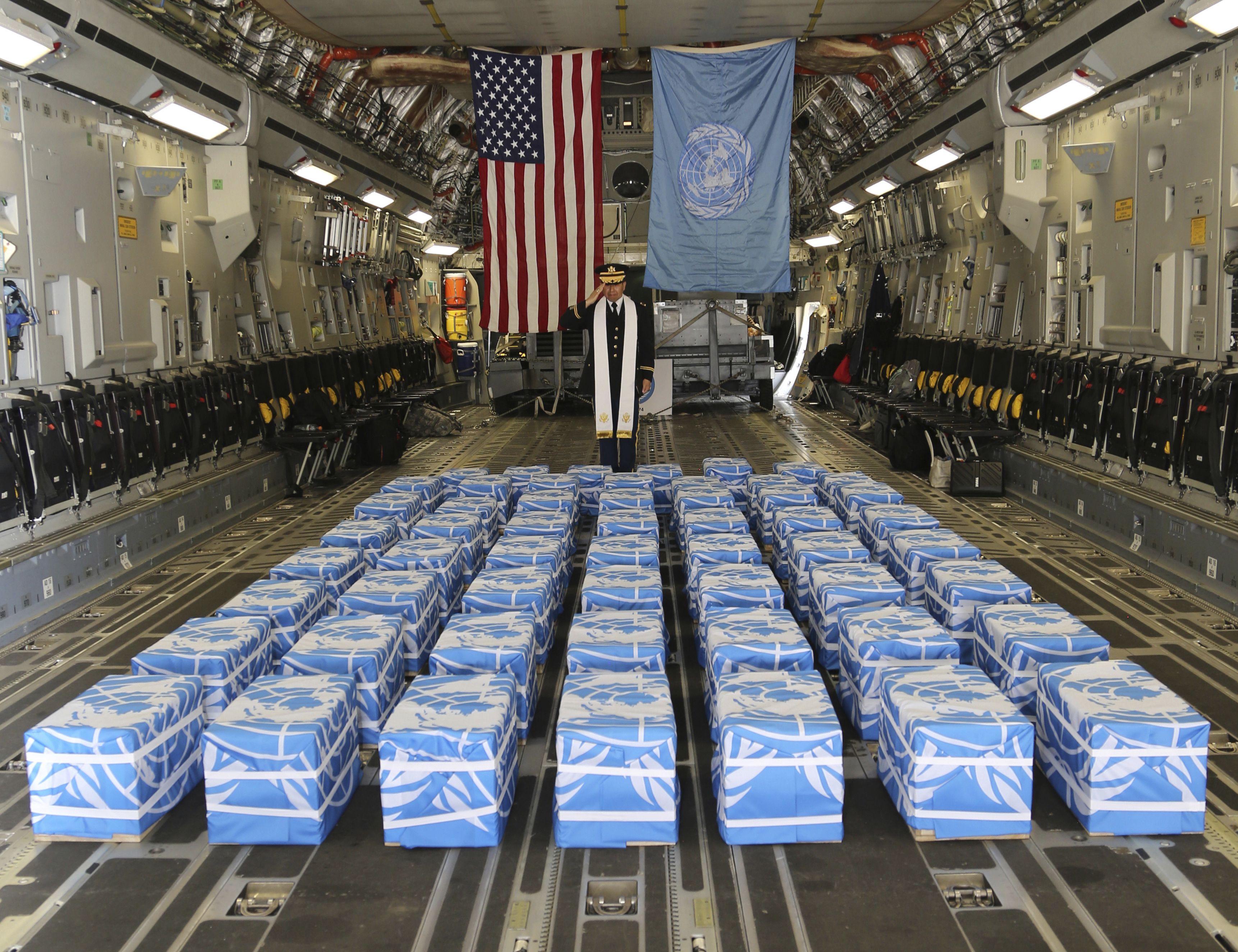 "When North Korea handed over 55 boxes of bones that it said are remains of American war dead, it provided a single military dog tag but no other information that could help U.S. forensics experts determine their individual identities, a U.S. defense official said," per AP:
"The official ... said it probably will take months if not years to fully determine individual identities from the remains, which have not yet been confirmed by U.S. specialists to be those of American servicemen."
7. Apple on cusp of becoming first $1 trillion U.S. company
Apple "delivered its best-ever revenue, ... as demand for high-price iPhones remained resilient and services such as app-store sales swelled to a record," The Wall Street Journal's Tripp Mickle writes (subscription):
Why it matters: "The results for Apple's fiscal third quarter show how the iPhone maker is finding ways to grow amid a contracting global smartphone market that is roiling its rivals."
CEO Tim Cook: "We're expanding our reach into emerging markets and seeing strong double-digit growth in revenue."
8. Dan Pfeiffer on 2020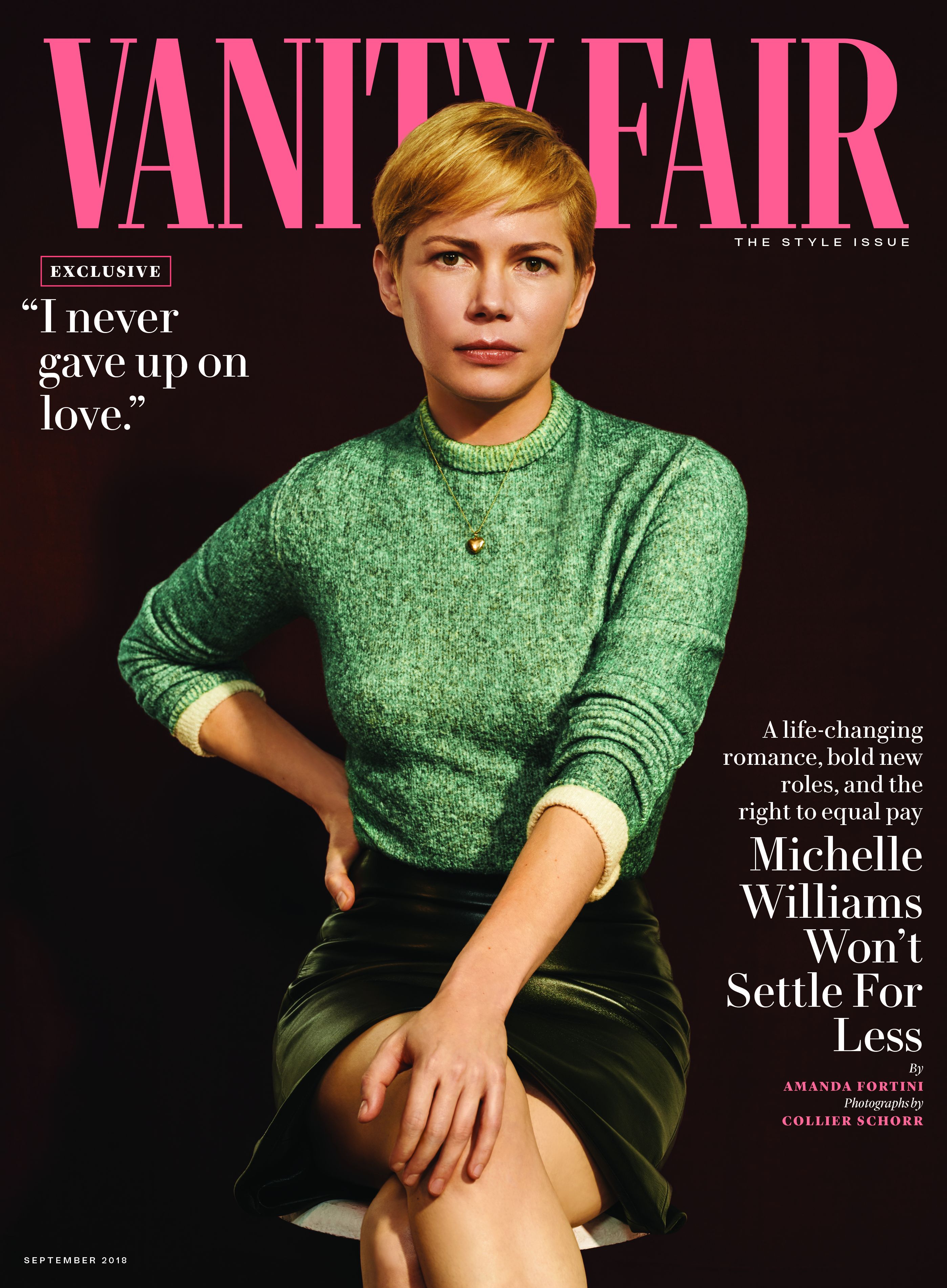 From the September issue of Vanity Fair, a look ahead to Trump's 2020 campaign, by Gabe Sherman:
"The logic underpinning a second Trump victory isn't only a paranoid Democratic fantasy. 'Democrats should be very, very worried,' Dan Pfeiffer, Barack Obama's former communications director, told me recently. 'We have more voters than they do, but we can only win if we get them out.'"
White House political director Bill Stepien: "The best way to win in 2020 is to win in 2018."
"Stepien, a 40-year-old New Jersey operative, is an Establishment Republican out of central casting: trim, well dressed, and with impeccable hair."
"He was recruited to join the Trump campaign in August 2016, after befriending [Jared] Kushner, and his current job is to effectively reverse-engineer a method to Trump's madness."
9. Stat du jour
"Senators have begun the deepest dive ever into the writings of a Supreme Court nominee, digging into a record 1 million-plus pages of legal opinions and emails from Brett Kavanaugh's career as a federal judge, White House attorney and assistant to the prosecutor who investigated President Bill Clinton." (USA Today)
10. 1 ⚾️ thing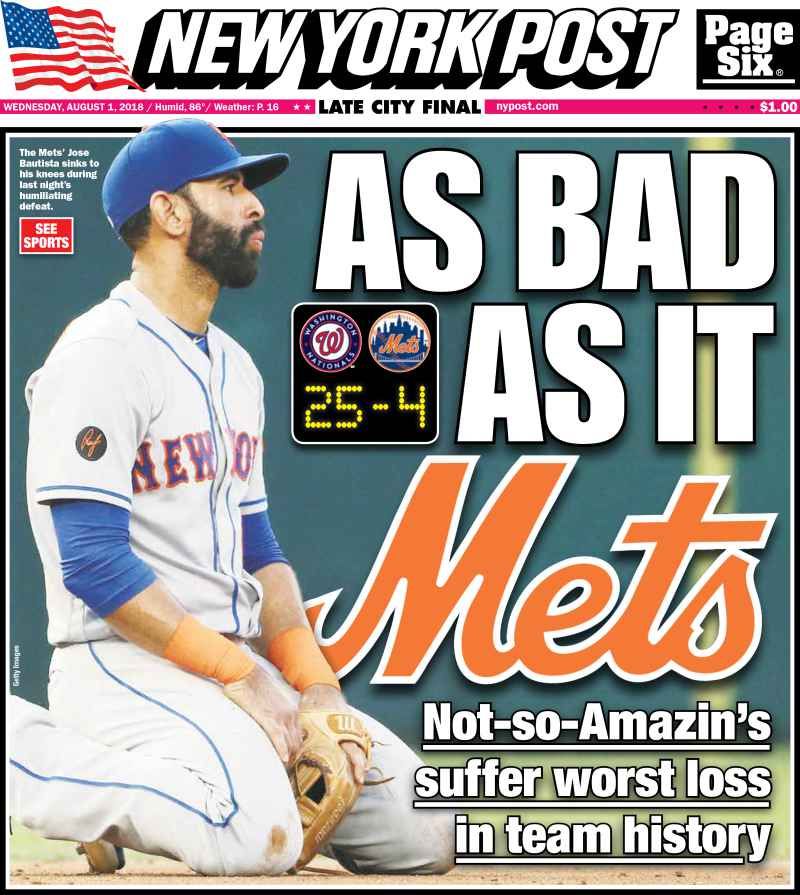 The Nats, beating the Mets 25-4 at Nats Park, were the first MLB team to score 25 runs in 11 years, per MLB.com:
"The 25 runs are the most in a Major League game since 2007, when the Rangers beat the Orioles, 30-3."
"Twelve Nationals, including all nine members of the starting lineup, collected at least one hit as the team combined for 26 hits during the biggest offensive outburst in club history."