Axios AM
January 18, 2021
🇺🇸 Hello Monday. Today is a federal holiday for the Rev. Dr. Martin Luther King Jr.
Today's Smart Brevity™ count: 1,169 words ... 4½ minutes.
⚡ President Trump plans to issue 100+ pardons and commutations before leaving office, an administration official tells Axios' Alayna Treene, confirming a CNN report.
Defense officials are worried about an insider attack from service members securing the inauguration, prompting the FBI to vet all 25,000 National Guard troops. —AP
1 big thing ... "Off the rails," Ep. 4: Trump turns on Barr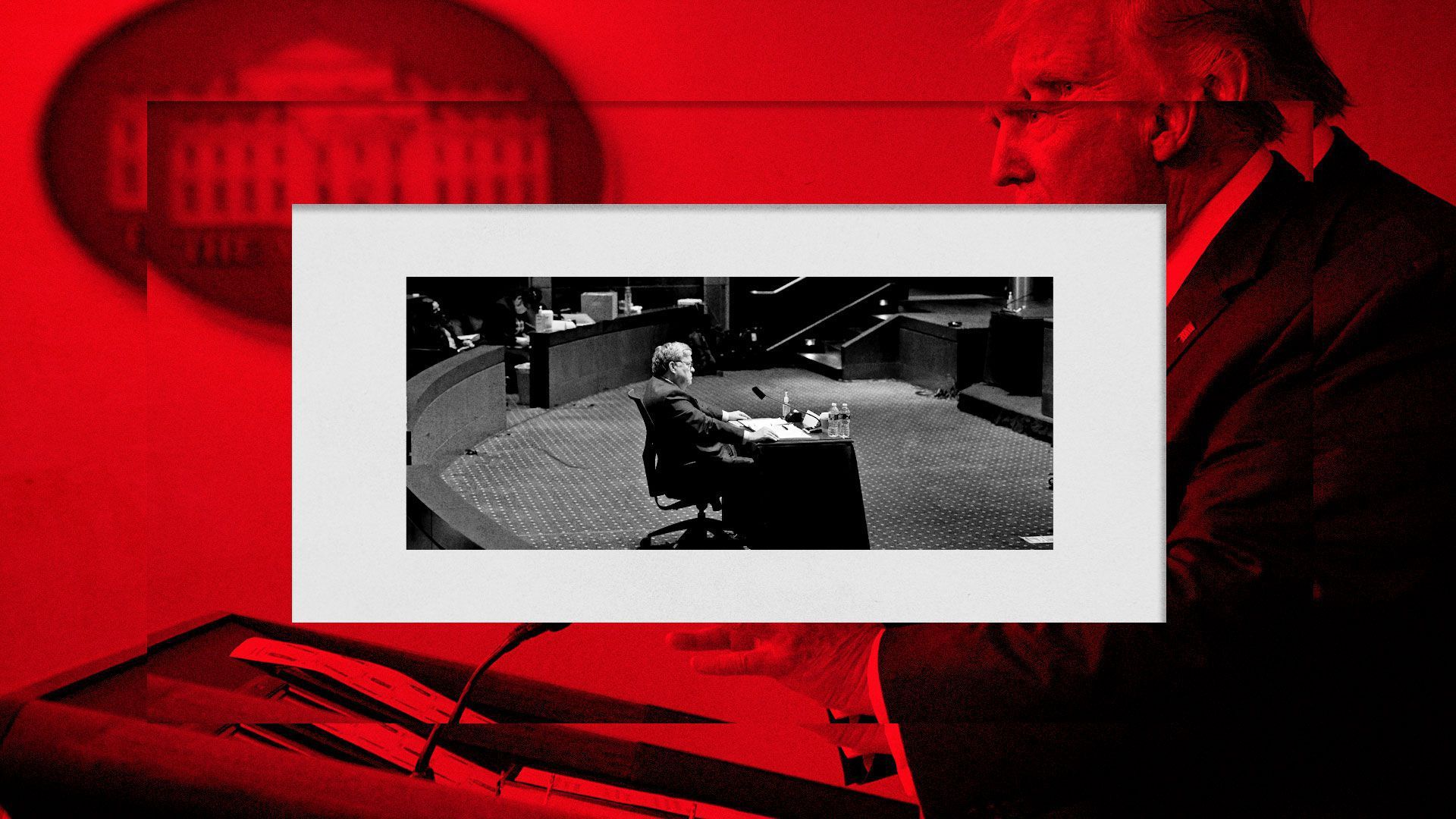 Episode 4 of "Off the rails," our fly-on-the-wall series on President Trump's final days by Jonathan Swan and Zachary Basu:
Attorney General Bill Barr stood behind a chair in the private dining room next to the Oval Office, looming over Donald Trump. The president sat at the head of the table. It was Dec. 1, nearly a month after the election. The president's theories about a stolen election, Barr told Trump, were "bullshit."
White House counsel Pat Cipollone and a few other aides in the room were shocked Barr had come out and said it — although they knew it was true. For good measure, the attorney general threw in a warning that the new legal team Trump was betting his future on was "clownish."
Three weeks later, Barr would be gone.
The relationship between the president and his attorney general was arguably the most consequential in Trump's Cabinet. Nobody was more loyal than Bill Barr. But for Trump, it was never enough.
By the late summer of 2020, Trump and Barr were regularly skirmishing over how to handle the rising Black Lives Matter protests sparked by the police killing of George Floyd. Trump wanted the U.S. government to crack down hard on the unrest.
The president wanted to invoke the Insurrection Act and send the military into U.S. cities. He wanted troops in the street. The thankless job of pushing back fell to Barr.
The president regularly summoned a group of national security leaders to the Oval Office, and one mid-August meeting was particularly volatile.
From his seat behind the Resolute Desk, an agitated Trump told Barr to go and do something, and to do it right away — make an announcement, send in the troops, something. He wanted a devastating and provocative show of strength.
"No one supports me," Trump yelled. "No one gives me any fucking support."
2. Trump pushes Barr to watch election-fraud hearing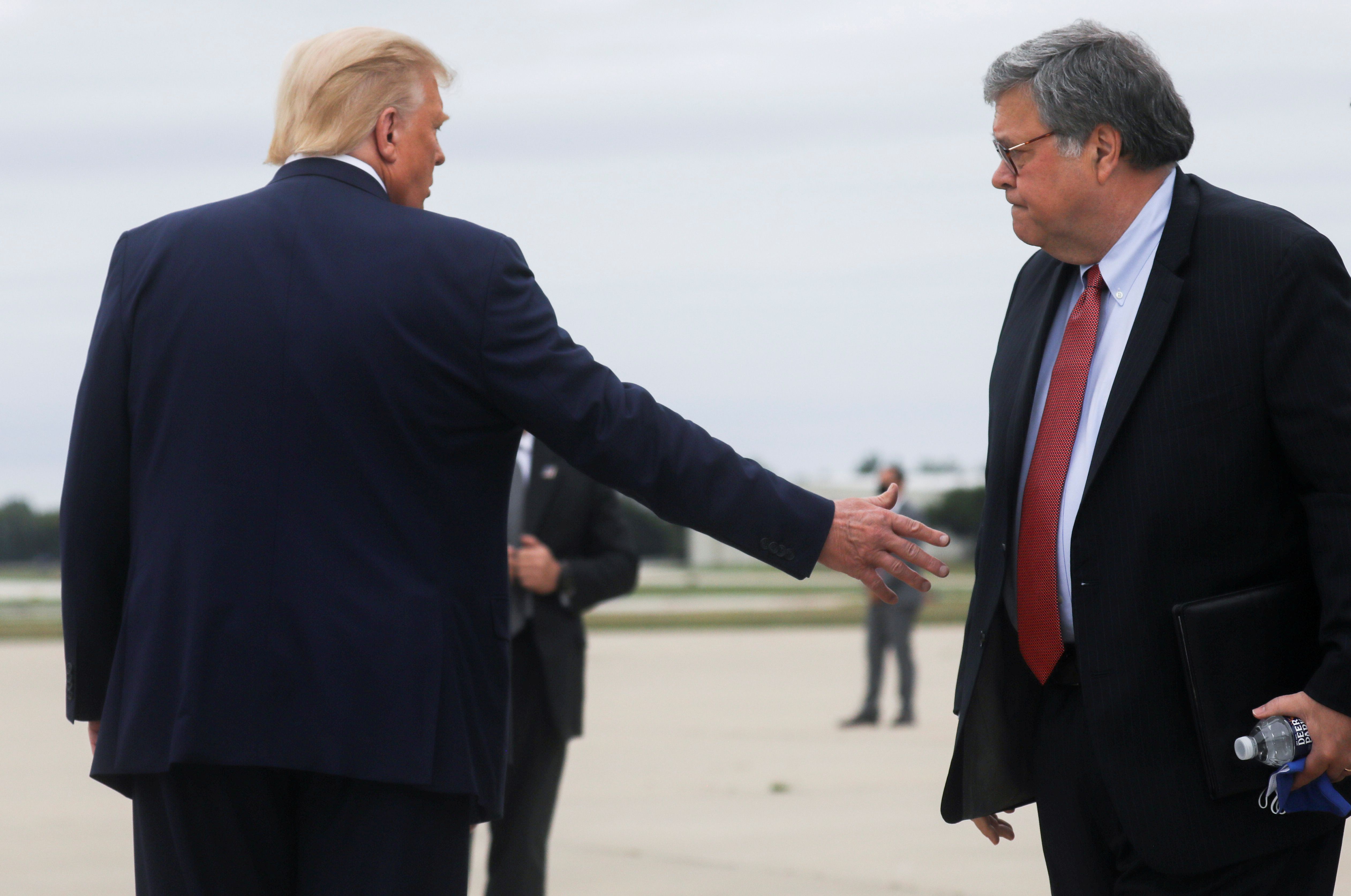 Meeting with Barr on Dec. 1, Trump faced a huge flat-screen TV with the sound on low. On the screen, the conspiracy-drenched One America News Network was playing a Michigan Senate hearing on election fraud.
Trump pointed at the TV and asked if Barr had been watching the hearing.
Barr said he hadn't. "Maybe you should," the president said. Barr reiterated that the Justice Department was not ignoring the allegations, but that Trump's outside lawyers were doing a terrible job.
"I'm a pretty informed legal observer and I can't fucking figure out what the theory is here," Barr added. "It's just scattershot. It's all over the hill and gone."
"Maybe," Trump said. "Maybe."
Barr decided to quit before their private skirmishes spilled further into public view.
Some speculated he had quit over the president's increasingly questionable pardons. But that had nothing to do with it.
Barr had made it clear to White House counsel Cipollone he did not want to be consulted on these post-election pardons. He didn't need to hear about them until he received the official notices.
The only pardon he made an effort to preemptively stop was for Edward Snowden.
Go deeper: Read the full episode in the Axios stream.
🎧 Listen to Jonathan Swan on Axios' new investigative podcast series, "How it happened: Trump's last stand."
3. Resurrecting MLK office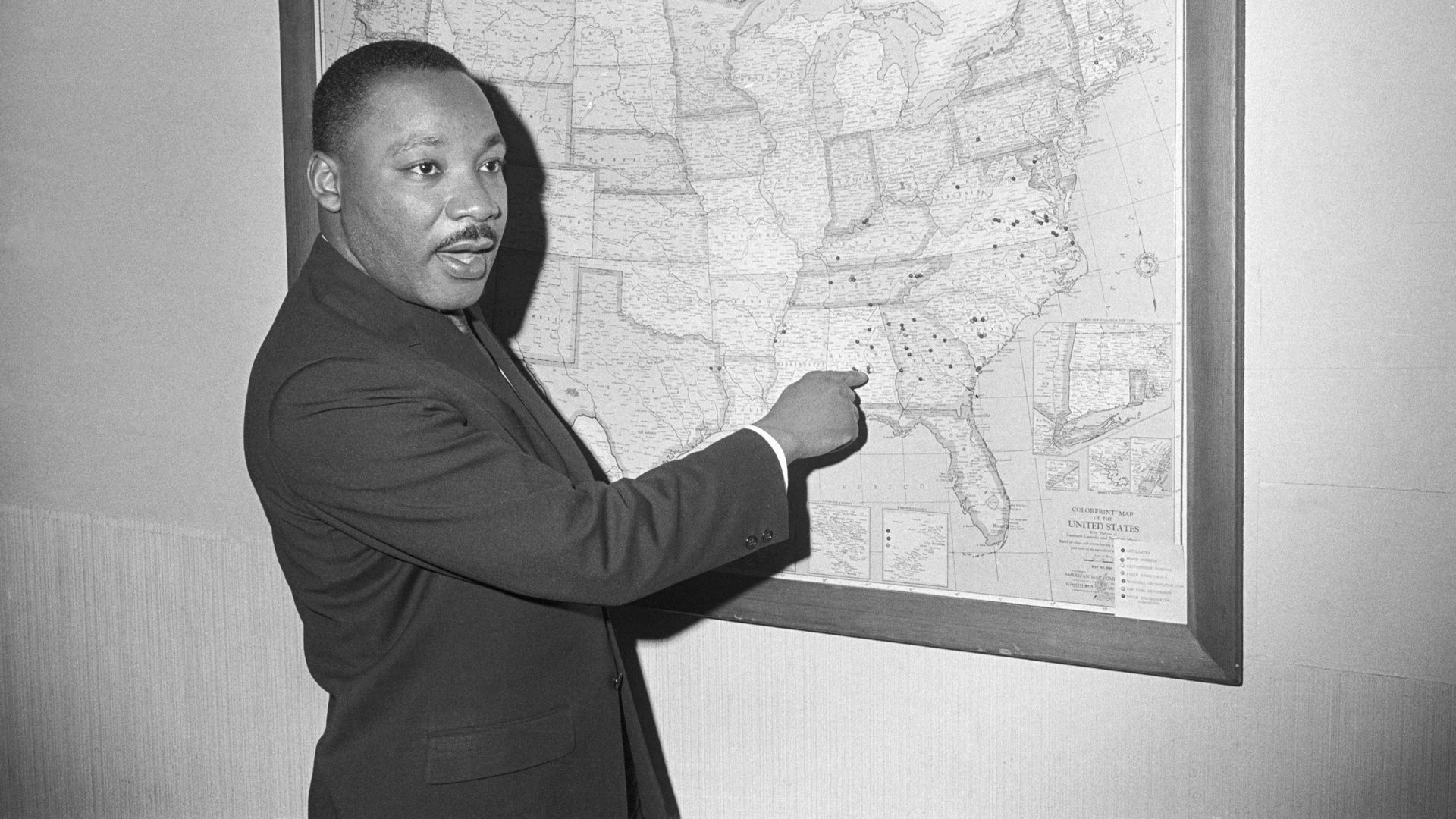 Efforts to save the office where the Rev. Dr. Martin Luther King Jr. planned some of the most important moments of the civil rights movement are hitting roadblocks, Axios race and justice reporter Russell Contreras writes.
The National Park Service needs to OK agreements so a developer restoring the historic Prince Hall Masonic Lodge in Atlanta — which once housed King's Southern Christian Leadership Conference — can tap into private funding and begin work.
The space where the office sat is empty, and advocates want former aides who are still alive to help recreate the atmosphere.
In 2018, President Trump signed a bill sponsored by the late Rep. John Lewis that designated the lodge, King's birth home, Ebenezer Baptist Church, and King's burial site as a national historic park.
Trump later complained that Lewis didn't attend any of his State of the Union speeches, and the administration stalled on agreements for the lodge.
What we're hearing: Some Department of Interior projects, run by the Park Service and Bureau of Land Management, have halted as employees seek to remain low-key in the final hours of the Trump presidency and avoid his wrath.
4. Letter Bush 41 left in Oval for Bill Clinton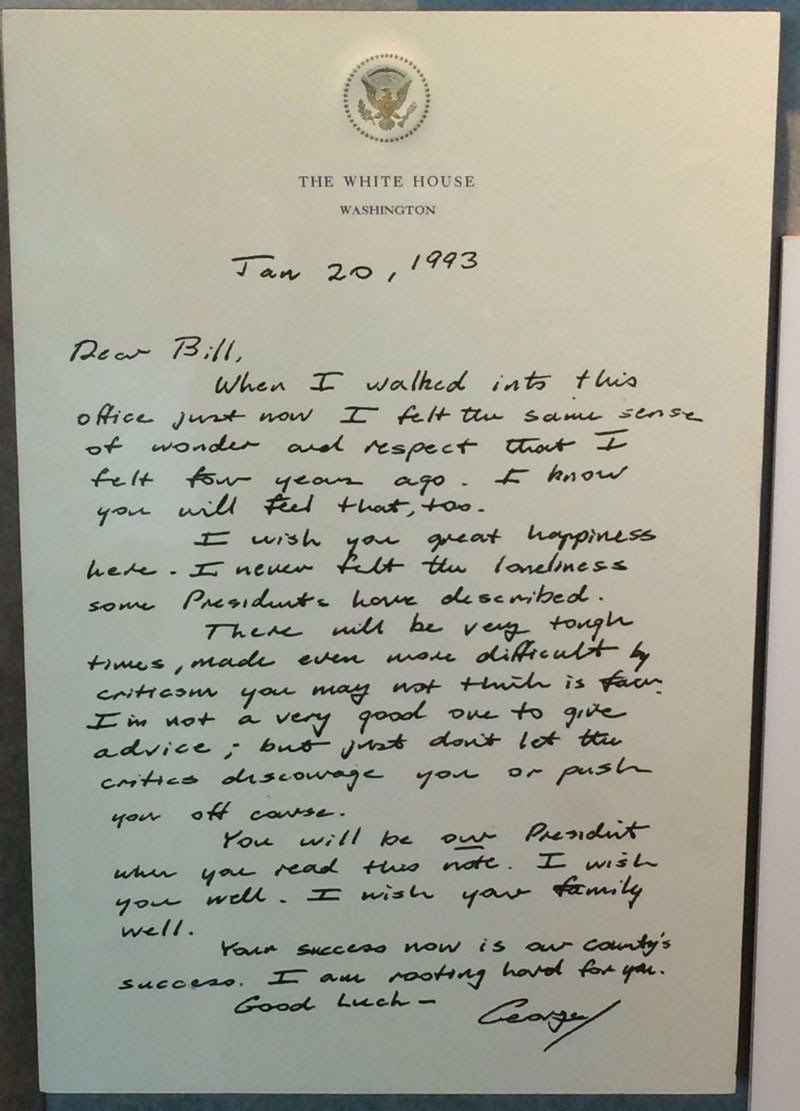 The Inauguration Day words of President George H.W. Bush — the last president before President Trump to lose re-election:
"You will be our President when you read this note. ... Your success now is our country's success. I am rooting hard for you."
🎺 Trump has requested his departure ceremony have a "military-like feel" — a military band, with a red carpet and military honors, ABC News reports.
5. Stunning video captures rioter conversations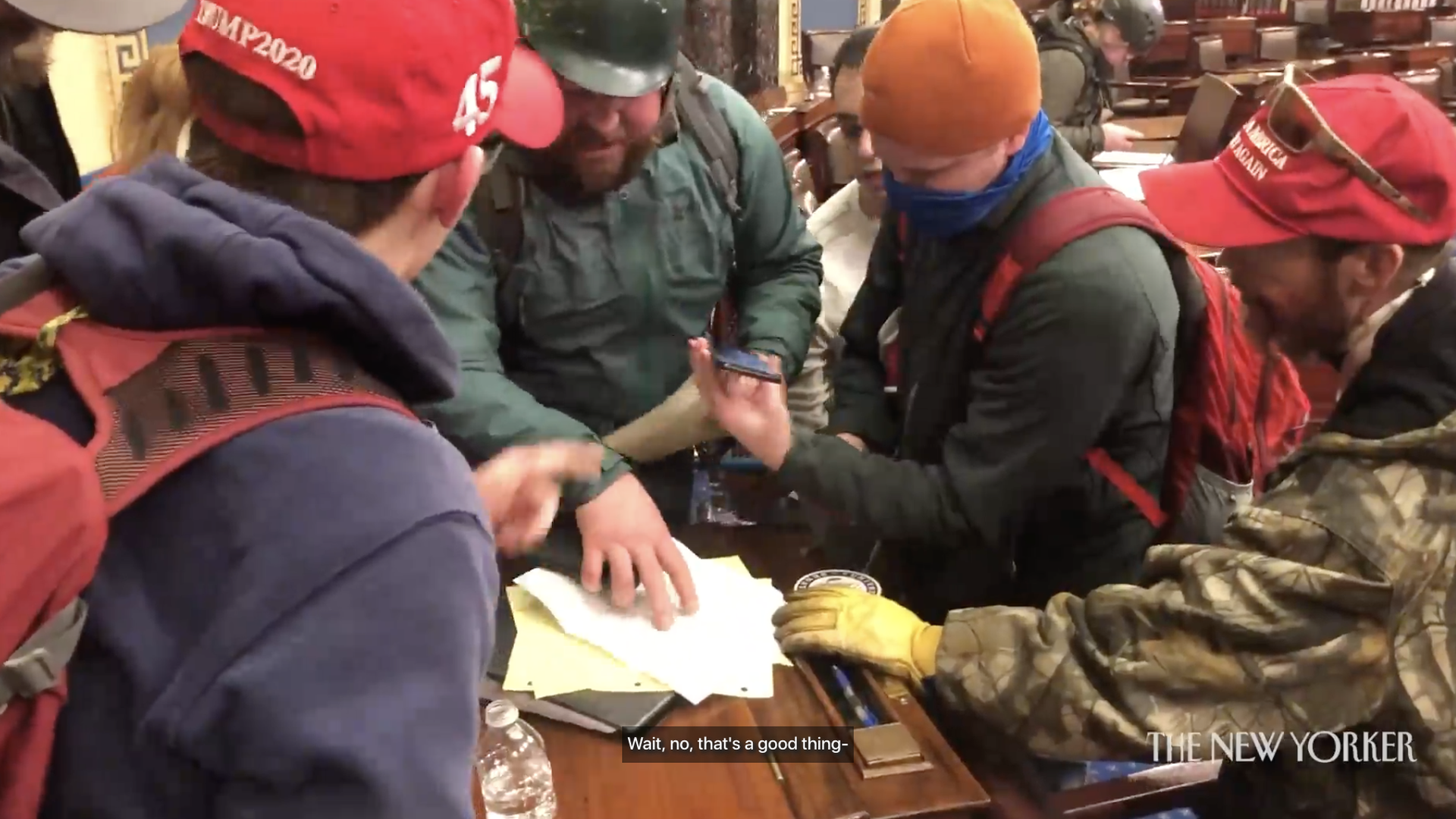 Luke Mogelson, a veteran war correspondent and contributing writer for The New Yorker, used his phone camera to capture astonishing video of the Capitol invaders rummaging through papers in the Senate chamber.
One rioter tries to dissuade another with the ironic declaration: "We're better than that!"
"They can steal the election, but we can't sit in their chairs?" another guy whines.
Looking for lawmakers, one rioter shouts: "Where the [eff] are they?"
"You're afraid of Antifa?" one man yells. "Well, guess what? America showed up!"
"Knock, knock. We're here."
"Is this the Senate?"
6. Trump's last weekend: State capitols lock down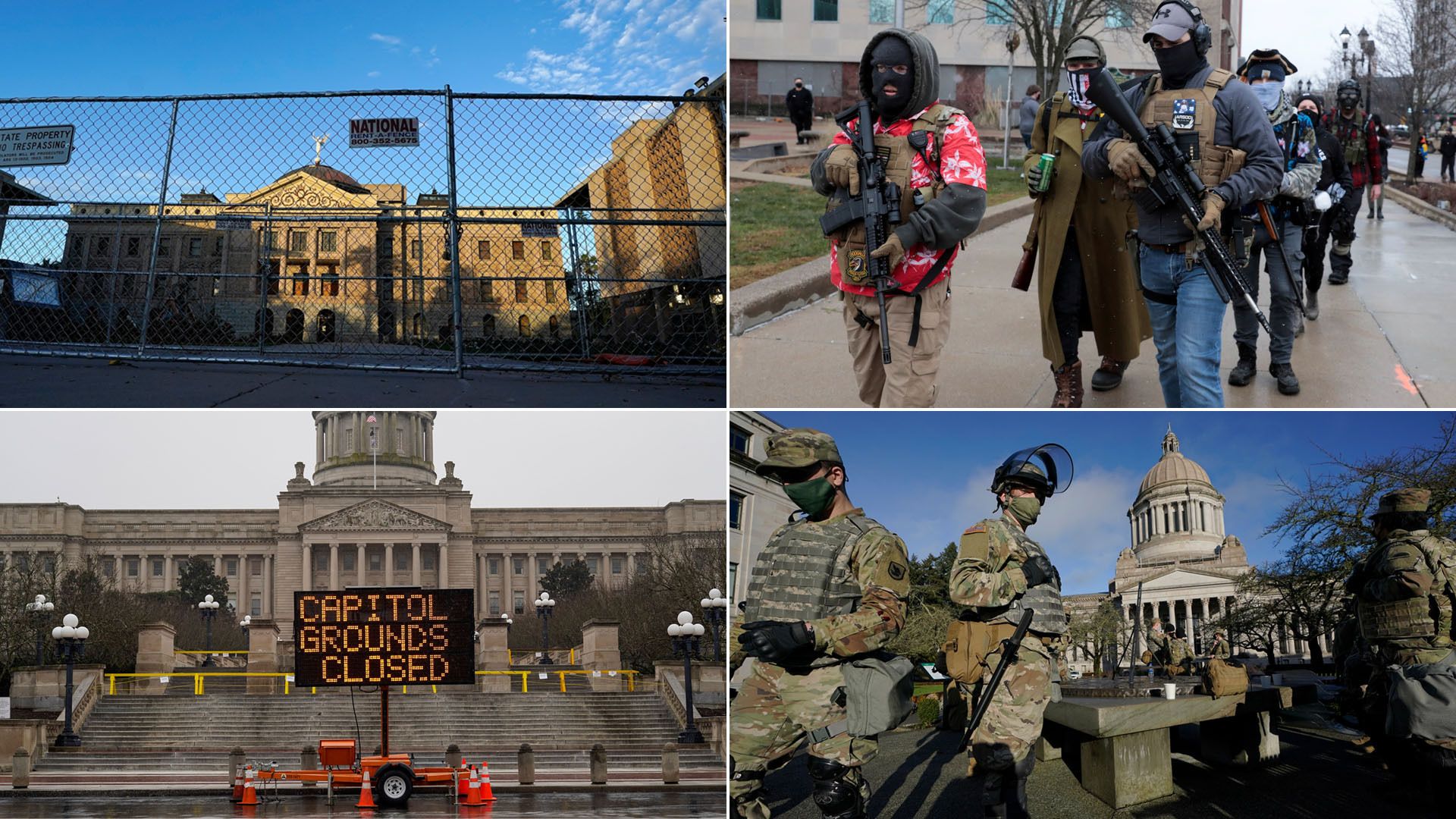 State capitols were quiet yesterday after fortifying. Clockwise from upper left:
Two layers of security fencing encircle the Arizona Capitol in Phoenix.
At the Michigan Capitol in Lansing, Boogaloo, an anti-government movement, protests the election of President-elect Biden.
Members of the Washington National Guard stand at a sundial near the capitol in Olympia.
Kentucky Capitol in Frankfort.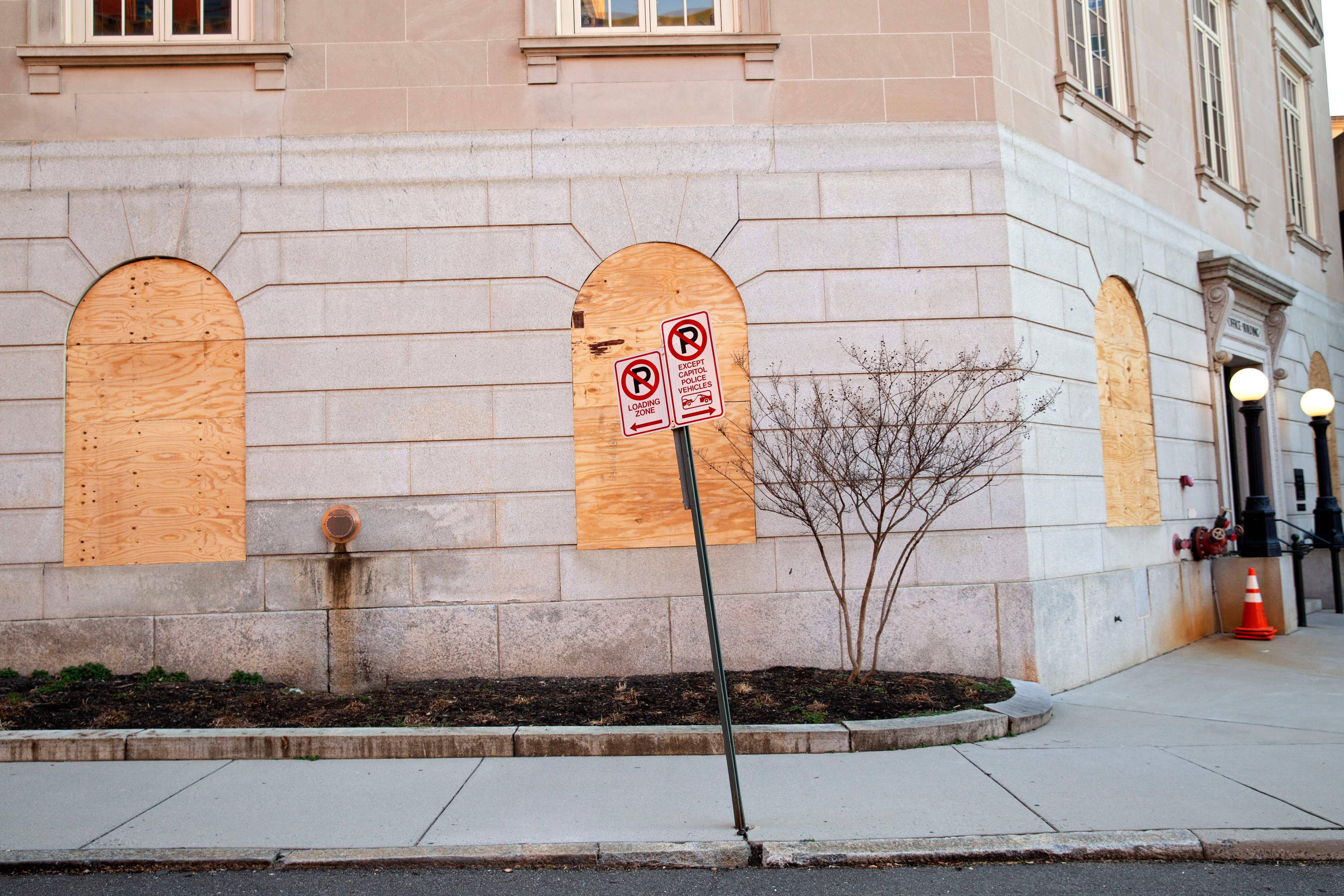 Windows are boarded up around Capitol Square in Richmond, Va.
7. Perils of organizing underground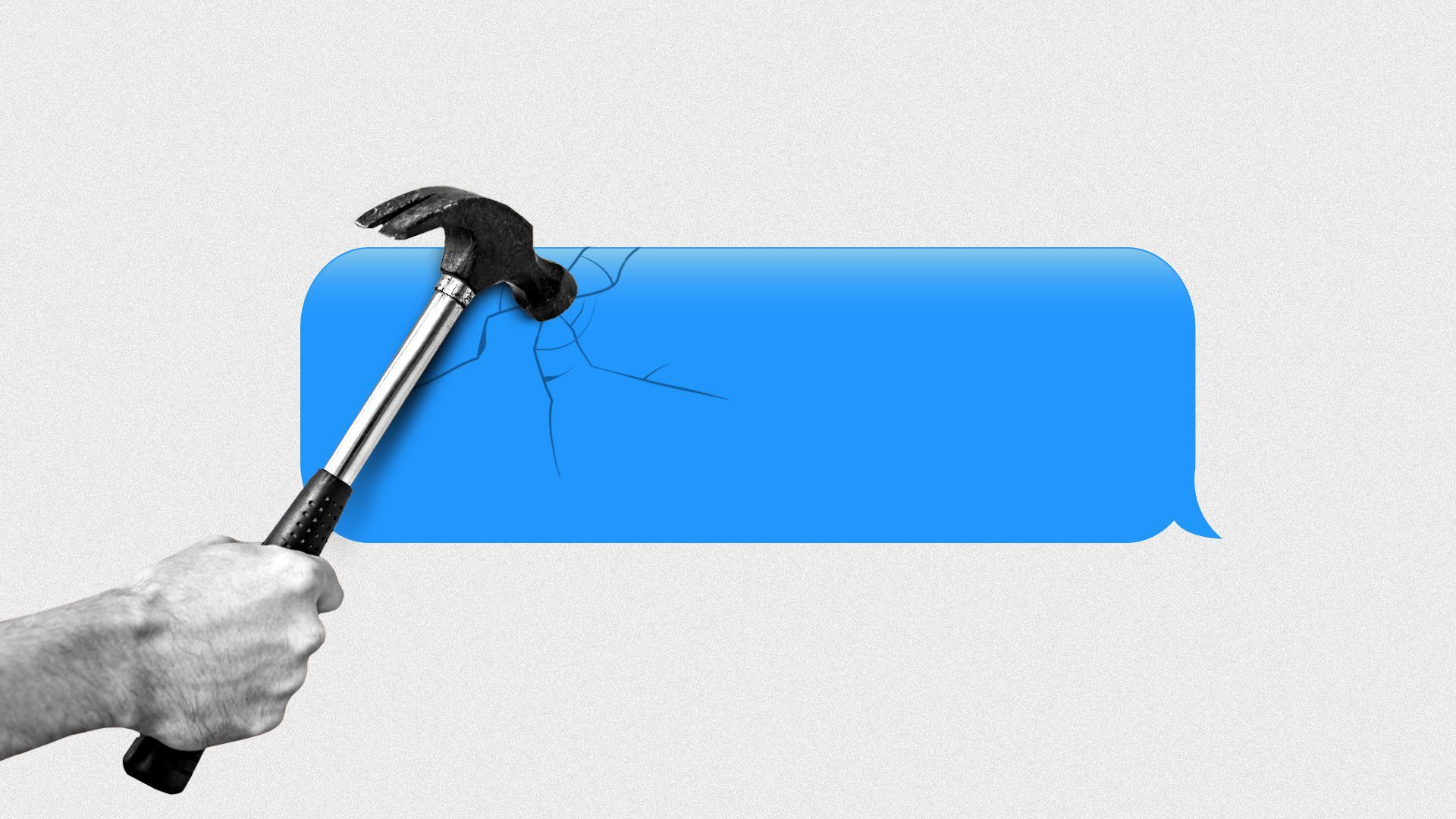 The fringe right will find it's harder to organize underground than on wide-open channels, Axios' Ashley Gold, Sara Fischer and Kyle Daly write:
Every added step, like having to download an app or go through more verification, is a chance to lose a follower.
Infiltration is a problem. "We're seeing more recognition among groups on platforms like Telegram, Gab and MeWe that there are security researchers, law enforcement officials and journalists in these groups," said Bryce Webster-Jacobsen of cyber-intelligence firm GroupSense.
Experts say domestic terrorists face a similar problem that groups like ISIS have faced after being deplatformed — recruiting gets harder.
8. 🏈 NFL final four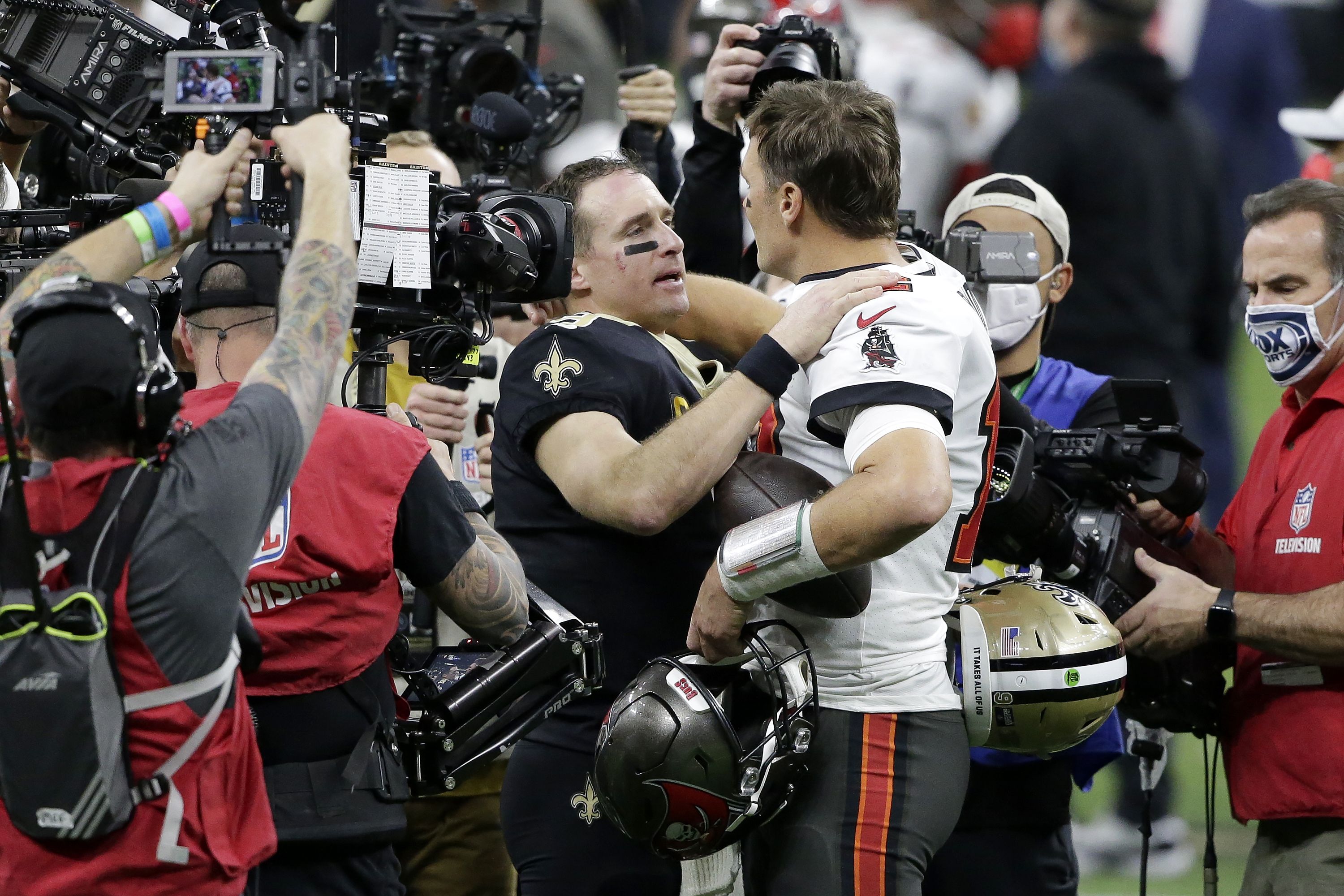 Above: Saints' Drew Brees, 42, congratulates Tampa Bay's Tom Brady, 43, after Brady's Bucs won 30-20 in the matchup "for the ages and aged."
Divisional championships next Sunday are the final stop on the road to Super Bowl LV at Raymond James Stadium in Tampa on Feb. 7:
NFC will be a battle of QB legends: Brady v. Green Bay Packers' Aaron Rodgers.
AFC's Buffalo Bills at Kansas City Chiefs could showcase top young QBs if Chiefs' Patrick Mahomes — who left yesterday's game against Cleveland, dizzy with a concussion — is healthy enough to face Buffalo's Josh Allen.
YouTube of Mahomes leaving game.
📬 Thanks for starting Inauguration Week with us. Please invite your friends to sign up for Axios AM/PM.