Good Sunday morning, and happy Mother's Day to my Mom, Barbara, out in Oregon; to all the mothers of our Axios family; and to all the moms and expectant moms who're reading AM before enjoying this amazing day. I always tell my Mom: "I'm glad you're a mother!" Thanks to all of you who made us who we are.
I'm in Chapel Hill for the graduation of Evan Allen, the oldest of my three siblings' 11 kids, from the University of North Carolina. Last night, we celebrated with his friends in the heart of the bar district, at the Dead Mule Club. Many of you have met Evan during his D.C. trips over the years, or at the conventions. It's been 18 fun years of football and lacrosse games, business classes, and late nights / early mornings around the background fire pit. His Grandma still has her "LAX GRAM" keychain.
https://www.axios.com/newsletters/axios-am-14e6aab9-246a-494e-98a4-aa0ba5ede23b.html?chunk=0#story0
​1 big thing: The Trump staff dump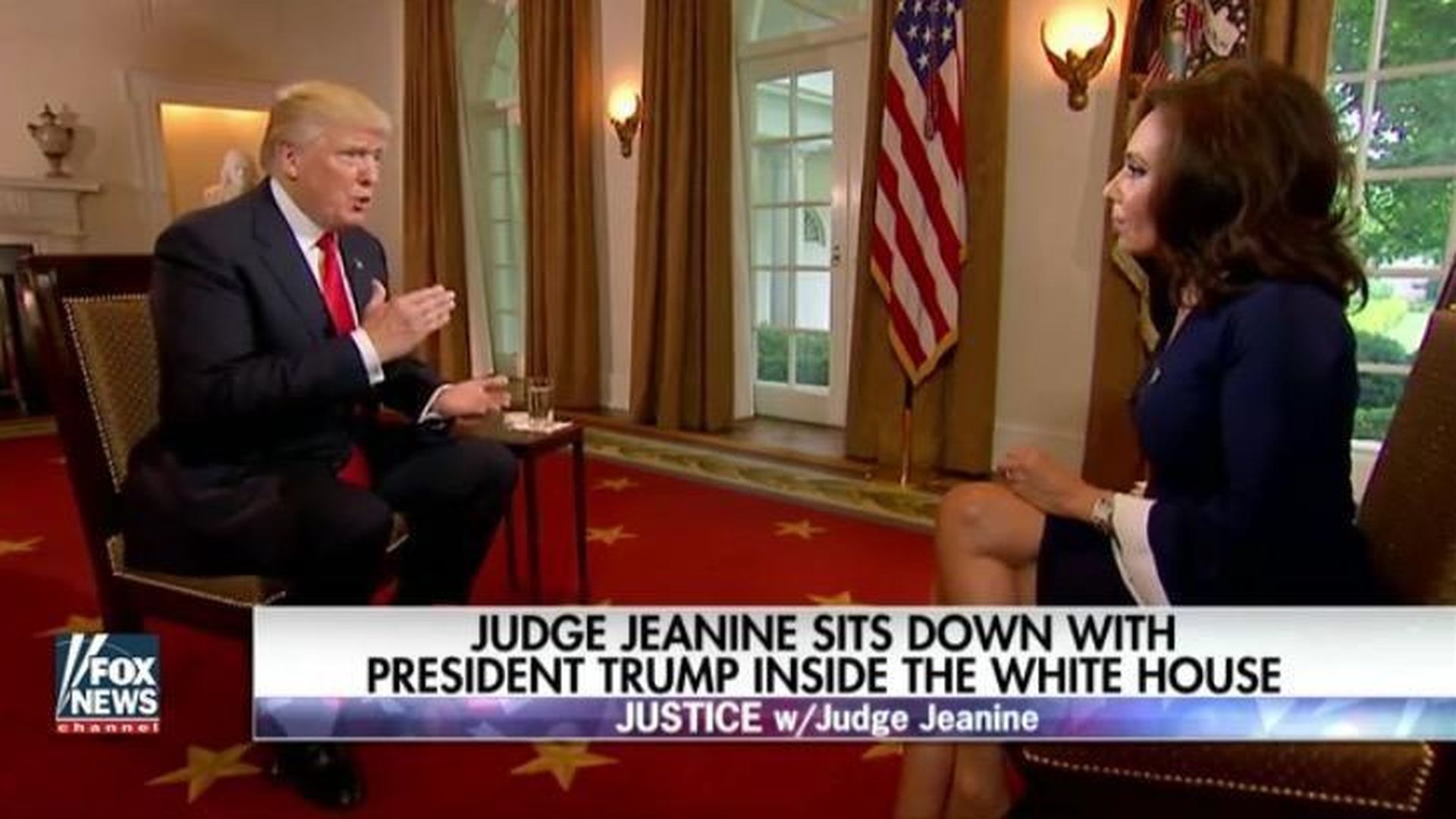 At the urging of longtime friends and outside advisers, most of whom he consults after dark, President Trump is considering a "huge reboot" that could take out everyone from Chief of Staff Reince Priebus and chief strategist Steve Bannon, to counsel Don McGahn and press secretary Sean Spicer, White House sources tell me.
Trump is also irritated with several Cabinet members, the sources said.
"He's frustrated, and angry at everyone," said one of the confidants.
The conversations intensified this week as the aftermath of the Comey firing pushed the White House from chaos into crisis. Trump's friends are telling him that many of his top aides don't know how to work with him, and point out that his approval ratings aren't rising, but the leaks are.
"The advice he's getting is to go big — that he has nothing to lose," the confidant said. "The question now is how big and how bold. I'm not sure he knows the answer to that yet."
If Trump follows through, his innermost White House circle would shrink from a loop to a straight line of mid-30s family members with scant governing experience: Jared and Ivanka. So while the fighting and leaking might ease, the problems may not because it's the president, not the staff, calling the shots.
One note of caution: Trump often talks about firing people when things go south and does not follow through on it. So it's possible these conversations are his way of venting, and seeking reassurance.
And it all could take a while: Trump heads out on his first international trip at the end of the week. Also, there's an internal argument for minimizing drama by cutting people out of the information flow rather than booting them. So the existing structure may get "one more college try," a trusted adviser said.
Friends say that if Trump goes with a grand shakeup, his implicit message would be: "I get it. I'm moving on. I get that I can do a better job." A top aide added: "He's never going to say he did a bad job."
The sources say Trump feels ill-served by not just his staff but also by several of his Cabinet officials. Trump has two complaints about Cabinet members: Either they're tooting their own horns too much, or they're insufficiently effusive in praising him as a brilliant diplomat, etc. Among the cross-currents:
His friend Wilbur Ross at Commerce this week took what was perceived as a victory lap on a China trade announcement that does little new in actuality.
Attorney General Jeff Sessions made a big announcement about increasing prison sentences, at the same time that Jared is working on criminal-justice reform.
HHS Secretary Tom Price shares the blame for the glacial pace of health-care legislation.
No Cabinet member is expected to go this soon, but a West Wing shuffle looks likely. One obstacle to recruiting new top aides is finding people who would have real clout with a president not prone to enforced order.
One of the few top officials winning Trump's praise is SecState Rex Tillerson, who's on "Meet The Press" this morning (taped yesterday in Texas) defending his boss.
https://www.axios.com/newsletters/axios-am-14e6aab9-246a-494e-98a4-aa0ba5ede23b.html?chunk=1#story1
2. "Fury" as North Korea provokes, again
After North Korea tested another ballistic missile (a dud, again), the White House issued a statement ratcheting up pressure: "With the missile impacting so close to Russian soil — in fact, closer to Russia than to Japan — the President cannot imagine that Russia is pleased.
BBC: "The nature of the launch is still being determined, but analysts have said the test could suggest a longer range than previously tested devices."
The White House: "North Korea has been a flagrant menace for far too long. ... Let this latest provocation serve as a call for all nations to implement far stronger sanctions against North Korea."
Why it matters: The launch seemed aimed at testing both Trump and the new South Korean president, Moon Jae-in, who took office on Wednesday.
https://www.axios.com/newsletters/axios-am-14e6aab9-246a-494e-98a4-aa0ba5ede23b.html?chunk=2#story2
3. "A hardening portrait of sheer disarray"
"Trump is in some ways like a pilot opting to fly a plane through heavy turbulence then blaming the flight attendants when the passengers get jittery," according to a juicy WashPost front-pager by Phil Rucker, "White House 'systems failed' with Comey firing, but Trump pushed the buttons":
"One GOP figure close to the White House mused privately about whether Trump was 'in the grip of some kind of paranoid delusion.'"
"White House aides have felt bewildered and alarmed by how Trump arrives at his decisions — often on impulse and emotion and sometimes by rejecting the counsel of those around him."
"Trump did not inform [White House press secretary Sean] Spicer and [Communications Director Mike] Dubke of his decision until about an hour before it was announced, keeping them and other senior aides out of the loop because he feared the news might leak."
"Some of Trump's allies said they are worried that the president views the Comey episode entirely as a public-relations crisis ... and has not been judicious about protecting himself from legal exposure."
"When Trump sat down for the interview with NBC anchor Lester Holt, his aides were not certain what he might say. The president improvised, essentially."
https://www.axios.com/newsletters/axios-am-14e6aab9-246a-494e-98a4-aa0ba5ede23b.html?chunk=3#story3
4. Zeitgeist: "a grave abuse of Presidential power"
Jeffrey Toobin, in the lead "Talk of the Town" item in the forthcoming issue of The New Yorker:
In these perilous and unpredictable times, it's worth pausing to consider how Trump's recklessness might manifest itself in a national-security emergency. His default response to conflict has always been to lash out, which can be entertaining on a reality-television show and effective in a political debate. But, as the President of the United States, who commands a nuclear-armed military, Trump is playing for incalculably higher stakes.
https://www.axios.com/newsletters/axios-am-14e6aab9-246a-494e-98a4-aa0ba5ede23b.html?chunk=4#story4
5. "The road less traveled"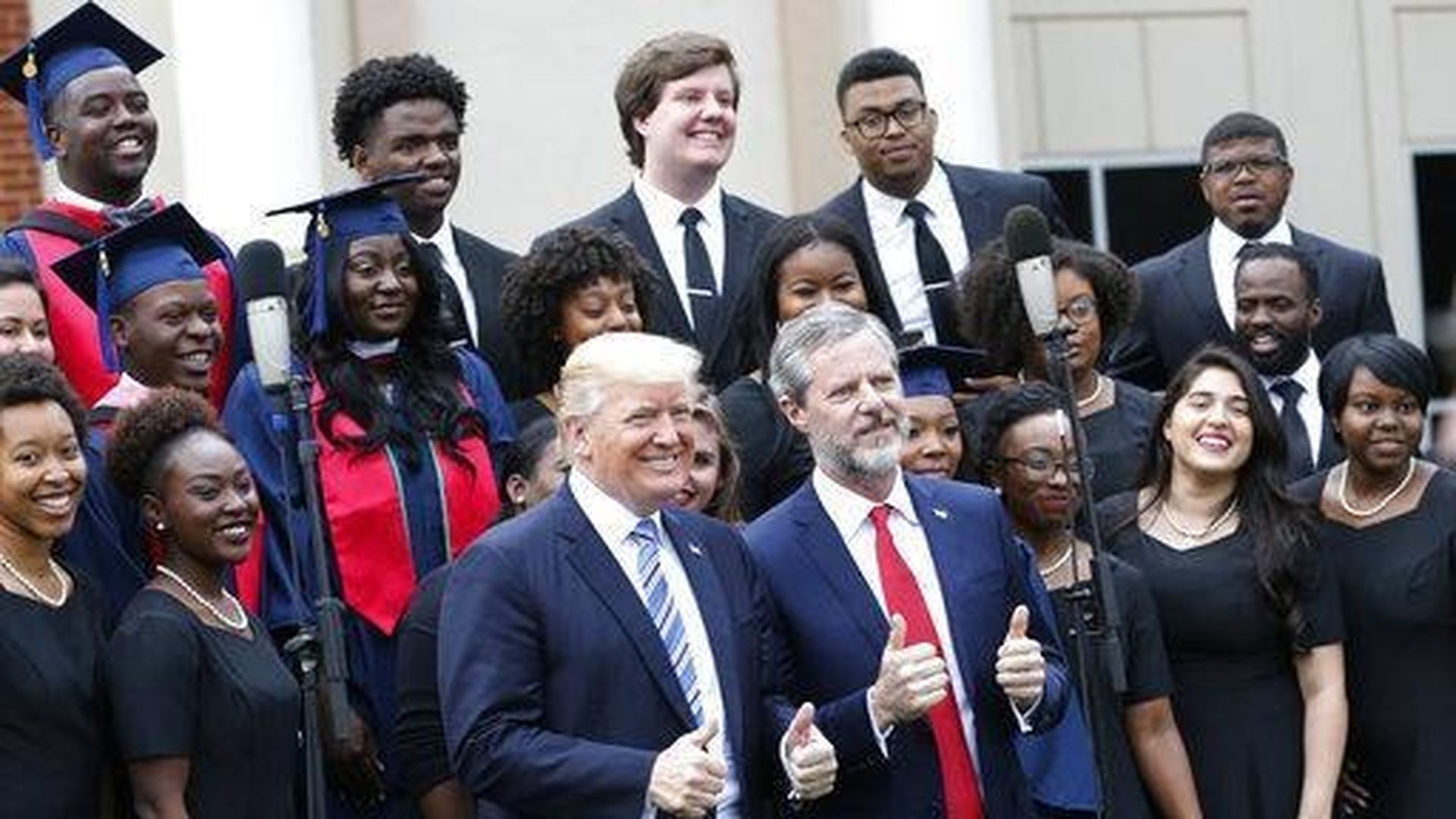 From Trump's first commencement address as president, at Liberty University, in Lynchburg, Va:
"[B]e totally unafraid to challenge entrenched interests and failed power structures. Does that sound familiar, by the way?"
"Relish the opportunity to be an outsider. Embrace that label — being an outsider is fine, embrace the label — because it's the outsiders who change the world and who make a real and lasting difference. The more that a broken system tells you that you're wrong, the more certain you should be that you must keep pushing ahead, you must keep pushing forward."
https://www.axios.com/newsletters/axios-am-14e6aab9-246a-494e-98a4-aa0ba5ede23b.html?chunk=5#story5
6. Article of the day
Cultivating generations of future customers ... The fascinating, provocative lead story of the N.Y. Times is "How Google Conquered The American Classroom: Schools Transformed by Tech Giant May Be Giving More Than They're Getting," by tech reporter Natasha Singer:
"[M]ore than half the nation's primary- and secondary-school students — more than 30 million children — use Google education apps like Gmail and Docs ... Chromebooks, Google-powered laptops that initially struggled to find a purpose, ... account for more than half the mobile devices shipped to schools."
Why it matters: "Google is helping to drive a philosophical change in public education — prioritizing training children in skills like teamwork and problem-solving while de-emphasizing the teaching of traditional academic knowledge, like math formulas."
50,000 feet: "It puts Google, and the tech economy, at the center of one of the great debates that has raged in American education for more than a century: whether the purpose of public schools is to turn out knowledgeable citizens or skilled workers."
"Every year, several million American students graduate from high school. And not only does Google make it easy for those who have school Google accounts to upload their trove of school Gmail, Docs and other files to regular Google consumer accounts — but schools encourage them to do so."
"[S]ome parents ... warn that Google could profit by using personal details from their children's school email to build more powerful marketing profiles of them as young adults."
https://www.axios.com/newsletters/axios-am-14e6aab9-246a-494e-98a4-aa0ba5ede23b.html?chunk=6#story6
7. Papal preview
With the great dateline "Aboard the Papal Plane," AP's Nicole Winfield previews the Pope's plans when he holds an audience with President Trump on May 24:
"Pope Francis says he won't try to convince U.S. President Donald Trump to soften his policies on immigration and the environment when they meet this month, but wants instead to find common ground and work for peace."
His holiness: "I never make a judgment about a person without hearing him out."
"Peace is artisanal. You do it every day."
Asked specifically if he would try to soften Trump's policies, Francis said: "That is a political calculation that I don't allow myself to make. Also in the religious sphere: I don't proselytize."
https://www.axios.com/newsletters/axios-am-14e6aab9-246a-494e-98a4-aa0ba5ede23b.html?chunk=7#story7
8. Minimalist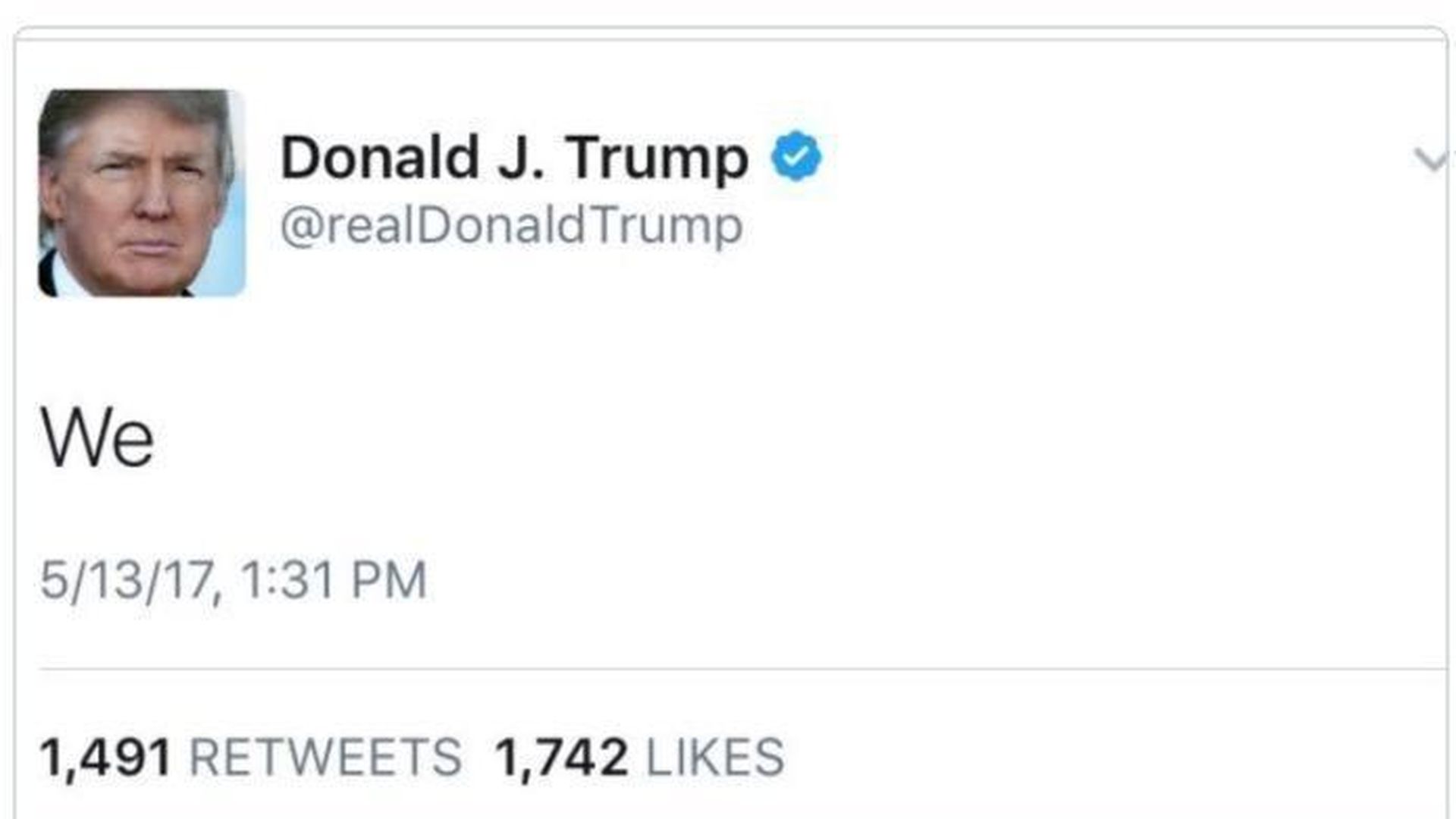 This accidental tweet by Trump yesterday, quickly deleted, gave the Twitters a day of fun filling out the rest of it for him.
One of the best, from author Eric Shaffer: "@realDonaldTrump was about to tweet out some shade and Kellyanne/Reince pulled the phone away just in time. #We."
https://www.axios.com/newsletters/axios-am-14e6aab9-246a-494e-98a4-aa0ba5ede23b.html?chunk=8#story8
9. "Michael" falls from grace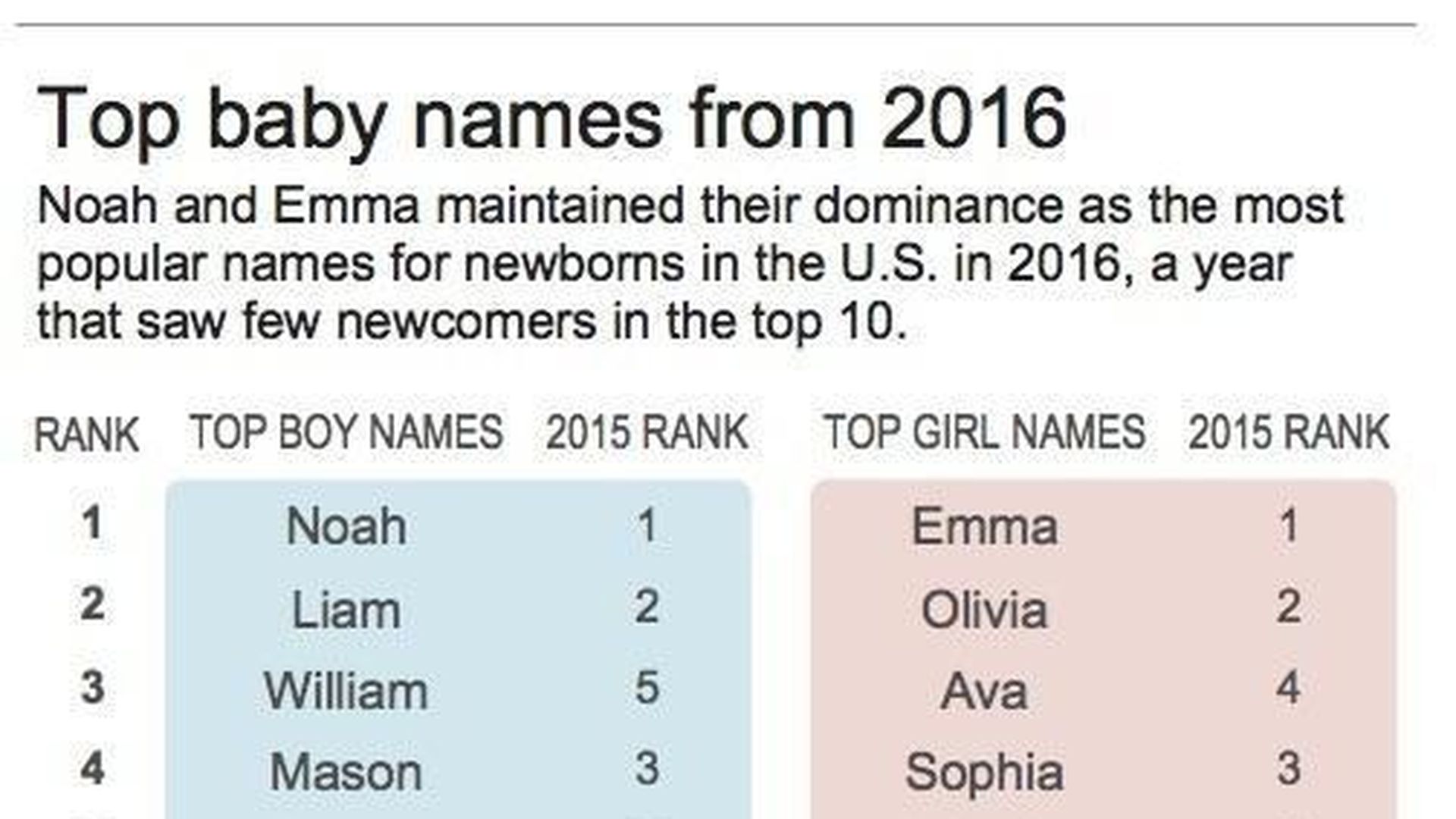 Sorry, Mom! "Parents Don't Want to Name Their Kids Mike Anymore: The number of baby boys named Michael fell last year to the lowest level since 1940," per the Wall Street Journal's Janet Adamy:
"Michael had been one of the most popular male monikers in American history, having held the No. 1 spot on the federal list of top baby names for 43 out of 44 years, the longest boys reign of the 20th century. New federal figures released Friday show Michael losing fashion, with fewer than 14,000 U.S. baby boys getting the name last year, the lowest level on record since 1940."
The Social Security Administration has interactive tools that let you check out the popularity list by year, going back to 1880, or put in a name and see how its popularity has changed over time.
https://www.axios.com/newsletters/axios-am-14e6aab9-246a-494e-98a4-aa0ba5ede23b.html?chunk=9#story9
10. 1 fun thing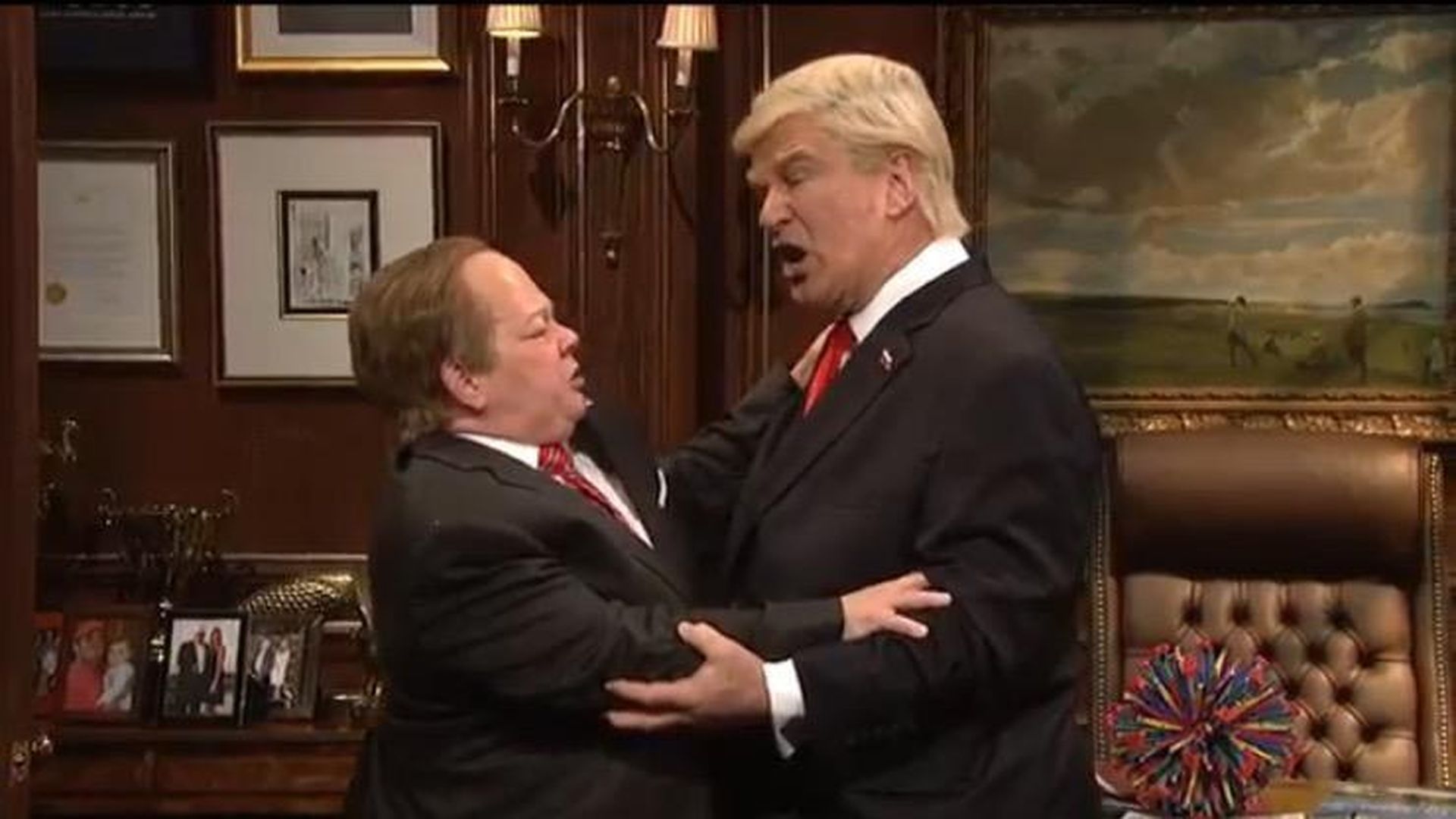 Melissa McCarthy, as "Spicey," travels first to Trump Tower and then to "A Golf Course in New Jersey" in a quest to implore "Mr. Trump" to remain as press secretary: "I can't go back to the Navy. I can't swim!"