☕️🍹 Good Sunday morning.
Breaking: On ABC's "This Week," Florida teen shooting survivors announce a march on Washington to demand "a new normal" on gun laws. Organizers tell co-anchor Martha Raddatz that "March for Our Lives" will be Saturday, March 24, in D.C.
https://www.axios.com/newsletters/axios-am-14c4e59f-560f-4b8e-b1f3-742c254760a0.html?chunk=0#story0
1 big thing: Flummoxed Facebook helped Mueller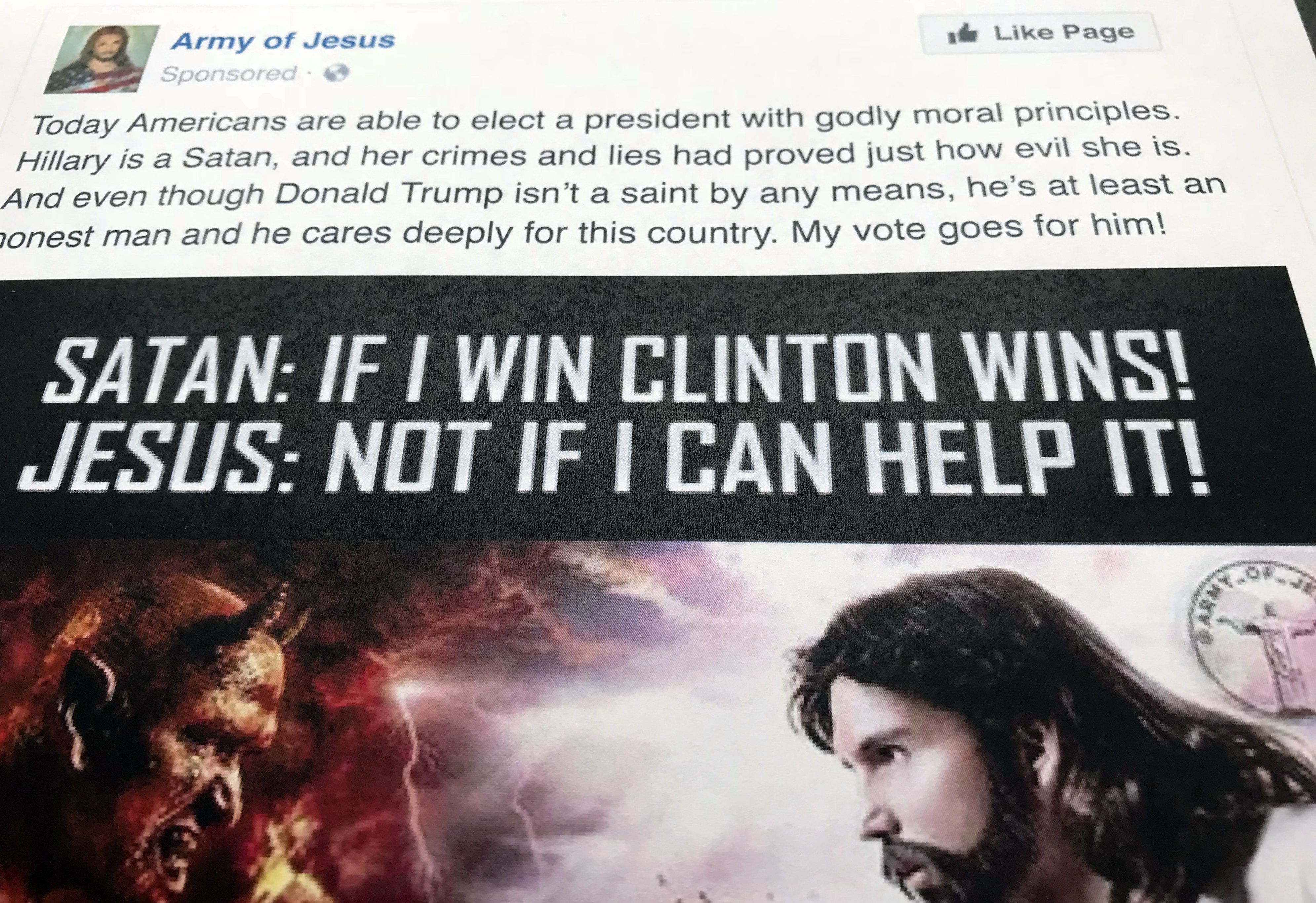 A Facebook ad linked to the Russian effort to disrupt U.S. politics, released by the House Intelligence Committee (AP's Jon Elswick)
Facebook cooperated with special counsel Robert Mueller, quietly supplying Russian-placed material that was cited in Friday's blockbuster indictment.
A Facebook source tells me: "[T]he level of detail in the indictment wouldn't have been possible without the close cooperation of Facebook, particularly the details about the communication between IRA [Russians' Internet Research Agency] pages and unwitting Trump campaign staffers and volunteers about rallies in Florida."
But Mueller's revelations have made Facebook an even bigger target:
Facebook executives privately express frustration about the scrutiny: They know media companies have incentive to whack them.
Facebook has felt unfairly singled out. But now its subsidiary Instagram is being pulled in, too.
A Facebook official told me: "What we can do is work overtime to address the issues with our platform. And we're doing it. You saw it's what Mark's 2018 resolution is — fix what's broken."
What's next: This isn't an ephemeral story.
Facebook has too many forces incentivized to intensify scrutiny: media companies, who feel duped by its takeover of the ad market and readers' time; liberal activists, who blame it for Trump winning; Mueller, who knows it played a role in Trump's election; and politicians, who will respond to the aforementioned trends. 
Hard truth: You are to blame, too. One of the Russians named in Mueller's indictment emailed a family member: "I created all these pictures and posts, and the Americans believed that it was written by their people."
We live in era of blaming others. But the Mueller indictment makes it clear that many 2016 voters didn't pay attention to what they read, shared or reacted to. So they were easy prey. Still are. Nothing has really changed. 
https://www.axios.com/newsletters/axios-am-14c4e59f-560f-4b8e-b1f3-742c254760a0.html?chunk=1#story1
2. Inside Facebook's thinking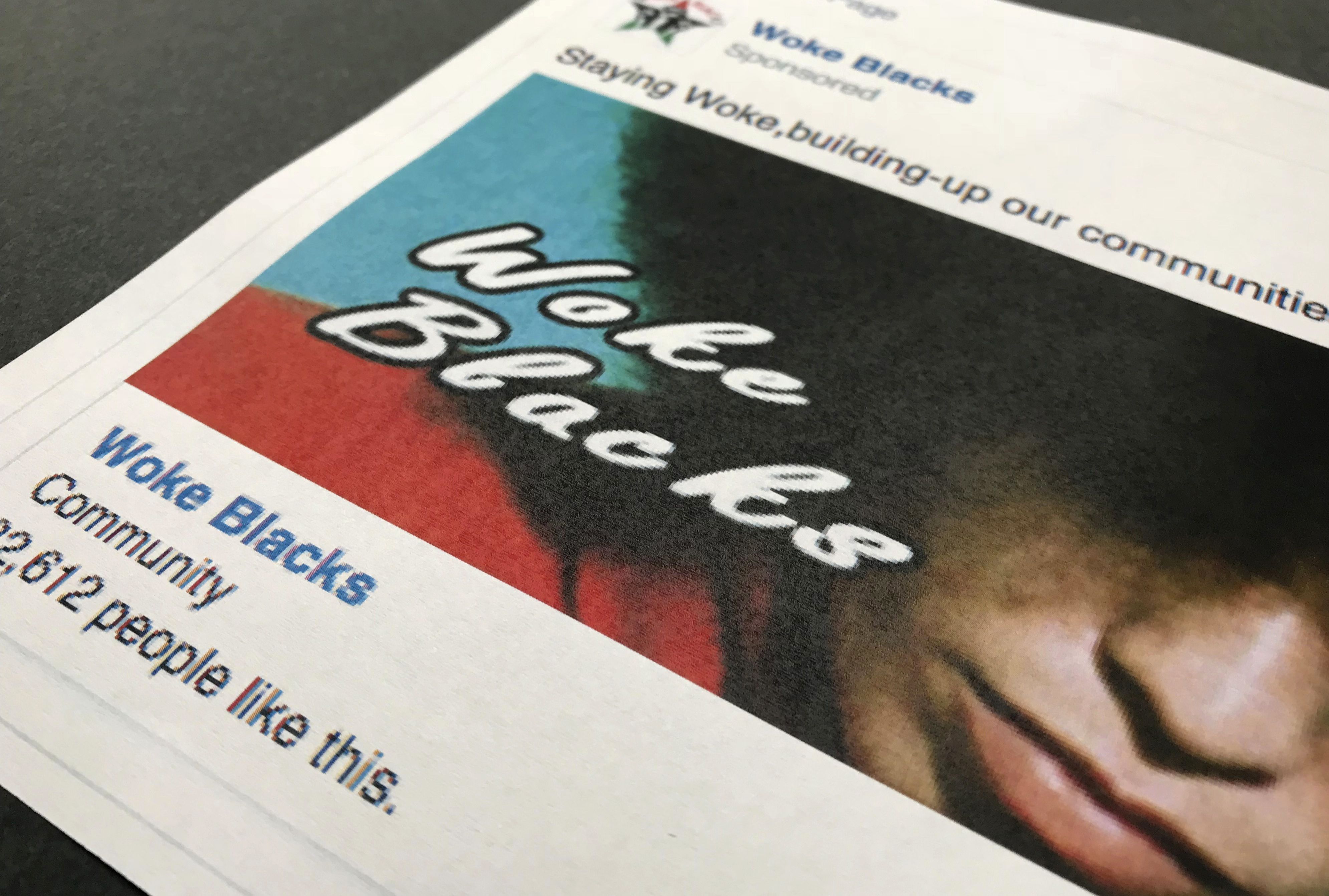 A Facebook post for one of the groups that Russians used to discourage U.S. minority groups from voting in the 2016 presidential election (AP's Jon Elswick)
Facebook has traditionally been a reactive company. But it's trying to become more proactive, Axios media maestro Sara Fischer writes:
It's learning that it needs to focus on communicating its strengths and weaknesses in preparation for a crisis. 
Facebook was the first to respond to Mueller's indictment. It's taken a proactive stance on Russia, specifically, while its competitors have been more silent.
Facebook said for the first time in reaction to Mueller's indictment that it's working with the FBI's task force to get to the bottom of the Russian manipulation saga.
It also reiterated commitments to doubling its security staff.
Facebook recently took proactive messaging positions by admitting that its platform may not be beneficial to consumers' health in some cases.
It also conceded to Wall Street that it may lose money in the short-term by tweaking its algorithm to reduce time spent on its platform to create more "meaningful" engagements, instead of being a time-guzzling machine.
It's not surprising that Russian actors took advantage of Facebook's platform:
Facebook is an easier target. According to Parse.ly, a digital measurement company that monitors platform referrals to news sites, Facebook was much more likely to drive traffic to national news stories as of last year than Google, because its algorithm favored content that was highly-engaging, which is typically emotionally-driven. 
Because of this, Facebook plays a more communal role in the internet ecosystem than Google, and thus would make it easier for Russian bad actors to identify and target groups of people with different viewpoints.
Google has been managing nefarious content on its platform for a while. For years, it's been publishing "Bad Ads" reports that detail the actions it takes on bad actors trying to monetize on its site. It's had practice communicating about the way it deals with bad ads and bad actors.
The bulk of Facebook's revenue comes from display adverting that is centered around content shared by friends, family and brands. The majority of Google's revenue come from search advertising, which is mostly coming from recommendations from businesses.
Bottom line: Most — but not all — top Facebook officials know they have real issues, not just P.R. issues. But after a decade of people drooling over them, change is hard.
https://www.axios.com/newsletters/axios-am-14c4e59f-560f-4b8e-b1f3-742c254760a0.html?chunk=2#story2
3. Ads were expressly pro-Trump, anti-Clinton
From Mueller's indictment, here are examples of Russians' political "advertisements on U.S. social media and other online sites expressly advocating for the election of then-candidate Trump or expressly opposing Clinton":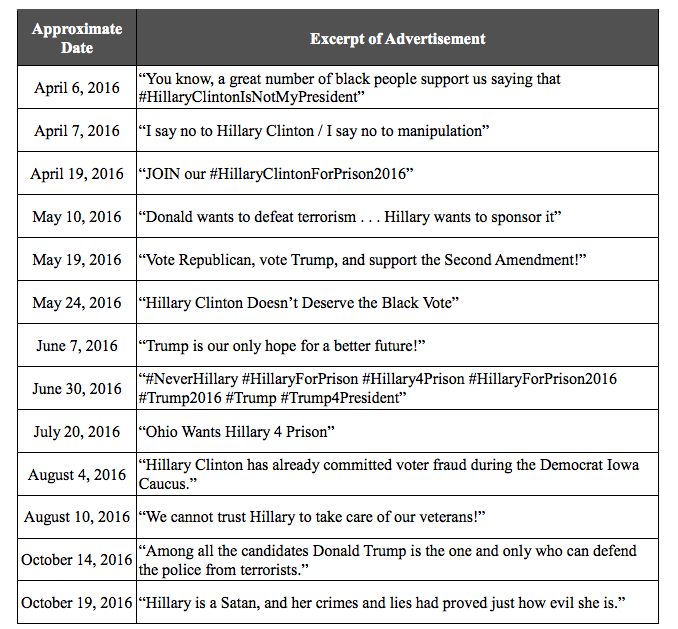 Justice Department Special Counsel's Office
https://www.axios.com/newsletters/axios-am-14c4e59f-560f-4b8e-b1f3-742c254760a0.html?chunk=3#story3
🥇 Bonus: Pics du jour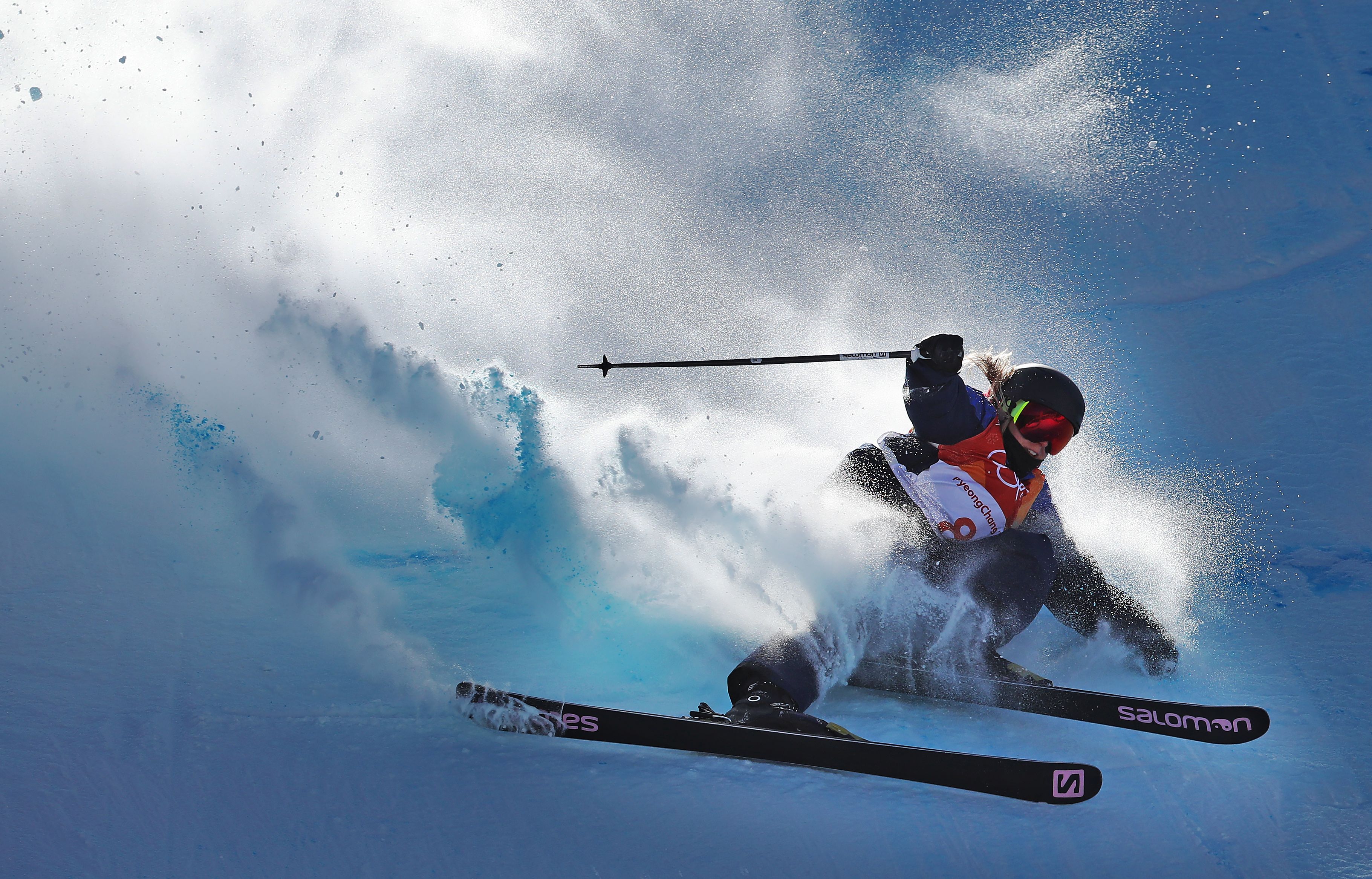 Katie Summerhayes of Great Britain crashes during freestyle skiing at the Winter Olympics, at Phoenix Snow Park in Pyeongchang-gun, South Korea. (Ian MacNicol / Getty Images)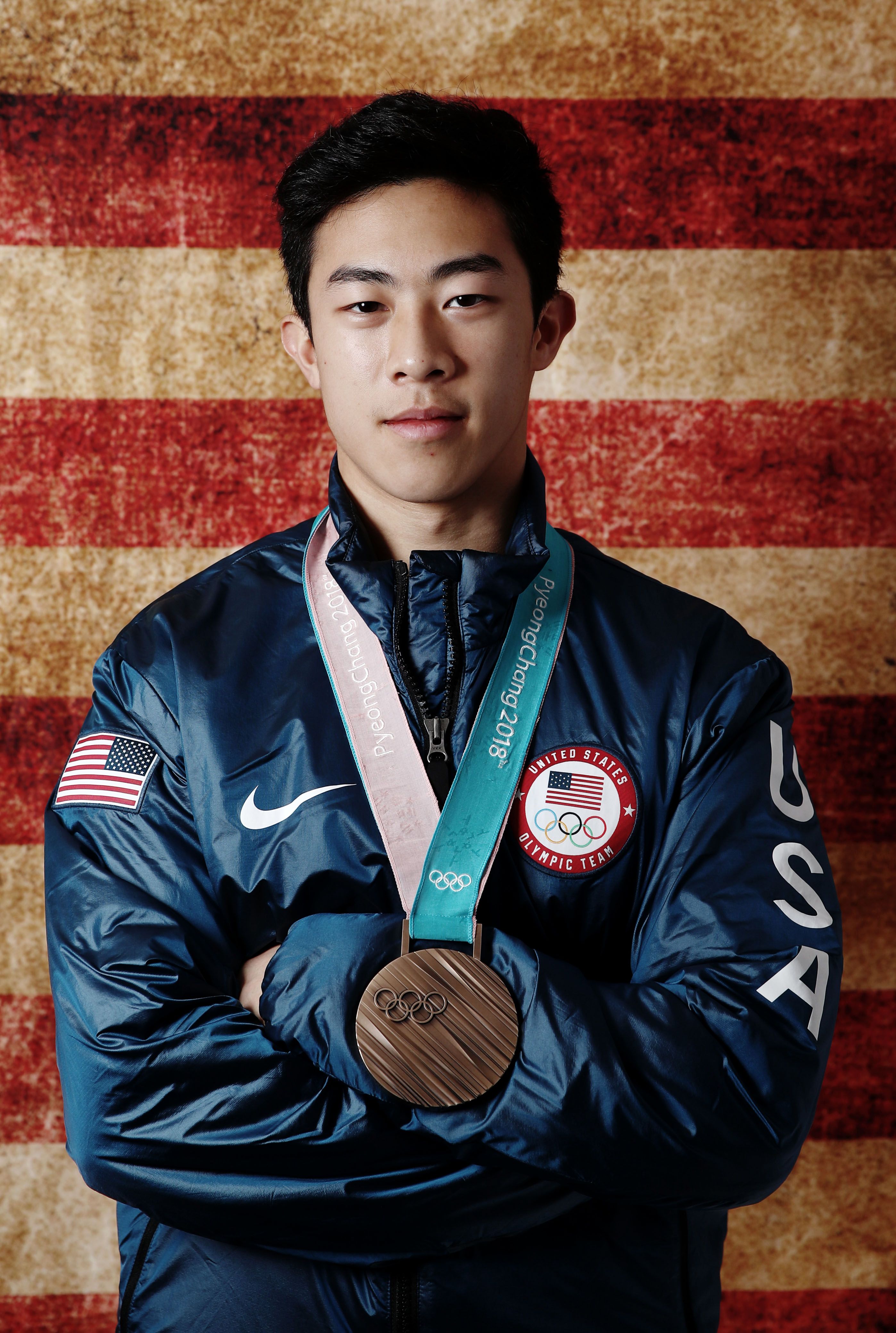 USA figure skater Nathan Chen poses with his bronze medal (team event) on NBC's "Today" show set in South Korea. (Marianna Massey / Getty Images)
https://www.axios.com/newsletters/axios-am-14c4e59f-560f-4b8e-b1f3-742c254760a0.html?chunk=4#story4
4. Parkland shooting: "a multi-system failure"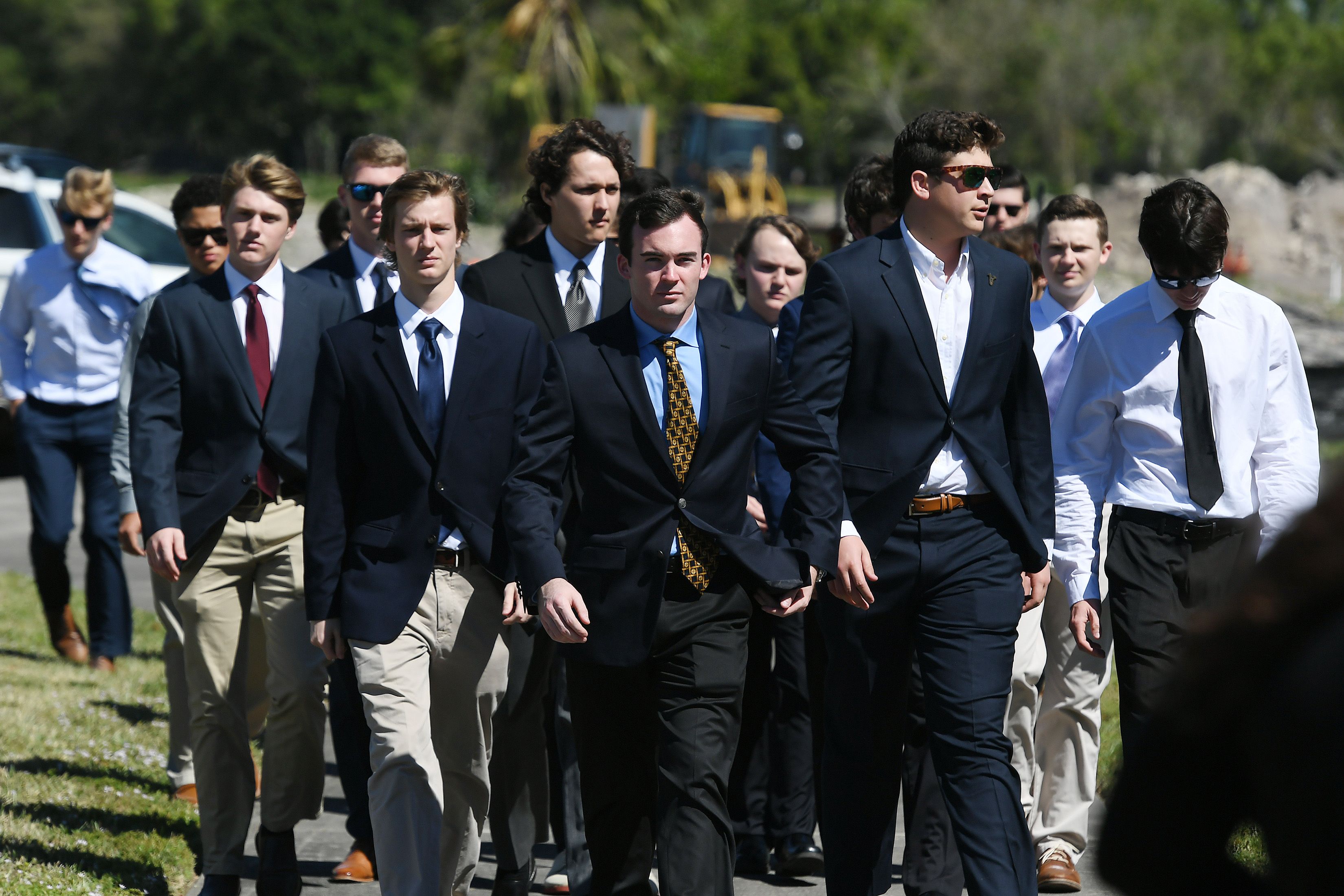 People arrive at Congregation Kol Tikvah in Parkland, Fla., on Friday for the funeral of Meadow Pollack, 18, a senior at Marjory Stoneman Douglas High School. (Matt McClain / The Washington Post via Getty Images)
N.Y. Times Quote of the Day ... Howard Finkelstein, the Broward County public defender, whose office is representing Nikolas Cruz, the suspect in the mass shooting in Parkland, Fla.:
"This kid exhibited every single known red flag, from killing animals to having a cache of weapons to disruptive behavior to saying he wanted to be a school shooter. If this isn't a person who should have gotten someone's attention, I don't know who is. This was a multi-system failure."
Trump tweets (as predicted in AM yesterday): "Very sad that the FBI missed all of the many signals sent out by the Florida school shooter. This is not acceptable. They are spending too much time trying to prove Russian collusion with the Trump campaign - there is no collusion. Get back to the basics and make us all proud!"
Pain turns political in Parkland shooting ... "Pressure is growing for tougher gun-control laws after a mass shooting at a Florida high school, with thousands of angry protesters at state rallies demanding immediate action from lawmakers, and more demonstrations planned across the country in the weeks ahead." (AP)
https://www.axios.com/newsletters/axios-am-14c4e59f-560f-4b8e-b1f3-742c254760a0.html?chunk=5#story5
5. On the first Sunday of Lent ...
... and the day after his national security adviser said evidence of Russian election meddling "is now really incontrovertible," President Trump tweeted:
"Never gotten over the fact that Obama was able to send $1.7 Billion Dollars in CASH to Iran and nobody in Congress, the FBI or Justice called for an investigation!"
"Finally, Liddle' Adam Schiff, the leakin' monster of no control, is now blaming the Obama Administration for Russian meddling in the 2016 Election. He is finally right about something. Obama was President, knew of the threat, and did nothing. Thank you Adam!"
"I never said Russia did not meddle in the election, I said "it may be Russia, or China or another country or group, or it may be a 400 pound genius sitting in bed and playing with his computer." The Russian "hoax" was that the Trump campaign colluded with Russia - it never did!"
"Now that Adam Schiff is starting to blame President Obama for Russian meddling in the election, he is probably doing so as yet another excuse that the Democrats, lead by their fearless leader, Crooked Hillary Clinton, lost the 2016 election. But wasn't I a great candidate?"
"If it was the GOAL of Russia to create discord, disruption and chaos within the U.S. then, with all of the Committee Hearings, Investigations and Party hatred, they have succeeded beyond their wildest dreams. They are laughing their asses off in Moscow. Get smart America!"
"The Fake News of big ratings loser CNN."
P.S. At 11:22 last night, re his national security adviser, Trump tweeted:
"General McMaster forgot to say that the results of the 2016 election were not impacted or changed by the Russians and that the only Collusion was between Russia and Crooked H, the DNC and the Dems. Remember the Dirty Dossier, Uranium, Speeches, Emails and the Podesta Company!"
https://www.axios.com/newsletters/axios-am-14c4e59f-560f-4b8e-b1f3-742c254760a0.html?chunk=6#story6
6. Romney would take on outsized role in Senate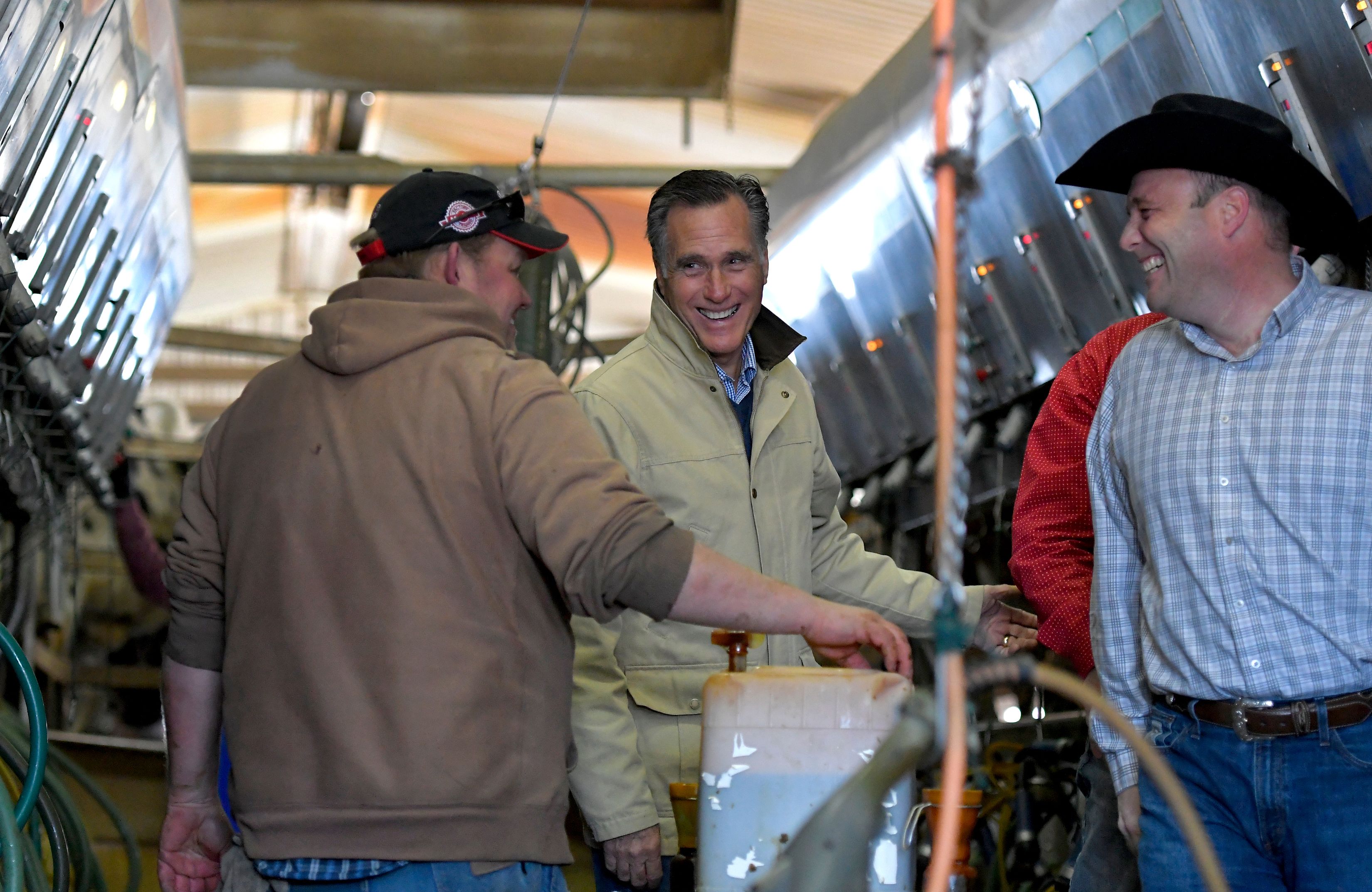 Senate candidate Mitt Romney tours Gibson's Green Acres Dairy in Ogden, Utah, on Friday. (Photo by Gene Sweeney Jr. / Getty Images)
"Mitt Romney's extensive resume has many Republicans looking to him to take on a role in the Senate as a political and moral counterweight to a president many in the GOP see as divisive and undignified," AP's Matthew Daly writes:
"The 2012 GOP nominee for president announced Friday he is running for the Utah Senate seat being vacated by GOP Sen. Orrin Hatch."
"Romney, 70, [has been] one of his party's fiercest critics of President Donald Trump."
Trump said in 2016 that Romney "choked like a dog."
Why it matters: "If he does go after Trump, Romney will find himself among a dwindling breed in Congress."
https://www.axios.com/newsletters/axios-am-14c4e59f-560f-4b8e-b1f3-742c254760a0.html?chunk=7#story7
7. A story Trump will like
Boston Globe lead story, "Trump base solidifies, Democrats begin to fret: He's never a bombshell away from free fall, but president's numbers are looking up," by Astead Herndon:
"The Republican Party has undergone an improbable transformation amid the swirl of scandals and controversy engulfing its leader in the White House. While it certainly cannot be called love, the forced marriage of Donald Trump and the GOP has begun its second year in a state of positive equilibrium."
"[I]t's as if someone hit a mute button in Congress. Trump's Republican critics have gone relatively quiet, including ... Lindsey 'Publicity seeking' Graham." "Senate Majority Leader Mitch McConnell, also a regular Trump combatant, is riding high after legislative victories on tax cut legislation and the newly passed spending bill — both passed with Trump's blessing and help."
https://www.axios.com/newsletters/axios-am-14c4e59f-560f-4b8e-b1f3-742c254760a0.html?chunk=8#story8
8. Biden 2020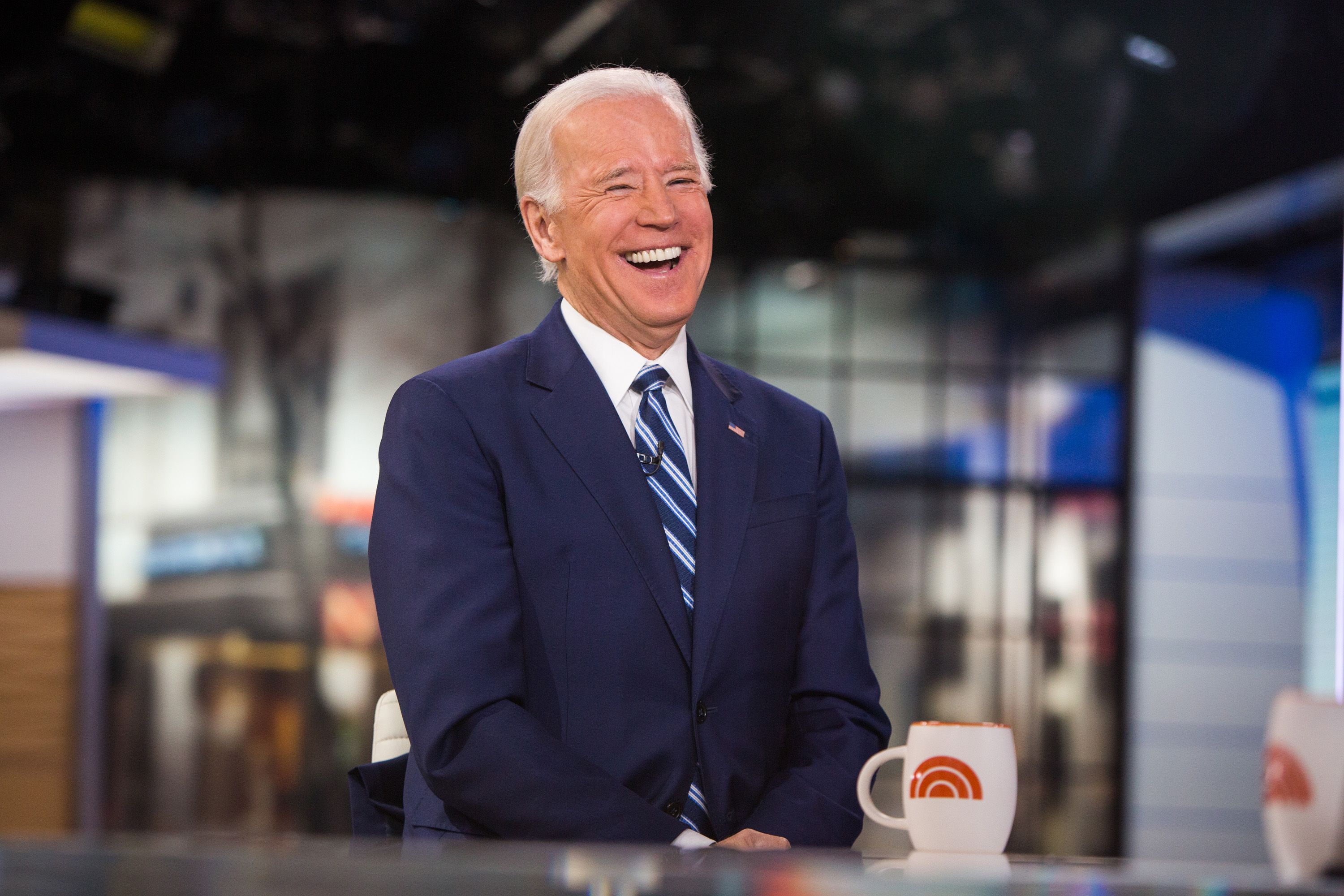 Joe Biden on the "Today" show on Nov. 13 (Nathan Congleton / NBC via Getty Images)
"Former Vice President Joe Biden is tiptoeing toward a potential presidential run in 2020, even broaching the possibility during a recent gathering of longtime foreign policy aides," AP's Josh Lederman reports:
"Huddled in his newly opened office steps from the U.S. Capitol, Biden began a planning meeting for his new diplomacy center by ... [saying] he was keeping his 2020 options open, considering it a real possibility."
https://www.axios.com/newsletters/axios-am-14c4e59f-560f-4b8e-b1f3-742c254760a0.html?chunk=9#story9
9. Pod life: Dan Pfeiffer on his upcoming book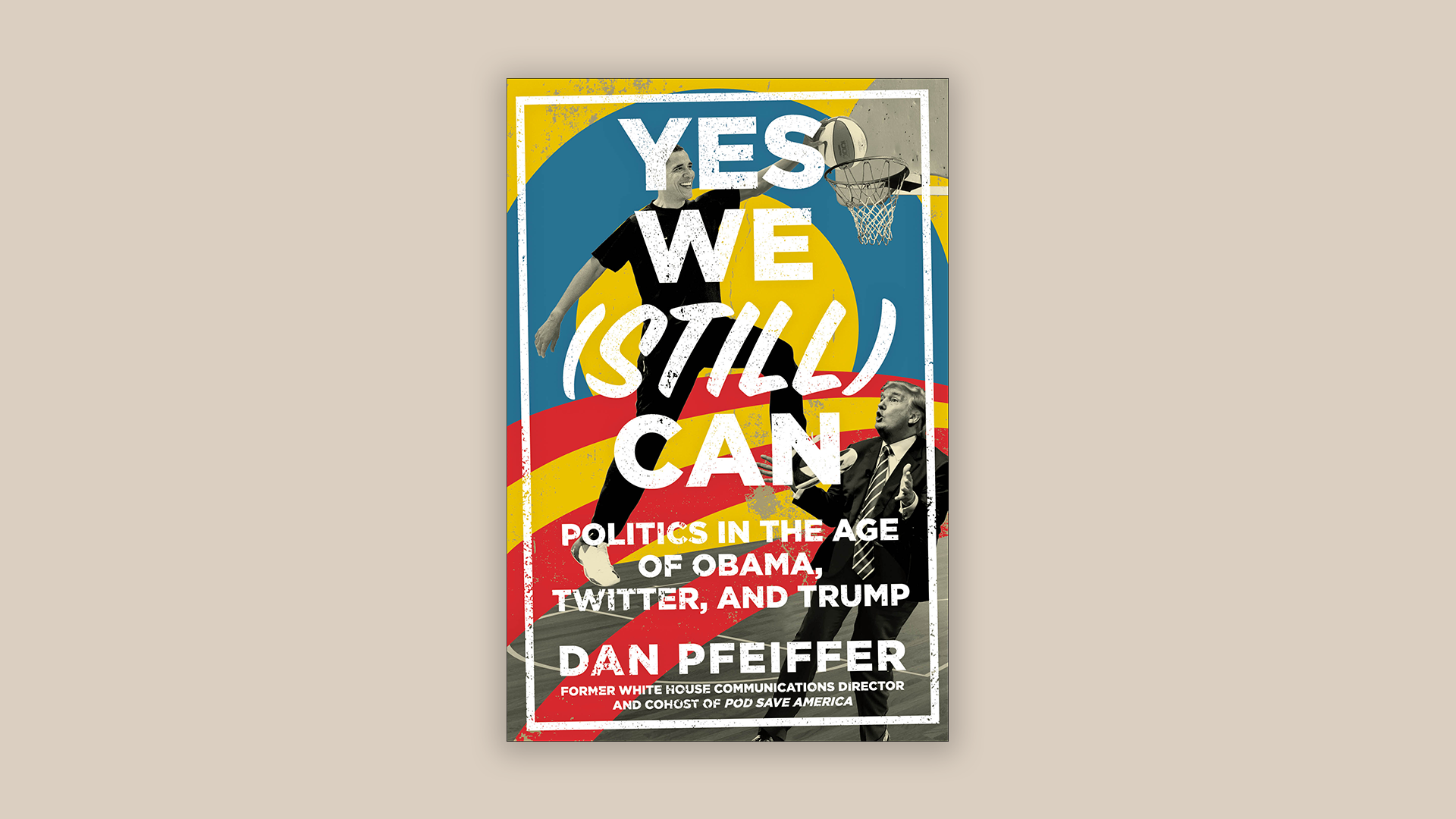 Dan Pfeiffer — who served President Obama for eight years, from campaign to senior adviser, and now is a Crooked Media (Pod Save America) host and CNN contributor, living mostly in San Francisco — emailed with us about his book, "Yes We (Still) Can," coming June 19 from the prestige publisher Twelve:
"The conceit for the book is a Pod Save America-esque look at how Obama navigated the changes in our politics that eventually gave rise to Trump —including the radicalization of Republicans, changes in technology and media, Fox News and the right-wing media ecosystem."
The aim is to "divine some lessons for Democrats for the battles to come in 2018 and 2020."
"Started working on the idea for book the morning after the election while I was trying to process the result."
"The best part of the Pod Save America experience has been meeting people who are getting involved in politics for the first time, so if nothing else, I hope that some young people read the book and realize that despite how dark things may seem right now, politics is still the best way to make an impact in the world and decide to get jump into the fray."
The Pod guys have gone on the road to California, Washington State, Ohio, Michigan, Wisconsin, Pennsylvania, Virginia, D.C., Illinois, Nevada, Colorado and Arizona, and are headed to Texas in March and Florida in April.
Pfeiffer says founders Jon Favreau, Jon Lovett and Tommy Vietor "are the brains behind Crooked Media and deserve the credit for the company's success. I spend my time on Pod Save America, this book, CNN and some side projects."
"I am donating a portion of the proceeds from every book sold in the pre-sale period to SwingLeft, which embodies the grassroots enthusiasm of the Left in the Trump era and has been a great partner to Crooked Media on a number of endeavors."
https://www.axios.com/newsletters/axios-am-14c4e59f-560f-4b8e-b1f3-742c254760a0.html?chunk=10#story10
10. 1 film thing: A defining Hollywood moment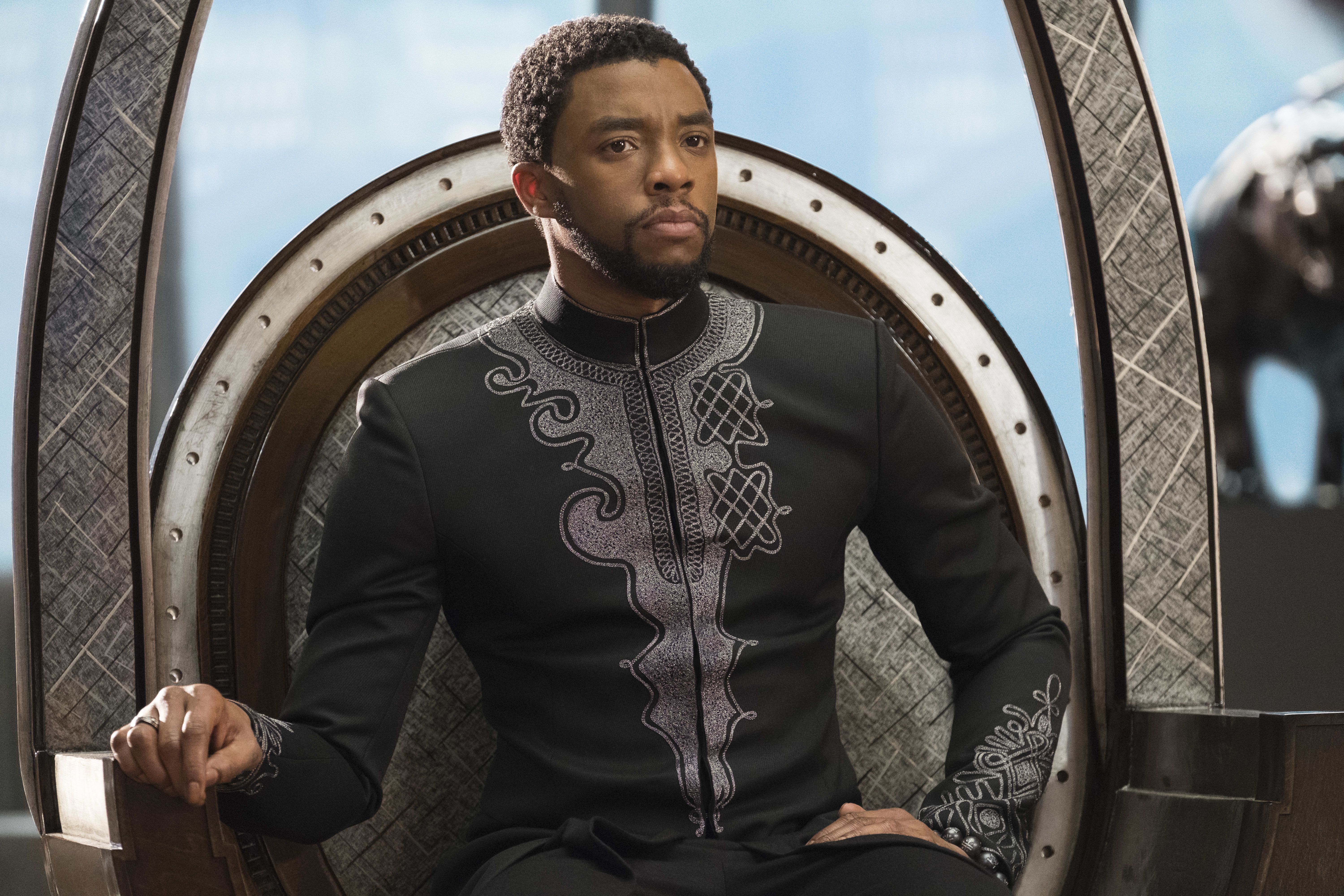 Chadwick Boseman in "Black Panther" (Matt Kennedy for Marvel Studios / Disney, via AP)
"Disney and Marvel Studios' Black Panther is making history at the North American box office, where it's pacing to take in a record-shattering $205 million-$210 million over the long Presidents Day weekend after earning a rare A+ CinemaScore from audiences," per the Hollywood Reporter:
The film "earned $75.8 million on Friday, the eighth-biggest day of all time. Friday's gross includes $25.2 million in Thursday evening previews."
Why it matters: "Playing in 4,020 theaters, Black Panther drew a diverse audience on Friday; 37 percent of ticket buyers were African-American, while Caucasians made up the next largest group (36 percent), according to comScore."
"That sort of demo breakdown is unheard of for a marquee superhero tentpole. On average, African-Americans make up about 15 percent of the audience for such fare."
"Black Panther will easily score the top February opening of all time and possibly the best showing of any superhero pic ahead of fellow Marvel title The Avengers ($207.4 million), not accounting for inflation."
"The movie's projected three-day haul of $185 million will also rank high up on the list of all-time openings. It will also mark the biggest opening ever for an African-American director."
"Directed by Ryan Coogler, the $200 million film is a defining moment in Hollywood history, being a big-budget studio tentpole featuring a virtually all-black cast."
The gist: "'Black Panther' is the story of T'Challa, played by actor Chadwick Boseman, who returns home to Wakanda, an isolated, technologically advanced African nation, after his father, the king of Wakanda, dies and T'Challa must take his place as ruler." (L.A. Times)
The language: "[T]he filmmakers have used isiXhosa, one of South Africa's 11 official languages, to solidify the story's African authenticity. ... isiXhosa ... is a language that more than eight million South Africans — about 15 percent of the population — claim as their mother tongue." (N.Y. Times)
P.S. "Trolls target 'Black Panther': Tweets claim false attacks by black people at theaters" — L.A. Times:
"In the tweets, the posters frequently blame 'black youth' for the attacks, using images taken from various unrelated sources of bleeding and battered faces or images of blood in sinks and on towels."
"Public information officers for police departments in New York, Los Angeles, Chicago and Houston contacted by The Times said they had received no reports that would match the assault claims appearing online."
"Some of the accounts spreading the false reports have ... been suspended."