Axios AM
April 16, 2023
😎 Happy Sunday! Erica Pandey — @erica_pandey — is your steward.
Smart Brevity™ count: 1,291 words ... 5 mins. Edited by Donica Phifer.
🐊 1 big thing — Scoop: DeSantis super PAC launches TV blitz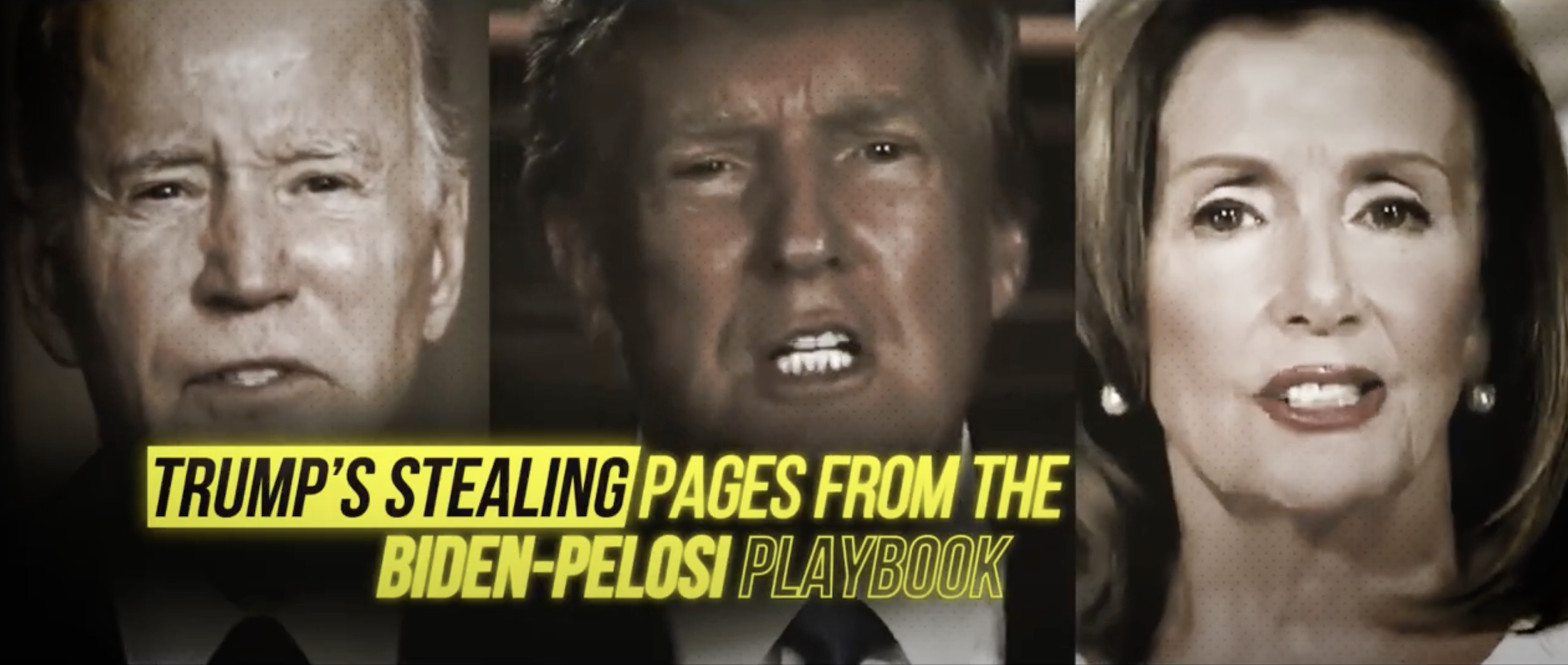 The super PAC backing Florida Gov. Ron DeSantis today debuts its first TV ad, charging straight at former President Trump with the loaded question: "What happened to Donald Trump?"
Why it matters: The ad is the starting shot for a vicious fight between the top two contenders for the 2024 Republican nomination, even though DeSantis hasn't formally entered the race, Axios' Mike Allen writes.
The pro-Trump super PAC has been blasting DeSantis on the air for two weeks. Now, both sides are officially engaged.
"Trump cut and run like a coward," Never Back Down said this weekend in an online-only blast targeted at attendees of this weekend's National Rifle Association convention in Indianapolis.
In the TV ad, the pro-DeSantis group says: "Donald Trump is being attacked by a Democrat prosecutor in New York. So why is he spending millions attacking the Republican governor of Florida? Trump's stealing pages from the Biden-Pelosi playbook, repeating lies about Social Security."
"Trump should fight Democrats, not lie about Governor DeSantis," the ad says. "What happened to Donald Trump?"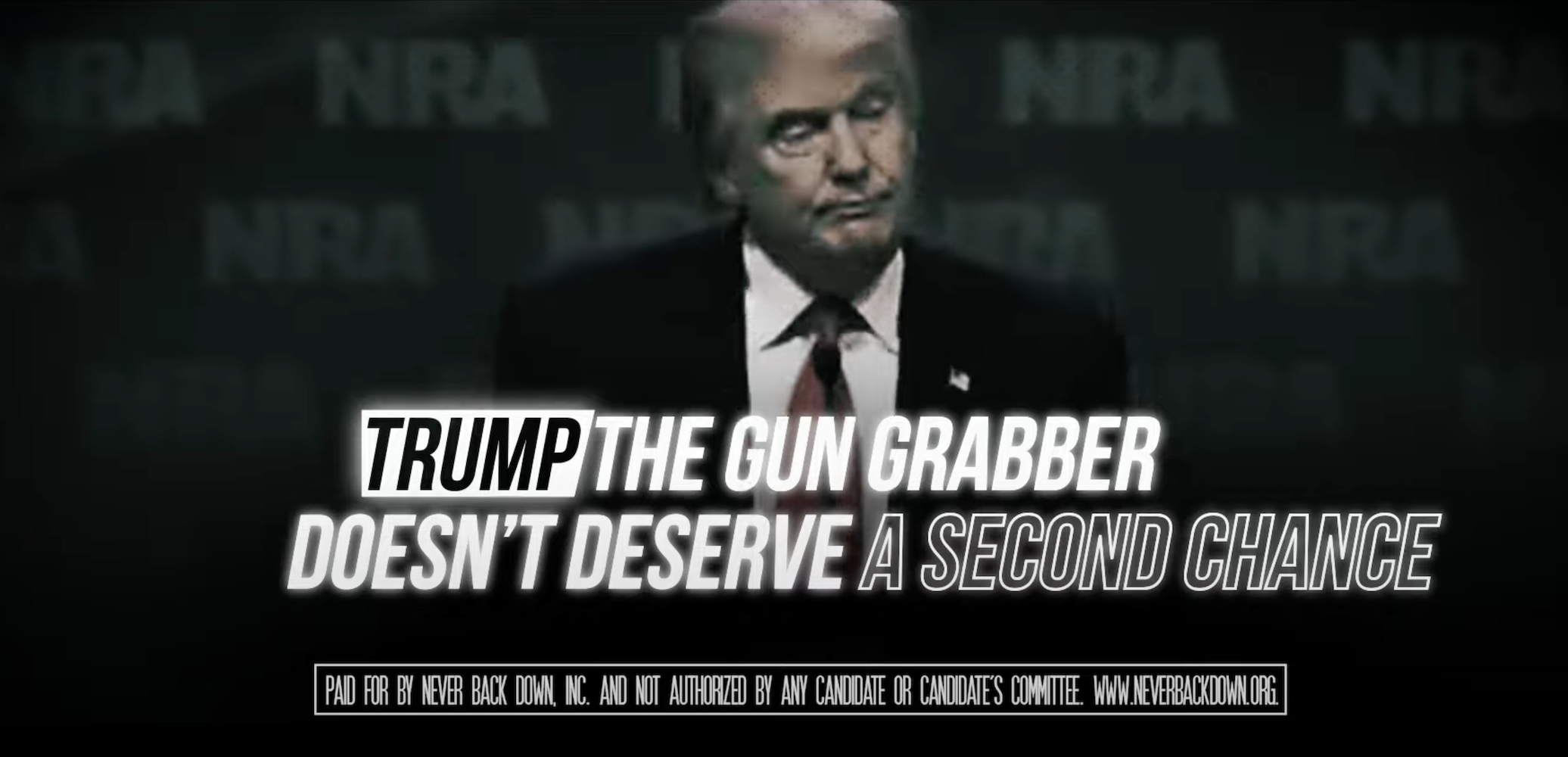 Never Back Down got publicity this weekend with a small online buy for "Gun-Grabbing Trump," which was geotargeted to Indianapolis for the NRA convention.
The ad juxtaposes Trump's comments about the Second Amendment with clips of Democrats: "TRUMP AGREED WITH NANCY PELOSI," etc.
Trump's super PAC retweeted a clip of House Judiciary Chairman Jim Jordan (R-Ohio) telling the NRA convention about Trump's White House accomplishments.
🔮 What's next: The anti-Trump TV ad will air once for now, on Fox's Sunday show. Tomorrow, Never Back Down will put seven figures behind its first full national TV buy, "Anthem."
2. Trump group strafes DeSantis on seniors, pudding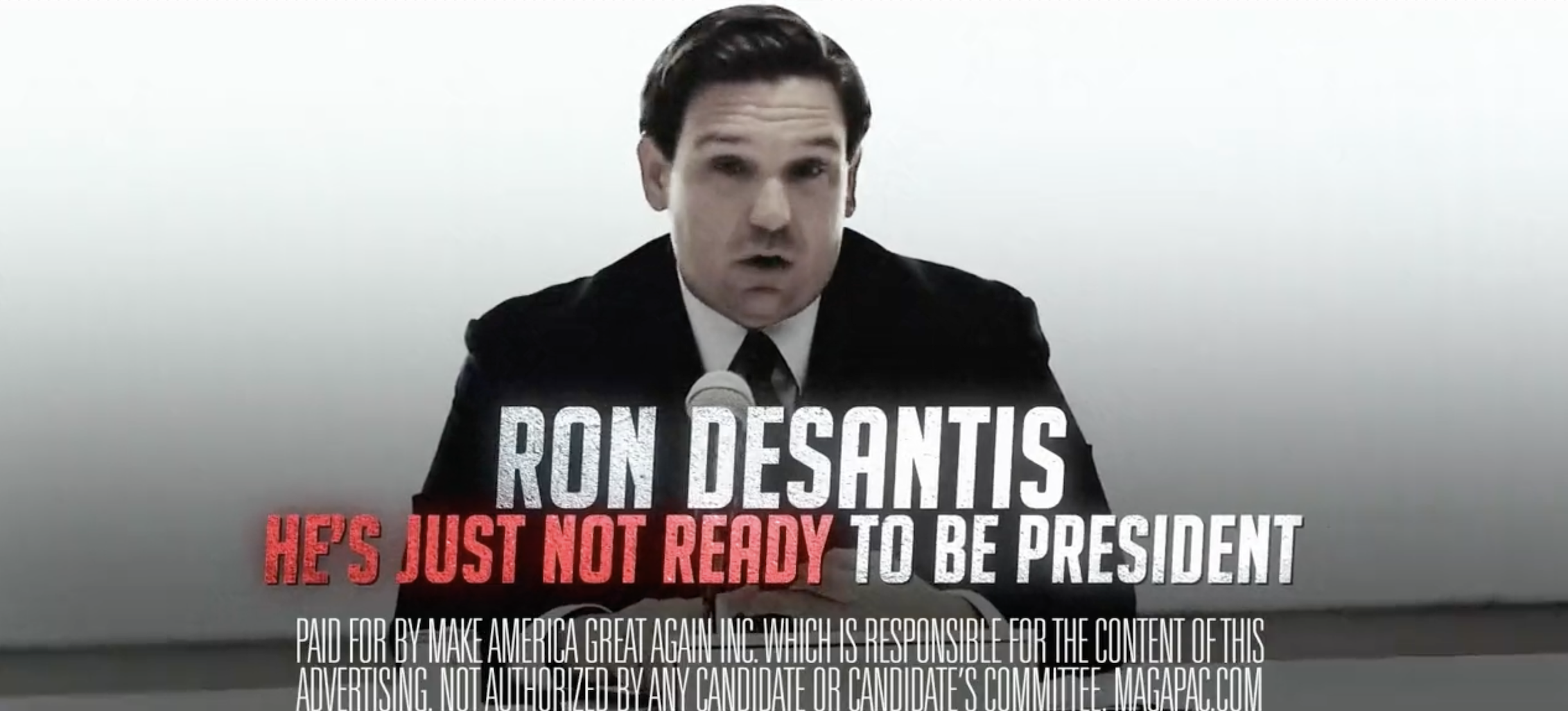 From the pro-Trump side, the first ad by the Make America Great Again super PAC flayed DeSantis on Social Security, a big issue for both the primary and the general election. The ad ties DeSantis to Republicans who've suggested cuts to Social Security and Medicare, Axios' Mike Allen writes.
The ad began running March 31, with $3 million in airtime during the first two weeks.
Trump allies think the Social Security issue undercuts the argument that DeSantis is more electable than the former president, who has vowed to protect the safety-net programs.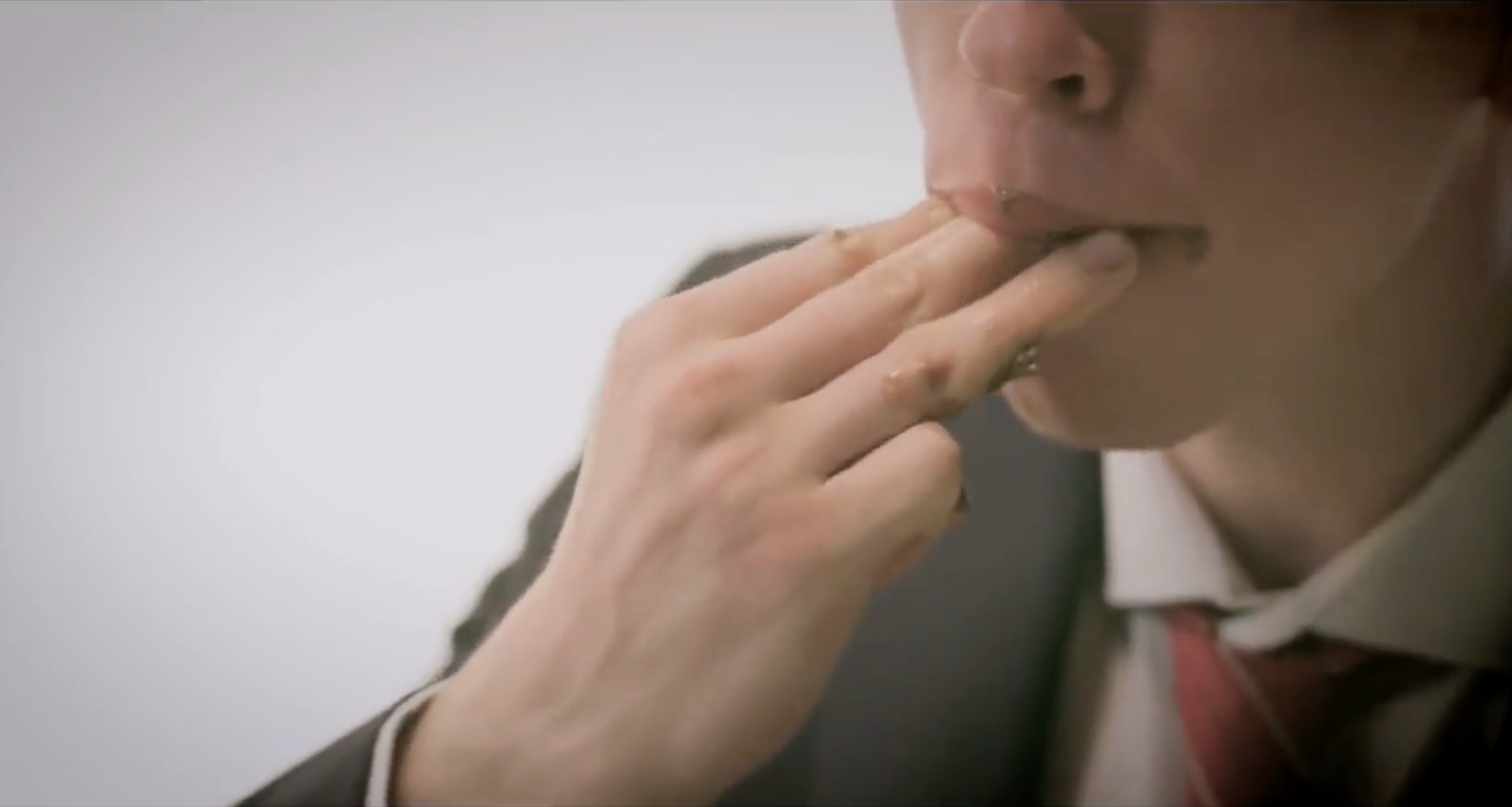 "Pudding Fingers" — a second ad by MAGA PAC that aired on Fox News, CNN, Newsmax and other cable outlets — needles DeSantis for a Daily Beast report last month that during a private plane trip in 2019, "DeSantis enjoyed a chocolate pudding dessert — by eating it with three of his fingers."
The ad says DeSantis "has his dirty fingers all over senior entitlements": "Oh, and somebody get this man a spoon!"
DeSantis told Piers Morgan with a laugh: "I don't remember ever doing that. I'm telling you — maybe when I was a kid."
Context: Trump holds a huge polling lead in the 2024 GOP presidential race. He got a massive fundraising bump after he was indicted in New York as many top conservatives rallied to him.
Trump's campaign said this weekend he has raised more than $34 million this year. His total since his indictment on March 30 — $15.4 million — approached what he took in over the previous three months ($18.8 million in the first quarter), AP reports.
3. 🦊 Fox in the dock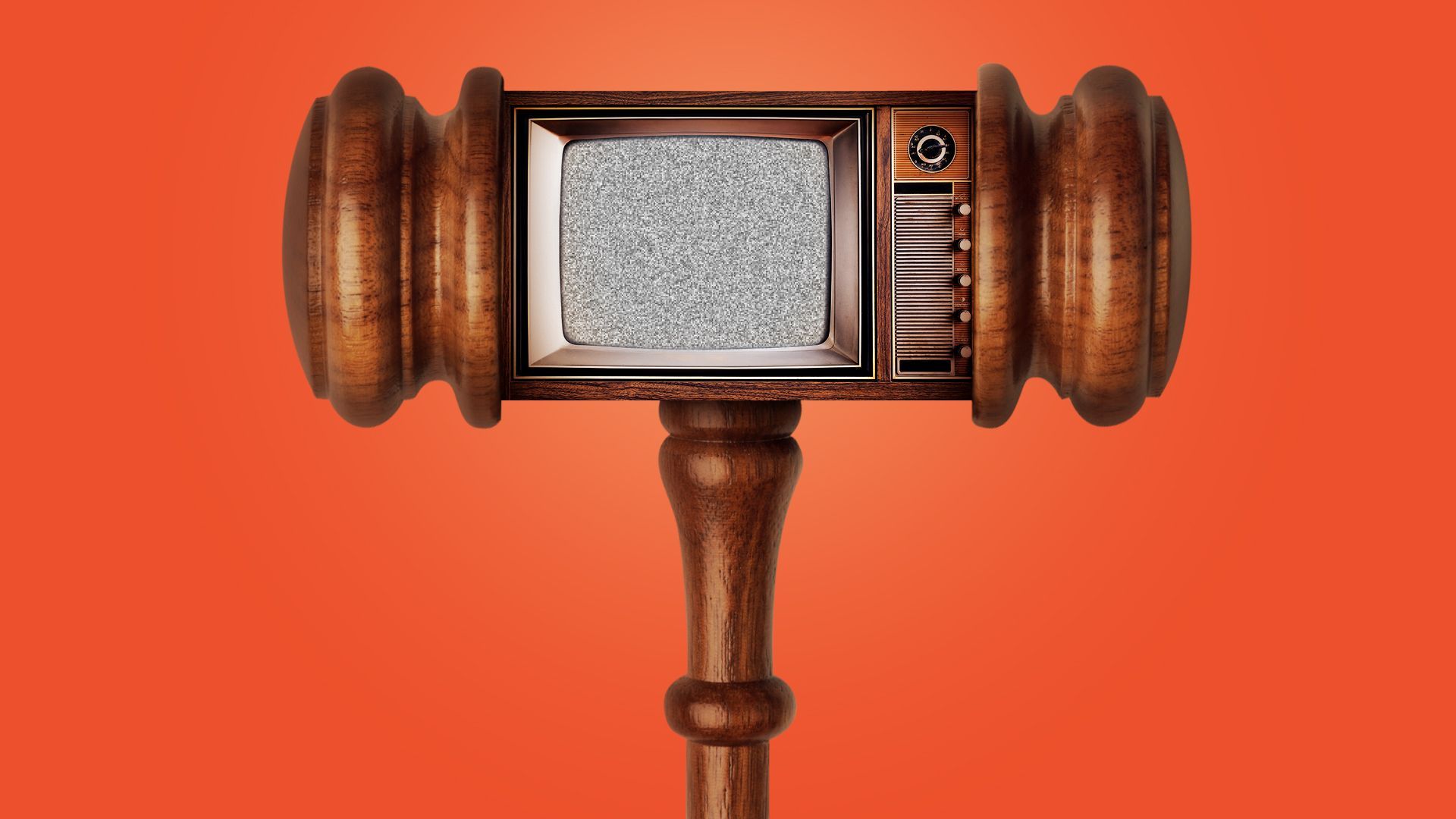 The Fox News trial opening tomorrow could set an important First Amendment precedent — and shape political coverage by one of America's most powerful media outlets, Axios' Dan Primack and Sara Fischer write.
Tomorrow's opening before a jury in a Delaware courtroom comes more than two years after Dominion Voting Systems filed a $1.6 billion defamation suit, accusing the network of knowingly airing disinformation about election fraud in the 2020 presidential contest.
Why it matters: Successfully suing for defamation in the U.S. is intentionally difficult. But legal experts believe Dominion has an especially strong case.
Dominion must prove not only that Fox News made false statements, which the judge already found — but also must demonstrate malice, and that those false statements caused harm.
If Dominion wins: There could be Fox shakeups, as shareholders are unlikely to sit by quietly if a jury awards Dominion what it seeks or more.
If Fox wins: It would reaffirm America's very high bar for media defamation.
4. 📸 Pic du jour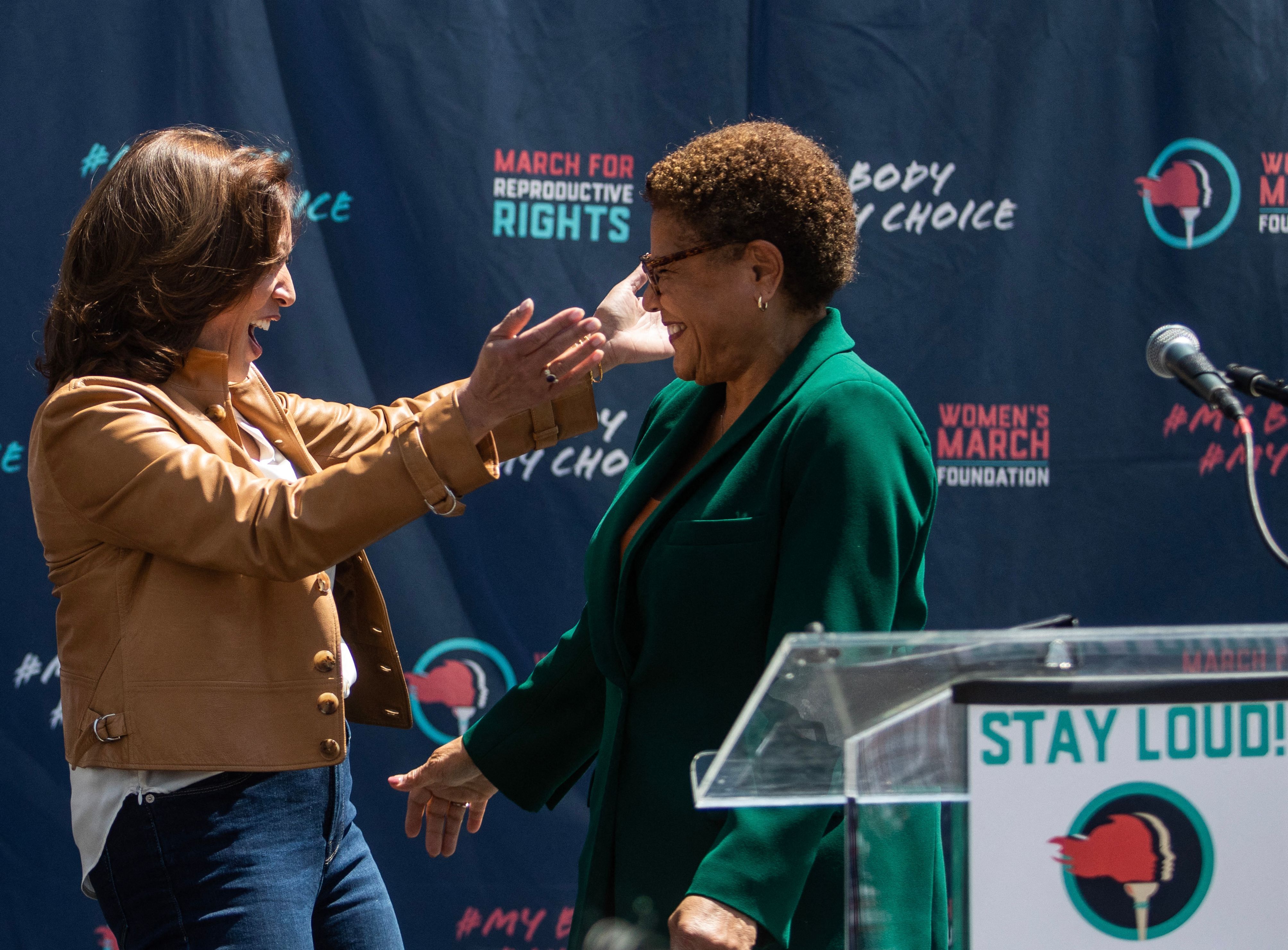 Vice President Kamala Harris greets Los Angeles Mayor Karen Bass at an abortion rights march in L.A. yesterday.
The march concluded outside L.A.'s city hall, where Harris addressed the crowd.
"This is a moment that history will show required each of us, based on our collective love of our country, to stand up for and fight for to protect our ideals," she said.
5. 🇸🇩 Battle for Sudan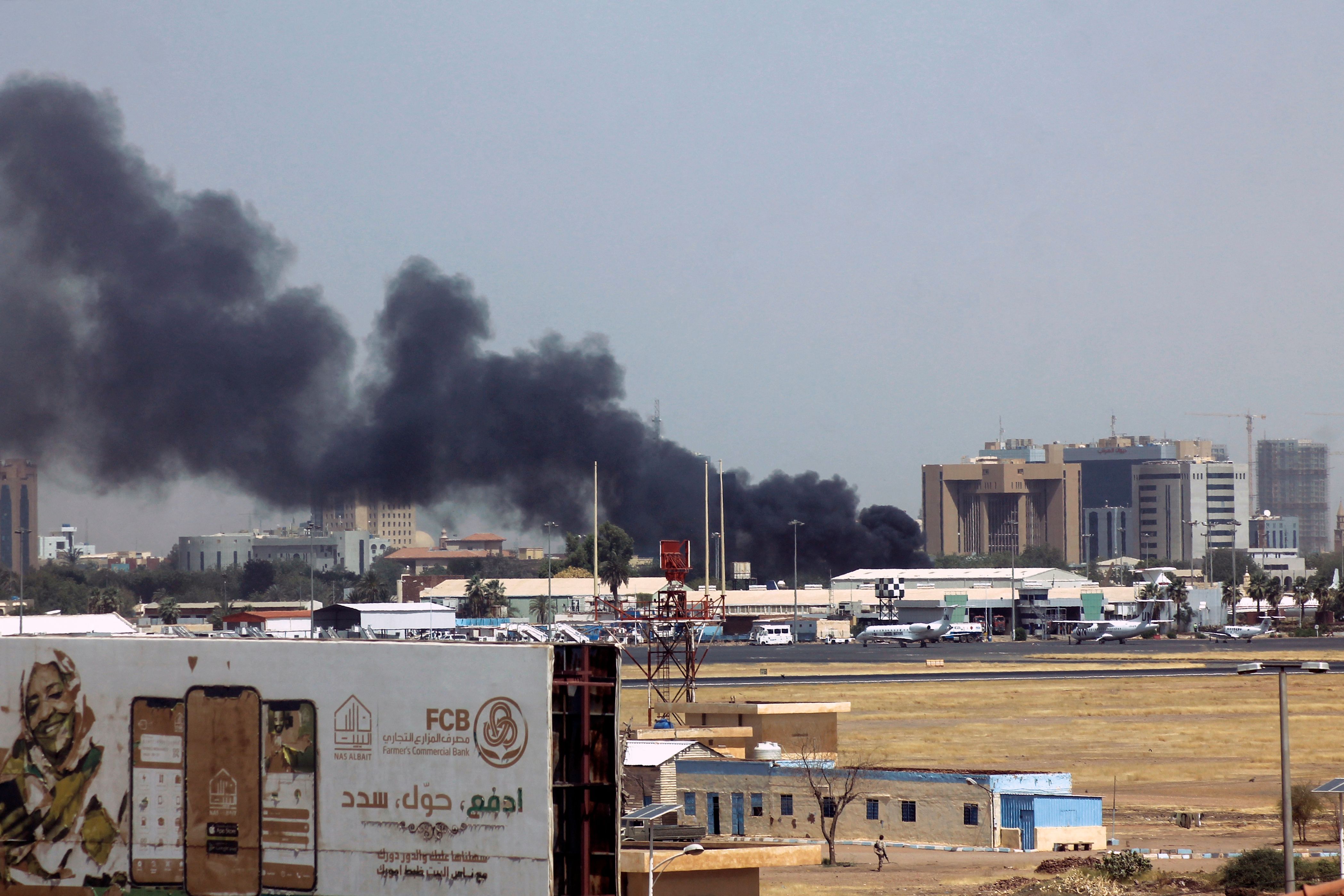 Explosions rocked Khartoum, Sudan's capital, yesterday as deadly fighting erupted between the Sudanese military and a powerful rival militia.
The two sides are fighting for control of the country. Civilian deaths have climbed to at least 69, The Washington Post reports.
The big picture: "The eruption of violence dashed hopes that military leaders would cede power to a democratic government led by civilians," The New York Times reports (subscription).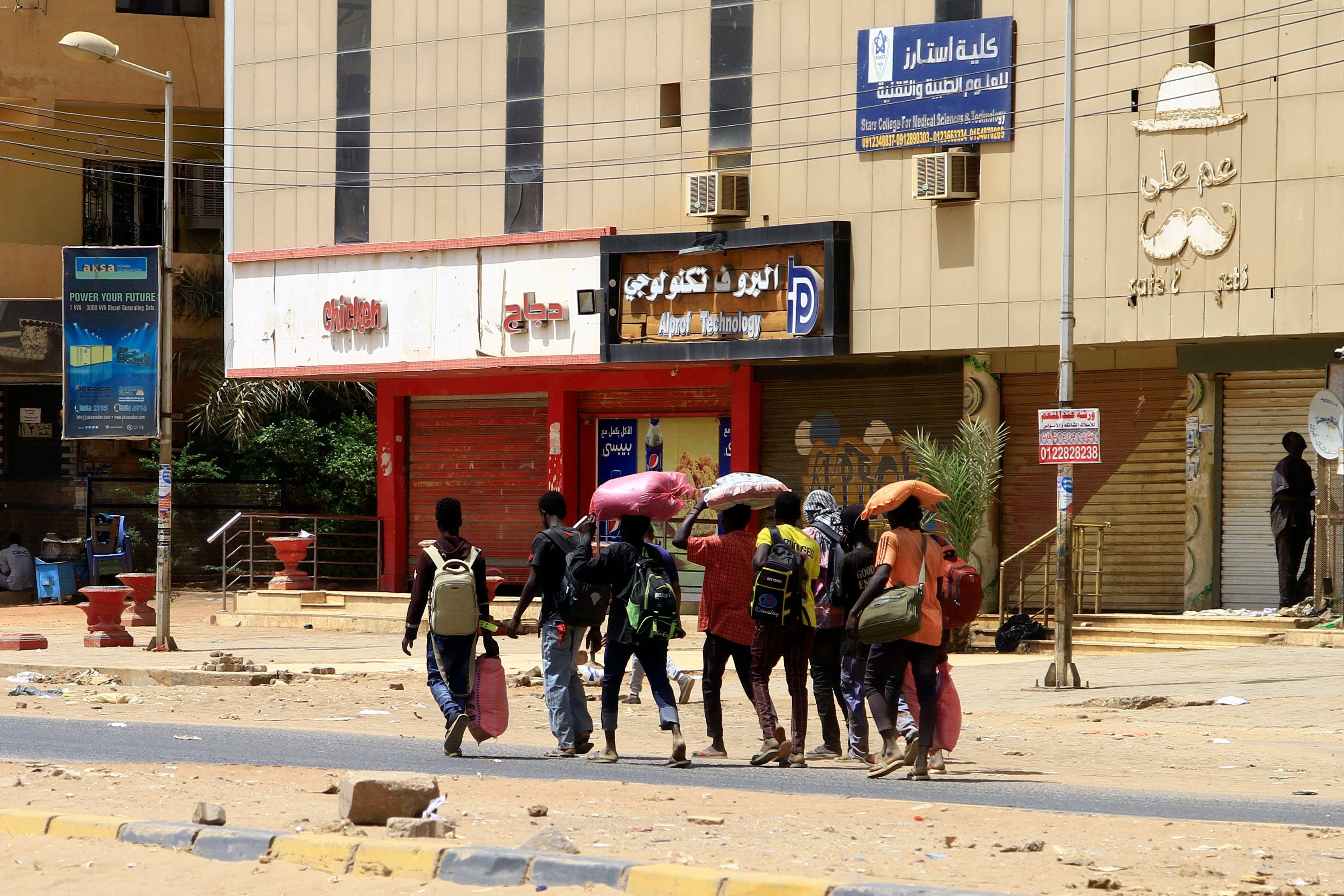 The international community, including the U.S., called for an end to the violence in Sudan, Axios' Barak Ravid writes.
Secretary of State Tony Blinken wrote on Twitter that the U.S. is deeply concerned about the violence between the Sudanese Armed Forces and Rapid Support Forces — and urged negotiations.
6. 🏢 Sky-high Manhattan rents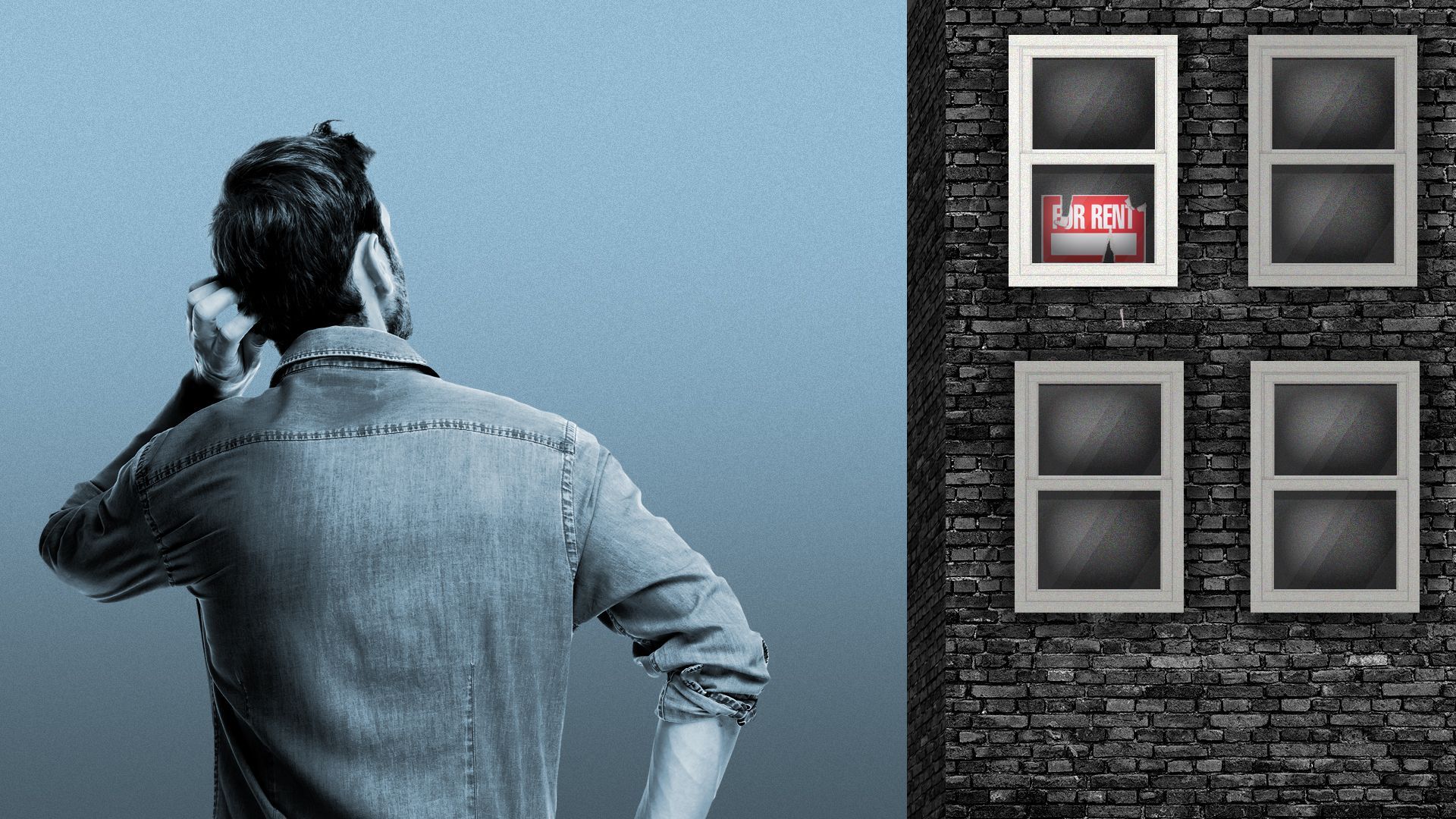 Manhattan's median rent reached a record-high of $4,175 per month in March, Bloomberg reports.
That's up 13% from just a year ago.
⚡ What's happening: Landlords are asking for more and more — and getting away with it, Jonathan Miller, president of the appraiser Miller Samuel, told Bloomberg.
💼 Case in point: In February, Manhattan leases were signed for an average of 5% below asking price. In March, that gap narrowed to 0.7%.
What to watch: The city's median rent could reach a new record-high this summer, as Manhattan's busiest renting season is typically July and August.
7. 🎭 Phantom's record run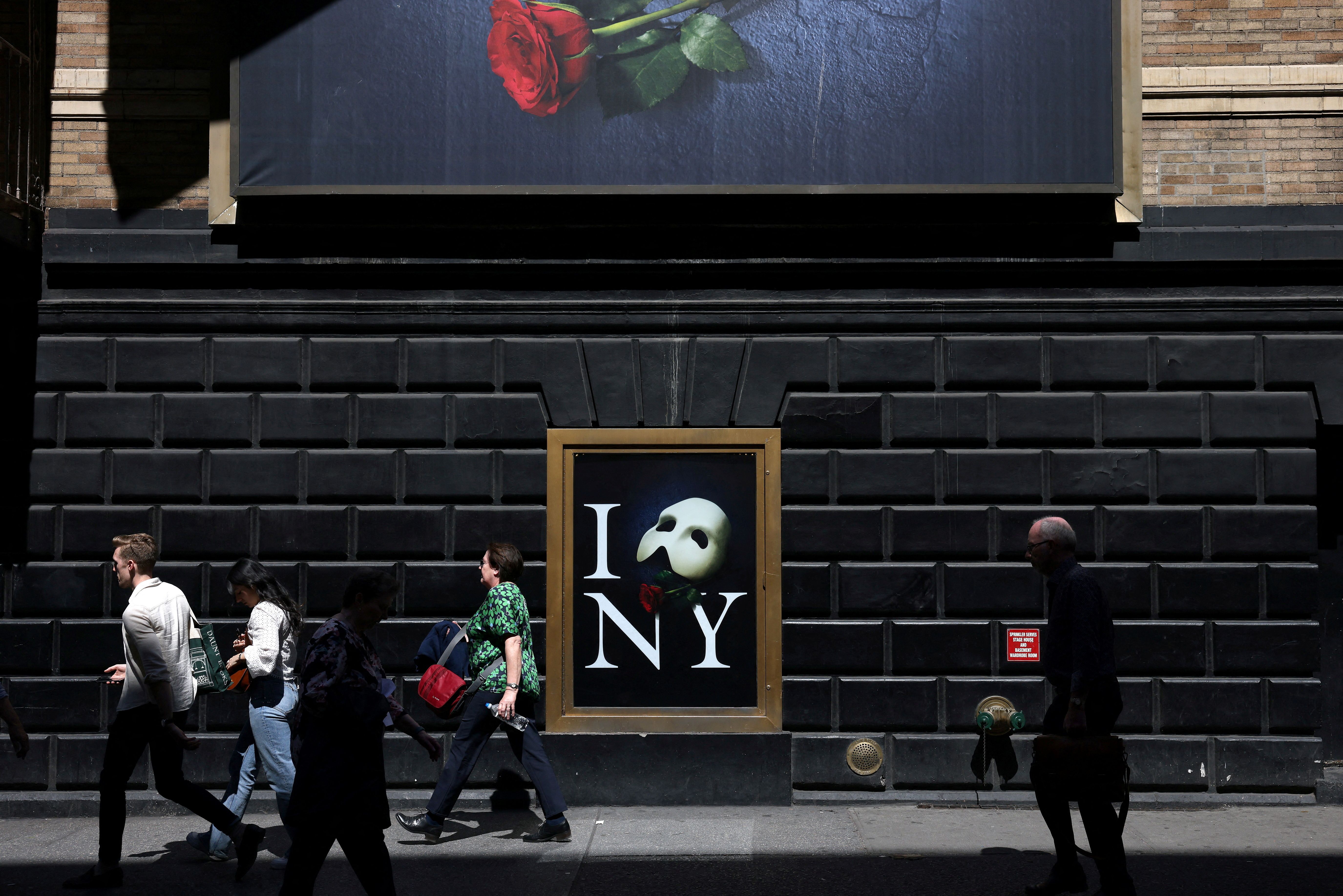 "The Phantom of the Opera" — Broadway's longest-running show — closes today after 35 years.
🖼️ The big picture: The wildly popular show grossed $1.3 billion in New York alone, Variety reports.
"Phantom" weathered tough times, including the post-9/11 Broadway slowdown. But the financial pressures of the pandemic were steep, and until its closing announcement, the show was losing money every week, producer Cameron Mackintosh said.
Stunning stat: In 35 years, only 16 actors have played the titular role in the show, notes Variety. One of them was Howard McGillin, who delivered over 2,500 performances as the Phantom over seven years.
🔮 What to watch: Asked if the show will ever return to Broadway, Mackintosh said, "Of course it will return ... All the great musicals do."
8. 🐭 1 fun thing: Disney food craze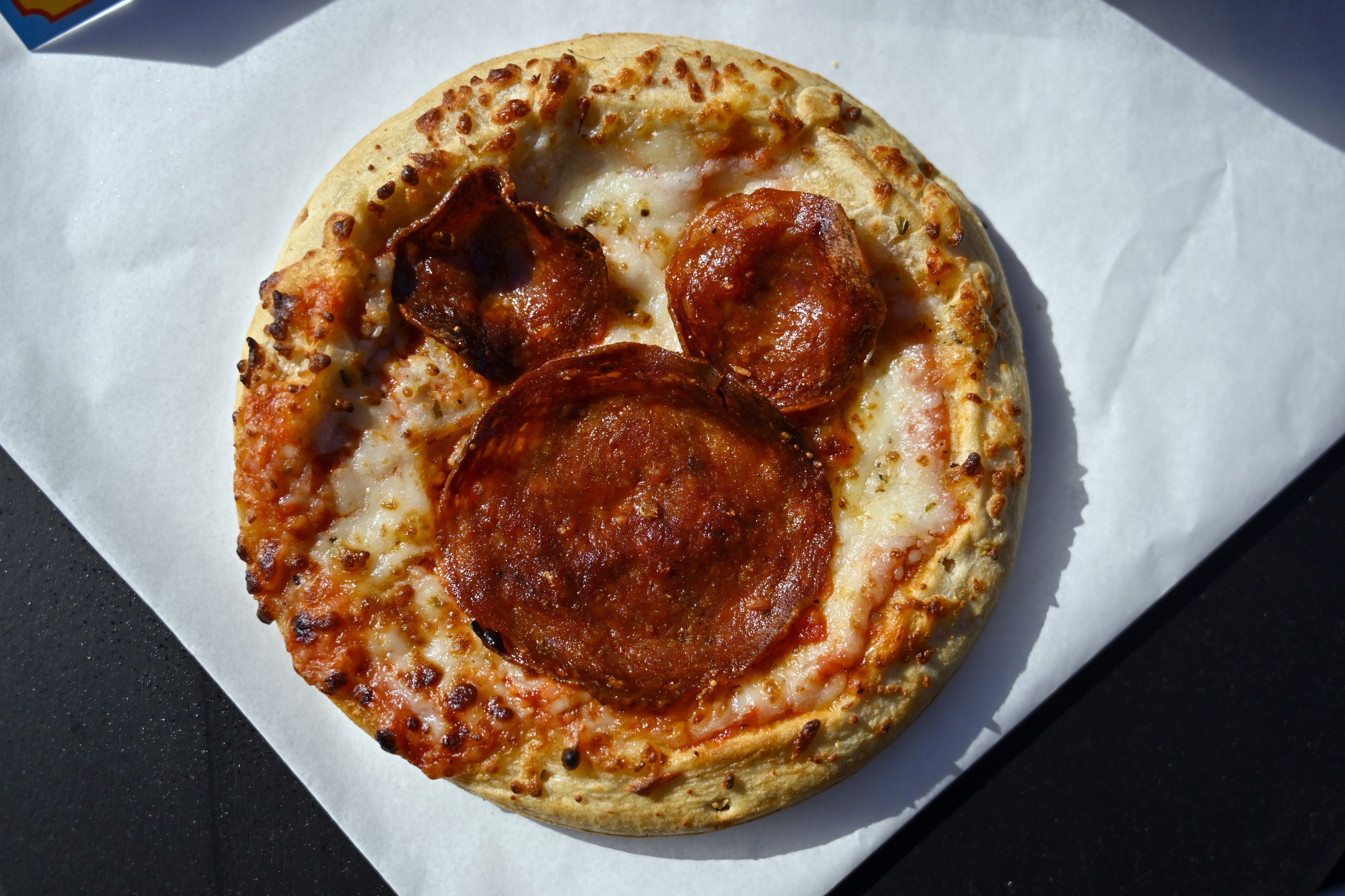 Tejal Rao — an L.A.-based critic for The New York Times who was the paper's first California restaurant critic — takes Disney food seriously in a conversation with AJ Wolfe (subscription).
Wolfe runs Disney Food Blog, which employs more than 30 people and voraciously reviews the theme park's culinary offerings — including Mickey-shaped waffles, giant turkey legs and the popular Dole Whip sundae.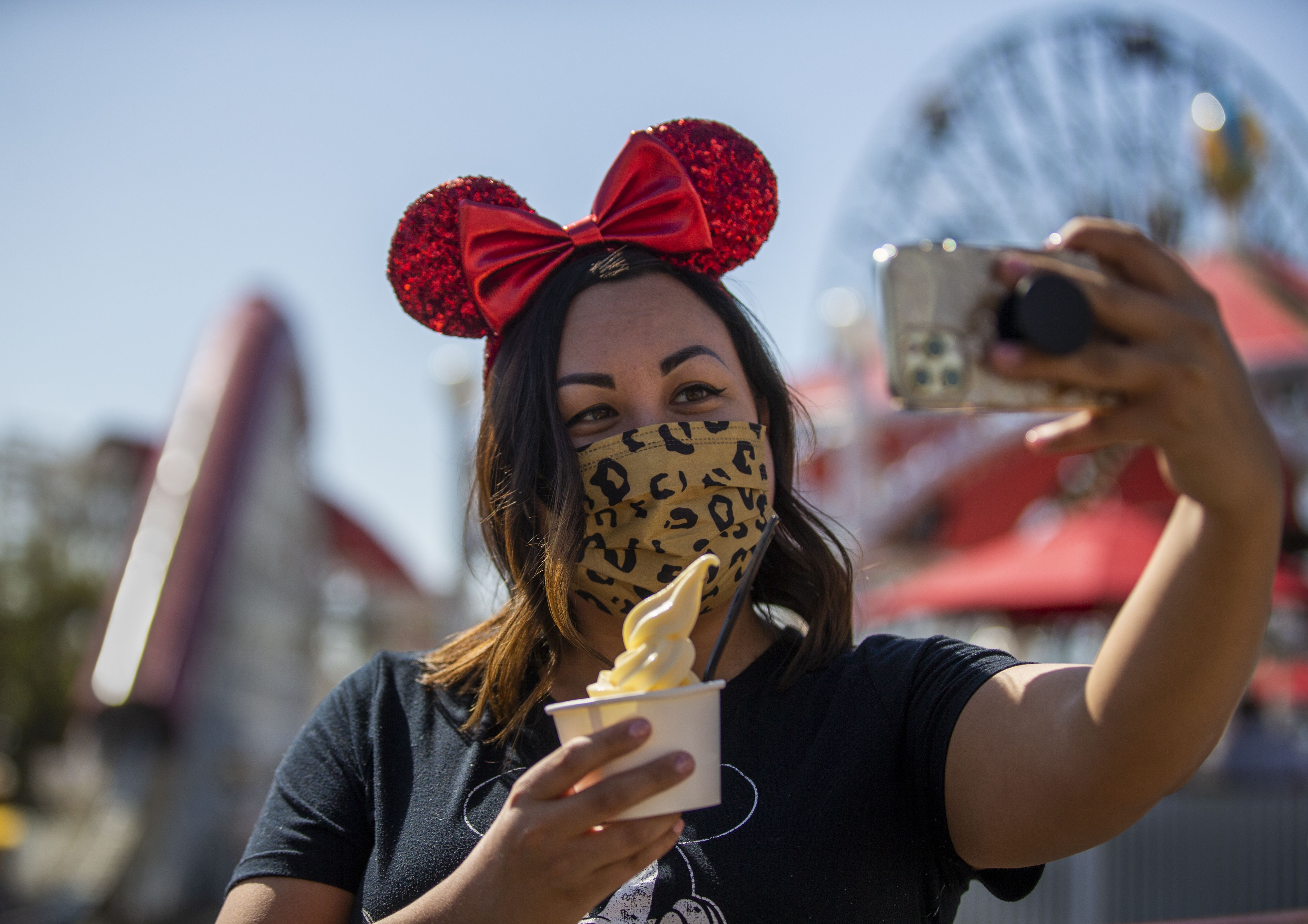 When Disney opened its Anaheim park in 1955, the food options were pretty similar to what you'd find at a local country fair, Rao writes.
Now Disney has a secret corporate "flavor lab," where chefs develop new dishes that are a bit more complex — say, roast duck with pistachio pâté.