⚜️ Good Saturday morning from New Orleans, which today celebrates 300 years. Tomorrow is Earth Day.
Situational awareness: The U.S. Centers for Disease Control and Prevention "told consumers to throw away any store-bought romaine lettuce they have in their kitchens and warned restaurants not to serve it amid an E. coli outbreak that has sickened more than 50 people in several states." (AP)
https://www.axios.com/newsletters/axios-am-11f4f94f-1211-461b-a223-ccefdb9b5754.html?chunk=0#story0
1 big thing: Kim Jong-un's art of dealing with Donald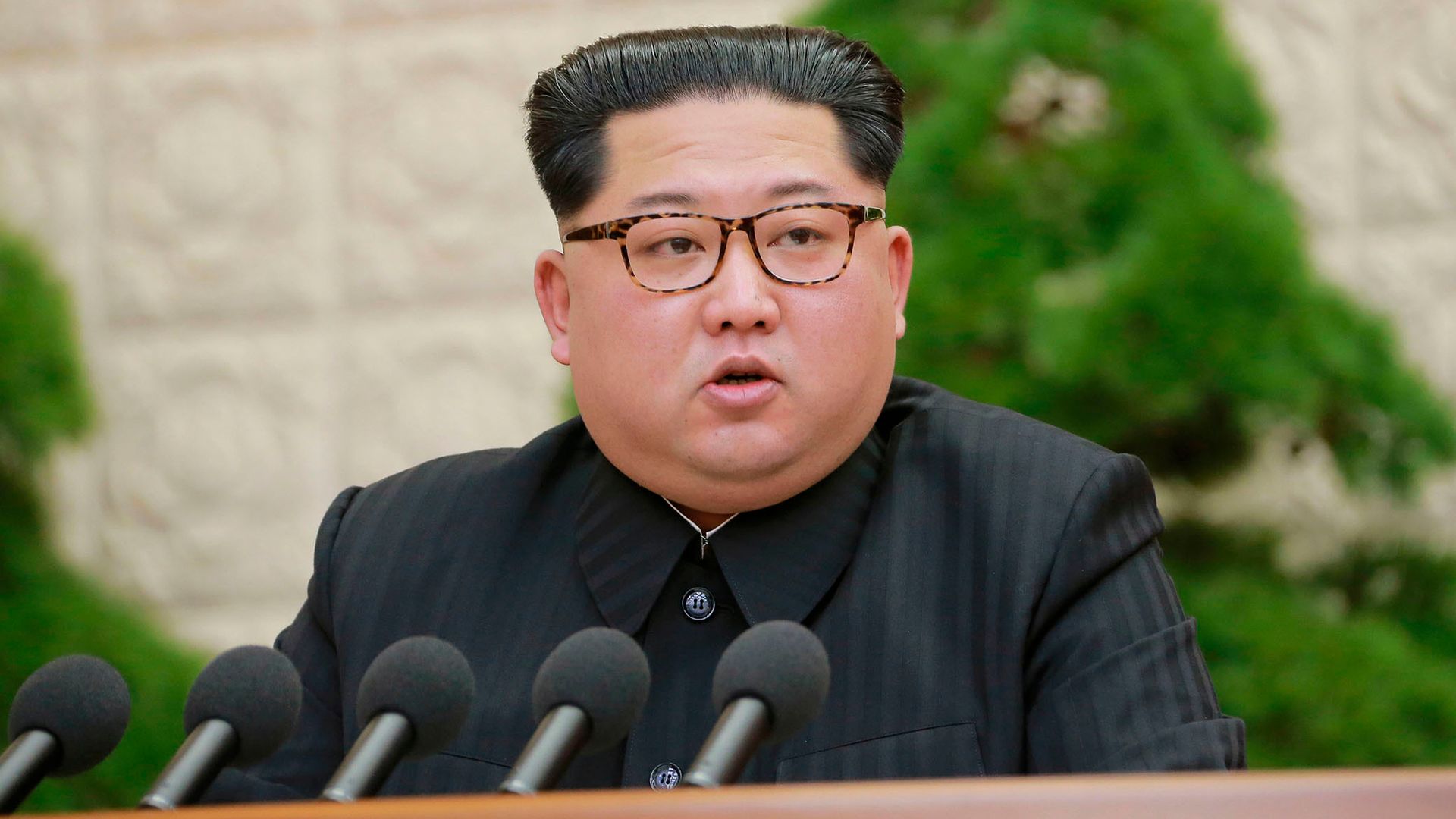 Kim Jong-un may have learned the art of dealing with President Trump: Give him a win — or at least what he thinks is a win, or can spin as a win.
What happened, via BBC: North Korea said it "will stop nuclear tests and launches of intercontinental ballistic missiles ... Kim said further tests were unnecessary because Pyongyang's nuclear capabilities had been 'verified.'"
Why it matters ... "The surprise announcement comes as North Korea prepares for historic talks with South Korea and the U.S.": Kim is due to meet his South Korean counterpart next week, and President Trump by June.
Trump tweets: "This is very good news for North Korea and the World - big progress! Look forward to our Summit. ... Progress being made for all!"
Be smart, from a former National Security Council official under President George W. Bush: "Not a big deal to pause testing nuclear or missiles when summit is coming ... Totally reversible. Eye wash."
Victor Cha — senior adviser and Korea Chair at the Center for Strategic and International Studies, who was Trump's candidate for ambassador to South Korea — tells Axios future editor Steve LeVine that the shift isn't as abrupt as it looks:
"They have already stated that they would halt all testing while in dialogue. This statement formalizes that promise."
"[T]he statement talks about a test ban, no first use, and no transfer — all the trappings of a 'responsible' nuclear weapons state (which is what they ultimately wanted to be accepted as)."
"Thus, this is not a denuclearization statement, it is a statement that DPRK [North Korea] can be a responsible nuclear weapons state."
The key sentence: "No one believes this, but if they can get Trump to agree, that is all they need."
What to watch for, per Cha: "[T]he glaring unanswered question in all of this is what the U.S. will give in return for these up front N.K. concessions."
"We know what we want from DPRK, but no one is scrutinizing what the US administration is thinking of giving up — sanctions? peace treaty? normalization? exercises? missile defense?"
https://www.axios.com/newsletters/axios-am-11f4f94f-1211-461b-a223-ccefdb9b5754.html?chunk=1#story1
2. Maggie + Cohen v. Trump
On a golf morning in Florida, President Trump tweets about a N.Y. Times front-pager:
"The New York Times and a third rate reporter named Maggie Habberman, known as a Crooked H flunkie who I don't speak to and have nothing to do with, are going out of their way to destroy Michael Cohen and his relationship with me in the hope that he will 'flip.'"
"They use ... non-existent 'sources' and a drunk/drugged up loser who hates Michael, a fine person with a wonderful family. Michael is a businessman for his own account/lawyer who I have always liked & respected."
"Most people will flip if the Government lets them out of trouble, even if ... it means lying or making up stories."
"Sorry, I don't see Michael doing that despite the horrible Witch Hunt and the dishonest media!"
His inspiration ... "Punching Bag For President Now Has Clout," by N.Y. Times' Maggie Haberman, Sharon LaFraniere and Danny Hakim:
"Trump's lawyers and advisers have become resigned to the strong possibility that [Michael] Cohen, who has a wife and two children and faces the prospect of devastating legal fees, if not criminal charges, could end up cooperating with federal officials."
N.Y. Times Quote of the Day ... Roger J. Stone Jr., President Trump's informal and longest-serving political adviser, on Michael Cohen: "Donald goes out of his way to treat him like garbage."
P.S. WashPost: "Attorney General Jeff Sessions recently told the White House he might have to leave his job if President Trump fired his deputy, Rod J. Rosenstein, who oversees the investigation into Russian interference."
https://www.axios.com/newsletters/axios-am-11f4f94f-1211-461b-a223-ccefdb9b5754.html?chunk=2#story2
3. Sneak peek: "Let the TV writers do it"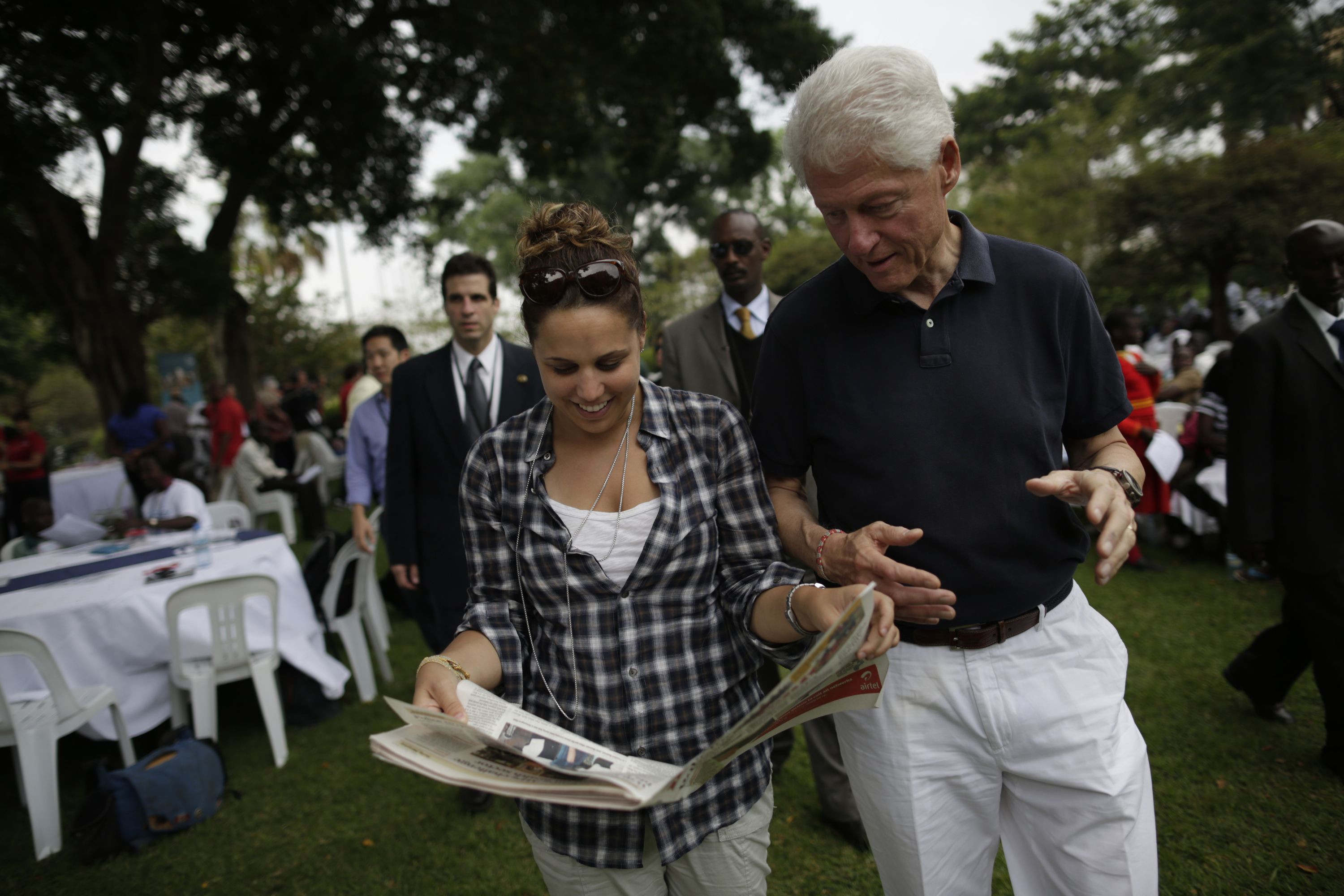 Amy Chozick with Bill Clinton in Kampala, Uganda, in 2012 (Ed Ou for The New York Times)
Exclusive scenes for Axios readers from a book out next Tuesday by N.Y. Times writer at large Amy Chozick, "Chasing Hillary: Ten Years, Two Presidential Campaigns, and One Intact Glass Ceiling":
"At the election-eve rally in Philadelphia with Bruce Springsteen, Hillary joined Obama onstage. He crouched down a little to kick a step stool closer to her podium. 'When you're president, it's gonna be permanently there for you,' Obama whispered in her ear before kissing her cheek and exiting stage right."
An off-record spaghetti dinner for reporters at campaign chairman John Podesta's home in D.C.: "Maggie Haberman sat near the center of the main table. She didn't have to work the room. Everyone came up to her. "
Email: "Hillary could've acknowledged it was a mistake and apologized, but even as I joined the delirium of the scrum, I understood her instinct. She thought using a private email was another nonstory ('the biggest nothing burger') started by the Times and amplified by her political rivals. Every elected official ... used a personal email. Why should she apologize?"
"[T]he day Trump announced he was running, I admitted to a couple of Times editors that I'd watched eight seasons of The Apprentice and that we should do a story about it. They told me political reporters wouldn't be writing about Trump. 'We have enough candidates to cover,' one editor said. 'Let the TV writers do it.'"
" [O]ur Polish housekeeper, Wanda, ... is so bad at her job that a couple of friends who've also used her for years came home early once to find Wanda watching TV in their bed. But she is a solid person and charges eighty dollars to clean a two-bedroom apartment, including laundry. She also happened to clean Don Jr.'s and Eric Trump's New York apartments. In 2014, Eric and Lara invited Wanda to their wedding at Mar-a-Lago — which, despite what anyone thinks about the Trump sons, was a class-act thing to do."
Go deeper: The cover of tomorrow's N.Y. Times Sunday Review features an adaptation from Amy's book, "'They Were Never Going To Let Me Be President' ... Covering Hillary Clinton's campaign from before it started to the very last moment."
WashPost review by Carlos Lozada: "It's a buffet-style book — media criticism here, trail reminiscences there, political analysis and assorted recollections."
https://www.axios.com/newsletters/axios-am-11f4f94f-1211-461b-a223-ccefdb9b5754.html?chunk=3#story3
Bonus: Quote of the week
President Trump, remembering Barbara Bush, at a Mar-a-Lago news conference with Japanese Prime Minister Shinzo Abe:
"Melania and I send our prayers to Barbara's husband of 73 years — I'll never beat that record."
https://www.axios.com/newsletters/axios-am-11f4f94f-1211-461b-a223-ccefdb9b5754.html?chunk=4#story4
4. Barbara Pierce Bush funeral today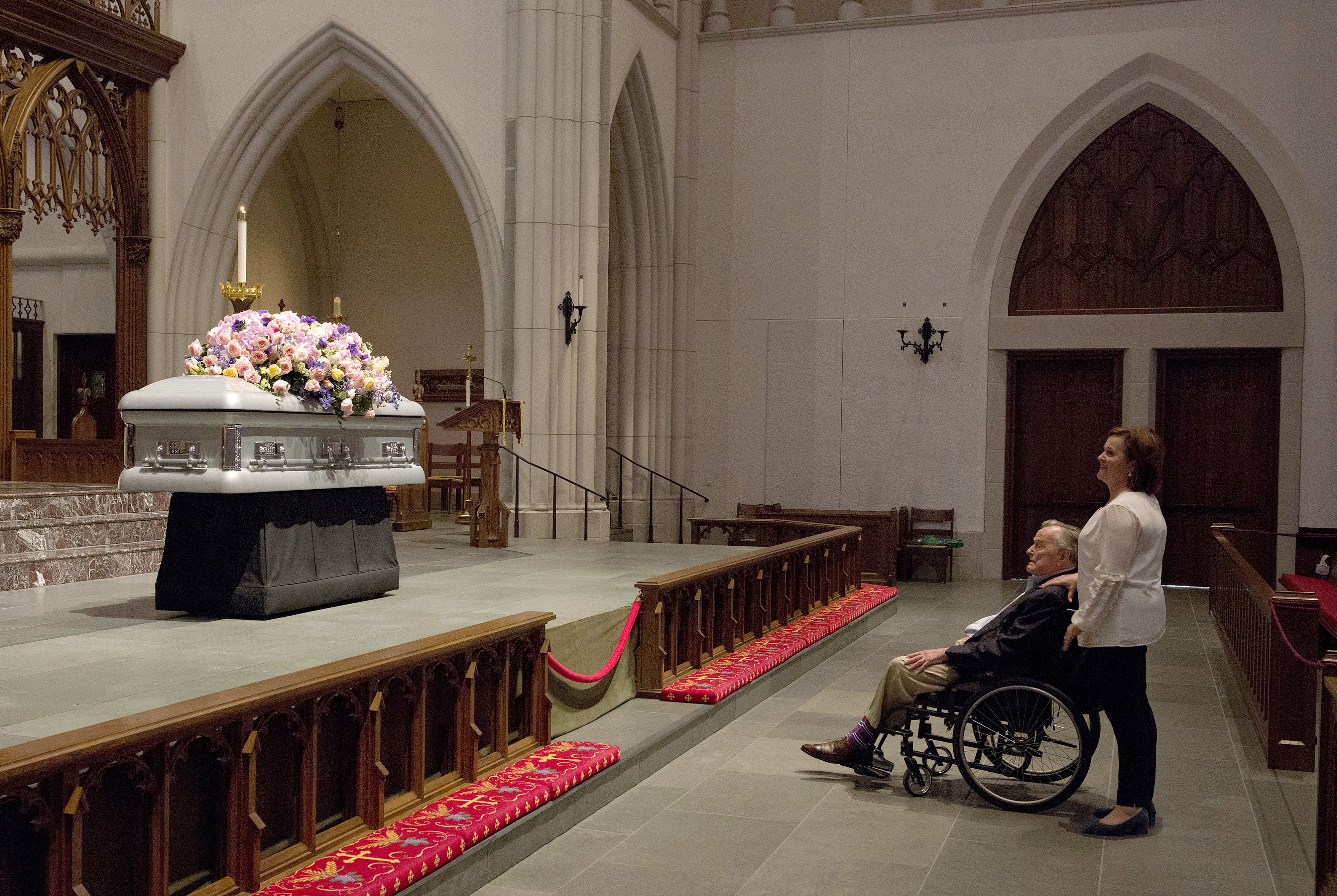 Former President George H. W. Bush, 93, and daughter Doro Bush Koch wait for mourners. (Mark Burns /Pool/Office of George H.W. Bush via Getty Images)
The funeral of former First Lady Barbara Pierce Bush will be held at noon ET today (official arrivals begin at 11:30 a.m. ET) at St. Martin's Episcopal Church in Houston, with an Easter Liturgy.
4 former presidents: In addition to both former Presidents Bush, the 1,500 attendees will include former President Bill Clinton and Hillary Clinton, former President Obama and Michelle Obama, First Lady Melania Trump, Dan and Marilyn Quayle, and Dick and Lynn Cheney.
As eulogists for the 90-minute service, Mrs. Bush chose her son Jeb, personal friend and confidant Susan Baker, and historian Jon Meacham.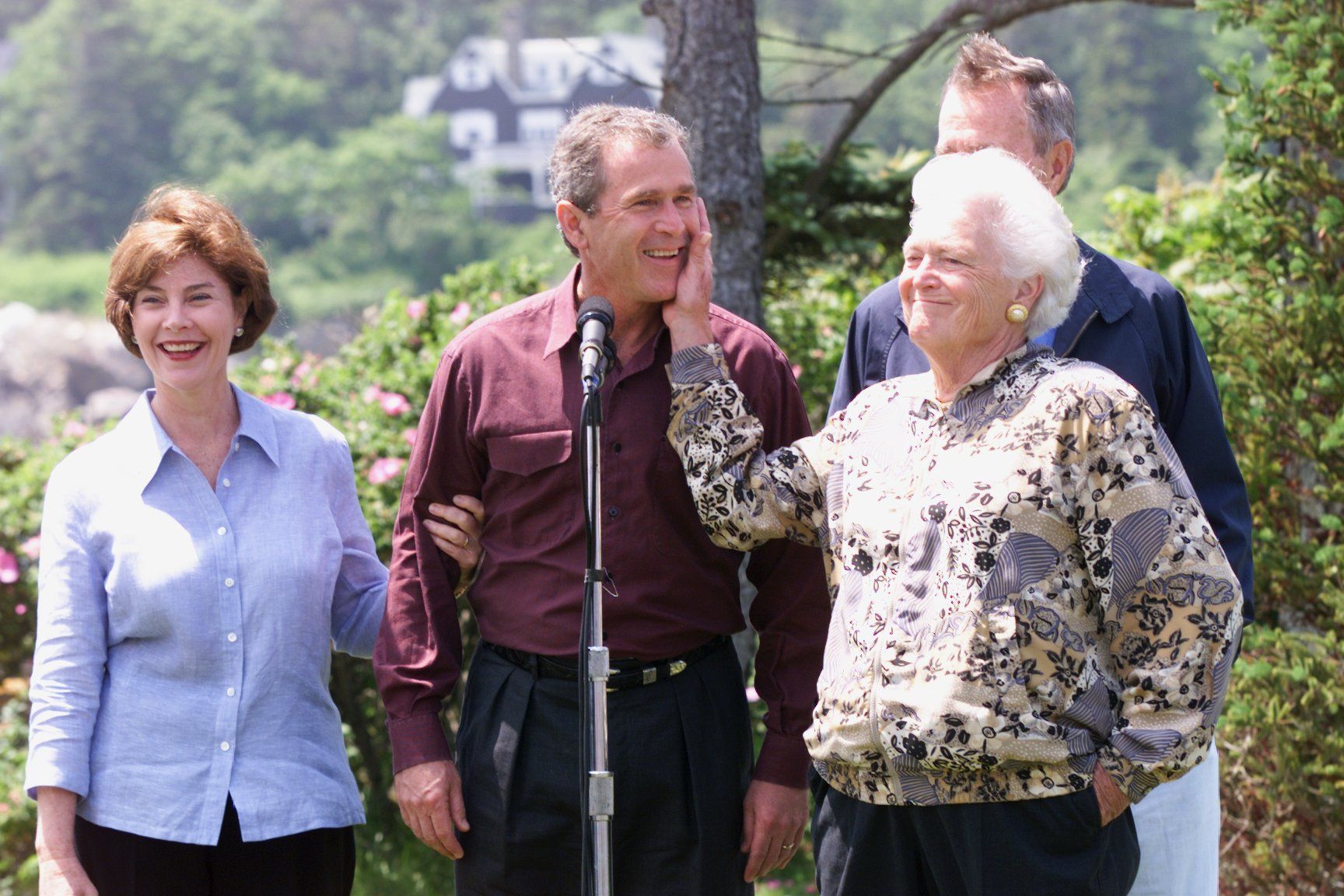 Mom Moment, with George in Kennebunkport in 1999 (John Bohn/The Boston Globe via Getty Images)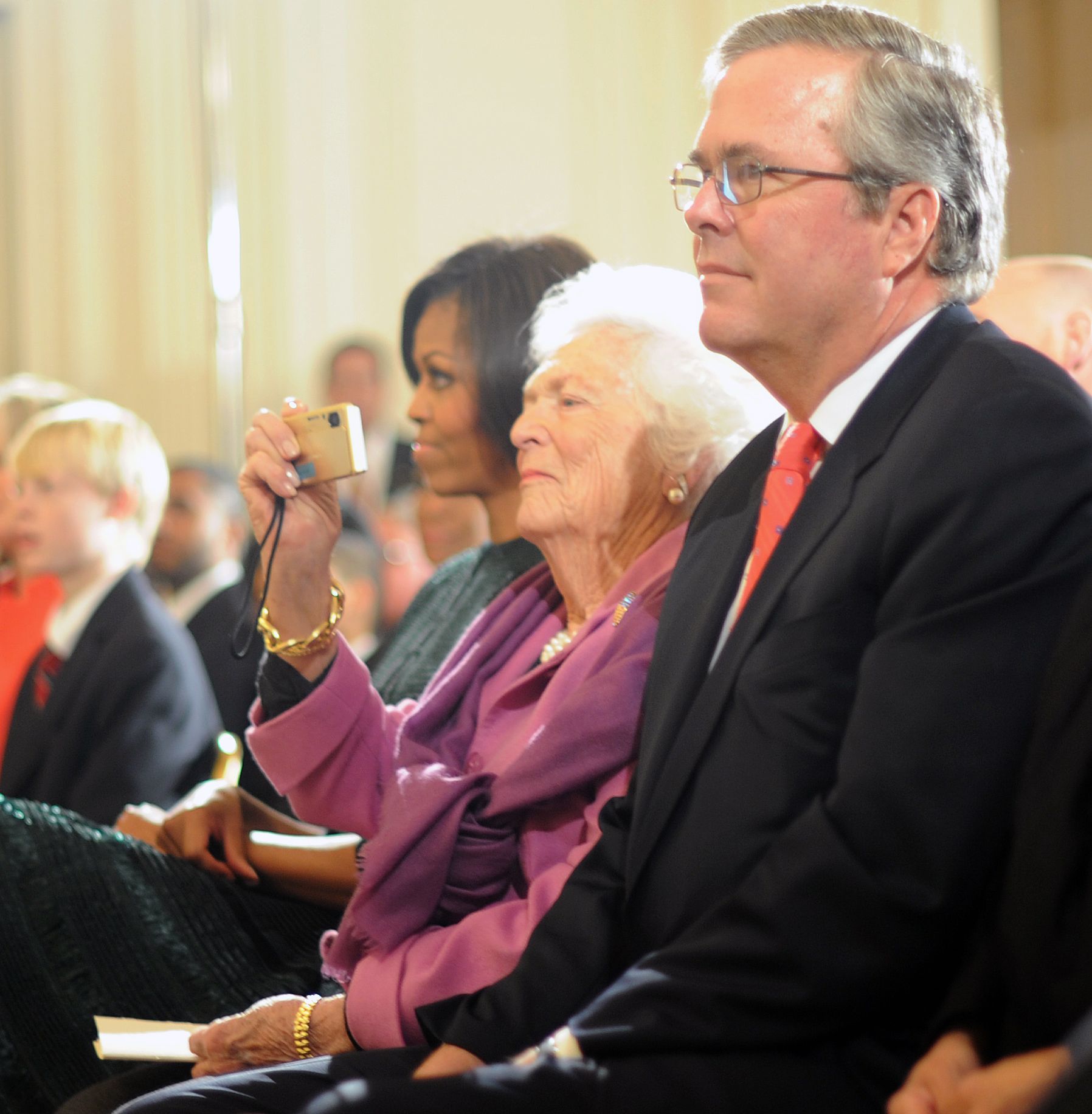 Wife Moment, as George H.W. Bush is awarded the Medal of Freedom by President Obama at the White House in 2011 (Tim Sloan/AFP/Getty Images)
https://www.axios.com/newsletters/axios-am-11f4f94f-1211-461b-a223-ccefdb9b5754.html?chunk=5#story5
5. Facebook, Apple embody new tech divide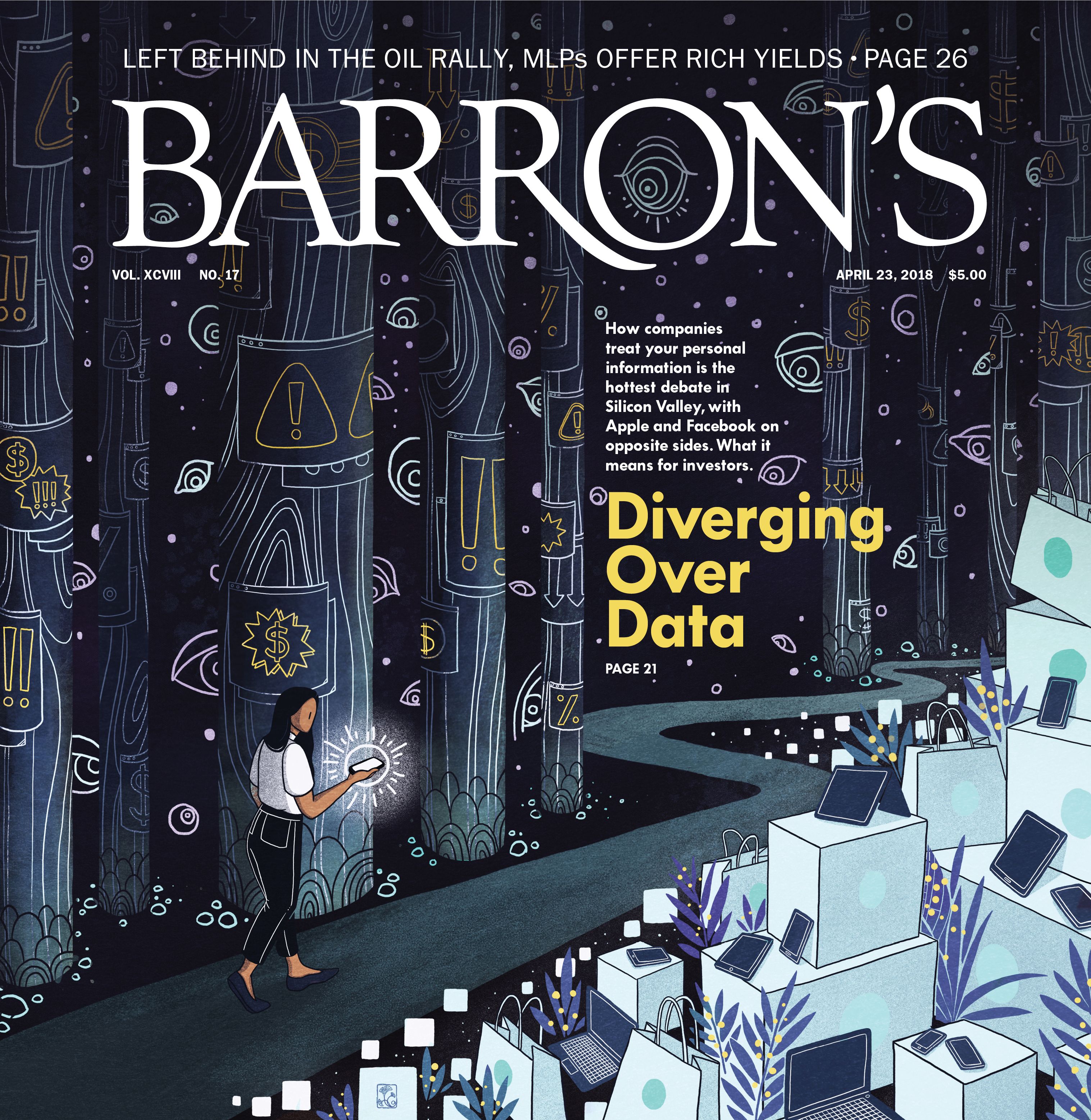 Courtesy Barron's
"Apple became the largest public company in the world the old-fashioned way: charging lots of consumers lots of money. ... Facebook grew to challenge Apple's supremacy without charging its users a dime," Alex Eule and Jon Swartz write in the Barron's cover story:
"Welcome to tech's great divide. For several years now, investors have talked about FANG—Facebook, Amazon, Netflix, and Google-parent Alphabet — or FAANG (adding Apple) as a unified trade, a way to play the latest tech trends."
Why it matters: "The companies are all similar in that they use technology in disruptive ways, but investors have generally overlooked substantial differences in their business models."
"There are real differences between direct-to-consumer revenue models and ad-driven data models. Or, in a nutshell: Apple versus Facebook."
The data: "As the risk of regulation mounts, advertising exposure should be a good proxy for which companies are most vulnerable among big tech. ... Last year, 98% of [Facebook] revenue came from advertising. Snap came in at 97%, with ... Alphabet and Twitter both at 86%. ... Apple, Netflix, and Dropbox have minimal, if any, ad exposure ... Amazon [has a] growing ad business."
https://www.axios.com/newsletters/axios-am-11f4f94f-1211-461b-a223-ccefdb9b5754.html?chunk=6#story6
6. 1 rich thing
"The Rich Are Betting On Living to 100" ... After income inequality comes longevity inequality, Bloomberg's Ben Steverman writes:
"Most rich people ... are counting on living ... two decades more than average. In a new UBS Financial Services survey, 53 percent of wealthy investors said they expected to live to 100."
"Over the past few decades, the average person's lifespan has risen almost everywhere in the world. In China, the U.S. and most of Eastern Europe, the average life expectancy at birth has reached the late 70s. ... People in Western Europe and Japan ... can expect to live into their early 80s."
"The life expectancy of Americans has declined for two years in a row, an anomaly that can be blamed in part on the country's opioid abuse crisis."
A sad stat: "In the U.S., ... the richest 1 percent of American women by income live more than 10 years longer than the poorest 1 percent ... For men, the gap between the richest and poorest Americans is almost 15 years."
"The rich ... know that living to 100 is a pricey prospect, one that requires more spending on health care, better food, exercise."
"In the UBS survey, which focused on people with more than $1 million in investable assets, 91 percent said they're 'making financial changes due to increased life expectancy.'"