Axios AM
May 19, 2023
☕ Happy Friday! Smart Brevity™ count: 1,196 words ... 4½ mins. Edited by Kate Nocera.
🐊 1 big thing: DeSantis launching next week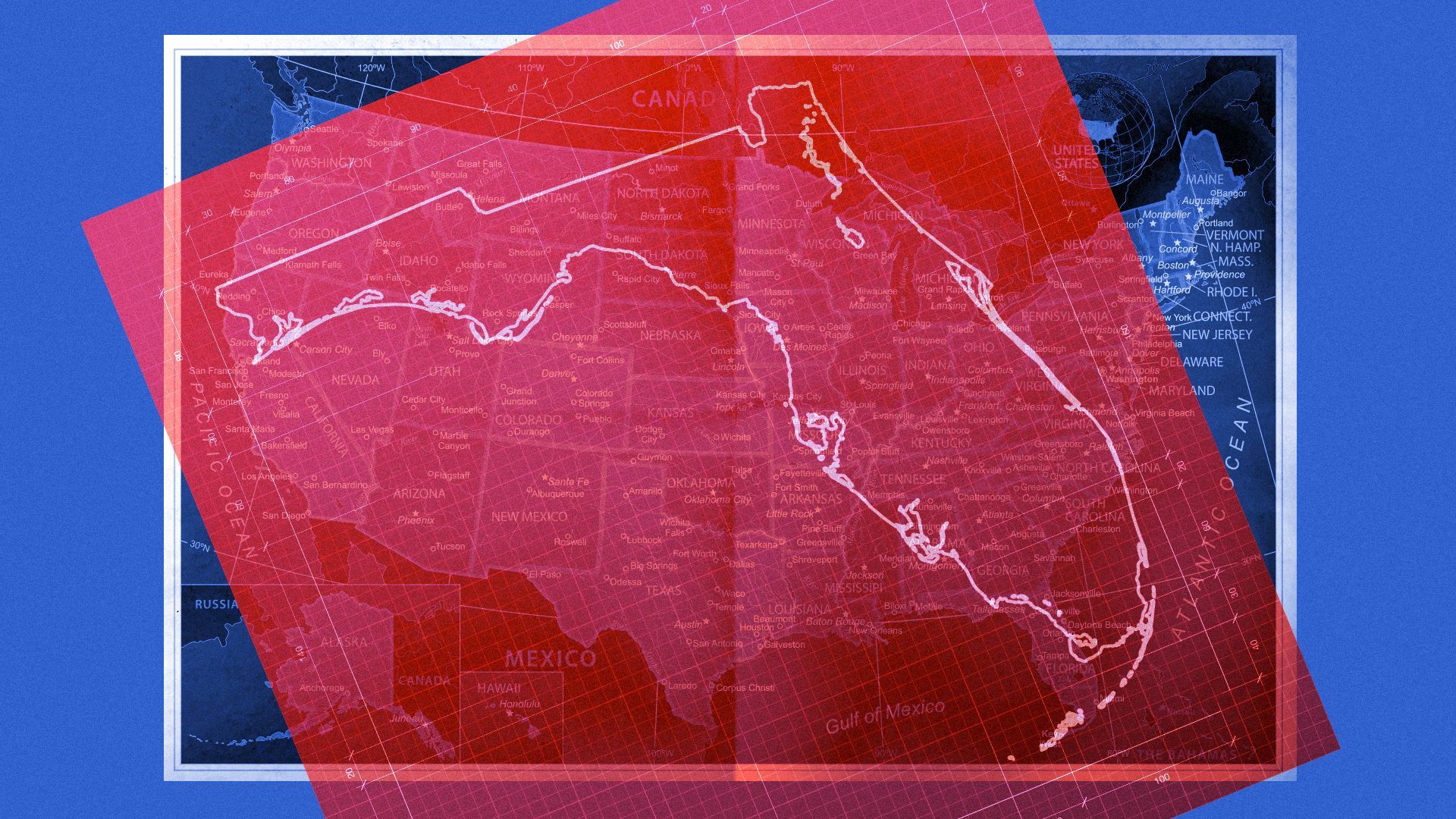 Florida Gov. Ron DeSantis is now expected to launch his 2024 presidential campaign on Wednesday in Miami.
Why it matters: He plans a conservative cultural agenda aimed at delivering on his vow to "Make America Florida," Axios' Sophia Cai and Yacob Reyes report.
DeSantis "all but declared his presidential candidacy" yesterday afternoon, the N.Y. Times reports, "telling donors and supporters on a call that only three 'credible' candidates were in the race and that only he would be able to win both the Republican primary and the general election."
"You have basically three people at this point that are credible in this whole thing," DeSantis said on the call, organized by the super PAC backing him, Never Back Down. "Biden, Trump and me. And I think of those three, two have a chance to get elected president — Biden and me."
🥊 Reality check: Trump, with a six-month head start, has built a huge lead in GOP polls.
State of play: DeSantis has been campaigning for months, visiting foreign leaders, appearing in Iowa and New Hampshire — and touting new Florida laws that reflect the GOP backlash to the wave of diversity and equity initiatives that began during Trump's presidency.
"We have battled the woke elites in Florida, and we have won, time and time again," DeSantis wrote in his book, "The Courage to Be Free," out Feb. 28.
DeSantis signed 80 new laws in Florida this spring, several of which have gotten national attention.
2. 🗳️ Tim Scott plunks down big buy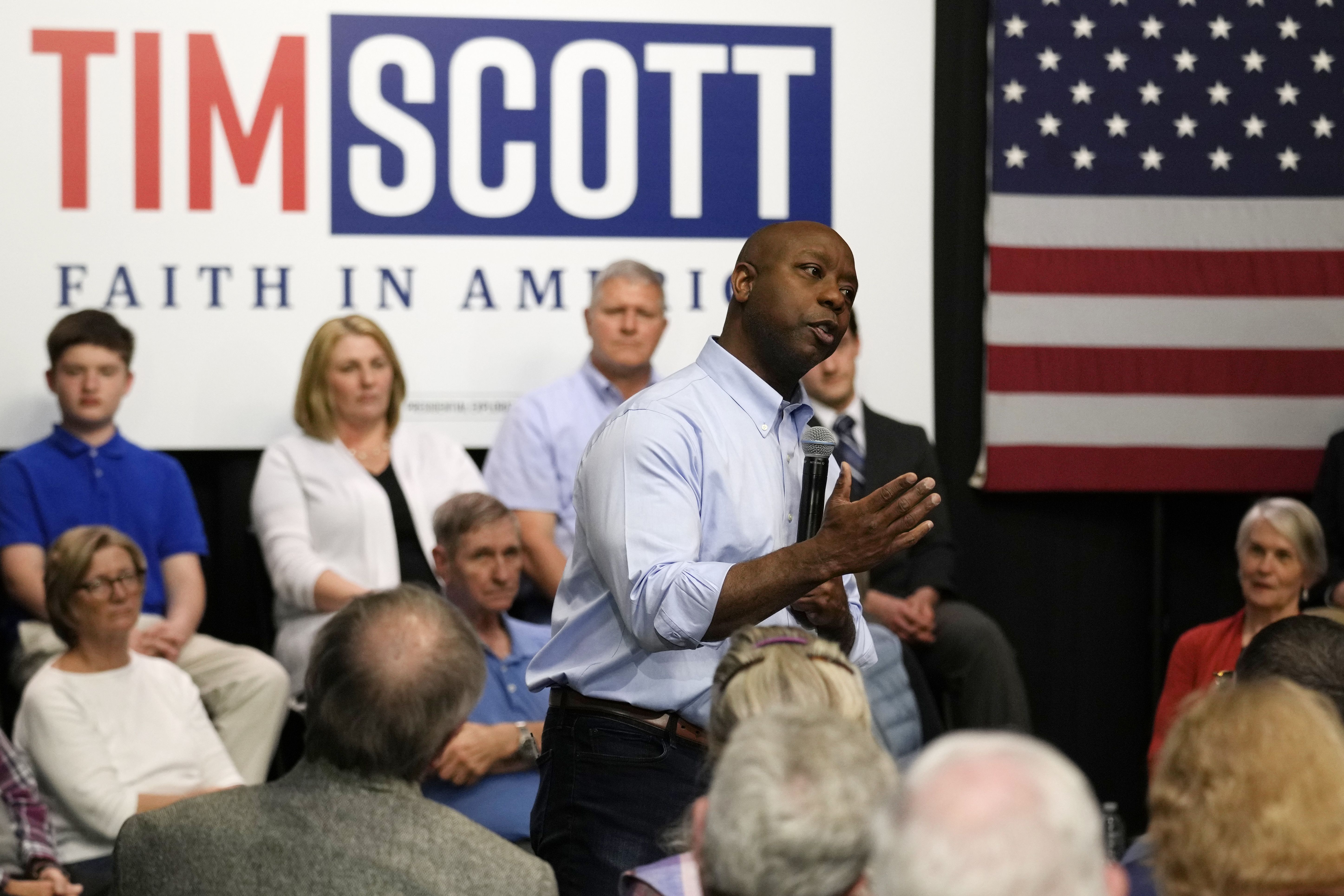 Sen. Tim Scott (R-S.C.), who is expected to announce his run for president on Monday, plans a $6 million ad buy in Iowa and New Hampshire early next week, Axios Sophia Cai reports.
The ads — airing statewide on broadcast TV, cable, satellite, and radio — are scheduled to run through the first GOP presidential debate, in August.
Scott enters the race with $22 million in cash on hand, much of it left over from the $42 million he raised during the 2022 cycle.
He'll emphasize his personal story — growing up in a single-parent household, then starting a business.
Context: Trump's campaign and his super PAC, MAGA Inc., have already spent more than $13 million on ads, primarily to blast DeSantis.
DeSantis and his super PAC, Never Back Down, have spent $10 million+.
President Biden's campaign and the DNC have spent $1.6 million+.
🔮 What's next: Scott is expected to speak at his alma mater, Charleston Southern University in North Charleston, S.C., on Monday before traveling to Iowa and New Hampshire later next week.
He'll attend Sen. Joni Ernst's (R-Iowa) Roast and Ride, an event in Iowa that involves the riding of motorcycles and roasting of meats.
3. 💰 Scoop: Yellen's private warning to Wall Street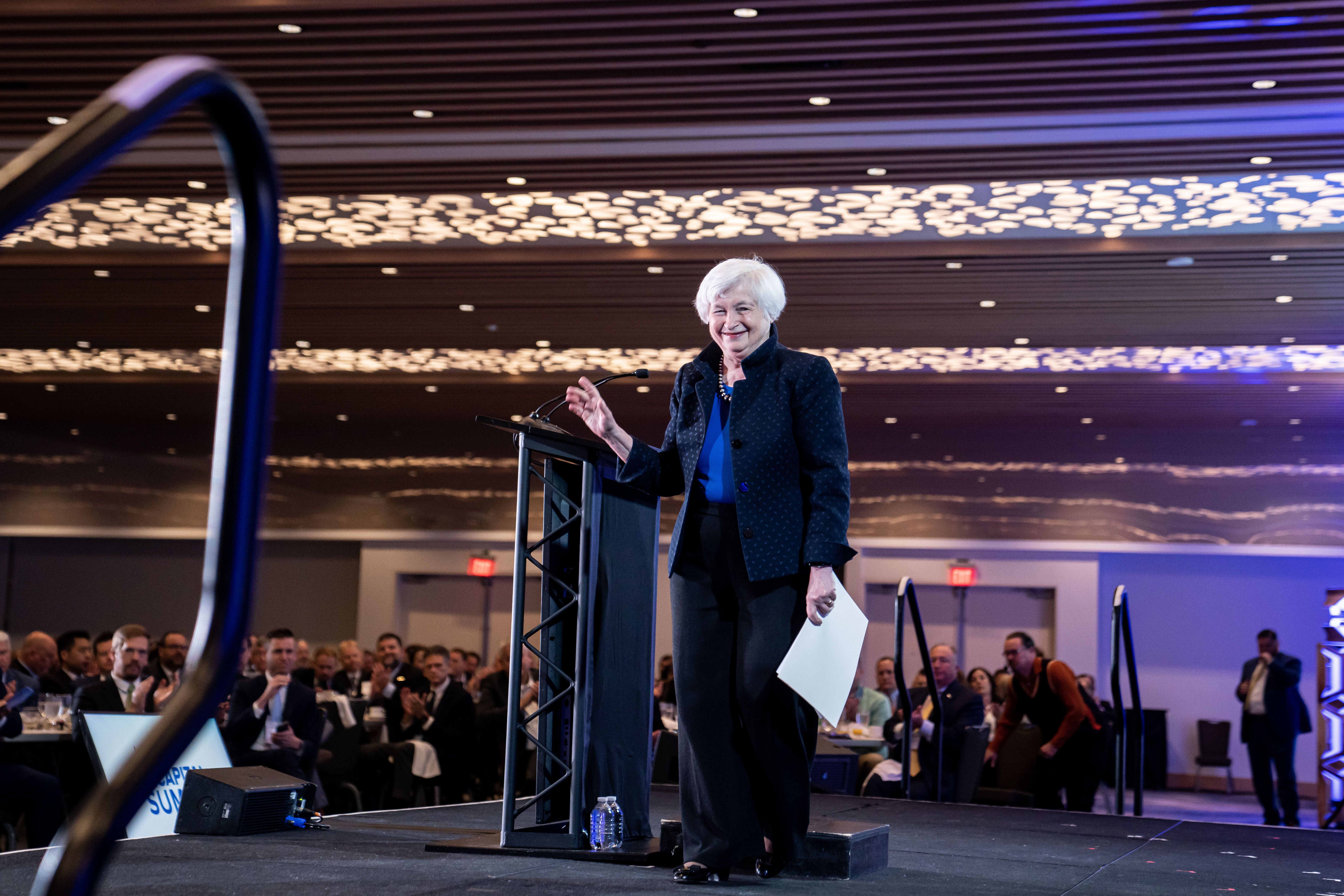 Treasury Secretary Janet Yellen warned the country's biggest bankers that a potential debt-ceiling default will have repercussions beyond the financial system, Axios' Hans Nichols reports.
Yellen's frank talk with bankers, including JPMorgan Chase CEO Jamie Dimon, are part of a broader effort by top Biden officials to enlist the business community to pressure congressional Republicans to raise the country's debt ceiling by June 1.
Yellen made her remarks in a closed-door meeting at the Bank Policy Institute, an industry association that advocates for the country's largest lenders, in Washington yesterday, according to a person in the room.
👂 What we're hearing: Some Biden officials have expressed frustration that the business community hasn't done more to influence Republicans to pass a debt-ceiling increase.
But it's unclear if the business groups — or even the markets — have that much influence with some of the most conservative members of Congress.
4. 🏛️ Pic for history: 5 speakers, 30 years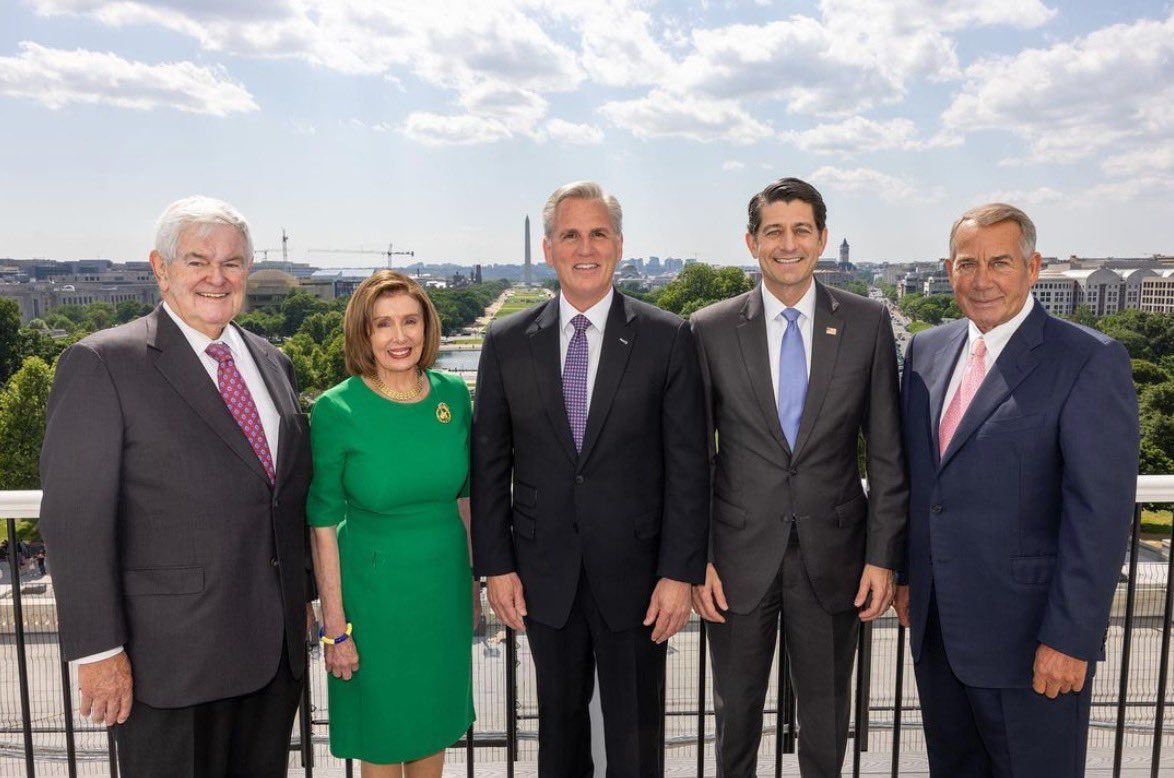 These five Speakers of the House — spanning 28 years with the gavel — posed Wednesday on the Speaker's Balcony (as it exists given renovations on the West Front of the U.S. Capitol) before the unveiling of the Statuary Hall portrait of former Speaker Paul Ryan.
"It was quick. But historic!" says Caleb Smith, head of communications for Speaker McCarthy.
Smith — whose Twitter bio notes his hat trick of having worked for Speakers McCarthy, Ryan and John Boehner — tweeted the pic and kindly gave us permission to share it with Axios AM readers.
The photo was taken by Keenan Hochschild of the Speaker's staff.
The only living Speaker who's missing is the disgraced Denny Hastert (R-Ill.), who served time in federal prison.
5. 📈 Stocks hit '23 high
Stocks yesterday notched a new high water mark for the year, Matt Phillips writes for Axios Markets.
Why it matters: The market's pep suggests investors think progress is being made on negotiations to raise the debt ceiling.
🧮 By the numbers: The S&P 500 yesterday closed up 9.3% in 2023.
The benchmark index is up 7% over the past 12 months.
🥊 Reality check: We're still 12.5% below the all-time high hit on Jan. 3, 2022.
6. 🦾 ChatGPT for iPhone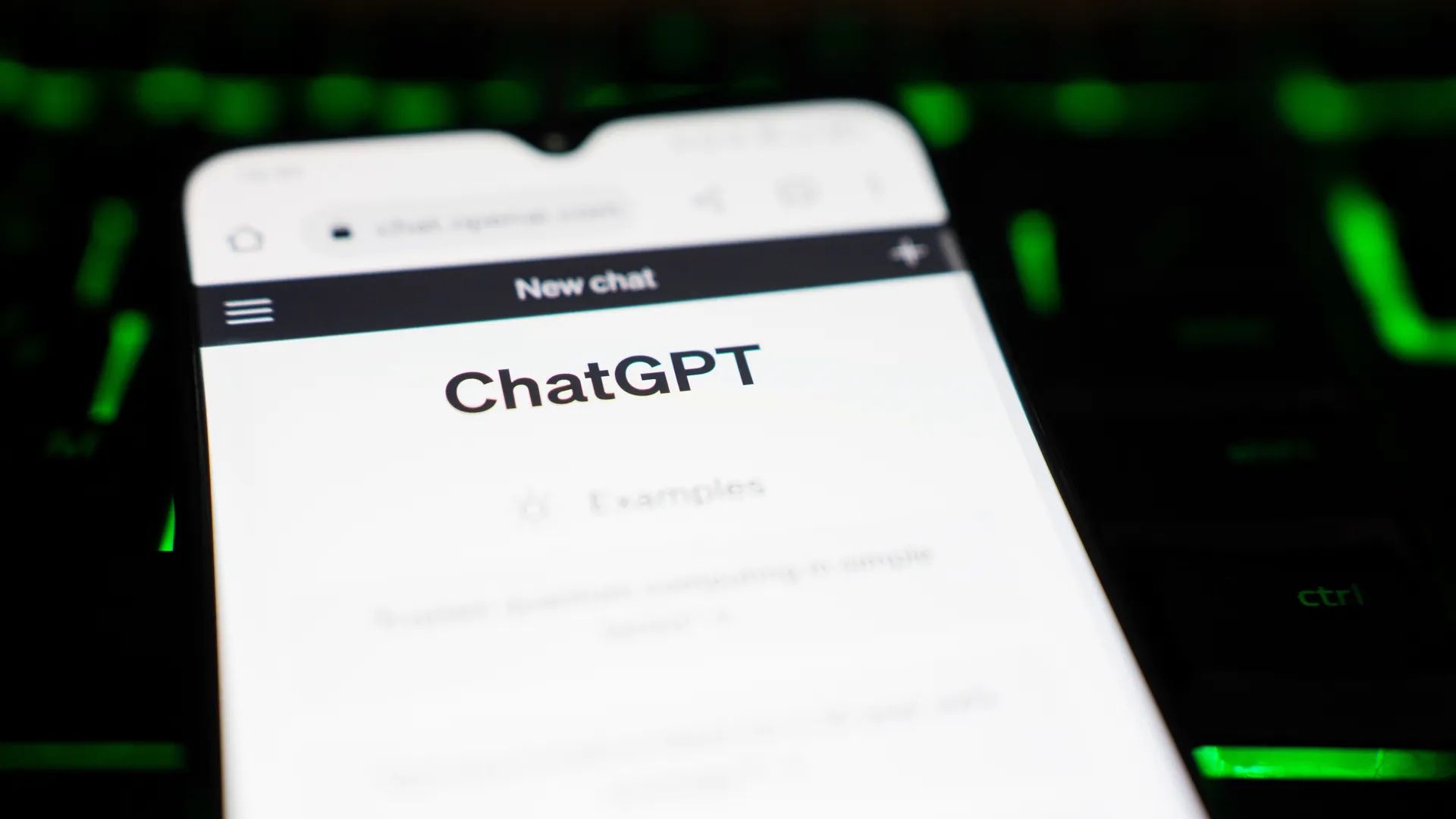 OpenAI announced a free version of ChatGPT that runs natively as an app for the iPhone and iPad, Axios chief technology correspondent Ina Fried reports.
Why it matters: This makes it easier for people to access the chatbot on mobile devices and helps fend off rivals and scams.
📱ChatGPT for iOS, available from Apple's App Store, functions largely the same as the Web version, with the addition of speech input support using Whisper, OpenAI's open-source speech-recognition system.
7. 📺 Cable milestone: ESPN to be sold separately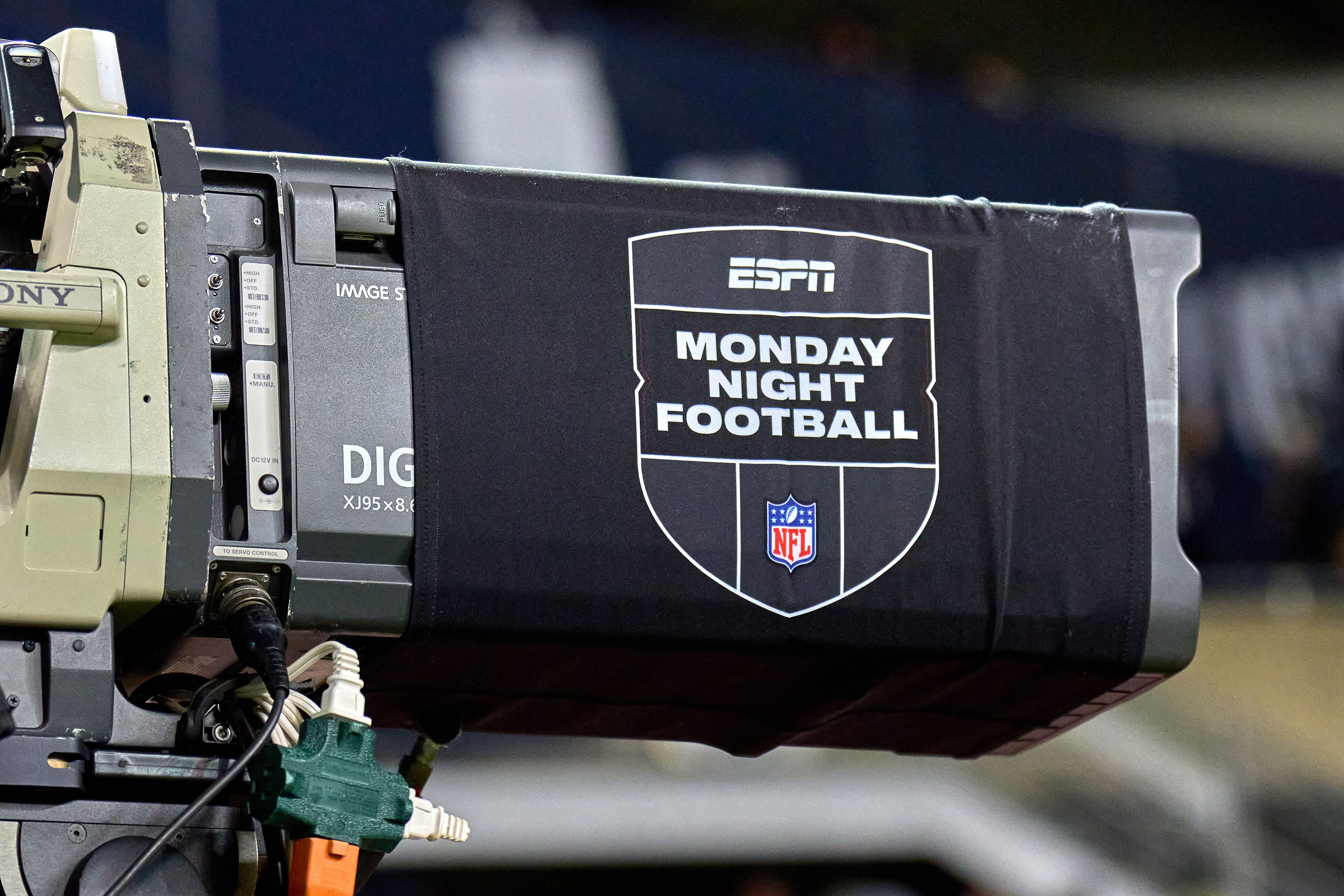 This profound shift shows how bearish the biggest players are on cable:
ESPN is preparing to sell its flagship channel — which includes "Monday Night Football" and the cream of the college bowl games — directly to cable cord-cutters as a subscription-streaming service in coming years, The Wall Street Journal reports (subscription).
Why it matters: The change "could have a major impact on cable-TV providers, since ESPN is one of the main attractions of the cable bundle," The Journal notes.
No timeline is set. The channel would continue being offered on cable.
8. 🛫 1 for the road: Dogs, cats crowd planes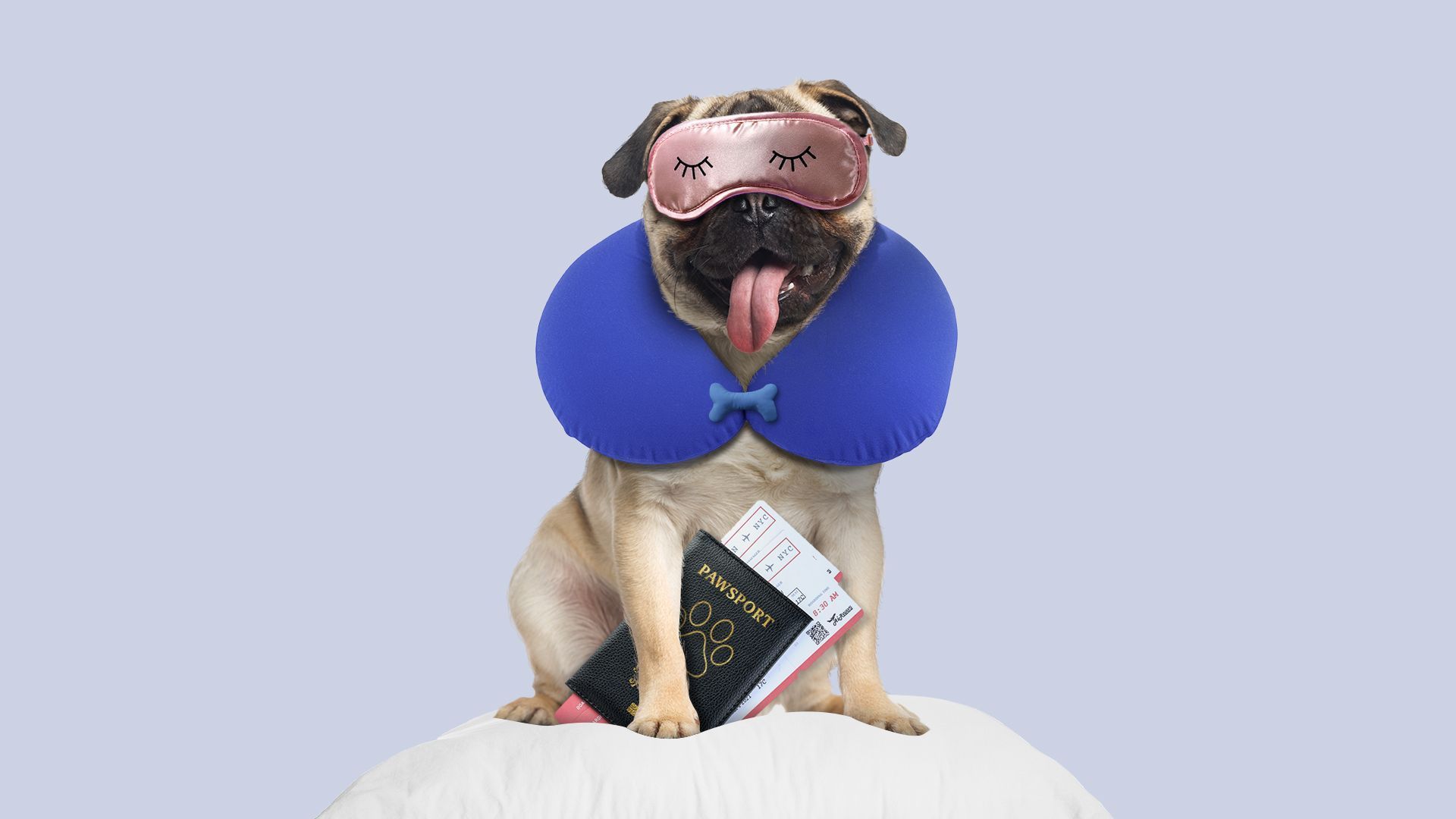 Airline passengers increasingly must sit cheek to jowl with other people's pets, Axios transportation correspondent Joann Muller reports.
On a recent Delta flight, Joann's seatmate was a fluffy white pup who kept licking her.
Industrywide statistics are hard to come by. But Delta alone reports that approximately half a million pets (excluding service animals) travel onboard every year.
Service animals have always been allowed on planes. But over the years, airlines have had to accommodate a wider variety of creatures that travelers say they need for emotional or psychological support.
After complaints from airline crews and passengers, the FAA in 2021 tightened the rules for service animals.
Most airlines still allow passengers to travel with small dogs or cats, and in some cases birds.
Fees are typically $95 to $125.