Axios AM
January 17, 2021
🥞 Hello, Sunday. Today's Smart Brevity™ count: 1,166 words ... 4½ minutes.
1 big thing: Biden's "overwhelming force" doctrine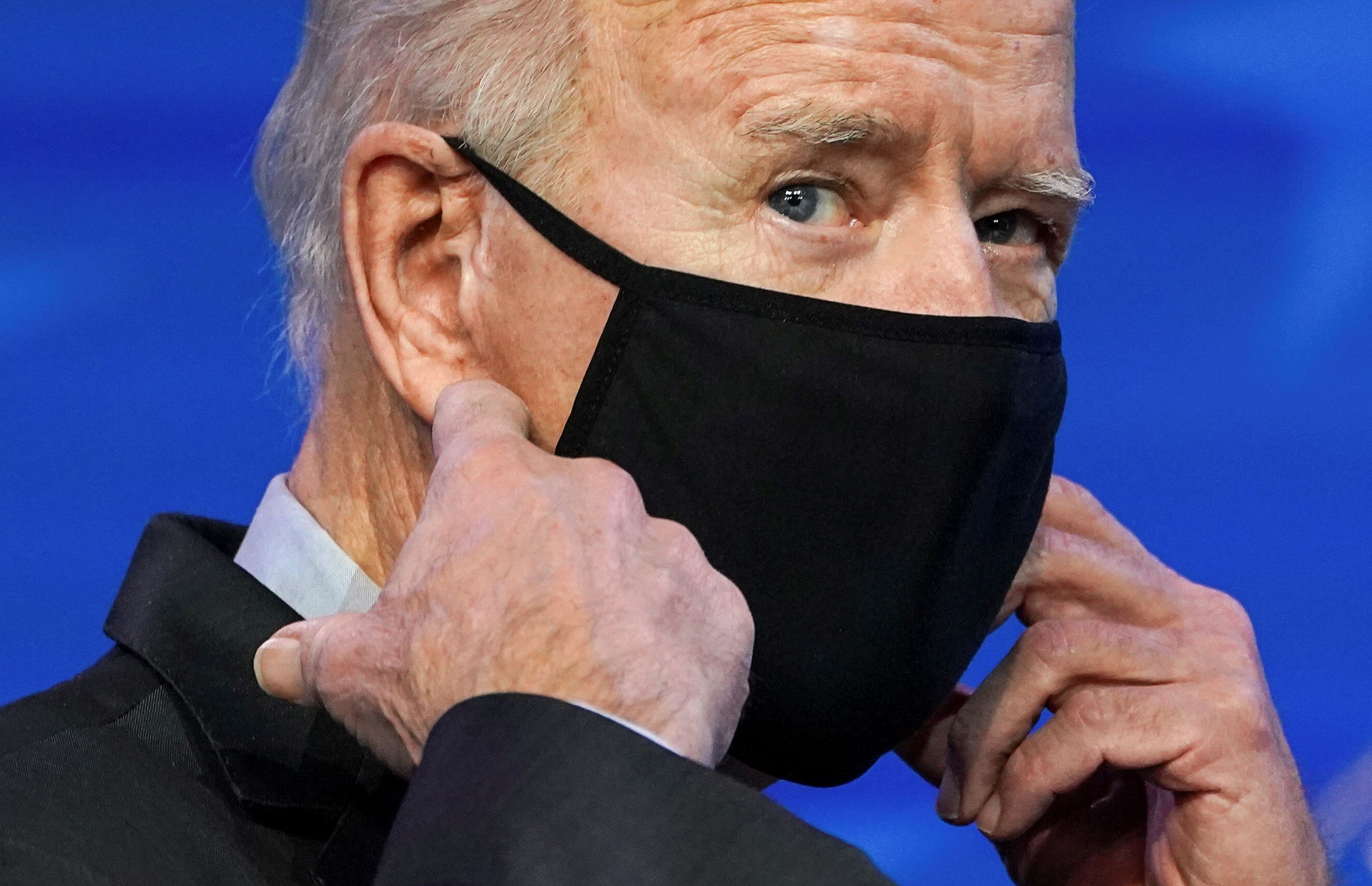 President-elect Biden has ordered up a shock-and-awe campaign for his first days in office to signal, as dramatically as possible, the radical shift coming to America and global affairs, his advisers tell us. 
The plan, Part 1 ... Biden, as detailed in a "First Ten Days" memo from incoming chief of staff Ron Klain, plans to unleash executive orders, federal powers and speeches to shift to a stark, national plan for "100 million shots" in three months: 
A federal mask mandate on government property and for interstate travel — Biden's "100 Day Masking Challenge."
Expand neighborhood access by activating local pharmacies, working directly with both independent drugstores and massive chains.
Reimburse states for deploying the National Guard to support vaccinations, and provide additional FEMA assistance.
The plan, Part 2 ... Biden plans a $2 trillion stimulus/coronavirus plan + the following executive orders to symbolize and solidify a substantial shift here and abroad: 
Rescind the travel ban on several predominantly Muslim countries.
Rejoin the Paris climate accord.
Extend pandemic-related limits on evictions.
Order federal agencies to find ways to reunite children split apart from their families after crossing the border.
The big picture: Watch for Biden to wrap everything, even tangential ideological priorities, under the banner of the coronavirus, in hopes of speeding up legislative action and picking up some Republican votes.
Biden privately says he has a small window to get the vaccination rollout right and the economy recovering. Otherwise, he'll fall victim to liberals who find his actions too timid, and Republicans who find them too liberal. 
2. "Off the rails," Ep. 2: Conspiracy theorists stage easy Trump coup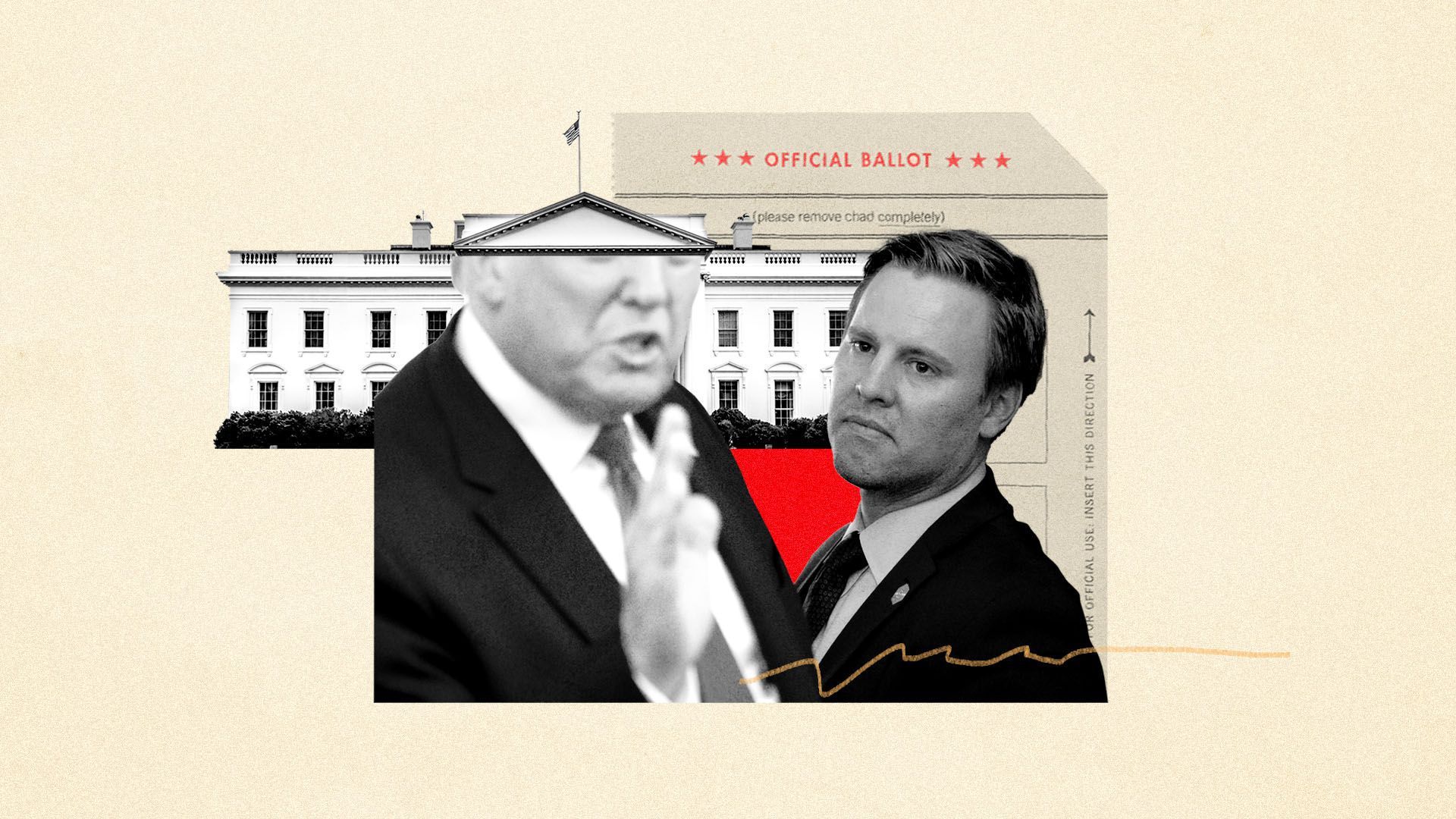 In Episode 2 of "Off the rails," our fly-on-the-wall series on President Trump's final days by Jonathan Swan and Zachary Basu, an increasingly isolated Trump stops buying what aides tell him — and turns to radical voices peddling what he wants to hear.
President Trump plunked down in an armchair in the White House residence, still dressed from his golf game — navy fleece, black pants, white MAGA cap. It was Saturday, Nov. 7. The networks had just called the election for Joe Biden.
Top aides leveled with him: He had one last long shot at victory. It would require them to win enough outstanding votes in Arizona and Georgia to squeak home in those two states, and to win a legal challenge to election practices in Wisconsin.
"You have a 5% to 10% chance of this happening," Justin Clark, the deputy campaign manager, told the president.
Plan B, driven by Rudy Giuliani and a parallel track of conspiracists, was already coming together, unfolding before the original advisers' own eyes.
It would soon overtake the campaign's legal operation, feeding the president false claims including the idea that the election could be overturned.
A bizarre routine set in at Trump campaign headquarters in Arlington, Va.:
Meetings would begin with official staff raising plausible legal strategies.
Then Giuliani and Sidney Powell, a lawyer with a history of floating "deep state" conspiracy theories, would take over, spewing wild allegations of a centralized plot by Democrats — and in Powell's view, international communists — to steal the election.
Bewildered campaign aides would look around the table at one another, silently asking what the hell was going on. One would invariably shuffle out of the room, followed by another a few minutes later.
The professional staff would reconvene in campaign manager Bill Stepien's office, about 20 yards down the hall.
Eventually, Giuliani would realize that he and his crew were alone in the conference room. He'd walk down the hall and knock on the glass outside Stepien's office, where about eight aides had squeezed onto a pair of couches.
"You guys, where did you go?" Giuliani would say. "This is serious!"
3. "They're lying to you, sir!"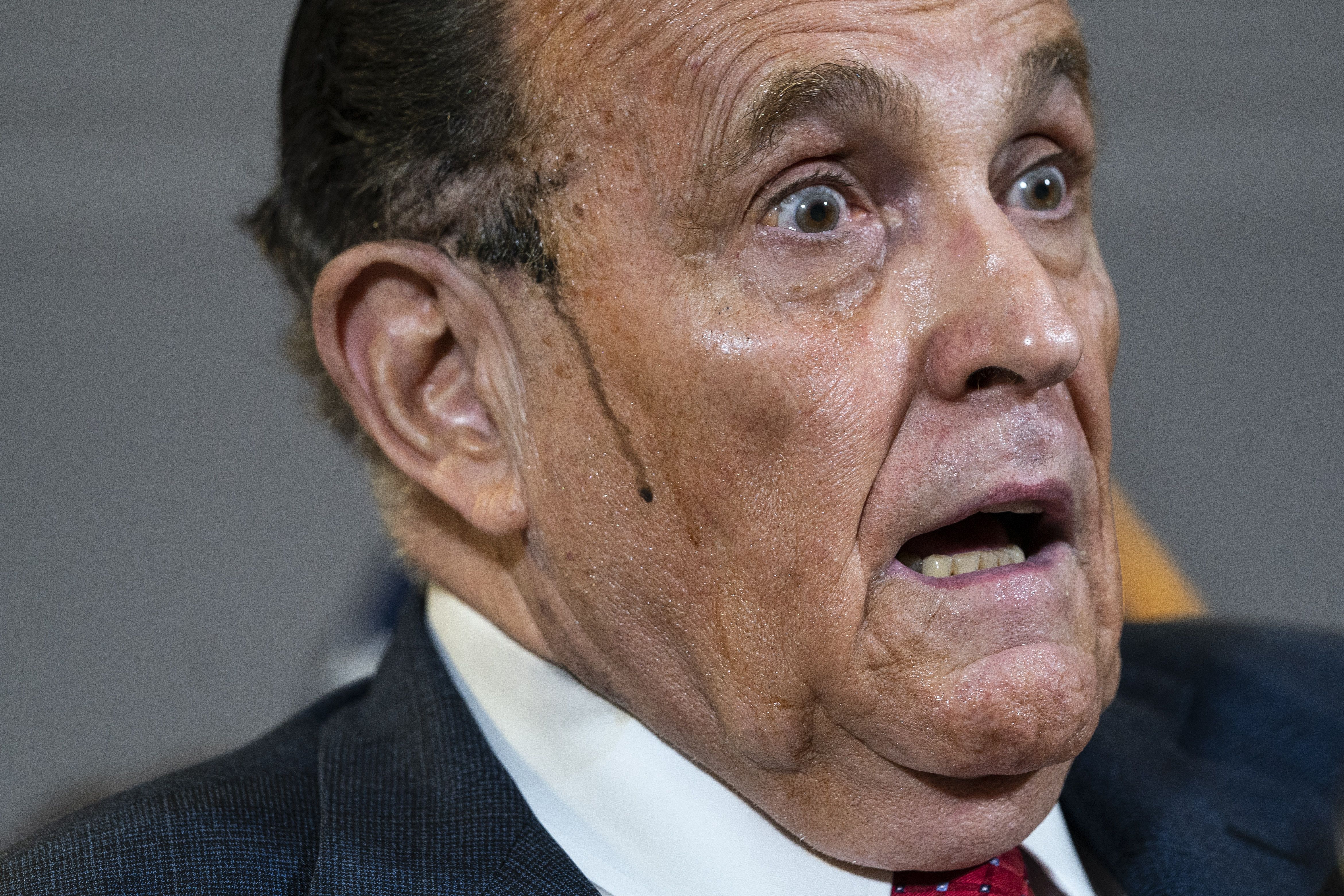 "Off the rails," Episode 2, continues...
Some of the senior staff argued that Trump should spend this post-election period claiming credit for the GOP's strong congressional performances in the elections and to burnish his legacy, by talking about his achievements in office and the pace of the Operation Warp Speed vaccine development.
But Trump wouldn't allow his team to move on. To be around him meant you had to accommodate some measure of denial.
Trump's closest aides said they wanted to give him space to experience all the stages of grief. But he rarely made it past the denial stage.
Biden was declared the winner of Arizona on Nov. 12, by more than 11,000 votes — a margin that was uncatchable. At that point, the core campaign team told Trump his pathway was dead. In retaliation, Trump stopped listening to them.
On Nov. 13, with Rudy on the speakerphone and Justin Clark, the real campaign aide, joining a packed Oval Office meeting with Trump, Giuliani erupted: "They're lying to you, sir!"
📱Go deeper: Read the whole deeply reported episode in the Axios stream.
🎧 Axios premieres a new podcast series on Monday, "How it happened," featuring Jonathan Swan and "Off the rails." Subscribe to "Axios Today" to catch the first episode as soon as it drops.
4. Maps du jour: Inauguration lockdown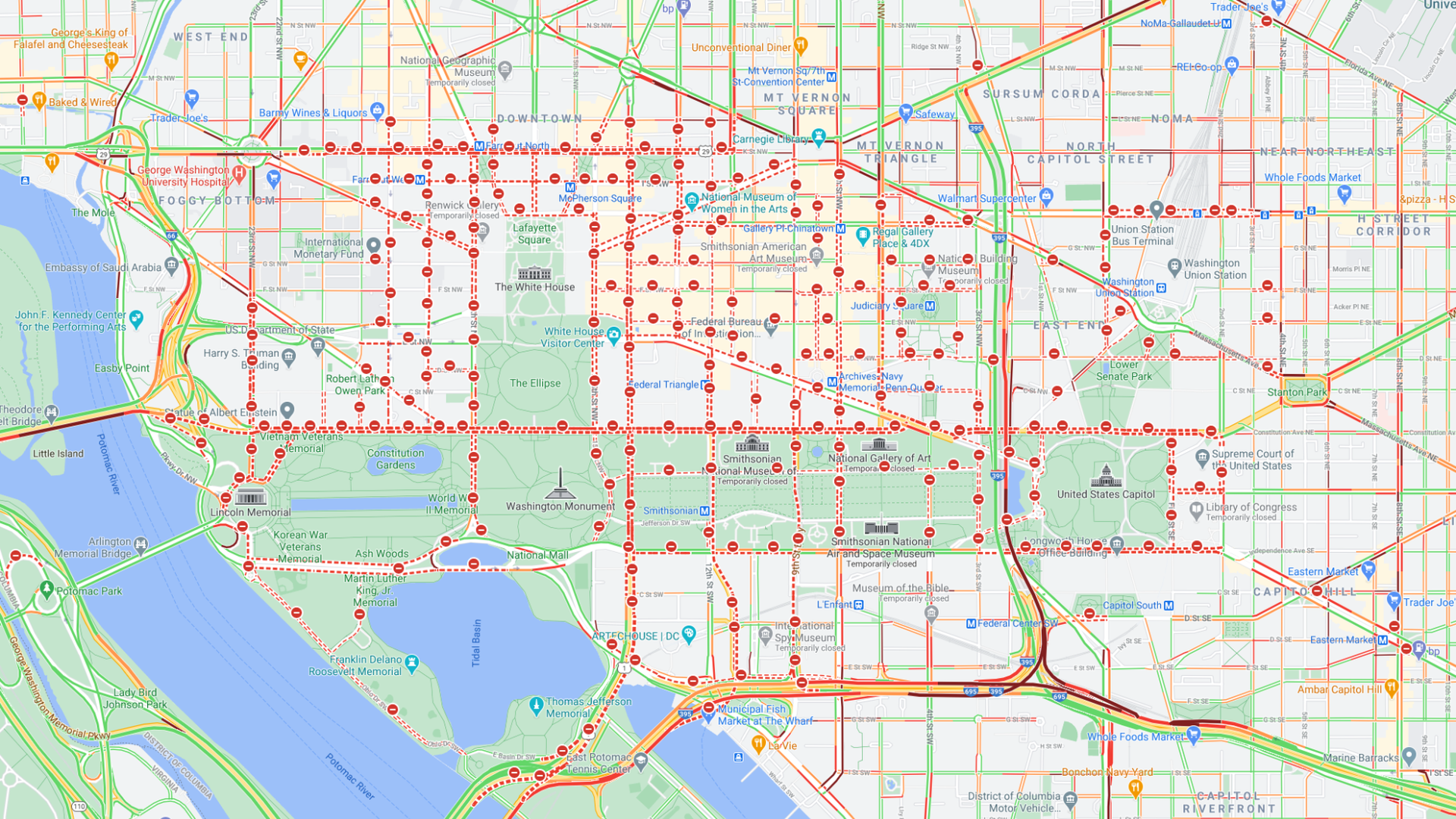 5. Fringe right plots new attacks out of sight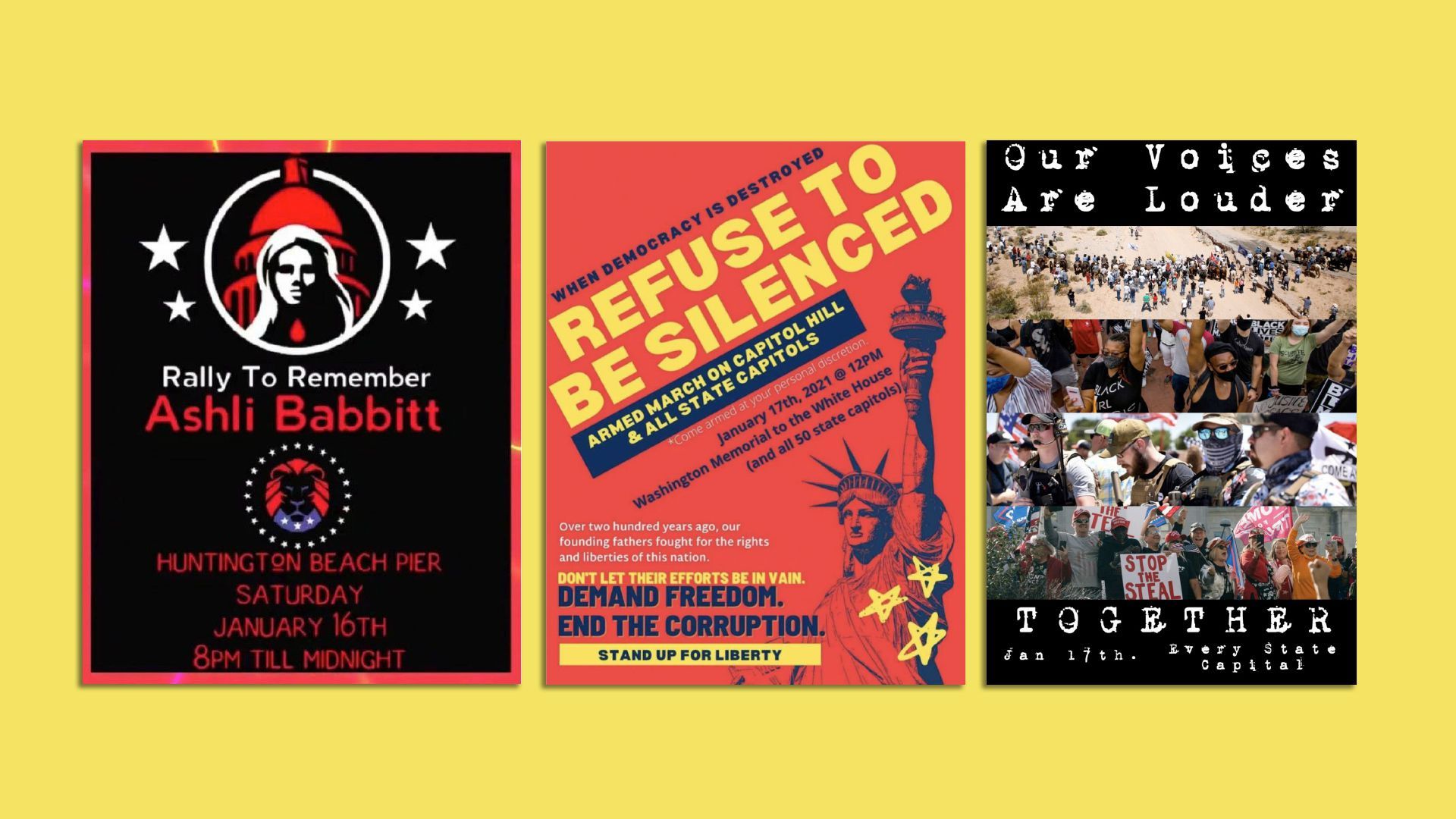 Domestic extremists are using obscure and private corners of the internet to plot new attacks ahead of Inauguration Day. Their plans are hidden in plain sight — buried in podcasts and online video platforms, Sara Fischer and Kyle Daly write.
Why it matters: Because law enforcement was caught flat-footed during last week's Capitol siege, researchers and intelligence agencies are paying more attention to online threats that could turn into real-world violence.
Extremism researchers worry the threat is more diffuse than the openly plotted Jan. 6 attack in Washington, with far-right groups taking to non-mainstream channels to plan nationwide disruption, and whip up anger and calls to arms.
The Boogaloo movement, a fringe-right extremist group dedicated to instigating a second civil war, is one of the groups plotting these attacks.
Local officials and law enforcement officials in Michigan and Minnesota warn the groups are planning similar events in those states' capitals today.
6. Kids' screen time up 50%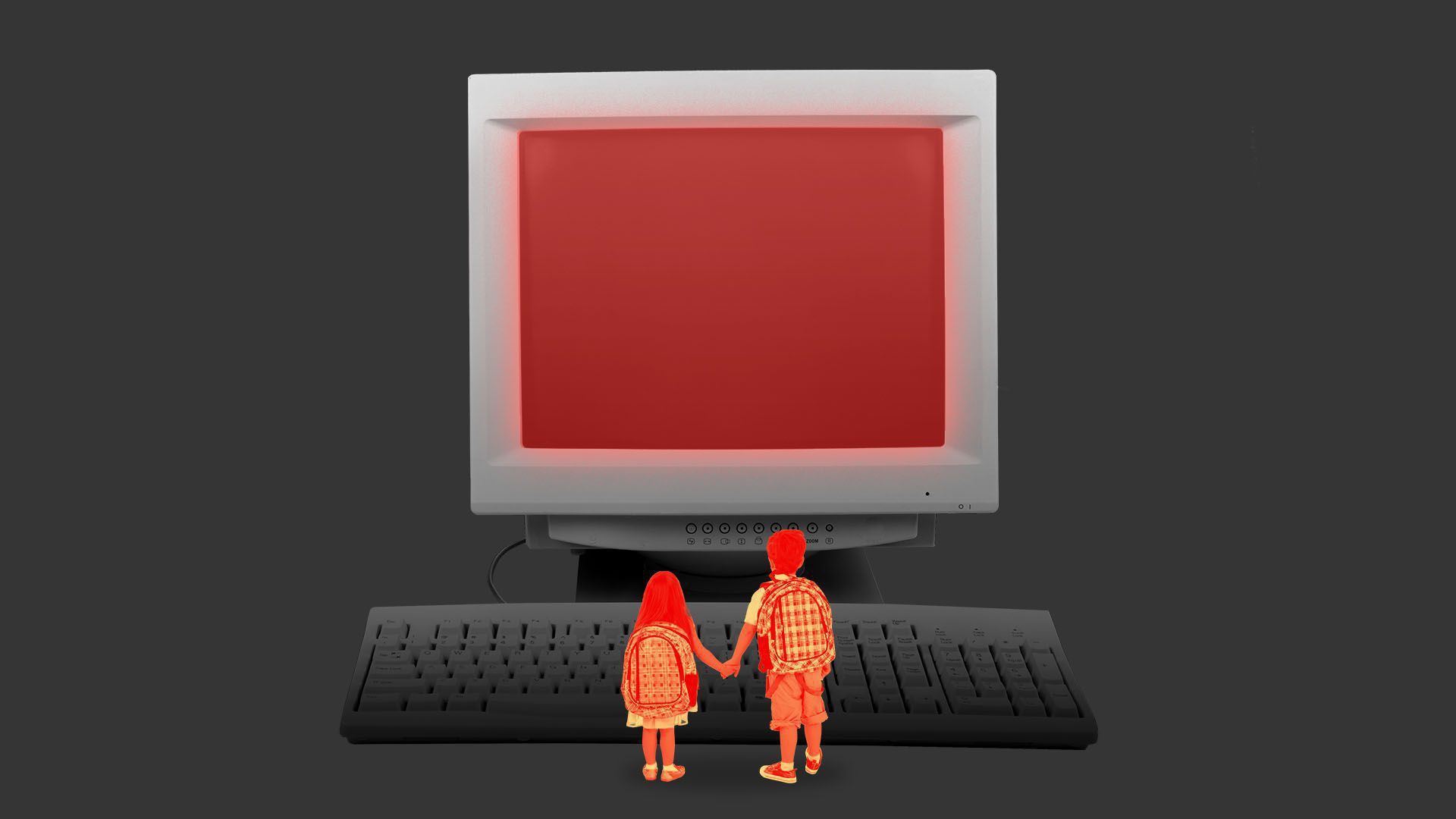 When the lockdowns started in March, kidstech firm SuperAwesome found that screen time was up 50%. Nearly a year later, that percentage hasn't budged, Sara Fischer and Margaret Harding McGill report.
Axios spoke with more than a dozen parents of kids from different ages, states and socioeconomic backgrounds about screen time during the pandemic.
For younger kids, more screen time may be a result of parents not feeling as comfortable letting small children play outside with neighborhood friends without supervision during the workday.
For older kids, screen time has become a lifeline to socialization.
7. Worthy read: "America will not survive the big lie just because a liar is separated from power"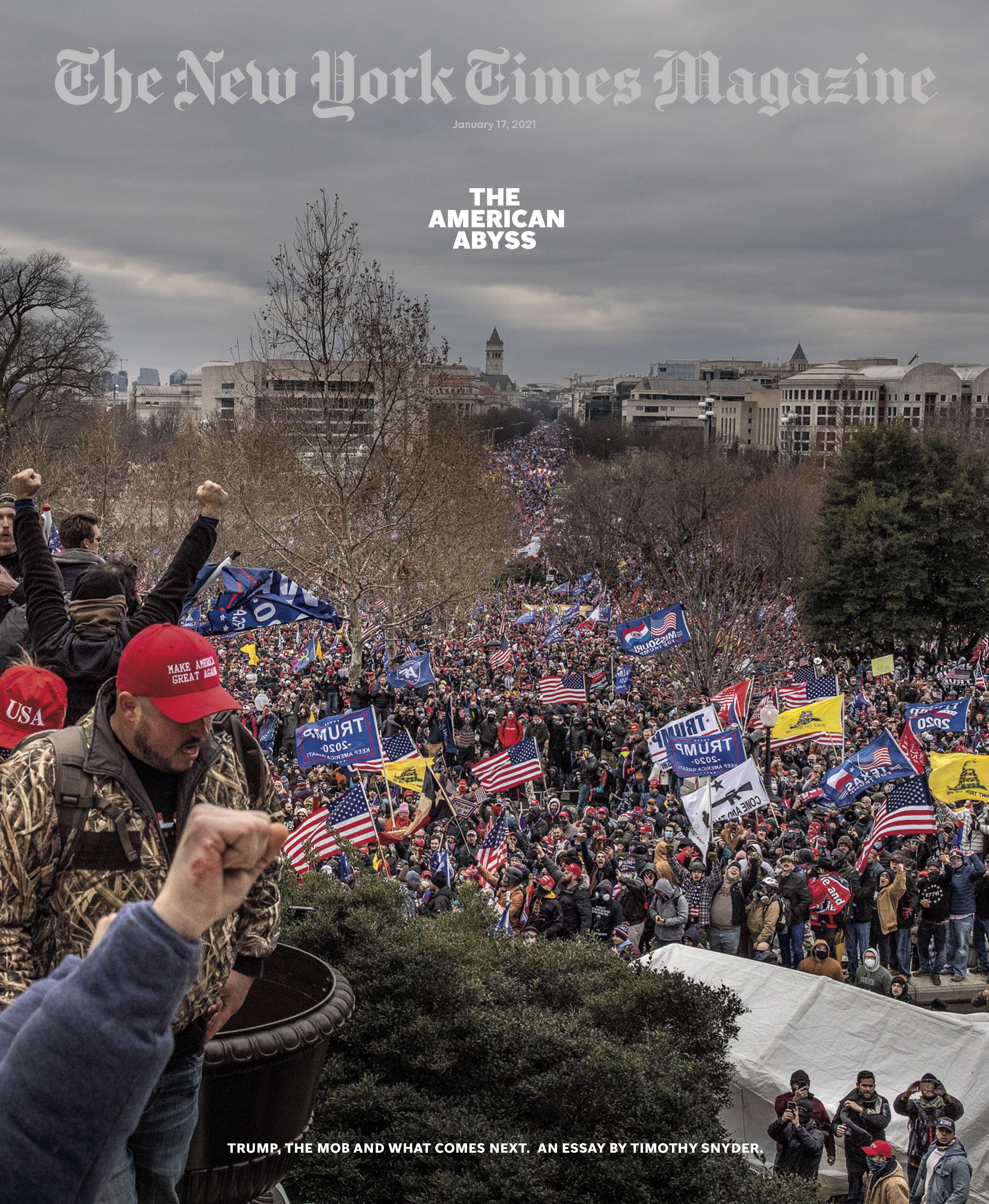 Timothy Snyder — author of "On Tyranny," on America's turn toward authoritarianism — writes in the New York Times Magazine cover story:
Informed observers inside and outside government agree that right-wing white supremacism is the greatest terrorist threat to the United States. Gun sales in 2020 hit an astonishing high. History shows that political violence follows when prominent leaders of major political parties openly embrace paranoia.
Keep reading (subscription).
8. 📷 Parting shot: $20,000 decoder ring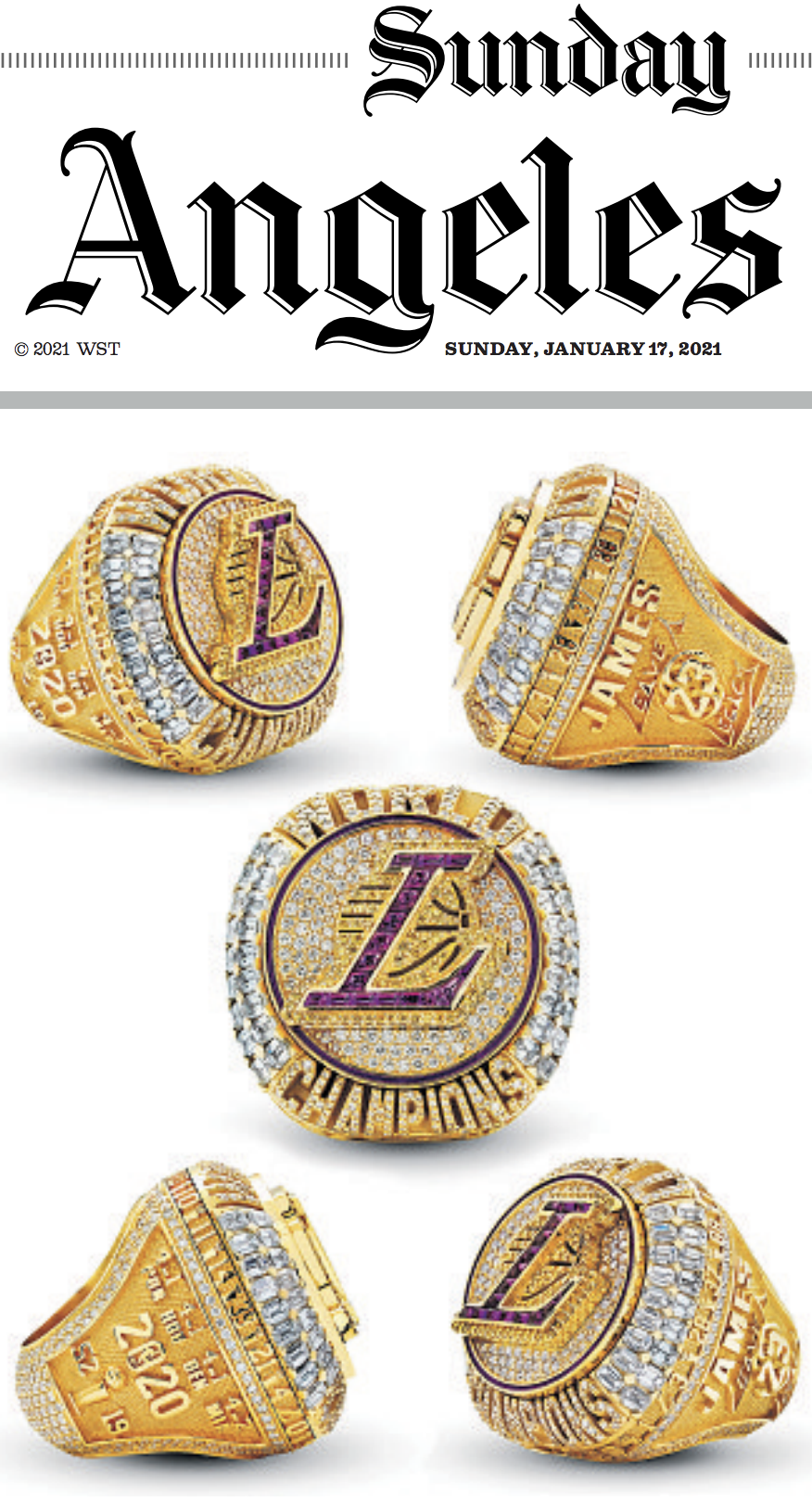 Bling Easter eggs ... "The ring that each Lakers player received for winning the 2020 NBA championship is mostly gold and diamonds, ... but there is something subtle lurking beneath the gleam," the L.A. Times' David Wharton writes.
"Coiled snakes and small etchings, like hieroglyphics. Jewels whose exact carat weight holds a secret meaning ... visual references to the death of Kobe Bryant, a global pandemic and social unrest."
🎥 YouTube: "The Making of The 2020 Lakers Championship Ring."
📬 Thanks for starting your holiday weekend with us. Please invite your friends to sign up for Axios AM/PM.