https://www.axios.com/newsletters/axios-am-0ec8cdbe-ab91-4df5-90b0-49032d176231.html?chunk=0#story0
1 big thing: Red scare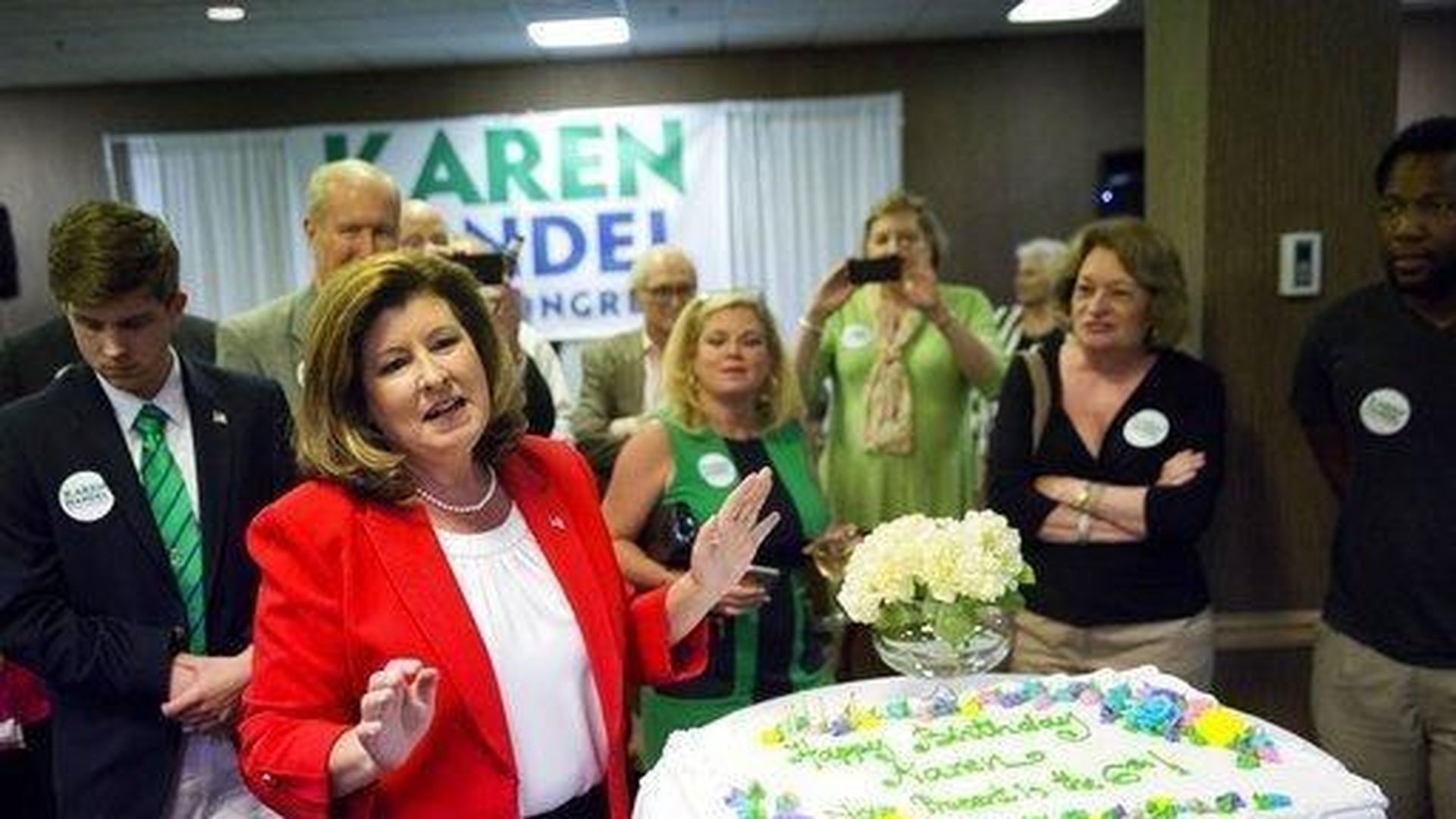 President Trump got to claim a Twitter victory early this morning in that high-stakes special House election in the Atlanta suburbs. The two parties now plunge into an expensive two-month runoff as they try to excite their donors and bases heading into next year's congressional midterms:
The bottom line, from Atlanta-Journal-Constitution's Greg Bluestein: "The proxy fight between Democrats and Republicans will continue in Georgia for two more months."
The lead: "Democrat Jon Ossoff [48%] is headed for a runoff in June against a Republican contender after failing Tuesday to score an upset victory to [replace now-HHS Secretary Tom Price in] a suburban Atlanta district in Congress. He goes into a June 20 runoff against Karen Handel," who got 20%. (The numbers.)
Trump's tweet: "Despite major outside money, FAKE media support and eleven Republican candidates, BIG "R" win with runoff in Georgia. Glad to be of help!"
What's next, from N.Y. Times' Jonathan Martin and Richard Fausset, from Atlanta: "Ossoff's strong showing will ensure that national Democrats continue to compete here and will increase pressure on the party to contest a special House election next month in Montana that it has so far ignored."
What it means: "Combined with Democrats' better-than-expected performance in a special House election in Kansas last week, the Georgia result will be an immediate boon to Democratic groups, lifting their fund-raising and bolstering candidate recruitment efforts, while sobering Republicans who are assessing whether to run in Mr. Trump's first midterm election.
Adding it up: "Already, Republican candidates and outside groups have had to spend over $7 million against Democrats in a series of deeply conservative districts."
https://www.axios.com/newsletters/axios-am-0ec8cdbe-ab91-4df5-90b0-49032d176231.html?chunk=1#story1
2. The bigger fight
Other big signs of energy among liberal donors ... Both parties see a surge in donations ahead of next year's Senate races, per USA Today's lead story, by Fredreka Schouten:
"Many vulnerable Senate Democrats saw their campaign donations soar during the first three months of the year ... The 10 Democratic incumbents up for re-election in states carried by President Trump collectively raised nearly $19 million between Jan. 1 and March 31, more than twice what they collected during the comparable period of their last Senate campaigns."
"Leading the pack: Missouri Sen. Claire McCaskill ... raised $2.8 million during the first quarter of the year, far outpacing the $1.1 million she had collected at this point six years ago. ... [A] possible McCaskill challenger, Republican Rep. Ann Wagner, had amassed a $2.8 million war chest."
Senate Republicans "raised $7 million in March alone, [the NRSC's] highest monthly haul in a non-election year."
"[S]everal House Republicans considering bids against vulnerable Senate Democrats have assembled massive war chests."
https://www.axios.com/newsletters/axios-am-0ec8cdbe-ab91-4df5-90b0-49032d176231.html?chunk=2#story2
3. Megatrend: Retail workers being displaced in droves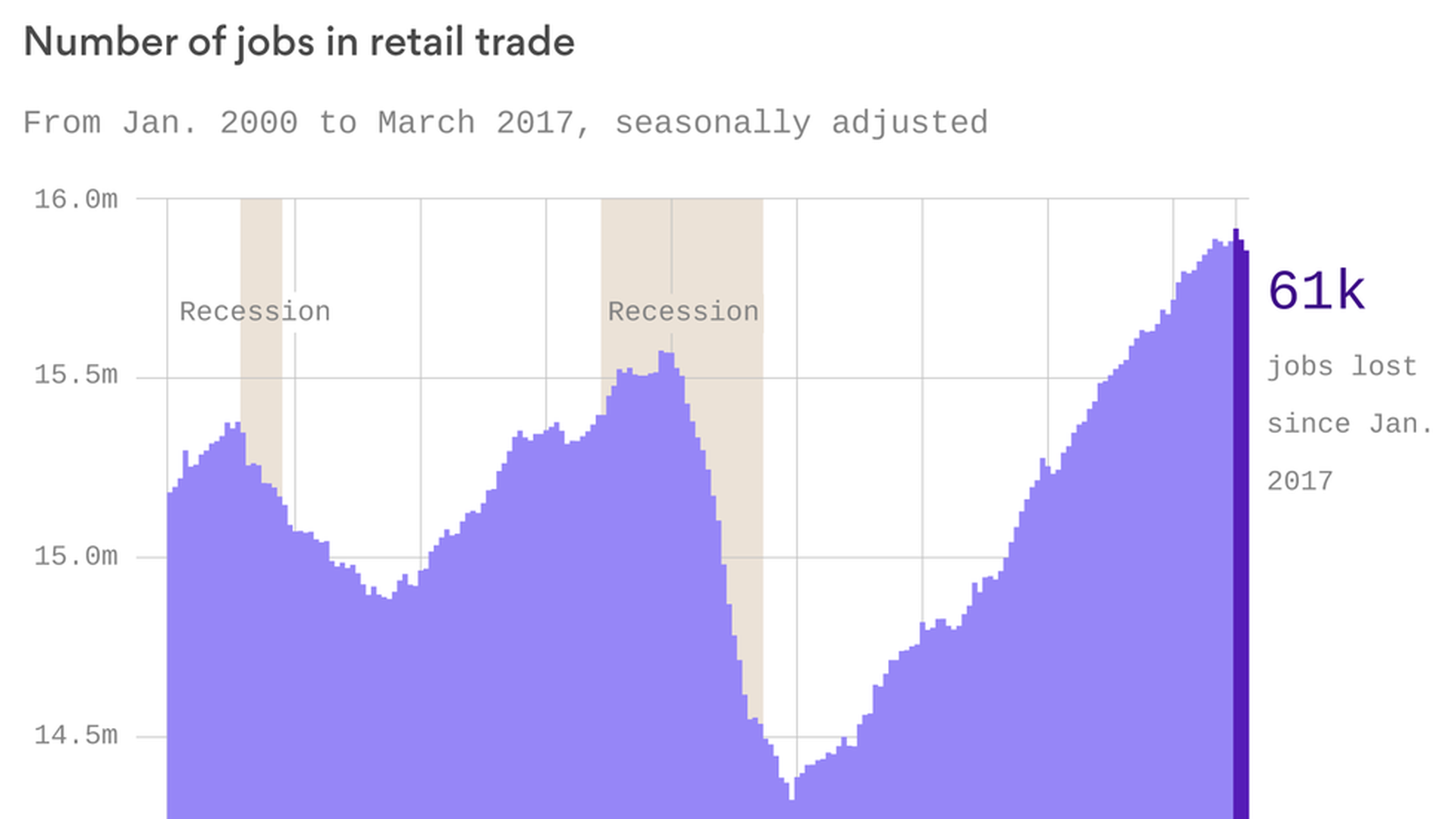 After a steep rise following the financial crisis, U.S. retail jobs have been plummeting since the start of the year, Axios' Steve LeVine writes:
Why it matters: The likely irreversible plunge in these relatively low-wage jobs — $18-an-hour employment for teens, adults, immigrants and senior citizens for generations — primarily affects the working class people whose shrinking opportunities have underpinned populist politics in the U.S. and abroad.
The jobs being created in their stead, in online warehouses for companies like Amazon, are too few to soak up those displaced.
Our thought bubble: Until now, retail workers — unlike the car-making and coal-mining industries — have made little political splash. Look for that to change.
https://www.axios.com/newsletters/axios-am-0ec8cdbe-ab91-4df5-90b0-49032d176231.html?chunk=3#story3
4. Beyond the bubbles: "Getting" Trump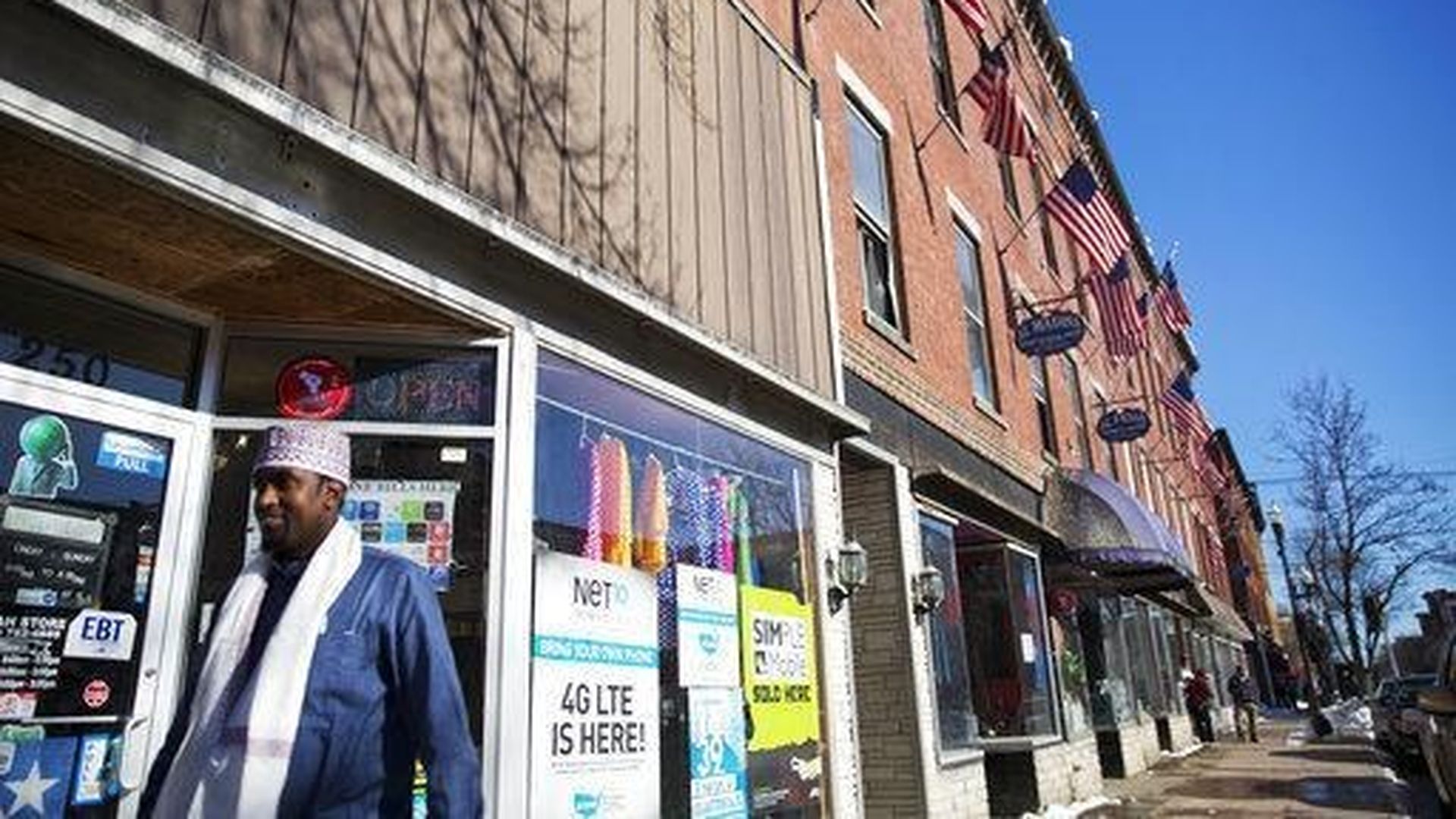 A worthy-of-your-time Trump Country package from AP ... "Refugees and Resentment — How a community changed by refugees came to embrace Trump," by Claire Galofaro in Lewiston, Maine:
This "working-class community, built along the banks of the Androscoggin River in the whitest state in America, is a place that some point to as proof that refugee integration can work. And yet for the first time in 30 years, voters in Androscoggin County chose a Republican for president, endorsing Trump's nativist zeal against the very sort of immigrants who share their streets and their schools. ...
The sprawling brick mills that line the river sit mostly shuttered. A quarter of children grow up poor. Taxpayers pick up the welfare tab. So Trump's supporters here tie their embrace of his immigration clampdown to their economic anxieties, and their belief that the newcomers are taking more than they have earned.
https://www.axios.com/newsletters/axios-am-0ec8cdbe-ab91-4df5-90b0-49032d176231.html?chunk=4#story4
5. Local, state tax deductions on Gary Cohn's list
Trump top economic adviser Gary Cohn has privately said he's warming to the idea of eliminating the local and state tax deduction to pay for tax cuts and simplify the code, Axios's Jonathan Swan reports:
What it means: The White House needs a ton of money to pay for corporate, individual and small business tax cuts (not to mention the "Ivanka credit" for childcare.) Getting rid of these state and local deductions is a dream Republicans have long held and would raise an estimated $1 trillion over 10 years.
Caveat: No final decisions have been made, and the administration's tax reform plans are still a long way from prime time.
What the White House says: "We haven't reached the stage of talking about which deductions would stay or go because we are still in listening mode, hearing from key stakeholders before developing a comprehensive plan. To the extent state and local deductions have been discussed, they've been among a laundry list of options that could be explored — no more those than any others."
https://www.axios.com/newsletters/axios-am-0ec8cdbe-ab91-4df5-90b0-49032d176231.html?chunk=5#story5
6. A quiet strategy, and a "false narrative"
The case of the elusive aircraft carrier ...
The memorable headline on the N.Y. Times' 1-column lead story: "AIRCRAFT CARRIER WAS NOT HEADING WHERE U.S. SAID: FAR FROM NORTH KOREA — After a Week of Asian Tensions, Officials Detail Miscues," by Mark Lander and Eric Schmitt:
"[T]he carrier, the Carl Vinson, and the three other warships in its strike force were that very moment sailing in the opposite direction, to take part in joint exercises with the Australian Navy in the Indian Ocean, 3,500 miles southwest of the Korean Peninsula."
"White House officials said Tuesday that they had been relying on guidance from the Defense Department. Officials there described a glitch-ridden sequence of events, from an ill-timed announcement of the deployment by the military's Pacific Command to a partially erroneous explanation by the defense secretary, Jim Mattis — all of which perpetuated the false narrative that a flotilla was racing toward the waters off North Korea."
The bottom line, from the WashPost's lead story, "U.S. tough talk belies actions": "While officials are eager to signal a break from previous U.S. policy, their strategy appears to be a continuation of the Obama administration's attempt to use international economic and diplomatic pressure to force results in Pyongyang."
https://www.axios.com/newsletters/axios-am-0ec8cdbe-ab91-4df5-90b0-49032d176231.html?chunk=6#story6
7. Facebook's next frontier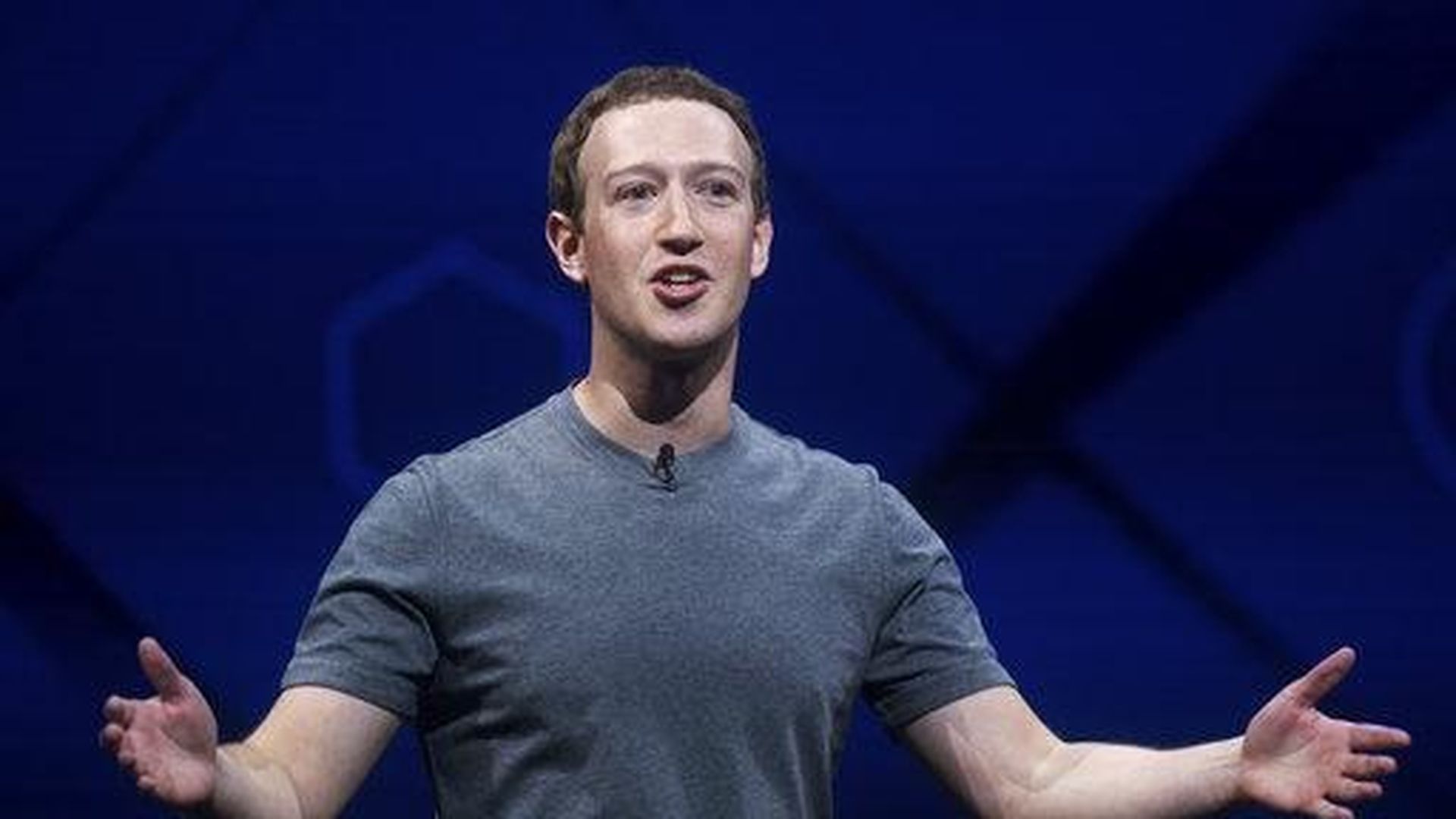 Axios' Kia Kokalitcheva writes from Facebook's developers' conference in San Jose that the social network's next frontier is using devices like smartphones to decorate, distort, animate, or annotate the world around us. Yesterday's hot announcements:
Camera Effects Platform: A set of software tools for developers and creators that lets them build filters and effects that can recognize objects and add 3D effects to photos and videos.
Facebook Spaces for Oculus: A new virtual reality app for hanging out with friends. But socializing in a world of avatars requires special devices and technology that's still in its early days.
Messenger 2.0: Admitting that last year's release of chat bots wasn't as polished as it could have been, Facebook came back with new and improved ones, along with other fresh features for its messaging app. It's clear Facebook wants to turn Messenger into the way businesses interact with customers.
What's next: Facebook today is expected to unveil new gadgets its secretive Building 8 unit has been developing.
https://www.axios.com/newsletters/axios-am-0ec8cdbe-ab91-4df5-90b0-49032d176231.html?chunk=7#story7
8. "Factor"ed out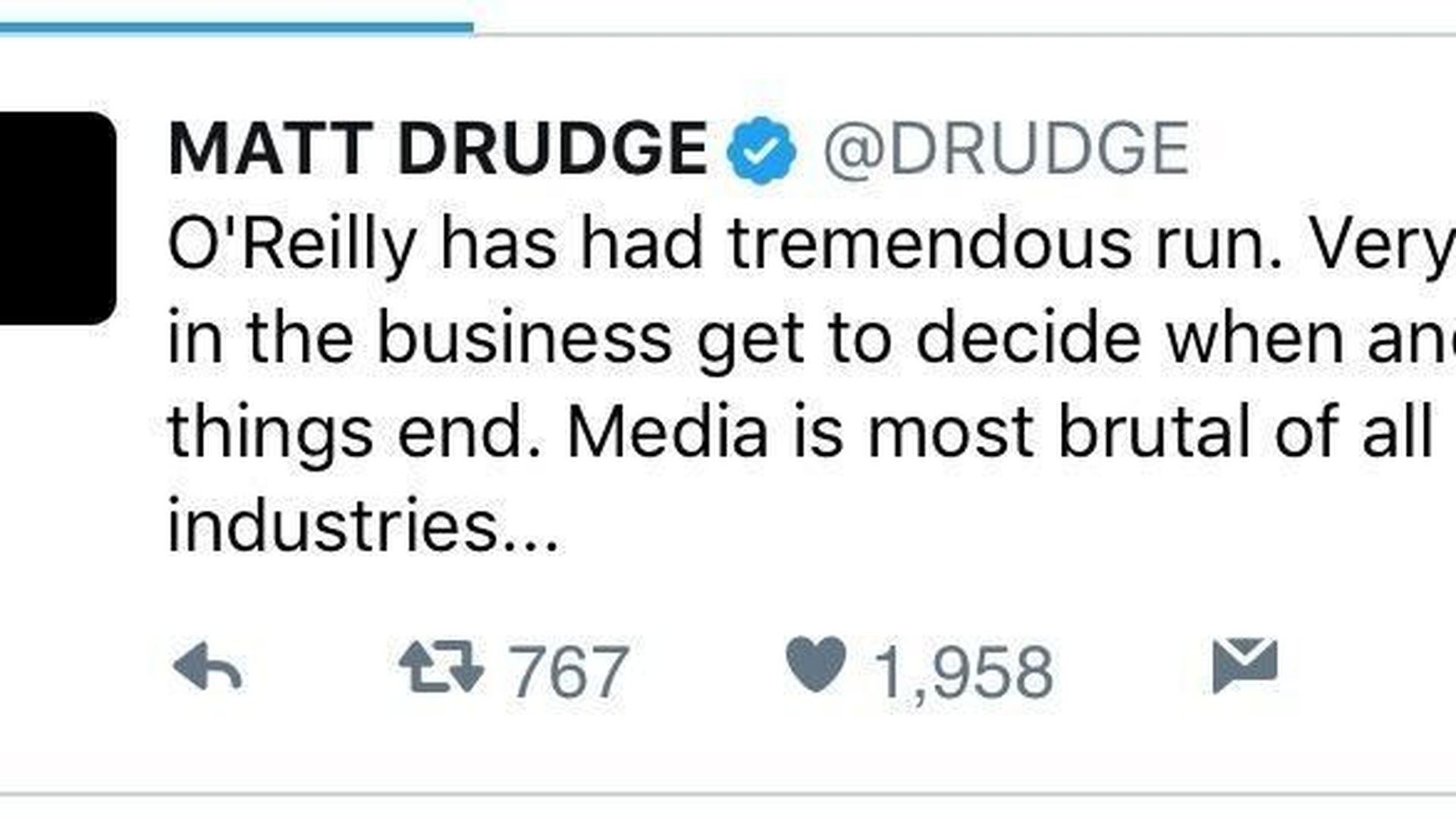 Representatives for Fox News and Bill O'Reilly "have begun talking about an exit" and "he will probably not be back on the "Factor," per CNN's Brian Stelter:
So: Dana Perino? Eric Bolling? Jesse Watters [O'Reilly's most frequent fill-in]? An 8pm edition of "The Five?" Something else?
Axios AM is told corporate execs would love to bring in an outside, non-political big name from another network ...
https://www.axios.com/newsletters/axios-am-0ec8cdbe-ab91-4df5-90b0-49032d176231.html?chunk=8#story8
9. 1 important thing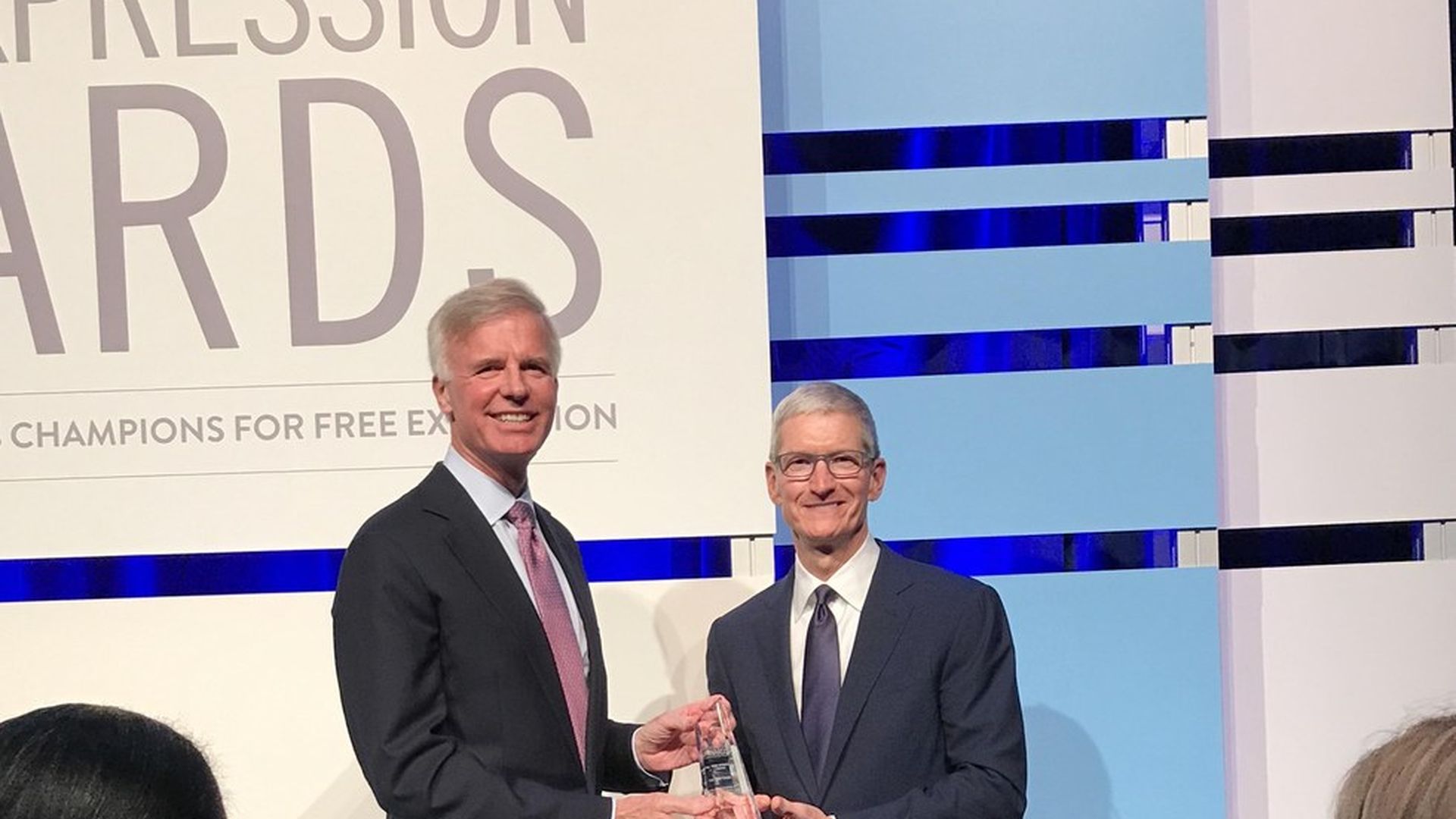 Honorees last night at the Newseum's second annual Free Expression Awards:
Lifetime Achievement Award: Rep. John Lewis
Free Speech Award: Apple CEO Tim Cook
Free Press Award: ABC's Martha Raddatz
Religious Freedom Award: Kristina Arriaga de Bucholz, executive director of Becket Law
Arts and Entertainment Award: Christie Hefner, Hugh Hefner
Fun fact: Tim Cook was seated between two of my co-founders at Politico, Washington Post Publisher Fred Ryan and Axios CEO Jim VandeHei.
https://www.axios.com/newsletters/axios-am-0ec8cdbe-ab91-4df5-90b0-49032d176231.html?chunk=9#story9
10. 1 fun thing: Bean-counting on the Strip
"In Las Vegas, Drinks Flow a Little Less Freely: Casinos are introducing technology to signal when a person has played enough poker to get a complimentary pour; 'Is my light green?'" — Wall Street journal A-Hed, by Chris Kirkham:
As Las Vegas has transformed into one of the world's most-visited tourist destinations, casino operators are re-examining the perks that historically lured gamblers. Over the past year, casinos have started charging for parking at resorts on the Strip, eliciting criticism from locals and longtime visitors who view free casino parking as a sacred tradition. Now operators have started scrutinizing complimentary drinks, introducing new technology at bars that track how much someone has gambled—and rewards them accordingly ...
It's a shift from decades of more-informal interplay between bartenders and gamblers. ... Casinos on the Strip now derive a smaller share of revenue from gambling. In 1996, more than half of annual casino revenue on the Strip came from gambling. Last year, the share was down to about a third, according to the University of Nevada-Las Vegas. More of the revenue comes from hotels, restaurants and bars....
So far the system applies only to machines at casino bars. Players at slot machines on the floor can still wave down cocktail servers for free drinks.