January 14, 2021
🧤 Hello Thursday. Today's Smart Brevity™ count: 1,192 words ... 4½ minutes.
🚨 Axios War for Truth: At 12:30 p.m. ET today, please join CEO Jim VandeHei and the Axios experts for our first Axios Town Hall event, where we'll unveil our new Audience Bill of Rights, an updated manifesto, and our plans for 2021 and beyond.
1 big thing: Trump's party
He lied about the election being fixed. He incited an attack that left five dead at the U.S Capitol. He got impeached. Twice. But the vast majority of Republicans still have his back — and views — by big majorities. 
Why it matters: Anyone who thinks Trump is a politically dead man walking appears pointedly dead wrong.
Just look at the numbers: 
Two-thirds of House Republicans voted to decertify the election results — in the hours after an insurrection. 
93% of House Republicans voted against impeachment yesterday.
In an Axios-Ipsos poll taken Tuesday and yesterday:
64% of Republicans said they support Trump's recent behavior.
57% of Republicans said Trump should be the 2024 GOP candidate.
Only 17% think he should be removed from office.
House and Senate Republicans tell me they strongly believe Trump will remain a force in the party's 2022 and 2024 races — even if he were to be convicted in the forthcoming Senate trial, and barred from holding federal office himself.
One reason he may escape conviction is that some top Republicans believe that would make him a martyr and actually empower him. They'd rather let him fade away.
Fox News' Tucker Carlson said last night: "By impeaching the president during his final week in office, Congress will not succeed in discrediting Trump among Republican voters. In fact, it will enhance Donald Trump among Republican voters. Obviously!"
Between the lines: A majority of Republicans in the poll — 56% — consider themselves traditional Republicans; 36% call themselves Trump Republicans.
That's a formidable base for Trump, who also controls the $150 million+ he has raised for his super PAC since the election.
📊 Go deeper: 56% of Americans want Trump removed from office, Axios managing editor David Nather writes from the Axios-Ipsos poll.
2. Stark poll question that says it all
The two parties agree: In a new Axios-Ipsos poll, fourth-fifths of Americans — both Republicans and Democrats — say America is falling apart.
Why it matters: The question, asked Tuesday and Wednesday, reflects the collision of crises besetting the country — the backdrop of a pandemic, recession, decoupling of red/blue America, and racial injustice + the immediacy of the Capitol insurrection, followed by Impeachment II.
22% of Democrats and 19% of independents — one-fifth of each — say they aren't proud to be an American.
7% of Republicans, and 17% of Americans as a whole, say that.
The bottom line: Something else to agree on ... Both parties say traditional party leaders don't get them.
3. Biden's muscular economic agenda
Power will move from Wall Street to Washington over the next four years, Axios' Felix Salmon and Dion Rabouin write.
That's the message being sent by President-elect Biden, with his expected nomination of Wall Street foe Gary Gensler as the new SEC chairman, and by Sherrod Brown, the incoming head of the Senate Banking Committee.
Why it matters: Biden is going to attempt to chart an economic policy that's visibly to the left of Presidents Clinton or Obama. If Biden succeeds, the results will show not only in taxes and spending, but also in regulation.
Flashback: Clinton was constrained by the "bond vigilantes," who would drive up interest rates if they feared a departure from economic orthodoxy.
What's new: Economic orthodoxy has moved sharply to the left in recent years.
The fears of the bond vigilantes were proved unfounded: Large deficits and low unemployment didn't cause any visible uptick in inflation.
A new consensus started to emerge that the biggest danger in economic policy is doing too little, rather than too much.
🔮 What's next: Biden will speak in Wilmington today on the nation's "public health and economic crises." Look for him to chart a course of rescue, followed by recovery:
Biden will propose an emergency rescue package to fund vaccinations and provide immediate, direct relief to working families bearing the brunt of the COVID-19 crisis.
In coming weeks, Biden will announce a second package — a jobs and economic recovery plan designed to strengthen small businesses and create millions of jobs.
4. Mass move to hidden web
Millions are flocking to encrypted apps like Telegram and Signal as fears grow about Big Tech, the N.Y. Times reports (subscription):
Telegram said Tuesday that "it added more than 25 million users over the previous three days, pushing it to over 500 million users."
"Signal added nearly 1.3 million users on Monday alone, after averaging just 50,000 downloads a day last year, according to estimates from Apptopia."
Our thought bubble: Careful what you wish for and force, people. Imagine conspiracy and plotting happening only in places no one else can see. 
5. Chilling reality: "The Capitol is just the beginning"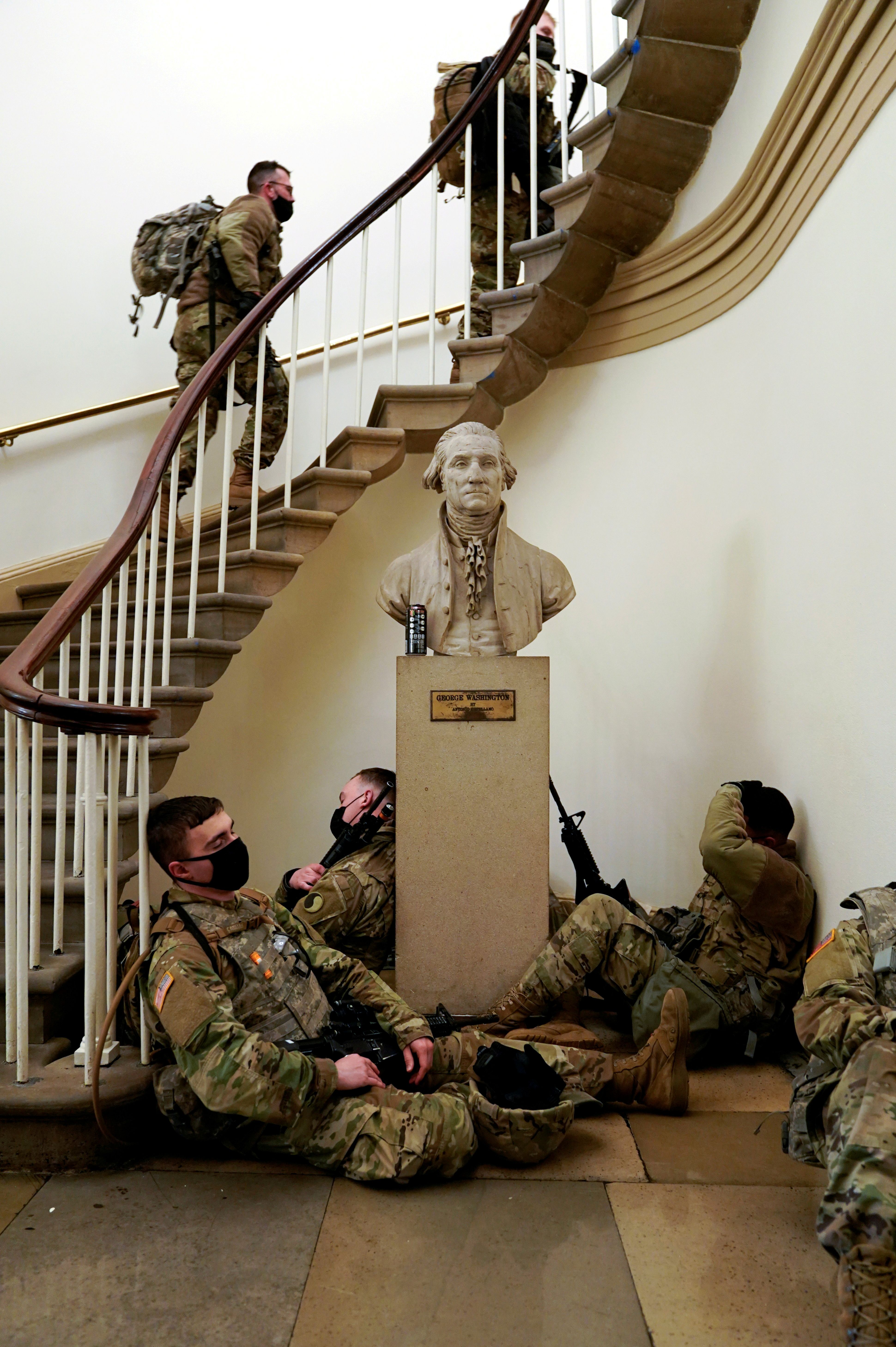 A memorable passage from N.Y. Times Opinion columnist Farhad Manjoo (subscription):
[T]he crowd that stormed the Capitol was a big tent of whiteness, a cross-section of American society bridging divisions of class, geography and demography. They were doctors and lawyers, florists and real estate agents, business executives, police officers, military veterans, at least one elected official and an Olympic gold medalist. They'd all come to coup for America.
Manjoo adds that "none of this is over — far from it":
Now that the conspiracy mob has effected such carnage on the real world, we'd be foolish to suppose that its appetite has been sated, rather than only whetted. Monstrous online lies are not done with us. The Capitol is just the beginning.
6. Cities prepare for drone delivery
The FAA has released new and looser rules for flying drones over highly populated areas and at night, effectively laying a welcome mat for future aerial deliveries of takeout food, Amazon packages, prescription drugs, Axios Cities author Jennifer A. Kingson writes.
7. 🗞️ Living history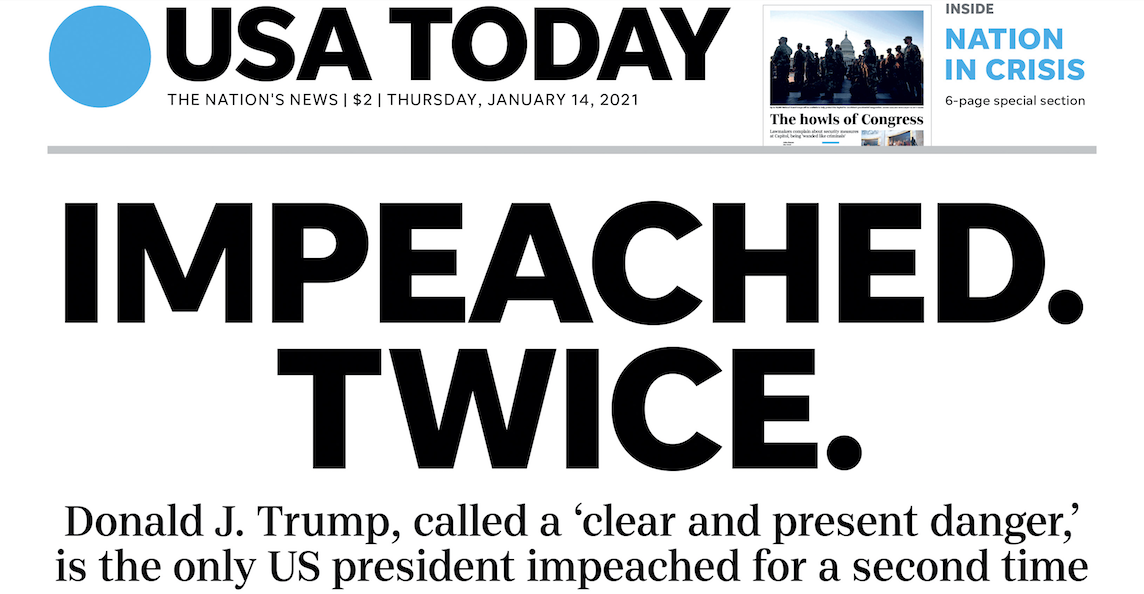 8. West's "forever" drought
The Southwest U.S. is mired in an ever-worsening drought — one that has left deer starving in Hawaii, turned parts of the Rio Grande into a wading pool, and set a record in Colorado for most days of drought, Jennifer A. Kingson writes.
9. VC investment in climate tech hits record
Venture capital investment in tech aimed at combating climate change hit a record in 2020, Axios' Amy Harder writes from PitchBook data.
10. Lady Gaga, J. Lo to perform at Biden swearing-in
Lady Gaga and Jennifer Lopez will perform during Wednesday's swearing-in for President-elect Biden and Vice President-elect Kamala Harris on the West Front of the U.S. Capitol, the Presidential Inaugural Committee announced.
Here's the lineup:
Invocation: Father Leo J. O'Donovan, a Jesuit Catholic priest who was Georgetown University president from 1989 to 2001.
Pledge of Allegiance: Andrea Hall, president of International Association of Firefighters Local 3920. She's been a firefighter for more than 20 years in Fulton County, Ga., and was the department's first African American woman to be promoted to captain.
National Anthem: Lady Gaga, one-of-a kind artist, performer, and trailblazer in beauty and fashion.
Poetry reading: Amanda Gorman, named first-ever National Youth Poet Laureate by UrbanWord and the Library of Congress.
Musical performance: Jennifer Lopez, one of the most influential Latin artists in the country.
Benediction: Rev. Dr. Silvester Beaman, pastor of Bethel African Methodist Episcopal Church in Wilmington, Del. He has known the Biden family for 30 years, and is a confidant and friend of the president-elect.
Presidential Inaugural Committee CEO Tony Allen said the participants "represent one clear picture of the grand diversity of our great nation."
"They are also committed to the President-elect and the Vice-President-elect's steadfast vision of a new chapter in our American story in which we are an America united in overcoming the deep divisions and challenges facing our people, unifying the country, and restoring the soul of our nation."
Biden's PIC plans five days of programming, with the theme of "America United."
📬 Thanks for starting your day with us. Please invite your friends to sign up for Axios AM/PM.