February 11, 2018
☕️ Good Sunday morning ...
Situational awareness ... The Sunday Times of London reports that during an upcoming state visit, President Trump — inspired by the Oscar-favorite movie "Darkest Hour" — wants a private tour of the underground Cabinet War Rooms where Winston Churchill plotted the Allied route to victory during World War II.
1 big thing ... Rob Porter: Officials urged him to "stay and fight"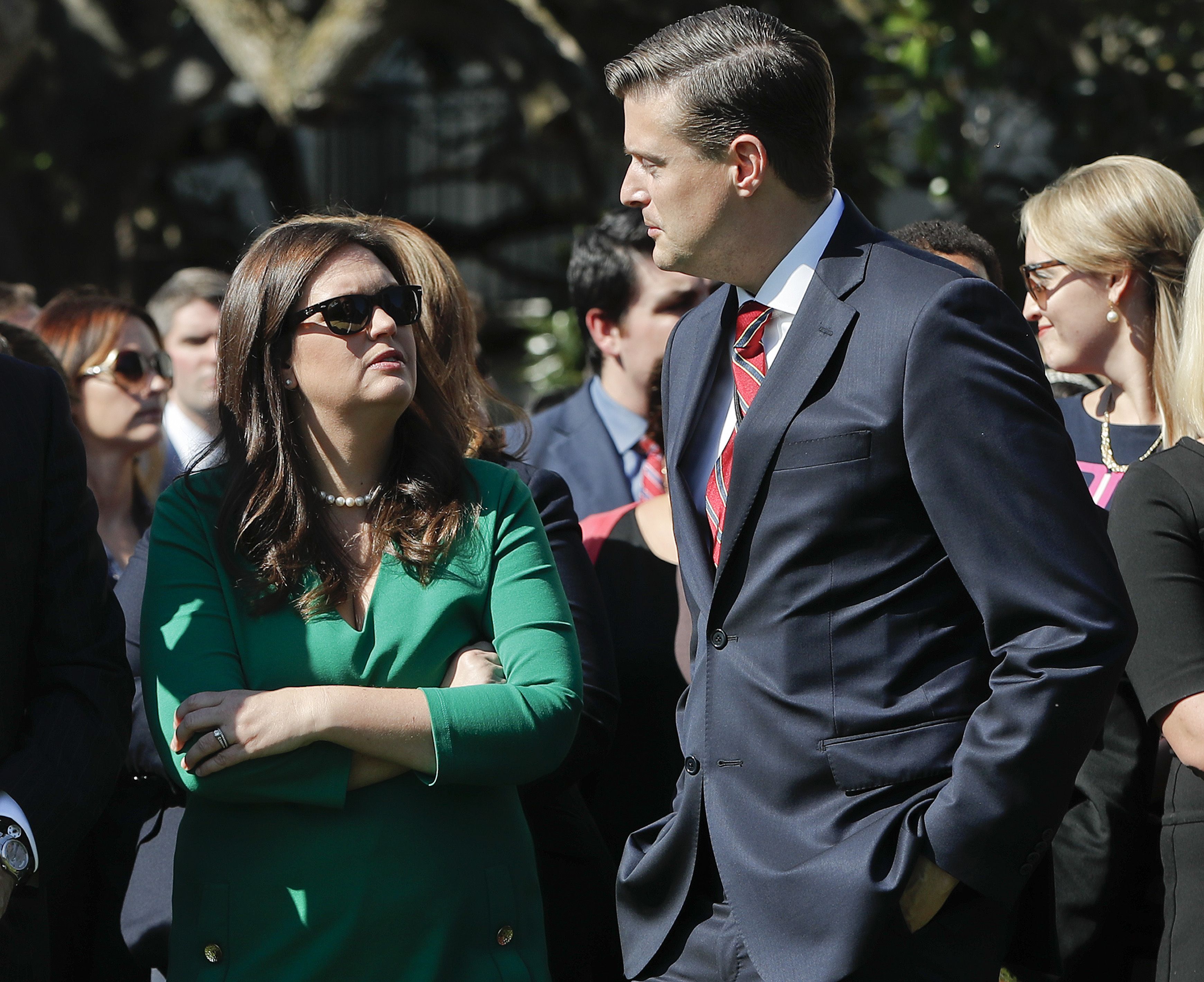 White House Staff Secretary Rob Porter is telling associates that some senior White House officials strongly encouraged him to "stay and fight," and claims he "never misrepresented anything" to Chief of Staff John Kelly.
Porter has said nothing publicly since his departure from the White House on Thursday, following accounts of domestic violence from his two ex-wives.
But a coordinated defense is forming for Kelly on how he handled the matter, and Porter is telling a different story.
The backdrop: The White House has not provided a definitive timeline of Porter's departure, and leaks and statements have conflicted.
Why it matters: This White House has a culture problem, starting at the top. The natural instinct is to defend/deny and show scant, if any, concern for the women alleging misconduct and harm. And when the going gets tough internally, the other natural instinct is to blame everyone but yourself. 
A member of Congress who has discussed the matter directly with General Kelly and President Trump tells Axios' Jonathan Swan that Porter lied to the chief about what would be in the Daily Mail story.
According to the member of Congress, giving the most detailed Kelly version of events so far:
In Kelly's telling, Porter misrepresented to him that the Daily Mail story would be about a messy marriage and divorce, with allegations of verbal and emotional abuse.
Kelly specifically asked Porter about physical abuse of both ex-wives and girlfriends, and Porter denied that.
Upon Porter's denials, Kelly allowed the White House press team to write a statement giving a wholehearted endorsement of Porter as a man of great integrity. (This was Kelly's initial statement.)
Kelly is telling associates that only when the Daily Mail story published online on Tuesday night did he learn the real story.
Kelly says he immediately took action: he confronted Porter, told him he had to resign, then called President Trump to inform him of his decision. This is what Kelly means when he tells colleagues he acted quickly and settled the matter within 40 minutes.
On Wednesday, the day that The Intercept would later publish a photo of Porter's first wife with a black eye, Porter arrived at the White House and tried to either rescind his resignation or delay its effective date, according to the account by the member of Congress.
When Kelly learned of the indecision, he settled the matter: The general said Porter needed to leave the White House immediately — no further questions or debate. 
The member of Congress said: "President Trump didn't know any of this till the news broke, nor should he have been expected to know. Presidents don't get involved in background checks."
More on the FBI angle: Kelly is also telling associates that the first he learned of Porter's issues with his background check was in November.
But Kelly contends he didn't learn about the specific allegations of the violent attacks until the Daily Mail story published. "He learned that Rob had ex-wife issues and was in fact surprised to know Rob had ex-wives at all," the member of Congress told Swan.
The member added: "As Kelly did with other staff with interim clearances, he urged the FBI to resolve quickly. This was appropriate; background checks aren't ongoing investigations in which the FBI reports all allegations immediately.  They report final adjudications. This context isn't adequately explained in most reporting."
The big picture: Kelly has a credibility crisis with the news media and some White House staff because the West Wing gave reporters like Swan a contradictory official version of events in real time.
Asked by CNN's Jake Tapper on "State of the Union" if Kelly's job is in jeopardy, White House counselor Kellyanne Conway said: "No."
Conway said Trump told her: "Please Jake that I have full faith in Chief of Staff John Kelly."
According to the version Porter is providing associates, he told Kelly on Tuesday that a Daily Mail story was coming, and "indicated that based on the questions the reporter was asking, it would be bad." Here is Porter's version:
Porter told Kelly, as he had before, that he'd "had troubled marriages but that the more outrageous allegations of physical abuse that might be suggested were untrue."
Porter "never misrepresented anything" to Kelly.
Porter offered to resign on Tuesday after the first story was published, but some senior White House officials urged him to "stay and fight."
On Wednesday, Kelly told Porter it was unlikely he would ultimately get a permanent security clearance, given the accusations.
Porter told Kelly he "did not want to be a distraction or be problematic for the White House."
Porter again offered his resignation, which was accepted.
In a brief conversation with Kelly later in the day, Porter indicated that he "was committed to ensure a smooth transition and was prepared to leave immediately or stay for a period of days or weeks, whatever Kelly and the President preferred."
Porter "learned later that evening from news reports, not from Kelly or anyone at the White House," that Thursday would be his last day.
2. Trump: "Is there no such thing ... as Due Process?"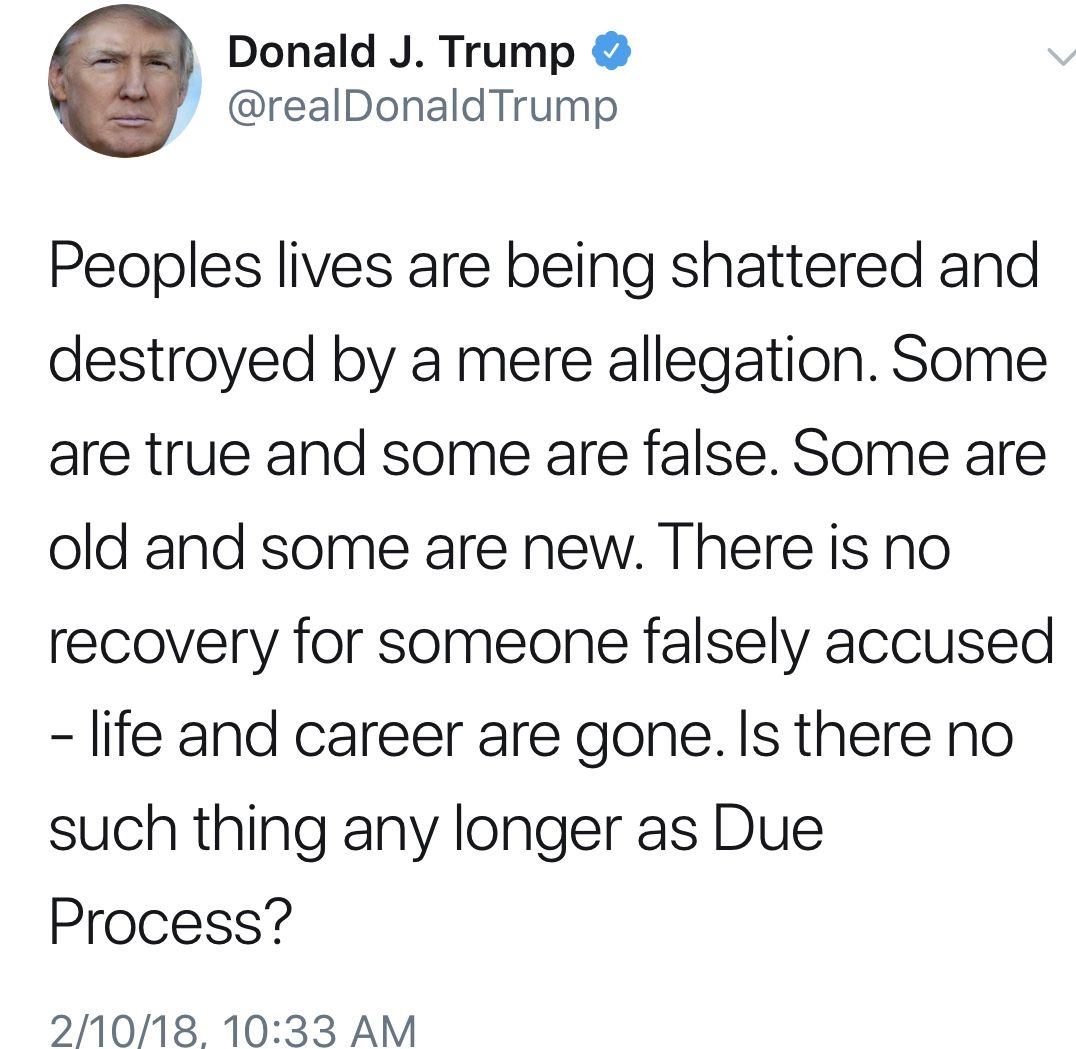 In a tweet yesterday (see above), "President Trump ... appeared to side with men accused of domestic abuse or sexual misconduct," the WashPost's Anne Gearan and Katie Zezima write:
"The brief message, which made no mention of the accusers, marks the president's most pointed response to the ongoing national reckoning with sexual harassment and abuse."
The tweet "put him seemingly at odds with a movement that in recent months has led to the downfall of several powerful men accused of abhorrent behavior."
Why it matters, from AP's Juliet Linderman: "The White House response serves as a high-profile illustration of the obstacles many women face in speaking out about their abuse."
Emily Martin, National Women's Law Center general counsel and vice president for education and workplace justice, said victims of domestic violence and abuse often hesitate to come forward or to leave their relationships, no matter how toxic.
Martin said people who have been abused worry nobody will believe their accounts, particularly when the balance of power between the abuser and the victim is uneven.
Go deeper ... "Trump's history of defending the accused," by Axios' Haley Britzky.
3. White House floats deal on DACA
"As the Senate prepares to begin a free-wheeling debate over immigration next week, White House officials have begun floating a possible compromise idea — a pledge to maintain legal immigration at current levels, about 1.1 million people a year, for more than a decade," the L.A. Times' Brian Bennett reports on A1:
"[A] White House official said [yesterday] that the Trump administration is working with allies in the Senate on a proposal that would create a path to citizenship for an estimated 1.8 million people who were brought to the country illegally as children, and that would clear the backlog of nearly 4 million sponsored relatives who currently are waiting for green cards."
"The combined effort, officials said, would effectively make up for the cuts in other immigration categories for about 13 years."
"After that, if Congress takes no additional action to add or expand visa categories, the total number of people allowed to resettle in the U.S. each year likely would decline by hundreds of thousands."
"The outline began emerging early this week when John Kelly, the White House chief of staff, and Kirstjen Nielsen, the secretary of Homeland Security, met with a half a dozen or so Latino Republicans at the White House and said the administration was prepared to ensure that overall immigration levels would remain steady."
Bonus: Pics du jour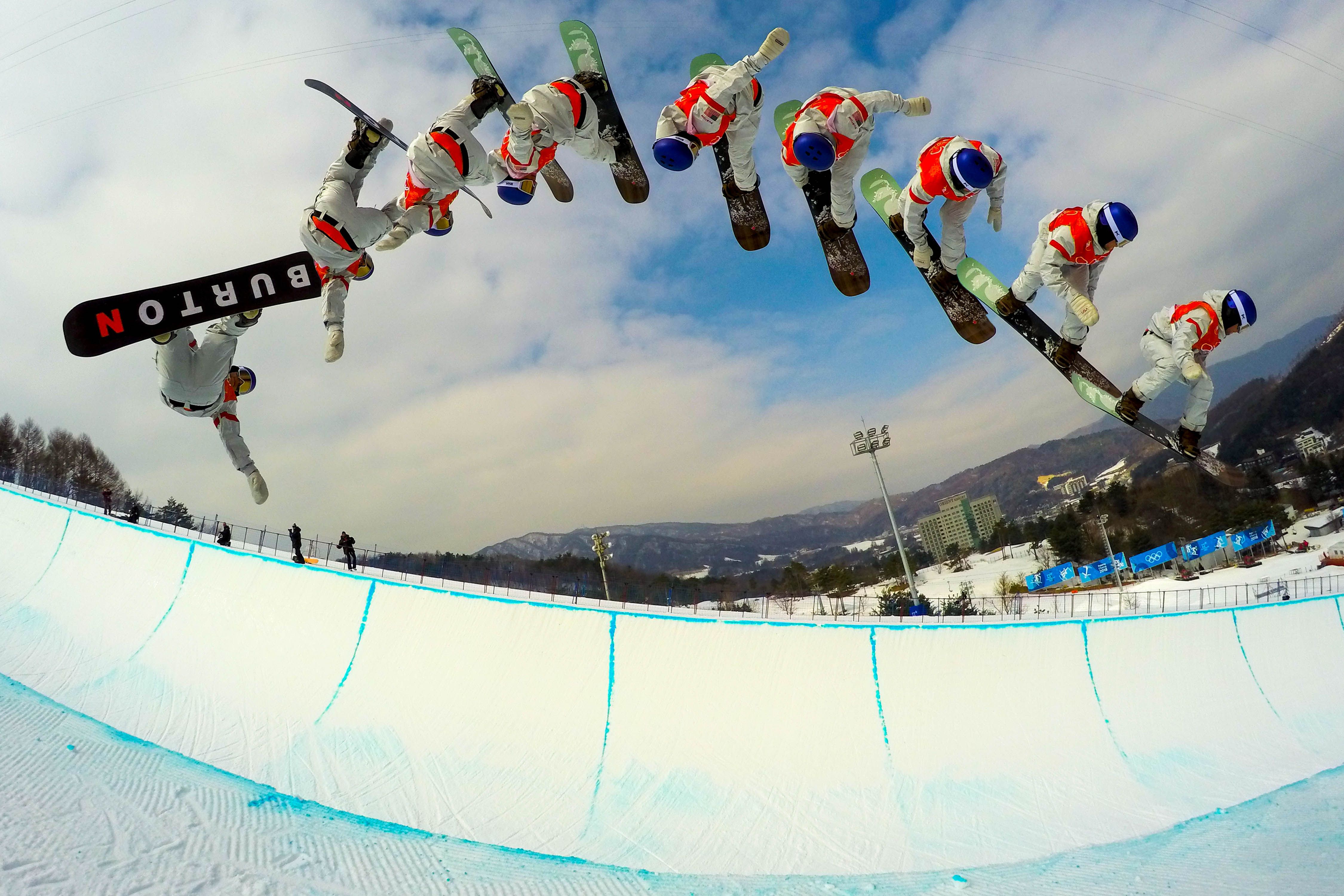 In this digital composite created by Photoshop layering from a multi-exposure sequence, USA snowboarder Ben Ferguson practices Friday at Phoenix Snow Parkin Pyeongchang-gun, South Korea.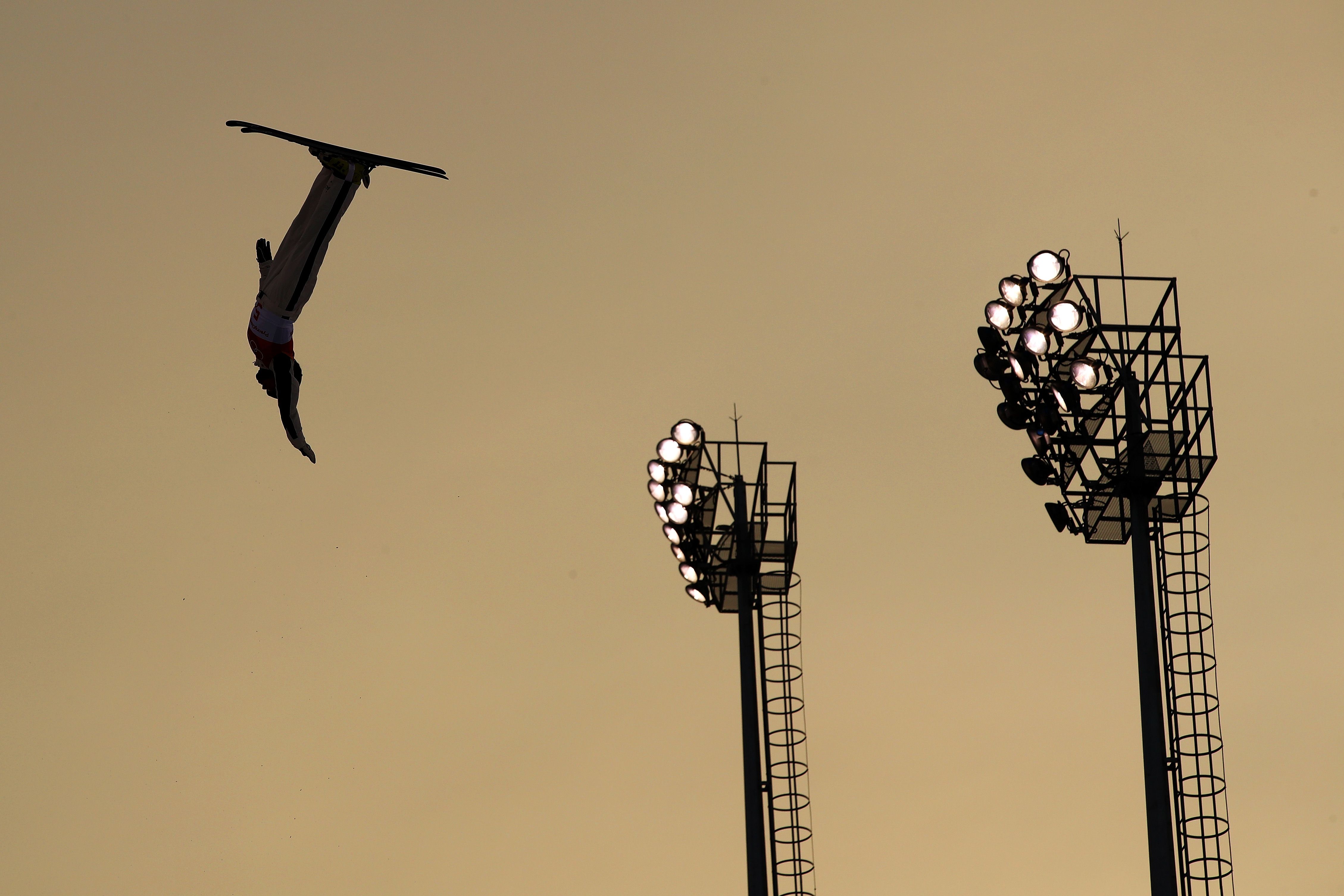 Lydia Lassila of Australia performs an aerial during training on Day 1 of the Winter Olympics, at Phoenix Snow Park in Pyeongchang-gun, South Korea.
4. Woodward and Bernstein, on Trump and Nixon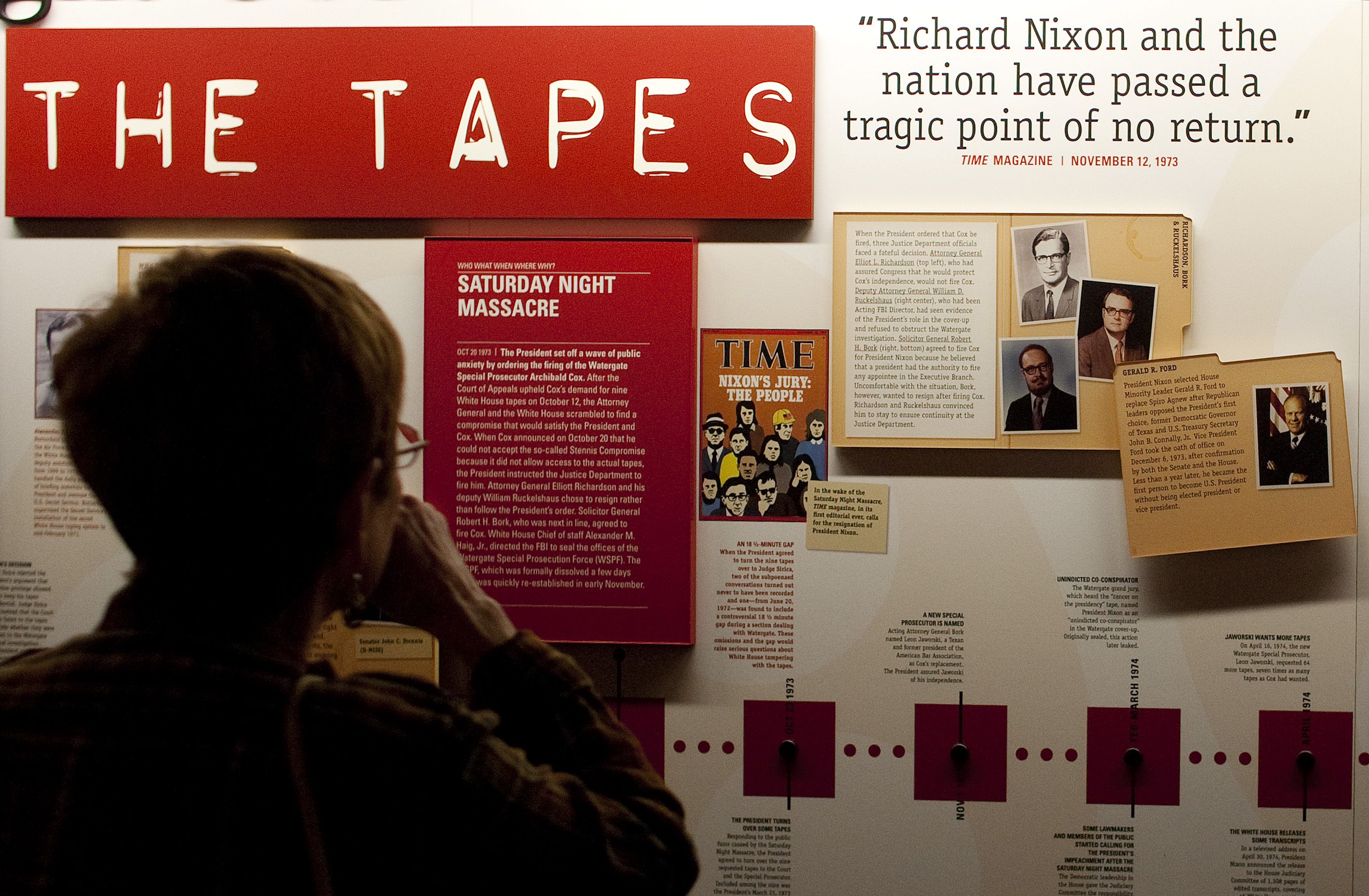 "Nixon fired the man investigating him. Will Trump? ... Bob Woodward and Carl Bernstein look back on the [1973] Saturday Night Massacre," adapted from their 1976 book, "The Final Days" — Lead of WashPost Outlook section:
"We're here again. A powerful and determined president is squaring off against an independent investigator operating inside the Justice Department."
"We covered that eerily similar confrontation for The Washington Post 45 years ago."
"Nixon didn't know it at the time, but the Saturday Night Massacre would become a pivot point in his presidency — crucial to the charge that he'd obstructed justice."
"For him, the consequences were terminal."
5. What happened to your raise? It became a bonus
"A growing preference among employers for one-time bonuses instead of raises that keep building over time has been quietly transforming the employment landscape for two decades," the N.Y. Times' Patricia Cohen writes:
"The stream of companies announcing bonuses for their employees in the wake of the newly minted tax cuts is just the latest expression of the trend."
Key stat: "In 1991, fewer than half of companies that Aon Hewitt surveyed had a broad-based [bonus] program. Last year, 88 percent did."
Why it matters: "This little-noticed shift in how employers compensate workers could also help explain one of the

economy's most persistent puzzles

: why a hot labor market has failed to ignite bigger increases in wages."
6. My 6 Big Things: Lester Holt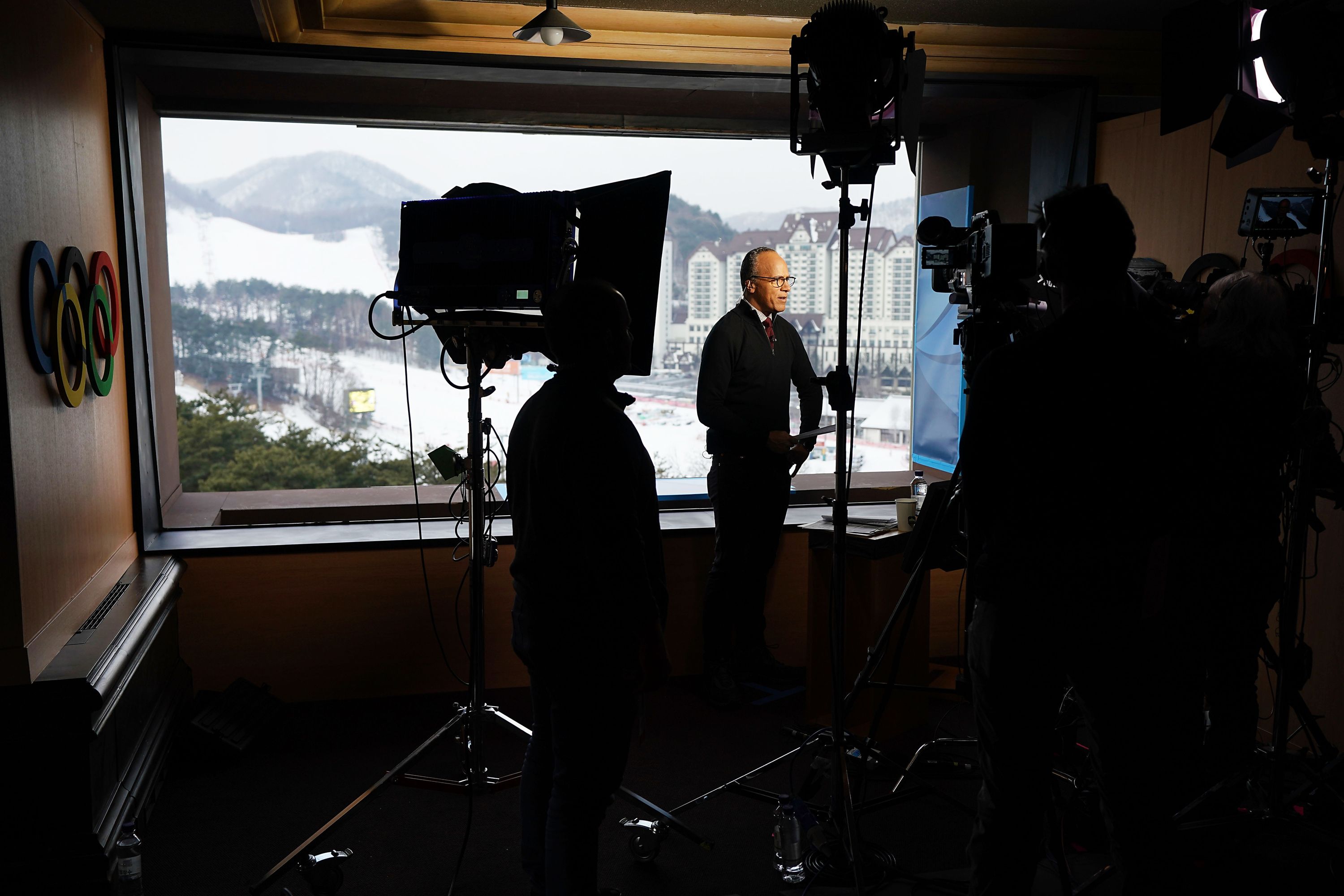 On weekends, Axios AM checks in with the world's most interesting people on their passions, quirks and life hacks. Today's conversation is with "NBC Nightly News" anchor Lester Holt, who's in South Korea for the Winter Olympic Games.
Last night on "NBC Nightly News," Fred Warmbier — father of American college student Otto Warmbier, who died shortly after being released from prison in North Korea last year — told Lester Holt that he hopes his family's presence at the Olympics is a reminder of the regime's brutality. (Video)
See Lester Holt's "My 6 Big Things" ... He relies on flash cards and Siri, and has a bucket list destination: Greek Islands.
Thanks for reading! Enjoy the Olympics, and I'll see you in the Axios stream ...