Good Wednesday morning. Situational awareness: A 53-year-old former CIA officer suspected of helping China dismantle U.S. spying was arrested by the FBI at JFK Airport, per N.Y Times. "The collapse of the spy network [12+ informants killed or imprisoned by China] was one of the American government's worst intelligence failures."
https://www.axios.com/newsletters/axios-am-0596a998-579a-41c2-8e24-dff8726742b9.html?chunk=0#story0
1 big thing: Bannon plans to tell all to Mueller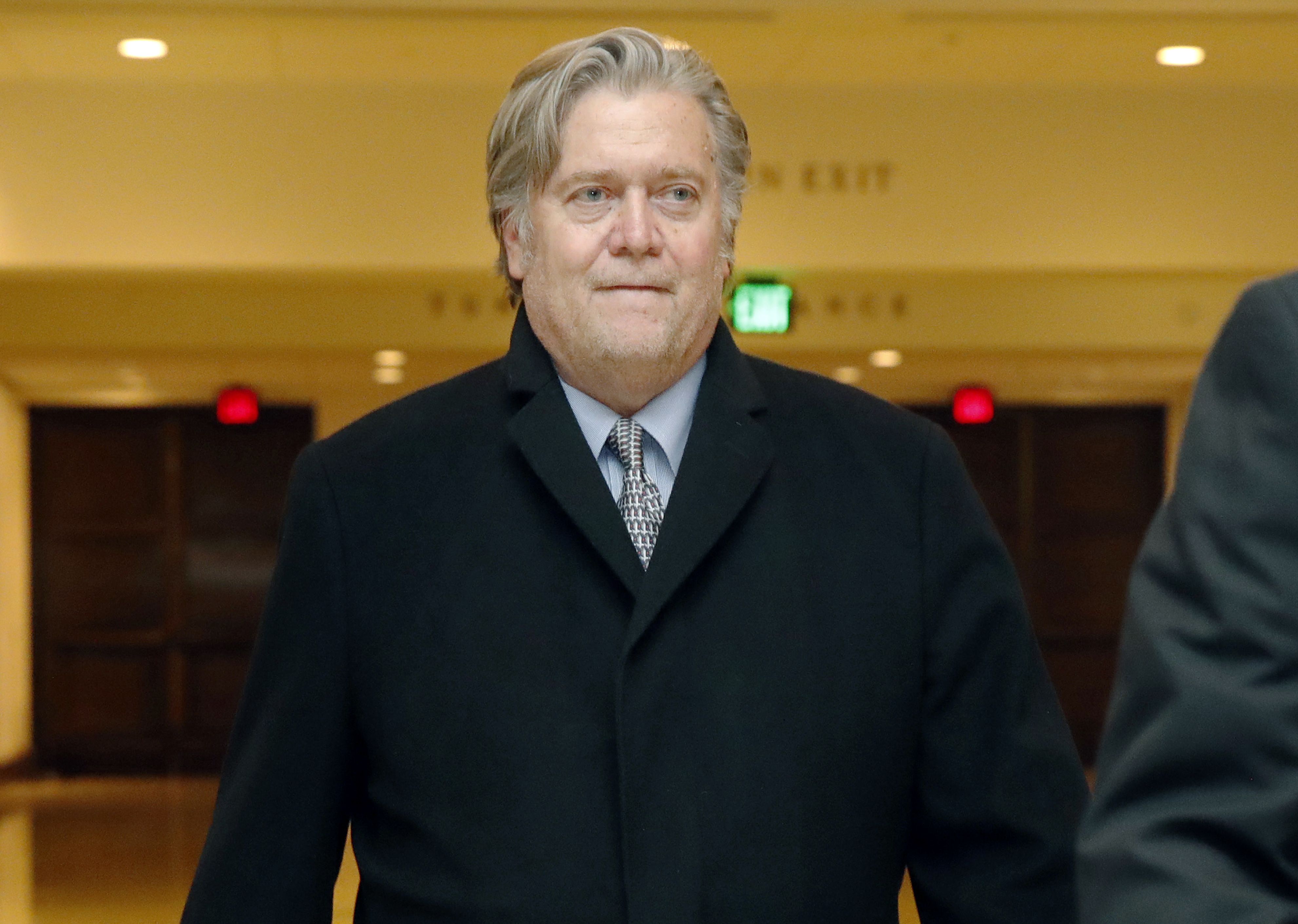 Steve Bannon leaves a House Intelligence Committee meeting where he was interviewed behind closed doors yesterday. (AP's Jacquelyn Martin)
Steve Bannon, who was inside the White House when FBI Director James Comey was fired and has strong opinions about what happened, "intends to fully cooperate with Mueller," according to a source familiar with Bannon's thinking.
The source told Axios' Jonathan Swan that the White House has placed zero restrictions on Bannon talking to special counsel Bob Mueller: "He can say whatever the hell he wants to say to him about whatever topic that he wants."
By contrast, Bannon is holding back from Congress.
Last week, according to the source, Bannon's counsel informed the staff of the House Intelligence Committee, where the former top aide to President Trump appeared yesterday, that the White House was unlikely to permit him to talk about his work in the transition and the West Wing.
The grounds: executive privilege. However, White House lawyers say that executive privilege would not be waived by talking to Mueller, since he is within the executive branch.
Mueller subpoenaed Bannon last week to testify before a grand jury, per the N.Y. Times: "The move marked the first time Mr. Mueller is known to have used a grand jury subpoena to seek information from a member of Mr. Trump's inner circle."
The House Intelligence Committee refused to accept Bannon's objection, and served him with a subpoena on the spot:
Bannon spent 11 hours on Capitol Hill yesterday, NBC reports.
The source told Swan that White House lawyers continued to instruct Bannon not to answer questions, until they have an agreement with the committee about the scope of questions.
The source, using a colorful metaphor to emphasize Bannon will cooperate with Mueller, said: "So the idea that Bannon is trying to hide anything: You're scared of throwing meat to the kitten, but you're fine with throwing it to the tiger?"
Rep. Adam Schiff of California, the committee's top Democrat, said on Capitol Hill last evening, in a clip aired by MSNBC: "This was effectively a gag order by the White House."
The committee asked Bannon's lawyer, Bill Burck, to confer right then with the White House about its assertion of executive privilege. Burck is dealing with the White House lawyer who is negotiating with congressional committees, Uttam Dhillon.
The committee has called Bannon back, but the source doesn't expect White House lawyers to change their minds: "It would be hard for them to sustain publicly if they were just hiding this information. But they're giving it to Mueller."
A source with direct knowledge told Swan:
The one thing that has united Democrats and Republicans on the committee has been their outrage that Mueller gets to hear information that they don't.
Burck spent long periods explaining executive privilege to the committee and staff.
Bannon was at the committee until after 8 p.m.
Burck, following White House instructions, would only allow Bannon to talk about the campaign. Bannon answered every question about the campaign, the source said.
There were lots of mentions of the Michael Wolff book, and lots of loathing of Bannon in the room: "Everybody seemed to hate him — both sides. He had no friends in that room. ... [H]e was in a room full of enemies."
https://www.axios.com/newsletters/axios-am-0596a998-579a-41c2-8e24-dff8726742b9.html?chunk=1#story1
2. What happens when Trump testifies
AP "reviewed hundreds of pages of depositions taken of Trump in the past decade":
"The transcripts reveal a witness who is by turns voluble, giving expansive answers far beyond the questions asked; boastful, using unrelated queries to expound on his wealth or popularity; unapologetic, swift to defend incendiary comments or criticized actions; and occasionally combative, once deriding a lawyer for 'very stupid' questions."
Why it matters: "The garrulous style belies the 'just the facts, ma'am' approach many defense lawyers advocate."
https://www.axios.com/newsletters/axios-am-0596a998-579a-41c2-8e24-dff8726742b9.html?chunk=2#story2
3. Axios takes on the world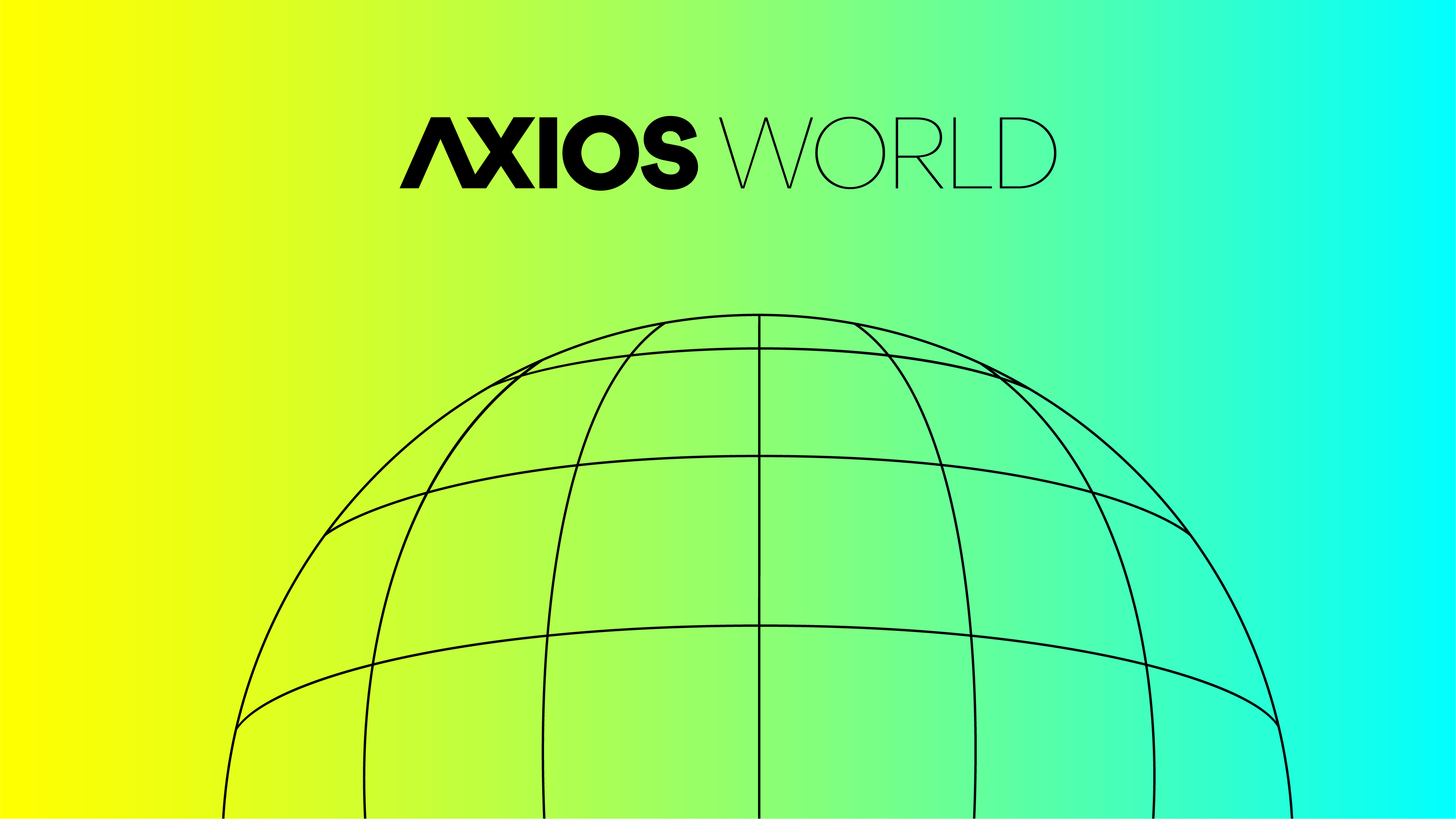 Illustration: Axios Visuals 
Axios turns 1 tomorrow  — and, more importantly, is announcing our newest coverage area: international affairs.
What's new for you: 
Around-the-clock coverage of world events relevant to your life and work.
In a first for Axios, this World stream features a mix of our own reporting and outside experts  —including Sinocism founder Bill Bishop on China, and the super-wired Barak Ravid, who has been writing for us from Israel about Middle East peace. 
Outside experts, including CFR President Richard Haass, will write on our platform, using a cool new tool that allows verified specialists to write directly into our Smart Brevity™ system.
Why it matters, from CEO Jim VandeHei: "We're turning Axios into a bigger news and information hub, a place you can efficiently consume far more information across far more topics  — and benefit from the insight of journalists and vetted experts."
"The purpose: to provide you with the smartest, most efficient, most trusted news and analysis on the topics you care about." 
https://www.axios.com/newsletters/axios-am-0596a998-579a-41c2-8e24-dff8726742b9.html?chunk=3#story3
Bonus: Pic du jour

Javier Torres/AFP/Getty Images
This aerial photo taken in Santiago, Chile, shows an open-air mass officiated by Pope Francis, the first Latin American head of the Church. He said Mass for some 400,000 people at a park in the Chilean capital.
"Pope Francis publicly expressed 'pain and shame' ... over the rape and molestation of children by priests in Chile and later listened, prayed and cried at a private meeting with victims." (Reuters)
https://www.axios.com/newsletters/axios-am-0596a998-579a-41c2-8e24-dff8726742b9.html?chunk=4#story4
4. Why Big Tech won't be broken up any time soon
On the cover of today's Wall Street Journal, Greg Ip — one of the world's best economics writers — takes on the transcendent question, "The Antitrust Case Against Facebook, Google and Amazon ... A few technology giants dominate their worlds just as Standard Oil and AT&T once did. Should they be broken up?":
The key point: "[A]ntitrust regulators have a narrow test: Does their size leave consumers worse off?"
Why it matters: "By that standard, there isn't a clear case for going after big tech — at least for now. They are driving down prices and rolling out new and often improved products and services every week."
But, but, but: "That may not be true in the future: If market dominance means fewer competitors and less innovation, consumers will be worse off."
Ip's last sentence: "Throughout history, entrepreneurs have often needed the government's help to dislodge a monopolist — and may one day need it again."
Go deeper: (Paywall)
https://www.axios.com/newsletters/axios-am-0596a998-579a-41c2-8e24-dff8726742b9.html?chunk=5#story5
5. Immigration setbacks on Hill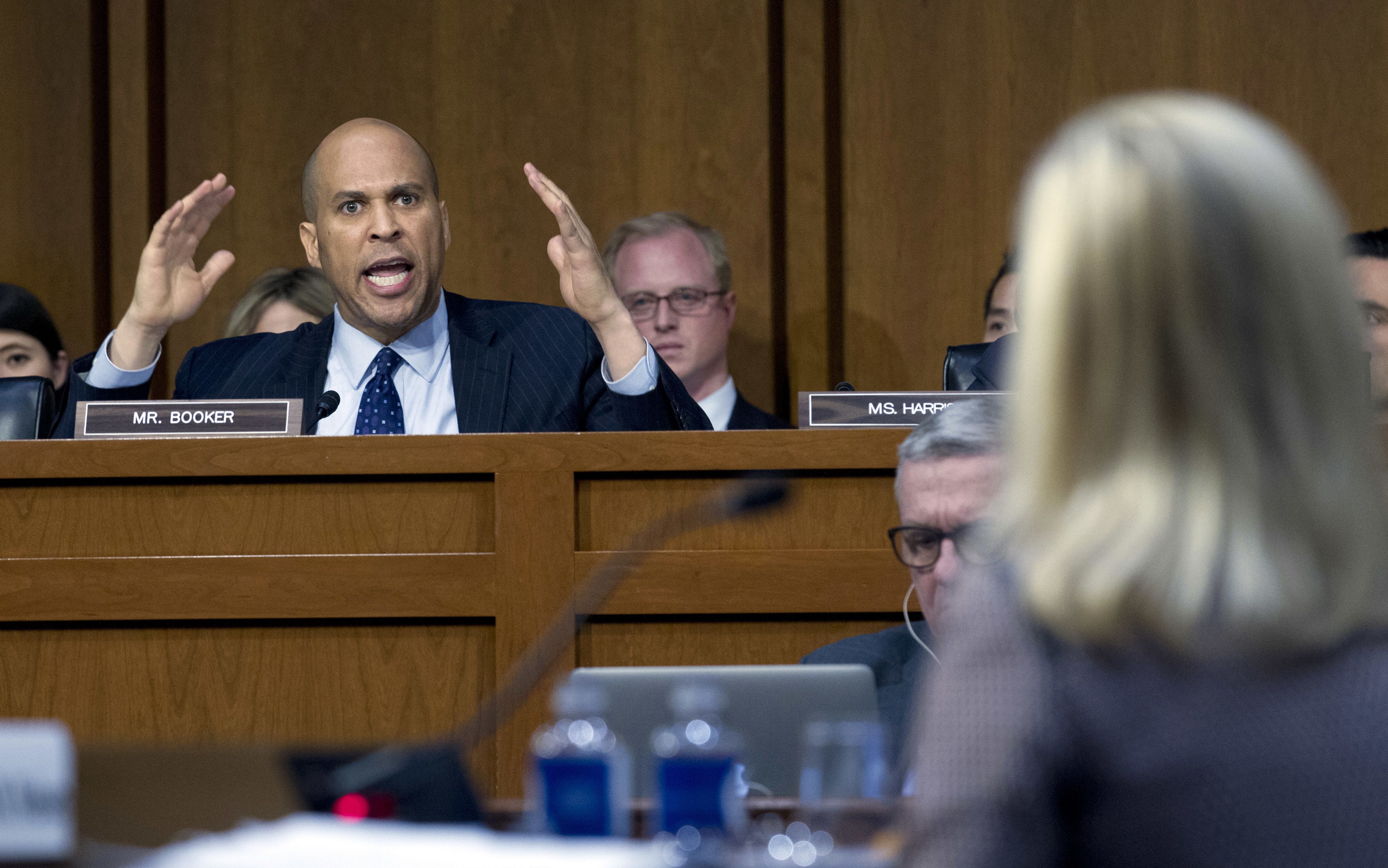 Sen. Cory Booker (D-N.J.) explodes at Homeland Security Secretary Kirstjen Nielsen during a Senate Judiciary hearing yesterday. (AP's Jose Luis Magana)
"A burst of public acrimony across Capitol Hill ... exposed how much negotiations on immigration ... have been set back since President Trump's use of a vulgar expression," the WashPost reports in its lead story:
Why it matters: A Friday deadline looms "to pass a new spending bill in time to avert a government shutdown."
What's being held up: "Aides to top congressional leaders met ... to try to salvage a deal to meet a March deadline to legalize the status of ... 'dreamers,' while also beefing up border security."
What's next: "GOP leaders kept pushing ... to pass a short-term, stand-alone spending bill with no immigration reforms included. ... [That] would probably push negotiations on immigration into February, an outcome Democrats hope to avoid."
Happening today: "In a sign that the White House is still trying to work with Democrats, White House Chief of Staff John F. Kelly is scheduled to meet Wednesday morning with members of the Congressional Hispanic Caucus, a bloc he has sparred with in the past over immigration policy."
https://www.axios.com/newsletters/axios-am-0596a998-579a-41c2-8e24-dff8726742b9.html?chunk=6#story6
6. Data du jour
N.Y. Times Quote of the Day, in above-the-fold story with the remarkable headline, "After Exam, President Is Found To Be of Sound Mind and Body":
Dr. Ronny L. Jackson, a rear admiral in the Navy and the White House physician, on the president's annual physical: "We talked about diet and exercise a lot. He's more enthusiastic about the diet part than the exercise part, but we're going to do both."
https://www.axios.com/newsletters/axios-am-0596a998-579a-41c2-8e24-dff8726742b9.html?chunk=7#story7
7. Democracy in retreat
A sobering "freeze frame" report was published by Freedom House, a watchdog group based in D.C., pulling together several factors that add up to "the retreat of the United States as both a champion and an exemplar of democracy." 
The annual report finds "democracy is in retreat around the world" for the 12th year in a row.
"This year, this includes the United States, which in 2017, experienced [its] sharpest one-year drop since we began doing the survey more than 40 years ago."
"The United States has experienced a series of setbacks in the conduct of elections and criminal justice over the past decade — under leadership from both major political parties — but in 2017 its core institutions were attacked by an administration that rejects established norms of ethical conduct."
The global picture: Of 195 countries, 88 (45%) were rated Free, 58 (30%) Partly Free, and 49 (25%) Not Free.
https://www.axios.com/newsletters/axios-am-0596a998-579a-41c2-8e24-dff8726742b9.html?chunk=8#story8
8. See U.S. 101 buried in mud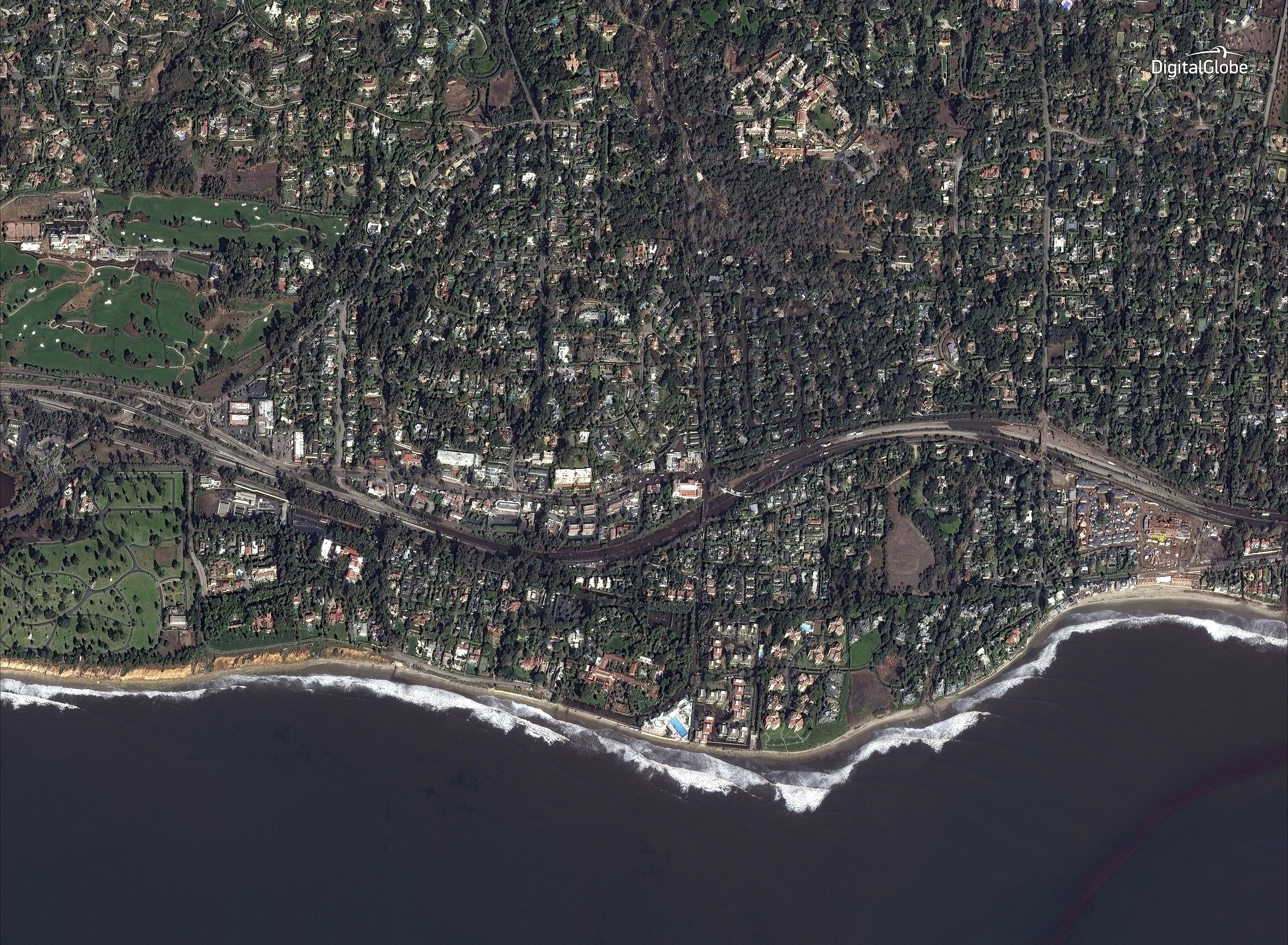 DigitalGlobe News Bureau via AP
This satellite image from last week shows U.S. Route 101 (the second ribbon from the ocean) after storms caused mudslides and flooding in Montecito, Calif.
L.A. Times: "As the search continued for more victims of the Montecito mudslides, officials said they hoped to have the 101 Freeway opened by next Monday. "
"Officials have spent the last six days trying to remove tons of mud and debris from the roadway. ... [Last week's] heavy rains and mudslides .... left at least 20 people dead and destroyed dozens of homes."
https://www.axios.com/newsletters/axios-am-0596a998-579a-41c2-8e24-dff8726742b9.html?chunk=9#story9
9. 20 years ago today ...
20 years ago today, back in 1998, Matt Drudge posted his most famous siren banner: "NEWSWEEK KILLS STORY ON WHITE HOUSE INTERN."
Drudge's own anniversary posting includes the 1998 headline: "Arrival of the digital age."
A week later, BBC online reported: "[I]t was in the wilds of cyberspace — not the morning newspaper — that the story of Bill Clinton's alleged affair with a young White House intern, Monica Lewinsky, first unfolded."
"In the future, academics, politicians and journalists aren't likely to dismiss the Internet so quickly."
https://www.axios.com/newsletters/axios-am-0596a998-579a-41c2-8e24-dff8726742b9.html?chunk=10#story10
10. 1 car thing: What we learned at the auto show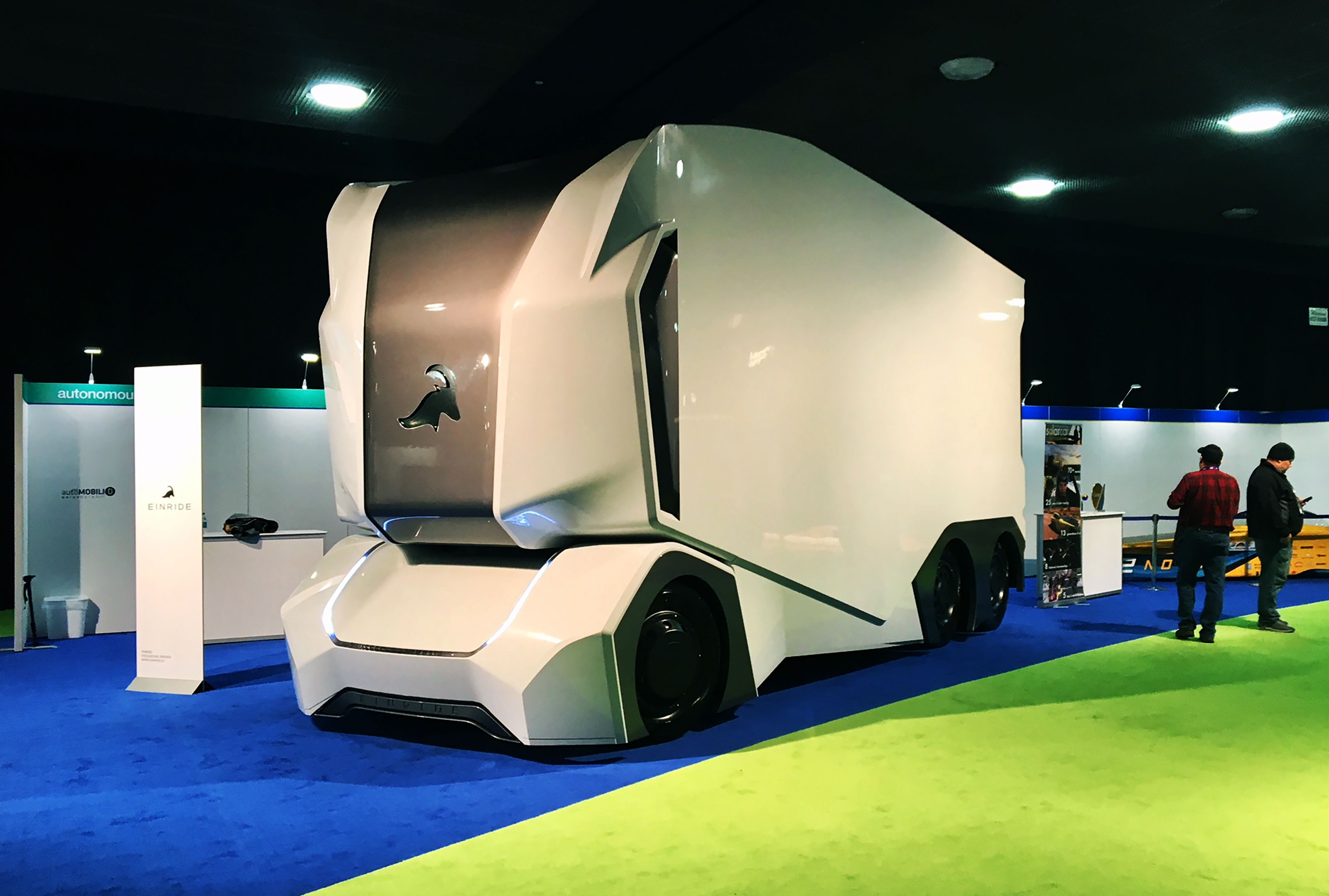 The Einride T-pod autonomous concept truck is shown during a press preview at the Detroit auto show. (Nova Safo/AFP/Getty Images)
Autonomous (self-driving) cars loom, but the Detroit auto show goes on, AP Auto Writers Tom Krisher and Dee-Ann Durbin report:
Trucks are king: "Pickups are the most popular vehicles in the U.S., and trucks unveiled at the show make clear that will continue for a long time. GM spent heavily to update its top-selling Chevrolet Silverado pickup, cutting up to 450 pounds of weight by using more aluminum ... Ford's F-Series is the country's top-selling vehicle, followed by the Silverado and Ram."
Tax reform boost? "U.S. income tax code changes ... may stimulate new auto sales, but any increase likely will be offset by rising interest rates and the abundant supply of late-model used cars ... Toyota North America CEO Jim Lentz expects a sales boost of 200,000 vehicles as tax cuts put more money in people's pockets. But the increase could be negated as rising rates keep some people on the sidelines. Tax cuts could boost pickup truck sales because businesses can write off the expenses immediately under the new code."
Hedging on robot cars: "[E]xecutives said they're preparing for a time when people hire self-driving ride services ... But they don't know just when that will take place, so they also must continue to spend millions to develop conventional vehicles as well."