You're invited ... to an event Tuesday at 8 a.m. in downtown D.C.: Chuck Todd and Jim VandeHei will host a live, onstage version of their famous mini-roundtable, plus talk infrastructure with Atlanta Mayor Kasim Reed and Sen. Jim Inhofe (R-Okla.), an avid pilot. Hope to see you — RSVP here.
https://www.axios.com/newsletters/axios-am-0343d58e-41bf-42cc-b3f2-350c10458691.html?chunk=0#story0
1 big thing: Supernatural coat of paint?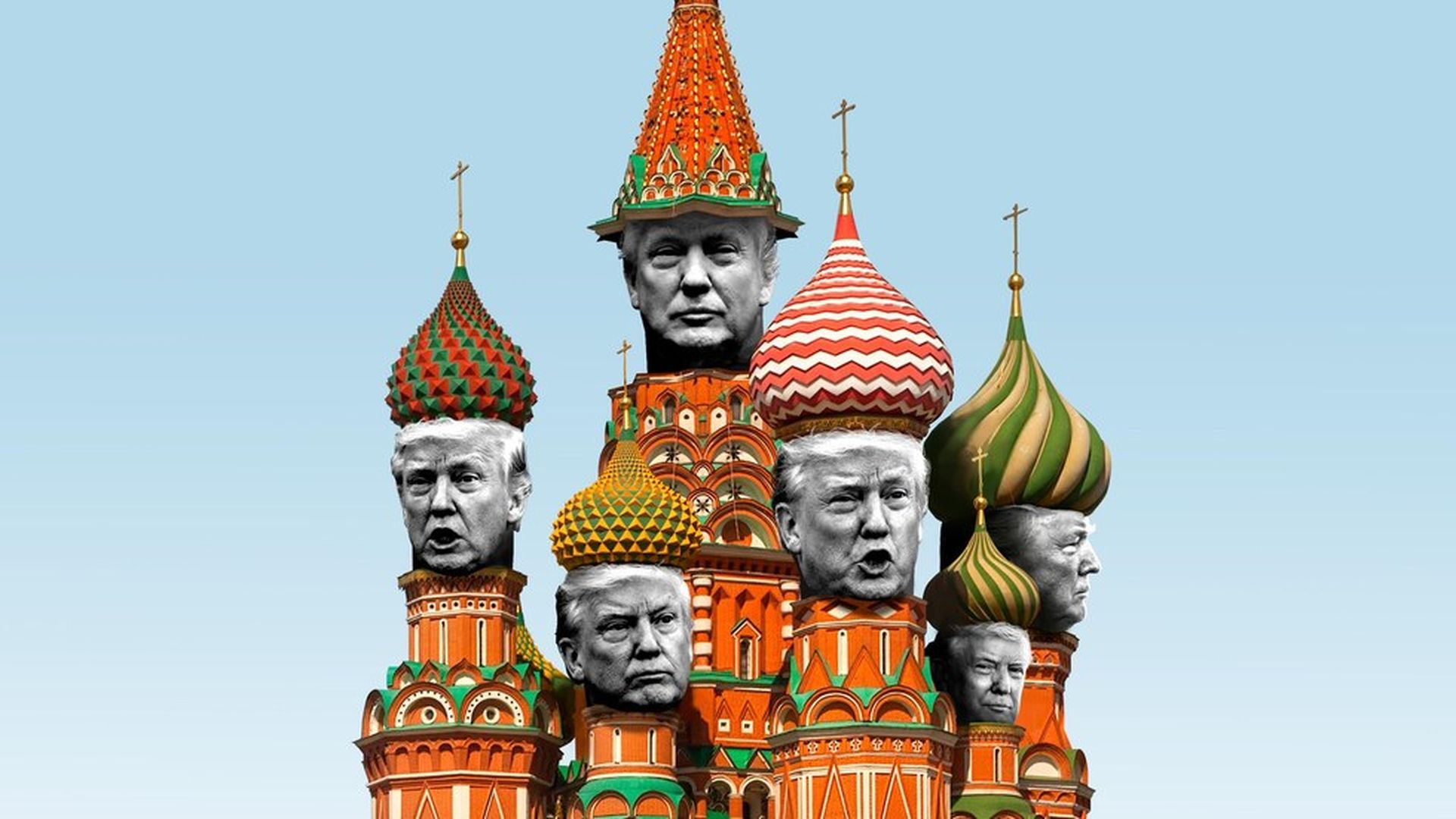 As the the bombshell headlines flew with Air Force One en route Saudi Arabia yesterday, a top outsider adviser to the West Wing emailed me: "The drips are filling the bucket."
And a top official in another Republican White House told me in a phone call: "He maybe be abroad, but he can't escape."
In conversations all over town, people realized they were living history: momentous revelations about peril inside the West Wing, just as "The Trump Show" was headed overseas for the first time.
Axios' Jonathan Swan is in 24/7 communication with White House sources, and tapped out this gripping postcard on his iPhone:
[M]ost WH officials I've spoken to privately this week are closer to being numb than panicked. Those who went through the campaign with Trump are numb to the crises and thought so many times before that *this* would be the one to break Trump. They've been wrong so many times before — the vast majority of Trump campaign staff, no matter their public posturing, thought Clinton would crush him.
They view their boss as completely undisciplined and self-destructive. They're exasperated by him ... They're sick and tired of the media feeding frenzy. But even in their most frustrated moments, they'll admit that Trump has got some special resilience that they can't begin to understand. A coat of protection that almost seems supernatural to them.
White House sources have texted me this week asking how bad I think the story of the day is. One asked me whether I thought Trump's private comments to Comey were a better story or worse for Trump than the release of the "Access Hollywood" tape. Those who were there for "Access Hollywood" have no idea what it would take to sink Trump.
After we talked, Swan sent this P.S.: "The core Trumpers from the campaign — who view themselves as loyal to Trump above all else — are completely unfazed by the Russia and Comey revelations. They're just swinging for Trump and have no qualms working to defend him."
https://www.axios.com/newsletters/axios-am-0343d58e-41bf-42cc-b3f2-350c10458691.html?chunk=1#story1
2. Catch up quick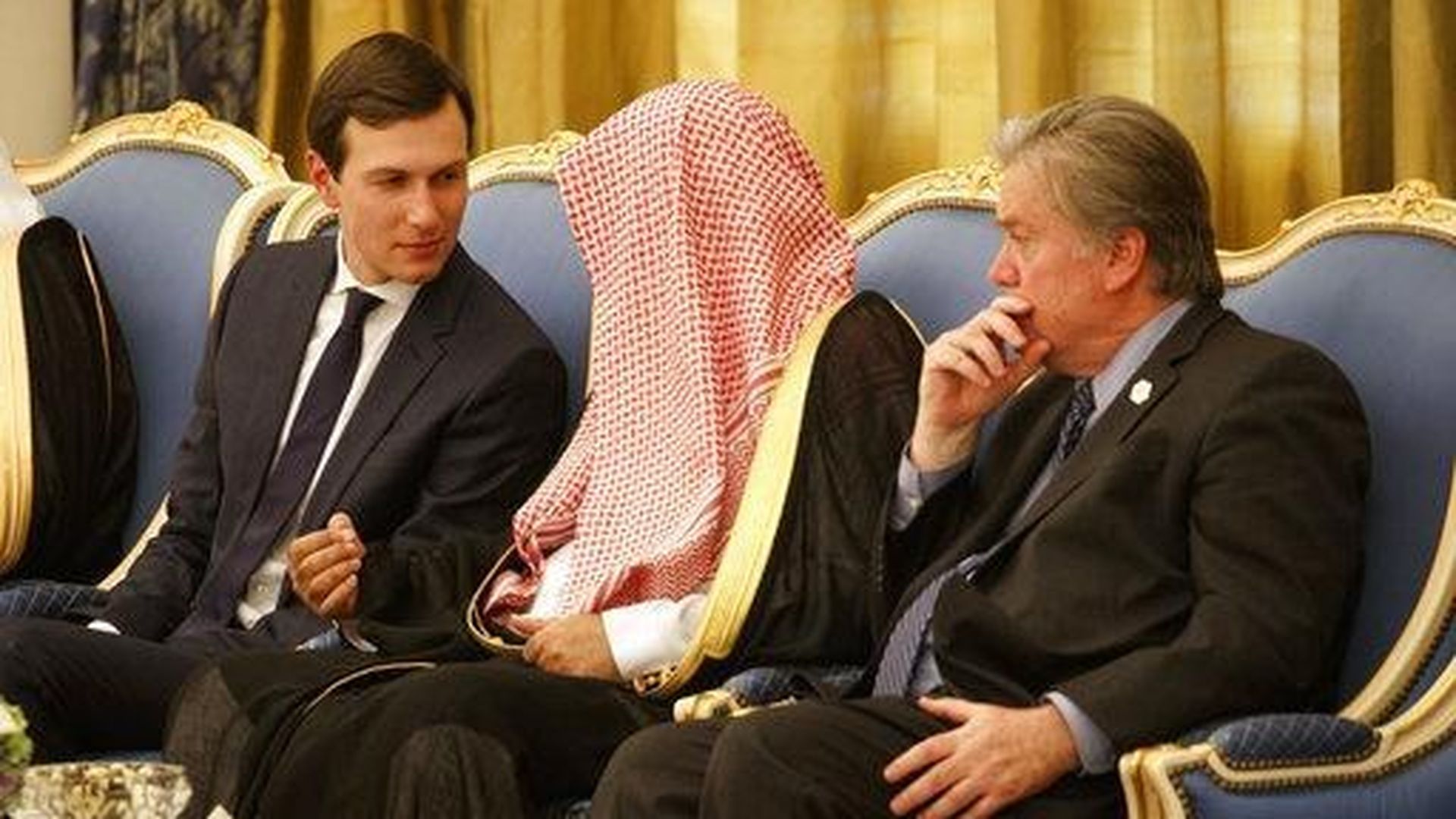 Keepers from the news waterfall:
Trump to Russian officials in the Oval Office on May 10, the day after he fired Comey, per a document summarizing the meeting that was read to the N.Y. Times (Matt Apuzzo, Maggie Haberman and Matt Rosenberg) by an American official: "I just fired the head of the F.B.I. He was crazy, a real nut job ... I faced great pressure because of Russia. That's taken off. ... I'm not under investigation."
"Trump jokingly asked whether there were reporters in the room. 'No,' [Russian Foreign Minister Sergey] Lavrov said. 'No fake media.'"
"Sean Spicer ... did not dispute the account."
"A ... government official [said] Trump ... was using a negotiating tactic ... to coax concessions ... — on Syria, Ukraine and other issues — by saying that Russian meddling in last year's election had created enormous political problems for Mr. Trump."
WashPost banner, "Russia probe reaches a top adviser in White House," by Devlin Barrett and Matt Zapotosky: "The law enforcement investigation ... has identified a current White House official as a significant person of interest ... The senior White House adviser ... is someone close to the president."
The Post doesn't name the official. Devlin Barrett, the lead reporter, told MSNBC's Rachel Maddow that the paper has more reporting to do before it can publish a name.
Wall Street Journal lead story, "Fired FBI Director To Testify In Public Hearing": Comey "is expected to testify after Memorial Day, ... according to the leaders of the Senate Intelligence Committee."
The ultimate Speed Read ... Catch Shane Savitsky's "This Week in Trumpland."
https://www.axios.com/newsletters/axios-am-0343d58e-41bf-42cc-b3f2-350c10458691.html?chunk=2#story2
3. The Swamp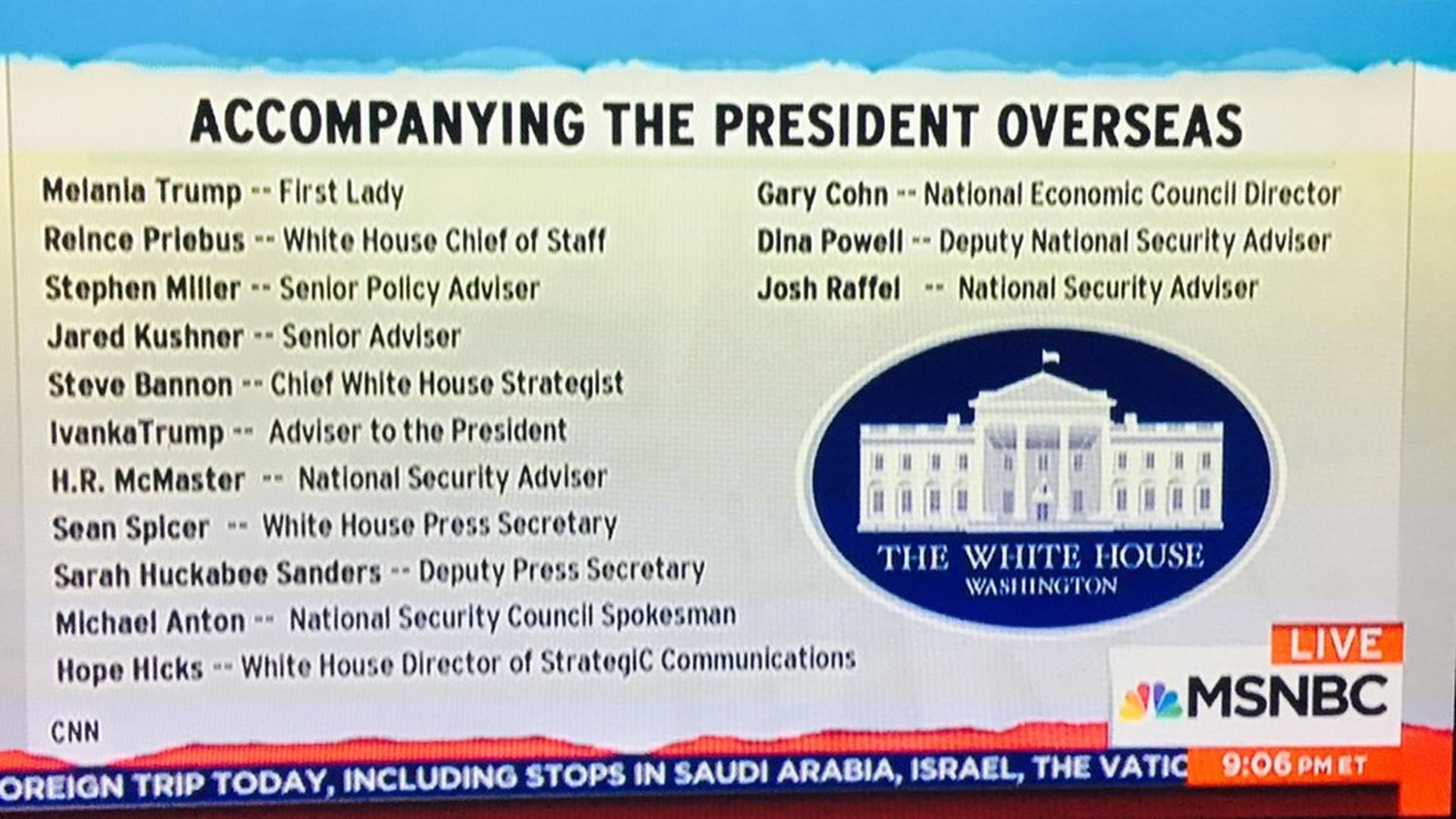 https://www.axios.com/newsletters/axios-am-0343d58e-41bf-42cc-b3f2-350c10458691.html?chunk=3#story3
4. Zeitgeist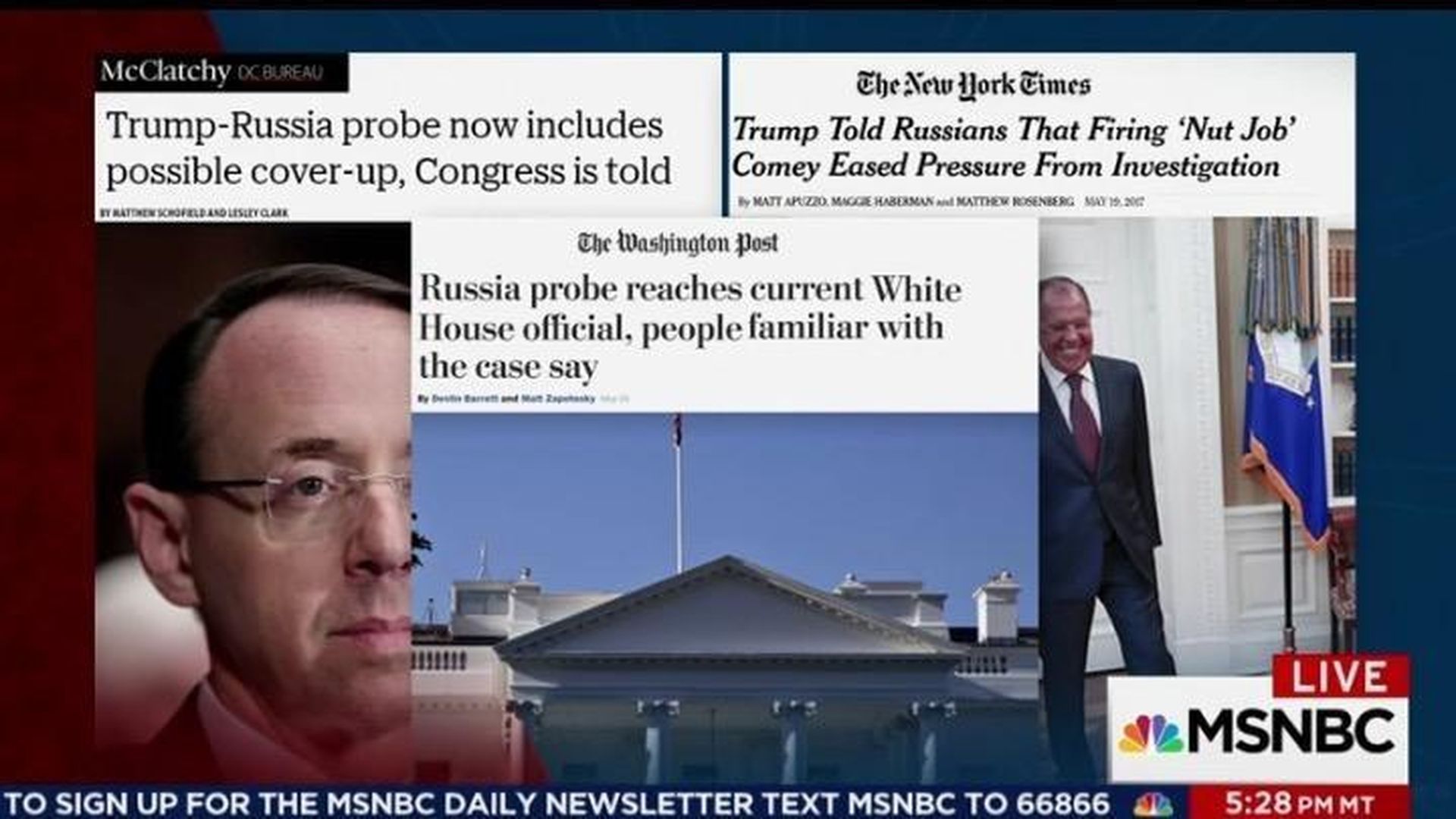 What they're saying ...
David Gergen on CNN: "The way this is breaking … paints a very dark picture. … [W]e're in impeachment territory. … [The possibility of impeach is] down the road. But we're in deep, serious issues now."
Nicolle Wallace, anchoring on MSNBC, with Trump in the air: "Air Force One is a massive plane. ... But when you're ... a White House in crisis, ... it becomes very, very small."
MSNBC chief legal correspondent Ari Melber, to anchor Ali Velshi: "[P]eople ... wondered, 'Why does Donald Trump keep saying so many things that are adverse to his interest?' And the answer may be that the investigation is proceeding in a way that he feels a tremendous amount of pressure."
https://www.axios.com/newsletters/axios-am-0343d58e-41bf-42cc-b3f2-350c10458691.html?chunk=4#story4
5. Softer language on Islam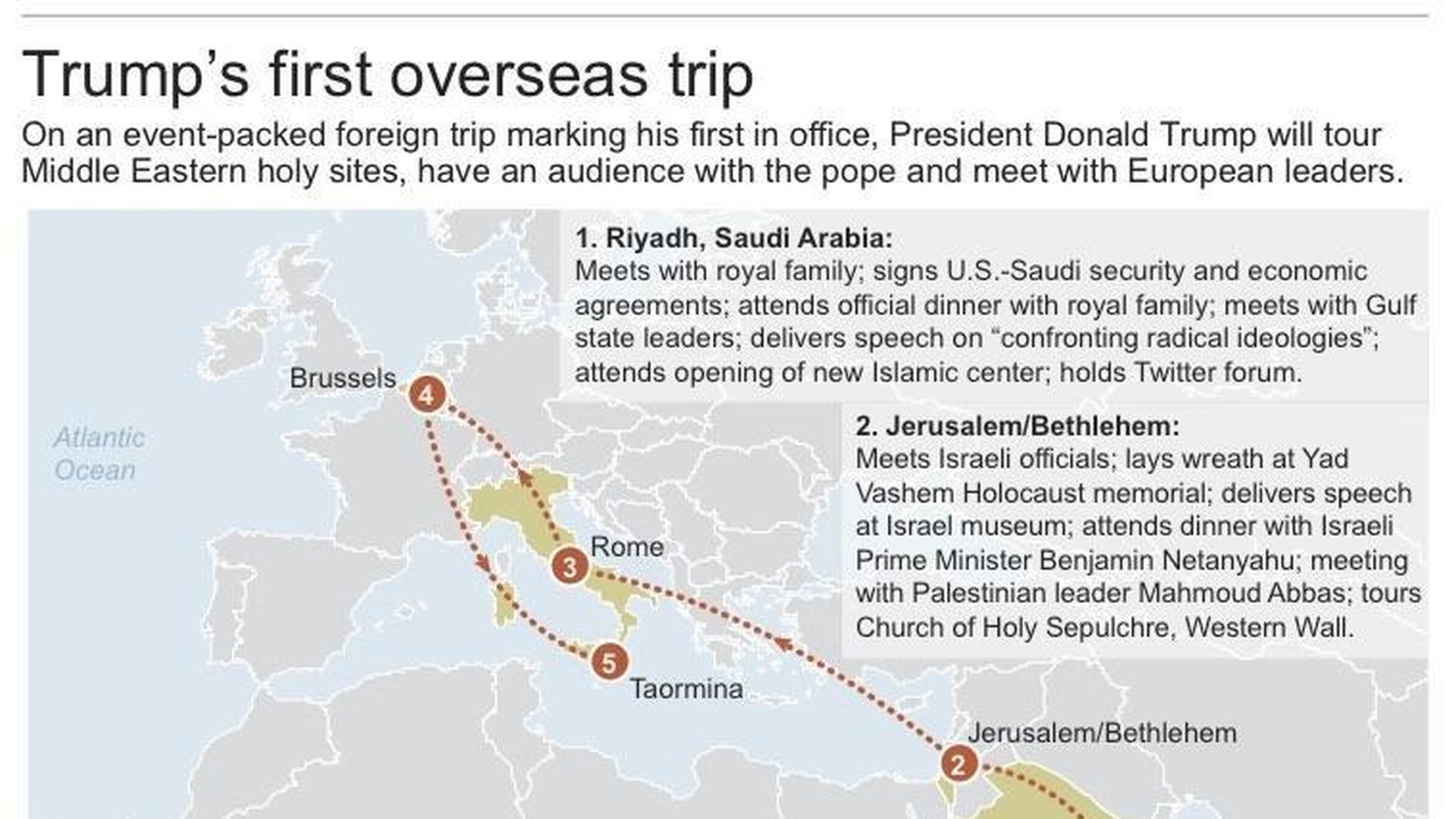 In draft of speech to be delivered in Saudi Arabia tomorrow, Trump abandons some of the harsh anti-Muslim rhetoric of his campaign, per AP's Vivian Salama and Jonathan Lemire, with Matt Lee:
"Trump will ... call for unity in the fight against radicalism in the Muslim world, casting the challenge as a 'battle between good and evil' and urging Arab leaders to 'drive out the terrorists from your places of worship,' according to a draft of the speech.
"It notably refrains from mentioning democracy and human rights — topics Arab leaders often view as U.S. moralizing — in favor of the more limited goals of peace and stability.
From the draft: "We are not here to lecture — to tell other peoples how to live, what to do or who to be. We are here instead to offer partnership in building a better future for us all."
Sean Spicer: "The president has not seen this draft ... This is one of five drafts that have been written by various people. He continues to take input and is writing a final version."
Wheels down ... "Melania Trump skips headscarf as she arrives in Saudi Arabia" — AP: The First Lady "stepped off of Air Force One conservatively dressed in long sleeves and pants to conform to the strict dress code ... But one thing was missing from her black and gold-belted ensemble: a head scarf. Instead, Mrs. Trump's below-the-shoulder brown hair blew freely in the breeze." (Pic)
https://www.axios.com/newsletters/axios-am-0343d58e-41bf-42cc-b3f2-350c10458691.html?chunk=5#story5
6. "Why the hell would we?"
"Trump tells advisers he wants to end key Obamacare subsidies: Many senior aides oppose the move for fear it will backfire politically," per Politico's Josh Dawsey, Jennifer Haberkorn and Paul Demko:
"The payments, estimated at $7 billion for this year, go to insurance companies to reduce deductibles and other out-of-pocket costs for low-income consumers — an estimated 7 million people in 2017. Insurers are on the hook under the health law to keep paying even if the federal money stops."
The move "could send the health law's insurance markets into a tailspin."
"Many advisers oppose the move because they worry it would backfire politically if people lose their insurance or see huge premium spikes and blame the White House ... Trump has said that the bold move could force Congressional Democrats to the table to negotiate an Obamacare replacement."
"Trump told aides in a Tuesday Oval Office meeting that he wants to end the payments to insurers because he doesn't gain anything by continuing them: 'Why the hell would we?'"
"Trump added that if Congress wants the subsidies, lawmakers would find a way to pay for them."
https://www.axios.com/newsletters/axios-am-0343d58e-41bf-42cc-b3f2-350c10458691.html?chunk=6#story6
7. Tweet du jour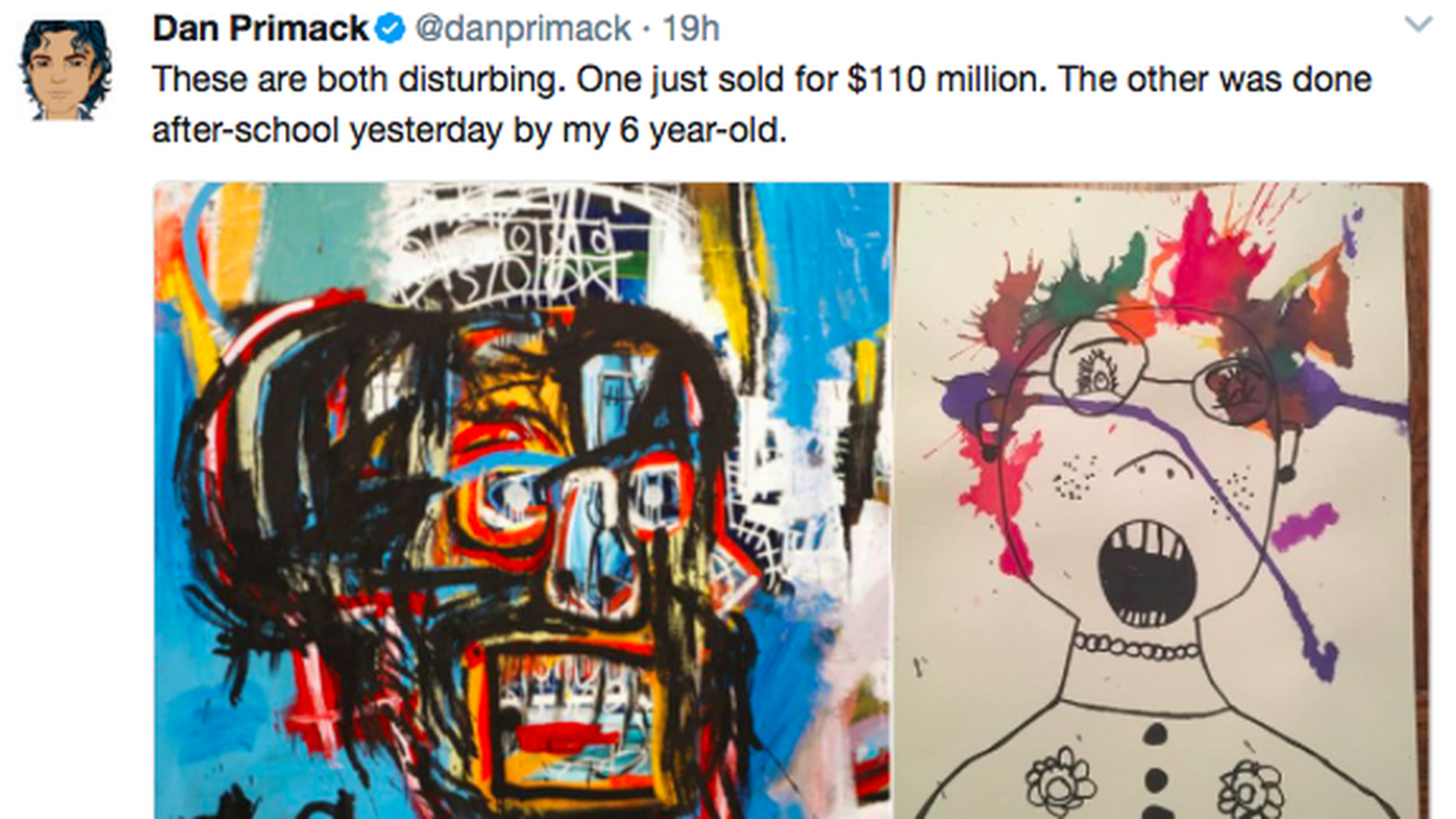 The buyer ... "Japanese billionaire Yusaku Maezawa ... started an import music business [in 1995], selling CDs and vinyls of his favorite bands by mail from his home. ... In 1998, he used the mail-order music business to launch Start Today, naming the company after an album by punk band Gorilla Biscuits."
https://www.axios.com/newsletters/axios-am-0343d58e-41bf-42cc-b3f2-350c10458691.html?chunk=7#story7
8. The talk of tech
Uber now charges some carpooling routes (in 14 cities) not just by time and distance, but also using machine-learning algorithms to predict a route's willingness to pay, per Bloomberg's Eric Newcomer:
Under "route-based pricing," which Uber has been testing for months, "someone traveling from a wealthy neighborhood to another tony spot might be asked to pay more than another person heading to a poorer part of town, even if demand, traffic and distance are the same."
Drivers are being cut out of some of the gains: "[D]rivers have been complaining that the gap between the fare a rider pays and what the driver receives is getting wider."
Uber acknowledged the change to drivers yesterday: "Uber will start reporting the price a passenger pays on each ride, though it will stop breaking out the percentage Uber takes of the fare."
The takeaway: Money-losing Uber needs the cash. Daniel Graf, Uber's head of product: "You know our numbers ... We do want to run and operate a sustainable business."
https://www.axios.com/newsletters/axios-am-0343d58e-41bf-42cc-b3f2-350c10458691.html?chunk=8#story8
9. What Wall Street is thinking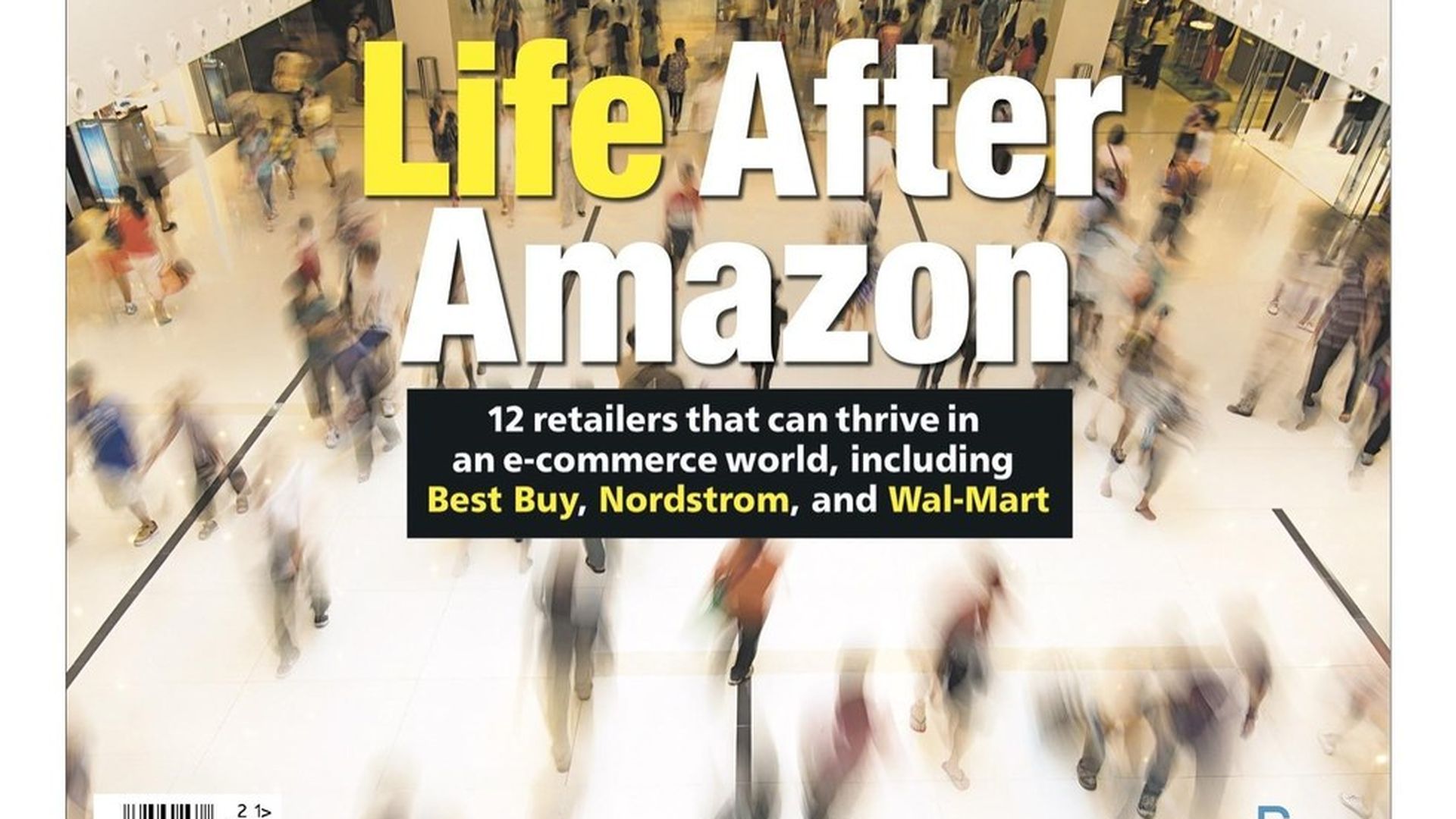 Bearish talk on the Trump agenda from Barron's, which provides Axios AM readers with free links to three pieces behind the paywall:
"The controversies swirling around the administration could thwart much of the president's agenda, per Randall Forsyth's "Up & Down Wall Street" column: "A flatter [Treasury market] yield curve is a classic sign of reduced market expectations of rising interest rates, inflation, and growth. That is how politics have affected the outlook for policy, the economy, and the markets.
"Streetwise" column by Kopin Tan: "The same people who urged us to buy stocks in November because Trump will bestow on us big tax cuts and fiscal stimulus now say stocks can rally without Trump. Yes, global growth is healthy, but the rate of change in growth is turning lower in economies from the U.S. to China. ... Things are fine now, but someday the future will arrive."
"Buffett's Berkshire Could Post Double-Digit Gains: Berkshire Hathaway will excel, Buffett or no Buffett."
https://www.axios.com/newsletters/axios-am-0343d58e-41bf-42cc-b3f2-350c10458691.html?chunk=9#story9
10. 1 fun thing: Season finale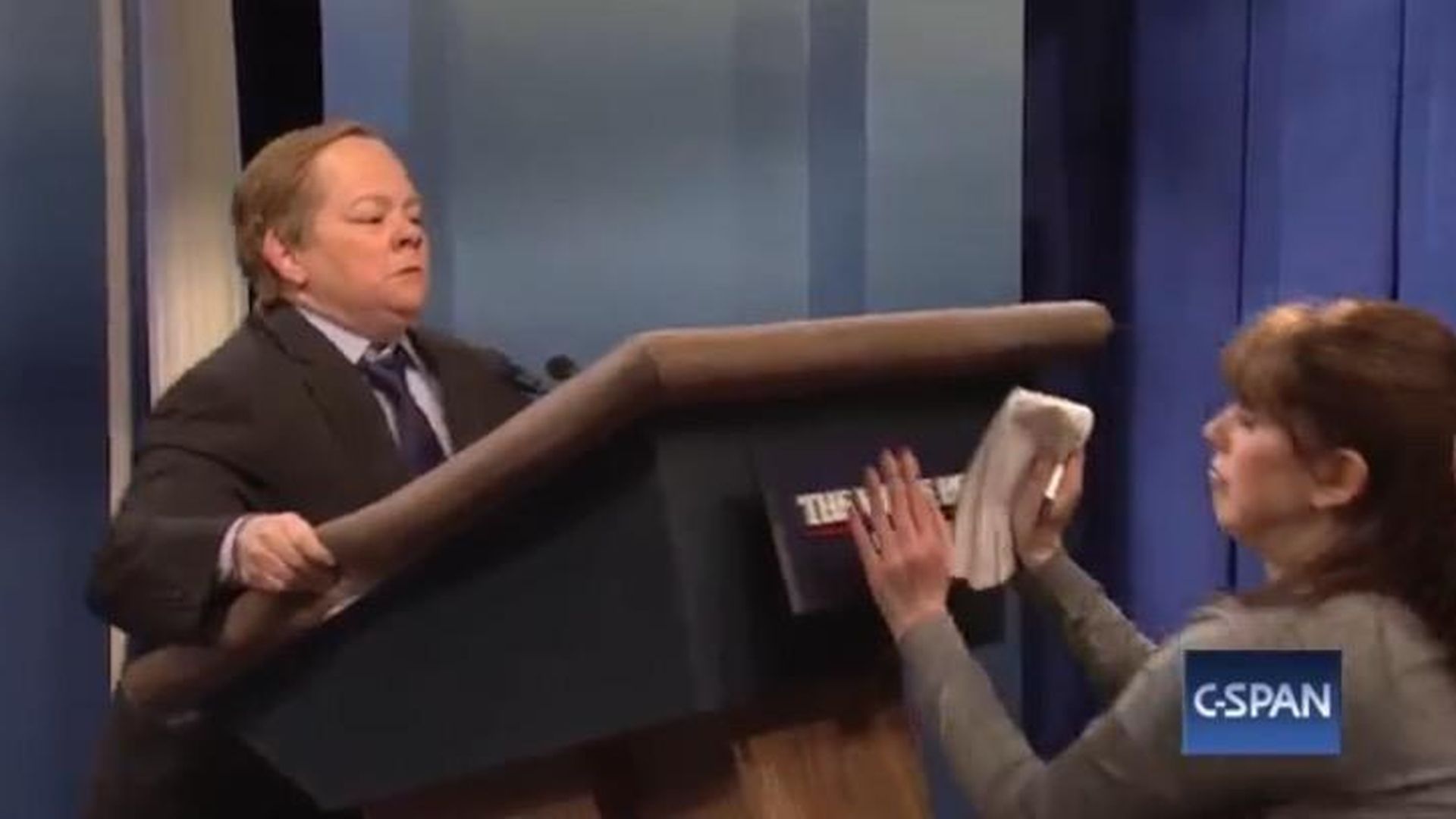 "Saturday Night Live" wraps Season 42 tonight: Former WrestleMania star Dwayne "The Rock" Johnson, who sounds pretty serious about running against Trump in 2020, hosts with musical guest Katy Perry.
From the N.Y. Times' Sopan Deb (former Trump campaign chronicler for CBS), "'Saturday Night Live': The Most Memorable Moments This Season":
"Alec Baldwin pursing his lips, squinting his eyes, saying 'Jina.' Melissa McCarthy plowing a podium into a crowd of reporters. Kate McKinnon pivoting from a self-absorbed Hillary Clinton to a deer-in-the-headlights Kellyanne Conway."