October 26, 2022
Hello, Wednesday. Smart Brevity™ count: 1,492 words ... 5½ minutes. Edited by Noah Bressner.
1 big thing: Fetterman's painful debate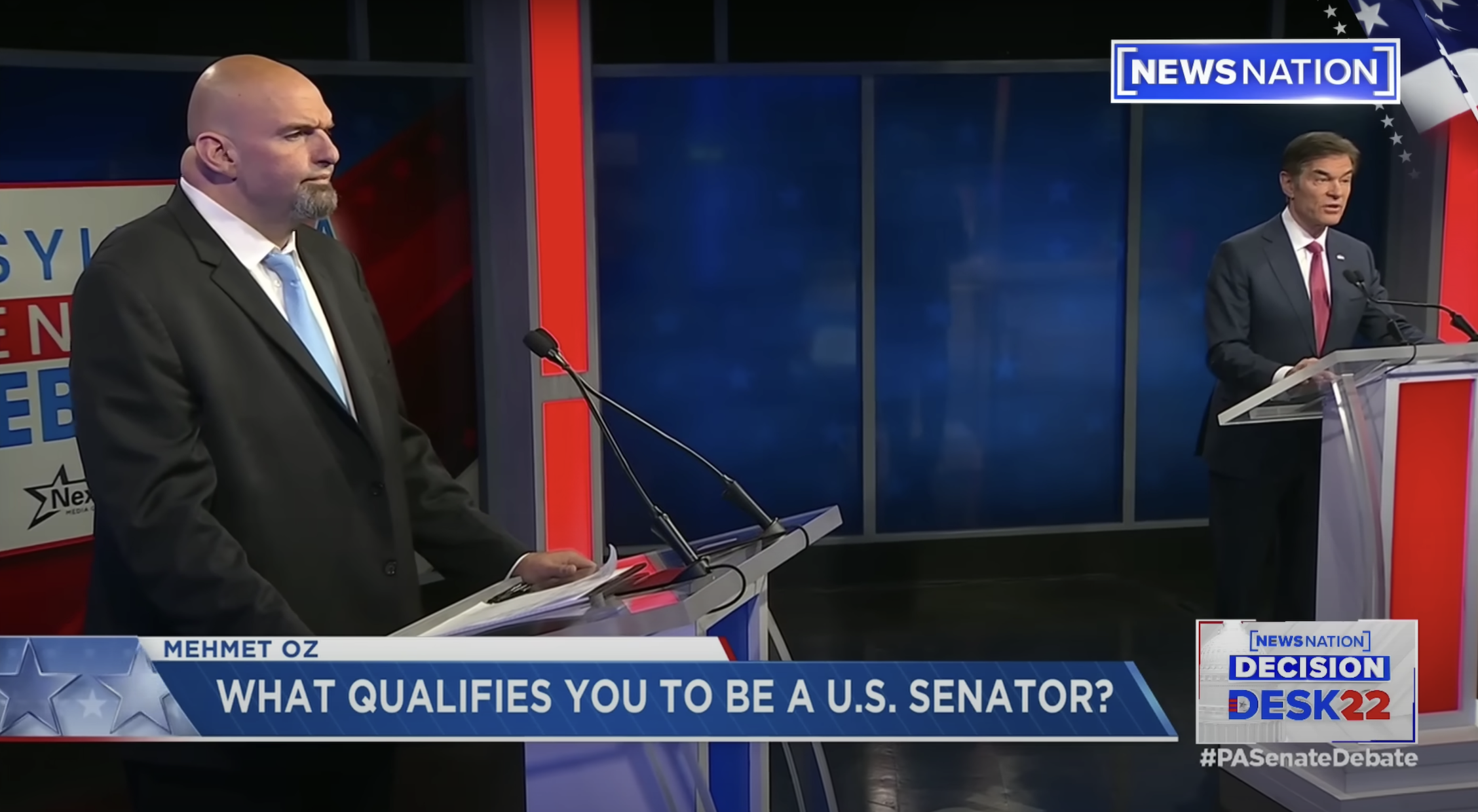 Democrat John Fetterman began his first answer at last night's high-stakes U.S. Senate debate in Pennsylvania by saying: "Hi! Good night, everybody!"
It was downhill from there.
Fetterman, who has said he "almost died" from a stroke in May, repeatedly struggled to answer questions — even with closed-captioning that was posted above the moderators as an accommodation.
Fetterman, the Pennsylvania lieutenant governor, said at one point when asked to clarify his position on fracking: "I do support fracking, and I don't, I don't — I support fracking, and I stand, and I do support fracking."
His flip-flop on the issue has been a big problem for his campaign — and he flubbed the chance to explain himself on the Harrisburg debate stage, Axios' Alayna Treene notes.
Context: The race between Fetterman, 53, and Dr. Mehmet Oz, 62, the Republican nominee, is arguably the closest Senate race in the country — a pure tossup.
Axios' Josh Kraushaar has singled the race out as the "majority maker" — the biggest bellwether on whether Republicans can win back a majority in the 50-50 Senate.
Momentum had been shifting Oz's way. It's hard to see how last night would have changed that.
Oz provided potential fodder for Democratic ads by saying at the debate that abortion decisions should be made among the "woman, doctor, local political leaders."
Reaction: Numerous Democratic sources told Axios reporters they're stunned Fetterman's campaign let him debate when he clearly hasn't recovered. He would've been better off taking the hit for dodging debates.
"Why the hell did Fetterman agree to this?" one Democratic lawmaker and Fetterman backer told Axios. "This will obviously raise more questions than answers about John's health."
Fetterman opened the debate by calling his health "the elephant in the room."
"I had a stroke. He's never let me forget that," he said, referring to Oz.
"And I might miss some words during this debate, moosh two words together. But it knocked me down, but I'm going to keep coming back up."
Olivia Nuzzi of New York Magazine tweeted: "There is no amount of empathy for and understanding about Fetterman's health and recovery that changes the fact that this is absolutely painful to watch."
Sen. Pat Toomey (R-Pa.) said on CNN: "It's sad to see John Fetterman struggling so much. He should take more time to allow himself to fully recover."
On NewsNation, the cable network carrying the debate, anchor Leland Vittert said: "Clearly the biggest issue was John Fetterman's health — and his ability both to comprehend speech, and then to speak coherently on the issues of the day."
The other side: Stalwart Fetterman defenders argued he should get credit for at least showing up.
2. 🦠 Long COVID @ work
There's been a surge of about 900,000 disabled people in the U.S. workforce since 2020, likely because of long COVID, Axios' Emily Peck writes from new research by the New York Fed.
Why it matters: If long-COVID sufferers can keep working, that means some employers are accommodating their needs. But as the economy cools, employers could become less accommodating.
What's happening: The pandemic led to an increase in the number of Americans who say they're disabled.
There were 1.05 million more disabled working-age Americans in August 2022 compared to January 2020, according to data compiled by Richard Deitz, an economist at the New York Fed.
"The majority [of the newly disabled] deal with fatigue and brain fog, the hallmarks of long COVID," he writes.
The intrigue: Economists are still nailing down why so many more disabled people, who traditionally have very low labor force participation, are working now.
Deitz's paper is among the first to pinpoint long COVID as a possible factor. Others attribute the surge to the tight labor market and the rise of remote work — which can make it easier for disabled workers to remain employed or get a job.
There's likely an interplay between the two: Some disabled people can now more easily work remotely and may have entered the job market.
Zoom out: Long COVID is similar to another condition, Myalgic Encephalomyelitis/Chronic Fatigue Syndrome, which Deitz himself suffers from. Telework and flexible scheduling have been key when it comes to keeping those with the condition in the workforce.
"Such accommodations can help workers with long COVID control their environment, avoid physical exertion around commuting, and take rest breaks as needed, helping them to manage their symptoms and remain productive," Deitz writes.
👀 What we're watching: Disability counts have fallen in recent months. That could mean long COVID sufferers have recovered — and no longer consider themselves disabled, Deitz writes.
3. ⚠️ New tactics target local voting
Mayors and police chiefs are being warned that extremists could focus intimidation efforts on neighborhood ballot boxes instead of national spectacles, Jennifer A. Kingson writes in Axios What's Next.
Some far-right groups, including the Proud Boys and the Oath Keepers, are signing up as poll workers and drop-box watchers, in an effort to use legitimate means to infiltrate and disrupt elections.
The U.S. Conference of Mayors held an event this week warning of decentralized election interference aimed at local voters, candidates and election workers.
"We've seen them dismantle some of their nationwide organizations," said Mary McCord, executive director of Georgetown Law's nonprofit Institute for Constitutional Advocacy and Protection.
🔬 Zoom in: In 50 out of 67 Pennsylvania counties, election chiefs have left because of threats, harassment and intimidation against them and their families, McCord said.
A post on the right-wing social network Gab, quoted by McCord, said: "Focus on county over country. Capture your local county, then several of them, then maybe your state."
🔮 What's next: Public officials are being advised to issue strong statements about how vigorously they would prosecute voter intimidation or harassment.
911 dispatchers should prioritize calls about problems at polls and send officers promptly, said Charles Ramsey, former police chief in D.C. and Philadelphia, and now an adviser to the U.S. Conference of Mayors.
4. 🔋 New frontier: Georgia's electric-car plant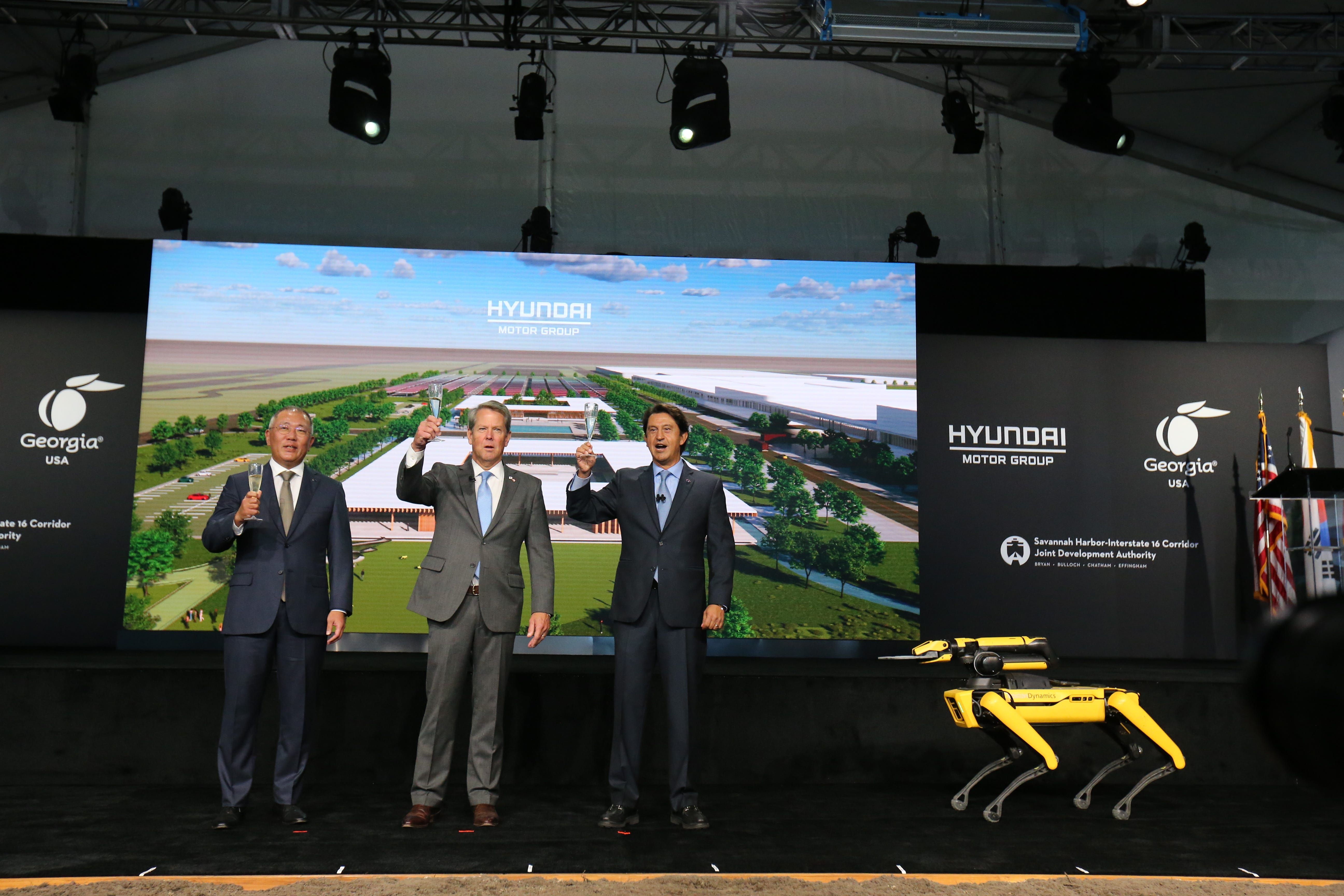 A robot dog (above) delivered champagne flutes for a toast as Hyundai Motor Group broke ground outside Savannah, Ga., yesterday on its first U.S. plant dedicated to making electric vehicles.
Five months after Hyundai announced the plant in Bryan County, vast areas of the site have already been cleared of trees, AP reports.
The South Korean company plans to open the factory in 2025, with 8,100+ employees producing up to 300,000 EVs per year.
The event brought together Kemp (R) and Sen. Raphael Warnock (D) — two weeks before each faces re-election.
5. ☢️ Buried leads: U.S. fear about Russia nukes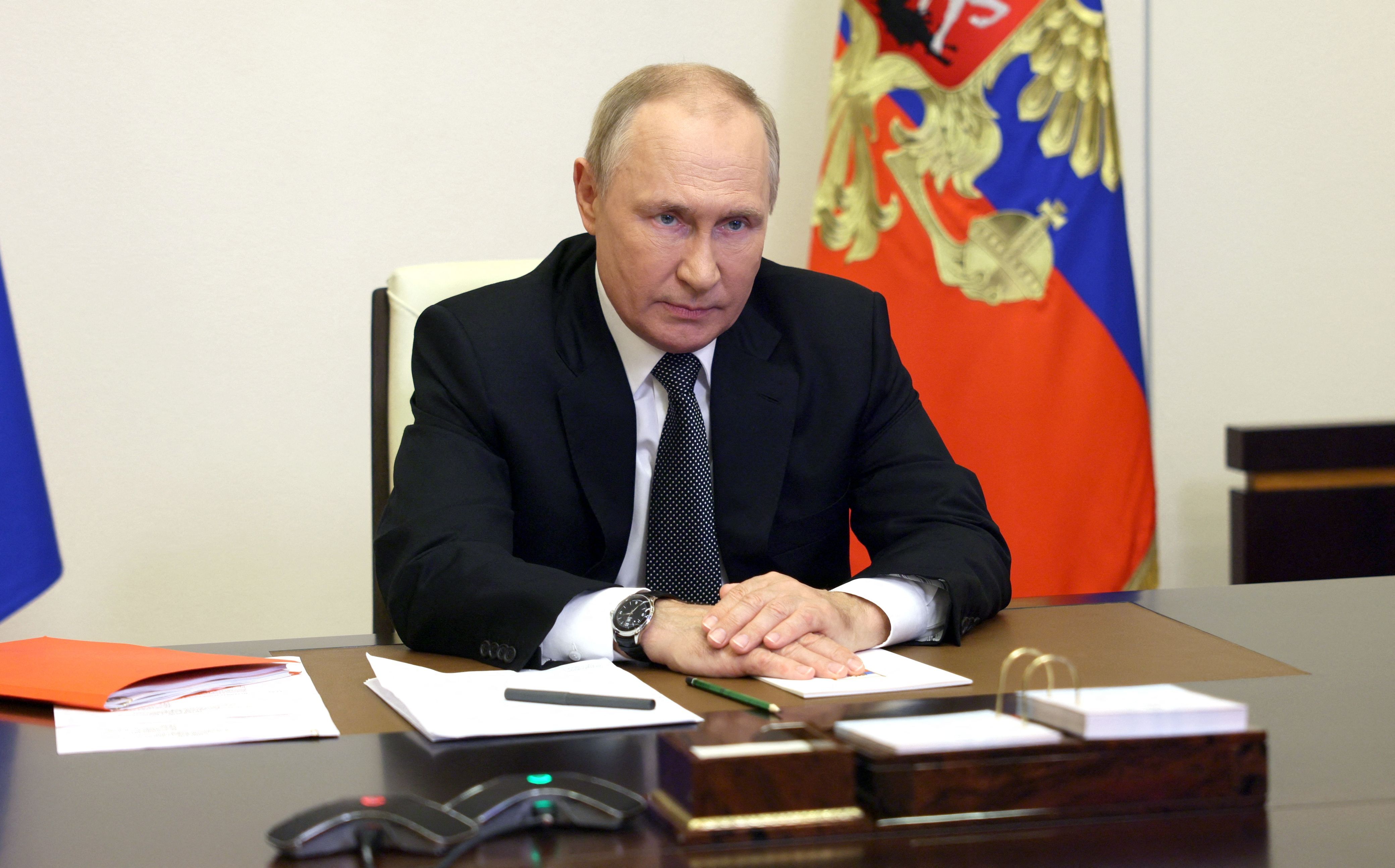 "One senior U.S. official said there were new, troubling developments involving Russia's nuclear arsenal," The New York Times reports in the 29th paragraph of a story saying Vladimir Putin's commanders "may be preparing the ground for a sharp escalation" in the war in Ukraine.
Why it matters: The developments, which weren't detailed, "heightened concerns among already jittery senior Pentagon officials about Russia's next possible step up the escalation ladder" in Ukraine, The Times adds.
A senior military official said at a Pentagon background briefing on Monday that the U.S. has "no indications that the Russians have made a decision to employ nuclear weapons."
6. 🛢️ Biden thought he had secret Saudi deal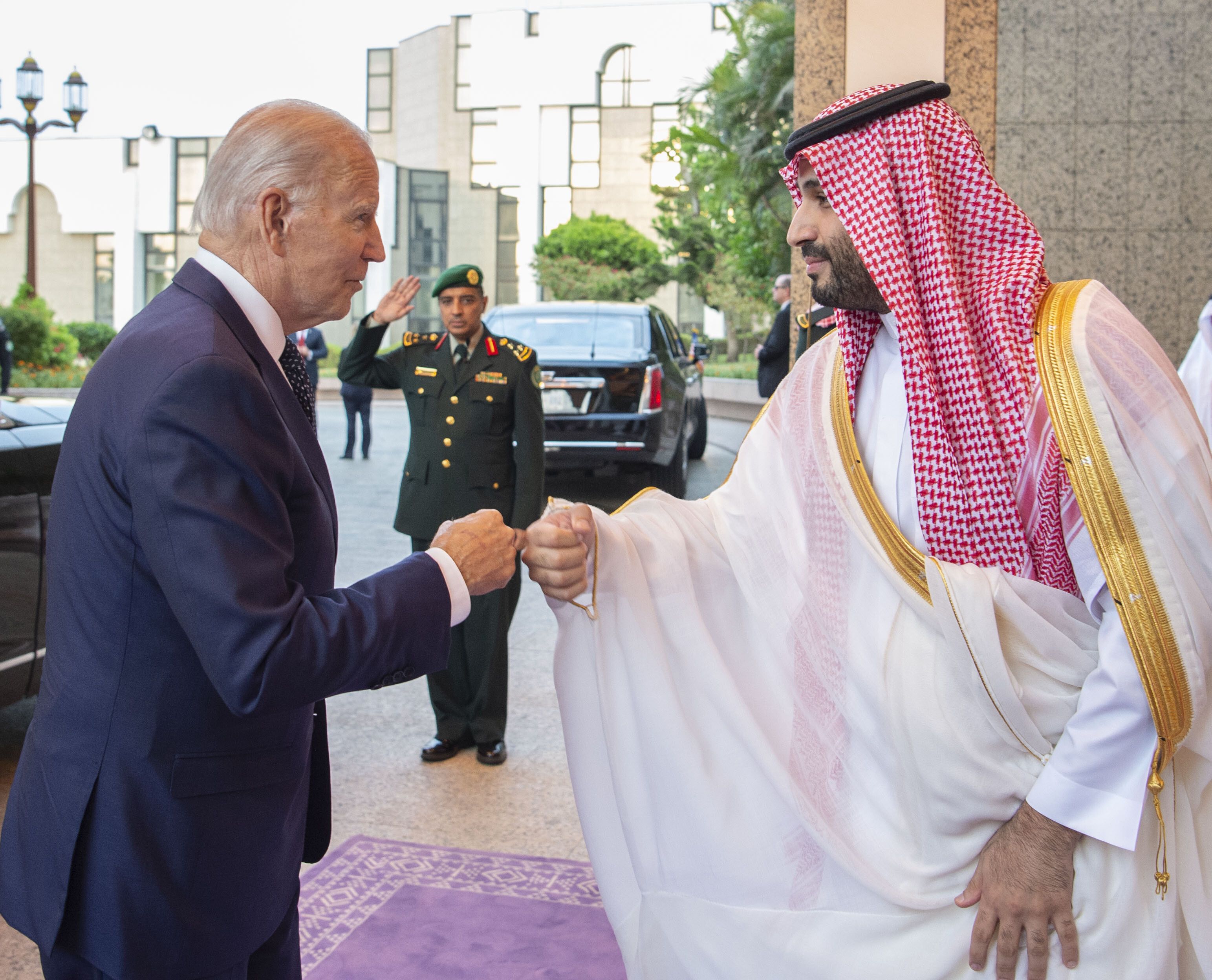 "As President Biden was planning a politically risky trip to Saudi Arabia this summer, his top aides thought they had struck a secret deal to boost oil production through the end of the year," The New York Times reports (subscription).
Instead, the Saudis cut production — "the opposite of the outcome the administration thought it had secured as the Democratic Party struggles to deal with inflation and high gas prices heading into the November elections."
🥊 "Lawmakers who had been told about the trip's benefits in classified briefings ... have been left fuming that Crown Prince Mohammed bin Salman duped the administration," The Times adds.
7. ⚡ Tracking power: Tony Fratto to Goldman
Tony Fratto — a former Treasury official who co-founded Hamilton Place Strategies, now Penta Group — will join Goldman Sachs as a partner and global head of corporate communications.
Fratto, a CNBC contributor, tweeted: "I've worked with many GS alums over my career — not least with Sec. Hank Paulson at the U.S. Treasury Department, so I have a good sense of what it means to work at Goldman."
Salvatore Antonio "Tony" Fratto (as he was named in the announcement by CEO David Solomon) has a B.A. in economics from the University of Pittsburgh — and is one of D.C.'s most vocal Steelers fans.
8. 📷 Parting shot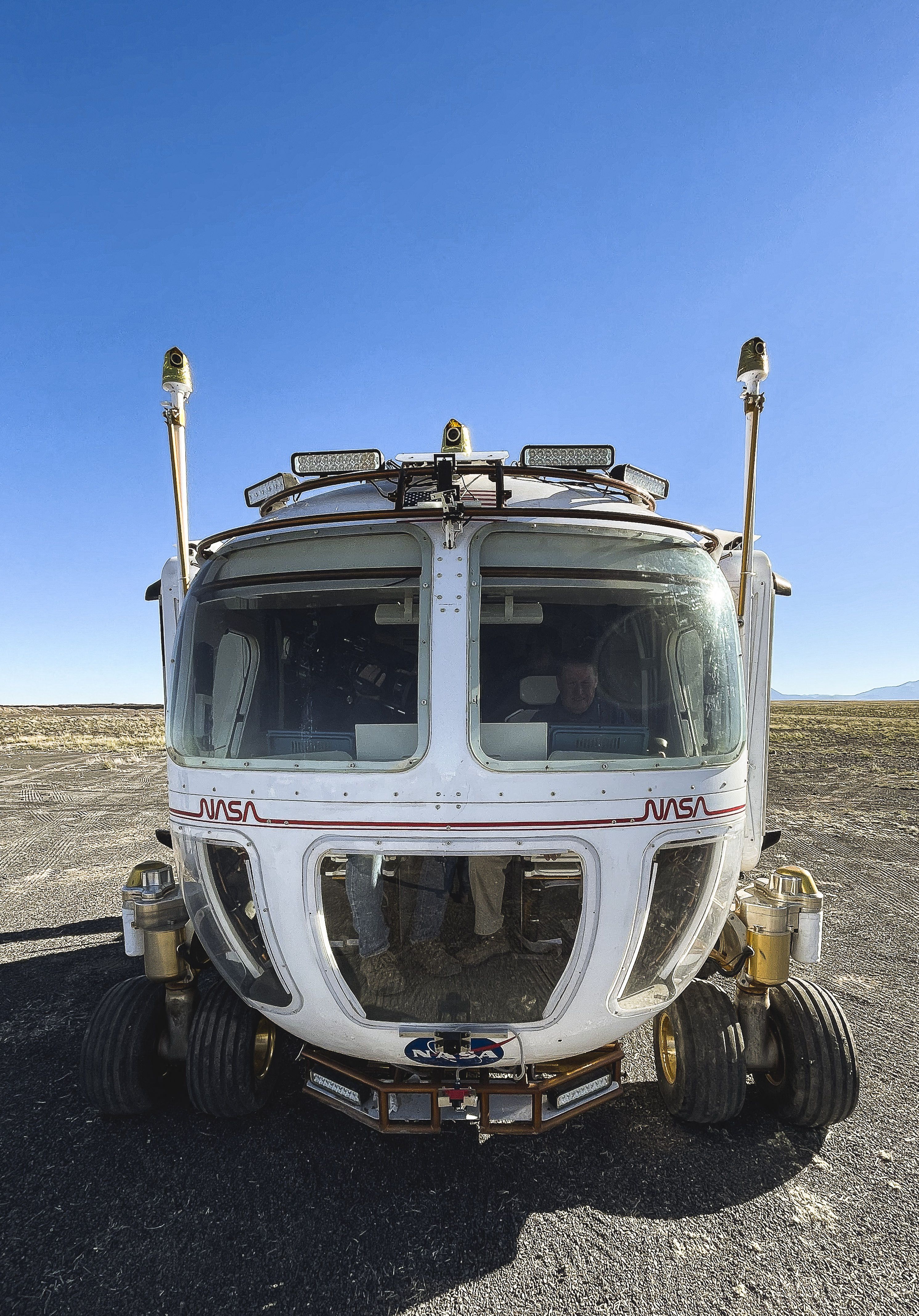 NASA's Desert Research and Technology Studies (Desert RATS) team practices this week with a moon-rover prototype for future Artemis missions, at the Black Point Lava Flow near Flagstaff, Ariz.
📬 Please invite your friends to sign up to get their daily essentials — Axios AM, PM and Finish Line.