Good Sunday morning! 🌎🌍🌏 It's Earth Day.
You're invited ... Former Vice President Al Gore joins me Tuesday at 8 a.m. in downtown D.C. for an Axios News Shapers conversation about climate's effect on business models and social justice, plus we'll talk tech, the digital revolution and more. RSVP here.
https://www.axios.com/newsletters/axios-am-019f2459-095f-4821-aed9-437891d0e6cf.html?chunk=0#story0
1 big thing: Big Tech's reprieve may be short
Tech companies got a brief reprieve after Mark Zuckerberg cleared the low bar for his two days of testimony on Capitol Hill earlier this month.
But the chart above, from a poll by Stagwell's Harris X research consultancy (2,546 U.S. polled online April 12-13, right after the Facebook hearings), shows Americas are far from satisfied with the status quo.
The finding: Users don't think in terms of "tech companies." They distinguish among the brands, and are far more likely to support regulation for the social media platforms than for other tech giants. Harris X: "Facebook is the only company that respondents believe should be heavily regulated."
Why it matters, from Axios chief tech correspondent Ina Fried: People value Facebook and aren't going to give it up, but they're saying the government has a role in protecting them from the power of these platforms.
Be smart: These results will be a relief to Apple and other companies that have been trying to differentiate themselves from Facebook, pointing out publicly and in constant conversations with reporters that they have very different business models that sell products and services — not access to you.
Go deeper: The full poll results.
https://www.axios.com/newsletters/axios-am-019f2459-095f-4821-aed9-437891d0e6cf.html?chunk=1#story1
2. Global violence fanned by social media
"Where Countries Are Tinderboxes and Facebook Is a Match: False rumors set Buddhist against Muslim in Sri Lanka, the most recent in a global spate of violence fanned by social media," by N.Y. Times "Interpreter" columnists Max Fisher and Amanda Taub:
"[T]

he forces of social disruption ... have followed Facebook's rapid expansion in the developing world, whose markets represent the company's financial future."
"For months, we [tracked] riots and lynchings around the world linked to misinformation and hate speech on Facebook, which pushes whatever content keeps users on the site longest — a potentially damaging practice in countries with weak institutions."

"[G]o

vernment officials said ... Facebook wields enormous influence over their society, but they have little over Facebook."
N.Y. Times Quote of the Day ... Harindra Dissanayake, a presidential adviser in Sri Lanka: "We don't completely blame Facebook. The germs are ours, but Facebook is the wind, you know?"
https://www.axios.com/newsletters/axios-am-019f2459-095f-4821-aed9-437891d0e6cf.html?chunk=2#story2
3. John Dickerson: "A broken office"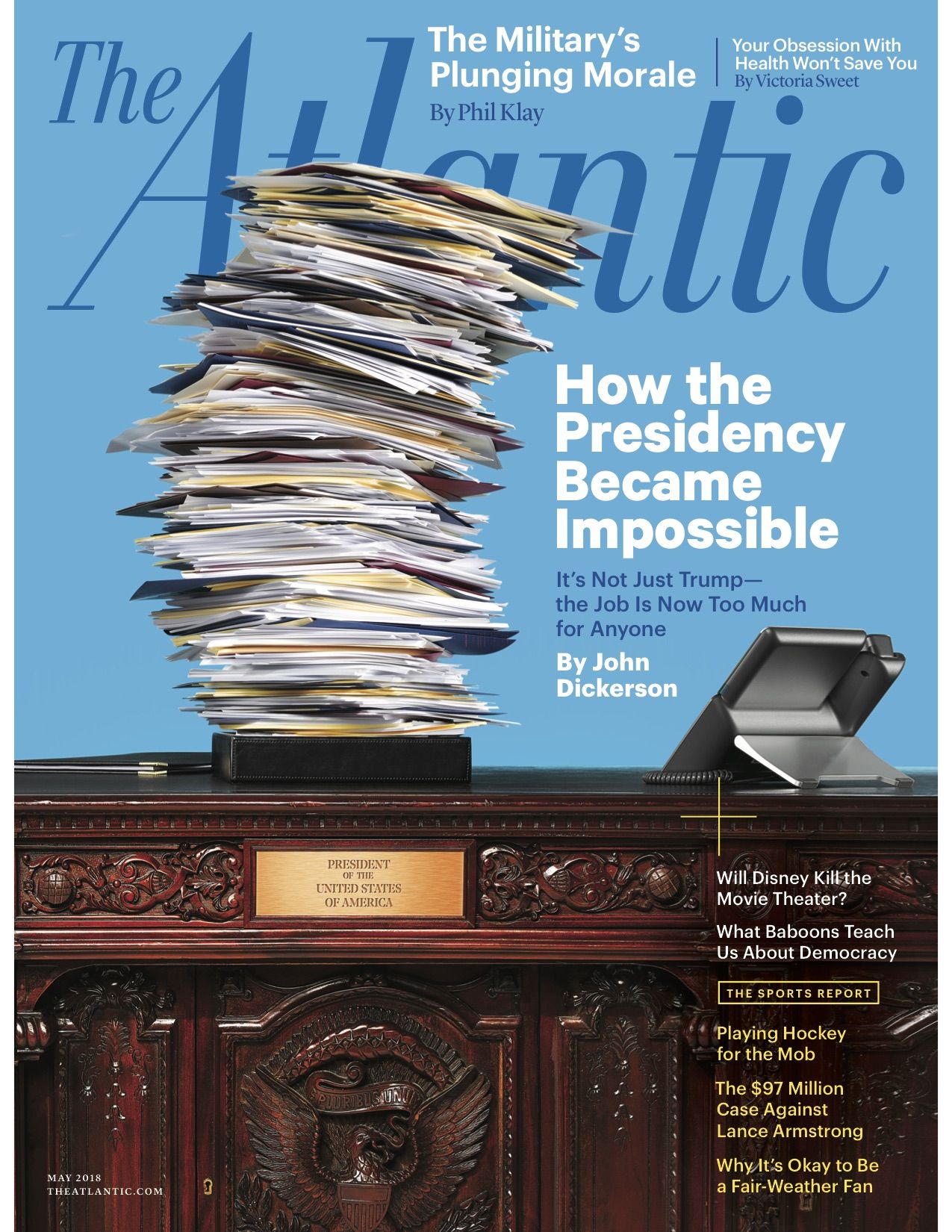 Courtesy The Atlantic
"If Trump were a less divisive figure, we might ... consider that what looks like incompetence or impertinence on the part of the officeholder could also be evidence that the office itself is broken," John Dickerson, co-anchor of "CBS This Morning, writes in the cover story of the May issue of The Atlantic:
"A president must now be able to jolt the economy like Franklin Roosevelt, tame Congress like Lyndon Johnson, comfort the nation like Ronald Reagan."
"The president must ... console the widow of a soldier he sent into combat one moment, and welcome a championship-winning NCAA volleyball team to the White House the next."
"He must live with the paradox that he is the most powerful man in the world, yet is powerless to achieve many of his goals — thwarted by Congress, the courts, or the enormous bureaucracy he sometimes only nominally controls."
Why it matters: "Even the most above-it-all president is continuously tempted to privilege the small over the big and the now over the future."
Mitch Daniels, former Reagan aide and Indiana governor: "The next successful president is likely to be somebody who concentrates relentlessly on a few well-chosen goals."
https://www.axios.com/newsletters/axios-am-019f2459-095f-4821-aed9-437891d0e6cf.html?chunk=3#story3
4. "The first lady of the Greatest Generation"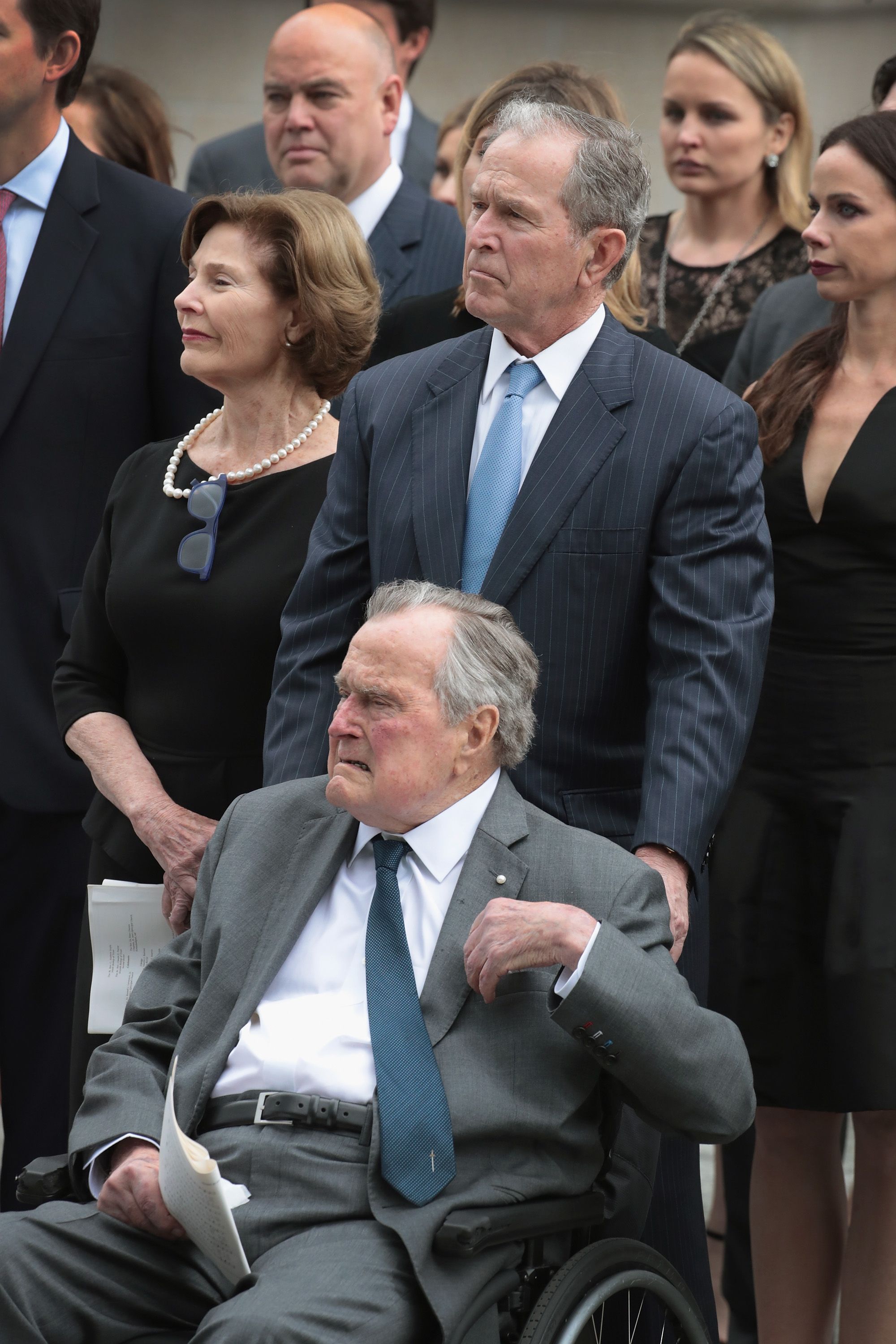 Two presidents watch as the coffin of Barbara Bush is placed in a hearse. (Scott Olson/Getty Images)
From historian Jon Meacham's eulogy for Barbara Pierce Bush, during yesterday's funeral at St. Martin's Episcopal Church in Houston:
"Barbara Bush was the first lady of the Greatest Generation. As the fiancée and then the wife of a World War II naval aviator, she waited and prayed in the watches of the night."
"During the war she worked at a nuts-and-bolts factory in Port Chester, New York, doing her part. And she joined George H.W. Bush in the great adventure of postwar Texas, moving to distant Odessa — 70 summers ago."
"And as the wife of one president and as the mother of another, she holds a distinction that belongs to only one other American: Abigail Adams, who was present at the creation."
"From the White House to Camp David to Walker's Point, in hours of war and of peace, of tumult and of calm, the Bushes governed with congeniality, with civility, and with grace. Instinctively generous, Barbara and George Bush put country above party, the common good above political gain, and service to others above the settling of scores."
"The couple had met at a Christmas dance in Greenwich in 1941, not quite three weeks after Pearl Harbor. She was wearing a red-and-green holiday dress; he endeavored to get introduced. She was 16; he was 17. He was the only boy she ever kissed. Her children, she remarked, always wanted to throw up when they heard that."
"When she once unwisely described a female political opponent of her husband's [Geraldine Ferraro] as a word that rhymed with 'rich,' she reported her family had started referring to her as the 'Poet Laureate.'"
"And she loved the story of how, when her eldest son, the 43rd president, took up painting, his instructor asked him if he'd ever used the color 'burnt umber.' No, Bush 43 replied, but he did remember that from his mother's cooking. 'Brings down the house,' she'd say, approvingly."
"Mother and son needled each other to the end. In her final days, while the 43rd president was visiting, Mrs. Bush asked one of the doctors if they'd like to know why George W. was the way he was, announcing: 'I smoked and drank while I was pregnant with him.'"
Go deeper: Official site with biography, timeline and more.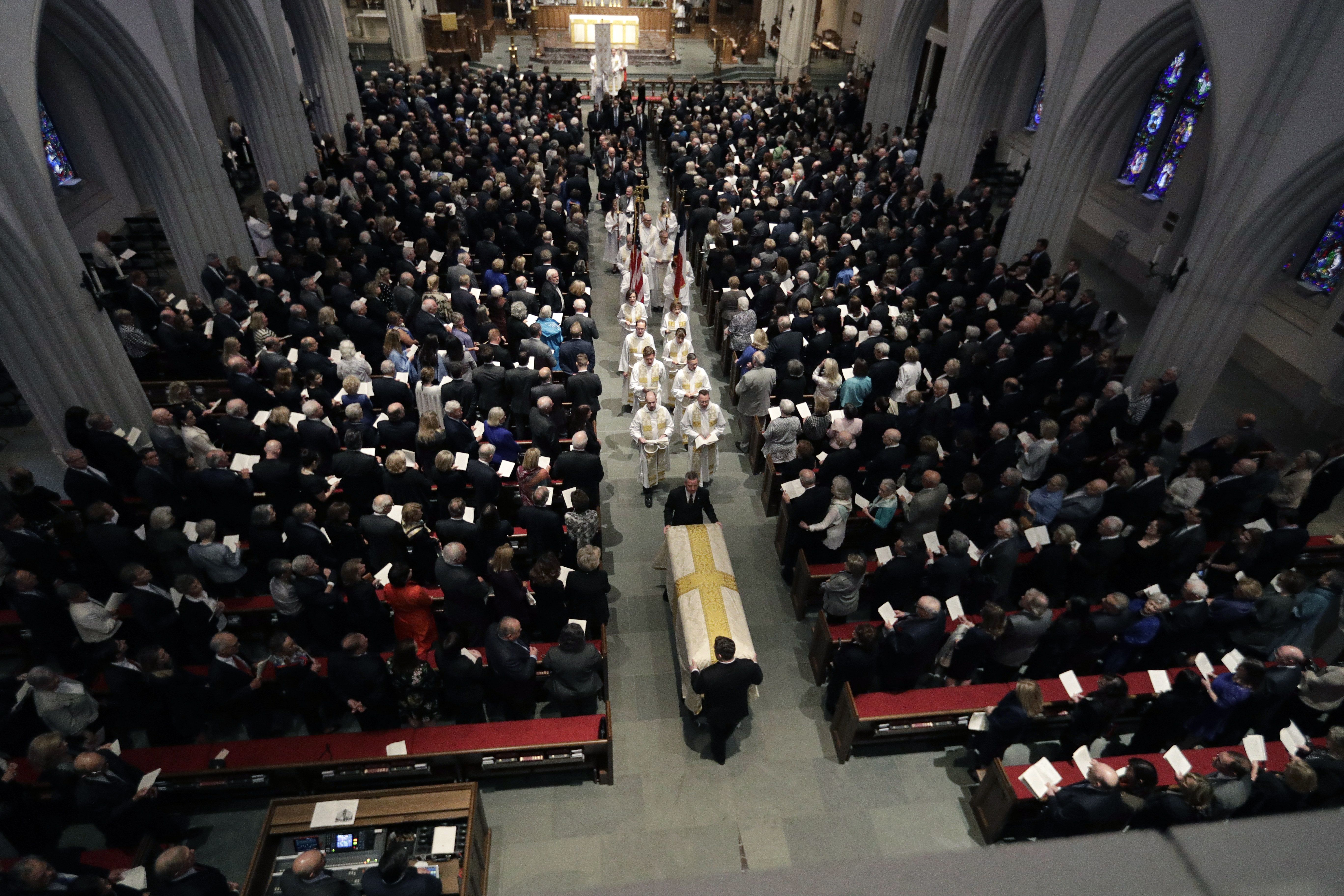 David J. Phillip/Pool/Getty Images
https://www.axios.com/newsletters/axios-am-019f2459-095f-4821-aed9-437891d0e6cf.html?chunk=4#story4
5. A job posting sign of the times
"Security Incident Response Engineer at Democratic National Committee," via @TomManatosJobs.
Compensation: "[W]hile we've done some budget hacking so we can be competitive when it comes to salaries we know we can't beat Google or Facebook. On the other hand, you might legit help save the world."


https://www.axios.com/newsletters/axios-am-019f2459-095f-4821-aed9-437891d0e6cf.html?chunk=5#story5
6. New Orleans celebrates 300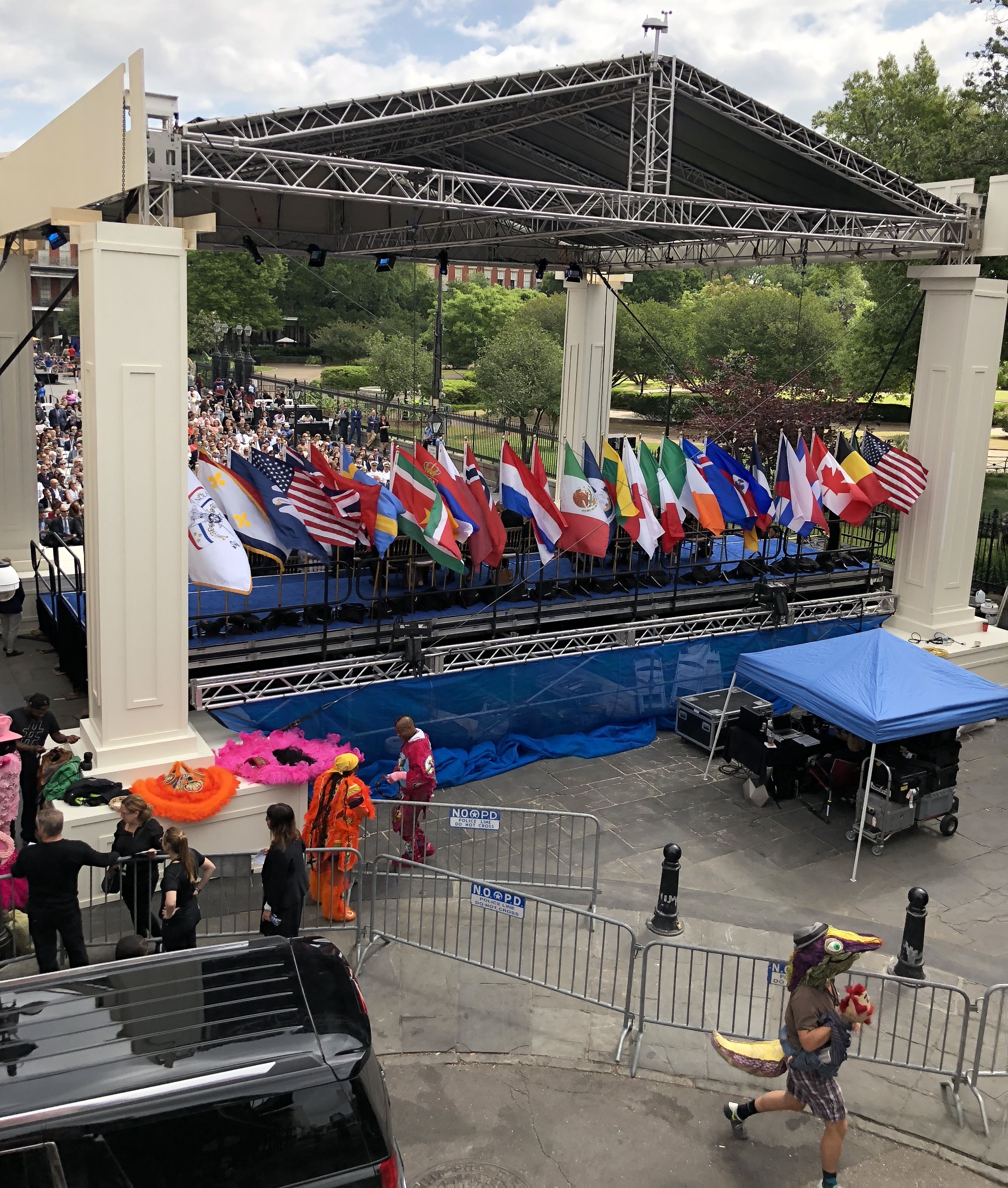 Amid the finery of the world's flags, an everyday New Orleans sighting during yesterday's ceremony. (Mike Allen/Axios)
With two weeks left in office and a possible presidential campaign ahead, New Orleans Mayor Mitch Landrieu followed up his acclaimed speech on the removal of Confederate statues with an ode to the city's resilience, "The Will and the Way," at a Jackson Square ceremony yesterday marking the Big Easy's tricentennial:
"[T]hirteen years ago, it was not clear that this city would survive. ... But we have not spent the last 13 years just 'recovering.'"
"We have spent our time, our labor, our sweat building the city we always dreamed New Orleans could be. The city she deserves to be."
"This land on the banks of the Mississippi River will remain solid ground under the footsteps of those who will follow us."
"Here's to the next 300 years. Happy birthday, New Orleans. I love you."
https://www.axios.com/newsletters/axios-am-019f2459-095f-4821-aed9-437891d0e6cf.html?chunk=6#story6
7. How John Kerry named his next book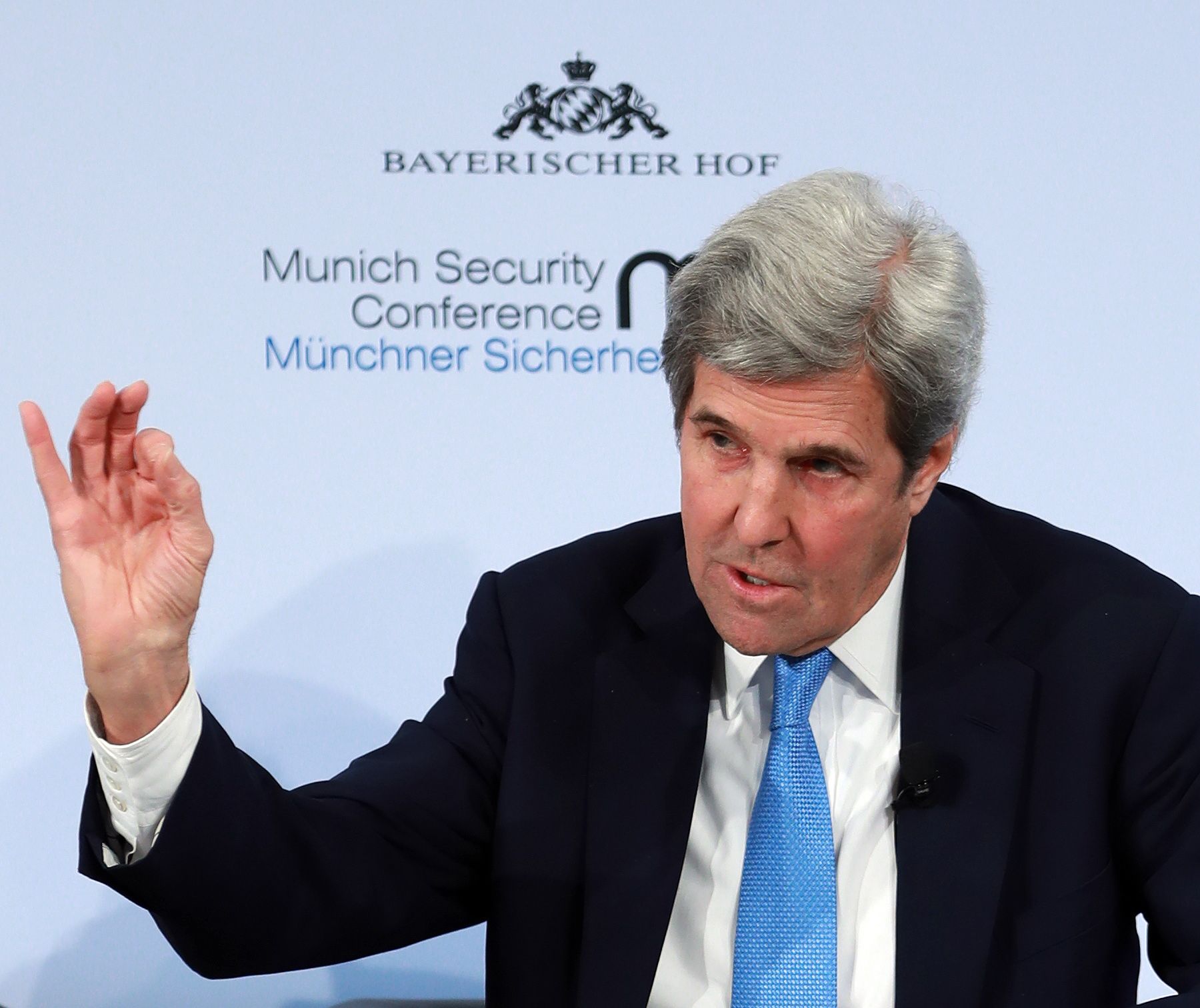 Kerry in February (Xinhua/Luo Huanhuan via Getty Images)
First look ... "Throughout John Kerry's half century sprint from the Navy through [the Senate and] service as the 68th Secretary of State, unlike most of closest friends, colleagues, and the President he'd served under, he had written four books on policy but never stopped to write a memoir," a source close to Kerry tells us.
But in September, Simon & Schuster will publish his memoir, "Every Day is Extra." Here's how it got its name:
"In writing the book and reflecting, he started to realize ... the biggest change [war had been in him] was a determination never to waste a single day."
"He and his closest friends have always shared a simple saying: 'Every day is extra.' They sign off emails and notes to each other, to this day, with those four words."
"It's partly about the mystery only God can answer about why some lived and some died. Kerry came home knowing that life can change and even end in a minute."
"It's a way of saying that we honor those we've lost by living for them, by living life in a way that values every minute."
"[H]e realized that the searing experience in his mid-twenties had changed his perception of risk, of stakes ... 'Every Day is Extra' ... encapsulates a way of living leaving everything on the field."
https://www.axios.com/newsletters/axios-am-019f2459-095f-4821-aed9-437891d0e6cf.html?chunk=7#story7
8. Trump wants to roll back health rules for underrepresented groups
"The Trump administration has plans to reverse Obama-era health care rules that currently protect transgender individuals from discrimination and decades-old exemptions that shelter Native Americans from certain burdensome federal health requirements," Axios' Erica Pandey writes:
Why it matters: These health moves would target two of the nation's most underrepresented and vulnerable communities.
The details:
The Department of Health and Human Services has proposed ending a rule created under Obama that prohibits doctors, hospitals and insurers from discriminating against transgender individuals, the N.Y. Times eports.
DHS is also considering enforcing Medicaid work rules for Native Americans in states that implement work requirements to access Medicaid, Politico reports.
https://www.axios.com/newsletters/axios-am-019f2459-095f-4821-aed9-437891d0e6cf.html?chunk=8#story8
9. First look: Fake News Campaign Hotline
NewsGuard, a new service that uses trained journalists to rate thousands of news and information sites, will announce that it has launched a secure, encrypted digital and telephone hotline for political candidates and members of the public to report suspected fake news sites:
Steven Brill, co-CEO of NewsGuard: "We've already seen one case of a candidate citing an endorsement from a bogus site that was created by supporters of that candidate. This is a particularly insidious variety of fake news, because it is aimed directly at unsuspecting voters."
From a forthcoming release: A "SWAT team of NewsGuard analysts will operate 24/7 to identify suddenly trending news sites that NewsGuard has not yet rated and assure — or warn — internet users about them in real time."
Options for contacting the hotline: "Send a secure, end-to-end encrypted message with Signal or Whatsapp: +1-740-480-1850 ... Send an SMS message to: +1-740-480-1850 ... Call and leave a digital voice message: +1-740-480-1850 ... Email: tips@newsguardtech.com ... Leave a comment."
https://www.axios.com/newsletters/axios-am-019f2459-095f-4821-aed9-437891d0e6cf.html?chunk=9#story9
10. 1 fit thing
"Standing Up at Your Desk Could Make You Smarter" — N.Y. Times op-ed by Dr. Richard Friedman, director of the psychopharmacology clinic at the Weill Cornell Medical College:
"We've known for a while that sitting for long stretches of every day has

myriad health consequences

, like a higher risk of heart disease and diabetes, that culminate in a

higher mortality rate

."
What's new: "[A] new study has found that sitting is also bad for your brain. ... [S]edentary behavior is associated with reduced thickness of the medial temporal lobe, which contains the hippocampus, a brain region that is critical to learning and memory."
Why it matters: "[I]t might be the case that lots of exercise is not enough to save you if you're a couch potato the rest of the time."