October 15, 2018
We're three weeks out from the Nov. 6 election.
1 big thing: A midterm split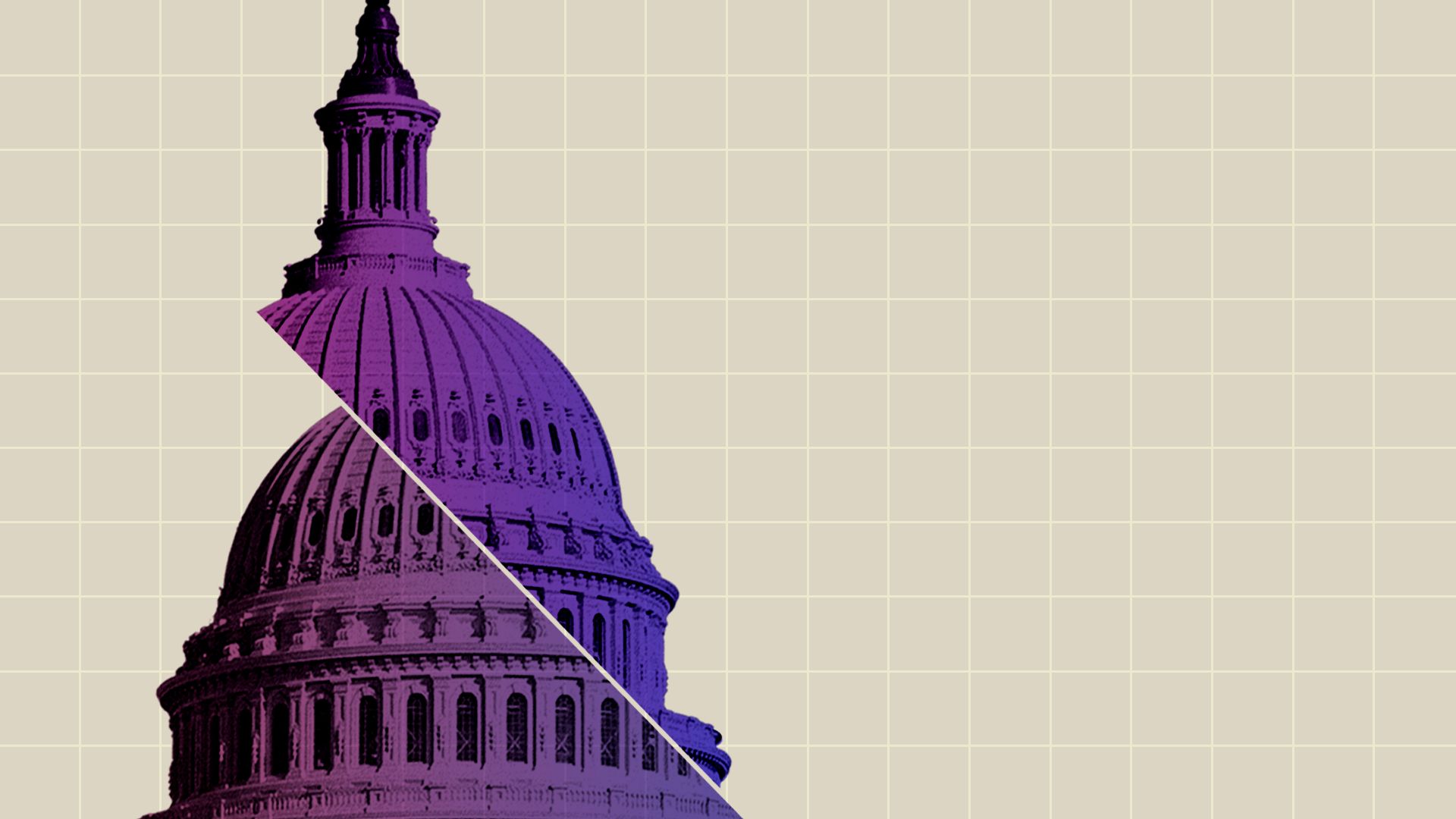 As the "blue wave" looks more like a reality in the House, it's looking less likely that Democrats will take the Senate. It's a highly unusual split among competitive races in each chamber.
Driving the news: The competition for the House is playing out in the suburbs where Democratic candidates are making inroads around the country, while the Senate map is defined by rural red states where Democrats are most on the defensive.
A FiveThirtyEight analysis shows competitive House races are "almost evenly divided" among the Northeast, Midwest, South and West, while any Senate tipping point would likely be in the South. And though "the Northeast is fairly important to the House map ... there's almost nothing interesting happening in the Northeast on the Senate side."
The House districts with the closest races are also more educated than the rest of the country. Only 13% of the congressional districts most crucial to deciding the Senate have comparably high education levels.
The split can be seen in campaign messaging, too. Most Democrats in competitive House races are supporting some form of "Medicare for All." On the other side Democratic Sen. Joe Donnelly of Indiana touts in an ad being "pro-gun" and voting for Trump's border wall.
Why it matters: The impact of this split could be felt long after the 2018 midterm elections as Trump-aligned Republicans replace moderate Democratic senators and outspokenly progressive first-time candidates win Democratic seats in the House.
"We are on the verge of having two national ideological parties separated by geography in a way that we haven't had in American history before," said Michael Steel, a GOP strategist who's worked with Jeb Bush, John Boehner and Paul Ryan.
2. Axios 8 for 2018 update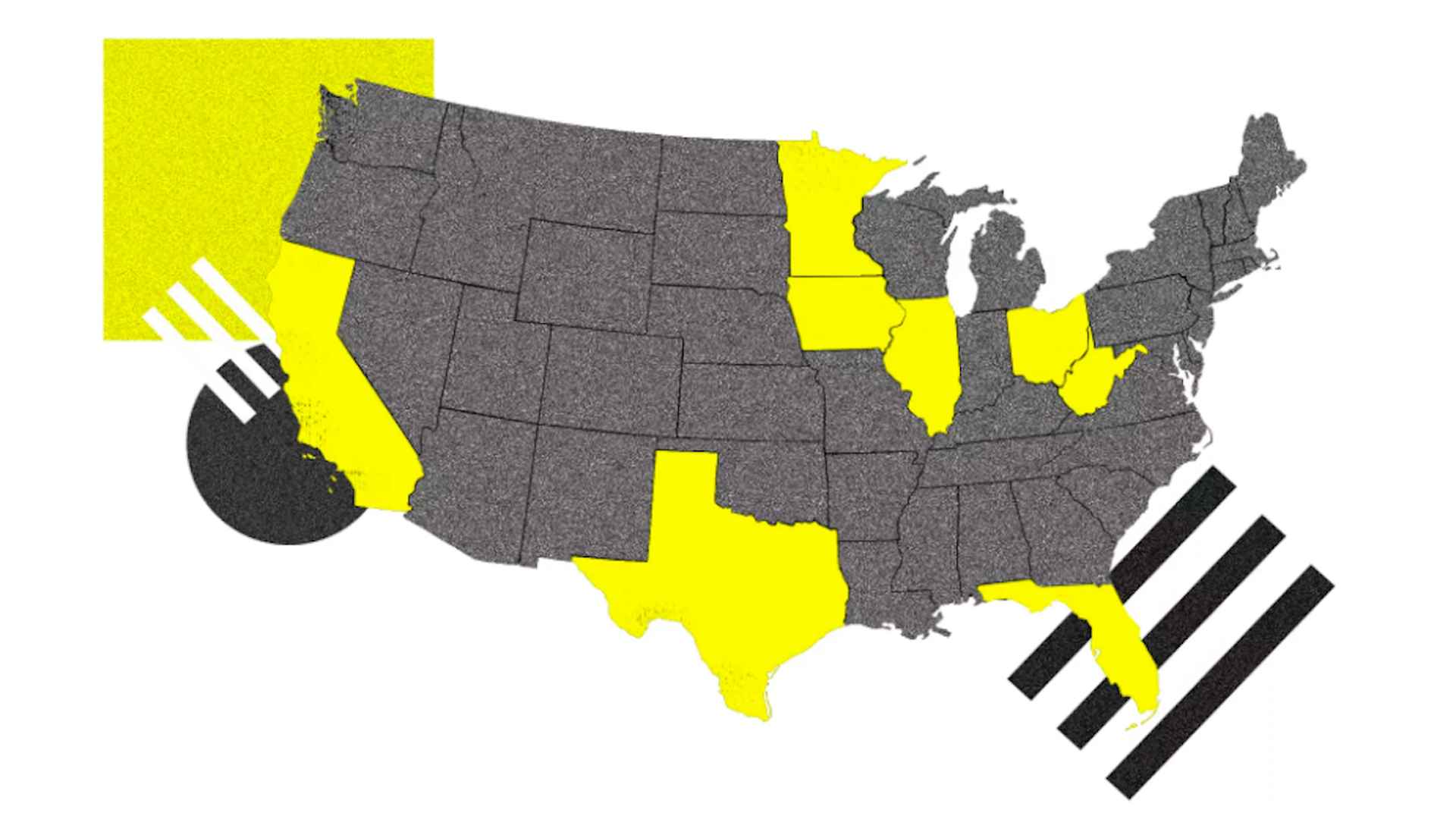 Here's what you need to know about the latest movement in the Axios 8 for 2018 races:
3. A low-turnout warning for Dems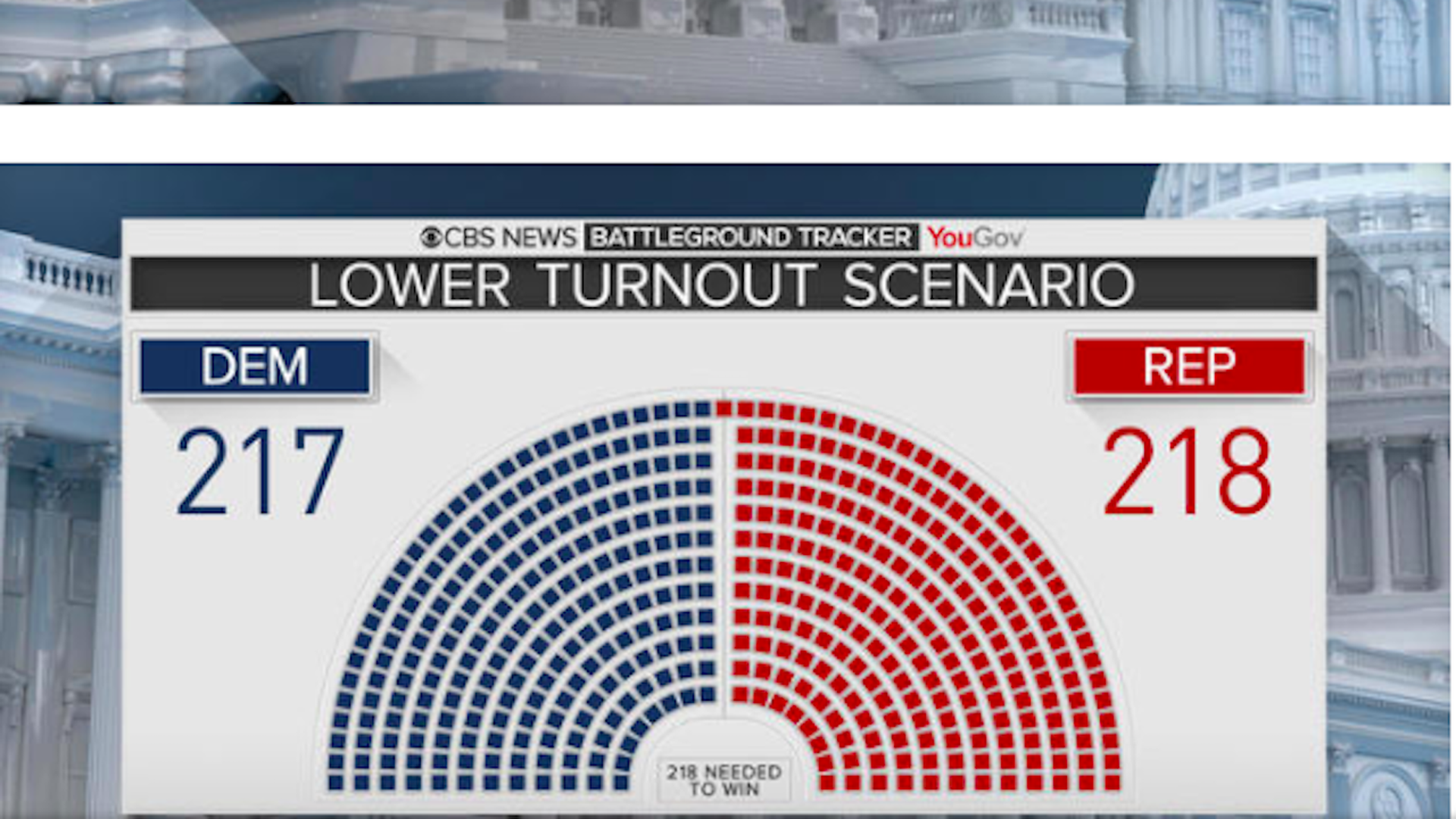 "If the elections were held today, Democrats would stand to win 226 seats (more than the 218 needed for a majority) with Republicans winning the remaining 209," according to the CBS News battleground tracker.
But, but, but: A lower turnout scenario (as seen above) — one that looks more like other midterm elections, and doesn't attract new voters to the polls — found that Republicans would narrowly keep their House majority by just one seat.
Why it matters: Democrats are banking on maintaining the same levels of enthusiasm their base showed in primary election turnout numbers. But midterm elections historically have lower turnout, and if the Democrats don't do better this year, they could fall short of winning the House.
4. College students swear they'll vote this time
Nearly half of college students say they'll "definitely" vote this year, according to a survey by College Reaction, a group that measures public opinion among college students, writes Axios' David Nather.
Why it matters: If true, that kind of turnout could help Democrats, since Republican students are more lukewarm about whether they'll vote. But in reality, young voters aren't exactly known for rushing to the polls in midterm elections. It would take a sharp break with recent history for that to become a reality.
By the numbers:
Only 18% of college students voted in the 2014 midterm elections, according to the group.
By contrast, about 48% of college students voted in 2016 and 45% did so in 2012, according to a study by Tufts University.
If the enthusiasm in the new survey is real, it's a change from earlier surveys this year. One, released in July by the Public Religion Research Institute, found that just 28% of young adults said they were sure to vote in 2018, compared to 74% of seniors.
5. Ad of the week: Peter Roskam in IL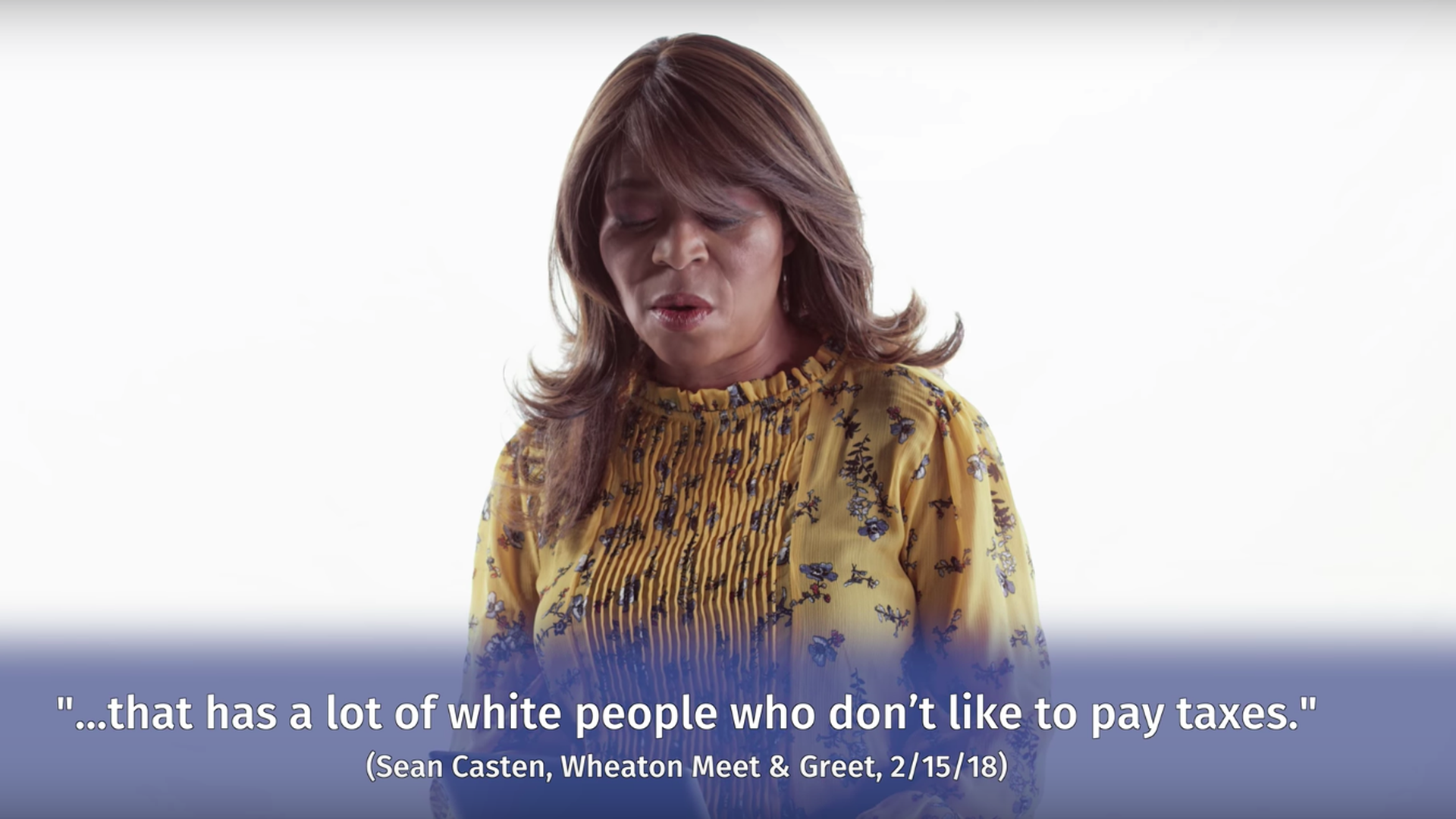 Republican Rep. Peter Roskam in Illinois is out with a new ad featuring women reciting things his Democratic challenger Sean Casten has said in the past.
It's inspired by Jimmy Kimmel's segment in which celebrities read mean tweets about themselves.
The women read lines like "I view abortion as a medical procedure like a gall bladder surgery" and "Suburban women don't want a representative who is crazier than their lives."
6. By the numbers: Latino voters in the 2018 midterms
The number of eligible Latino voters has reached a new high in 2018, per Pew Research Center. There are now 29 million Latinos eligible to vote, making up nearly 13% of the American electorate.
Why it matters: Despite this, the Latino voter turnout rate in midterm elections has remained relatively stagnant since 2006, and in 2014 it reached a record low of 27%.
71% of eligible Latino voters in 2017 lived in just six states: California, Texas, Florida, New York, Arizona and Illinois.
There are 176 congressional districts with at least 50,000 Latino eligible voters.
North Dakota had the biggest percentage increase in eligible Hispanics between 2014 and 2017 (a 32.4% shift).
The bottom line: As a sizable (and growing) portion of the electorate, Latino voters could be a bigger force in elections if their turnout rate increased with their numbers.
7. Trail pic of the week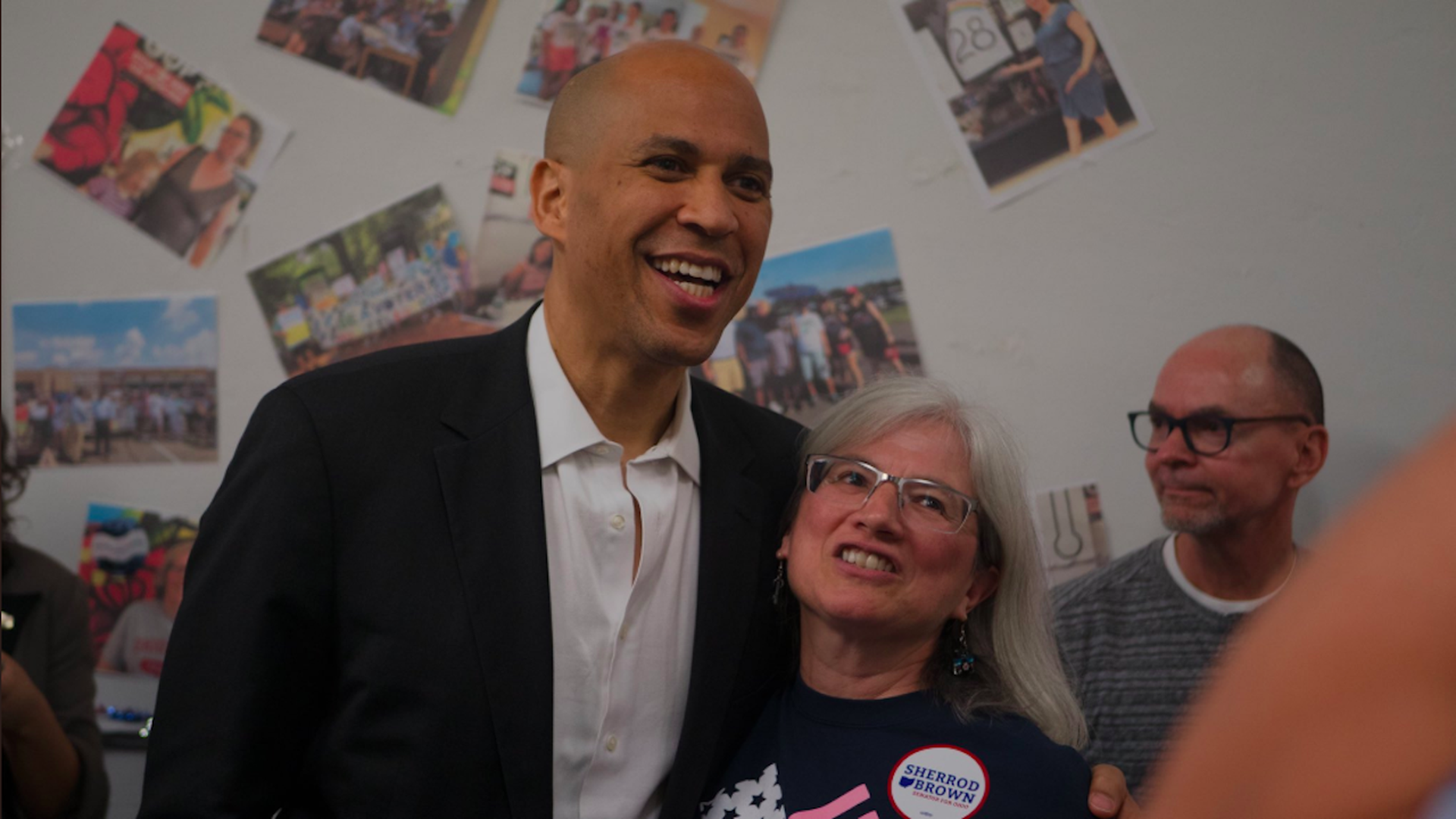 New Jersey Sen. Cory Booker visited Ohio last weekend to campaign for Democratic Sen. Sherrod Brown, who's running for re-election in one of the battleground Senate races this cycle.