October 29, 2018
We're one week out from the Nov. 6 midterm elections. 🚨🚨🚨
1 big thing: Axios 8 update — Democrats aren't running the table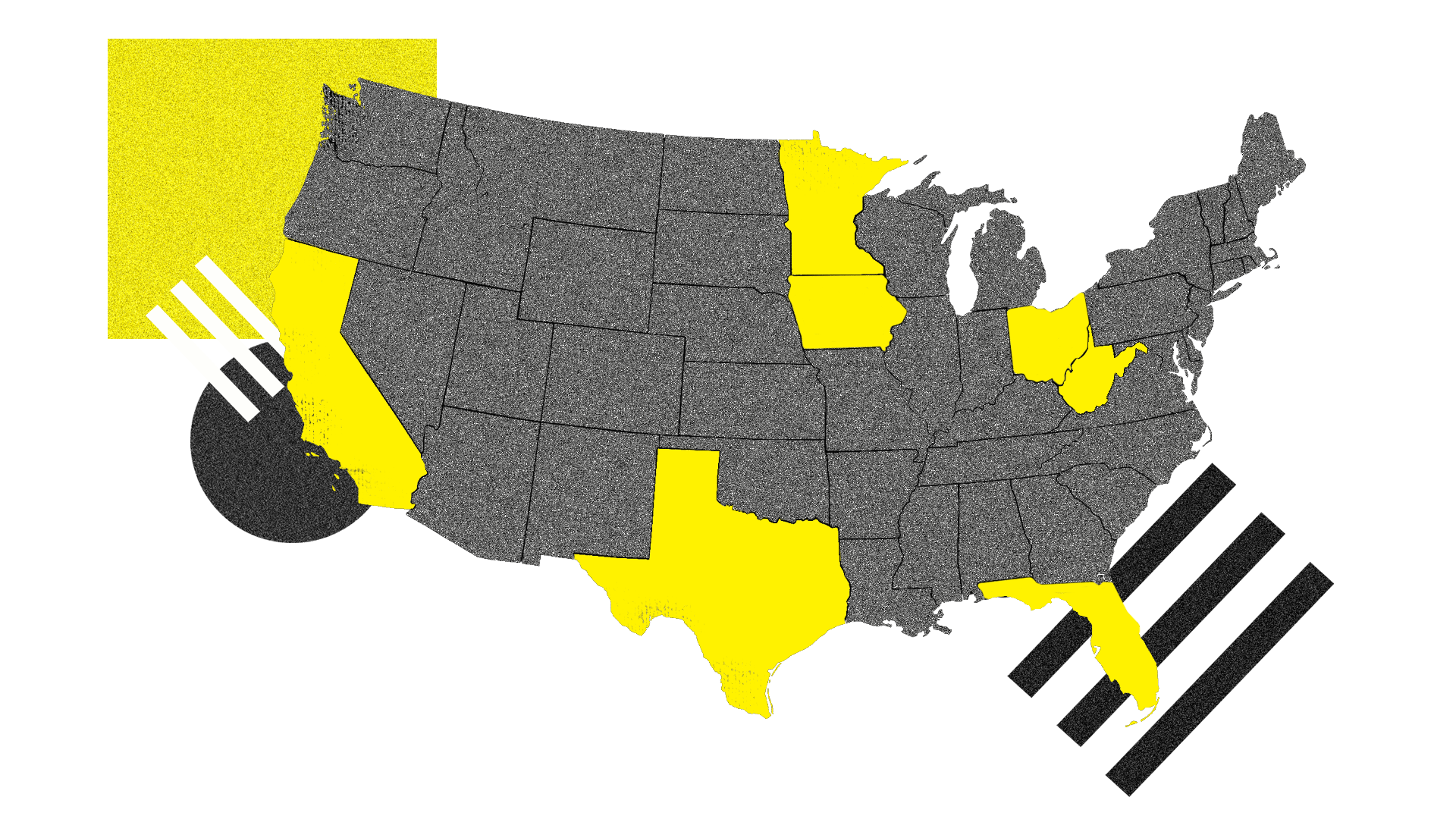 With one week until the midterm elections, the state of the Axios 8 for 2018 races suggests that Democrats are still riding a blue wave — but not strong enough to help them win all the races that looked within their reach earlier in the cycle.
Why it matters: We selected the Axios 8 to include not just high-profile races, but ones that would only be competitive if the blue wave is massive. The House is definitely in play, but Republicans don't have to worry about all the races they were sweating before.
The Axios 8 for 2018:
1. Texas Senate: Remember when Beto O'Rourke was going to turn Texas blue? That's looking less likely now that Ted Cruz is still beating him in public polling. A new poll from the University of Texas at Austin does show Cruz trailing O'Rourke by 12 percentage points among independents. But there have been "1 million more conservative votes than there are liberal or progressive votes" in recent statewide elections, per the Dallas Morning News.
2. Ohio gubernatorial: The polls show Democrat Richard Cordray leading Republican Mike DeWine by just 2.7 percentage points. But look to the Senate race, where Democratic Sen. Sherrod Brown is leading Jim Renacci by 16 points. Real Clear Politics notes that "Ohio Democrats are hoping that Brown's coattails will help Cordray ... while Republicans are banking on continued visits from President Trump to help them energize their base."
3. West Virginia's 3rd district: Democrat Richard Ojeda was getting attention for a while as an unusually strong candidate in this Trump district. But the latest poll shows Republican Carol Miller leading by five percentage points, and Trump is visiting the area four days before the election.
4. California's 45th district: Right now, the status of this race between GOP Rep. Mimi Walters and Democrat Katie Porter is unclear, since the most recent poll is from September. If Democrats win this Orange County district, they're likely to do well across southern California, Kyle Kondik of Larry Sabato's Crystal Ball told us last month.
5. Minnesota's 8th district: Every Republican I've talked to in the last three weeks feels like they have this open seat in the bag. In September, the NYT/Siena College poll had Republican Pete Stauber leading by just one percentage point. Now, their poll shows he's up by 15 percentage points.
6. Texas' 23rd district: Republican Rep. Will Hurd could have been vulnerable, and has had to distance himself from Trump, but it looks like he's out of danger. Voters now prefer him over Democratic Gina Ortiz Jones by 15 percentage points. In September, he was up by 8.
7. Florida's 26th district: Republican Rep. Carlos Curbelo is vulnerable — he's trying to keep his seat in a district Hillary Clinton won in 2016. In September, he was leading Democrat Debbie Mucarsel-Powell 47% to 44%, but now she's leading 45% to 44%. Curbelo recently said he would oppose Trump's new trade deal with Mexico and Canada if Florida's specialty farm crops aren't protected.
8. Iowa's 3rd district: Republican Rep. David Young is in trouble, too. Prominent Democrats are supporting Democrat Cindy Axne, who has led Young in both NYT/Siena College polls. Trump said at a recent Iowa rally that "a vote for David is a vote for me and our agenda to make America great again," but Young is distancing himself from the president.
Go deeper: The Axios 8: How to tell the strength of the blue wave
2. Democrats' big challenge: white men without college degrees
Republicans are facing a serious loss of support from women voters in the midterm elections, but the Democrats' biggest demographic challenge has been building for more than a decade: they're rapidly losing support from white men without college degrees, writes Axios' David Nather:
Why it matters: White voters without college degrees are a shrinking demographic group, but they're still big enough to have a lot of power, even as the overall voting population becomes more racially diverse. The women in this group aren't turning away from the Democrats in big numbers, but the men are — and that could have consequences down the road, if not in November.
Between the lines: A report earlier this year by demographers from four think tanks modeled various scenarios if white non-college voters continue to swing away from the Democrats.
If they shift another 5 percentage points toward Republicans and 5 points away from Democrats, the report found, Republicans would win the White House in 2020 with both the popular vote and the electoral college.
In presidential elections after 2020, Republicans would lose the popular vote by bigger margins but still win the electoral college.
If these voters moved back toward the Democrats, they'd win massive presidential victories in both the popular vote and the electoral college.
The bottom line: Other demographic changes could favor the Democrats in the future, but this trend favors Republicans — and will be strong enough to matter for years to come.
3. Ad of the week: "Stop the Trumpadas"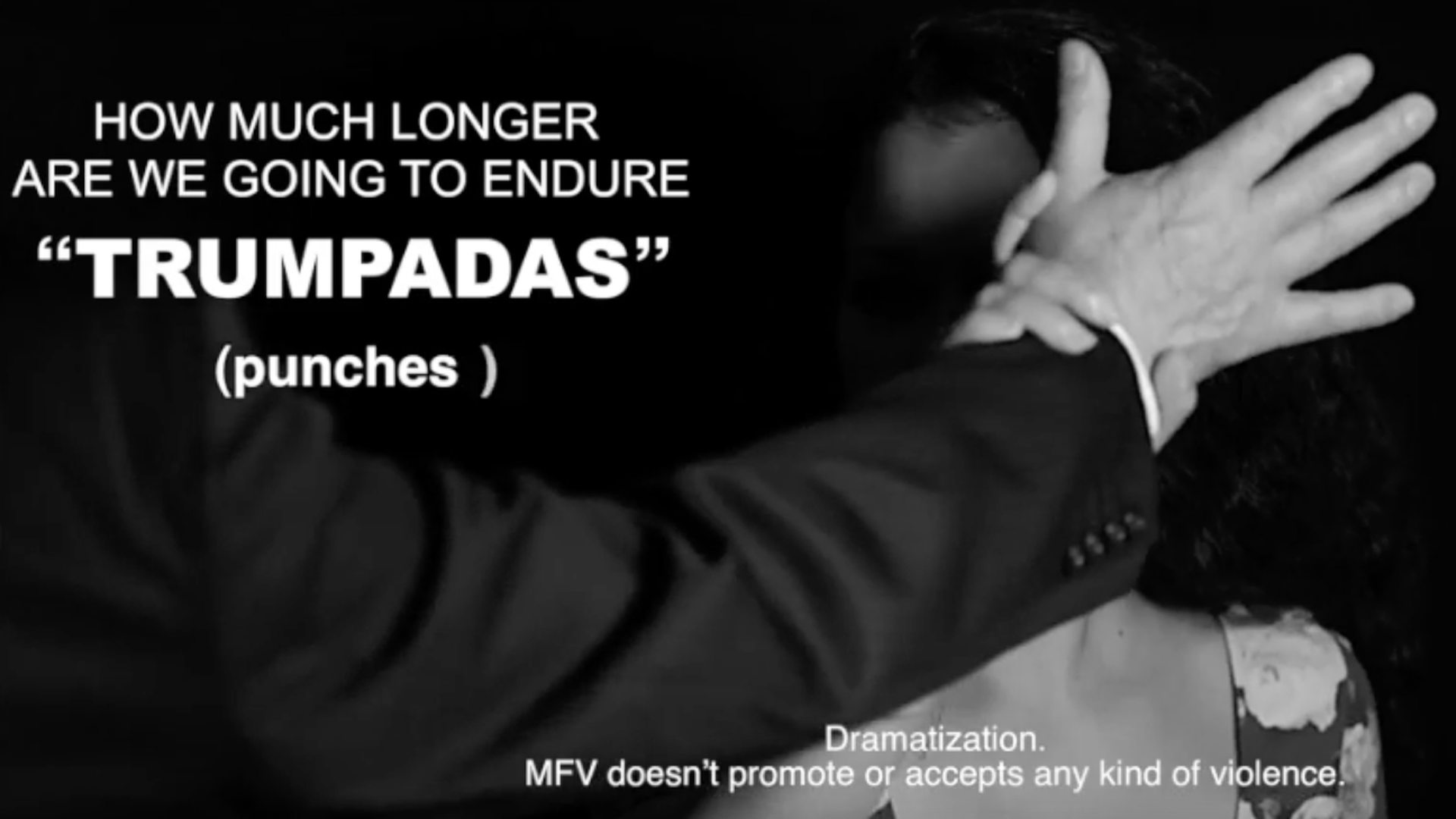 This 30-second ad, which aired last week on Fox News, MSNBC, and CNN, is a last-minute call-to-action to Latino voters to get out and vote — inspired solely by Trump's comments about immigrants being "rapists" and "criminals."
Ben Monterroso, executive director of Mi Familia Vota, the group behind the ad, told Vida en el Valle: "By reminding Latino voters of what Trump has said about us, our families, our friends and co-workers, we are saying ENOUGH!"
Be smart: "Trumpadas" is a play on Trump's name, and also the Spanish word "Trompada," which means a punch or slap to the face.
4. Tom Steyer: It's a "failed year" if Dems don't flip the House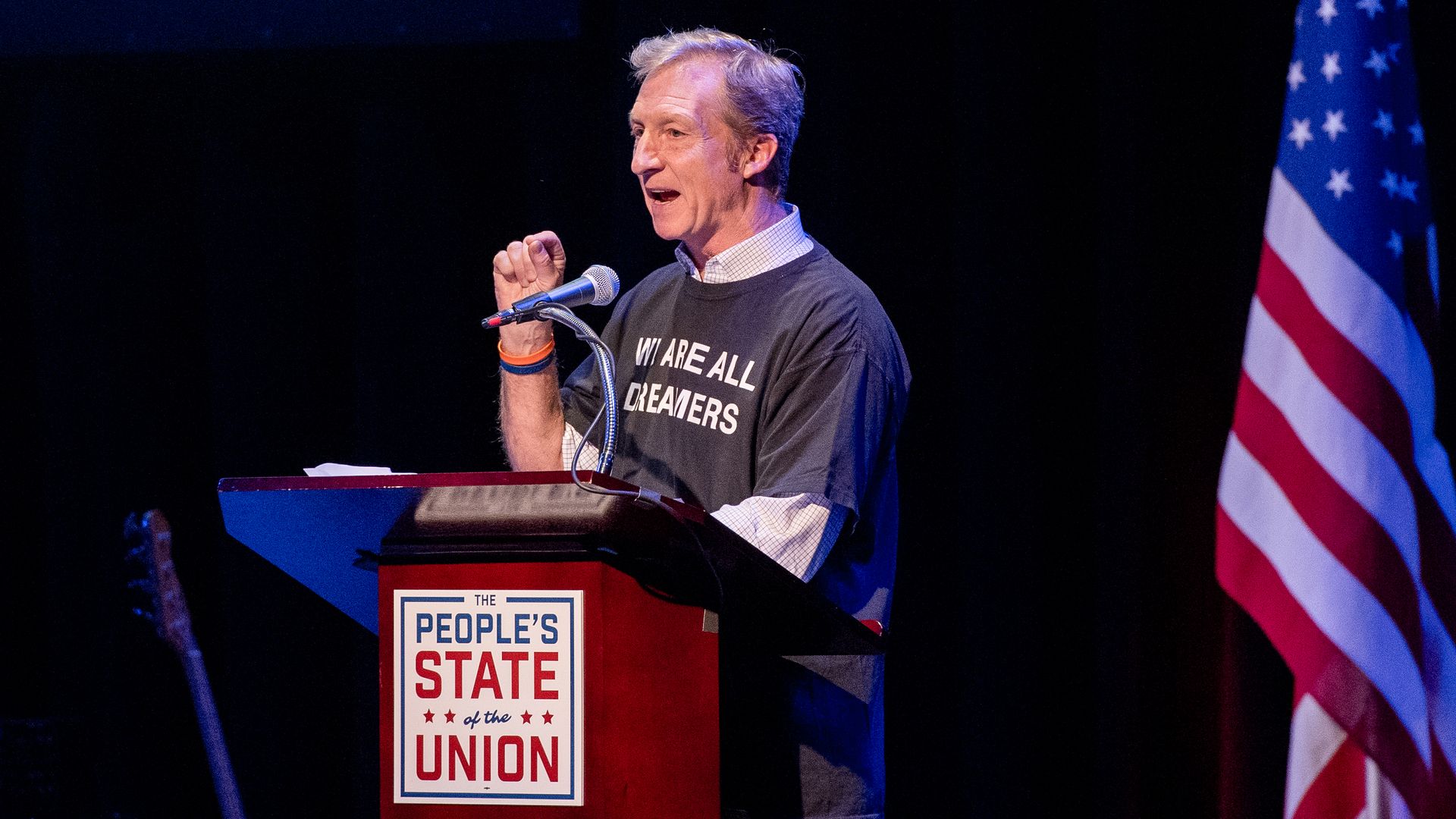 Activist and billionaire Tom Steyer is paying more attention to gubernatorial races, but he still feels strongly about Democrats taking back control of the House. "If we don't flip the House it's a failed year. Full stop," he told me over coffee while he was in Washington last weekend.
Why it matters: Steyer is becoming the Koch network of the left, investing at least $110 million in the 2018 midterms and implementing on-the-ground teams in battleground states across the country.
His Need to Impeach campaign puts him at odds with Democratic leadership, but he's got his finger on the pulse of what's going on at the grassroots level, thanks to his 2,000 volunteers and 1,000 staff members.
While Steyer mentioned multiple times that he thinks Trump and the GOP are contributing to "an atmosphere of lawlessness," he was clearly sick of the Democrats who think it's best to avoid talking about certain issues, like race.
"If we know 45% of people are voting [in midterms] that means 55% of people aren't voting," he said. "Why don't we tell the truth and see if those 55% who think the system is full of bologna ... might show up to the polls?"
Andrew Gillum, the Democratic nominee for Florida governor who recently got an additional $2 million boost from Steyer, is what Steyer thinks Democrats should look like in 2018. "They don't need to vote for Republican Lite, they can vote for a real Republican. So we should be talking about race and ethnicity; we should be talking about gender ... we should be talking about gun violence."
Steyer's closing argument to voters before the 2018 midterms, he says, is simple: "It's right and wrong. It's a vote for justice or injustice."
5. Suburban women breaking for Dems on gun control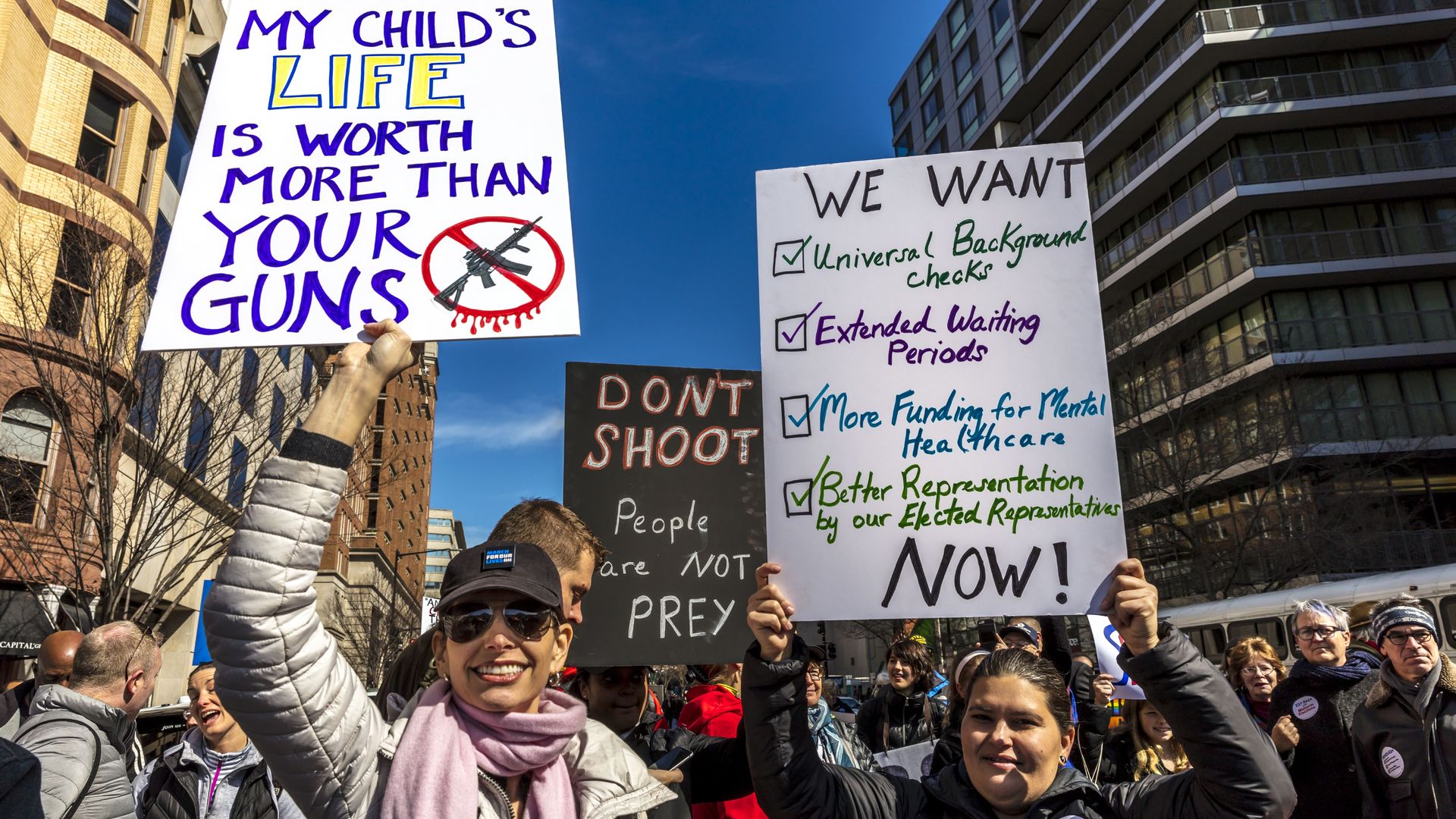 A new poll conducted by Hart Research Associates for Everytown for Gun Safety found suburban women prefer the Democratic Party to handle gun violence by 26 percentage points.
Why it matters: Suburban women are a crucial voting bloc on virtually every issue in the 2018 midterm elections, and this poll suggests gun control is yet another topic that could sway voters in certain races around the country.
By the numbers: 68% of all women surveyed prefer stricter gun laws, compared to 54% of men.
41% of voters say they're less likely to support a candidate who's received donations from the NRA, including a 30-point gap among suburban voters.
A majority of voters (61%) want to hear more about gun violence prevention from candidates, including 75% of women of color and 72% of suburban women.
72% of voters want Congress to prioritize dealing with gun violence when the new Congress takes office in January, including 56% of Republicans and 89% of Democrats who consider that a "high priority."
The bottom line: The research memo argues that "support from the gun lobby is more of a political liability than an advantage for candidates in 2018."
6. What the 2006 and 2010 midterms can tell us about 2018
Cook Political Report's Dave Wasserman crunched the numbers from the "wave" elections in the 2006 and 2010 midterms, and found that if things broke the same way in 2018, Democrats would net nearly 40 seats in the House.
Between the lines: Wasserman found the party not in power in those years averaged...
100% of their party's seats rated by Cook as "lean," "likely," or "solid" in their favor.
57% of the "toss up" seats.
19% of the seats rated "lean" toward the opposite party.
9% of the seats rated "likely" toward the opposite party.
And none of the "solid" seats favoring the other party.
Be smart: "There are a few reasons to doubt they'll break in the same pattern as '06/'10," Wasserman tweets:
Republican voters "are far more engaged in '18 than they were in '06 or Dems were in '10."
There's "far more polling this year, giving us more opportunities to 'diagnose' R problems. Still, a few surprises likely."
7. Trail pic of the week: Will Ferrell knocking doors in GA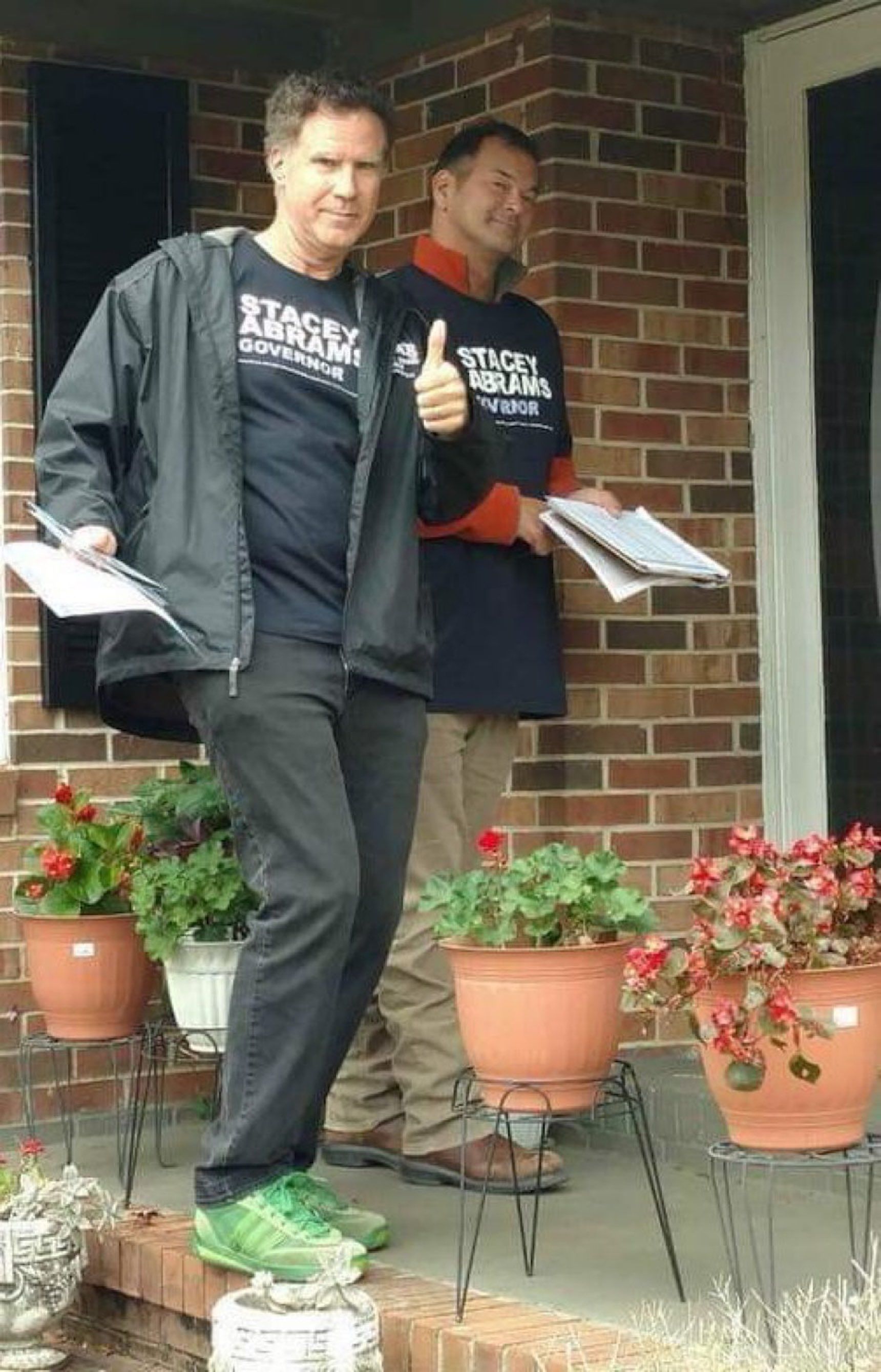 Actor and comedian Will Ferrell knocked on doors in Georgia for Stacey Abrams, the Democratic nominee for Governor.